Aune S17 PRO Headphone Amplifier / PRE – Symmetrical Class A Magic
Aune S17 PRO is a $699 USD high-end Headphone Amplifier and Preamplifier, with a superb design, made to be paired with other Aune products such as the S9C PRO, with an incredibly high driving power, two gain stages, and a temperature probe that will remind you what's happening inside at all times. Today we will be reviewing it, taking a look at how it sounds like, and what the competition has to say, including Aune S9C PRO (699 USD), Violectric HPA V340 (2000 USD), Feliks Echo 2 (799 USD), and Astell & Kern ACRO CA1000T (2299 USD).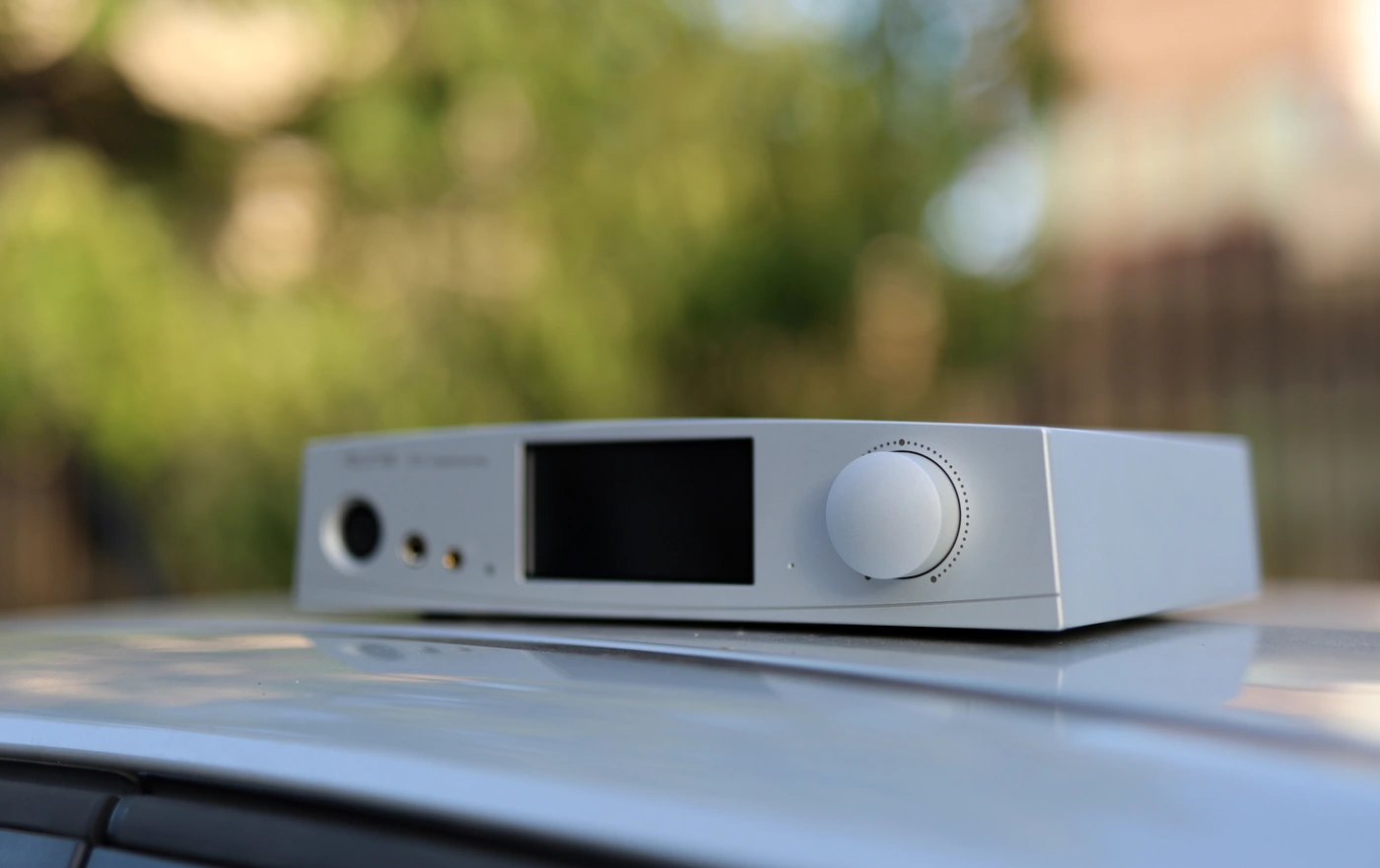 Introduction
Aune S17 PRO is the latest high-end flagship-grade amplifier made to drive hard-headed headphones that need more than just a micro nudge, and with an output as high as 7.5w, it will be more than enough even for the likes of Audeze LCD-5 and HIFIMAN HE6SE. We have even more awesome tech inside, with Twin JFET, full Class A design, and with adjustable current, and R2R volume, this has to be one of the most ambitious designs for a headphone amplifier that we've seen recently. The best part is the price point, which has been kept enough to be called affordable, and since it also comes with a remote, it should be comfy to use an Amplifier for anyone looking for the best sound. You likely know by now that I recommend Amazon for the best place to find your tech, and since writing almost five reviews, my order for a new camera ordered from a local eMag shop is still in pending, but Amazon already delivered both the EF to RF lens adapter for that camera, but also a strap I ordered in the meantime for the gimbal. So Amazon's quicker to deliver in Romania, even though I order from Amazon.de. I hope the experience is even better for those from the USA and those who have a local Amazon shop available for them, and as an Amazon Influencer, I earn from qualifying purchases. 
I'd like to thank Aune for providing the sample for this review, in exchange for my honest opinion. We are not receiving any incentive for this review and Audiophile-Heaven has no affiliation with Aune Audio beyond this review. This review is a description of my personal experience.
Product Link
You can grab one from www.amazon.com here – https://amzn.to/3SDgDUc
You can find your local distributor here – http://en.auneaudio.com/index.php?s=/Home/Article/lists/category/68.html
Aune official store – https://mall.auneaudio.com/S17-Pro-Headphone-Amp-p22519408.html?variant=116210525
Build Quality/Aesthetics
Seeing the new S17 is a party for my eyes because I already saw that with the S9C, the unit that we reviewed and which we loved a lot from Aune. We have the same shape with a smooth arc at the top, with a display in the middle, and a large volume wheel on the right side. We also have three headphone outputs, one in bit XLR format, one in large 6.3mm Single Ended format, and one in 4.4mm Balanced format. This is the new generation of Aune fully-discere Class-A Amplifier, and Aune is now using Twin JFET for a tubey sound.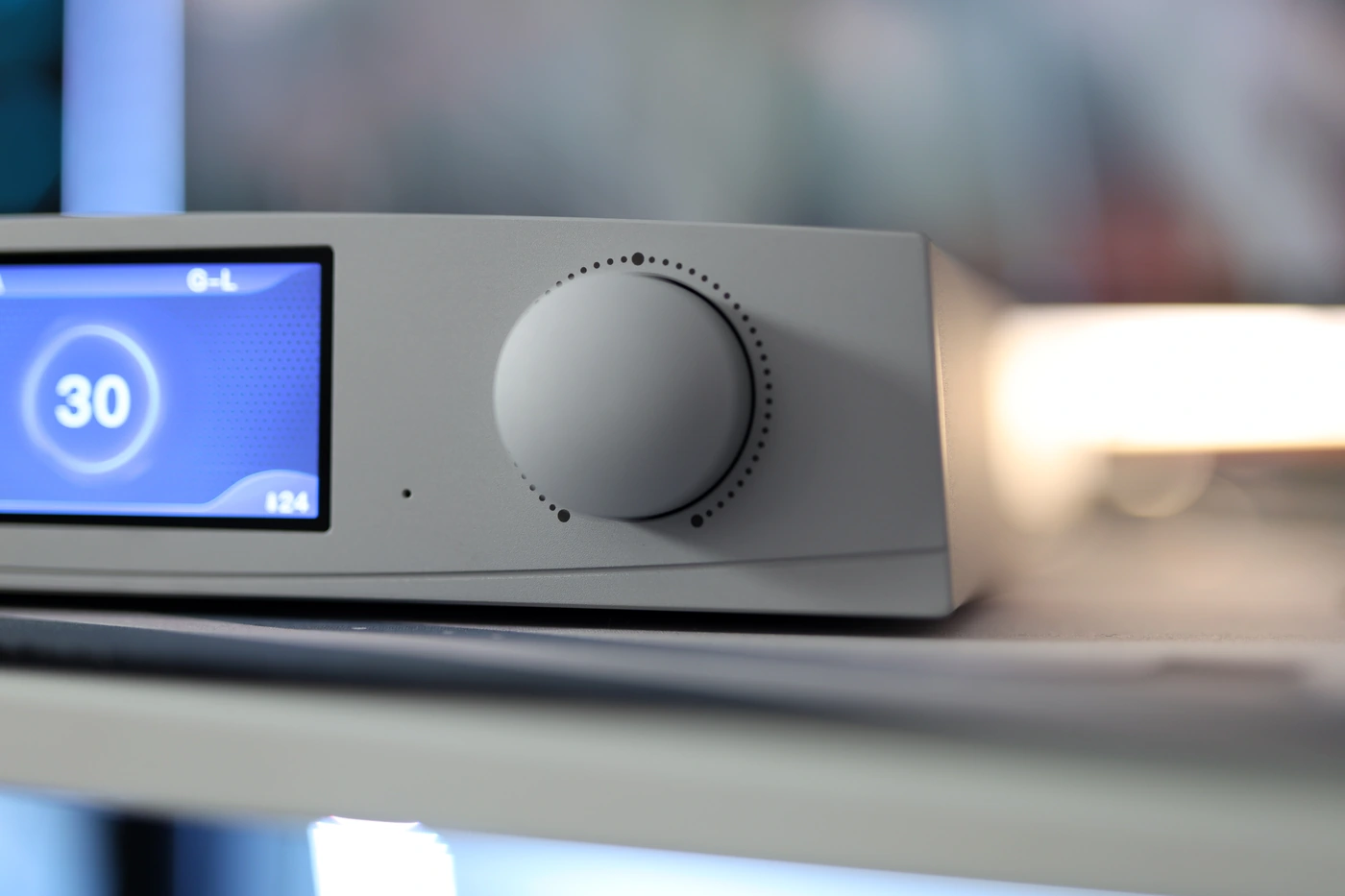 Starting with the start, JFET has a high input impedance, and a rich – mellow sound to get you closer to the rich, organic sound of a tube amplifier, but Aune wasn't happy with just using JFET, they are using Twin JFET, basically having the same temperature rise, with the same performance and mid-point voltage. This makes it an ideal input transistor for the headphone amplifier.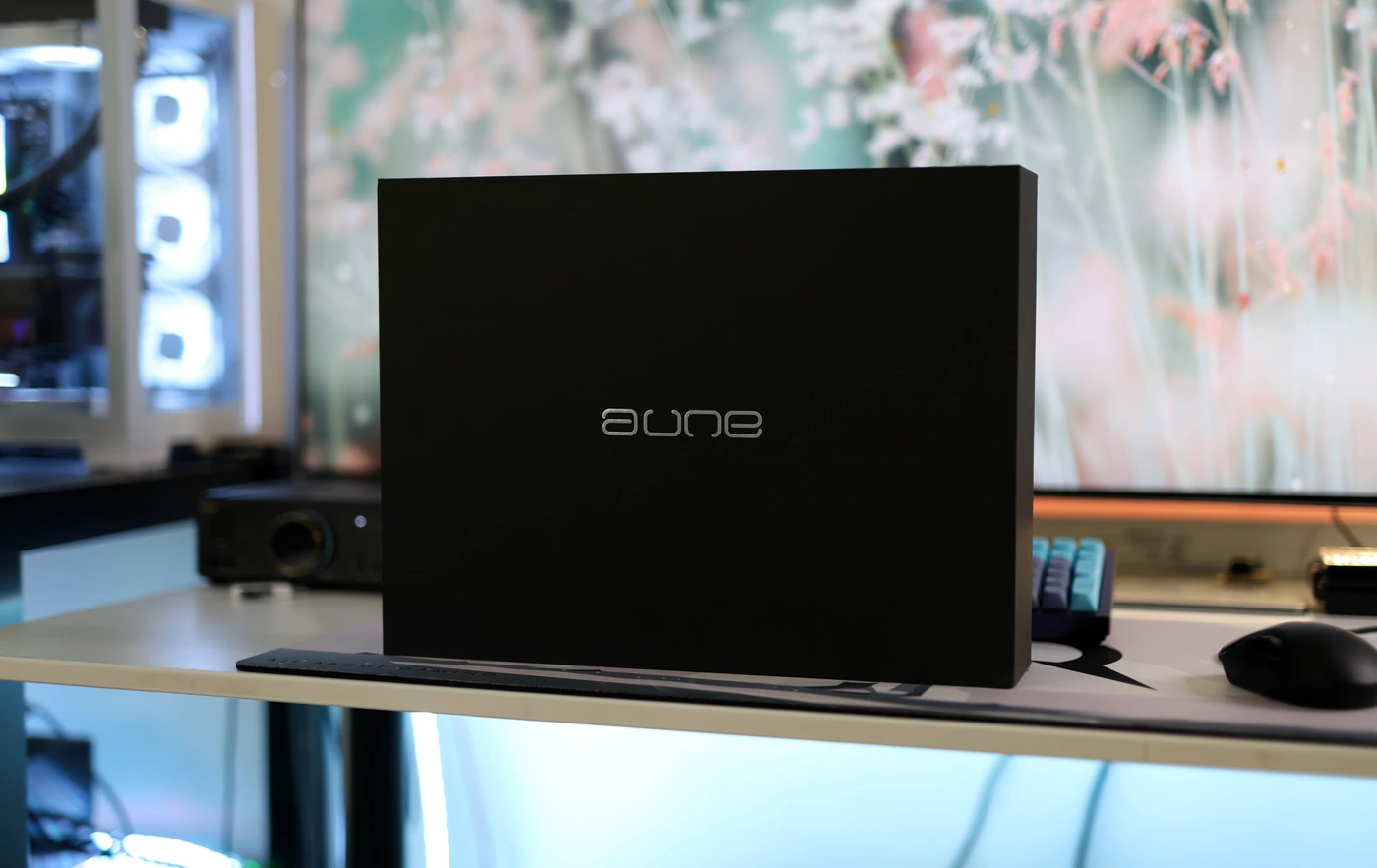 The final output stage is handled with two pairs of output transistors in parallel. There are 16 output transistors, with a maximum output of 7.5W. This is far beyond what is needed for any headphone or IEM, and it could even drive some very sensitive speakers at this point. The R2R Electronic volume chip is very precise, and Aune is using one from JRC, with dedicated op-amps, with the volume wheel having perfect balance starting with the volume 1. This is because the volume is controlled digitally by a controller that sets the 4-way balanced R2R volume control to the desired position.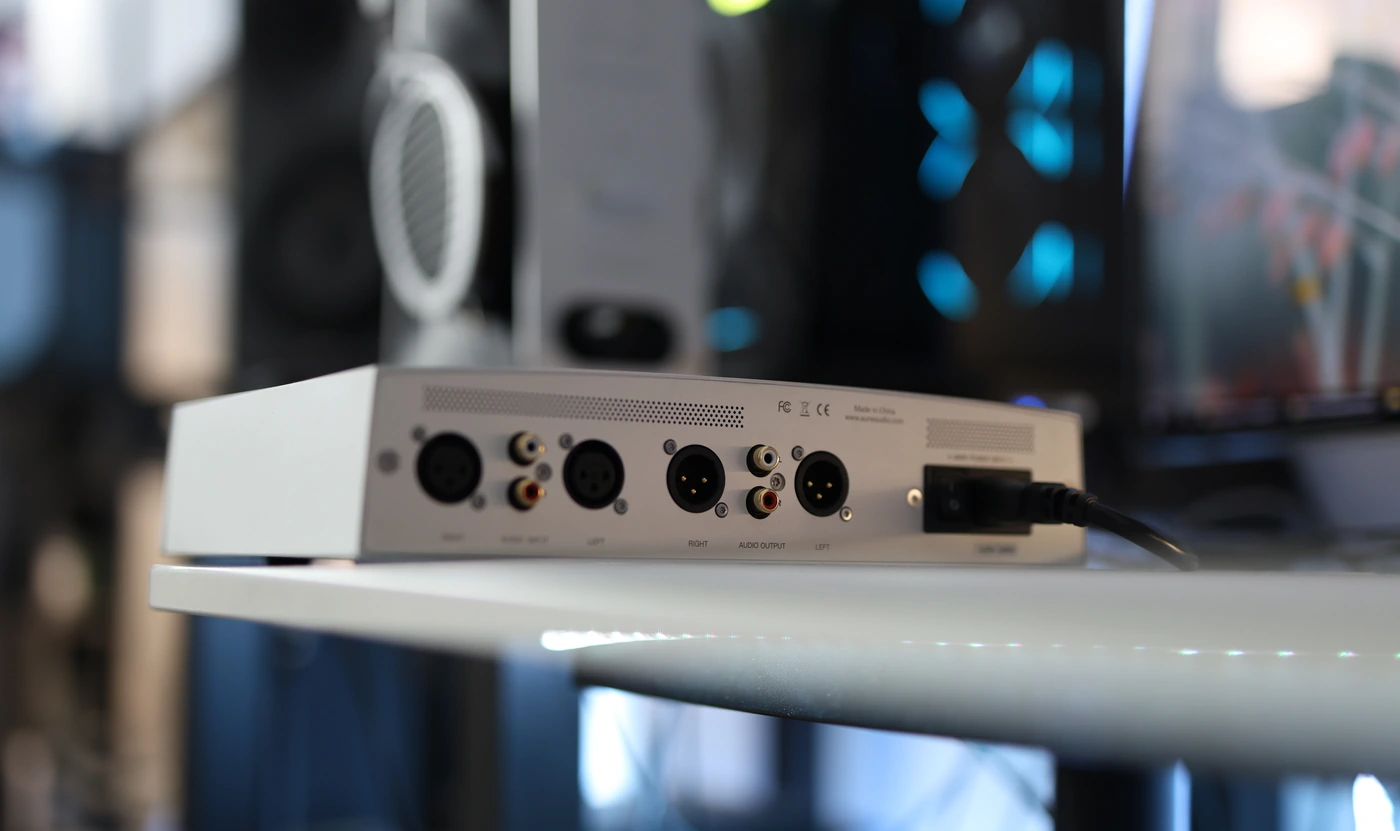 The display is normally blue in color, but it can turn red, if the temperature gets too high. Normally the unit starts with a 50mA current, which will keep the temperature hovering around 49C in my tests. There is a 100mA current setting, and the temperature will slowly increase after you engage it, situation in which the unit will grow warmer and warmer. The unit switches to 50mA if the overheating protection kicks in, a situation that happens when the temperature reaches 69C. From what I can understand, this temperature is taken at the heatsink level, and the whole unit is much colder, wit the volume kob being the coldest part of the device. Aune S17 PRO is a warm to hot running device, and if used in the super 100mA mode, it will reach up to 66C for the heatsink, 50C for the chassis and 43C for the volume wheel.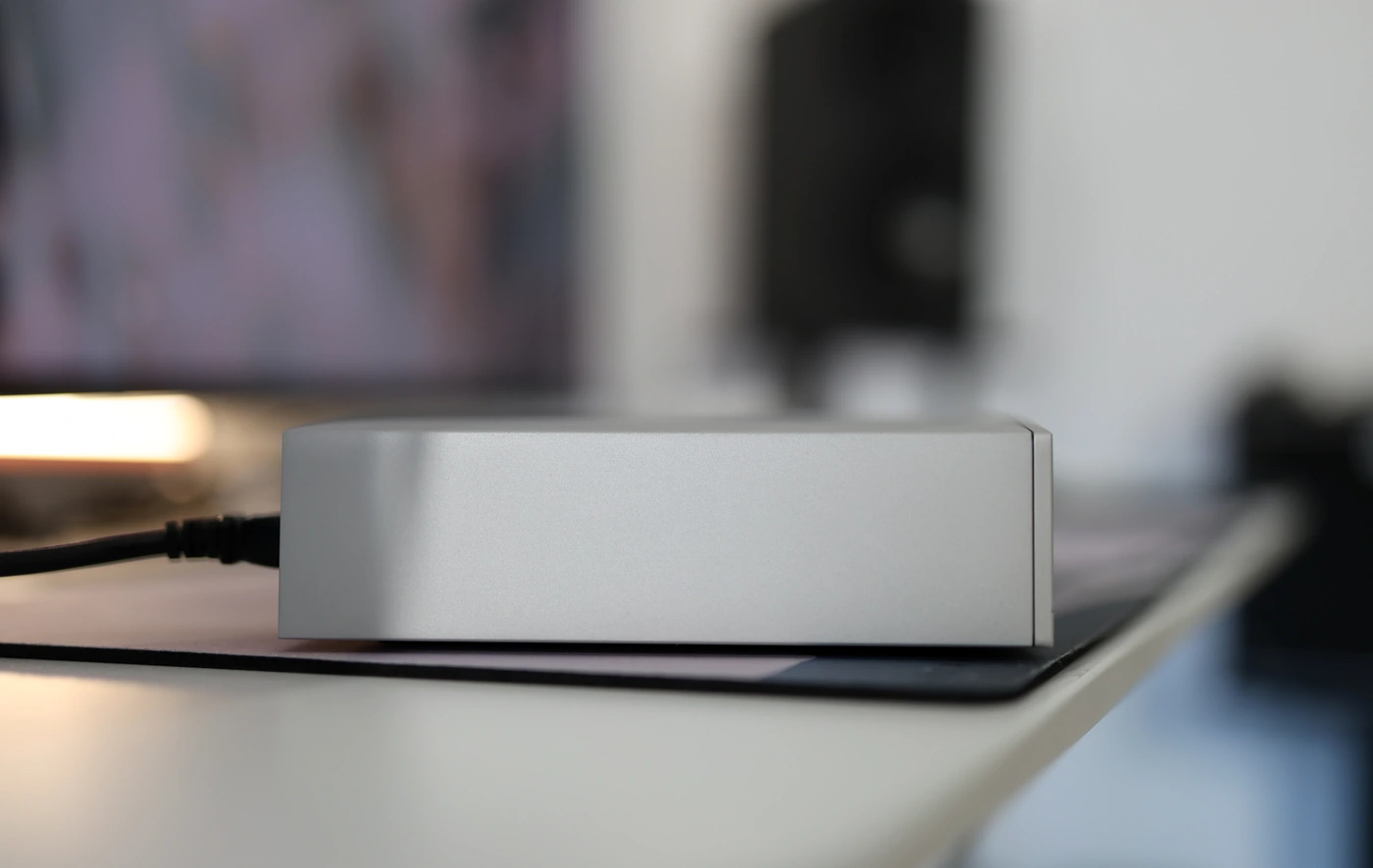 There are two gain levels, high gain for hard to drive headphones, and low gain for IEMs. The low gain takes advantage of the Class-A amp transistors working in the linear range, to drive IEMs properly. In high gain mode, the unit reaches 7507mW over the balanced output, for an impedance of 32 OHMs. This driving power is less than half, at 2020mW for the Single Ended Output, for an impedance of 32 OHMs.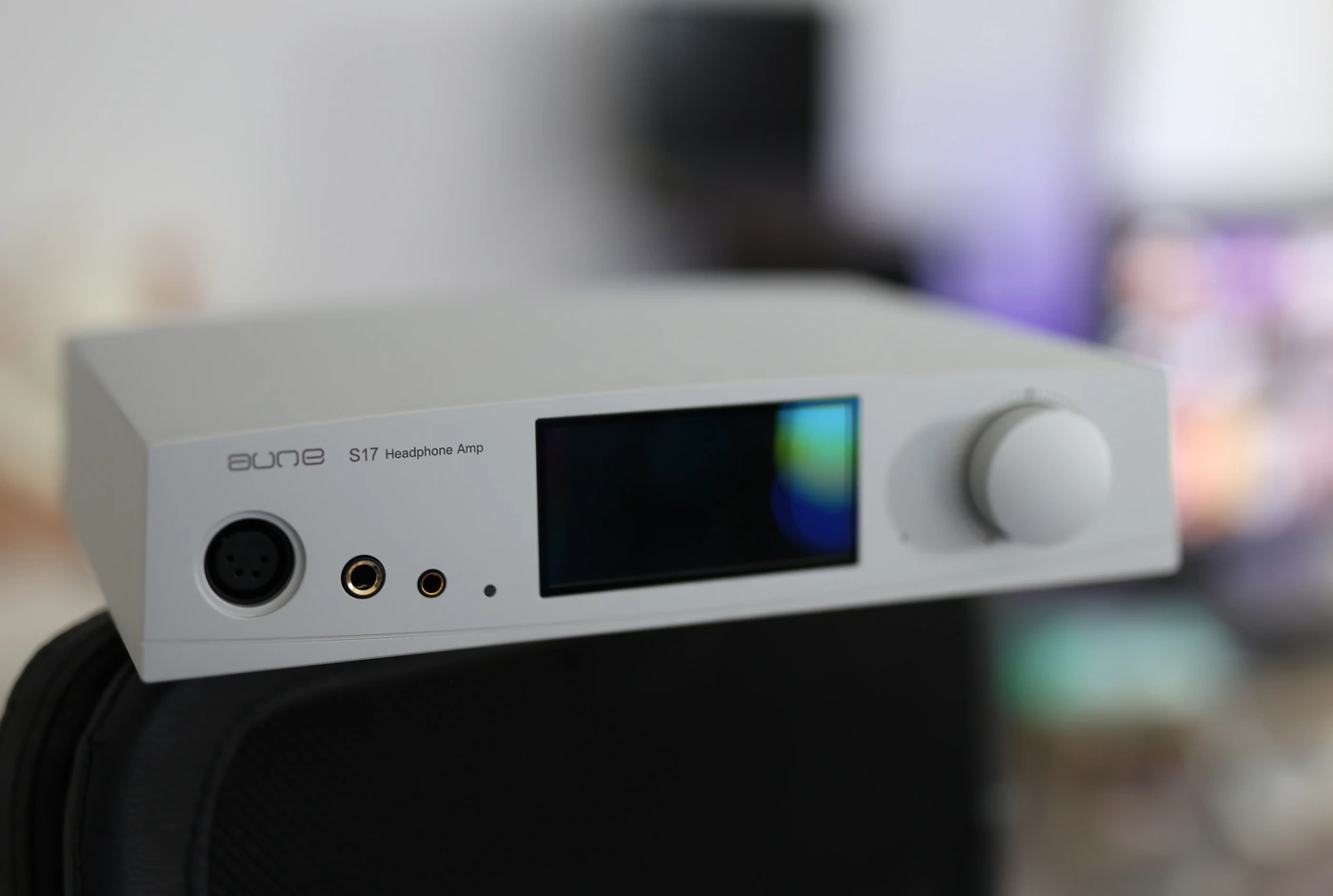 The unit being hot is normal, and this is because it is a true Class-A amplifier. Aune knew this, and they built a complex, large and heavy heatsink that has a 3D shape that sits right above the transistors. This helps dissipate the heat much better, with a heat plate at the bottom, and the whole metallic chassis helping with the heat distribution. We also have the advantage of a 50W Low-Ripple Toroidal Transformer, and a mind-blowing 19200uF Capacitor Array to improve the sound. The power part also has a dual-power design, and the digital control, for the display, volume control and CPU, is independent from the analogic part, to keep your music free of interference. 
As the unit has very few settings you can make, they all can be made using either the metallic remote, which comes only in black color, or the volume wheel which you can press. A short press changes between RCA and XLR input, a long press changes between Low and High Gain, and a short double press changes between 100mA and 50 mA modes. The volume wheel is precise, but it is a digital controller, so you have hard clicks that allow you to set the volume with a 1/63 precision, as the max volume is 63, and minimum volume is 1. 
The Input selection includes balanced XLR and unbalanced RCA, and we have Preamplifier output with balanced XLR and Unbalanced RCA plugs. The back of the unit also houses the cattle plug for power input, and a large array of holes to help with the cooling. The headphone outputs at the front are either Unbalanced 6.3mm or balanced XLR / 4.4mm. The sound is the same between the balanced 4.4mm and XLR outputs, and we can easily test this with a ddHIFI XLR to 4.4mm adapter, using the same cables. Aune employs only high-end components in S17 PRO, including Wima Decoupling Capacitors, high-quality SMT capacitors, FK electrolytic capacitors, and the 3-Dimensional cooler heatpipe. This leads to excellent results in technical measurements, with a THD+N of 0.00016%, and 4uV of noise on the headphone output in high gain.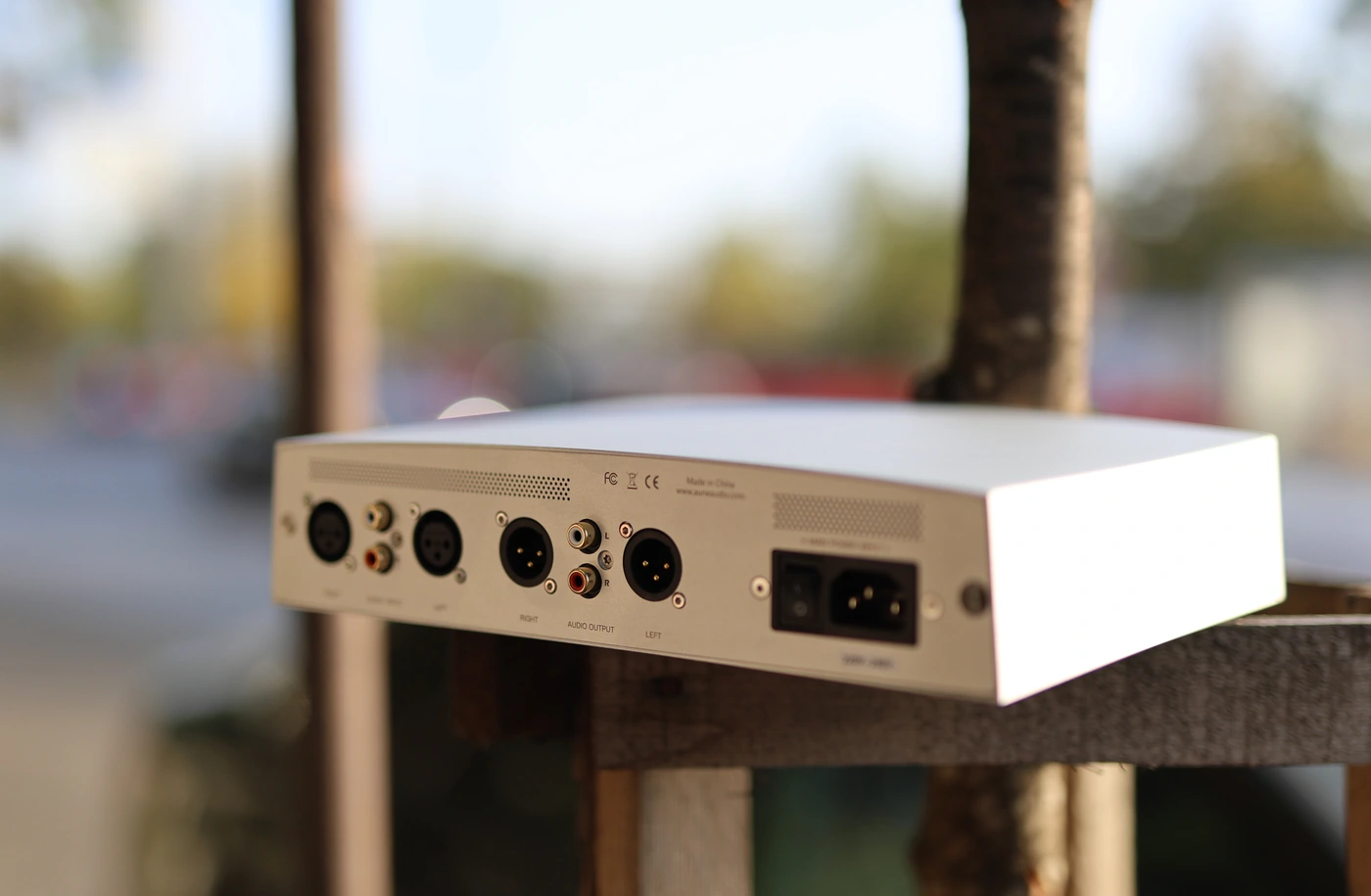 As the new S17 PRO takes on most of the functions that S9C PRO has, you can also pair it with Aune S10N or S10 PRO network players, to get a more versatile setup. Despite the design, I would not recommend staking the unit on top of other units, or having any unit on top of it, out of heat concerns, and with a somewhat tall 63mm design, and a 288mm x 211mm footprint, the unit works best if the DAC is placed next to it. 
In actual usage, the unit is superb, it has a metallic finish that reminds me a lot of high-end macbook computers. The display at the front has good resolution and is reasonably bright, plus it gives you all the useful information about the unit you may need, including current temperature, what current mode you're in, Gain mode, volume level and whether the unit is taking in data from the RCA or the XLR inputs. The unit is one of the hottest devices I ever had in person, but it is not hotter than FiiO K9 PRO after a few hours of usage or idle. The only function you need to keep in mind is turning it off, which right now can only be done using the button at the back next to the cattle plug, and since the unit does grow quite warm even during standby, it would be wise to use that button while you're not using it. 
Sound Quality
Since this is an amplifier, it needs a DAC, and the main DACs I've been pairing it with are HIFIMAN EF600, FiiO K9 PRO ESS, Aune S9C PRO, JDS Labs Element III MK2 Boosted, SMSL DO400, and iBasso DX320 MAX TI. For the headphones I've been using the best, hardest to drive and best sounding ones I have, including HIFIMAN HE1000 Stealth, Sivga Luan, Sennheiser HD 660S2, HarmonicDyne Zeus Elite, iBasso SR3, Erzetich Thalia, OLLO S5X, Audeze LCD-5 and HIFIMAN He6SE. I also have been testing the Aune S17 PRO Amplifier with Letshuoer Cadenza 12, Ambient Acoustics MAD 16, Unique Melody Maven PRO, HIFIMAN Svanar, HIDIZS MS5, Westone MACH 60, and iBasso IT05. With headphones, the power is undeniably huge, S17 PRO can drive literally everything, and with ease. Even with Audeze LCD-5, the hardest to drive headphones that I have, it doesn't even need to reach more than half of its maximum volume, at high gain, 100mA current, so there's plenty of headroom for basically any headphones under the sun. With IEMs, you need to take into account the volume of the DAC, because with HIFIMAN EF600, for example, the volume is quite high, even in low gain, 50mA, and at volume 1, so if you need a more granular volume control, it would be good to have a DAC where you can control the output volume, or at least one that has a slightly quieter output.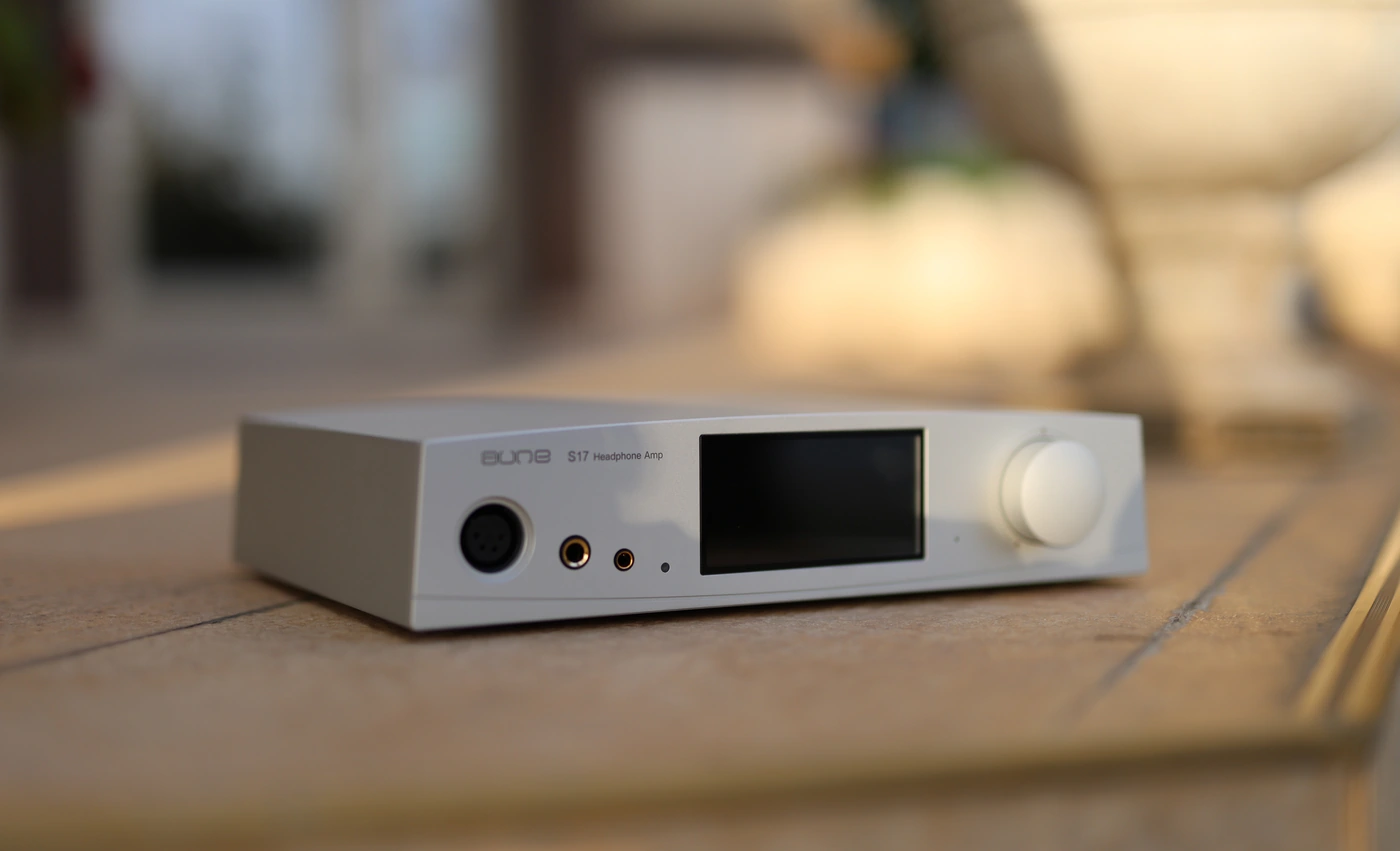 The overall sound of the Aune S17 PRO can be described as rich, with a wide, deep soundstage, slightly smooth in the treble, just enough to take all of the edge off, and really pleasing. It tends to be relaxed and open sounding, but the bass is where the most surprising part is. If I called FiiO K9 PRO ESS really flat, then Aune S17 PRO is the polar opposite of that, it sounds really full, dynamic and pleasing, impactful and offers a fun experience. It took me by surprise to hear how detailed, yet how natural that detail is translated into music, how it can have textures when the song really calls for it, but how it never forces you to hear harshness or metallic shrill. Here's the fun part, even if the DAC is somewhat bright, or neutral, as you'd expect a DAC to sound, S17 PRO will still be really natural, clean and have that smoother treble that is a central part of how it presents music. 
Starting with the bass, Aune didn't always know how to create a satisfying bass, and their early DACs were actually rather bright, and relied on a more neutral tuning to impress the listener. Well, with all of their DACs and DAC/AMPs released for the past two years, they managed to impress me and all the other music lovers out there with what a deep, lush, rounded and satisfying bass they can provide. The new S17 PRO is literally the best iteration, it has the best bass that we've heard from Aune so far, with the most substance, biggest presence, and deepest reach, being able to push a 20 Hz bass note into IEMs like the Cadenza 12 or even HIFIMAN Audivina. It is not just incredible to hear, it is impressive as a technical feature, because there are AMPS and DAC/AMPs that struggle with controlling the bass, yet Aune makes it seem so easy, they make it effortless, they make it fun and they make it sound pleasing to the ear. The bass tends to be increased in presence and intensity, all across the bass range, from the sub bass, all the way to the mid bass and the upper bass. There's a special punch and impact to the sound and I really enjoy hearing drum and bass, but also electronic and metal, rock sounds warm, and magical, while jazz and slower music is peaced just right. The bass has a natural decay, with very strong impact, but regardless of the headphones I tested S17 PRO with, including He1000 Stealth, Crosszone CZ-10 and Audeze LCD-XC, I couldn't hear any distortion, regardless of the volume. It handles bass super well.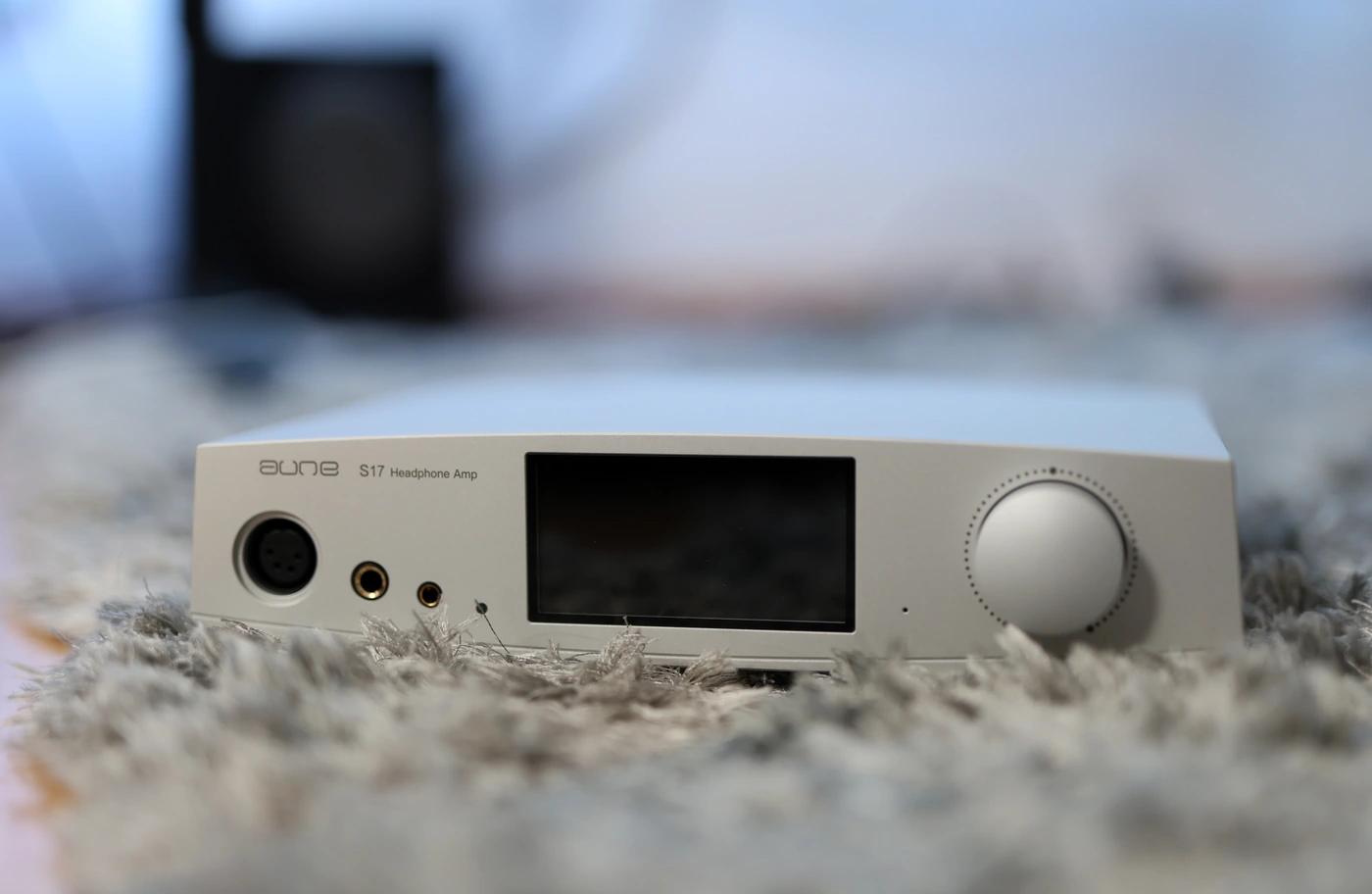 The midrange continues by taking in some warmth from the bass, it is fluid, pleasing and smooth in texture, although the detail is bountiful, and the mids get the tonality just right, for both male and female voices. The best part with S17 PRO is how wide, yet warm it sounds, as most wide sounding sources will be on the brighter side, using the increase in treble reflexions and air to paint space. Aune decided to go the mature and refined way, and instead they just made the midrange super wide, instrument separation is excellent, and the whole tuning is perfect for basically all music styles, making S17 PRO a real hero of versatility. You will have the chance to hear albums like Incubus – Science as if it were played live around you, while slower music will put you right into action. With rock and metal, I simply love the tonality for guitars, texture is juicy and not harsh, but vivid and pleasing, while speed is fast in the mids, as S17 PRO can keep up with technical death metal just fine.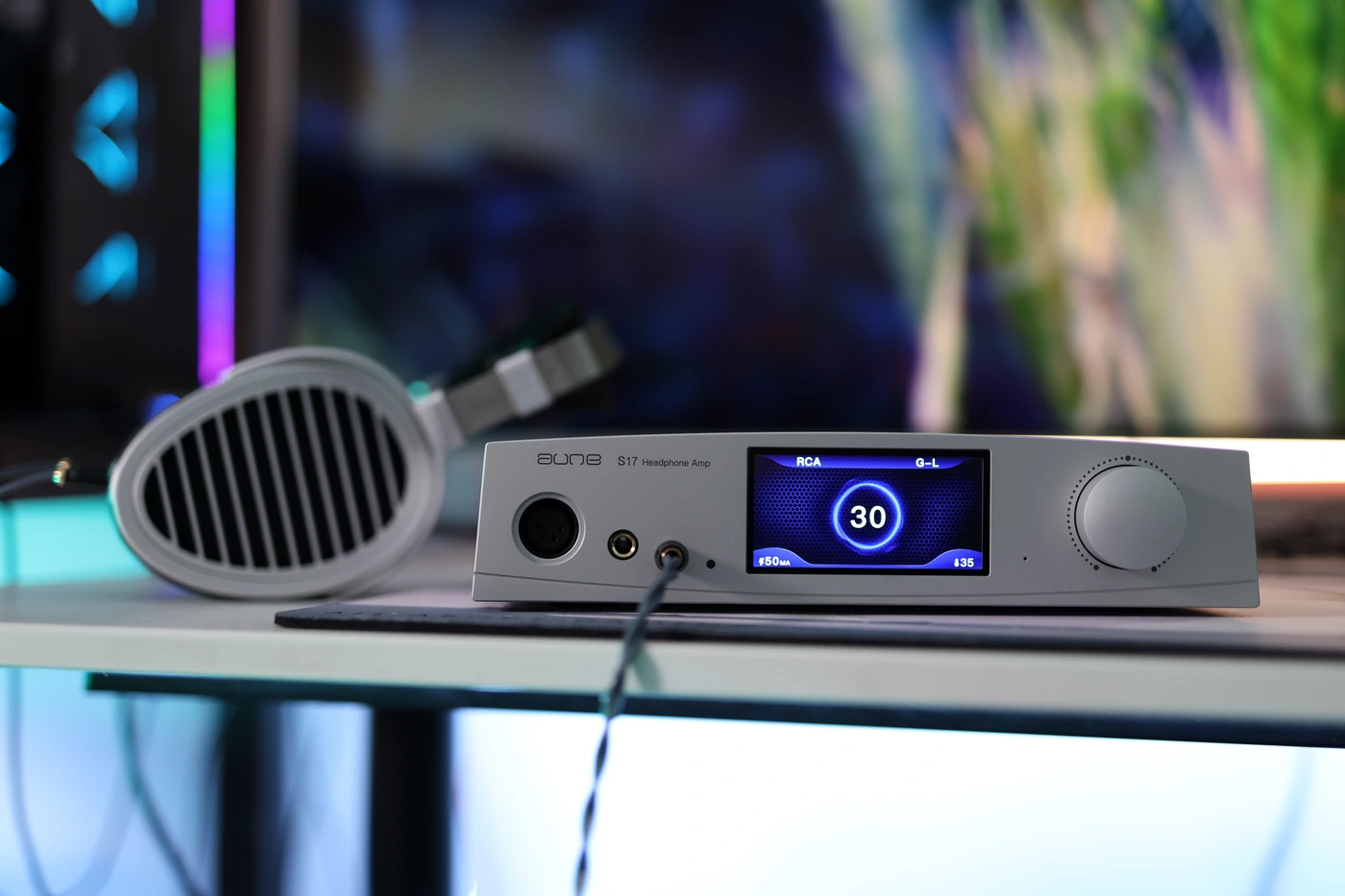 The treble is magical too, and just the right spice to complete the natural and slightly relaxed presentation of the S17 PRO. It is smooth, but it has a good sense of detail, resolution is excellent, but it never feels forced, fatiguing or shrill. This seems to stay valid even if the source is brighter, or super neutral, and there's a certain character and presentation that S17 PRO has and which it applies to all music and which will be similar for all headphones and IEMs. This is not bad, and it actually is to be expected, but that signature will make all headphones sound more relaxed, deeper, fuller, warmer, and more lush, all while allowing the soundstage to be wider, deeper and instrument separation better. The treble is slightly smoother, more relaxed compared to most sources, and S17 PRO is remarkably capable to render micro detail and finer nuance, despite being a specialist amplifier that has a signature that's typically associated with less focus on details. 
Comparisons
Aune S17 PRO vs Aune S9C PRO (699 USD vs 699 USD) – Naturally, the biggest question I kept receiving from you guys ever since you heard that I'm working on reviewing S17 PRO is how it compares to the S9C, which I also liked a lot. We will keep it to sonics, and S17 PRO is a thicker, warmer, more lush sounding amplifier, it drives headphones that are harder to drive, but with less effort, it sounds more relaxed, and renders slightly more detail and better resolution than S9C PRO. The bass in particular is heavier, deeper and has lower distortion, while the midrange is smoother, and the treble is smoother too. For rock and metal, I actually feel like S9c is a bit brighter, which I like, but for electronic, EDM, jazz, classical and most music, S17 PRO is a better amplifier as it gives more body and impact to music. Both are excellent in the dynamics, and both are super clean sounding, S9C is more neutral, which will appeal to you if you don't like a warmer, thicker sound. 
Aune S17 PRO vs Violectric HPA V340 (699 USD vs 2000 USD) – Naturally, we need to talk about the differences in sound if you're considering getting a HPA V340, and this is a larger amplifier which I also love a lot. The sound of the HPA V340 is actually considerably more neutral, brighter, and is more focused on detail, as it is one of those amps that makes the sound feel wide and holographic through an increased brightness of the treble. The treble is more airy, and it seems more detailed, but S17 PRO is more punchy, deeper sounding, more lush and it has better control in the bass, more driving power with most headphones, and it sounds smoother overall. Both have extreme driving powers, so you shouldn't have any issues with either, and what one of them can drive, the other should be able to drive too. If you prefer a brighter sound, HPa V340 should satisfy you well, while if you want a warmer, smoother, more relaxed and more lush sound, Aune S17 PRO is a top choice and with a similar level of detail and clarity.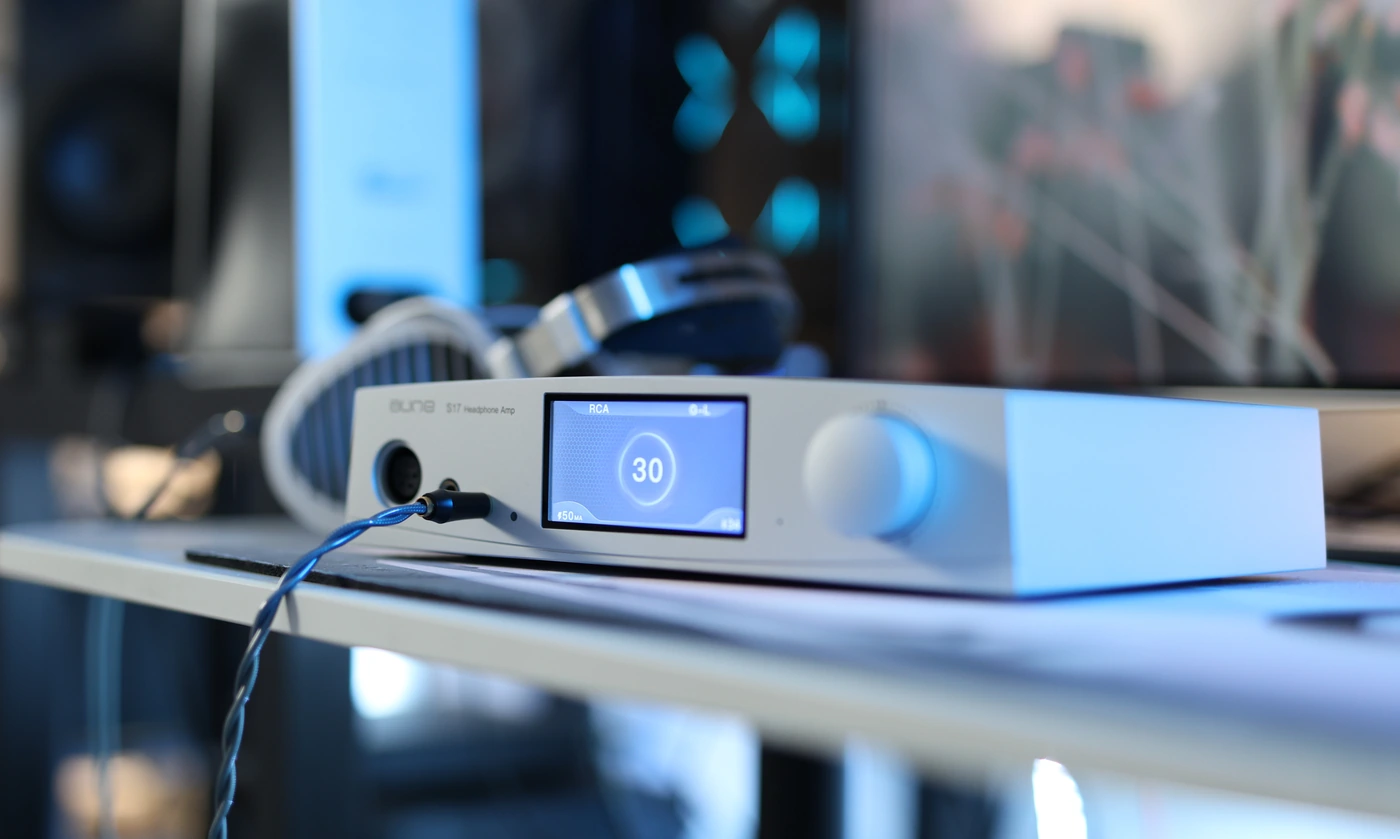 Aune S17 PRO vs Feliks Echo 2 (699 USD vs 799 USD) – We have two powerful amplifiers, and close in pricing, but the driving power provided by S17 PRO is quite a bit higher than that of Echo 2. Echo 2 also sounds best with dynamic headphones that have a higher impedance, while S17 PRO world equally well with all headphones regardless of their tech and design. I prefer using the Echo for certain headphones, such as HD 660 S2, which can take advantage of the more neutral, airy presentation that Echo 2 has, but S17 PRO generally has a warmer, thicker, deeper sound with better impact, and more detail and resolution. The one thing where Echo 2 wins is the midrange, where it sounds richer and more organic, but it is quite neutral and cold, compared to S17 PRO which sounds thicker and much warmer, and also more lush. The treble of Echo 2 is crisper, airier, but also will show harshness and fatiguing albums more easily, while the treble of S17 PRO is smoother, more relaxed, and leaner. Both are quite good, but each does something different, and they are actually almost total polar opposites in tuning.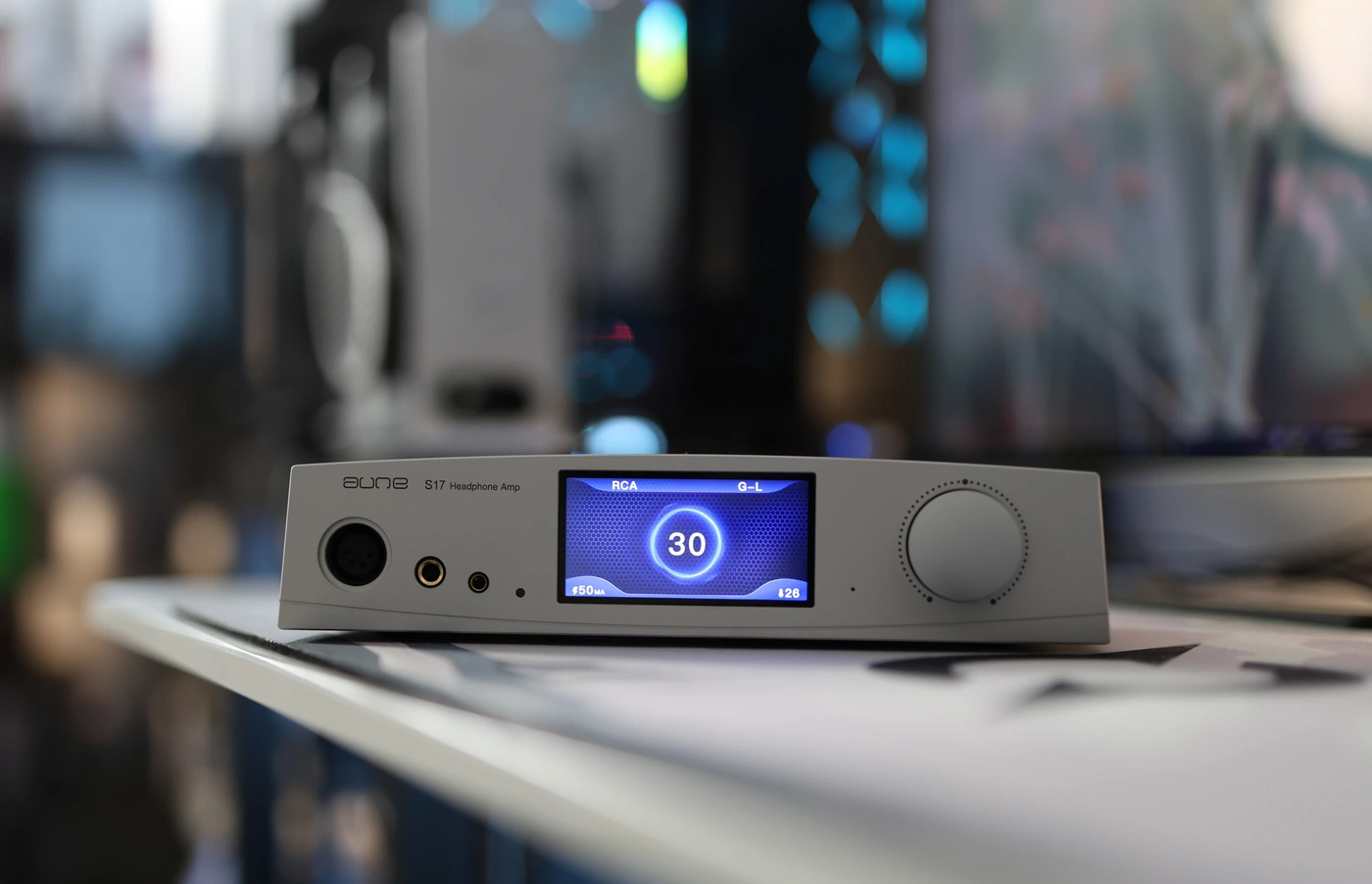 Aune S17 PRO vs Astell & Kern Acro CA1000T (699 USD vs 2299 USD) – Here's where things really get interesting, because S17 PRO is much larger and runs much warmer, but the actual driving power is also much higher than that of CA1000T. The tube mode of CA1000T can increase the richness of the midrange, but it also increases the distortion a bit and can decrease the dynamics a bit, while S17 PRO has a really tight, and detailed sound regardless of the mode you're running it. The overall sound of the CA1000T is wider in the soundstage, but also somewhat flatter, with a more linear presentation, and S17 PRO has much more bass, more impact, and a deeper presentation too, with both headphones and IEMs. The midrange can have more texture with CA1000T, but this is an acquired taste, which will not fit everyone, while the midrange of S17 PRO is smoother, warmer and more lush. Both have a somewhat related treble, but S17 PRO is smoother and more relaxed, while CA1000T is surprisingly neutral and bright when placed side by side with S17 PRO. 
Value and Conclusion
It is always fun to review flagship units, but most of them are priced way beyond the rational amount the average customer is willing to spend, so it is good to mention Aune S17 PRO having a really decent, down-to-earth price, being great for those who want the best sound but can't afford to put in all their resources just in the amplifier. Happily, at the 699 USD price point, S17 PRO has excellent value, and is easy to recommend regardless of the headphones you may have, being able to fully educate Audeze LCD-5 to sound nimble, smooth, detailed and rich, and those are the hardest to drive that I ever had.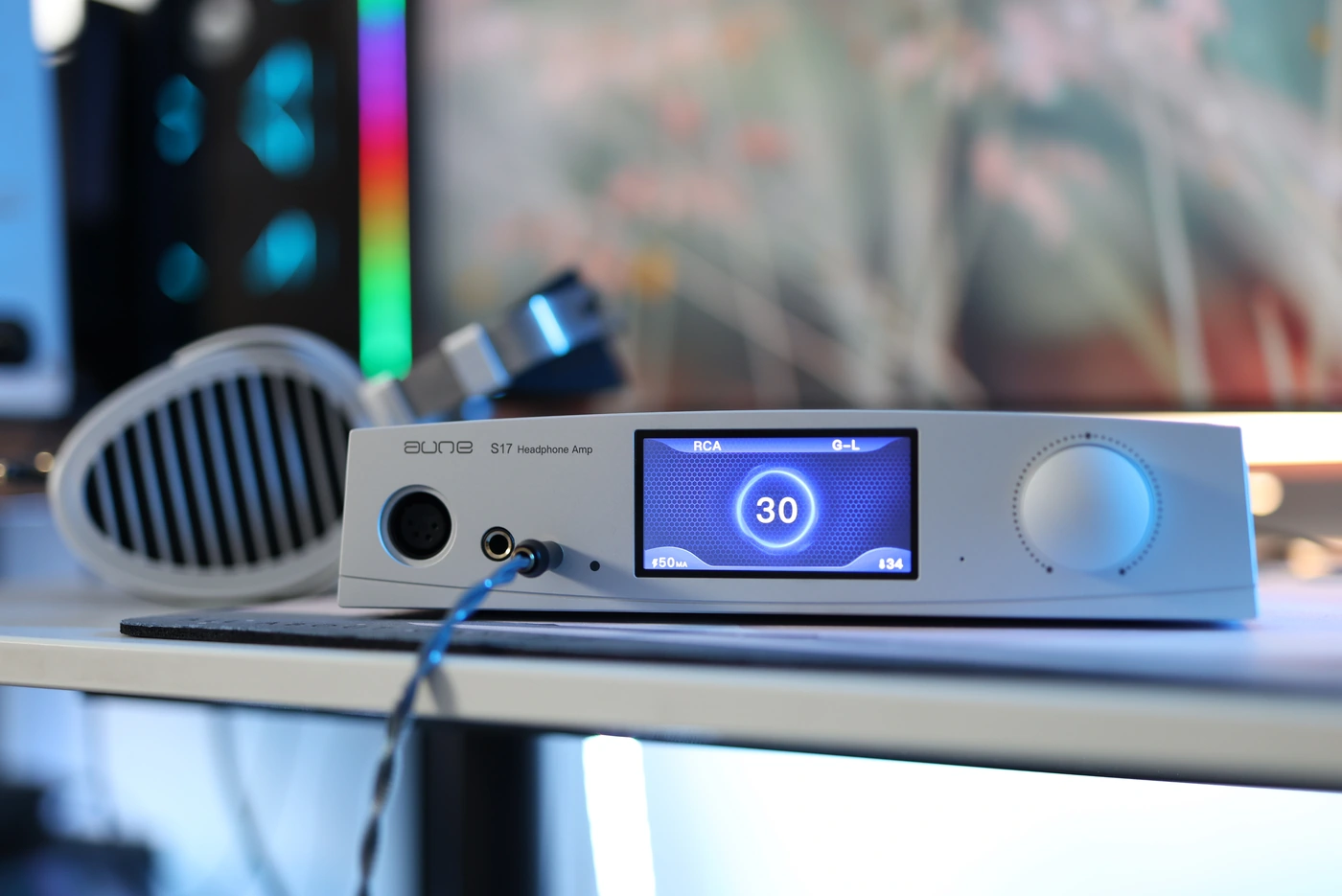 Before the end of today's review, I want to award Aune S17 PRO the Hall Of Fame award, being an amplifier that has not just a super fair pricing, but excellent design, superb performance all across the range, and outstanding build quality.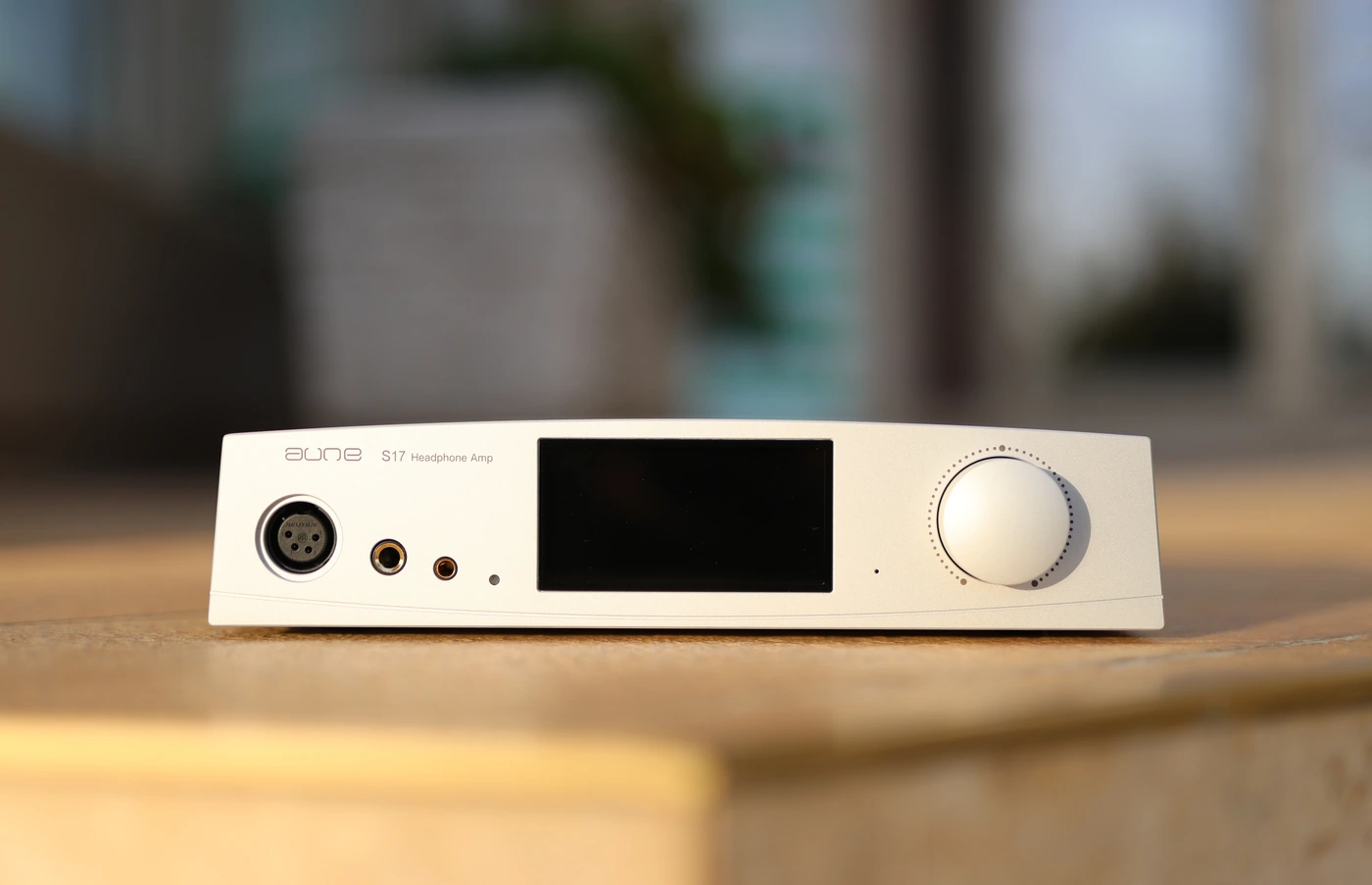 At the end of today's review, if you're looking for a headphone amplifier, or preamplifier that sounds rich, lush, deep, but also very detailed, clean, and has outstanding spatiality, Aune S17 PRO will take you by surprise with its excellent performance, outstanding build quality, and great support, being a fully recommended purchase in our review today. 
Product Link
You can grab one from www.amazon.com here – https://amzn.to/3SDgDUc
You can find your local distributor here – http://en.auneaudio.com/index.php?s=/Home/Article/lists/category/68.html
Aune official store – https://mall.auneaudio.com/S17-Pro-Headphone-Amp-p22519408.html?variant=116210525
---
--- Please remember to stay safe, and always have fun while listening to music!---
 - If you have a dime to spare, please donate, and help us! It would make the day brighter for me and my wife- 
---
Full Playlist used for this review
We listened to more songs than those named in this playlist, but those are excellent for identifying a sonic signature.  I recommend trying most of the songs from this playlist, especially if you're searching for new music! The playlists are different for Spotify, Tidal and Youtube, and based on the songs I enjoy and are available on each!
https://www.youtube.com/playlist?list=PL_cjBXGmwSHSdGcwuc_bKbBDGHL4QvYBu
https://open.spotify.com/playlist/5J3oloz8Riy9LxEGenOjQ0?si=979ba4f082414be7
https://tidal.com/browse/playlist/330fd544-8e5b-4839-bd35-676b2edbb3d5
--- Contact Us ---





---