iFi iDSD BL – The pinnacle of DAC and AMP
iFi decided to make a statement in portable audio devices so they created iDSD BL. 
iFi Micro iDSD BL (Black Label) is one of the most interesting DAC/AMPs produced by iFi. iFi is a part of Abbingdon Music research group from UK.
I didn't know much about iFi before getting the BL, but they have proven to be very friendly so far and their interaction with their customers and fans is a commendable one.
I was extremely skeptical towards iDSD BL at start, mostly because iFi has a very bold marketing and makes a lot of promises that I had questions about. Those questions can only be answered by firsthand experience and usage. No matter what explanation one would receive, you always have to hear to believe when a device receives so much enthusiasm as iDSD BL does.
iFi has a lot of involvement with the audiophile community and organizes tours and such, but I wasn't part of their tours before because there were not enough participants from Romania. I briefly heard the original iDSD (the silver one), when I was comparing it with Chord Hugo, but I didn't have enough time to make a complex or throughout impression about it, although I remember liking it quite a bit.
I have absolutely no affiliation with iFi at this moment, I am not receiving any kind of incentive to sweeten things out. My review will be as objective as it is humanly possible and it is a description of my general experience with iDSD BL as a device, every opinion expressed is mine and I stand by it.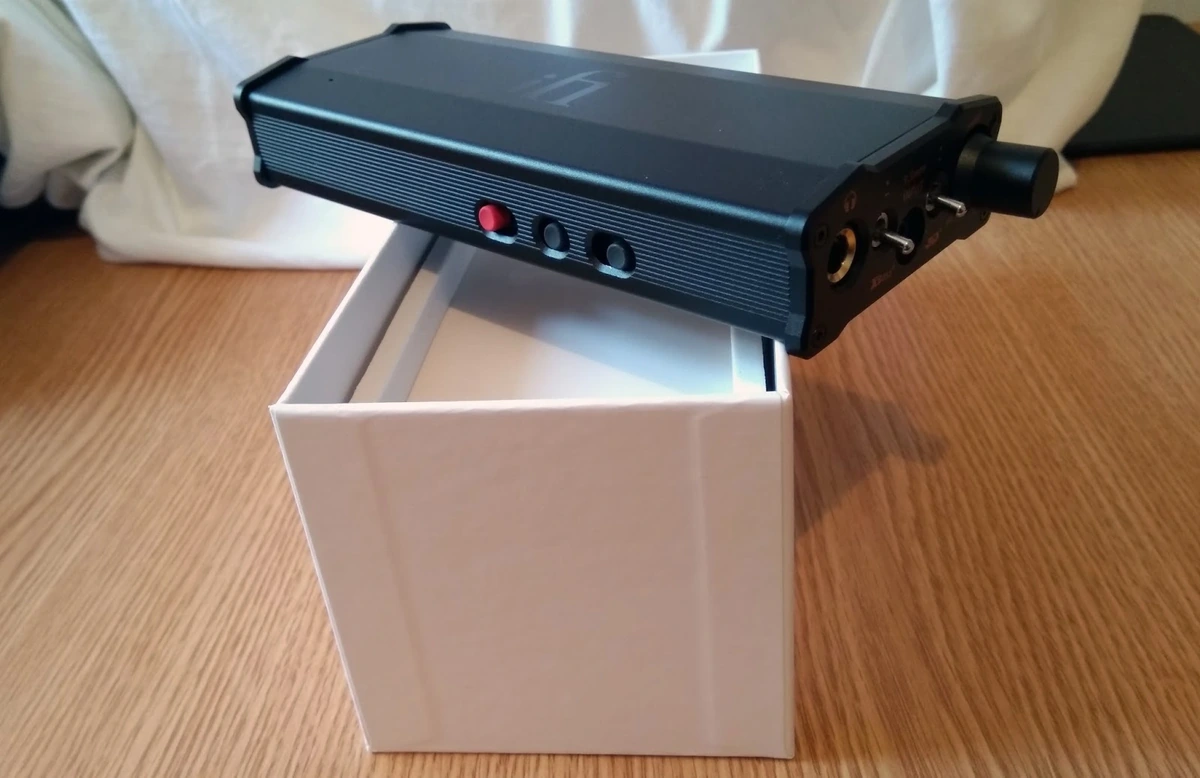 When it comes do audio devices, I have owned a FiiO X5 2nd generation for the longest time from all the devices I've been using and it has proven to be one heck of a companion. I love that device and I love FiiO's service as they've helped me one too many times. I also owned Sennheiser ie800, Meze 99 Classics, and owned many other devices through the years, but only a few really impressed me.
I have made my best efforts to get my hands on an iFi iDSD BL as curiosity was burning me for a while. All good and well, I was quite happy when I got a unit to play with as people have been praising iDSD BL to be one of the greatest DAC/AMPs of all time and my skepticism was burning me from the inside.
Fast forward to one week later, the unit arrived in Romania. It was the Thursday before the Easter and everyone in Romania was in a rush to get their preparations done. At the moment I received the unit, I have already lost two nights of sleep, having less than two hours each night since I had a lot of work to take care of before Easter.
The delivery guy called me to pick up iDSD BL and he was quite nice. The weather was warm and clear as well, but the lack of sleep was slowly getting to me. I could barely walk, was really hungry and most of all, a very bad mood haunted me the day I received the package. The delivery guy handed me the cardboard package and I placed the box and the unit in my backpack for an hour or so, as I went ahead to finish some of the work that still needed to be taken care of. When I arrived home, the unit was carefully placed on my desk (still packaged) for another hour as even so, I had even more work to do and could not dig right into a DAC/AMP before finishing at least the urgent tasks.
After finishing all urgent tasks, I told myself that it is time to test the unit for a few minutes, just for quenching my curiosity then it's sleep time for at least a few hours. By the time I managed to open the box and sort out the cables, the fatigue was so much that I was blinking for seconds just to be able to keep myself awake.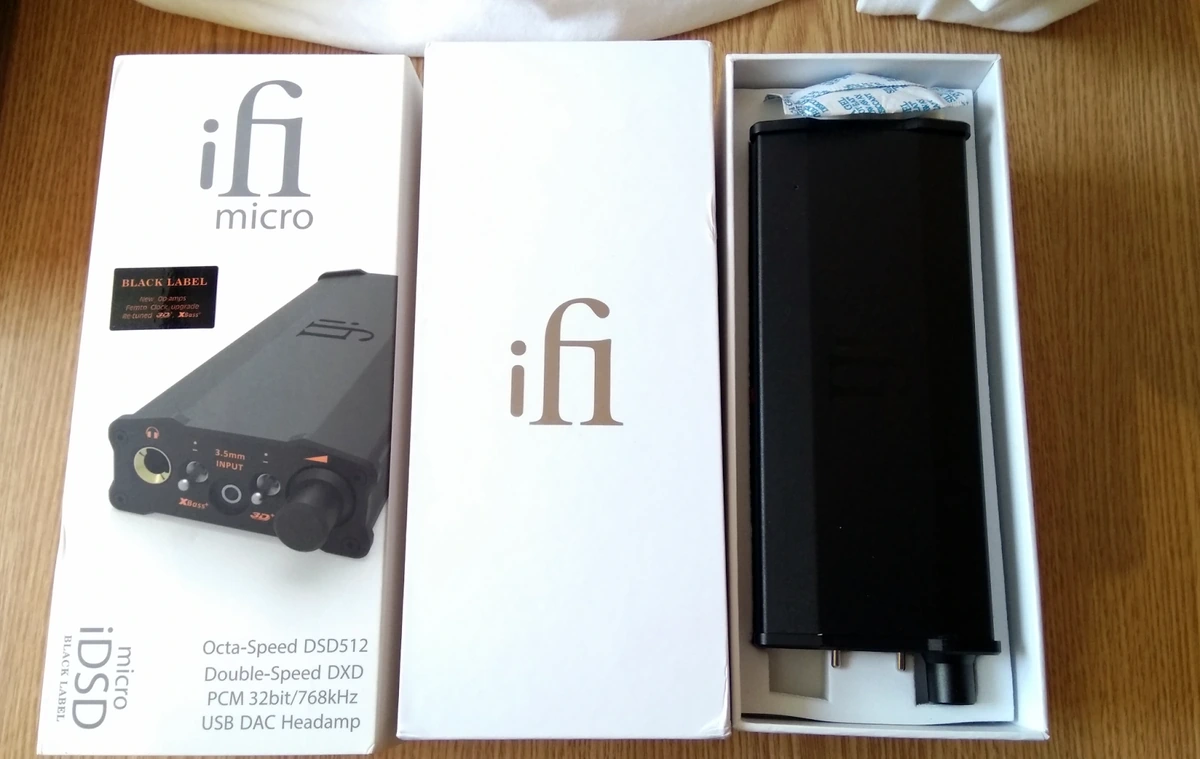 The unpacking experience is a delight and the large number of accessories is a huge surprise, but at the moment the sound was the only thing that was on my mind. I wanted to know how it sounded like right away and the only accessory I really wanted to get out of the box was the USB cable. Happily, iFi included a good quality USB cable that's hard to mistake, so I could get to listening to iDSD BL right away.
All good and well, the DAC install process on a laptop requires less than a minute and it didn't even ask me to restart it. Good work on the software support.
The moment of shock comes in just a few seconds, when iDSD BL is connected to the laptop and I start the first song. Yes… It sounds interesting. It is impossible to tell how it sounds right away, but what I notice immediately is the soundstage and the details! It surely sounds different than what I'm used to hear when I listen to my music. I check if the X-bass and 3D switches are off, and both are off. What am I hearing though… Something… Details. Tons and tons of details. My laptop already has a dedicated audiophile grade DAC solution, based on an ESS chip, but iDSD BL stuns me with the great amount of details it is able to pull from the songs I have known for ages.
Compared to my laptop, iDSD Micro BL managed to bring in so much more detail and nuance, life and dynamism to highlight every change of tonality and micro detail, to expand the soundstage way above what I am used to. All good and well, but I need to hear more of that new sound. As much as I fear it is addictive, I simply can't stop myself from listening…
I notice only later that at least three hours have passed and I'm still enjoying iDSD BL with a smile on my face. My work-related fatigue isn't there anymore, or rather I completely ignored my lack of sleep only so I could listen more to this wicked witchery box.
The first impression ends only after I spend over four hours listening to iDSD BL. I eventually went to sleep happy with the sound I heard. A few hours of sleep, and I was back ready to listen to this thing. One way or another, I just can't get enough of it!
| | |
| --- | --- |
| | |
| | |
| | |
| | Yes, works for Android and Windows |
| | |
| | |
| | |
| | |
| | |
| | |
| | Custom Native Burr-Brown DAC |
| | |
| | |
| | |
| | |
| | Yes, Line-Out Cable Included |
iDSD looks like an instrument from a future engineering laboratory, fitting well in with the industrial design world but able to pass fairly well for a modern piece of equipment. The black writing on black surface provides a plus of style, and the logo style and design looks modern. The power mode button is red – excellent selection as it is good to mind its role, especially if using IEMs while all the other buttons are black.
There are a lot of cues written on the device that indicate what every button and setting does, all indications being written in an orange font for better visibility.
The device is pretty thick and pretty long, but not wider than Xiaomi Mi Max or the average smartphone. The main audio jack is 6.3mm, but it comes with a golden adapter to 3.5mm so you can connect any headphone and IEM out of the box.
Connected to a DAP, it doesn't look like a bomb, but it does look quite eccentric. The extreme edges of the device are slightly rounded while many of its surfaces feature an angular design, all resulting in a neat looking device.
The settings buttons are mostly made out of rubber and offer a hassle-free operation. The two buttons for sonic adjustments that read X-Bass and 3D are actually made of metal and are presented on the front of the device. There are two buttons / adjusters under the device, one for changing between preamplifier and Direct functions and one for engaging different iEMatch settings.
The two frontal buttons, XBass and 3D feature an old-school switch design that will be loved by many audio enthusiasts, and both buttons click right into place. The buttons are fairly distanced between each other and it is possible to switch 3D on and off without touching the volume wheel. After using the device portably for a long time, I can surely say that even with a line-in cable connected, the buttons can be accessed and switched with no problems, I found their operation to be really good. I do change the xBass settings once per every two-three songs as I like it's effect.
The analogue volume pot is pretty sensitive to touch, turns smoothly and offers a hassle-free operation. The true volume wheel usable area starts after 10 – 11 o'clock, if the music is too loud at that point, it is good to either lower the power setting or engage iEMatch.
The USB input is found on the back of the device, along with the SPDIF in/put and RCA outputs. The USB port is a male USB port, but it has enough space around it to accommodate any OTG cable, like the one I had around so it can be said that iDSD a wide array of inputs.
The RCA ports connected flawlessly with multiple RCA cables I had around and the ports themselves look well aligned. I mainly use iDSD BL with Sennheiser ie800 and Meze 99 Classics, but I'm sure that the RCA ports will come in handy for many users.
There is a USB smart power port on the right side of the device, which will provide power to a smartphone. This Smart Charge port also features a quick charge function. It connected with Mi Max on first try and it provided charging, same for other smartphones I had on my hands.
There is a single LED light on top of iDSD that provides insight to its function (featuring multiple colors and blinking patterns, depending on the information it provides).  
Every port and every button feels fairly sturdy and the whole device feels good in hand. While not in operation, the device is cold and the metal surface is finely textured resulting in a good grip and a nice sensation to the touch. While in usage, iDSD can get a bit warm, but I never experienced it getting too hot. Per total the build of the device is hard to fault and after proper testing I can confirm that it will react well to daily usage.
Testing
I have tested iDSD with my laptop and my phone, both as a portable device and as a desktop device. I also used iDSD BL with X5ii where iDSD BL acts as an amp for X5ii
The connection to a laptop is flawless it works with both Foobar, Youtube videos and games without asking any questions. With Xiaomi Mi Max, which is an Android device, the connection doesn't require anything but the OTG cable and it works as well as with a computer. With FiiO X5ii, the connection doesn't work using the OTG cable, the preferred way being to use a co-aux cable with X5ii, or using X5ii as a DAC and iDSD as an AMP. FiiO X5-3 should be able to use an OTG cable as well as co-aux signal, but I don't own X5-3 to confirm.
For the record, I have watched over 4 continuous hours and over 12 hours in total of music videos, using iDSD BL and Mi Max stacked together + Meze 99 Classics, while I was riding a bus. I can confirm that I didn't get any physical fatigue, the devices can be held together in one hand and there's no downside to using them this way. Using iDSD BL to watch videos on a phone is not just possible, but it is a fun and recommended experience.
iDSD BL has a specific signature that would come off as fun and natural. The whole sound is organic and musical, there is enough energy in music for it to sound engaging, the soundstage without 3D enabled is already very good, and the bass is well controlled, goes deep and has enough strength to sound real. The top end is friendly, and it sounds natural and life-like, iDSD BL having a very detailed top end. The Dynamic Range is impressive as iDSD BL gives life to a lot of music and the transients are quite impressive as well. The textures of iDSD are more than good, it is easy to get amazed by the guitar textures in many you've known for ages, especially with Meze 99 Classics. The sound is slightly warm and the midrange is expressed naturally, the whole sound being a perfect fit for Metal, Rock, Pop, Classical, Cabaret, Punk, Rap, Avant-Garde and Electronic (Everything Electronic included here). To be fair, iDSD works well with any kind of music thrown at it, from the La Fille aux Cheveux de Lin by Claude Debussy all the way to Metallica's Fuel.
There is absolutely Zero channel imbalance on iDSD after the volume pot passes the 10 – 11 o'clock mark. This is fair for a device using an analogue volume pot and every device with an analogue volume pot presents this behavior. The 11 o'clock mark can be passed with virtually any IEM or headphone, provided you are using the right power + iEMatch combination, iDSD providing one of the most versatile driving functions ever seen in a DAC / AMP. A large number of iEMatch + power settings combinations is possible and you can obtain a wide array of power and volume outputs.
To be fair, I never had a problem with channel imbalance, and my volume wheel sits around one-two o'clock while out and about and between twelve and one o'clock while inside.
I needed to hear iDSD much more than the initial audition to see what amazed me so much. What kept me up that day although I could barely see straight?
The bass of iDSD BL is clearly part of the reason why. The natural, detailed, well textured and deep bass is one of the best features of iDSD BL. Even a basshead will cry of happiness the first time he hears the bass iDSD BL and the power it is able to push. There are many devices that go deep with the bass, but iDSD feels like it goes even deeper. The slam and hit are out-of-this-world. One of the biggest advantages of its bass is that it doesn't bloat one bit, but it goes deep in a clean way. The texture is kept in the bass, and it is presented in a vivid manner. It doesn't cover the midrange or treble at all, shining together with the rest of the spectrum.
The bass recovers details very well, each tiny detail in the bass being easy to discern even for an untrained ear. A strong point of iDSD BL is also the control it has over the bass. iDSD provides much more authority than either Mi Max or most portable devices. the bass being clean, coming forward and being there to take names. The bass is one of the fastest I've seen, the good control meaning not only great depth, but also a fast recovery from every bass slam and hit. Metal and fast electronic music requires a very fast bass that is able to stop on the drop of a needle, but is also able to sound natural and full when it is called for. iDSD does a great job at this. The decay is precise and it is neither shortened nor prolonged, just the right amount of decay one would expect out of a TOTL DAC / AMP.
There is a little button that has XBass written all over it. Now, the device clearly doesn't need for it to be pressed as the bass is already great in its natural form, but who can stop themselves when they see the button there?
Engaging the X-Bass will add thickness, slam, warmth and raw force to the bass, but it won't slow it down. The sound keeps itself on the same level of coherency, but there is even more tactile feeling to every hit. It shakes the very ground around the listener and is able to turn a great bass into an even greater bass.
There is also a 3D button that begs to be engaged. This is a bit unexpected, but when engaging 3D, the bass gets better in separation and layering. There is even more space to music and everything doesn't just come forward but from around the listener as well.
With iDSD BL, the question is not whether it outclasses something anymore. The questions is now: "How can it sound so natural?"
I am sure that the already incredible bass of ie800 and Meze 99C/N play a major role in this as well, but neither can have such an amazing sound when they are driven from a smartphone and although ie800 is an IEM, it is one of the hardest to drive IEMs in the whole world and iDSD BL has total control over it.
Knife Party – 404 –
The bass hits deep at the first notes, but when the song really starts, the bass goes even deeper. Each hit resonates for a good period of time, providing a clean and natural decay. All the symbols in the mids and treble stay clear and there is no trace of bloating or overdoing things. The fast segments of the song offer a good rhythm, the bass is fast enough to give a tactile / out-of-head sensation, and it feels like it is hitting from around the listener if called for. The sound is unique and most certainly is a surprise hearing this well-known song sound like this for the first time.
Infected Mushroom – Becoming insane –
The bass comes to accompany every guitar note at the beginning of the track, giving the guitar a lush and organic tone. The bass after the intro part feels insanely clear, goes all the way down to the lowest of octaves, but doesn't intrude on the midrange, the whole sound assembly giving the right bite to all guitar notes. The song comes off as deep and playful and there is a certain musical feeling to it. For the record, the amount of enjoyment with iDSD BL is so high that I couldn't stop listening the track while taking impressions.
Gorillaz – El Manana – The bass comes off clear and again, there is no trace of distortion or overshadowing of other elements. The song feels liquid, flows well, and the background tones come through very well, having enough space to breathe around the forward tones. The spaciousness of the song is very good and there are sounds that come from around the listener, the song having a very involving feeling to it.  
Oceana – Barracuda Capital of the World – iDSD reveals good properties when playing a natural decaying bass guitar that's supposed to envelop the whole song. The song needs to a very clear bass to sound right and iDSD BL nails it just right. There is no trace of distortion in the bass, and the left – right panning is played well, while the micro details and short notes come out at the right moments, but keep their places as details, while the cymbals and the tambourine instrument have enough spark and bite to make the song feel real. The voice has a natural tone and is very convincing, coming forth with warmth and emotion. 
iDSD BL's midrange is a big surprise as it kept me up two nights testing between BL and other devices. At first, it was pretty hard to tell how the midrange of iDSD actually sounds like, and especially how is it different from other devices. There are differences that any listener notices at first hand listen when trying iDSD BL, but those differences are hard to name directly without a comprehensive vocabulary.
One of the words I would use to describe it is musical. iFi iDSD Micro BL is extremely musical. Rather said, it is not analogue sounding but natural and life-like. Many digital sources make the music sound dull and lifeless, flat and undynamic. iDSD BL has an exceedingly dynamic sound, to the point where it is hard not to notice how much the dynamics are improved over weaker sources.
There is a large difference between loud and quiet instruments, and there is a great sense of space and detail in the music. It is able to make Pop music sound dynamic and detailed. It doesn't forgive mistakes present in the music, but it is able to assemble the track in an authentic and enjoyable manner.
When I first heard iDSD, I was surprised to discover that the midrange tonality between iDSD, Mi Max and a laptop's on-board audio is different. After further analysis, it seems that iDSD is the one that sounds most natural and that comes closest to how music sounds when live. The digital / off-tone of Mi Max, for example, cannot compare to the iDSD BL's spot-on tone.
For the record, I couldn't start writing about the midrange until listening to iDSD BL for a few days since it dazzled me. One of the things that really surprises is the space between instruments that's much larger than any smartphone or laptop offers. I would venture to say that the sound of iDSD BL and ie800 is similar to that you hear when you hear Sennheiser HE-1 (Orpheus 2) native setup. The sound gains so much in the dynamics, details, and soundstage that it really reminds of how HE-1 sounds like. I would actually venture to say that that iDSD BL + ie800 can actually be compared to He-1 sound wise.
The midrange is not recessed by any means, the midrange being in line with everything else, leaving enough space for instruments to breathe and for certain sounds to happen outside of one's head. Even though ie800 is an IEM and not a full headphone, iDSD makes certain sounds come as if they are coming from a good distance from the listener. Especially details and background instruments can feel as if they are meters away from the listener. A piano in the background is possible to imagine being somewhere in the back as it is possible to imagine how the pianist is playing it with a silly smile on his face. Guitars in Metal and Rock songs have power and texture to them, they don't feel recessed. The sound is vivid, exposing all the ribs on a steel guitar cord to the listener.
Obscurcis Romancia – Sanctuare Damne –
By the time the song starts, you are surprised by the warmth and strength of it, pushing the listener to know that the song will shortly come to life. The multiple guitars chords come vivid and clear, the voices having enough strength to achieve an absolute impact. The synth notes are now extremely clear while many times they used to came off as a fuzz and they are now easy to tell apart from the guitar notes. The crescendo in the song has the right amount of suspense and the drums construct the rhythm all the way to the full explosion. The cymbals are very clear and have enough spark to feel tangible, but they don't go overboard and don't sound sibilant nor harsh. The acoustic guitar notes have the right amount of bite and attack to them, while the piano and the bass guitar have their own place and continue building to a coherent sound, making the whole song sound like a sweet symphony.
Iron Maiden – Dance of the dead –
The acoustic guitar has a good bite and presence, while the bass guitar is lucid and forward for the whole duration of the song. The voice is extremely clear and there is no sibilance on any of the words. The speed of the whole song is good, but it doesn't go overboard and every note has a natural decay leading to a crystalline but natural sound. The cymbal crashes are smooth, but that is the song itself. The synths are clear and sure a nice addition to the song as on weaker sources they can sound mushy, now being strikingly rich. What is shocking about the song is the separation and definition of instruments as many DAC/AMPs struggle with getting it right. The soundstage is very large, the guitar sound projecting itself in the front of the listener. The guitar solo has a natural tone and the rhythm guitars that accompany it make great highlights for one of Iron Maiden's greatest guitar solos.
Maroon 5 – Not coming home –
This is a special live song from the album "Songs about Jane". The song is vivid and there is even more space between the instruments than it is with other sources. The voice is clear and has good texture while all guitar sound clear. Although the song is dynamically compressed, the public is clearly somewhere in the background and the drums are well placed in the stereo field. Fuzz effects on guitars are easily palpable and they don't come as a cloudy or mushy fuzz while the bass comes forward and impresses by impact and lack of distortion. The special effects travel well in the sonic space and don't cover themselves in a veil while the voice remains natural and honest for the whole duration of the song.
System of a Down – Nuguns –
The aglow texture of the guitars is easy to spot right from the start of the song. Every note and reverberation comes through in hot and gets the right amount of play time. The voice is clear and tonality is spot-on. The bass guitar gives the whole song a lush presentation and a good impact while the cymbals and drums bite enough to be part of the song. The solo at 1:30 is vivid and the special notes are all entities of their own, coming with good distinction, well separated from the other guitar notes that are sang at the same time.
Kathy Perry feat Kanye West– ET –
This song is dynamically compressed from the start, but I'm quite enthused with the way iDSD BL handles it. The song will easily distort on many setups due to the high amount of dynamic compression it has, but stays daylight clear with iDSD BL and ie800. Bass strength helps a lot with the impact as every single drum hit at the start of the song is able to shake the ground around the listener better than a night club in the summer. What I really love here is the voice of Kathy Perry. Like all female voices through iDSD BL, it sounds crystalline, having the right tonality to it. Female voices sounding right is a pretty important aspect of any DAC/AMP + IEM or Headphone combo since a beautiful female voice can brighten one's day and I'm happy to report that iDSD BL nails the female voices very well. Male voices are clear as well and the tonality is also spot-on. There's an organic air to vocals that's hard to explain without using superlatives, but it's easy to discern after first hearing iDSD BL.
Powerman 5000 – To Be Human –
The song starts strong and fast, each individual bass and guitar note being sent well while every cymbal crash comes through with life and energy to enlighten the listener. The voice doesn't have any sibilance to it, and the effects and symbols up top have a good bite giving the song a great happy and musical impression. Guitar solos both have the right amount of highs to them and manage to live through the headphones / IEMs used as if the guitarists are masterfully playing them right in front of the listener. I couldn't stop from banging my head and tapping my leg on the floor hearing this song on this setup and had to start singing along by half of the song – this is the best measure of the fun one can have with this setup.
Kishida Cult – High School Of The Dead –
A great example of clear guitar tones and clear female voices. The voice feels close to the listener, the tone doesn't sing in falsetto at any moment, the guitars staying clear throughout the whole song. There is a clear tendency of the song to sound wide and guitar effects come from the sides, while the voice comes from the front of the listener, creating an ideal stage presentation for this song. The bass notes are welcome as they define the flow of the song very well, while the cymbals have the right amount of bite and spark to them, staying clear and in their own sonic space. There is a clear distinction between the guitar playing in the right and the one playing in the left ear, both offering a clear view over their own musical notes.
Ken Arai – I Am –
This is a dubstep / Electronic song and you can be pretty curious to hear on a TOTL setup. The first impact of the song is amazing as the bass hits deep and strong. The bass shakes the very being of the listener, but it doesn't distort one bit – amazing rendering knowing how pumped this song is in the bass. There is a clear sense of space and the mid-centric effects are well defined while their texture is aglow and tangible. The soundstage has a round shape with the sound being wide but deep at the same time. There are effects coming from the back and the front of the listener, effects coming from the whole audio space, and effects coming from the sides. Both Ie800 and 99C/N have a wide presentation by themselves, iDSD enhancing both, making this song even more fun to listen to.
iDSD BL treble is actually very good. I was extremely skeptical about the treble when I got the unit since many said that it is warm. I feared that this warmth or would mean a rolled off treble that doesn't carry enough energy. I am a natural treble lover, or at least I prefer cymbal crashes to have a good spark to them and I prefer for the symbols in electronic music to express their energy and not be recessed. iDSD goes one step further and above with this.
With iDSD, the treble doesn't sound rolled off nor is it sibilant. It has just the right amount of treble to present the notes well and keep their ADSR and Dynamics in check without any distortion or harshness.
When a source has an inherent lack of treble, the music sounds laid back. Happily, iDSD Bl doesn't suffer from this and energetic music sounds energetic, upbeat songs are upbeat and laid back songs are laid back. Both fast and slow music sound natural / as they should through iDSD BL, leading to a DAC/AMP that is versatile in its presentation. Acoustic music in special needs a precise bite, and iDSD brings the right resolution for this.
Acoustic guitars with metal wire strings need to have a certain bite to them that enhances the whole engagement of the song. I'm glad to report that iDSD BL keeps the guitar string bite complete without sounding metallic or shrill.
In the past, I kept searching for this type of sound. A sound that has both a clear but present treble, energy and musicality. Trumpets need a lot of treble and energy to express their textures right. Leningrad is a band that uses trumpets quite a bit throughout their works, and iDSD BL helps a lot with their music getting the right amount of bite and impact, energy and life.
Protest The Hero – I Am Dimitri Karamazov And The World Is My Father –
This is a song that easily sounds harsh and sibilant on most sources. While I don't really mind sibilance or harshness, iDSD does manage to make it much more musical and coherent. The bass hits are stronger than on other sources, especially in the lowest registers while the treble is very clear but doesn't offend. The guitar notes are a pleasure to hear and the soundstage is large, but doesn't overdo things, keeping the right forwardness to the track. While this song hasn't got as much soundstage as other Protest The Hero songs, it clearly doesn't sound one bit congested, and like pretty much everything through iDSD BL, it sounds open and the instruments feel as if they come defined in layers, with a clear distinction between the individual layers.
Leningrad – WWW –
The song starts strong and the treble shines through the trumpets and the hi-hats. Guitars are sweet while the voice is clear and has the right amount of strength and texture to it. The bass is forward and keeps the song on-track while it is able to stop at the right moment to keep the chorus in check. There is a clear definition for the guitar notes in left and right, each ear getting a whole symphony of guitar notes. The pianos in the background are clear but don't intrude if they aren't called for. I'm once more amazed by the clarity and energy of the song given the lack of sibilance expressed by iDSD BL.
Teddy Loid w Daoko – Me Me Me – P1 –
The female voice is sweet and fuzzy while the cymbals are clear and come through with the right amount of strength. The piano and synth notes are also sweet and don't intrude but aren't subdued either. P2 – The female voice has the right tone to add to the emotion of the song while the pianos are also tuned right for the emotional impact. P3 – The symbols in the higher registers are not sibilant nor harsh, but have enough strength to enhance the whole song. The electronic parts come through with amazing strength and the bass is there, doesn't intrude but doesn't take a back seat either. The most amazing part of the song is the soundstage which gives it a vividness that's hard to match. The effects towards the end of the song are fairly crisp and won't intrude one on another. It is easy to say that the way the female voices are rendered by the iDSD BL + ie800 is lovely, but iDSD BL + 99N is awesome as well.
The Offspring – Pretty Fly For A White Guy – The song starts with a really good impact on the drums. The cymbal crashes last exactly as long as they should while the female voices have the right sweet/smut feeling to them. The guitars following are clear and have a good texture while the male voices are crisp and clear. The bass keeps playing in its own layer, doesn't intrude nor does it bleed in the midrange. The cymbals are smooth and friendly, but they define the energy of the song, while the solo guitar is good at playing the notes in a well-defined location. The effects of the song have good spatial positioning and there's no smearing of space or dynamics.
Special note
I must say that I have been dazzled by the iDSD + ie800 combo and I feel haven't offered Meze 99C/99N enough time during the in-depth sonic review. This segment will be dedicated for iDSD BL + 99C / 99N combo.
IOSYS – Professional Breeders – The song starts literally strong and the bass is literally shaking my head as I'm listening to it through 99N. The sweet girl voice comes through in perfect clarity without protruding on the bass or changing the impact the bass continues to have in its own layer. There is a clear distinction between the foreground and background voices that is being knitted through, while every single synth sound happens over a large space rather than radiating from a fixed source.
Rings of Saturn – Infused – The song starts strong, but the voice, cymbals, bass and guitars stay in shape as each sound is easy to distinguish from one another. The cymbals are clear and there is no trace of early roll-off while the guitar solos start to weave in the song almost as if the fabric of the universe is being woven in the listener's mind through the headphones (The song is part of Alien Metal after all). The notes are whole and there's zero smearing while the sensation that a whole world is being constructed in front of the listener is true to itself, the song having great impact and strength with which it comes forth. The screaming voice has the right texture and tonality while the guitars have never been so vivid before, leading to an enlightening experience to this song. It is possible to hear the natural tailing of the cymbals every time it should happen as it is possible to hear the small finger movements on the guitar frets while the song is being played.
Haggard – Chapter I / As The Heaven Wept – The song is difficult for most setups as Haggard uses many instruments in their songs, most of times only a few of the instruments sounding right. On iDSD + 99N, each instrument is rendered well in its own layer, while the bass brings a magical power to the whole song. The guitars are sweet and they clearly keep their own place and when the piano becomes the foreground instrument, each key pressed has the convincing tune of a grand piano. There is a specific resonance that the piano used has in reality and iDSD + 99N manages to reproduce it very well, and what's even more, I'm using them with no EQ while taking this impression! The male voice has the right amount of attack and warmth while every scream carries forward a unique power and emotional attachment.
Eminem – Rap God – The first piano notes are clear and the bass notes go deeper than they ever did. The tactile sensation of bass is almost possible to feel through the whole head. Eminem's voice is as clear as it can be while the words are easy to understand and the effects can be heard through the whole audio space. Meze 99N and 99C are some of the best headphones if you're eyeing an amazing bass, and iDSD makes things even better. With weak sources, the bass doesn't go as deep as it does with iDSD BL and the soundstage is nowhere near as large nor are the instruments as well separated and layered. By the end of the song, I'm amazed how the bass can start out of nowhere and stop at the drop of a needle.
The soundstage of iDSD BL is one of the big surprises I have every time I hear it. The soundstage has a wide and deep feeling to it. There's no mistaking about it when a sound travels through the sonic space and iDSD BL is great at getting the attention and imagination of the listener involved in the song. There are lots of sounds that should come from a certain spot in the audio space and iDSD BL manages to create those sounds at the right spots.
There is a large difference between iDSD and a weaker source when it comes to soundstage. iDSD manages to sound airy and open, even with a closed back headphone and a TOTL IEM like ie800.
My music tastes rely heavily on a good quality soundstage and I would be willing to say that iDSD BL has one of the best soundstages I've heard to it. Without the 3D button engaged, the soundstage is natural / life-like and believable, while the positioning of instruments is extremely convincing. Songs that would normally sound congested (Protest The Hero – I am Dimitri Karamazov and the world is my father, Hollywood Undead – Knife called Lust) will now get a certain air to breathe and and while iDSD doesn't overdo things, it most certainly is able to make things sound musical and enjoyable. With songs that already have an over-expansive soundstage (Mindless Self Indulgence – Angel), the soundstage doesn't get smeared, but everything gets its textures enhanced, while the soundstage stays true to itself with certain effects sounding like they happen outside of the headphones themselves. There is no detail loss or over-enhancement of soundstage, rather things stay natural and do sound like they are coming from further away than they ever did.
The 3D button will enhance the soundstage and the lower treble, giving a bit more air to instruments and it will also push the instruments further to the sides. It works amazingly well with 99Neo and 99Classics, almost replacing the need of using any EQ after all.
iDSD BL sports one of the best ADSR / PRaT I've seen (heard) in audio devices. The strong point of its (Attack, Decay, Sustain, Release) and (Pace, Rhythm and Timing) is how natural it sounds. Probably one of the features of its special Burr-Brown DAC implementation, iDSD BL has a very life-like sound where the musical note feels whole, there is no early cut from a musical note and there is no bloating or distortion. The transients of iDSD BL don't feel enhanced or analogue, they simply feel natural – one of the best feelings in audio devices possible to achieve. After testing iDSD BL with another DAC, I would say that the AMP implementation it has is also flawless in the transient response and ADSR area since it stays at an excellent level.
Where many DAC/AMPs can come off as extremely fast they can also feel like they have their transients enhanced, leading to a loss of depth when compared to the fulness iDSD can offer in songs that require it to sound real. Fast notes are lightning fast, micro textures are clear and wouldn't come off as enhanced, but rather perfectly natural where the black background of iDSD BL will make those micro textures easy to spot without having to over-enhance them.
Music sounds effortless, and we have to mention the levels of engagement this type of presentation brings to the listener. The naturalness of ADSR will give flavor to every piano note and it will highlight the nuance of every sound played through iDSD BL.
Portable Usage
Many of you might wonder how portable is iDSD BL and how will you feel while using it as your travel companion. The only thing I can comment here is that I have a small side bag in which I normally carry FiiO X5ii and it easily accommodated iDSD BL. I've been using it daily as a portable device for over two weeks now, and I never experienced a problem with it. It is built like a tank after all, it has been put in my backpack, it has been turned on and off a ton of times and I had been adjusting the volume and its settings while on-the-go. Everything works absolutely flawless and the black FiiO X5ii + iDSD Black Label looks stunning. While some stacks can look like bombs, people look at this stack like you're carrying one of the most luxurious devices for listening to music.
For the record, with the rubber feet attached and when using the included rubber band, the stacking with X5ii not only works, but it works flawlessly. iDSD BL doesn't press against iEMatch nor against the preamp/direct button, as you can see from the pictures.
All in all, I totally recommend iDSD as a portable device as my experience with it has been great and I have literally taken it with me while going on business trips and had an overwhelmingly positive experience.
iFi iDSD Micro series (both the BL and Silver) are probably the most versatile DAC/AMP series ever made – This is not even a compliment but a statement.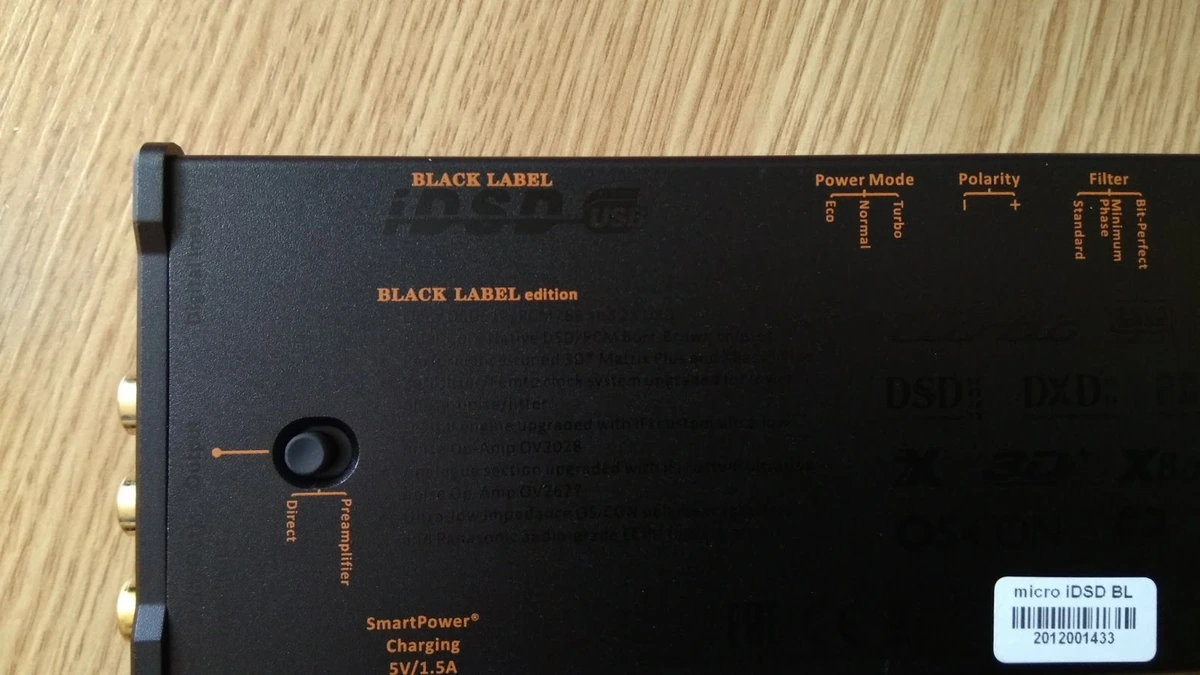 They are able to drive headphones from the most sensitive to the hardest to drive headphones (including the famous HD800), IEMs that are picky with their driving source (ie800), without having any hiss or having any kind of struggle to keep control. In fact, the rather high power rating of iDSD BL gives it an upper hand over most DAC/AMP setups out there as it extorts an amazing control over any headphone and IEM out there. Ie800 is a good example as although it is an IEM, it is much harder to drive than Meze 99 Classics and it can swallow a lot of power before the sound achieving its full potential.
Happily, iDSD BL has no problems in gaining a true level of control over ie800, and it controls Meze 99 Classics / Neo greatly as well. The bass iDSD has is completely different from the bass of Mi Max or a good laptop soundcard because it goes far deeper and hits with far better strength, all while keeping far better control. Only now I realized that Mi Max actually can hit strong in the bass with enough EQ, but will quickly lose control while iDSD is able to keep its control over the headphone for the entire duration of a musical note.
Given its versatility, iDSD can happily pass as one of the best DAC/AMP to own for a long duration of time or if trying to drive a varied collection of headphones and IEMs.
To expand on this, iDSD features three power levels, Eco, Normal, and Turbo, each of them pushing a different power into headphones and IEMs, but it also has three levels of iEMatch, which controls the power, if Eco is too loud for driving the most sensitive IEMs. Any combination of the two is possible, my most used combination being iEMatch turned off and power set to normal. This combination gives enough power and control over both Meze 99 Classics and ie800, but also leaves enough volume pot movement space to fine adjust the volume when needed.
iDSD has virtually no background noise, or at least no background noise that I can detect. This means that it will be dead silent with any IEMs, helping with the enhanced soundstage characteristics.
All in all, iFi can only be commended for the great job they do with the driving segment of iFi iDSD Micro BL and at the moment it looks like iDSD BL can safely drive almost any Dynamic, Planar and BA headphone or IEM very well.
Comparisons 
Since iFi iDSD is a DAC/AMP device, I can only compare it partially with other devices I own as I don't have a lot of other DAC/AMPs on my hands right now.
iDSD BL vs FiiO X5-2 –The tonality between the two devices is different as X5ii offers a more forward presentation, with a lower mid hump while iDSD is even throughout its whole frequency response. The fact that iDSD will offer a larger soundstage also means that most instruments will be less in-your-face. iDSD BL will generally make all details and micro details easier to spot, but it won't take away the fun of a good forward song. Given the differences between the devices (DAC/AMP vs DAP, iDSD has no storage and needs a transport, X5ii is not intended to do the same job and can work as a transport for iDSD), they are complementary rather than direct competitors, using iDSD as an AMP to X5ii being an idea as feasible as using X5ii as a transport. If there is a way to describe their sound differences, FiiO x5ii sounds analogue-like while iDSD BL sounds real-life-like.
iDSD BL vs Mi Max – The main transport I used for iDSD BL while portable was actually Xiaomi Mi Max since it was pretty comfortable and I didn't have the cables to connect it to X5ii. I felt the limitation of having a single mSD card in Mi Max, but iDSD connected flawlessly to it, and there were no problems in their usage together. iDSD has a much cleaner, better controlled, better detailed presentation. iDSD has considerably more authority over the headphones, making Mi Max sound loose and weak in comparison. There is a clear tendency for iDSD to extract far more details from music, and the level of realism the music has with iDSD is worlds apart when it is compared directly to Mi Max. Mi Max sounds digital, while iDSD sounds real-life-like. There is no doubt that iDSD will sound better to virtually any listener, but the fact that Mi Max is a very nice transport for it is true as well.
iDSD vs P775 custom ESS DAC solution – This is a good laptop's on-board DAC solution, maybe the best DAC/AMP solution found on a laptop at the date, masterfully implemented by Clevo. While the laptop sounds audibly clearer and more vivid than other laptops I had in the past, iDSD's sound is worlds apart in a good sense. iDSD has a considerably cleaner presentation with far better transients, much better instrument separation, considerably better driving power and bass slam. iDSD provides a considerably closer to reality presentation. Testing the DAC of the laptop by using its line-out against the DAC of iDSD reveals that the DAC in iDSD is also considerably better, being considerably cleaner, and rendering every musical note with far better definition and refinement. All in all, iDSD sounds life-like while P775 sounds like a bad digital presentation, but having iDSD near a laptop will mean that iDSD will play all the music.
Taking into account all the specifications of iDSD BL, the driving power, the incredible sound and all the jobs it can get done, the price can only be considered fair for its abilities. In fact, it is one of the best priced DAC/AMP units considering that it is able to drive both ie800 and HD800 in the same package and do it while being portable. Compared to its competitors, iDSD has a better general versatility and provides a lot of features that cannot remain unmentioned such as great battery life, great sound, custom sound tuning, works as a pre-amplifier, can receive both USB and SPDIF signal, offers a plethora of accessories in the box, comes with a good warranty (iFi being known for offering a pretty good warranty for their products), and works out of the box with a machine or device running Android or Windows. iDSD is a fierce competitor regardless of the price we are considering it to run for.
I haven't even gotten into the DSD and DXD abilities iDSD BL has, but that's just the icing on the cake and I'm not the best person to ask about those. I imagine that if RedBook FLAC sounds this good, DSD and DXD will sound crazy good so the fact that iDSD BL is able to play DSD and DXD and Hi-Res files is also something to take into account and it adds to the value.
The general sound iDSD has with Sennheiser ie800 reminds of Sennheiser HE-1, the famous headphone setup costing over 55.000$, so that's something to take into account as well. Most of its magic comes from the wide soundstage, instrument separation, sonic layering and great authority it has over headphones, while the spot-on ADSR and precise sound come in to help define the sound as one of the most natural sounds heard in a DAC/AMP unit to date. Most alternative devices that offer similar abilities are priced higher than iDSD BL so the value of the unit is really good.
There are lots of reasons to get an iFi iDSD Micro Black Label and in fact, given its versatility and sonic abilities, the only possible downsides in the long run might be the size if you want to stack it, and… That would be it. I can't really fault this device. The battery life seems to last forever in my tests and I haven't managed to drain the whole battery so far, the ergonomics were fairly good for me and the whole device is just lovely.
You don't need to buy a new transport as it works with almost any smartphone and any laptop, and it most certainly doesn't need any special treatment to be used. It looks and is sturdy, the owner not needing to worry about it getting scratched, while the design is modern enough to take iDSD out of the home and even when heading to an official meeting.
It is a device that's been able to put up with my quandaries and my crazy usage habits, as I have used iDSD BL portable and I've watched a few hours of music video with it using my smartphone as a source without any trace of fatigue or it becoming boring. I consider the usage a fun experience and would totally recommend it if you're looking for a DAC/AMP that will last you a long while and works like a pocket army knife, able to do all kinds of jobs, no matter how odd the job is.
If the main question that's on your mind is if you should be getting an iDSD Black Label, the simple answer is go out and listen one! You will hear how good it sounds for yourself! Every user so far is in love with their iDSD Black Label and I am sure that it will make even more music lovers from all round the world fall in love with its signature!
---
---
--- Please remember to stay safe, and always have fun while listening to music!---
 - If you have a dime to spare, and donate, to help us with electricity and work expenses, it would make my day much brighter, as it would help me improve things around the website and increase the frequency of my posts - 
---
Full Playlist used for this review
We listened to more songs than those named in this playlist, but those are excellent for identifying a sonic signature.  PRaT, Texturization, Detail, Resolution, Dynamics, Impact, and overall tonality are all revealed by those songs. We recommend trying most of the songs from this playlist, especially if you're searching for new music!
https://www.youtube.com/playlist?list=PL_cjBXGmwSHSdGcwuc_bKbBDGHL4QvYBu
--- Contact Us ---






---
---