Hiby FC5 MQA Hi-Res DAC/AMP – Small Package, Tons Of Power
Hiby FC5 is a DAC/AMP with MQA Decoding, priced at 159 USD, and has one balanced output in the form of 4.4mm, 125MW of power per channel at 32 OHMs, a LED data rate indicator, and a type-C USB port. It will be compared to other DAC/AMPs in the price range, including HIDIZS DH80 (139 USD), Maktar Spectra X2 (200 USD), ifi Hip-Dac2 (190 USD).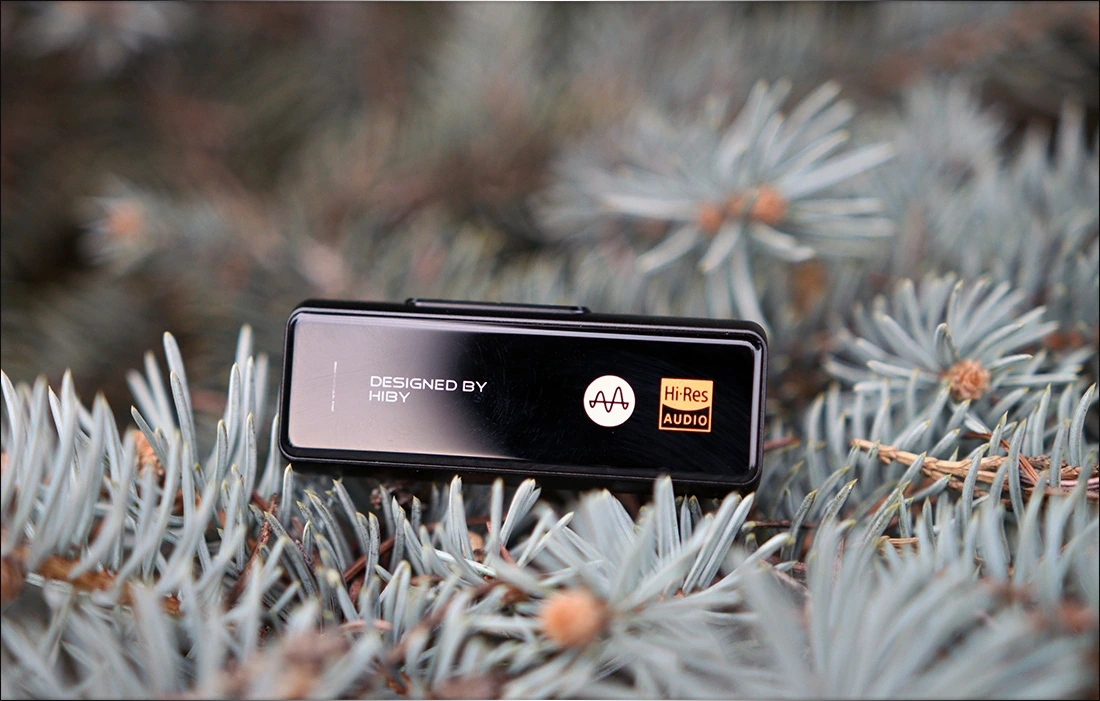 Introduction
Hiby is that one company that's an expert at designing software for music players, but also for android smartphones. Most of my friends are using Hiby Music as their main app for playing music on Android, and for good reasons, it is stable, fun and has excellent sound for most android smartphones, plus full support for external dongle DAC/AMPs. Hiby also makes high-end music players, IEMs, and more, as I've reviewed a huge number of their products in the past, including Hiby Beans, Hiby R6, Hiby R3 PRO, and more. They are pleasing to work with, provide good support for their products, and they have a superhero level employee, Joe Bloggs, who used to work with FiiO in the launch period of FiiO. It is recommended to purchase Hiby products from Amazon when possible, to get the most reliable support, and their products are generally carried by all the big shops, including Linsoul, HIFI Go, and others, and are available even locally in most countries, so it shouldn't be hard to find and test their products when you decide to go for them. 
It should be noted that I have absolutely no affiliation with Hiby. I'd like to thank Hiby for providing the sample for this review. This review reflects my personal experience with Hiby FC5. Every opinion expressed is mine and I stand by it. The purpose of this review is to help those interested in Hiby FC5 find their next music companion. 
Product Link
You can grab one from www.amazon.com here: https://amzn.to/3v0Az6b
If you're in the UK, you can grab one from www.amazon.co.uk here: https://amzn.to/373itYw
And if you're from Europe, you can grab one from www.amazon.de here: https://amzn.to/3tUcLS7
Packaging
First things first, let's get the packaging out of the way: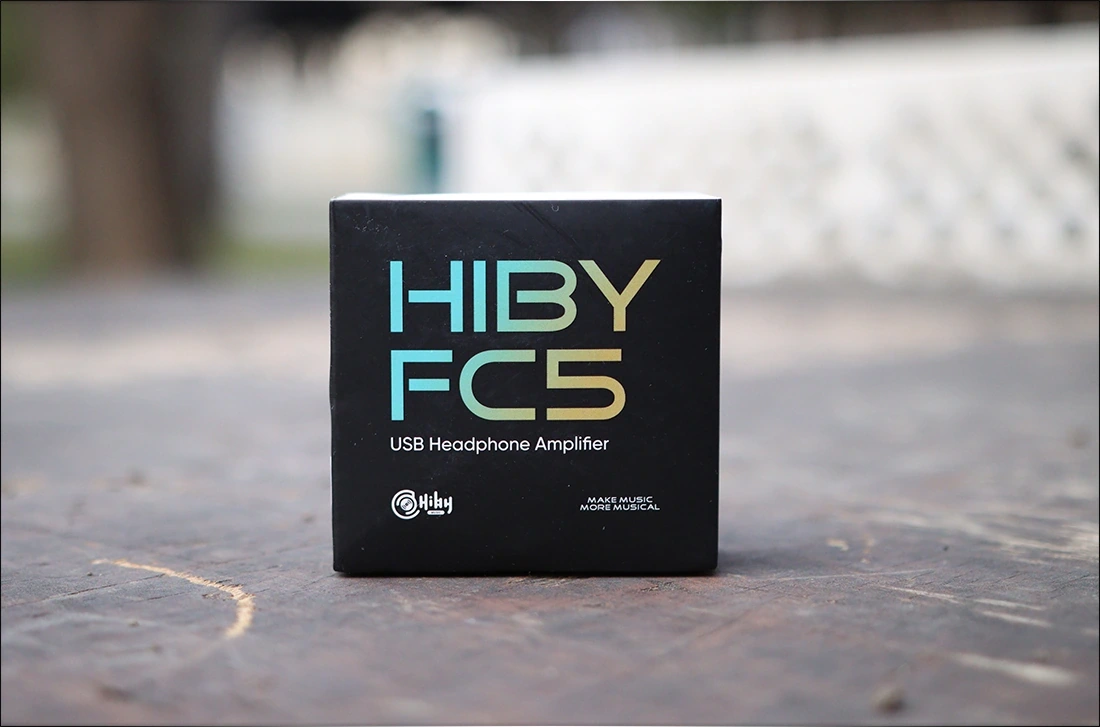 We have a super complete package with FC5, and we get the main unit, a USB cable for computers, a USB Cable from type-C to type-C, for android smartphones, and an adapter from 4.4mm Balanced to 3.5mm. 
Build Quality/Aesthetics/Features
On paper, we have superb features and abilities for FC5, including 4.4mm balanced output, an ES9281PRO DAC, dual ES9603Q AMPs, Hi-Res certification, and 125mW of power per channel at 32 OHMs. FC5 can decode hi-res files, up to 32Bit / 384 kHz, and DSD up to DSD128 via DoP. It works flawlessly via Computer Windows and Android, does not need any drivers, and will work with lightning ports and mac as well. There's a little LED on the front that shows what rate you're playing at, RED is for not playing any music, Blue for Redbook PCM, Green for hi-Res PCM, and Purple for MQA.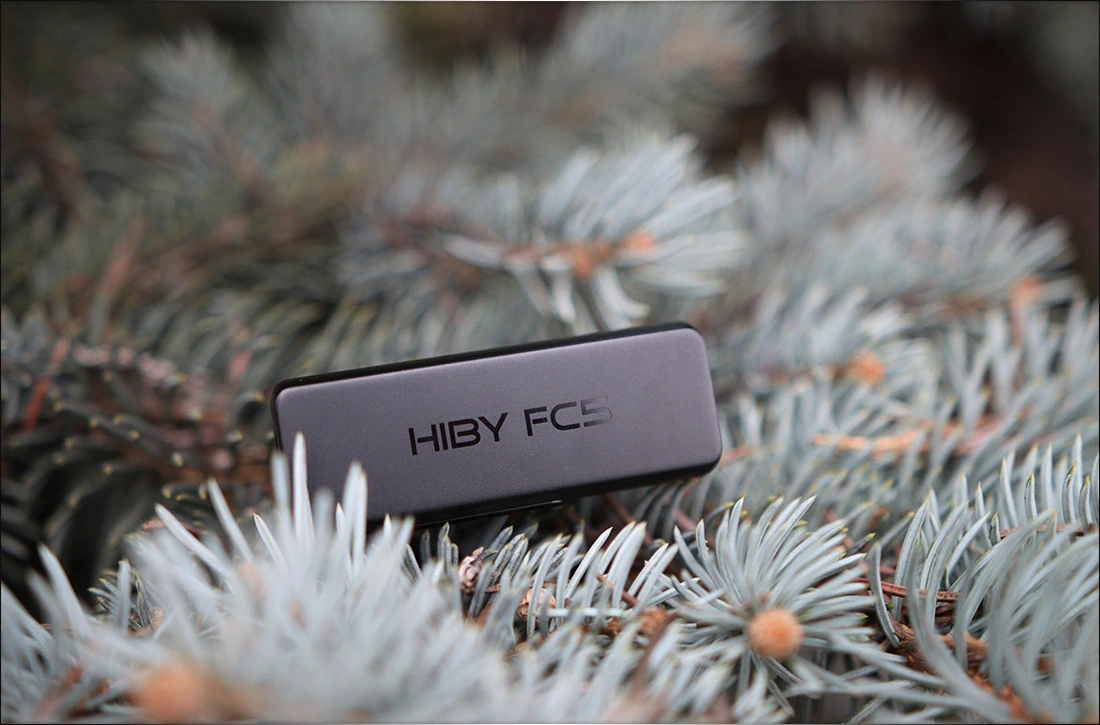 We expect a lot from Hiby, and they do deliver, as they have a very low weight of just 22.5 grams, but a PRO level of ESS DAC, along with Dual ESS AMP modules. They also have a great SNR or signal to noise ratio of 114dB, and a crosstalk rejection of 71 dB. We have MQA support, up to 8X unfolding, and it is a renderer not decoder, so it supports MQA with Hiby Music and Tidal, where the software music player will perform the initial 2X unfolding, and FC5 can render the 4X to get a total of 8X MQA unfolding. 
The unit is super solid, and has a glass face, metallic back, one type-C input, and one 4.4mm output. There is a volume rocker that has a separate volume control for FC5 (it does not interfere with Windows's volume control which you can still use while using FC5). Basically, it does not override the windows volume control. The same happens on Android, where the smartphone's volume control is separate from FC5, and the buttons on FC5 do not control the volume on the smartphone. For the best listening quality, I suggest leaving the volume control to FC5, and set your windows or android source device at maximum. FC5's internal volume control means that it consumes less, gets less warm, and is used at its best.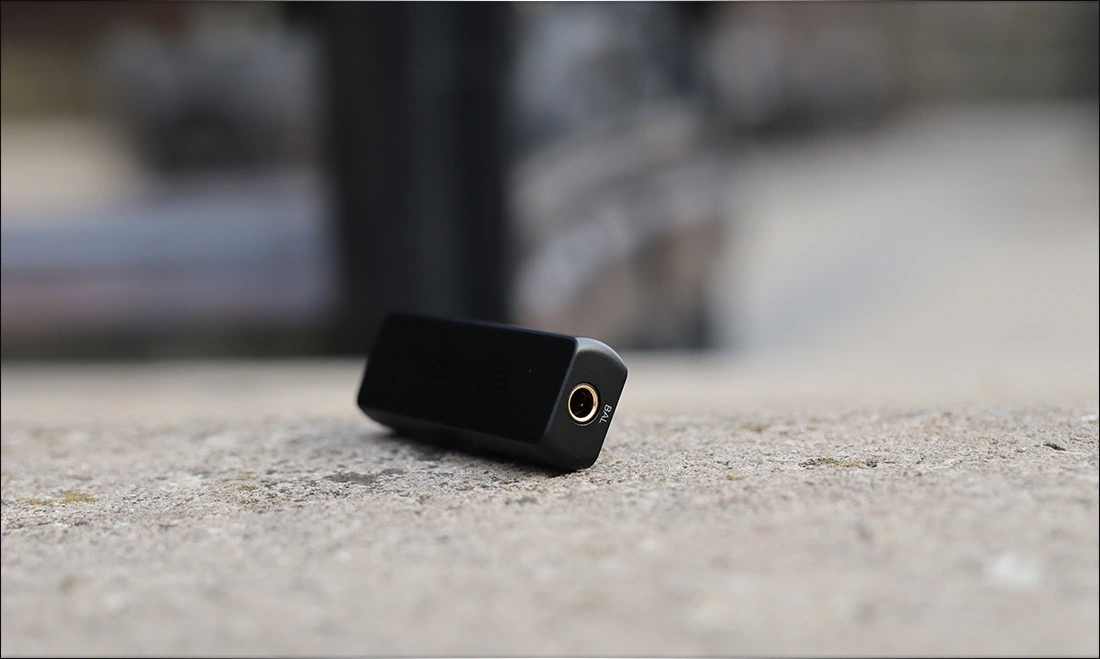 The unit gets only moderately warm during usage, even if it is being used at maximum volume, which is surprising because it can make Sendy Audio Peacock literally massage my head with vibration, zero distortion and superb control. Even better, it seems to interfere very little with the battery of my smartphone, Black Shark 4, and I don't mind using FC5 even if I'm away for a while. In fact, the thing here is not that it is inherently an energy saver, but more that it has outstanding power available, so usually you'd be using FC5 at lower than half the maximum power. For Sendy Audio Peacock, if FC5 is set at maximum, I need to keep the Windows or Android volume at 30% for super loud listening, so FC5 just has that much power available. 
Hiby FC5 has a slightly high output impedance, which means that with very sensitive IEMs, you will hear a hissing in the background that is audible with no music playing, or when music is playing very quietly. With Sivga Peacock, there is absolutely no background noise or hissing audible, and the background is ink black. Not only this, but the overall sound is very natural and airy, wide and slightly warm. This hissing is audible mainly with ultra-sensitive IEMs, like Ambient Acoustics MAD24, but should not be audible with any full sized headphones, and IEMs with a higher impedance (MAD24 is rated for 8 OHMs of impedance). 
The general rule of impedance, when the source has a higher output impedance is as follows: The higher the impedance of the source is, the stronger the effect is. The effect is that the lower the impedance of the IEMs is compared to the source, the less bass the final sound has, and the brighter the final sound is. I noticed the effect with MAD24 from Ambient Acoustics, Campfire Ara, Fir Audio VxV, and Dethonray Tender 1, so you should seek IEMS with an impedance of 32 OHMs and above when going for FC5. You can also use an impedance adapter that increases the impedance, like iEMatch from iFi, which should alleviate the problem, but for a DAC/AMP that's meant to be portable I can't recommend this as the main usage scenario. 
One thing that baffled me from the first moment of seeing FC5 is the adapter included in the package. This is because FC5 has a balanced 4.4mm output, and the adapter goes from balanced 4.4mm to 3.5mm jack, but no one states whether that 3.5mm jack is balanced or single ended. Upon testing, I found that the 3.5mm jack on the adapter is single ended, and it is something to take into account, because I found it won't burn the FC5, but it may mean that the design inside of FC5 is not fully balanced, rather the 4.4mm port is. For the average user this won't mean anything, and neither will it mean something for someone who does understand a bit more about IEMs and headphones, just that you can use the included 3.5mm adapter with SE headphones / IEMs with no problems. The diagram provided by ESS for their ESS ES9281PRO DAC indicates that it has a single ended design, so the grounding for Left and Right channels combines the same at the DAC level, which is most likely why you can use a 3.5mm single ended adapter with the balanced 4.4mm output of FC5. 
Sound Quality
I have used FC5 with a high number of IEMs and Headphones to best determine how it sounds. It was also allowed around 100 hours of burn-in, to allow it time to do its thing, and me time to get used to using it and to its sound. It provided a clean usage, no random maximum loudness bits, no dropouts, and has generally been super fun to use.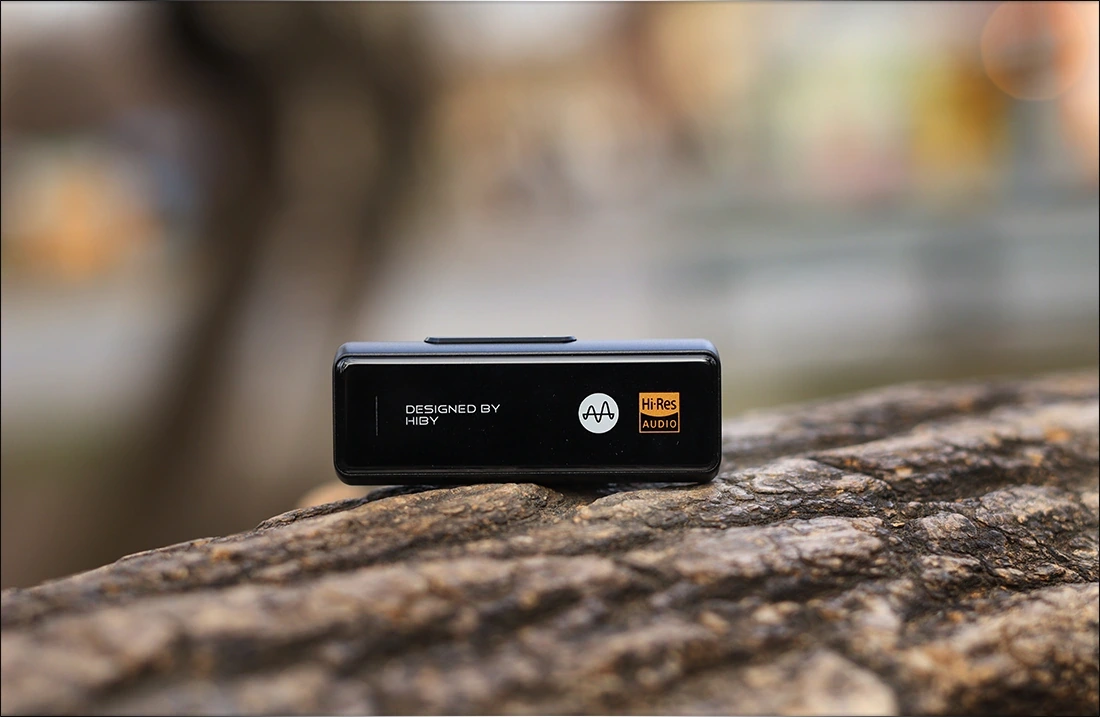 The overall signature of Hiby FC5 is super natural, slightly warm in the mids, with a really well extended bass, superb impact and dynamics, and tons of details. The midrange and slightly warm tuning does not darken or color too much the mids, and we have a super spot-on tonality, plus more than enough power to drive headphones like Sivga Peacock, HIFI Expert KLH Ultimate One, HIFIMAN Ananda, BLON BL-60, Crosszone CZ-8A, and AIAIAI TMA-2 Studio. The overall power is comparable and even higher than Hip-Dac2, but with a slightly wider stage and more detail in the mids. The overall sound is perfect for all music styles, and also emphasizes both male and female voices nicely, resulting in a perfect presentation for basically both Pop, Rock, Metal, and even Jazz and Classical. To give you some idea of the maximum power FC5 is able to output, I need to keep the volume at about 30% on Windows, if FC5 is set to maximum volume, to drive Sendy Audio Peacock at maximum listenable volume for my ears. There's PLENTY of power in FC5, and this is excellent news for portable DAC/AMP owners. 
The bass of FC5 is on the fuller side of things, with a good amount of impact, good low end reach and tons of detail. The bass is more audible with headphones and IEMS that have a higher impedance, but anything above 32 OHMs should be ok, so unless you're driving ultra sensitive IEMs, you shouldn't notice this effect too strongly. With songs like YFU Baby – Alone, the bass is full, deep, and resonates thickly, but smoothly, with a nice amount of substance and impact. The bass has a natural speed, and is great in basically all music, working well even for Rock and more aggressive Metal. Jazz and Cabaret has enough decay to the bass to sound natural, and thicker instruments are presented with the right amount of substance with FC5. 
The midrange is where the best stuff is with FC5, as it has a really wide, clean and controlled midrange. Despite the hiss being mentioned before, the midrange has low background noise once the source you're using has a typical impedance, like 32 OHMs and above, and there's no background noise I can talk about with FC5, as it is able to separate the foreground instruments from the background rather well, providing both width and depth to the sound. The midrange has outstanding dynamics, superb detailing for the price, and is generally pleasingly warm. I like how it can emphasize both male voices which sound deep and natural, and female voices which have an emotional and musical presentation. Even more complicated voices like Maroon5's Adam Levine sound natural and FC5 doesn't struggle to present it. 
The treble of FC5 is generally natural and clean, with good extension, but with a smoother presentation that makes it non-intrusive for most music. I can't say that I hear any roll off, but the treble has a slightly softer presentation that gives all music a less fatiguing presentation. There's still more than enough energy and sparkle for Metal, even for bands like Infant Annihilator, which sound sparkly and airy, to the point of edge, as it should be. 
All in all, FC5 has a really pleasing signature, with tons of details, a clean overall presentation, tons of details, and good dynamics as well. 
Comparisons
Hiby FC5 vs HIDIZS DH80 (169 USD vs 139 USD) – DH80, at least the one I reviewed, was more of a cradle for HIDIZS's own music players, but you could have used it alone, situation in which it becomes a worthy competitor for FC5. The maximum driving power is slightly higher on FC5, as is the maximum volume, but DH80 has a battery inside, while FC5 feeds only from the source device. The overall sound is warmer, thicker and slightly more intimate on DH80, which makes FC5 wider, more natural sounding, and more punchy. DH80 does a better job with low impedance IEMs, where it has a lower output impedance, so less hissing and is more recommended if you're trying to drive IEMs with an impedance of 16 OHMs and below. 
Hiby FC5 vs iFi Hip-Dac2 (169 USD vs 190 USD) – Hip-Dac2 is a really hot device, but only figuratively speaking, as it doesn't get overly warm during usage, rather being popular and super wanted in the audio world. The versatility is higher on Hip-Dac2 because it has a bass boost function, and it has a 4.4mm balanced output as well, but it also has better control for super low impedance IEMS, although it also has a slight hissing. The overall sonics are similar between the two, but FC5 can get louder at maximum, and it can be wider sounding too, where Hip-Dac2 can be deeper sounding. 
Hiby FC5 vs Maktar Spectra X2 (169 USD vs 200 USD) – We have a higher price point on Spectra X2 from Maktar, but the overall driving power is lower than FC5, and this can be felt in the maximum volume both devices can achieve. FC5 easily sounds wider, more holographic, but also more forward, warmer and more detailed. X2 does a better job with ultra sensitive IEMs, as it has a lower output impedance, but it is only made for iPhones and lightning port based devices, while FC5 can basically work with both Android, Windows, and Lightning devices. 
Value and Conclusion
At the end of the day, the price range of <200 USD of dongle DAC/AMPs is getting hotter and hotter, with more and more companies working to release good listening solutions. It looks like the trend is to use the smartphone for music listening for many music lovers, so I'm happy to report that more and more DAC/AMps in the price range have an outstanding price / performance ratio, and FC5 is one of the best examples, having what I can consider a beautiful sound, which is comparable with what we'd typically get from a portable music player like HIFI Walker H2, but having a balanced output, and the control of your smartphone behind. 
The design and ergonomics are really awesome as well, and FC5 can decode MQA, making it one of the best DAC/AMPs to get in 2022, as it is fairly future proof. As long as you have IEMs and headphones with an impedance of 32 OHMs and above, you'll have a really good time with FC5, and it should make a perfect music companion for years to come.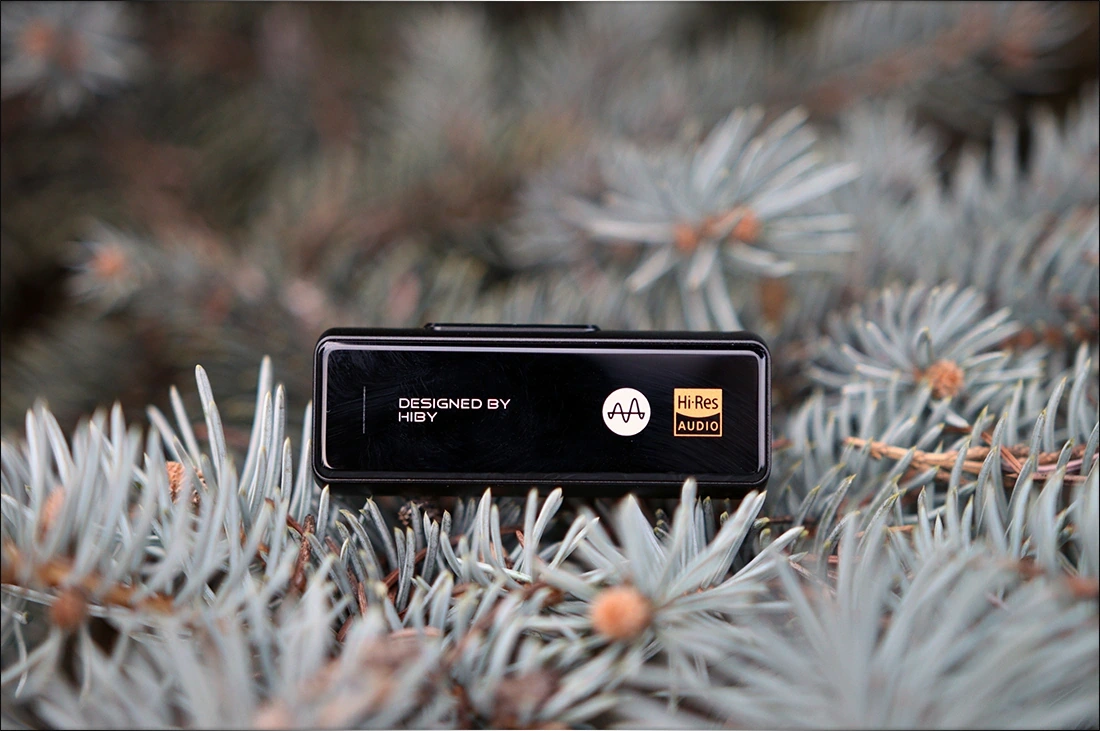 At the end of the day, if you're looking for an ergonomic, fun to use, not very power consuming, but very detailed and clean sounding, with good dynamics and wide DAC/AMP from Hiby, FC5 is an excellent option, and should be super fun to use for years to come. 
Product Link
You can grab one from www.amazon.com here: https://amzn.to/3v0Az6b
If you're in the UK, you can grab one from www.amazon.co.uk here: https://amzn.to/373itYw
And if you're from Europe, you can grab one from www.amazon.de here: https://amzn.to/3tUcLS7
---
--- Please remember to stay safe, and always have fun while listening to music!---
 - If you have a dime to spare, please donate, and help us! It would make the day brighter for me and my wife- 
---
Full Playlist used for this review
We listened to more songs than those named in this playlist, but those are excellent for identifying a sonic signature.  I recommend trying most of the songs from this playlist, especially if you're searching for new music! The playlists are different for Spotify, Tidal and Youtube, and based on the songs I enjoy and are available on each!
https://www.youtube.com/playlist?list=PL_cjBXGmwSHSdGcwuc_bKbBDGHL4QvYBu
https://open.spotify.com/playlist/5J3oloz8Riy9LxEGenOjQ0?si=979ba4f082414be7
https://tidal.com/browse/playlist/330fd544-8e5b-4839-bd35-676b2edbb3d5
--- Contact Us ---





---