Tronsmart Bang Bluetooth Speaker – Outdoor Punches
Tronsmart Bang is an outdoors Bluetooth Speaker with Stereo Sound, Bluetooth support, and a price tag of 159 USD at the moment of writing today's full written review. It is available on Aliexpress, Amazon and even local shops, in Romania being available even on eMag, the biggest eastern European electronics shop. Bang will be compared to Edifier E25 Luna (200 USD), Tronsmart Force 2 (50 USD), and AIWA EXOS 9 Bluetooth Speaker (300 USD).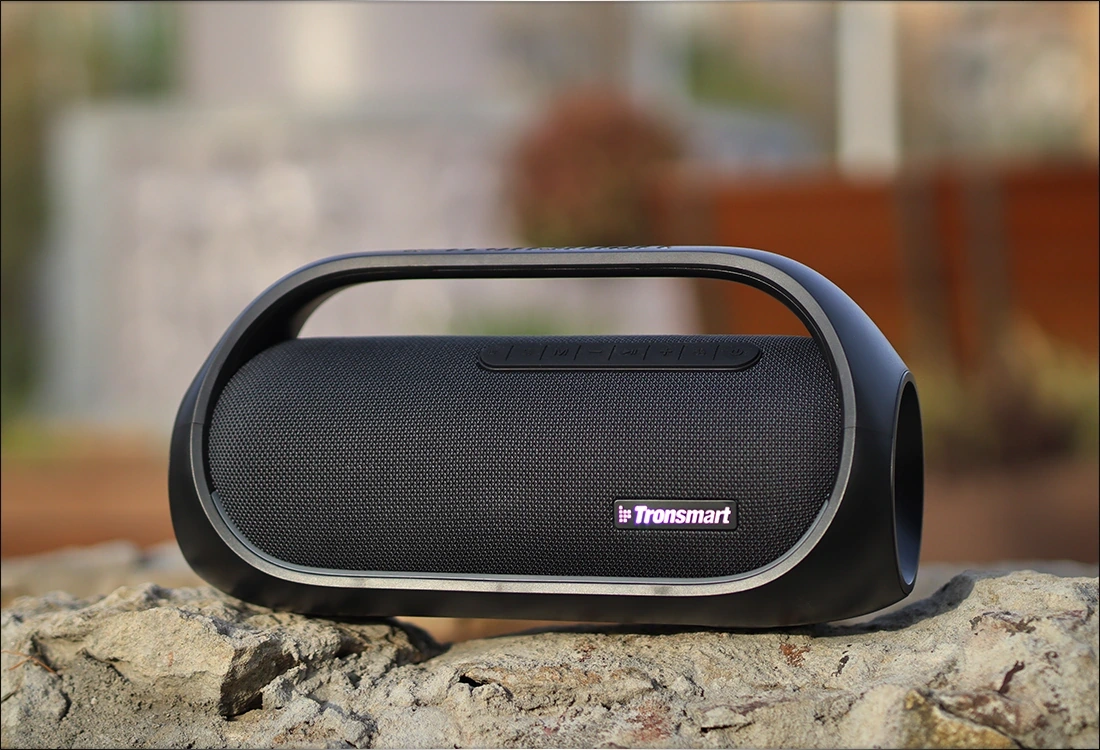 Introduction
Tronsmart is an uber popular audio company from China which has designed, created and launched tons of products, from entry-level, lightweight bluetooth headphones, all the way to large speakers like the Bang we're reviewing today. They are friendly and have good support for their customers, but I recommend purchasing their products from Amazon and local shops for the quickest warranty support and best delivery times. 
It should be noted that I have absolutely no affiliation with Tronsmart, I am not receiving any incentive for this review or to sweeten things out. I'd like to thank Tronsmart for providing the sample for this review. Every opinion expressed is mine and I stand by it. The purpose of this review is to help those interested in Tronsmart Bang Bluetooth Speaker find their next music companion. 
Product Link
You can grab one from www.amazon.com here: https://amzn.to/3yaTrma
If you're in the UK, you can grab one from www.amazon.co.uk here: https://amzn.to/3wk97kv
And if you're from Europe, you can grab one from www.amazon.de here: https://amzn.to/3s4yUM0
Packaging
First things first, let's get the packaging out of the way: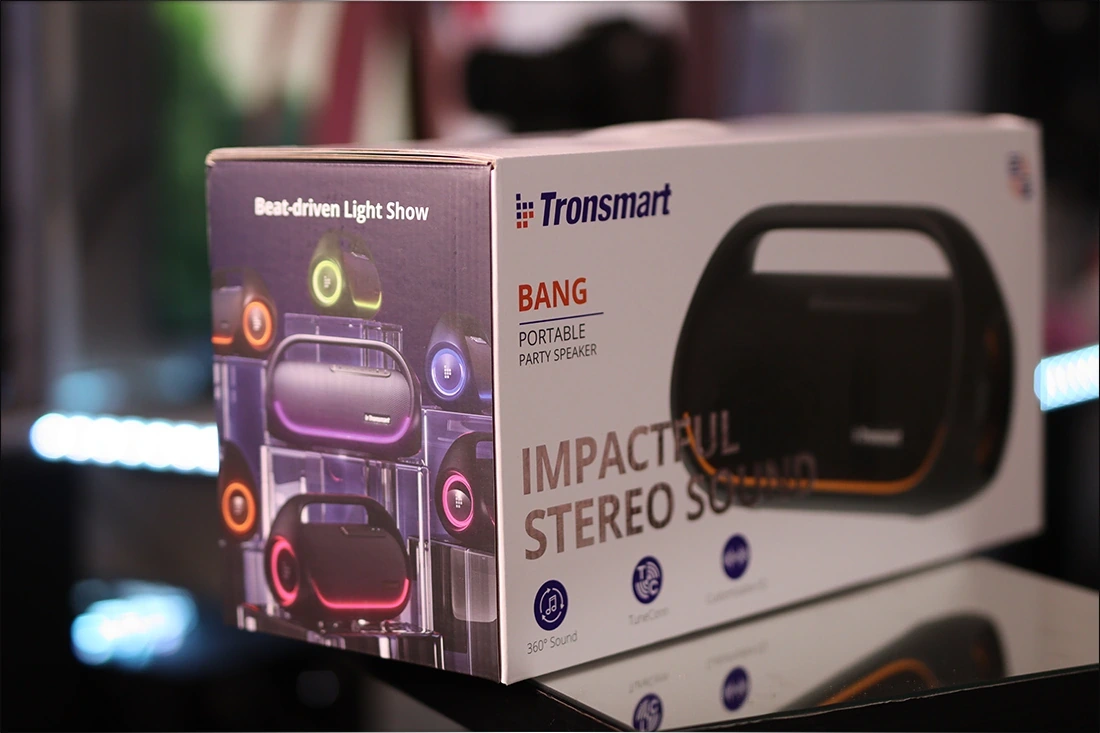 The package of Bang is actually quite excellent, and I would know better than anyone because the delivery company actually threw it over the fence on my property for some reason, and I know the package will survive with no damage, the speaker falling from about 2 meters. The package is rather good, it includes a 3.5mm to 3.5mm aux cable, but which is extremely short, a charging cable, which again is extremely short, and the manuals needed to use and enjoy the Bang. 
Build Quality/Aesthetics/Fit/Comfort
The build quality of the Bang is superb, and this is one rugged speaker. We have a TrueConn protocol inside, which can be used to sync up to a hundred of those speakers, to actually hold a party, although I doubt most folks will have more than two of them at any moment.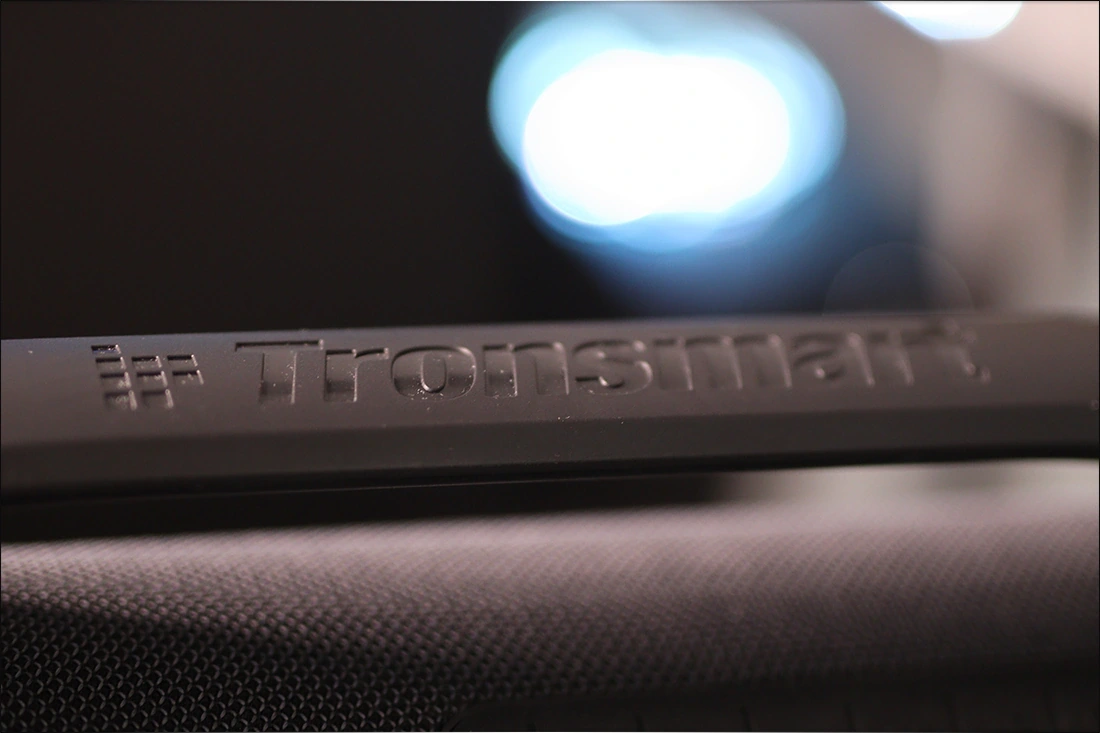 There's a very obvious LED light on the sides, giving the speaker a nice groovy feel to it, along with a LED strip at the front, which can be configured even without the app. The speaker has IPX6 rating, being protected from spills and sand, making Tronsmart bang ideal for beaches and picnic parties. The battery life is quoted at about 15 hours, but I got around 10 hours in my tests, and it takes a good 4.5 hours to fully charge the speaker if the battery is dead. Bang has powerbank abilities and it can charge your smartphone, which I found to be pretty cool. The battery of the Bang is 10800mAh in size.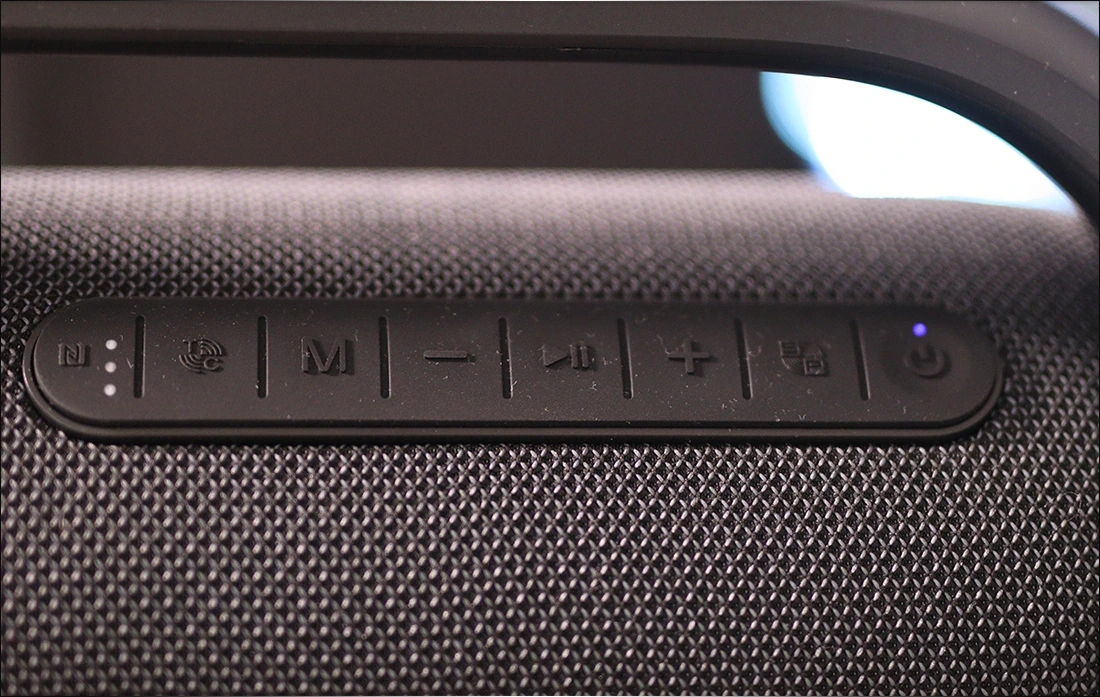 The drivers you see on the sides are passive bass drivers, with the active bass drivers or mid woofers being at the front, along with two tweeters, to give Bang a good stereo sound. It also sports 60W of power, and has zero distortion up to the highest volumes. It has a handle you can use to hold the speaker, which again is something I find fun and makes it fun to own and use the Bang.  
Tronsmart takes great pride in the Bluetooth ability of the Bang, and it has actual bluetooth support, even BT 5.0, but what they don't mention is that there's only SBC and AAC, no support for LDAC or aptX. The signal is super good, and I experienced zero dropouts, with no problems I can talk about, plus it uses a type-C port to charge, and has NFC pairing. 
You can't use the USB port for DAC functions, but you can use a microSD card to play music, although I didn't manage to test this extensively since I prefer seeing what I play. I have used the speaker while on a recent trip for the Orthodox Easter, as the main media center for a laptop, while watching movies. The AUX cable will be far too short to be practical, but that's about the only disadvantage I could notice. We even had the speaker play the music for a small party, and it was super capable. I was a bit disappointed by the battery, which is about 10 hours at loud volumes, but this is to be expected since it can get really loud and with zero distortions. 
Sound Quality
Since it is time to start talking about the sound of the Bang, I want to mention that it sounds quite a bit better than most bluetooth speakers I tested to date, being what I'm willing to call the best sounding bluetooth speaker I heard below 500 USD at this moment. The sound is a bit better if you're using the Bang wired via the AUX cord, than if using it Bluetooth, but this depends on the source, as I've used an Acer laptop with a pretty good headphone output, and my smartphone, the Xiaomi Black Shark 4, which also has a good headphone output. 
The overall sonic signature of the Bang can be described as natural, deep and clean. I think it is perfect for both music listening and partying, as it has a really deep and punchy bass, but a clean and crisp midrange, and good treble extension. I was surprised by the treble, which has super good extension for a bluetooth speaker, although I have to admit that I kept using it wired via the AUX cord to get those results, and the sound over Bluetooth has the Bluetooth compression that I keep mentioning in every other review and which can be bothering. 
The bass of the bang has a hard character, with a hard impact, good substance, and an extension that goes as low as about 40 Hz. This is super surprising, and at times it can be more convincing with its sound than even some high quality bookshelf speakers, as it reaches the bass better than Aurender S5W, which costs 3000 USD at list price. The bass of Bang is clean, has zero distortion even at maximum volume, and has good volume relative to the midrange and the treble, doesn't over thicken or darken the midrange, and allows music to be transparent, clean and punchy on the Bang. 
The midrange of the Bang is clean, detailed and crisp, as the speaker has good dynamics and a rich presentation. Although the micro details aren't very prominent, Bang is super good with soundstage, and it really has a stereo presentation. There is DSP at work, but having two separate drivers surely helps as well, and although the company said that you can sync more than one bang, syncing them won't make one of them R and one of them L in channels, so the sound is designed to have a stage and stereo image with just one Bang Speaker. The midrange and overall sound can get plenty loud, and Bang can get considerably louder than Aurender S5W with lower distortions at maximum volumes, even though it is far more affordable. The detail won't be comparable with a really expensive flagship wireless speaker, but the overall sound is very engaging, and knowing it has an IPX rating, you can safely take Bang outdoors for a party, where most 2.0 speakers made for audiophiles make you shudder at the thought of some cola getting to their circuits or some sand in the drivers. 
The treble of the Bang has exceptionally good extension, giving a lot of air to the Bang, with excellent overall sparkle. It rolls off gently after about 14 kHz, but it has a natural tonality for the treble, with a rich and natural presentation. Bang is the kind of speaker I can safely recommend to anyone and know they will have some fun, and if you're a fan of smartphone apps, you can even EQ it from its app, for more bass. I don't think anyone will want a brighter sound, not because Bang is bright, but because most folks who use bluetooth speakers on a daily basis tend to like a warm and thick sound with a full and strong bottom end. 
Comparisons 
Tronsmart Bang vs AIWA EXOS 9 (159 USD vs 300 USD) – The build is much more massive on EXOS 9, and it can get somewhat louder than Bang as well. The bass is much smoother, fuller and deeper on EXOS 9, which has a deeper sound. This being said, I see EXOS 9 as an indoors speaker only, and the sound seems to be wider, more stereo from the bang, with better soundstage. Even if you travel by car, EXOS 9 takes a lot of space compared to the Bang, which is still mostly practical. The aesthetics are also better on the Bang, and the overall detail and naturalness of sound is better on the Bang. EXOS 9 has a really colored sound with a V-Shaped presentation, and rolls off in the treble, compared to the Bang that has better highs extension, better clarity, and a much more natural voicing and midrange presentation. 
Tronsmart Bang vs Tronsmart Force 2 (159 USD vs 50 USD) – Force 2 is like a mini bang, with less features, and a much more affordable price point. The sound has far more detail, better clarity and a deeper bass on the Bang, along with better dynamics and better maximum loudness. Force 2 is much more portable, but I would generally consider sacrificing portability for the better sound. 
Tronsmart Bang vs Edifier E25 Luna (159 USD vs 200 USD) – Despite Edifier Luna being more pricey, and a pair of desktop speakers, the bass is anemic and rolls off early, giving them a hollow sound, with a very digital sound, and noisy background, a strong compression of the sound, both dynamically and in details. Bang sounds considerably deeper, with better bass extension, better soundstage and instrument separation, better detailing, and better overall build quality. There's really no reason to go for E25 Luna besides the aesthetics, which are better, as those are some beautiful, futuristic looking speakers. If you care for sound quality, Tronsmart bang has much more in store for you than an edifier ever could dream to have. 
Value and Conclusion
Tronsmart bang surely has excellent value, and it can even be found on sale quite often, being fulfilled by many shops, and being a popular product at the moment I'm writing today's full written review. We get a really large, heavy, but potent party speaker that can rattle the windows of a room, and be loud enough for a mini party with 10 people, and be taken on the beach, or at a picnic, perfect for any scenario you'd typically use such a speaker for. Even perfect to replace the anemic speakers of a laptop if you want to watch some movies and have high quality audio to go with. 
The build quality is superb and Bang is a really well made speaker, it has IPX rating, and a type-C charging port, plus AUX input, USB input, microSD card input, and Bluetooth input, being rather versatile and snazzy, with the LED light show, that can even be turned off. 
The sound of Bang is detailed, clean and punchy, and if you're looking for some actual bass from a portable speaker, good build quality, good battery life, and a clean, well extended treble, with actual soundstage and a stereo sound, natural voicing and super good details, Tronsmart Bang is the perfect choice, and a fully recommended purchase at its current 159 USD price point. 
Product Link
You can grab one from www.amazon.com here: https://amzn.to/3yaTrma
If you're in the UK, you can grab one from www.amazon.co.uk here: https://amzn.to/3wk97kv
And if you're from Europe, you can grab one from www.amazon.de here: https://amzn.to/3s4yUM0
---
---
--- Please remember to stay safe, and always have fun while listening to music!---
 - If you have a dime to spare, and donate, to help us with electricity and work expenses, it would make my day much brighter, as it would help me improve things around the website and increase the frequency of my posts - 
---
Full Playlist used for this review
We listened to more songs than those named in this playlist, but those are excellent for identifying a sonic signature.  PRaT, Texturization, Detail, Resolution, Dynamics, Impact, and overall tonality are all revealed by those songs. We recommend trying most of the songs from this playlist, especially if you're searching for new music!
https://www.youtube.com/playlist?list=PL_cjBXGmwSHSdGcwuc_bKbBDGHL4QvYBu
--- Contact Us ---






---
---