Pick Me Up – iBasso DC01 Type-C USB DAC / AMP
This review will focus on iBasso DC01, a tiny USB Type-C DAC/AMP, made for Android Smartphones, but which is ended in a 2.5mm Balanced Jack. I will compare it with HIDIZS Sonata HD DAC, Cyrus Soundkey, FiiO BTR5, and the Audirect Beam. For a good balance of price and performance, costing 50 USD, it will be paired with iBasso IT01S, Simphonio Dragon 2+, and FiiO F9 PRO. 
Introduction

iBasso is one of those companies who knows how to pursue the dreams of their customers before committing to a product, in time having gained a fanbase that really knows what it feels like to know someone cares about your desires. Indeed, iBasso have put a lot of heart into their products, and never fail to impress when it comes to their products, having greatly outdone all expectations with their DX220 and AMP9, but also having set high bars in the past with their DX200. Even when designing an entry-level IEM like IT01 and IT01S they managed to offer proper support, and proved that a product made by iBasso will last a long time. There have been very few warranty claims, and if you explore forums like Head-Fi, you'll find that all their customers are happy with their products and the service of iBasso. 

It should be noted that I have absolutely no affiliation with iBasso. I'd like to thank iBasso for providing the sample for this review. This review reflects my personal experience with the iBasso DC01. Every opinion expressed is mine and I stand by it, the purpose of this review is to help those interested in iBasso DC01 find their next music companion. 
Product Link
You can always purchase DC01 from www.amazon.com here: https://www.amazon.com/iBasso-Reference-Digital-Player-DX220/dp/B07RTRB5MR/
Packaging

First things first, let's get the packaging out of the way: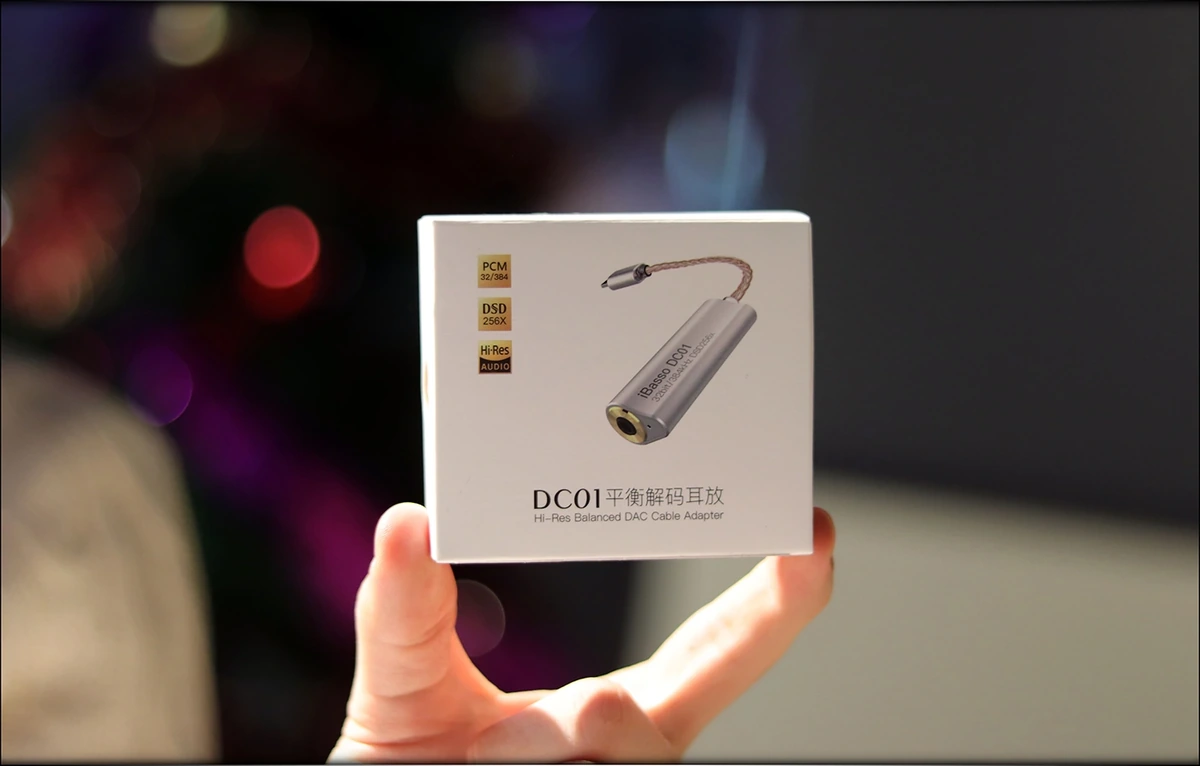 DC01 is a very simple device, but it gets the job done. It comes in a tiny box, but the beautiful part is that iBasso included a USB Computer sized, to a Type-C adapter, so you won't have to connect DC01 to your smartphone only. 

The fact that this little USB DAC is Type-C is excellent and will serve anyone with a recent smartphone. If you're running an iPhone, there's a lot you should know, and I won't tell you that you don't need it, I will just suggest getting a spare Android device for better sonic abilities, or to invest in a proper DAP like iBasso DX160. 



What to look in when purchasing an entry-level Type-C Dongle / DAC

https://www.audiophile-heaven.com/p/what-to-lookl.html



Technical Specifications



Build Quality/Aesthetics/Functionality

I was really happy to see this tiny DAC/AMP, because many smartphones now come without a headphone jack, and although my Xiaomi Mi Max 3 comes with one, the sound is pretty poor, and I always wanted a simple, light solution to make it better. 

The DAC chip inside DC01 is an AKM AK4493EQ, so you know this is going to sound interesting. iBasso did not skip on the decoding abilities, and DC01 can decode PCM up to 32 Bit / 384 kHz, and DSD at 256X. 

This isn't exactly the first USB Dongle / Type-C USB DAC / AMP. In fact, I was one of those who fell so hard in love with NextDrive Spectra X so hard, I almost broke a leg. My computer has a Type-C USB output, but it is right at the back, and you probably won't have one that's easier to access, unless you're running a laptop. Even then, you may have it occupied with something else, so the happy solution here was for iBasso to include a USB Type-A to Type-C adapter, so you can use DC01 with practically any PC. 



If there is any downside to DC01, the volume is fully controlled by the source device, and this means that you have to rely on Android's inner software algorithms, which are not lossless, and using it at a lower than maximum volume will reduce the quality as well. There's a little app out there, made by iBasso and named iBasso UAC, which delivers a Bit-Perfect signal and helps you control the volume for DC01, without having the disadvantage of relying on Android's inner volume systems. 

The usage is plug-and-play, and you don't need to install any special driver, or anything. It is a plug-in, plug-works. 

You should note that it doesn't have a battery inside, and instead it draws some from the source, which will usually be your smartphone, so you'll probably notice a slightly lower battery life, but it doesn't really consume that much, and I've been able to notice less than a 10% reduction in Xiaomi Mi Max 3's battery life, even when running DC01 at almost the maximum volume. 

If you're looking for a 3.5mm USB DAC, there's the DC-02 out there, which sells for pretty much the same price as DC01. 

The cable is a high-quality 8-wire woven rubberized cable, which works really nice. The main decoding is done inside the main metallic body, so the cable only transfers the digital signal. There's a tiny LED light that lets you know when DC01 is turned on and running. 



Video Review

iBasso DC01 Type-C DAC Youtube Video Review: https://www.youtube.com/watch?v=mYqnyuH8r2Y

OLDER iBasso DC01 Type-C DAC Youtube Review: https://www.youtube.com/watch?v=HgsQ4-S74BQ



Sound Quality

The overall sound of DC01 can be described as thicker, creamy, and slightly forward in terms of presence. The soundstage is focused a bit more on depth than width, and you get a really rich and full presentation that works well especially with bright Chifi IEMs.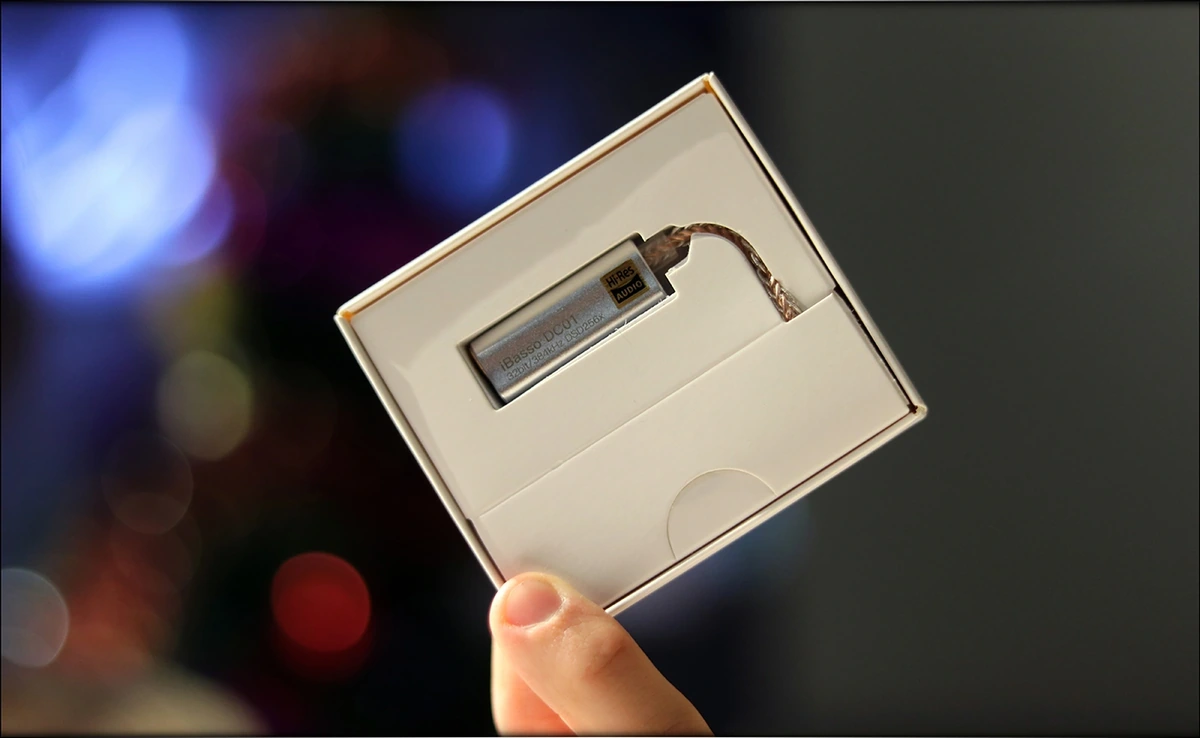 The bass is full and deep, and natural in speed. You can rely on DC01 to deliver a blow to any IEM, like Shouer Tape, iBasso IT01S, or iBasso IT01. With really bright IEMs, like Dita Twins Fidelity, you can hear the bass improve in both presence and quantity compared to any smartphone default output. Most default USB Dongles that come with smartphones lack dynamics and stage, and sound really compressed. My brother just got a Huawei smartphone, and I was amazed by how small and compressed the provided dongle could sound, so I understand now why many companies started making better alternatives to those. The upper midrange is also slightly above what's exactly neutral with DC01, and you can hear some warmth in the mids as well. 

The midrange has a nice body to it, and since it takes some thickness from the bass, you'll get a really satisfying presentation for all music. Unless you want to analyse everything, and dissect your music, the presentation of DC01 feels as natural as it can get for 50 USD. One thing that impressed me with DC01 was the depth of its soundstage. There's a clear layering, with the sub-bass being quite well defined from the main bass, and with the voices being well separated from the guitars, making me listen to complex music, like Dance Gavin Dance through it. 

I had a really pleasing experience with Clear Tune Monitors Da Vinci X, using Dunu Hulk, as I was trying to figure out what type of treble DC01 has, but it is one of those 50-USD magical sources, where the treble doesn't roll off entirely, but it doesn't sound harsh and sibilant either. The treble is smooth in nature, and it isn't quite as forward as the bass and the midrange, but it has enough presence, and sparkle to keep DC01 interesting and entertaining. 



Comparisons

I have reviewed quite a few similar devices, and picked the ones that would make the best comparisons with DC01, and would be on your mind when considering getting a USB Type-C Dongle. For this reason, I picked HIDIZS Sonata HD DAC, Cyrus Soundkey, and the Audirect Beam. I also added a bonus comparison with FiiO's BTR5 Bluetooth DAC/AMP. 

iBasso DC01 vs HIDIZS Sonata HD DAC (50 USD vs 45 USD) – You start right with both, as both have that Type-A to Type-C adapter. The build is similar, but I prefer the cable quality of DC01 more above that of the Sonata HD DAC. HIDIZS ships their Sonata HD DAC without an official package, but with a carrying case, which is nice, and which DC01 does not have. In terms of build quality, both are pretty great, both work as intended. Sonata HD DAC is a 3.5mm Single Ended DAC, where DC01 is a balanced 2.5mm. The sound is actually similar, but DC01 is richer, has better bass, with a deeper extension, more depth, and more impact. HIDIZS Sonata HD DAC has better dynamics, and a brighter treble, which pairs well with smoother and darker IEMs, like TheCustomArt Fibae Black via Dunu Hulk Cable, but they have similar driving powers, DC01 actually being a bit stronger, getting a bit louder and staying cleaner at maximum volume. iBasso made an app so you don't have to rely on the flawed Android Volume, where with Sonata HD DAC, you must rely on it. 

iBasso DC01 vs Cyrus Soundkey (50 USD vs 100 USD) – The Cyrus soundkey is twice the price of DC01, but when I reviewed it, it came with a microUSB female port, which was a bit disappointing. For a portable device, it will break sooner than DC01. It is single-ended in a 3.5mm format, where DC01 is Balanced in the 2.5mm format. The differences in sound are pretty noticeable when you listen to harder to drive IEMs, or IEMs that need a bit of extra push, like for example, Shouer Tape. Both the soundkey and DC01 are pretty forward sounding in general, but DC01 focuses on depth and impact, a thicker sound with more emphasis on the lows and better thickness of the sound, where the Soundkey has a more bright, dynamic, and wider sound, but lacks the bass depth, and the layering of DC01. they are quite different, but I would get the soundkey for dark and smooth IEMs like Final Audio B2, iBasso IT01, FiiO FA7, or Dita Fealty. At the same time, I would get DC01 for brighter, more open-sounding IEMs that could do with a bit of extra thickness, like Shouer Tape, UFO Ears 112, and Dita Fidelity. DC01 has an app to bypass the audio volume control of Android, while the Soundkey doesn't have this feature. 

iBasso DC01 vs Audirect Beam (50 USD vs 100 USD) – Get Closer To The Beam is what they said, before making a DAC that has a full metallic body, and a tiny knob to adjust the volume. The beam has better build quality than the original Whistle, and it is similar in build quality to DC01. Physically, the Beam is almost as non-intrusive as DC01, but it still is a bit larger, and having a female USB port on the bottom, there is one more thing that could go wrong if you didn't handle it correctly. Since we're talking about pocketed usage, I prefer the type of build that DC01 has. There's no app made by audirect, like DC01 has, to bypass the internal volume of Android, which is not lossless. The output is in 3.5mm for the Beam, and in 2.5mm Balanced for DC01. If you're thinking about the sound, they are quite similar, with the Beam having a larger, wider soundstage, but a bit more vague, where DC01 has a more instrument separation and definition, but a smaller width and better depth. The overall signature is similar, thick and warm-ish, but The Beam has a smoother treble, so very sparkly IEMs like UFO 112, or Dita Fidelity, or even Ultrasone Signature Studio would make good pairs. Driving power is similar between the two.

iBasso DC01 vs FiiO BTR5 (50 USD vs 130 USD) – This is a comparison I've been looking forward to add, because it shows how else you can deal with a smartphone that doesn't have an audio output. At the end of the day, BTR5 sounds much better on cable, and given the difference between the Bluetooth sound and the cable sound, there are a few folks who will end using BTR5 on cable. In that situation, having something like DC01 can be quite handy, because it is smaller, also simpler to use. The sound is stronger, but more balanced for BTR5, and it also has two outputs, one in the 3.5mm single ended format, and one in the 2.5mm balanced format. BTR5 can drive even some really hard to drive headphones, like HIFIMAN Sundara, and it has a more dynamic and punchy sound, having bluetooth as well, while DC01 will do best with IEMs, and balanced ones at that. This being said, if you don't have anything else but IEMs that you take with you on-the-go, DC01 is less expensive, and has a thicker sound that has more bass, so if you want an affordable bassy experience on-the-go, DC01 makes a very compelling choice. 



Pairing 

For the pairing part of this review, you have to keep in mind that you need an IEM with balanced cables, and in the 2.5mm format, so either an earphone with modular cables, like Shouer Tape, Dunu DK-4001, DK-3001 PRO, or Dita Fealty would make sense. This being said, given the price point of DC01, most people will be getting it to pair with less expensive earphones like iBasso IT01S, Simphonio Dragon 2+, and FiiO F9 PRO. There's also the fact that it can drive some modestly hard to drive headphones, but most of the headphones that are only modestly hard to drive do not come with balanced cables, so you're most probable to use DC01 with earphones, and DC02, the single ended version, with headphones that are fairly easy to drive, like the ESS 422 H, Bluedio T3 PLUS Turbine, and Ultrasone Signature DXP. 

iBasso DC01 + iBasso IT01S (50 USD + 200 USD) – IT01S is what you would get here, if you wanted an all-iBasso setup. You have both a Balanced and a Single Ended cable in IT01S, as it has the same excellent cable philosophy as iBasso AM05 and Shouer Tape, The best part about this setup is the sound, which has excellent impact and depth, and if you read my review on IT01, the newer IT01S can become as much of a bass heavy IEM as the original, and pairing it DC01 surely helps. The dynamics and impact are top notch, the soundstage has a nice depth, separation and layering. Overall, a very recommended setup. 

iBasso DC01 + Simphonio Dragon 2+ (50 USD + 220 USD) – The Dragon2+ is a really interesting earbud, because it has a balanced connector and a pretty high price point, making it a pretty outcast in terms of design. But that's only until you hear that sweet, romantic midrange, paired with the wide stage, airy presentation, but also the rich midrange, and well-separated sound. DC01, with its heavy lows surely helps give the Dragon2+ more impact, and makes its bass deeper, and surprisingly, upon testing, it doesn't really take away from the large soundstage that the Dragon2+ has. Furthermore, the overall setup is compact, and if you planned on using the Dragon2+ with a smartphone that had a 3.5mm output, you would had had to use the included 3.5mm adapter, which occupies more space than the entire DC01.  

iBasso DC01 + FiiO F9 PRO (50 USD + 140 USD) – As much as I love to do controversial setups, a FiiO and an iBasso go well together, almost always. This time, F9PRO and their lighter, brighter sound is aided by DC01 and its heavier bottom end, because although the bass on F9PRO is not the quickest out there, you can get a really nice bass impact and depth with DC01. The soundstage is deeper than with most 50 USD sources, and there's more instrument separation, so F9PRO really likes being paired with DC01. Furthermore, you get to use the more ergonomic, cooler-looking balanced cable that F9PRO comes with by default. 



Value and Conclusion

The value of DC01 is pretty much excellent. It has the sonic performance that can totally stand up to its direct competitors, and it can drive most IEMs that would make a logical pair for it. You're sure to invest in a more expensive source, if you're planning on getting a high-end IEM, like iBasso AM05 or iBasso IT04. 

The package is basic, but nicely presented, and I appreciate the fact that iBasso included a little Type-A to Type-C adapter with their DC01. 



I'm also really happy to see that DC01 works plug-and-play with my smartphone, the Xiaomi Mi Max 3, and I'm glad that iBasso even designed a lightweight app that bypasses the Android Volume Control, so you don't get your signal degraded by their imperfect algorithms. Furthermore, you're set for fun with DC01, if you think that you can use it with both your smartphone and your PC. 



Before the end of this review, I want to add iBasso DC01 to Audiophile-Heaven's Hall Of Fame, because it makes a really nice Type-C replacement for a tiny price, making it a really likely product for many to get, improving the sound of your average smartphone greatly, by adding proper dynamics, and soundstage depth. 

At the end of this review, if you want a practical Type-C USB Dongle , or a DAC / AMP as I like to call it, which can decode both High-Resolution PCM signals, as well as DSD, and which has a thicker, smoother sound, with good depth, a nice rich midrange, and with a clean overall presentation, you should totally check out iBasso DC01, priced at 50 USD. 
Product Link
You can always purchase DC01 from www.amazon.com here: https://www.amazon.com/iBasso-Reference-Digital-Player-DX220/dp/B07RTRB5MR/
---
---
--- Please remember to stay safe, and always have fun while listening to music!---
 - If you have a dime to spare, and donate, to help us with electricity and work expenses, it would make my day much brighter, as it would help me improve things around the website and increase the frequency of my posts - 
---
Full Playlist used for this review
We listened to more songs than those named in this playlist, but those are excellent for identifying a sonic signature.  PRaT, Texturization, Detail, Resolution, Dynamics, Impact, and overall tonality are all revealed by those songs. We recommend trying most of the songs from this playlist, especially if you're searching for new music!
https://www.youtube.com/playlist?list=PL_cjBXGmwSHSdGcwuc_bKbBDGHL4QvYBu
--- Contact Us ---






---
---