Pocket Fun – Audirect Beam DAC/AMP Review
The tiny Audirect Beam has seen a lot of attention lately, and for a good reason, it has Hi-Res decoding, a good amount of driving power, and a warm sound, all in a device that's no bigger than a tiny USB Stick. I'll be testing it out, and comparing it to other similarly priced devices in today's review. 
Introduction

Audirect is a little company from China that rose to fame recently, with their Beam and their older Whistle DAC/AMPs being some really nifty products, small in size, but pretty capable, and with the large number of good quality cables included in the package, I'm pretty confident that it will come in handy for many people. They are a friendly company, and since they are presented by Linsoul Audio, you also have good warranty, if you decide to get it from Linsoul, but don't worry, I spoke with Audirect directly, and I'm fairly sure they'll help you with warranty regardless where you purchase it from, although for a small, one piece device, there's very little that can go wrong. 

It should be noted that I have absolutely no affiliation with Audirect, I am not receiving any incentive for this review or to sweeten things out. This review is not sponsored nor has been paid for by Audirect or anyone else. I'd like to thank Audirect for providing the sample for the review. The sample was provided along with Audirect's request for an honest and unbiased review. This review reflects my personal experience with Audirect Beam. Every opinion expressed is mine and I stand by it, the purpose of this review is to help those curious about Audirect Beam find their next music companion. There are no affiliate links in this review, or any Audiophile-Heaven review. 
Product Link
You can purchase your Audirect Beam from www.amazon.com here: https://www.amazon.com/Audirect-Portable-Earphone-Amplifier-Android/dp/B07HP3719J/
Packaging

First things first, let's get the packaging out of the way: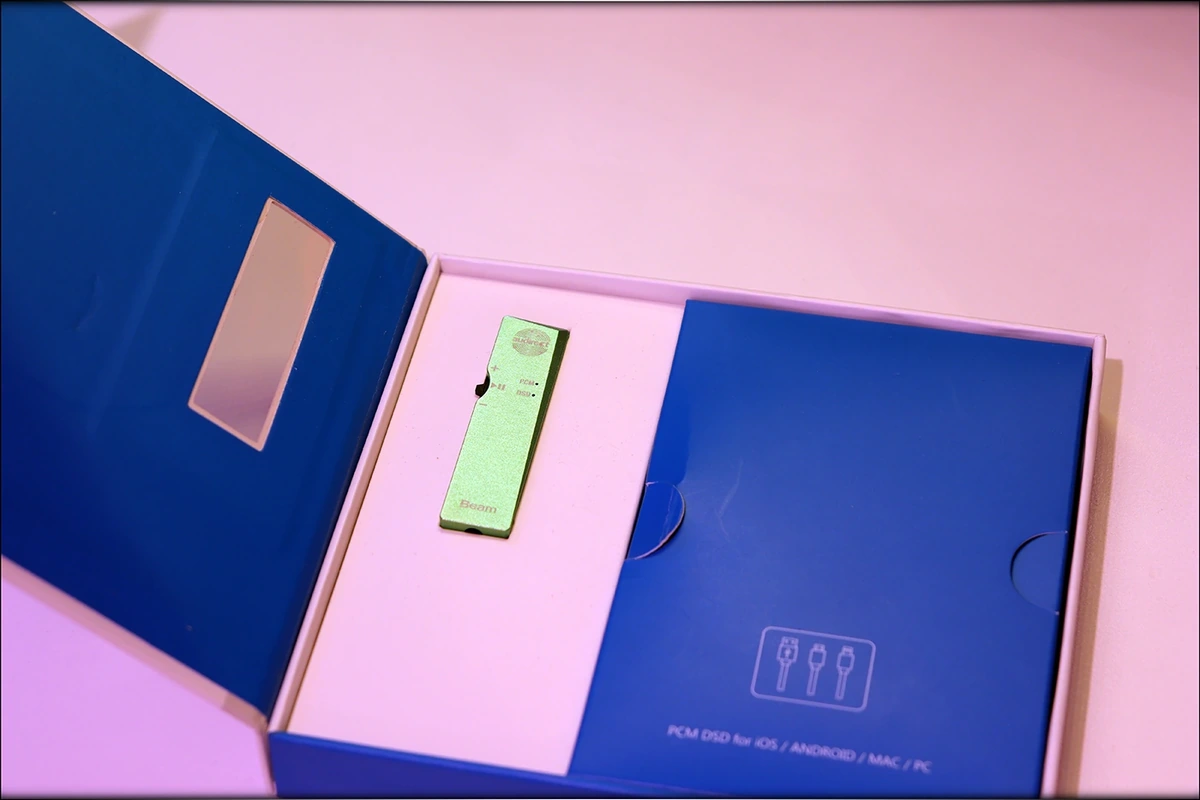 The package for this little one isn't large, but it is very rich, especially for a DAC?AMP in this price range. Besides the little Audirect Beam, you also get a set of USB cables, including an iPhone cable, a Type-C to Type-C cable, and a Type A to Type-C cable. 

Since the Beam uses a Type-C cable, that's pretty much all you'd need for using it, and it is better than some 500 USD DAC/AMPs come with. I'd also like to note that the cables can be purchased separately, and they make a good portion of the value of the overall package of The Beam. 

Considering the price and the package I'd say that the package quality for the Beam is excellent. 
Technical Specifications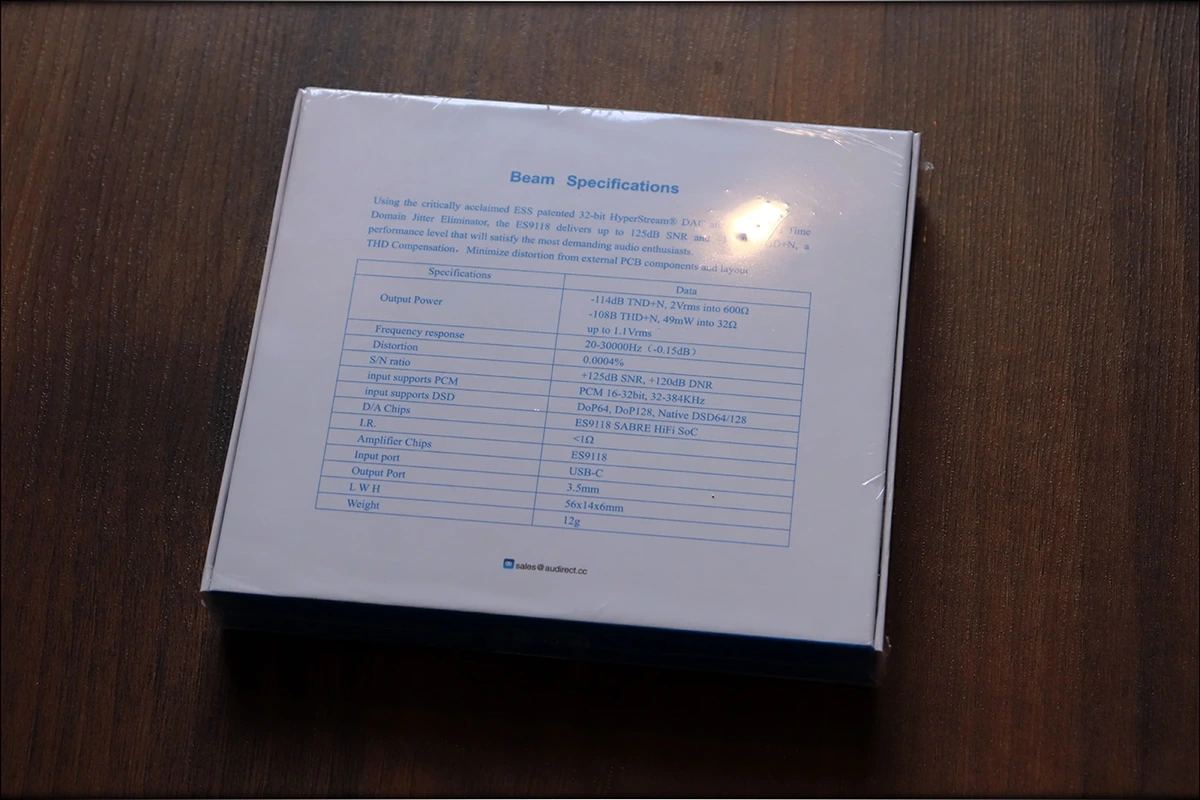 Build Quality/Aesthetics/UI/Firmware

Physically, the Beam is a really small device, with a tiny volume / play / pause knob on the right side. It is made of metal, and my unit is green in color, reason why my photos are slightly less convincing than my typical photo work. I would recommend going for the black or yellow colors instead. 

The unit doesn't have hard edges, and it is plug and play with virtually any device, including Android and Windows 10 computers, and it looks like an extension of the OTG cable while connected. 


There is a Type-C connector and a 3.5mm Single Ended Headphone Output, but that's pretty much all you can find on it, not that you'd require much more. 

The volume knob seems to work on both Windows and Android, and the Play / Pause button (basically pressing on the volume button), also seems to work just fine on both Operating Systems. I had no iOS on hand to test, but a friend of Audiophile-Heaven owns a Beam and an iPhone and told me everything works flawlessly on iOS as well. 

It is very handy, very tiny, and that it gets pretty warm during usage, but it still stays cooler than the original Whistle did, so I'm happy to notice improvements from Audirect. 

Weighting 12 grams, the Beam is probably the smallest DAC/AMP on the market, being pretty much as unobtrusive as a normal USB Dongle, like HIDIZS Sonata HD DAC. 

Overall, for its intended purpose, it is an excellent little device, flawless software, and pretty great build quality.  



Sound Quality

The little Beam DAC/AMP can even decode Hi-Res files, up to 32 Bit / 384 kHz, and even DSD, up to Native DSD 128 files. This is much better than most tiny DAC/AMPs can do, and Audirect's efforts are totally commendable. This being said, it is a 100 USD DAC/AMP and by itself, the resolution may not be quite enough to notice the bump in quality when using Hi-Res files. 


On the other hand, it has a pretty low power rating, being able to power mostly IEMs and some portable headphones, so it is best to get the Beam if you have IEMs and even there, I'd recommend it for IEMs that are easier to power.

The main signature can be described as clear, clean, musical, engaging, warm, smoothly textured, brighter as far as the tonality goes, and with a solid bass, punchy type over the boomy type.  

The bass is pretty neutral in quantity, and it has a punchy type of texture, with the lower registers extension going fairly averagely low. The character of the bass is punchy above boomy, and it doesn't feel wooly, but rather natural. The textures in the bass are fair for a 100 USD device, and so is the extension. You can't EQ this too much without reaching the hard limit of the device though, so not exactly a little DAC/AMP for bassheads. 

I noted in my little Youtube video review, that it is warm, I was talking about the midrange tonality, where you can feel some warmth coloring the overall midrange, but this is one sweet kind of warmth, not a dark or a boomy type. The midrange is pretty natural, slightly warmed by the bass, and pretty detailed for 100 USD. The detail isn't exactly Beam's strongest point, and it is focused on a musical and soft presentation rather than a textured and detailed one. Textures in the songs of Mindless Self Indulgence are expressed okay, but micro details and micro detail is about fair. 

The treble is fairly bright and neutral, although it is smooth in the texture, laking grain. The treble may lack aggressiveness for metal music lovers, and for those looking for a touch more detail, and instead presents music in a soft and non-offensive way. 

The soundstage is wider more than it is deep, and The Beam is good at offering stereo clues, being pretty holographic and fun, but the layering and separation, as well as the depth takes a second seat when it comes to its soundstage representation. 

There is almost no hiss, even with hiss sensitive IEMs like Campfire Atlas and IT04, so you don't have to worry about hiss regardless of the IEMs you're pairing The Beam with.  



Portable Usage 

With such a tiny size, and with a good selection of cables, the portable usage of The Beam is pretty much excellent.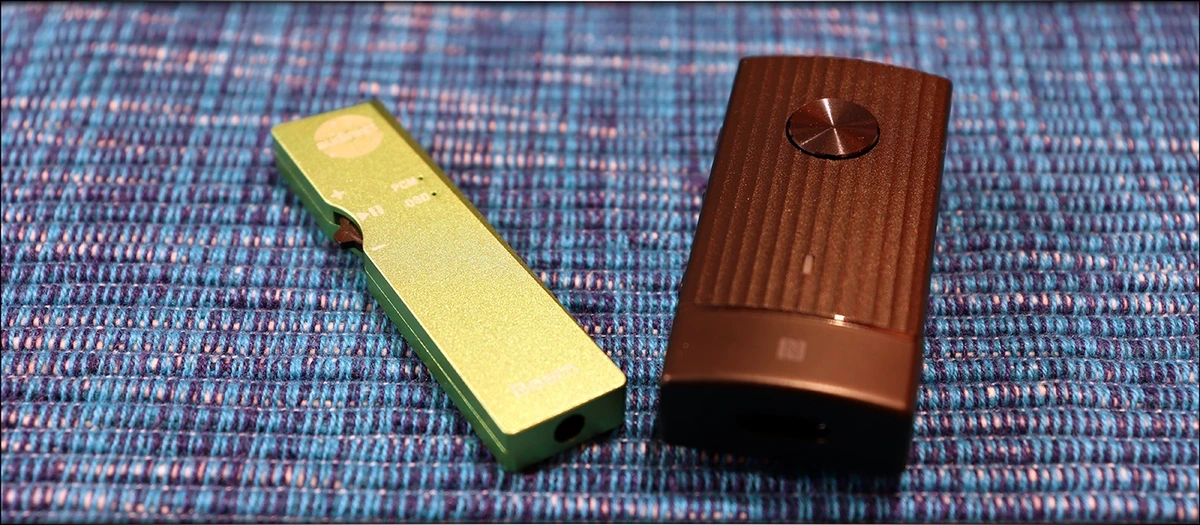 You can add the fact that it can decode Hi-Res files, and when it is connected to your smartphone, you can plug in some Tidal and you'll have access to a virtually unlimited collection of music files, all from a really tiny device. 

For smartphones that don't have a Headphone Output already, The Beam is a necessity, while for smartphones that do have a headphone output, it is a pretty cool way of enhancing your experience, as it will have better detail, a wider soundstage, and a clearer overall presentation than most smartphones on the market. 

The Beam should also have better driving power than most mid range smartphones on the market, making it a pretty interesting little device to juice your trips. 



Comparisons

Being priced at 100 USD, it has quite a few enemies, like Shanling M0, FiiO K3, and even something like the Cyrus Soundkey. Some of the devices aren't direct competitors, but let's say you have 100 USD to get a DAC/AMP or a solution for your music source, you may be considering multiple scenarios, and my purpose here is to help explain what each of those does, and what scenarios each of them is best in. 



Audirect Beam vs FiiO K3 – FiiO K3 is a desktop DAC/AMP, and although it isn't intended for portable usage, if you have a phone with a huge battery, you could do it, although I really recommend you don't. K3 is considerably more versatile than the Beam, has both SE and Balanced output, K3 has Optical Out, and even coaxial outputs, and it has a considerably more neutral signature than the Beam. Now, if you need a portable, The Beam is probably the only real option between the two, although K3 has much more driving power, and the Beam is best paired with IEMs rather than headphones. 

Audirect Beam vs Cyrus Soundkey – Here's an interesting comparison, because both The Beam and The Soundkey are pretty much the same device, easier to compare. The Beam wins in terms of connections, because it has a Type-C connector, where The SoundKey has a microUSB one. It seems that Cyrus includes better cables with the new SoundKey units, but the unit I have only has micro-micro and micro-TypeA, no Type-C to microUSB. In terms of driving power, Soundkey has better driving power, and has a much brighter tonality, more detail, and better textures revealing abilities, but that comes at the price of it being brighter and more neutral, the bass is punchier, but less in amount, SoundKey clearly being a more neutral device. This being said, I really love my devices revealing as much detail as possible, so SoundKey has an upper hand there. Audirect Beam is more musical and sounds more analogue-like compared to the soundKey. Both draw more or less the same amount of power from a smartphone. If you're looking for a softer and warmer mid range device, The Beam is the better option here, while if you're looking for a brighter edge, and for more detail, then Cyrus Soundkey is the better option. 

Audirect Beam vs Shanling M0 – As I said before, if you have about 100 USD, you may not be fully sure what to get, like a DAC/AMP, or even a portable player. Shanling M0 first comes to mind when comparing it to The Beam, as it is pretty similar in terms of sound and driving abilities. Now, Shanling M0 has its own microSD slot, and display, and it is basically a portable music player, but it is larger in size when compared to M0. This being said, M0 is not necessarily easier to use, since its really small display makes it complicated to browse around it, while a smartphone connected to The Beam makes it simpler for me to browse my music collection. Overall, The Beam gives you more listening options, with a larger access to a larger music collection, including tidal, which Shanling M0 can't do, and The Beam gives you access to Youtube and other features, that are inherent to your smartphone, that M0 can't do. On the other hand, M0 draws no power from your smartphone, and has its own battery, and M0 is better if you're on a long trip and don't want anything tethered to your phone. The sonic performance is fairly similar, although The Beam has slightly better detail and a wider soundstage, with slightly better textures and a more softer sound, compared to M0. If you're looking for an affordable music Player with a touchscreen, Shanling M0 is a really good option, or you could even consider FiiO M3K, but if you're looking for a nice little DAC/AMP for your smartphone, The Beam makes a more compelling offer. 



Pairing 

Audirect Beam is best paired with IEMs, rather than headphones, since its power rating really isn't quite high enough for most headphones, although it does a sweet job with most IEMs. I said in my video that it can power my Ultrasone Signature DXP, but even there, it tends to struggle at high volumes, and if you're trying to listen louder, I'd recommend it for IEMs only. 



Audirect Beam + Dunu Falcon-C – Dunu Falcon-C has always been one of my favorite ~200 USD IEMs, for its very healthy V-shaped sound, natural midrange, and an open stage. Pairing with The Beam is very good, as the Beam can give Falcon-C both enough juice, but also a really wide stage, along with a pretty punchy signature, and a warm midrange. 

Audirect Beam + Alpha Delta D6 – Delta D6 is one really open and light-sounding IEM, and the good width of The Beam shows its potency here as well, since D6 becomes even wider sounding, but also gains some punch from The Beam, as well as some good amount of warmth in the midrange, which it needed pretty much to become more versatile 

Audirect Beam + Shozy CP – Shozy CP is a pretty midrange-forward IEM, that really shines in the mids, and with a DAC/AMP that also shines in the mids, CP becomes even sweeter, even more wide sounding, and even more punchy. I feel the overall ergonomics and aesthetic of this combo will please a lot of music lovers, looking for this kind of pairing.



Audiophile-Heaven Youtube Video Review Link 

https://www.youtube.com/watch?v=tJG7KI69TYs






Value and Conclusion

It has been pretty fun reviewing this little DAC/AMP, and I feel it is fairly well priced, and although it is nowhere near as versatile as a FiiO K3 DAC/AMP is, The Audirect Beam is much more portable and aimed at a person who's always on-the-go. At 100 USD, it includes a good number of cables, some of which may be worth almost half of the price, if purchased separately, making Audirect Beam a pretty fair value.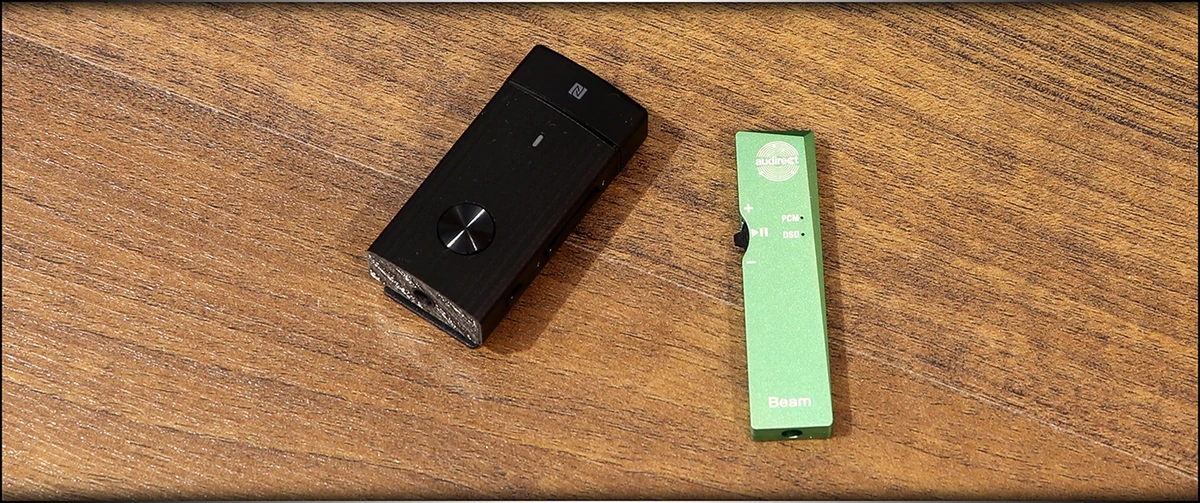 The build quality is pretty much excellent, a tiny fully metallic device, that even has a physical volume control, and a play / pause button, and which has a nice overall design. The USB implemented is Type-C, which is pretty awesome, as it is reversible, and as it should be easier to pair with most smartphones, especially considering the cables included in the package. 

The music is pretty good, and what's more amazing is how easy it can decide Hi-Res files, and even play DSD files. The warm midrange, and smooth yet present treble is surely going to be music to the ears of those looking for this kind of signature. 


Overall, if you're looking for a tiny device to power your trips, if your smartphone doesn't have a Headphone Output, or if you want to get a better sound of your smartphone, you should totally consider The Audirect Beam, and if you like a warm midrange, wide sound, and if you use IEMs a lot, The Audirect Beam might make your main portable DAC/AMP for a good time. 
Product Link
You can purchase your Audirect Beam from www.amazon.com here: https://www.amazon.com/Audirect-Portable-Earphone-Amplifier-Android/dp/B07HP3719J/
---
---
--- Please remember to stay safe, and always have fun while listening to music!---
 - If you have a dime to spare, and donate, to help us with electricity and work expenses, it would make my day much brighter, as it would help me improve things around the website and increase the frequency of my posts - 
---
Full Playlist used for this review
We listened to more songs than those named in this playlist, but those are excellent for identifying a sonic signature.  PRaT, Texturization, Detail, Resolution, Dynamics, Impact, and overall tonality are all revealed by those songs. We recommend trying most of the songs from this playlist, especially if you're searching for new music!
https://www.youtube.com/playlist?list=PL_cjBXGmwSHSdGcwuc_bKbBDGHL4QvYBu
--- Contact Us ---






---
---