Linsoul RAPTGO Bridge – Crossing Into The Audiophile World 
RAPTGO Bridge is a $ 159 USD Entry-Level IEM with 2 BA + 2DD + PZT drivers, basically showcasing all of the audiophile tech in one product. It comes in three colors, green, purple and blue, and it is designed to showcase what you will be getting if you're going in the audiophile world. It will be compared with other entry-level high-quality IEMs, including KiiBoom Evoke, Dunu Talos, and Tangzu Zetian Wu.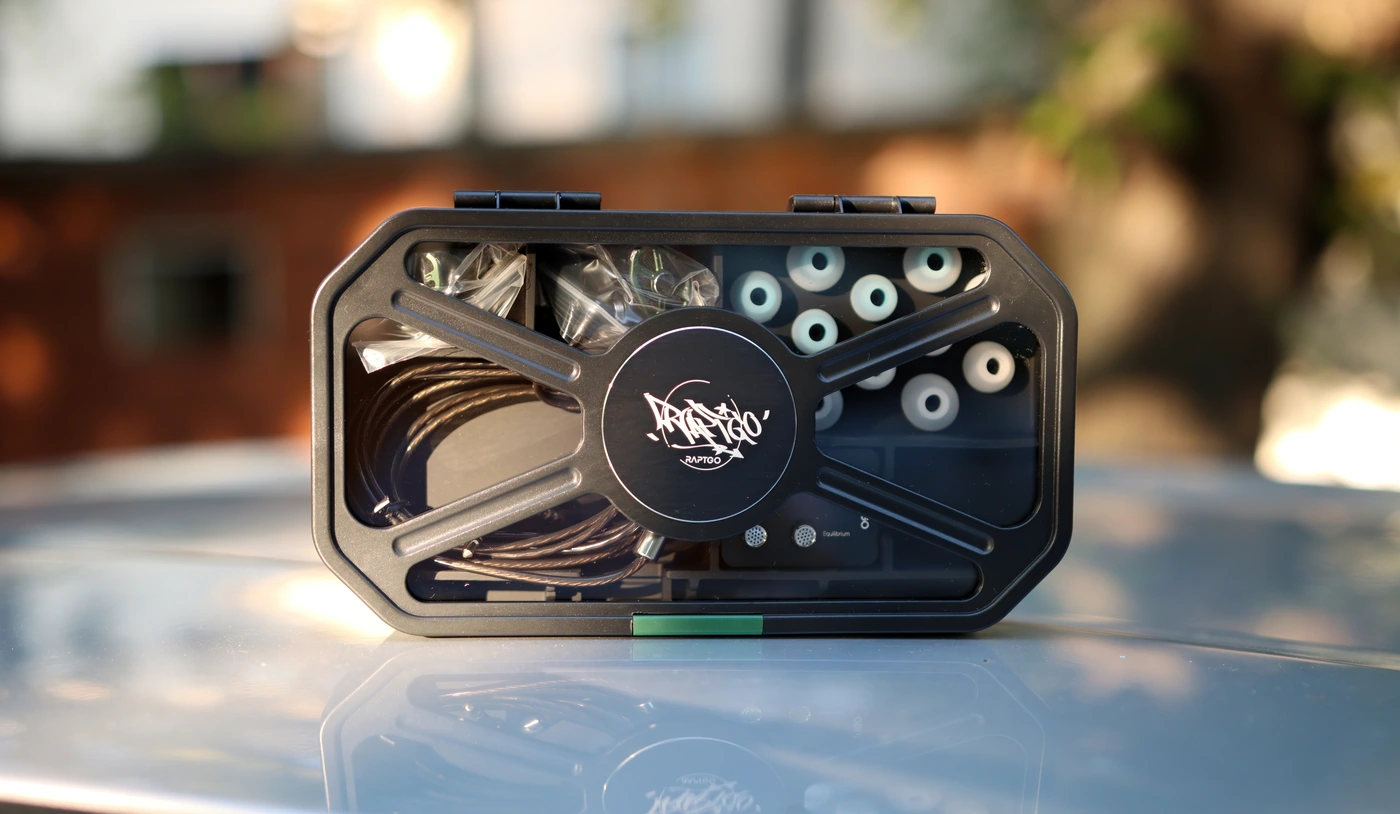 Introduction
RAPTGO is a company that has basically been selling only through Linsoul, and despite the fact they are a new company, they have been launching success after success in the audiophile world, having propelled Linsoul to the sky lately. As a company, RAPTGO makes some super nice IEMs, and they are available both on Linsoul but Also Amazon, where Linsoul fulfills the orders too. We have so much tech in today's review, and so many ways to tune the Bridge, that it will be interesting to see how RAPTGO Bridge actually sounds after we had the chance to play a bit with them and their sound. 
It should be noted that I have absolutely no affiliation with Linsoul or RAPTGO, I am not receiving any incentive for this review or to sweeten things out. I'd like to thank Linsoul for providing the sample for this review. Every opinion expressed is mine and I stand by it. The purpose of this review is to help those interested in RAPTGO Bridge find their next music companion. 
Product Link
You can grab one from www.amazon.com here: https://amzn.to/3Pp5hBy
If you're in the UK, you can grab one from www.amazon.co.uk here: https://amzn.to/3JqI26i
And if you're from Europe, you can grab one from www.amazon.de here: https://amzn.to/43ReRRX
Build Quality/Aesthetics/Fit/Comfort
Starting with the build, this IEM has more technology inside than my TV and PC combined. We have two Balanced Armature Drivers, but also two dynamic drivers and one PZT driver, all playing at once. The Piezoelectric driver is super large at 10mm, but the two dynamic drivers have different size, one being 6mm and one being 10mm in size. There is an active crossover inside of the RAPTGO Bridge, and speaking of which there's a switch you can configure on the electronic crossover. Adjusting the crossover button 1 can cut out the high frequencies, or and button 2 can control high / low gain for the entire sound. The best sound can be found with the switch 2 engaged actually, as it tends to open the sound a lot and make everything much more detailed and vivid, without making everything too aggressive or harsh. It actually feels like Button 2 brings forward the midrange, which I think Bridge needed, compared to the default factory setting. I have more than enough power on hand to bring RAPTGO Bridge loud, but it feels like button 2 being engaged makes the whole sound better regardless.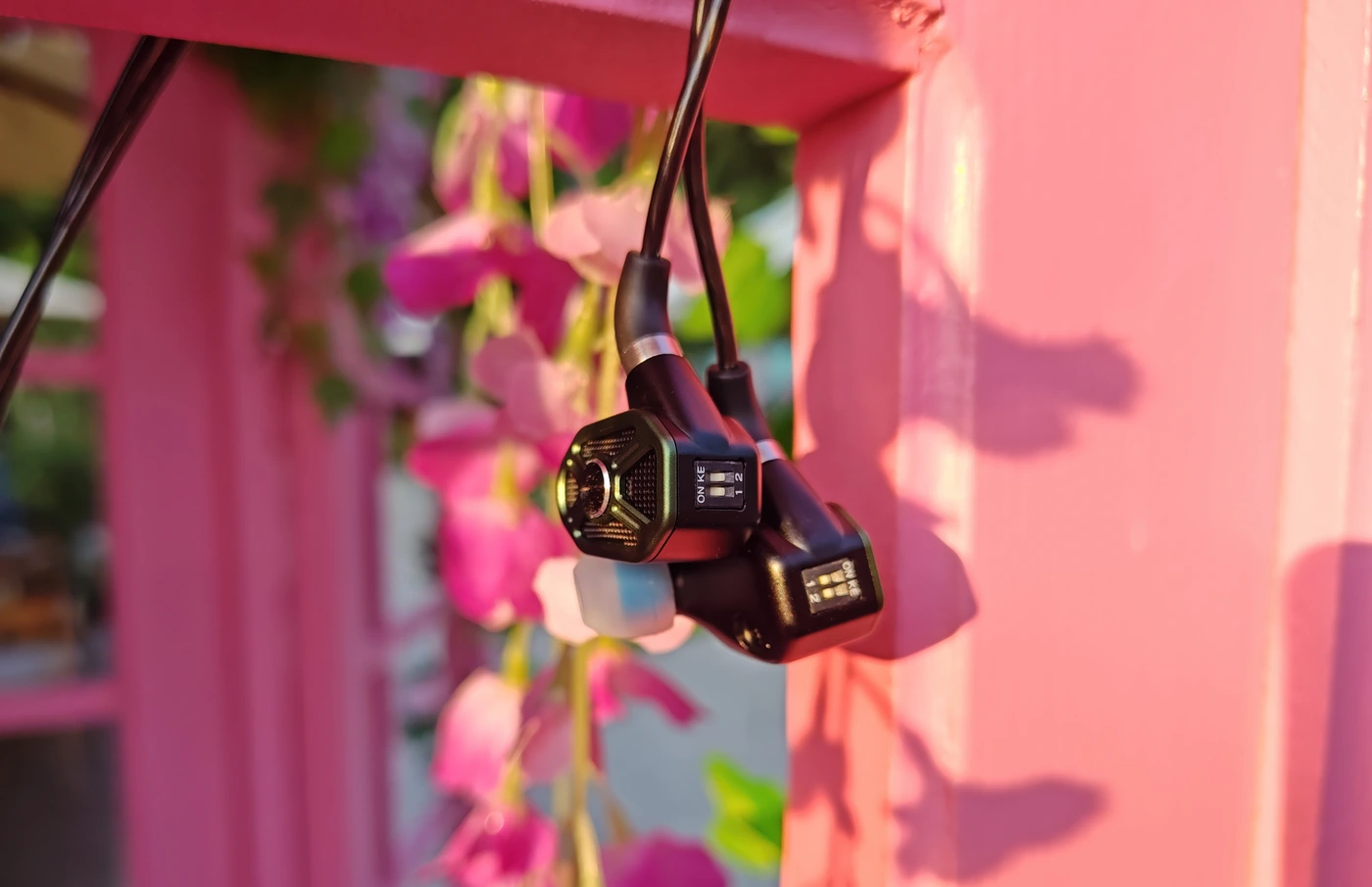 There is a selection of metallic filters that you can use to tune the RAPTGO Bridge, and there are 3 styles, a golden one for a brighter sound, a black one for bass, and a silver one for the most balanced sound. I once again found that the best sound is with the filters already installed which are the black filters, and they seem to filter out the least sound, allowing you to hear the might of all the drivers installed in the bridge. 
The cable is super typical, 1.2 meters in length, it is rather tangle prone, but it does not conduct microphonic noise. As far as I know, you can't order RAPTGO Bridge with a balanced cable, only with different colors. The box they come with is super nice, and I love seeing and using it, it is also very practically compartmented, making owning the RAPTGO Bridge a super fun experience.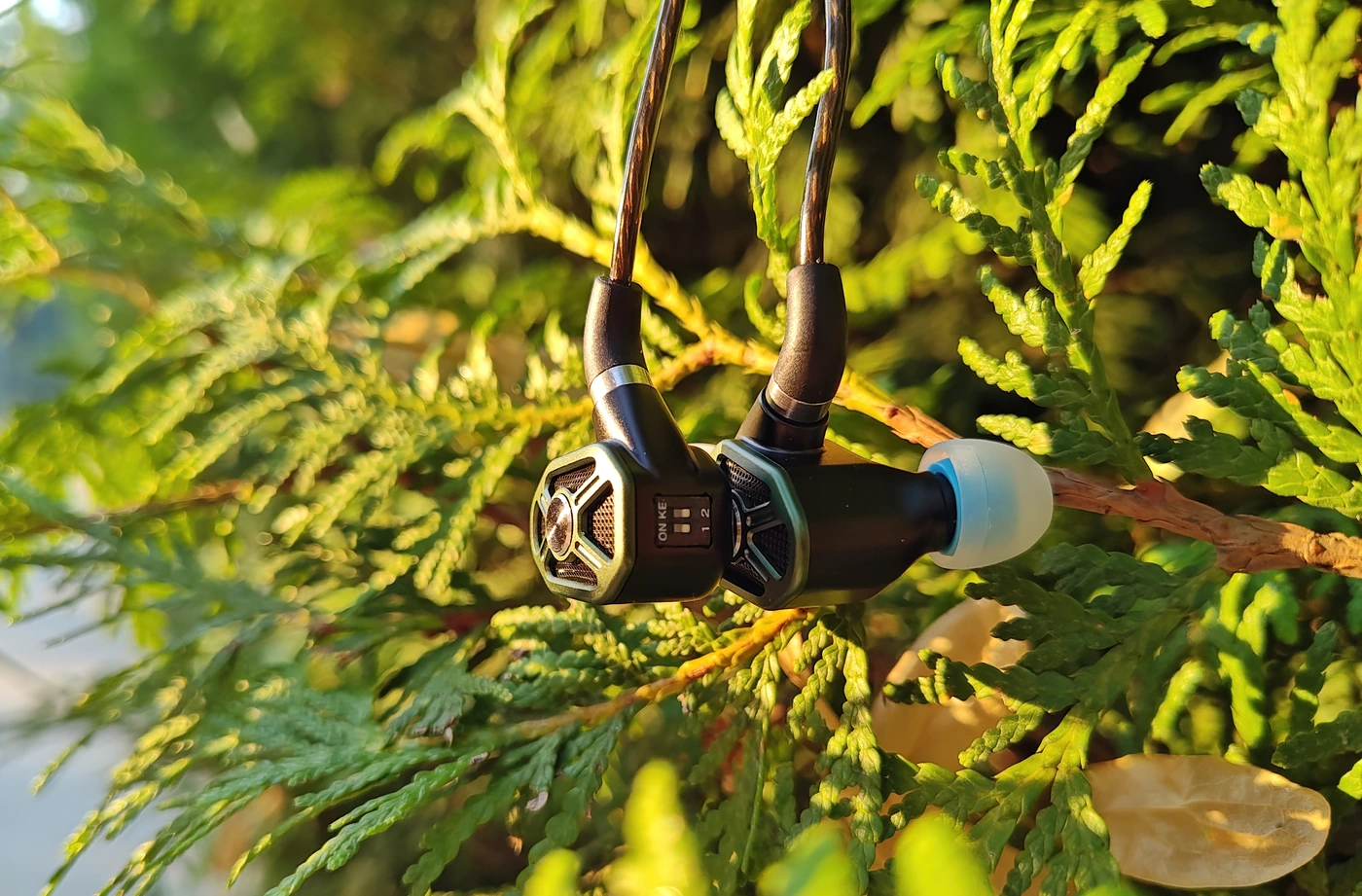 There are two types of eartips, and I prefer the ones with the blue core, and I need the small size, although for most other IEMs, I typically use the medium size. The impedance of the RAPTGO Bridge changes when you engage the Switch 2, giving them 34 OHMs of impedance, but increasing the SPL to 109dB / mW. The comfort is superb, and Bridge actually offers good passive noise isolation, up to about 20 dB, witht he IEM shells being designed with good ergonomics. The smallest tips work well for my ears, and I feel zero discomfort from the IEMs or the cables. Wearing the bridge is the kind of experience I never have to stop for any inherent reason. 
Sound Quality
Starting with the sources used for today's review, I highly recommend engaging the button 2 as it will cause much less source mismatch with the RAPTGO Bridge, and they will sound better with a larger number of sources. I have paired RAPTGO Bridge with Shanling M0 PRO, Hiby R6 III, Astell & Kern ACRO CA1000T, and Shanling M3 Ultra, as far as DAPs go, and also gave them a go with iBasso DC04 PRO, ddHIFI TC35C, Khadas Tea, and Shanling UA5 as far as dongle DACs go. Overall, it doesn't really matter what source you're using and they will sound really nice out of all sources, the source does not change the sound very much for them. RAPTGO Bridge is not sensitive to hissing and background noise. The overall clarity and detail is very good, and the whole sound can be described as natural, clean, balanced and super enjoyable. 
The bass of the Bridge changes with engaging or not engaging that 2 Button, as with it unengaged, the sound is deeper, with better sub bass, and it tends to sound heavier, and with a better sub bass. With the Button 2 engaged, the sound becomes much more balanced, but loses some of the weight and bass, depth and impact it otherwise can have. The bass is super good at reaching the sub lows, but regardless of the setting and filter combination, RAPTGO Bridge is a moderate bass heavy IEM, good for most bassheads, but not for diehard basslovers. I highly recommend going with the default setup for the best bass depth and impact, and playing around if you want less bass and a brighter sound.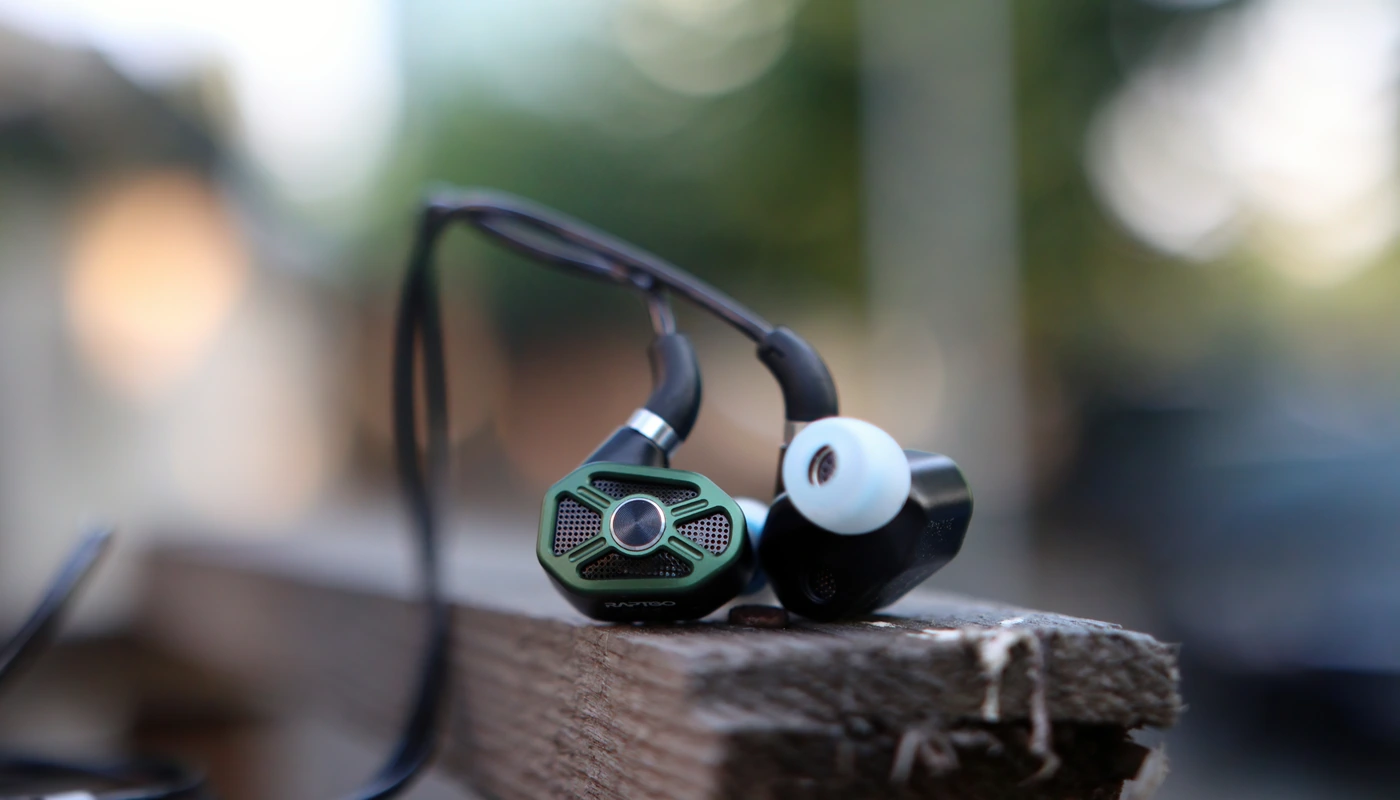 The midrange is what changes the most with the filters, as you'd actually expect, and generally speaking the drivers employed in RAPTGO Bridge are super neat, they offer those entry – mid IEMs superb detail, a refined sound that is never harsh, shouty or forced, or aggressive, despite being incredibly clear. We have a fairly good sense of soundstage, with a wide and holographic presentation, and super good stereo imaging. I love having a good sense of space since IEMs that sound too narrow make me claustrophobic. RAPTGO Bridge offers a very good demonstration of what a high-end sound is usually like, without asking a high-end price, and I think this is, ironically, priceless. There is a bit of a peak in the upper midrnage / lower treble, but it is not super coloring, you can hear it, but you get used to it fast. It mainly causes the cymbal crashes to sound a bit thin.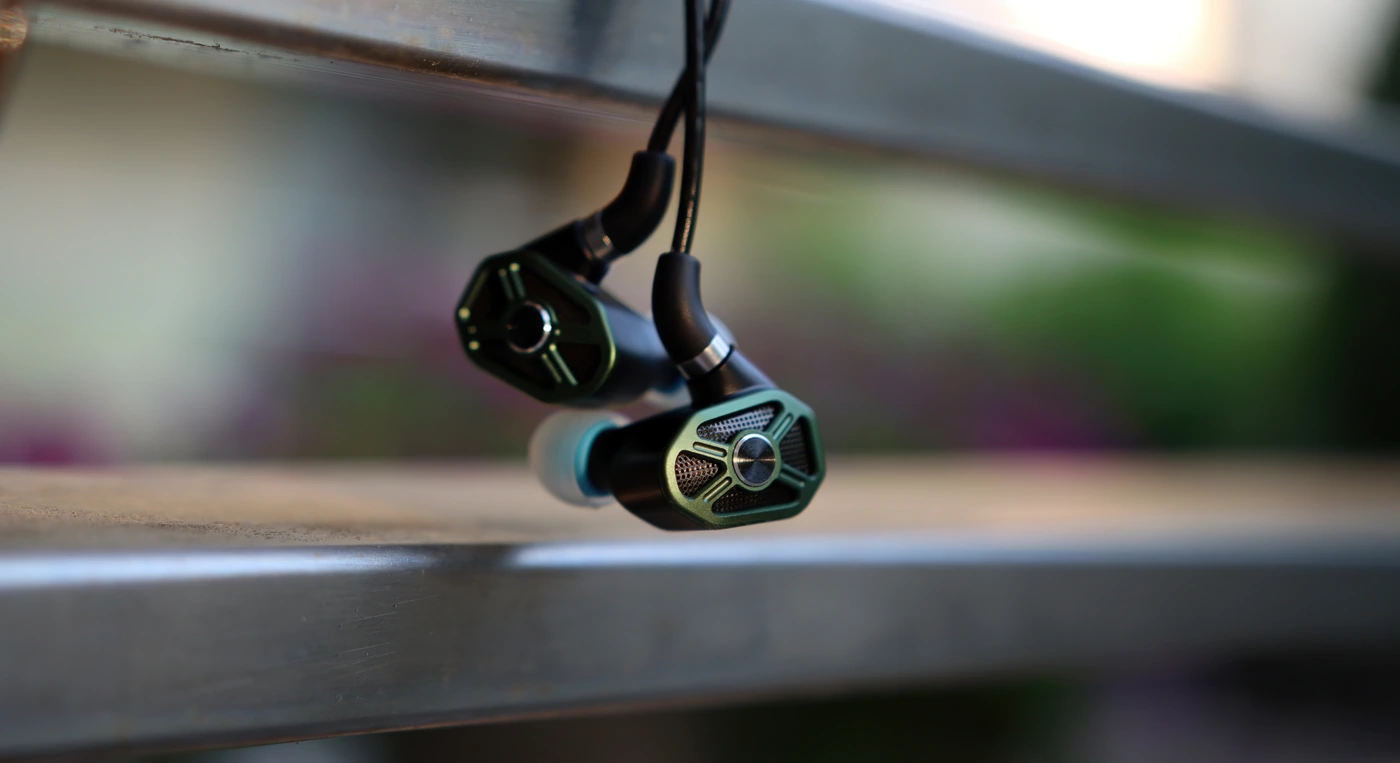 The treble is a natural treble, not shouty nor too forward or aggressive, and the more I focused on the upper midrnage and the lower treble, the more I felt the need to switch the Button 2 to the default state, as I prefer the overall tonal balance of the default state, where the bass is bolder and creates more contrast for the treble. All in all, the treble is clean, detailed but smooth and not super aggressive. Even music with a lot of brightness and treble energy / information, like Infant Annihilator can sound natural instead of the usual super bright and aggressive music. Most rock and metal will be listenable, regardless of how forced it was mastered and mixed, so I think RAPTGO Bridge is an exceptional IEM if you want to enjoy your music without aggressiveness or harshness.
Comparisons 
RAPTGO Bridge vs KiiBoom Evoke (159 USD vs 199 USD) – I really like the Evoke, and it strikes all the right chords with me. It is worth saying that both have a mediocre cable that is somewhat tangle prone, and both IEMs have superb quality while you're wearing them, so you usually forget about the cable anyways. Both sound super clean and detailed, both have a wide soundstage, both are super engaging and both are enjoyable. Evoke has a bit less bass, while Bridge would work much better for bassheads. Evoke is still high in my list, because the midrange can be a bit more natural, but the bass of the Bridge wins me over, so if you generally love a bassier sound, Bridge would likely be a better fit for you.
RAPTGO Bridge vs Dunu Talos (159 USD vs 199 USD) – Dunu Talos is one of those IEMs that divided the audiophile community a bit, as they can be quite bright and shouty, so I think that Bridge is a safer option, they are never as harsh or as bright as the Talos, and they sound just as detailed and clean. I prefer the bass of the Bridge too, they have better punch and a more satisfying low end reach. Overall, if you have to make a choice between the two, I would go with RAPTGO Bridge, it is more flexible, more comfortable and cheaper, making a better purchase at this moment and given the current market. 
RAPTGO Bridge vs Tangzu Zetian Wu (159 USD vs 199 USD) – Zetian Wu also has good construction, and is comfortable, but is a bit larger in person than the Bridge, or at least it feels larger in my ears, so the comfort ends up being better on the Bridge. The sound is heavier, with more bass on the Zetian Wu, they have about the same detail and clarity, but both have good soundstage too. The midrange is a bit more natural on the Zetian Wu, but the resolution has a bit of an edge on the Bridge. We have better impact and punch on the bridge, which is more punchy and more peppy, while Zetian Wu is thicker, warmer and smoother, making it better if you don't want a lot of energy, or at least a bit less energy, Bridge can sound very energetic. 
Value and Conclusion
We have a super high price / performance ratio with the RAPTGO Bridge, and I think it is a super neat entry level IEM to enjoy as your first more serious listen. It comes with filters, switches, multiple sets of tips, basically the whole plate for a beginner audiophile who wants to experiment and learn more about their own preferences and taste. I am not saying that it covers absolutely everything, but for most people it will show your the right direction for sure. Also, given it is very comfortable, and has a super high quality for the sound, the price asked for it is very low, considering it would have been competitive even if it was priced 100 USD more.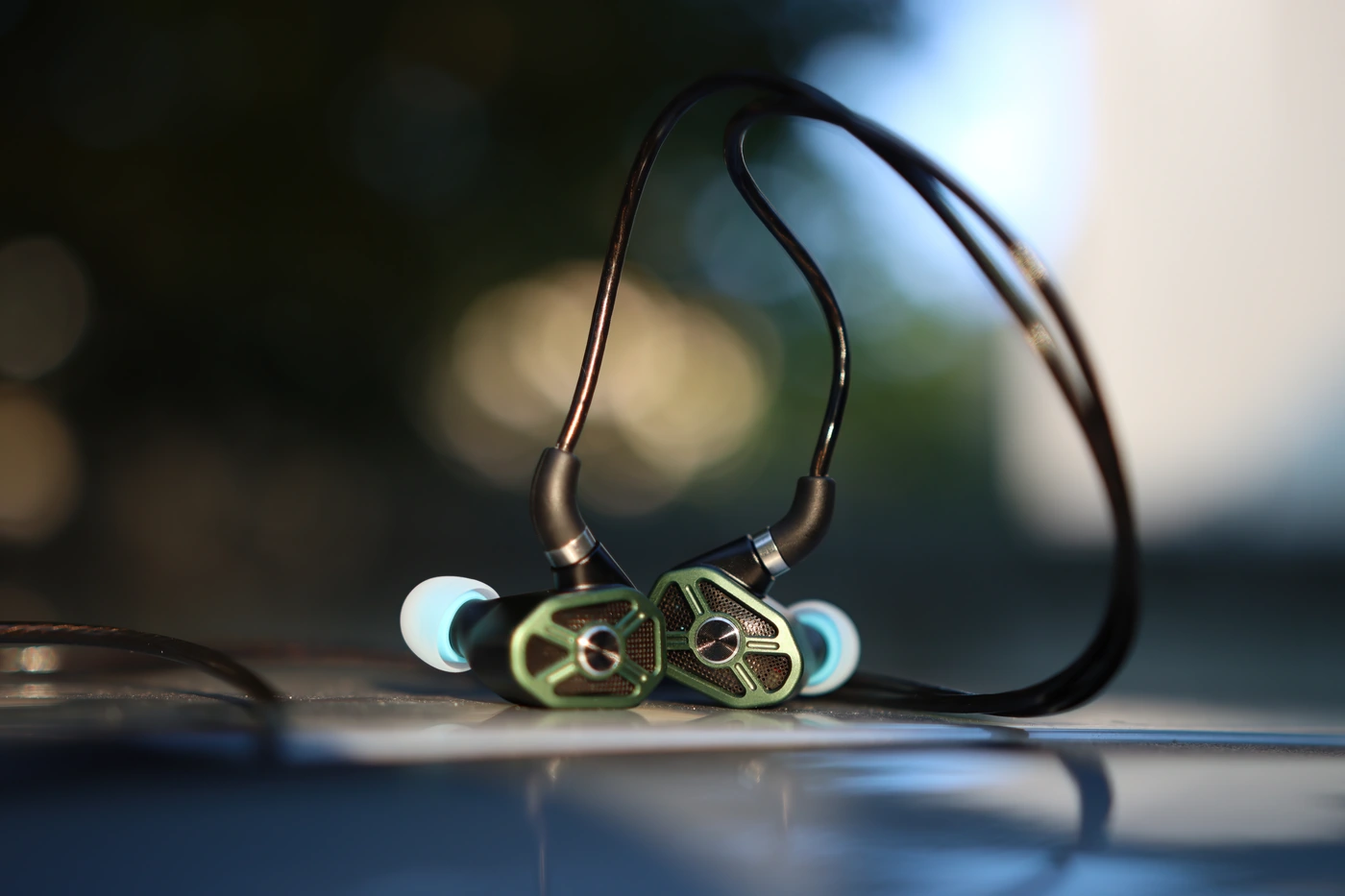 At the end of the day, if you're looking for a gateway IEM to hook you into audiophilia, something that's a bit of a chameleon, with will be fun with rock, EDM, Pop, Classical, Rap, and basically all music styles, something to use for a long time, and something easily available from Linsoul, Amazon and something I enjoy quite a bit, RAPTGO Bridge is a fully recommended purchase and an IEM you can be sure will be fun to own and use. 
Product Link
You can grab one from www.amazon.com here: https://amzn.to/3Pp5hBy
If you're in the UK, you can grab one from www.amazon.co.uk here: https://amzn.to/3JqI26i
And if you're from Europe, you can grab one from www.amazon.de here: https://amzn.to/43ReRRX
---
--- Please remember to stay safe, and always have fun while listening to music!---
 - If you have a dime to spare, please donate, and help us! It would make the day brighter for me and my wife- 
---
Full Playlist used for this review
We listened to more songs than those named in this playlist, but those are excellent for identifying a sonic signature.  I recommend trying most of the songs from this playlist, especially if you're searching for new music! The playlists are different for Spotify, Tidal and Youtube, and based on the songs I enjoy and are available on each!
https://www.youtube.com/playlist?list=PL_cjBXGmwSHSdGcwuc_bKbBDGHL4QvYBu
https://open.spotify.com/playlist/5J3oloz8Riy9LxEGenOjQ0?si=979ba4f082414be7
https://tidal.com/browse/playlist/330fd544-8e5b-4839-bd35-676b2edbb3d5
--- Contact Us ---





---