SMSL M300 SE DAC / Headphone AMP – High Resolution USB Power
SMSL M300 SE is a $ 105 USD DAC made for desktop systems, with two headphone outputs, XLR Balanced outputs, RCA Single Ended outputs, and a newt design that would make it a top choice for an entry-level DAC/AMP. It will be compared to other desktop DAC AMPs from the entry-level range such as Fosi Audio K5 PRO, SMSL C200, and HIDIZS XO.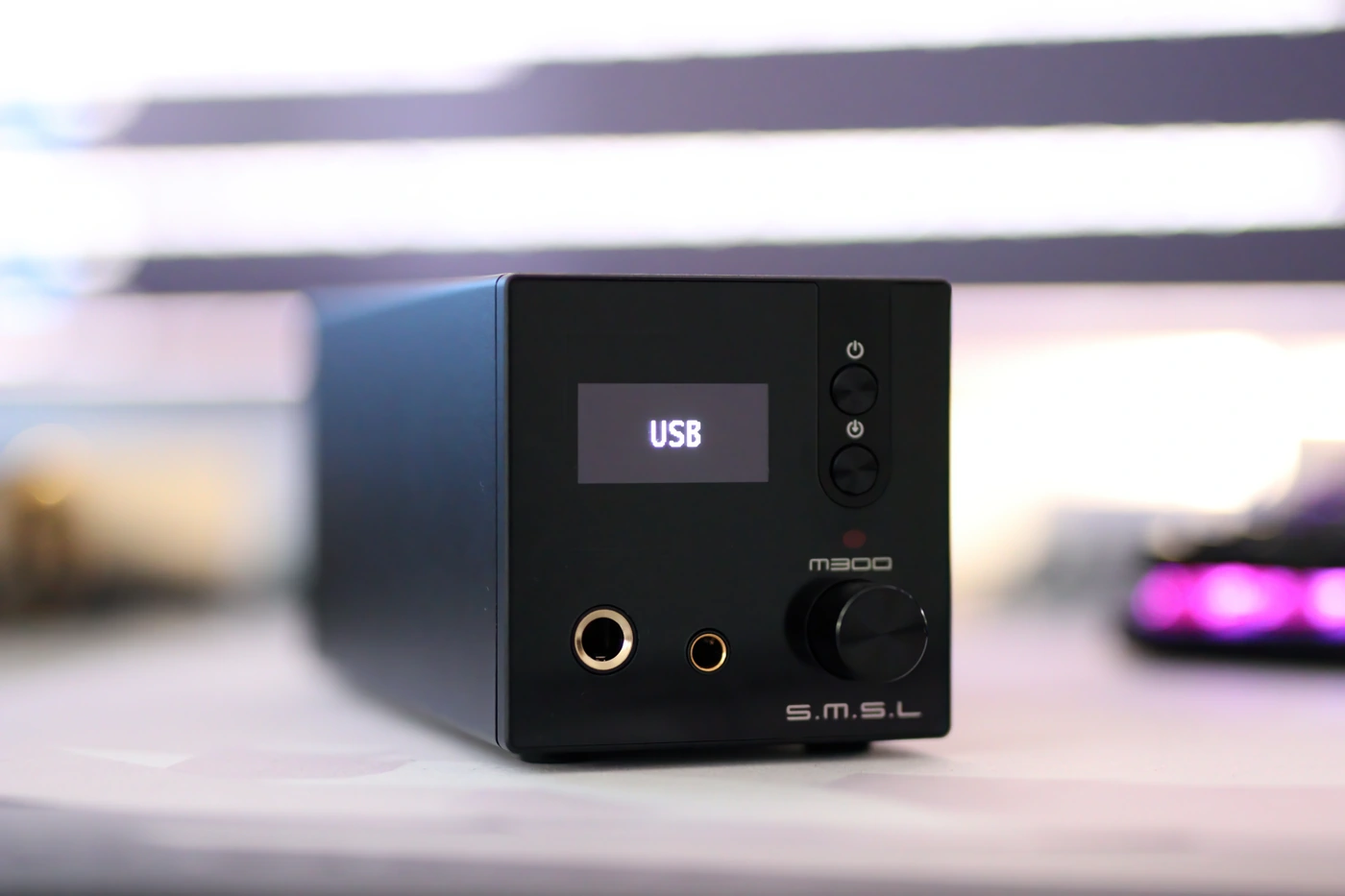 Introduction
SMSL is a large company from China that serves music lovers and Audiophiles for all their needs and price ranges. They have both DACs but also AMPs, Stereo Amplifiers, and even some interesting accessories. SMSL has something for everyone, and today's DAC / Headphone AMP is an entry-level unit that showcases what SMSL does best, which is to offer a high price performance ratio for their products. SMSL products can be purchased from Amazon, where you'll get the best prices and overall return windows. 
It should be noted that I have absolutely no affiliation with SMSL. I'd like to thank SMSL for providing the sample for this review. This review reflects my personal experience with the SMSL M300 SE. Every opinion expressed is mine and I stand by it. The purpose of this review is to help those interested in the SMSL M300 SE find their next music companion. 
Product Link
You can grab one from the official link on HiFi-Express here: https://hifi-express.com/products/smsl-m300-se
You can grab one from www.amazon.com here: https://amzn.to/42NTCzi
If you're in the UK, you can grab one from www.amazon.co.uk here: https://amzn.to/44deAsp
And if you're from Europe, you can grab one from www.amazon.de here: https://amzn.to/3PrKeyi
Build Quality/Aesthetics
SMSL M300 SE is a neat looking DAC / headphone AMP that's very cubic, somewhat tall, and has a long body. This one has two Type-C inputs, one for data / power and one for power only, if you'd want to check out a battery or a better power delivery. The DAC is based on a dual CS43131 Chip, which also has MQA decoding abilities (though MQA may go out soon). The DAC also has an XMOS XU-316, which allows it to decode signals up to 32 Bit / 768 kHz, and DSD up to DSD512.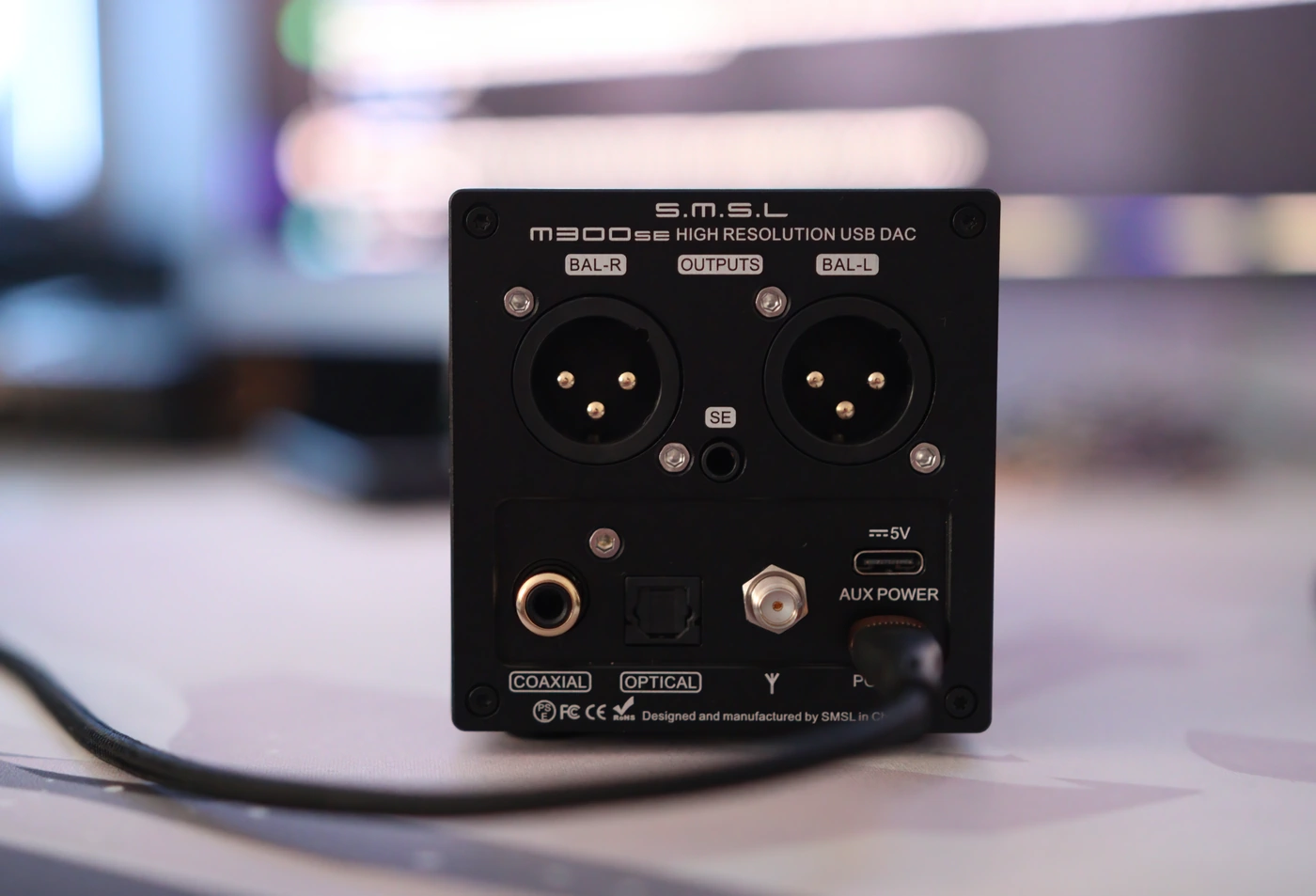 We also have a tempered glass face, and a 1.29″ OLED Display, with a volume wheel that you can also press to browse the menu. This menu allows us to select the input, turn off the display after a while, select outputs from either Line, Headphone or Both, and set the volume to be variable or fixed for the line output. We can also clear the Bluetooth current device from the menu, and set the display to be brighter or dimmer. '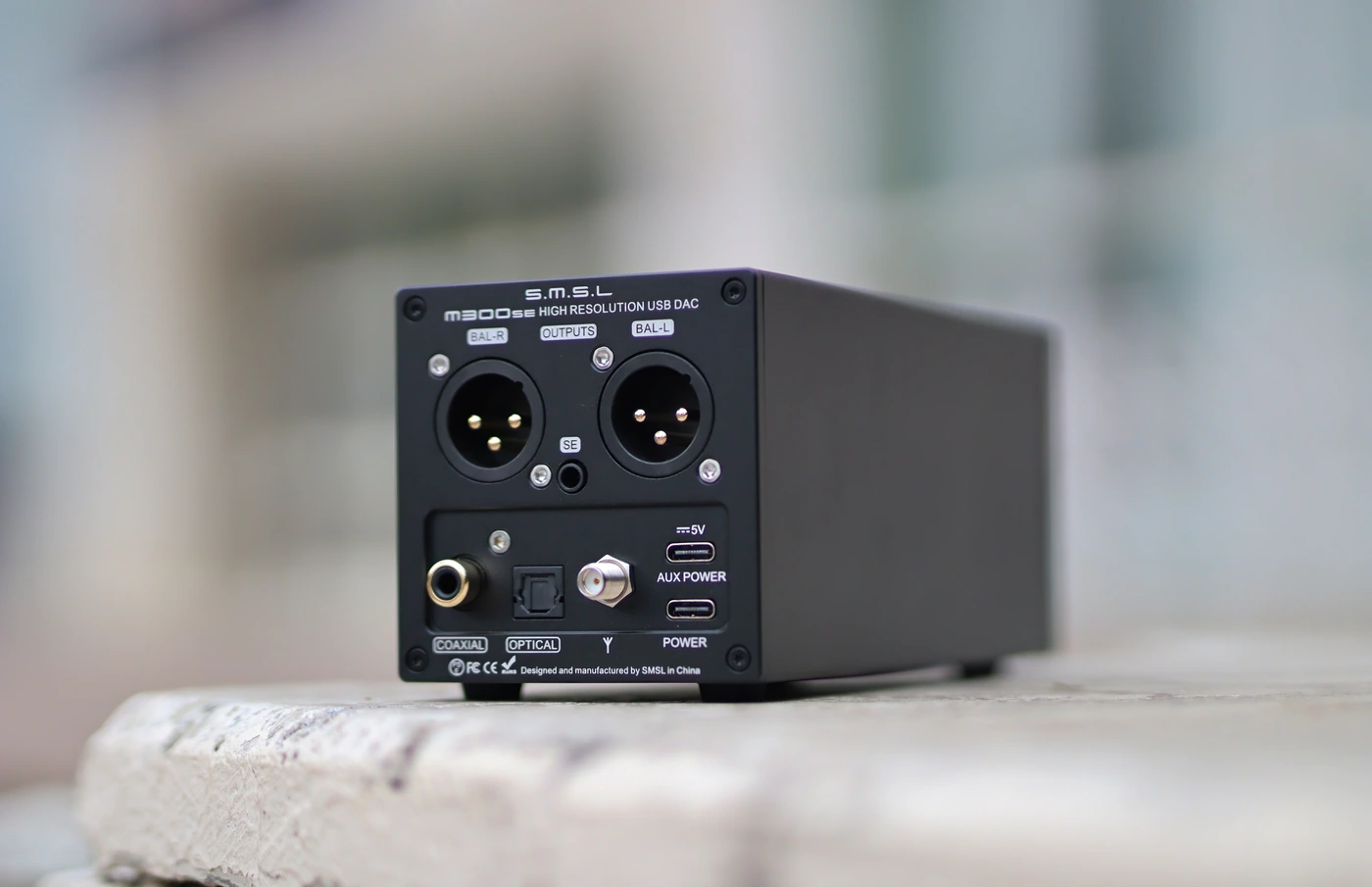 SMSL Claims that M300 SE has a True Balanced design, with the headphone output being true balanced (not just having the 4.4mm plug, but actually having a balanced sound architecture path), and they also claim that the unit has up to 148mW of power for a 32 OHM impedance. The maximum power of just 15mW for a 300 OHM impedance headphone is rather low.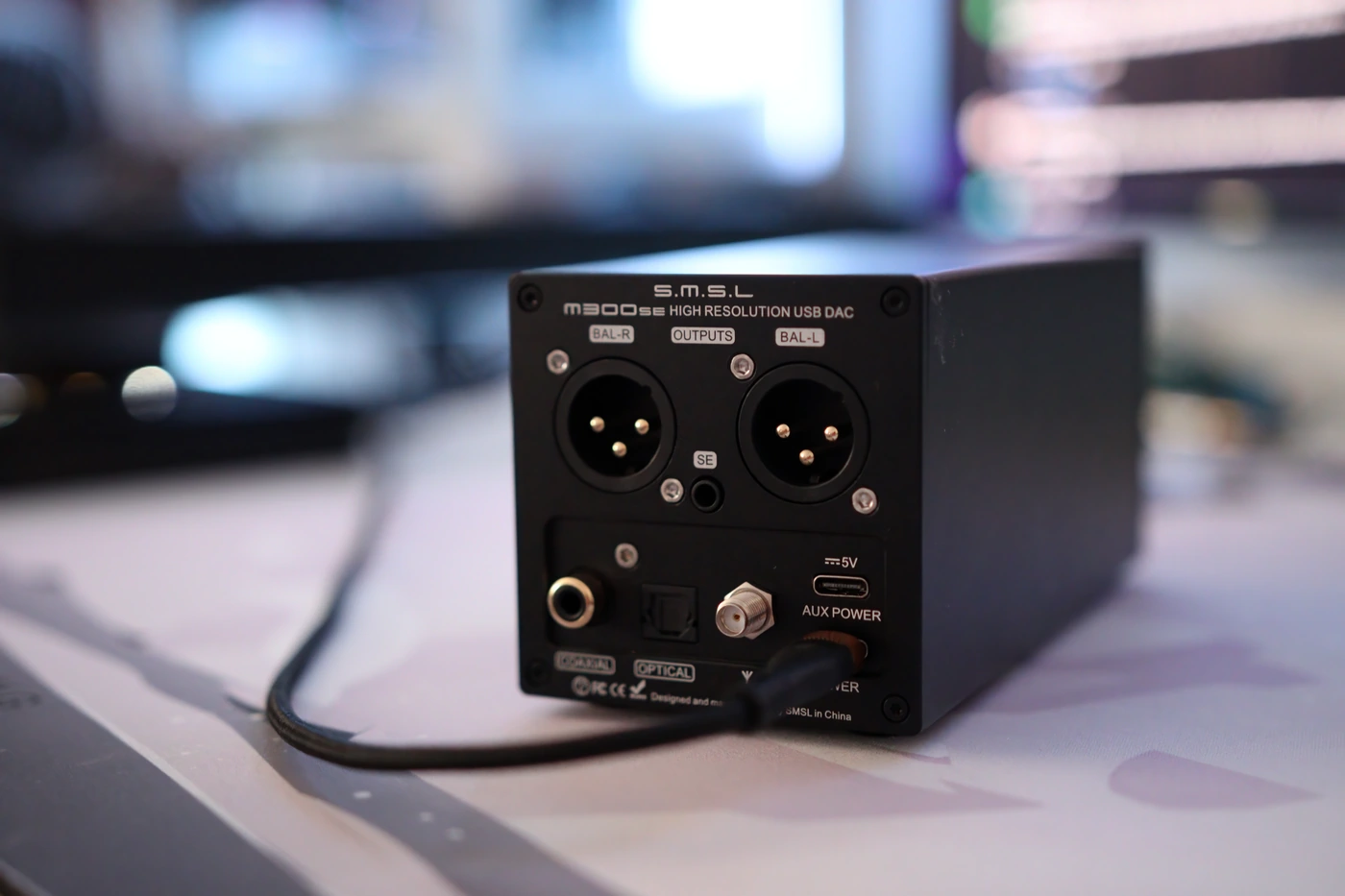 The THD is rated super low at 0.00013% and a distortion level of -117dB. The remote is the same as that which comes with literally every single SMSL DAC, and we have a True Balanced XLR output, for which the diagrams are available on the SMSL website. There is a diagram of the 4.4mm headphone output which shows that they applied the international standard, and I can confirm that it works with all balanced cables I have around the house.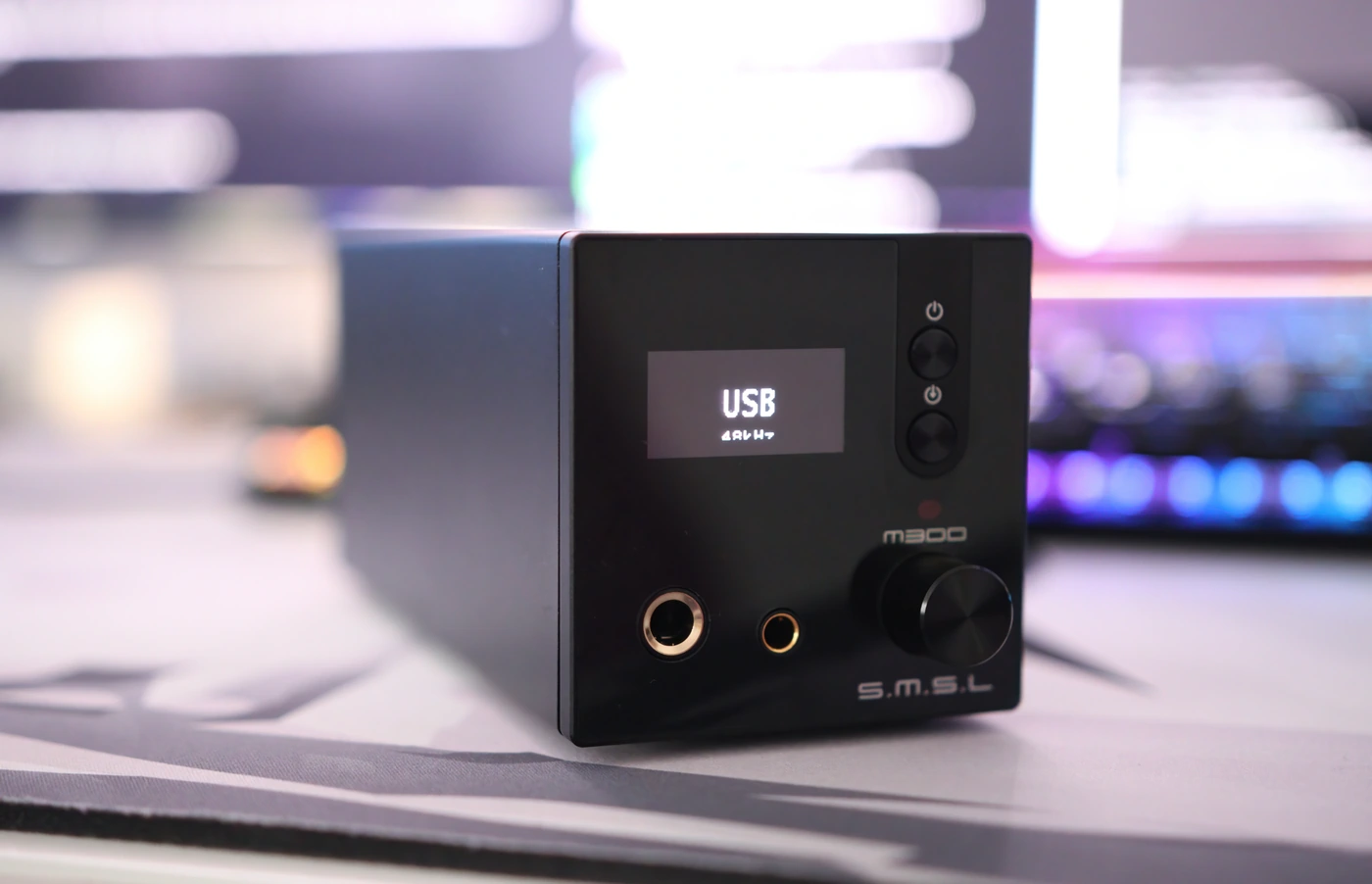 It is unclear what Bluetooth chip is used in the M300 SE, but I would avoid using the Bluetooth entirely, as it only supports SBC and you can clearly hear the compression and distortion usually associated with the SBC codec. The sound from the Bluetotoh input is not comparable to the sound of the USB and the other inputs when it comes to the quality and overall resolution, but it works fairly well if you just want to sometimes allow someone to share something wirelessly. The output level of the RCA output is 2 V which is super nice, and the XLR output is 4 V which again is super nice as SMSL M300 SE follows the usual standard for those. This being said, there are no traditional RCA outputs, and that is actually replaced with a 3.5mm SE port that you need to use with a 3.5mm to RCA cable (common but unusual for a desktop DAC AMP to have). 
I am quite surprised to hear that M300 SE drives most headphones rather well, including the likes of Sennheiser HD660 S2, iBasso SR3, Erzetich Thalia, HIFIMAN Svanar, Austrian Audio HI-X60, and ThieAudio Ghost. The driving power is super good, and you can bring the M300 SE up to the maximum level without distortion, at least on over-the-ear headphones. I have not heard hissing or any other problems with IEMs either, upon testing them with Unique Melody Maven PRO and Ambient Acoustics MAD 16. The signal is super good from the USB output, there is no dropout nor any bug that I noticed while using M300 SE. 
Sound Quality
Now that we know what headphones I paired the M300 SE with, I should mention that I've also used it as a desktop DAC AMP for Cyrus One Cast and KLH Model Five, but also in a different setup with SMSL AO200 and the NHT C3 Speakers. All in all, the overall experience is pleasing, the sound is somewhat warm, and has good bass thickness and presence, but not a lot of sub bass, and the treble is mostly smooth and relaxed, although it extends well and does not roll off too early. The headphone output and the line out have about the same sound, both have a clean presentation and good detail.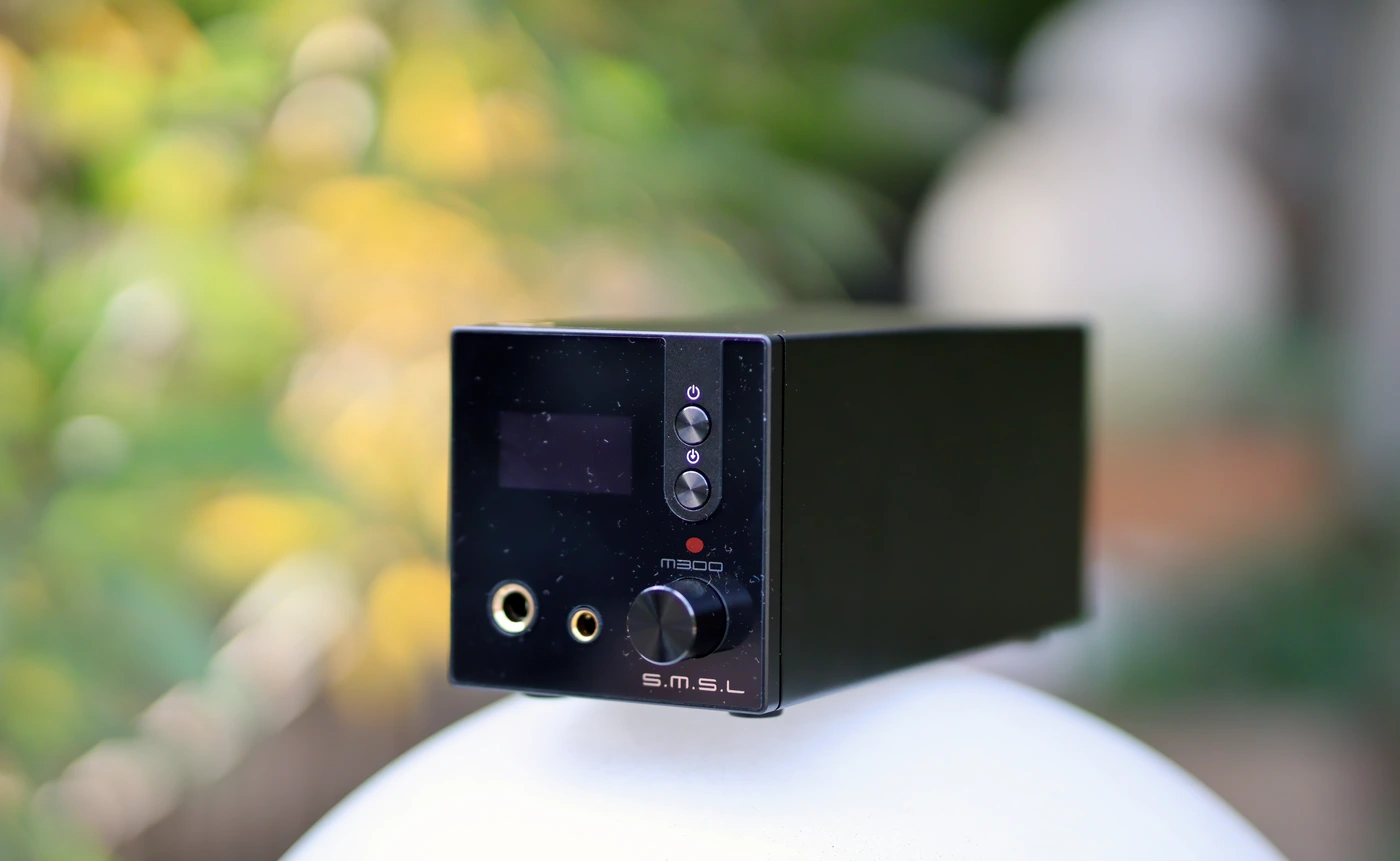 The bass of SMSL M300 SE is clean, has more focus on the mid bass and the upper bass than on the sub bass, both for the line out and the headphone output. The bass is not super deep, rather it stays mostly neutral, with a pleasing mid bass and upper bass uplift that gives music a more lush presentation, avoiding sounding clinical or too flat. This more neutral bass approach limits the perceived depth of the sound a bit, but if you're looking for a lush and slightly fuzzy sound, M300 SE goes for that really nicely.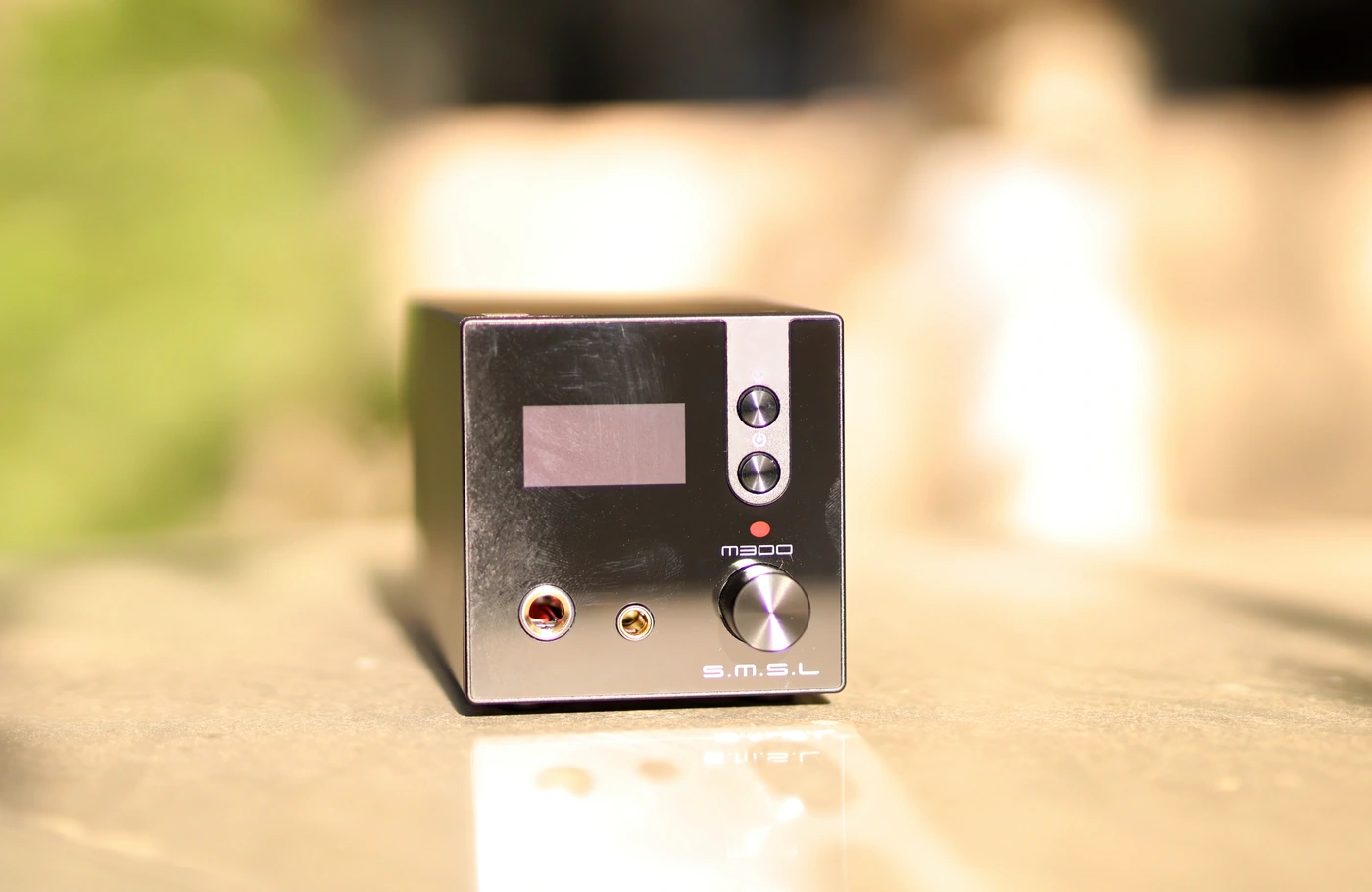 The midrange is the central element of the sound, and just as with most SMSL products, the midrange is somewhat brought forward on the M300 SE, and this makes everything sound super clean and clear, but it tends to take away some of the impact, punchiness although the sound is super dynamic. There's a good sensation of spaciousness, the soundstage extending nicely in width. We have a super natural voicing for both male and female voices, and guitars sound super nice too, basically all instruments in the midrange being presented super well. This means that music that's usually acoustic, or at least music that sounds good live will sound super nice on M300 SE, so Rock, metal, pop, jazz, classical will be beautiful.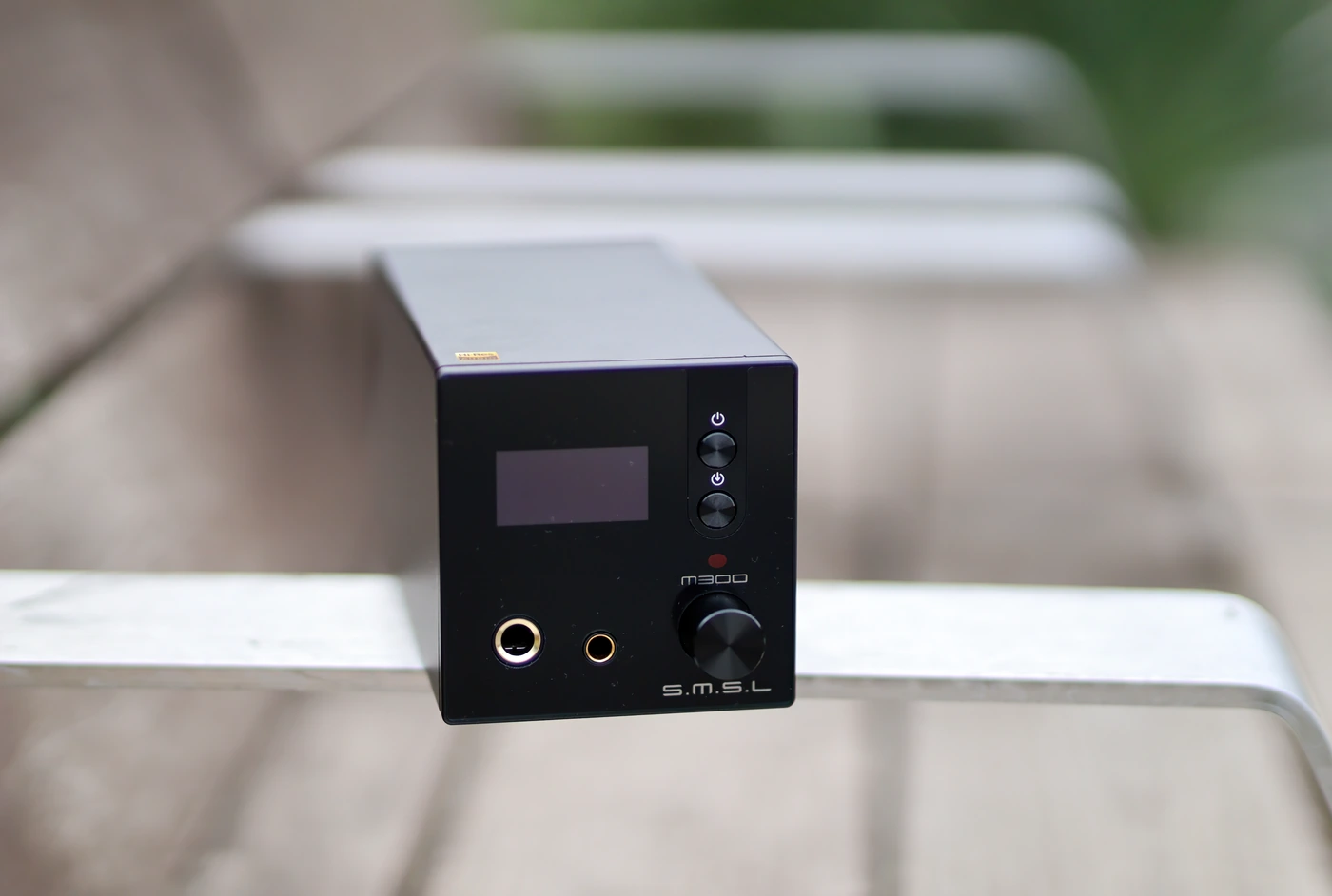 The treble is fairly natural, smooth in texture, and is bright somewhat behind the midrange, which takes away the edge from certain music styles. I would classify M300 SE as a relaxed and smooth sounding DAC, and this means you won't ever grow tired of it and its sound, and it will always be pleasing to hear. This also means that it is not bright either. 
Comparisons
SMSL M300 SE vs Fosi Audio K5 PRO (105 USD vs 79 USD) – We start with a worthy competitor, something that is even cheaper than M300 SE, and something that I actually enjoyed quite a bit. K5 PRO has both a headphone output and a microphone input, while M300 SE is basically just made to drive headphones or to give signal to amplifiers, and to play it cool when it comes to other functions. Speaking of features, K5 PRO has a very capable EQ that's integrated via EQ wheels, but it sounds kinda bad if you don't engage them, so it is less of an optional feature, and more of a you have to use this feature. M300 SE has XLR outputs, which will come in handy more for desktop users, and although it is larger and takes more space, has better driving power, a cleaner sound, lower distortion, better precision and a better overall sound both for headphones and if powering an external DAC.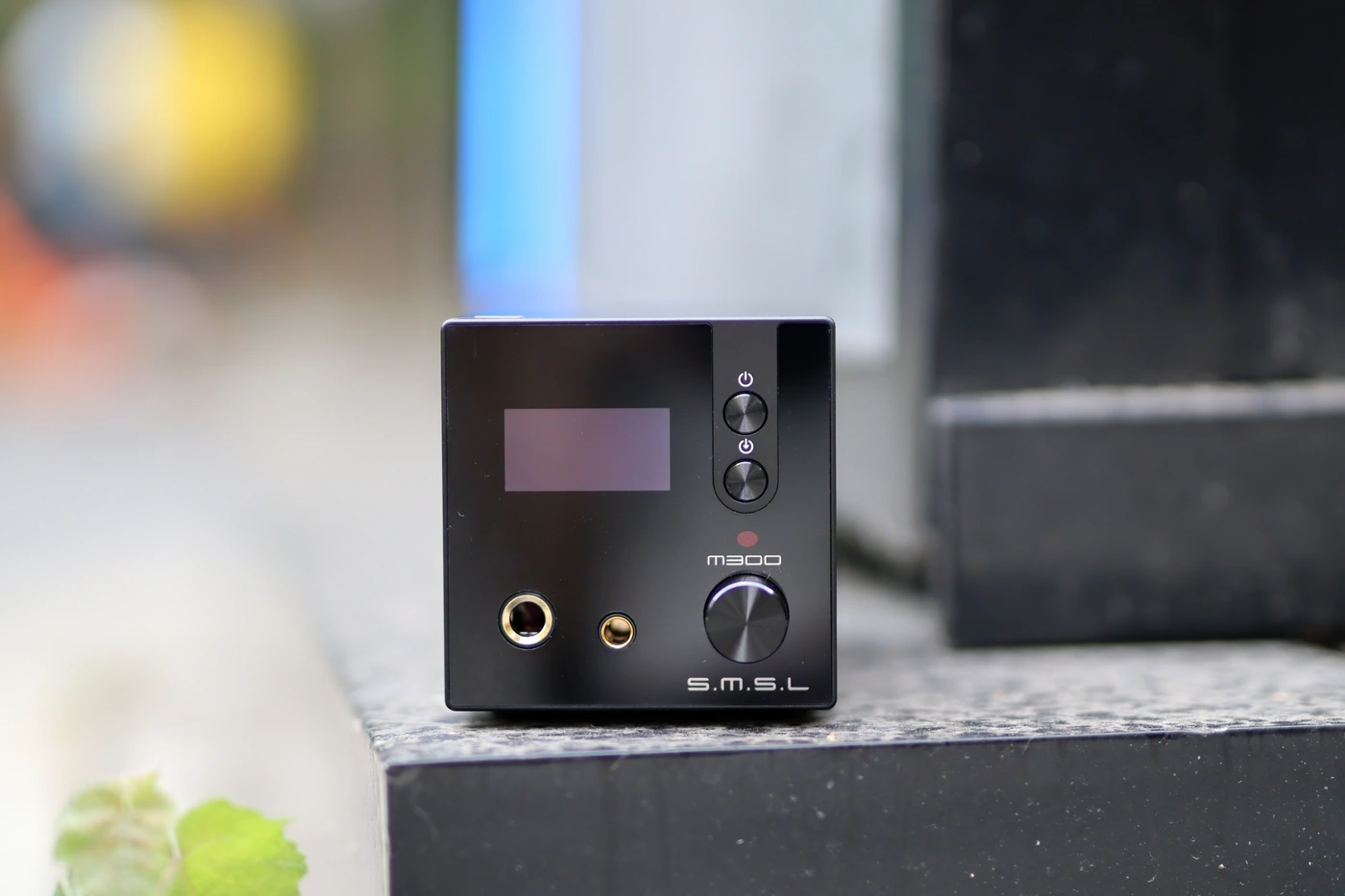 SMSL M300 SE vs SMSL C200 (105 USD vs 219 USD) – We have a simpler device in C200, and despite its higher price point, a lot of people have complained that the balanced output is not balanced. This being said, those two do basically the same thing, both are pretty good, and C200 has the advantage of being shorter, so it would theoretically have enough space beneath a TV or a monitor, and it also has a more ergonomically placed volume wheel. M300 SE on the other hand, costs half of what C200 costs, and the sound is really similar, so there's less reason to go for C200, and more reason to go for M300 SE, especially if your amplifier has XLR inputs, as C200 only has RCA and TRS 6.3 outputs. Also, M300 SE has the advantage of not needing a cattle power plug, and can take all the power it needs from the USB Cable, while C200 needs a cattle power plug so a free socket at all times. 
SMSL M300 SE vs HIDIZS XO (105 USD vs 99 USD) – We have a much smaller device in XO, but it does basically the same task as M300 SE, which is decoding the digital signal and amplifying headphones. This being said, if you have a stereo system, or another amplifier, then M300 SE makes much more sense, it is more ergonomic to use, has dedicated line outs, and it also has a remote, while XO is better if you need something portable and if you're looking for a bit of uncomplicated fun on the go, or at the PC, but for headphones only. The 4.4mm headphone output of M300 SE also makes it much higher value for both headphones and IEMs, if you plan on sitting at a PC all of the time. The sound of M300 SE is stronger, it has better driving power for headphones, it is cleaner, more detailed, but also more relaxed, smoother in the treble, and has a more neutral bass. 
Value and Conclusion
The value of SMSL M300 SE is super high, since for about 100 USD you get a capable balanced headphone output, single ended headphone output, and a Balanced XLR DAC with Dual DAC chips, and even a Single Ended output. The useful inputs are the Optical, USB and Coaxial, but that is still a lot, and if you don't mind using SBC only, it even comes with Bluetooth inputs. Furthermore, we have MQA decoding for those who still have music in this format, and it can decode high resolution signals, making it an instant favorite for someone who needs a really affordable entry-level DAC.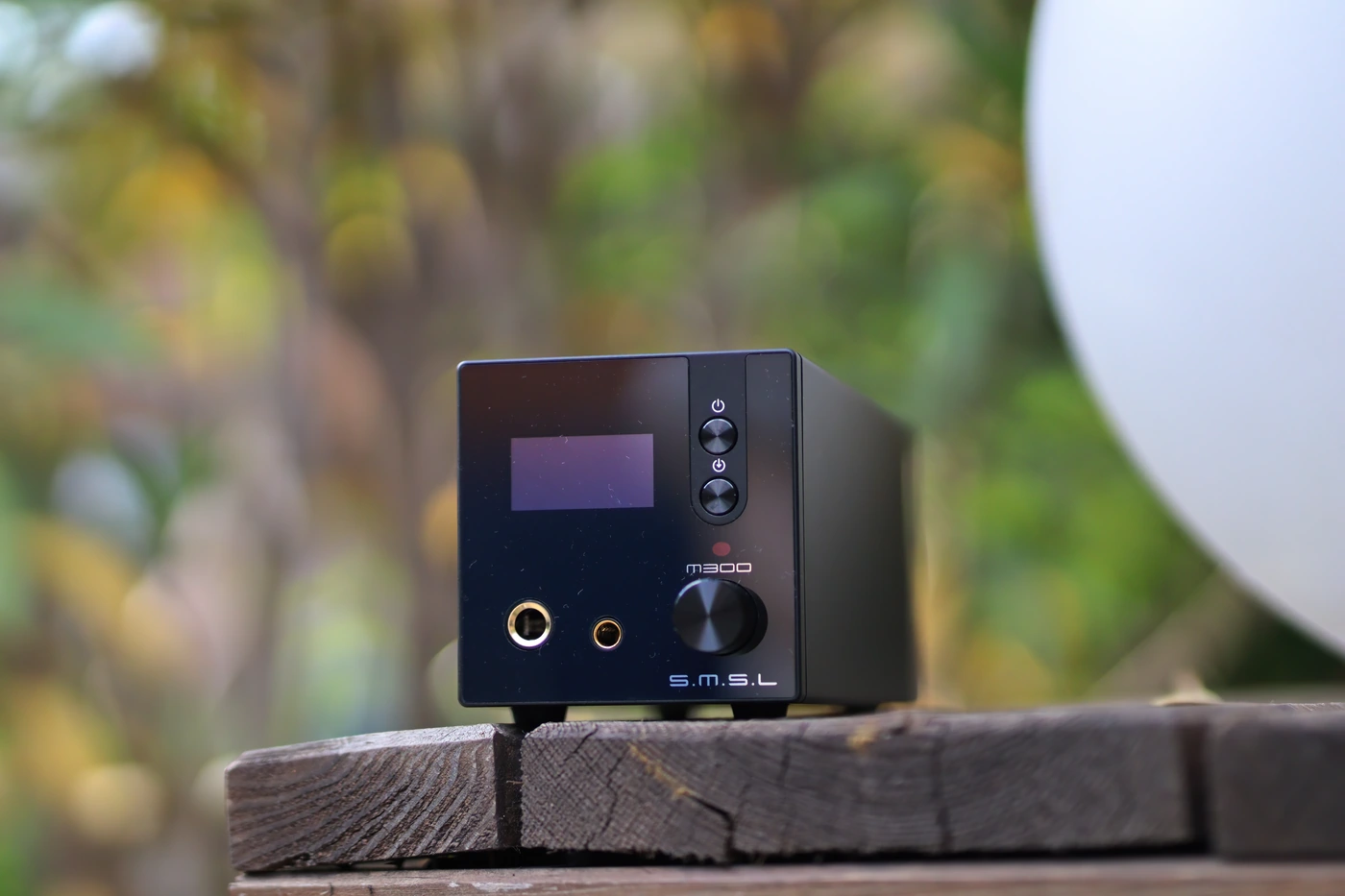 At the end of the day, if you're looking for a DAC with a warm yet mid centric sound, good dynamics and resolution, but with a good build quality too, and a smooth treble, SMSL M300 SE is a fully recommended purchase and a DAC that I enjoy and can easily recommend to everyone considering making an investment for their next audio adventure. 
Product Link
You can grab one from the official link on HiFi-Express here: https://hifi-express.com/products/smsl-m300-se
You can grab one from www.amazon.com here: https://amzn.to/42NTCzi
If you're in the UK, you can grab one from www.amazon.co.uk here: https://amzn.to/44deAsp
And if you're from Europe, you can grab one from www.amazon.de here: https://amzn.to/3PrKeyi
---
--- Please remember to stay safe, and always have fun while listening to music!---
 - If you have a dime to spare, please donate, and help us! It would make the day brighter for me and my wife- 
---
Full Playlist used for this review
We listened to more songs than those named in this playlist, but those are excellent for identifying a sonic signature.  I recommend trying most of the songs from this playlist, especially if you're searching for new music! The playlists are different for Spotify, Tidal and Youtube, and based on the songs I enjoy and are available on each!
https://www.youtube.com/playlist?list=PL_cjBXGmwSHSdGcwuc_bKbBDGHL4QvYBu
https://open.spotify.com/playlist/5J3oloz8Riy9LxEGenOjQ0?si=979ba4f082414be7
https://tidal.com/browse/playlist/330fd544-8e5b-4839-bd35-676b2edbb3d5
--- Contact Us ---





---