HIDIZS AP80 PRO-X DAP Music Player – Mini MQA Versatility
HIDIZS AP80 PRO-X is a 199 USD Portable Music Player with MQA Playback abilities, a Dual DAC design, LDAC Bluetooth, USB DAC function, and multiple color options. It will be compared to other entry-level DAPs, including Hiby R3 PRO (200 USD), xDuoo X20 (250 USD), and FiiO M9 (300 USD).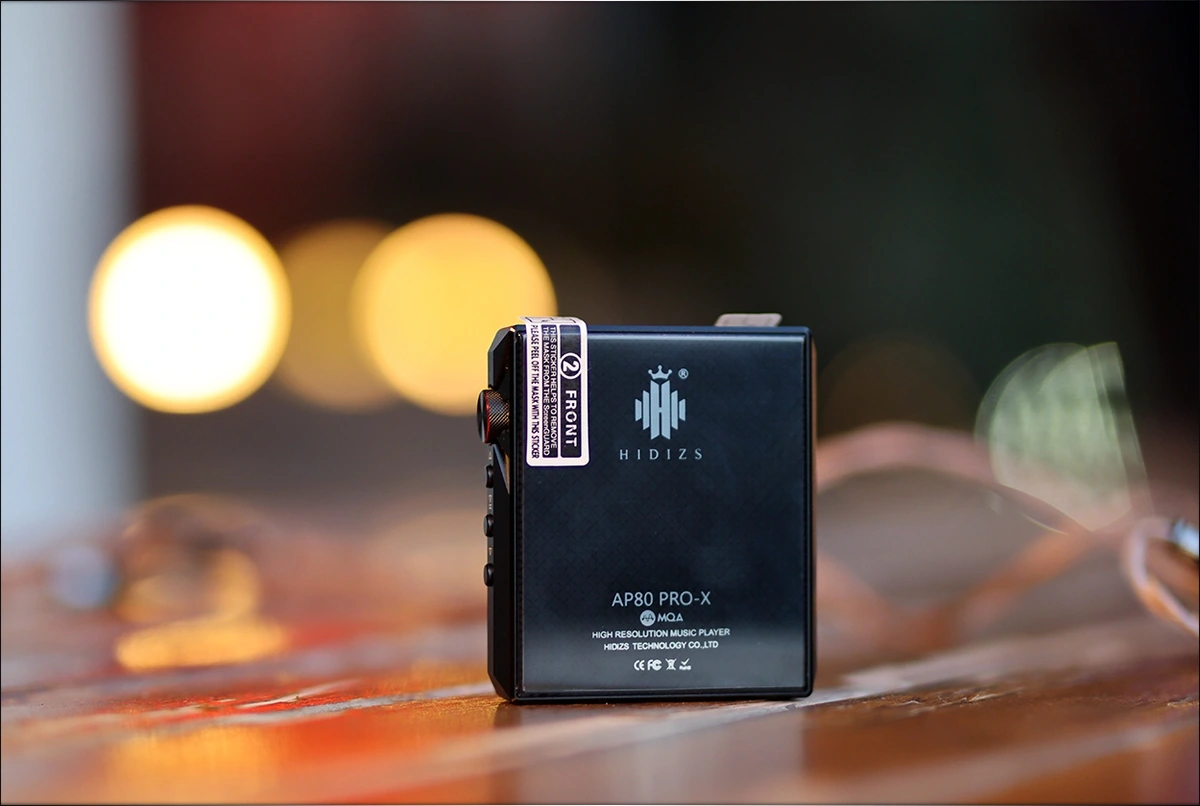 Introduction
HIDIZS is one of the expert companies producing entry-level products with high performance. They are available on Amazon and offer direct sales as well. HIDIZS will offer good support for the products they're selling, and you can also order their products from the official website, a situation in which they left a coupon you can use to get a slight price reduction compared to the official / amazon price. That code is "AUHE5" and it will give you 5 precents off your next purchase. Please take into account that I'm not affiliated with HIDIZS directly and it benefits me more if you use Amazon links or donate directly a few pennies to keep my tummy full and hands typing. 
It should be noted that I have absolutely no affiliation with HIDIZS outside of today's review. I'd like to thank HIDIZS for providing the sample for this review. This review reflects my personal experience with the HIDIZS AP80 PRO-X. Every opinion expressed is mine and I stand by it. The purpose of this review is to help those interested in HIDIZS AP80 PRO-X find their next music companion. 
Product Link
You can grab one from www.amazon.com here: https://amzn.to/3sIgTDa
If you're in the UK, you can grab one from www.amazon.co.uk here: https://amzn.to/3sMO9ck
And if you're from Europe, you can grab one from www.amazon.de here: https://amzn.to/3h1ICfG
Build Quality/Aesthetics
Starting with the build, AP80 PRO-X is a diminutive device, a DAP or Digital Audio Player part of the ultraportable class. In volume, it is less than a quarter of a card playing pack, or less than 10% the size and overall volume of iBasso DX320. Even compared to other DAPs like HIFI Walker H2, it is smaller. Even so, HIDIZS managed to design a DAP that's aesthetically pleasing, with no sharp edges, but with a very geometric design, with clean cuts, and a glass back. As it comes with screen protectors applied to both the face and the back from the factory you never really have to worry about scratching it. With a weight of just 72 grams, most headphones and even some IEMs are heavier than AP80PROX when you include the weight of the cables.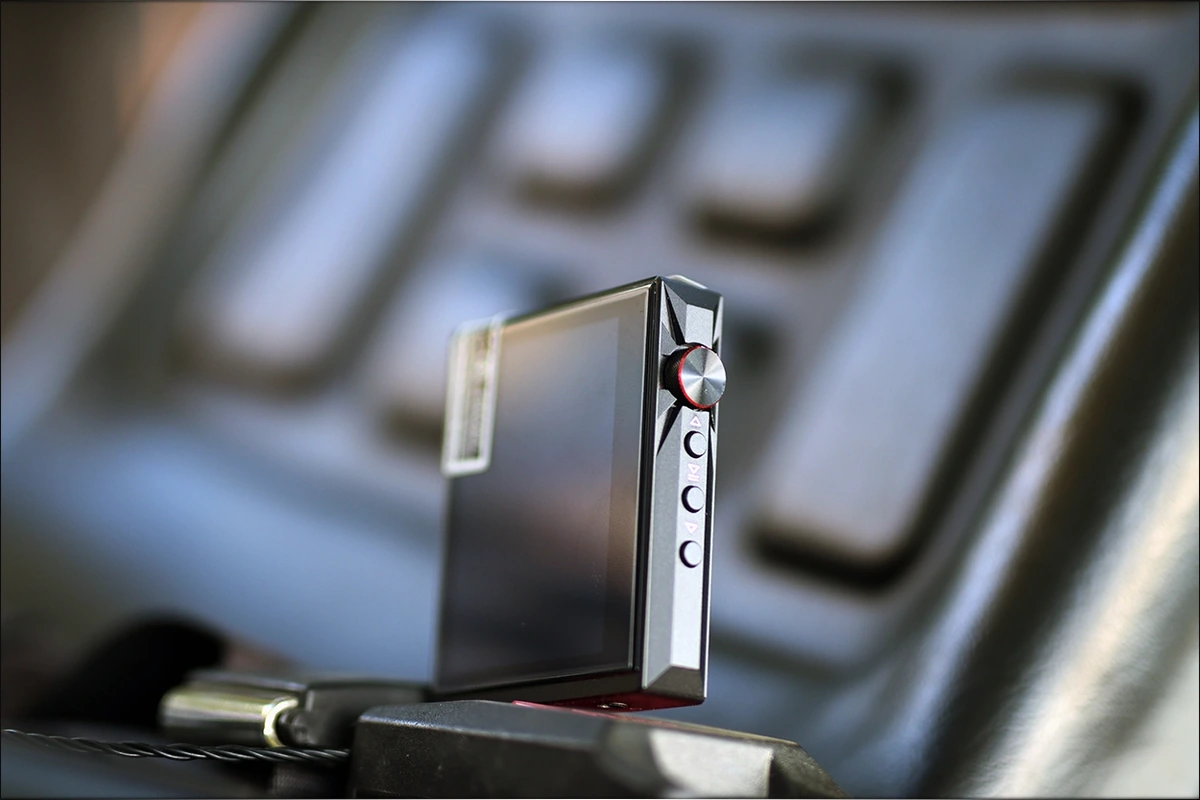 We have one microSD slot on the left side of AP80 PRO-X, and it supports microSD cards up to 2TB, but I don't see myself managing such a large collection of music on a smaller display. Speaking of which, AP80 PRO-X has a very sharp, but small display just 2.45″ in size. It is an IPS display, and it is a touch screen, which will be the main way of operating the player. At the top there are no buttons or ports, but at the bottom we have two headphone outputs, one 3.5mm in size and Single Ended, and one that's 2.5mm in size and which is Balanced. Also at the bottom we can find the Type-C USB port, which is used for both transferring songs and if you plan on using AP80 PRO-X as a USB DAC, or to feed data to an external DAC/AMP. 
On the right side we can find the navigation / playback buttons, and the volume wheel which can be pressed and which acts as the main on/off switch. I hope this is self understood but operating a DAP on such a small display is very different in reality than what you see online, and with my fingers always covering a quarter of the display, I'm happy to report that HIDIZS went for a very pragmatic OS design. 
To keep AP80 PRO-X running, HIDIZS implemented an Ingenic X1000 CPU, and two ES9219C DAC chips. The Pedometer or step counter chip is a KX126 sensor. We have a Japanese ALPS volume knob, and a hardware FPGA chip to decode DSD, namely the HBC3000.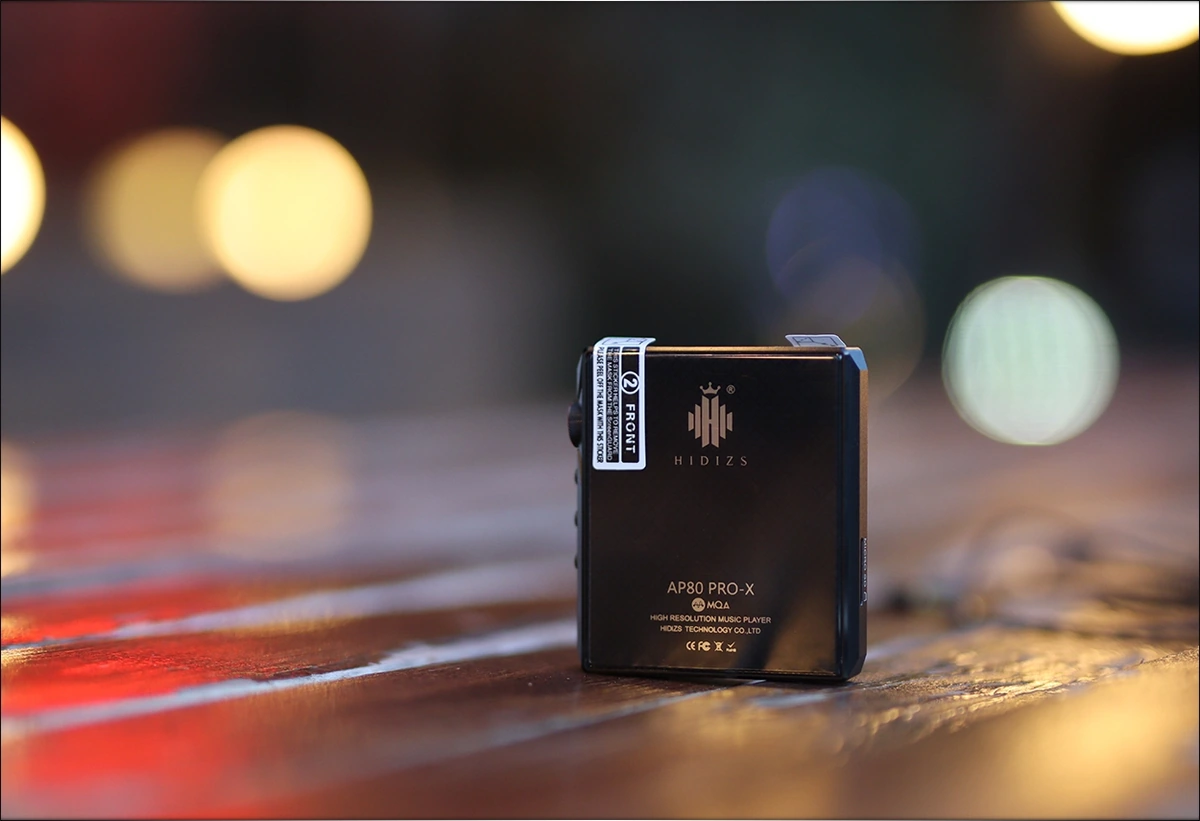 The battery doesn't seem like a big thing on paper, having 800 mAh of capacity, but it does offer enough life to the AP80 PRO-X, as it has a somewhat low rated output power of 70mW + 70mW at 32 OHMs for the single ended output. Also for the single ended output, the THD is rated to be 0.0015, and the dynamic range is quoted to be rather high at 115dB. 
We have a higher power output for the Balanced output, rated at 190mW + 190mW over a 32 OHM impedance, with a 116dB of dynamic range and a S/N ratio of 120dB. The channel separation is also better for the balanced output, being 117dB compared to the 110 dB for the single ended output. 
Software
While with AP80 PRO-X you can't swipe from top to bottom, you can swipe from bottom to the top, to bring the main control center. There you can find the settings including the current brightness, which for me is always at max. There's also a volume slider, but I suggest not using that and using the wheel as the space of the volume bar is small and you can easily go to max without intending to do so. There are play buttons and info about the song that's currently playing, a Bluetooth switch, a Gain switch, a USB function switch and a Line Out Switch.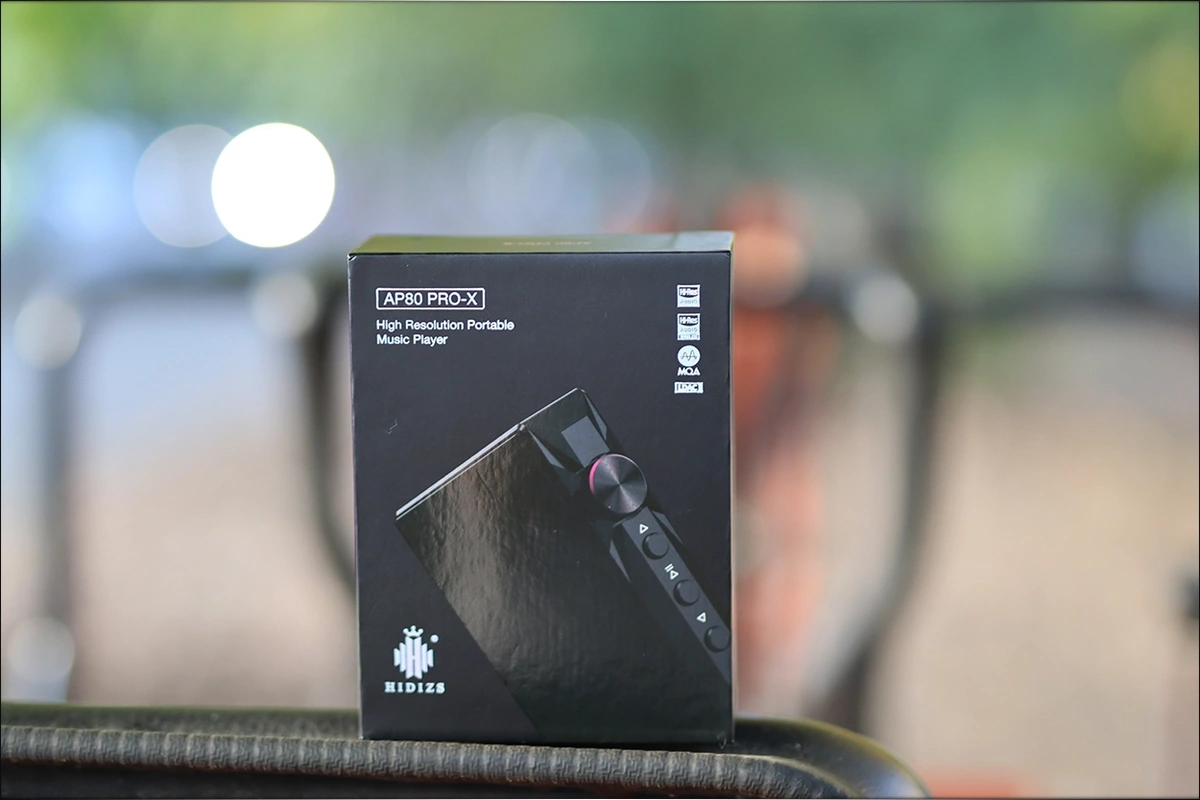 There are settings to use the USB as dock mode, for portable DAC/AMPs like DH80, which should be fully compatible with AP80 PRO-X. The tiny DAP supports inline remote functions, it can record steps, and it even supports the mighty MSEB set of EQ options from Hiby. In fact, most of the operating system has been designed by Hiby with a HIDIZS special touch, so you should expect good reliability and support. 
The Bluetooth function allows for Bidirectional Bluetooth, so you can use AP80 PRO-X as a Bluetooth DAC, a situation in which it works with lower rate algorithms, and you can use it to send Bluetooth signal to headphones and TWS IEMs, a situation in which it uses LDAC. The USB DAC function works with MAC OS, iPad, Android, and Windows. You should keep in mind that the USB DAC function is not real time, and AP80 PRO-X has a delay of about 100 to 150 ms, as measured with the sync test, and it is not adequate for watching movies, videos or playing games if used as a USB DAC. This happens regardless of the device powering it, USB Cable used or other variables, and seems to be a limitation of AP80 PRO-X, although it may be addressed in a later update.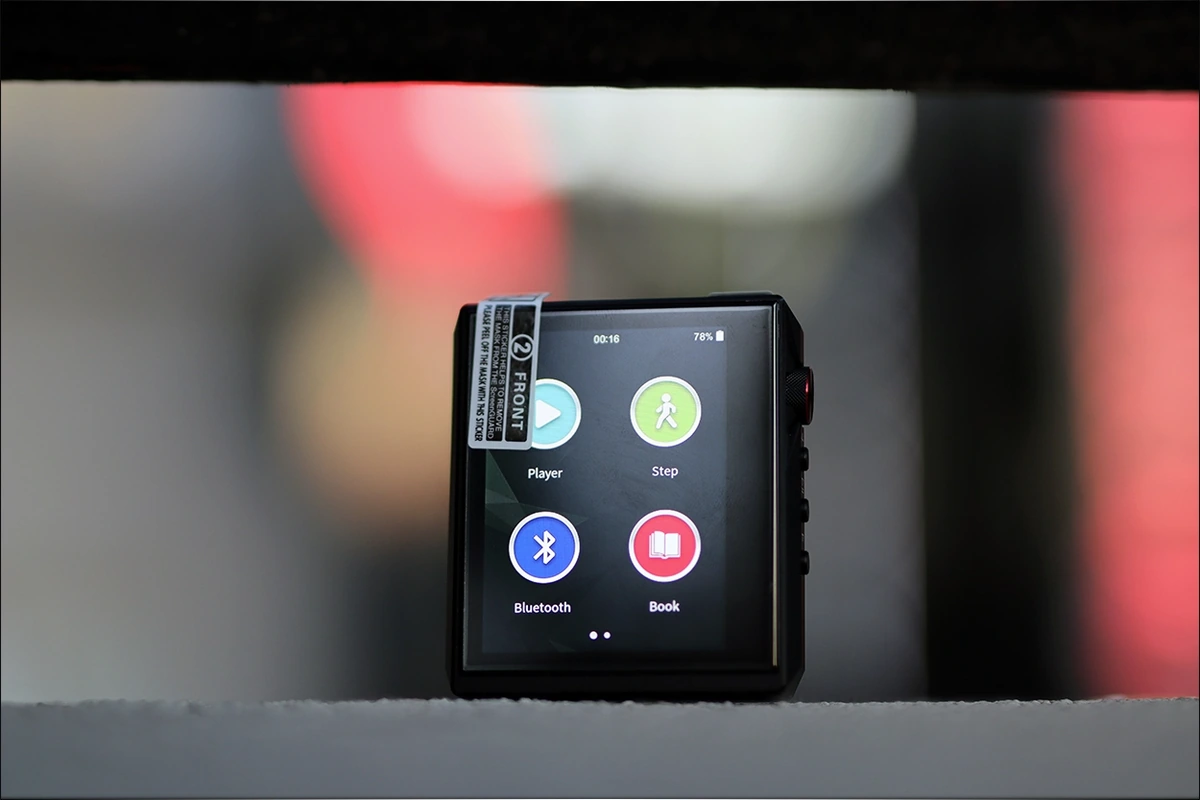 It comes as a slight surprise, but AP80 PRO-X supports MQA up to 8X unfold. While the step counter function is a very popular thing in Japan and Asia, the E-Book reader is not super useful, since the display is too tiny to read books or any kind of documents using AP80 PRO-X. The battery life is great though, and AP80 PRO-X resists up to 40 days of standby, with the Balanced output offering about 5-7 hours of battery oliver the Balanced output, and 7-9 hours of battery life over the single ended output in my tests running it at a loud volume, some screen time to emulate a realistic usage scenario. It takes about one hour to charge the AP80 PRO-X. 
For those looking for a high-end DAP experience, it supports Hiby Link which allows for your smartphone to work as a remote and allows for remote control, volume control, playlist management, cover sync, and MSEB tuning without ever taking AP80 PRO-X out of your pocket. 
At a subjective level, the OS is well designed, is snappy and quick, and while the display has a slightly washed out color presentation, it is visible under daylight and even under direct sunlight. AP80 PRO-X is a DAP that works well even if you have bigger fingers, the only real disadvantage that I could find being the fact that it is easy to lose it, being so small. 
Sound Quality
We need to start with the IEMs and Headphones driven by AP80 PRO-X, but with a driving power of 70mw per channel at maximum, I feel that most users will favor using AP80 PRO-X with IEMs rather than full sized headphones. That's ok though, and for such a tiny ultraportable, IEMs make great companions. I need to emphasize that it has only 3.5mm single ended, and 2.5mm balanced outputs, and you will need a 2.5mm to 4.4mm adapter if you have a larger cable, or if your current favorite IEMs came with a 4.4mm balanced cable. The main IEMs I paired with AP 80 PRO – X have been KZ AS16 PRO, Westone MACH 60, Kotori Audio Dauntless, SeelReal Airship and Astrotec am850 MKii.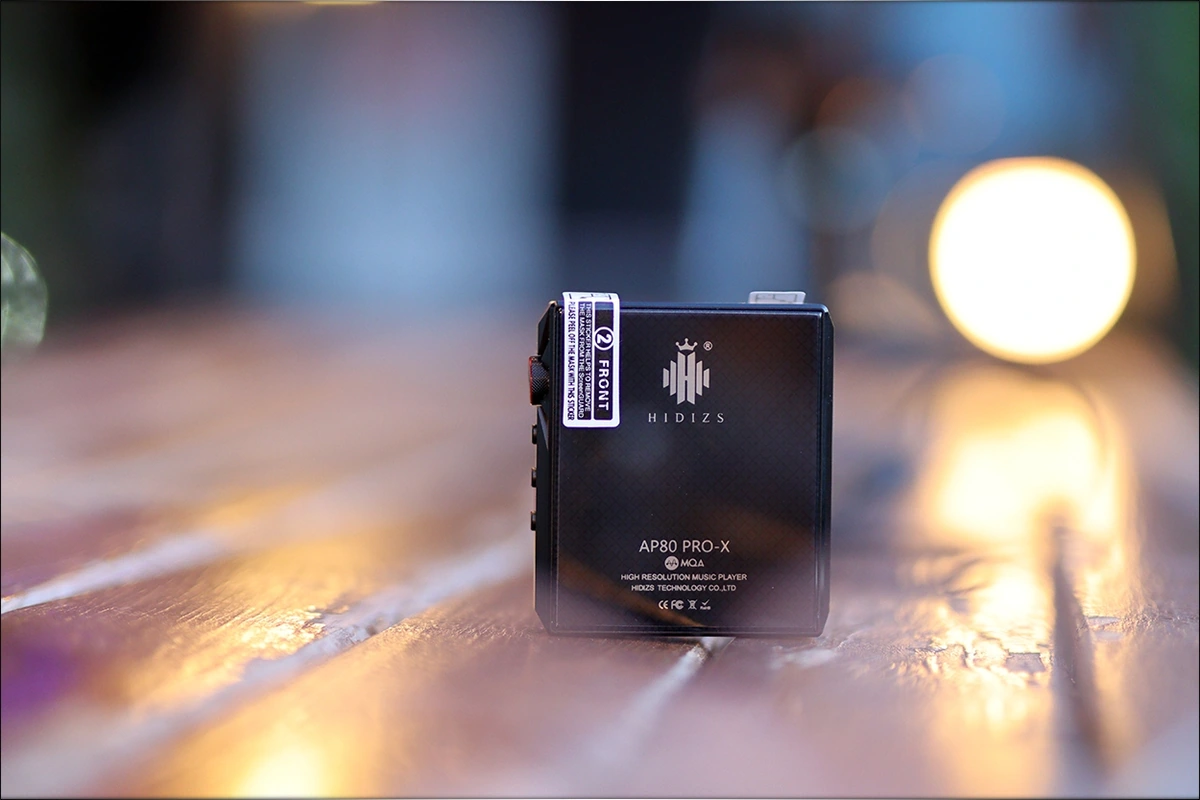 The overall tuning and signature of AP80 PRO-X can be described as clean, natural in tonality, super smooth in texture and presentation, relaxed and detailed yet non-fatiguing all the way through. The signature feels linear and neutral, with no extra substance or impact, and it can be considered both linear and reference. 
We are presented with a really flat bottom end, with no extra thumpiness, and the bass of AP80 PRO-X is really clean, controlled, but also linear. This is not a big problem, because it tries to be as transparent as possible, and the whole signature goes for being fidel to the original recording and material, those who want to add more being able to do so effectively using the MSEB, which can add as much as 10 dB of sub-bass and bass. I would refer to the Bass Extension and Bass Texture for more rumble, depth and impact. The transition to the upper bass with no enhancements active is really clean and linear, with no colorations, and I feel like if someone wanted a DAP that would be perfectly linear, they'd love the AP80 PRO-X.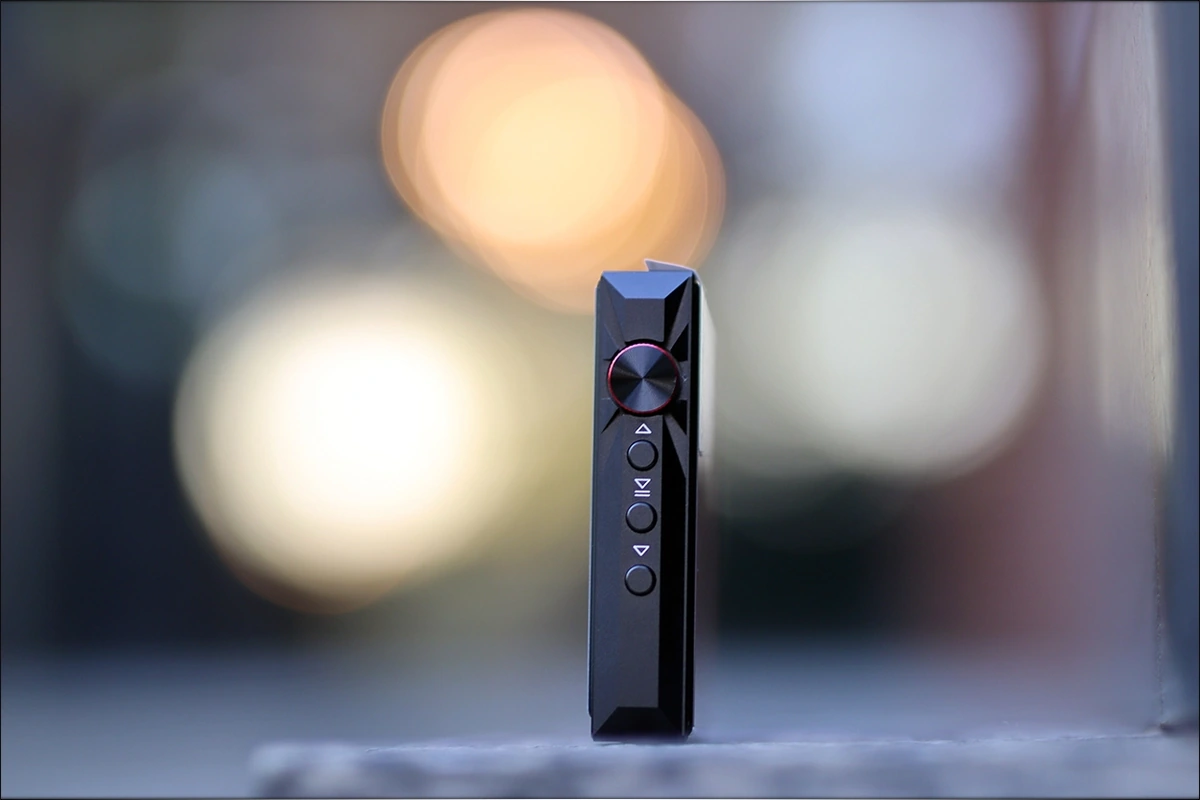 HIDIZS always tunes the midrange well, and it is presented as slightly more forward than the bass and the treble. It is warm, rich, natural, and musical, with a really liquid presentation of textures and zero fatigue at any given time. There's a bit of warmth added to all instruments, male and female voices, and AP80PRO-X driving Westone MACH 60 can sound actually musical and enjoyable with songs from Linkin Park's Hybrid Theory album. All instruments have a rich and slightly thick presentation, including guitars, pianos and violins, everything is delightful, and fun as presented by AP80 PRO-X. If you engage MSEB in any way, the tuning changes, and for example when adding more bass, you'll need to also change the treble, and the mids as those become recessed. 
We also have a smooth, clean and airy tyreble. There's a good emphasis on the mid and upper treble, which gives cymbals a clean and sparkly presentation, but the lower treble and upper midrange are not emphasized in any way, so the metallic noise is gone from most music, including metal and rock. Since the treble is a bit light, it gives the entire sound a lightweight and clean presentation, and even complex music with multiple layers of distortion, like Muse albums, or even grindcore like Jig-Ai sounds controlled and somehow avoids being harsh. The treble never sounds rolled-off or unengaging, but it is quite forgiving. This is all aided by a modest soundstage that sounds natural, placed naturally around the listener. With a good imaging for the price range, AP80 PRO-X will sound somewhat intimate, with most music being presented close to the listener in width and depth. 
Comparisons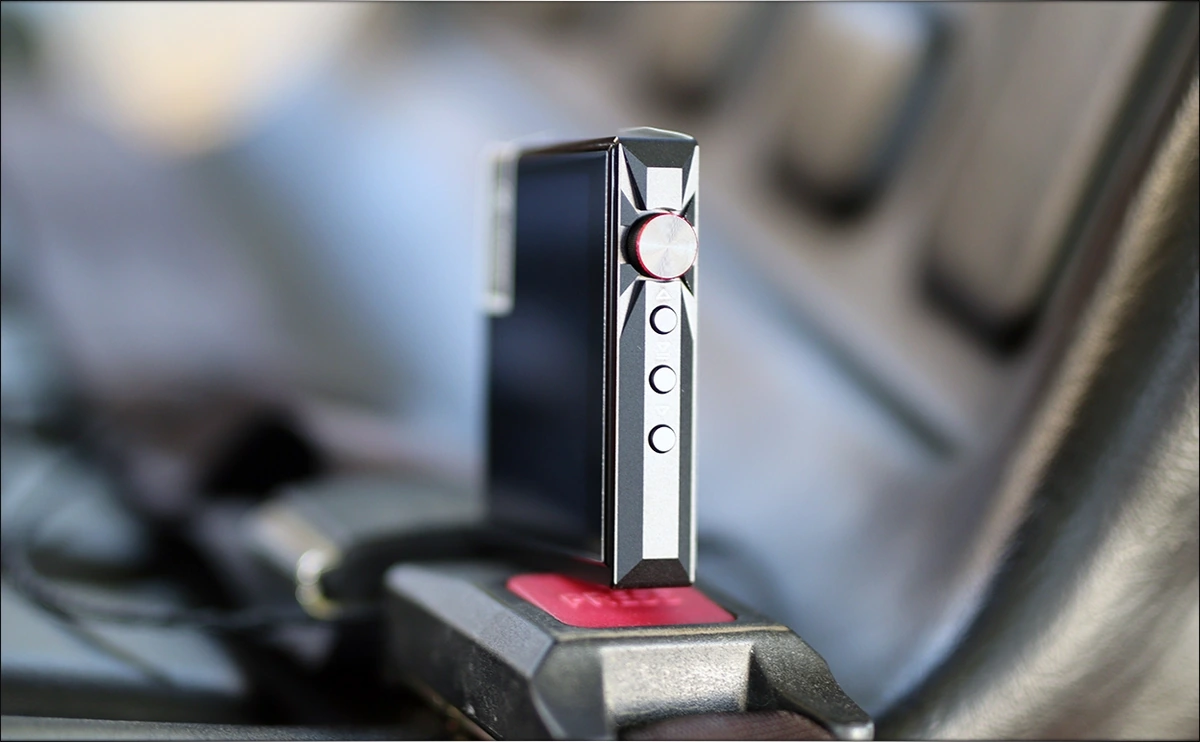 HIDIZS AP80 PRO-X vs xDuoo X20 (199 USD vs 250 USD) – X20 was not quite revolutionary at the time it was released, but it had excellent value and provided a high driving power, which is still higher than what AP80 PRO-X goes for, but if you're looking for complex features, such as MSEB or an effective EQ, then HIDIZS delivers on it much better. The overall resolution and clarity of sound is also quite a bit better presented by AP80 PRO-X, and where it fails for having a really low driving power, it wins by driving what it drives really well, with no audible background noise, while X20 has a higher noise floor, more hissing, a higher output impedance, but works better with headphones. I still see people rocking an X20 in Romania, for the line out, but HIDIZS is far more popular even here, as they have outstanding customer support, and better features for music lovers. 
HIDIZS AP80 PRO-X vs FiiO M9 (199 USD vs 300 USD) – M9 has a higher driving power, and less features than AP80 PRO-X, but the sonic tuning is also rather different. There's more bass and thumpiness by default in M9, it has a higher degree of dynamics, and a wider soundstage, but AP80 PRO-X has better control, lower background noise, and a more precise sound that's more forgiving and results in a more relaxed and intimate listen that can get addictive with the right music. The trick here is that the EQ on AP80 PRO-X is much better, and I'd still recommend it for IEMs rather than headphones, compared to other FiiO DAPs like M11 PRO which can drive full sized headphones really well. If ergonomics and size are important for you, AP80 PRO-X is much smaller and convenient to use on the go, while M9 is considerably larger and heavier. 
HIDIZS AP80 PRO-X vs Hiby R3 PRO (199 USD vs 200 USD) – The shape, ergonomics and design are similar, as both are micro DAPs, but AP80 PRO-X is quite a bit smaller than R3 PRO. Both have the firmware designed by Hiby, and both feature a similar level of abilities. The maximum driving power is similar and both do a good job for driving IEMs and really easy to drive headphones. The choice here will be made based on which appeals more to you aesthetically, and which is more convenient to use. Both are supported well and look neat, so you're likely to have a good experience with both, plus they're priced similarly, so both should make equally good choices. 
Value and Conclusion
If you're looking for a great price / performance ratio, HIDIZS is one of the best companies, and while there are other contenders like TempoTec, HIDIZS has the upper hand when it comes to the integration of the operating system and hardware. HIDIZS also offers outstanding support for their products, and you can grab them for a reduced price if you use the code "AUHE5" in your next purchase. I don't get much from that though, and if you'd want to help me, you can either donate a few pennies to my paypal donation link or use Amazon, but HIDIZS offers slightly better prices on their website.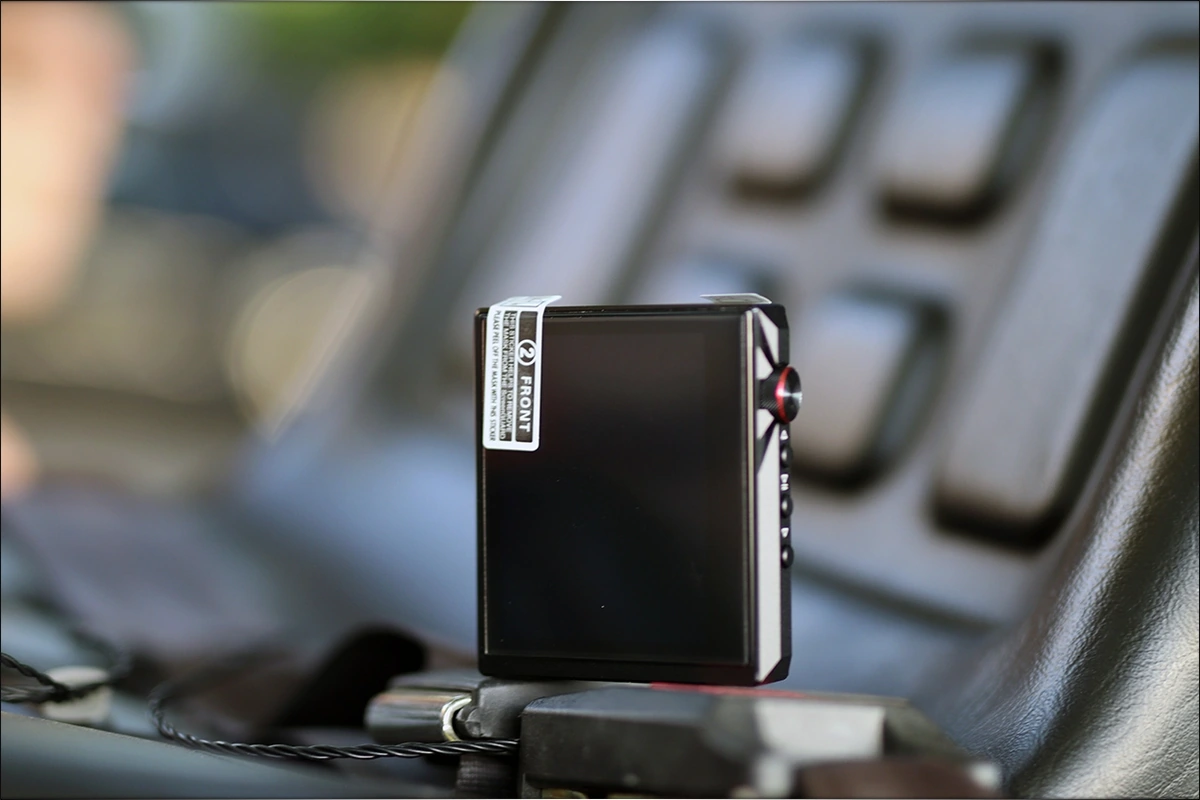 At the end of the day, if you're looking for a micro-DAP, practical but also good sounding DAP with MSEB EQ options, quite a bit of driving power over the balanced output, and with two headphone outputs, Bluetooth DAC and USB DAC functions, and also with a quick and snappy operating system, I fully recommend HIDIZS AP80 PRO-X as your next audio purchase and a DAP you surely won't regret going for. 
Product Link
You can grab one from www.amazon.com here: https://amzn.to/3sIgTDa
If you're in the UK, you can grab one from www.amazon.co.uk here: https://amzn.to/3sMO9ck
And if you're from Europe, you can grab one from www.amazon.de here: https://amzn.to/3h1ICfG
---
---
--- Please remember to stay safe, and always have fun while listening to music!---
 - If you have a dime to spare, and donate, to help us with electricity and work expenses, it would make my day much brighter, as it would help me improve things around the website and increase the frequency of my posts - 
---
Full Playlist used for this review
We listened to more songs than those named in this playlist, but those are excellent for identifying a sonic signature.  PRaT, Texturization, Detail, Resolution, Dynamics, Impact, and overall tonality are all revealed by those songs. We recommend trying most of the songs from this playlist, especially if you're searching for new music!
https://www.youtube.com/playlist?list=PL_cjBXGmwSHSdGcwuc_bKbBDGHL4QvYBu
--- Contact Us ---






---
---