Kotori Audio Dauntless IEMs – Bird's Eye View
Kotori Audio Dauntless is a 63 USD (United States Dollars) / 89 SGD or Singapore Dollars pair of IEMS on In-Ear Monitors, with a 10mm Dynamic Driver, 12.2 OHMs of impedance, and an ultra-low weight of 4.2 grams for each IEM shell. They will be compared to other high performance, entry-level IEMS, including IKKO Oh2 Opal (79 USD), HIDIZS MM2 (79 USD), and FiiO FD1 (59 USD). 
Introduction
Kotori Audio is a company from Singapore that started from a Love for Music, and from an appreciation for instruments, having the aim of producing a realistic sound for the portable listener. Kotori Audio aims to offer the best balance of technical performance, and premium aesthetics, but evidently for a price that's friendly to the listener. They are super open to communication, friendly, and support their products properly, plus, from all the units sold, none came with a problem to this date. For the best experience, Kotori Audio products are best ordered from the Kotori Audio website. Please keep in mind that when you go the official Kotori Audio website, the prices are in SGD and not USD, so they will appear higher than they are, as currently Dauntless is quoted at 89 $, but it means 63 USD, as that $ sign indicates SGD or Singapore Dollars. 
It should be noted that I have absolutely no affiliation with Kotori Audio, I am not receiving any incentive for this review or to sweeten things out. I'd like to thank Kotori Audio for providing the sample for this review. Every opinion expressed is mine and I stand by it. The purpose of this review is to help those interested in the Kotori Audio Dauntless IEMs find their next music companion. 
Product Link
You can grab one from the official website here: https://kotoriaudio.com/collections/earphones/products/dauntless-iem
You can grab one from www.amazon.com here: https://amzn.to/3VvQ16I
If you're in the UK, you can grab one from www.amazon.co.uk here: https://amzn.to/3D1CrAP
And if you're from Europe, you can grab one from www.amazon.de here: https://amzn.to/3CXA3Li
Build Quality/Aesthetics/Fit/Comfort
Starting with the body, we have a beautiful, black, smooth looking IEM with 2-Pin detachable cables, and with a Industrial-level, Hard-Though Resin shell. Those are 3D Printed and made with Skin-Safe Lacquer coating, giving them an ethereal and beautiful look. The IEMs are super light, at just 4.2 grams per IEM, and 15 grams for the cable. In fact, in my subjective testing, Dauntless is the kind of IEM you place once in your ears and then forget about, being one of the most comfortable IEMs I tested to date. 
The passive noise isolation is promised to be high, and it is very high, between 20 and 30 dB of passive noise isolation, depending on the frequency we're looking at. In fact, Dauntless is one of the very few IEMS that cancel the noise of my mechanical keyboard almost entirely, offering a very pleasing experience while I write their review. They also don't leak much, being good for when you need to stay stealthy as a bird. 
Despite offering an outstanding isolation, and having a dynamic driver, Kotori Audio managed something that even some flagship companies struggle with, which is to eliminate driver flex, and to make an actually ergonomic and comfortable IEM, Dauntless being perfect for both my ears and my girlfriend's ears, as neither of us didn't struggle to get an excellent fit. The cable is super flexible, does not conduct microphonics, and keeps the IEMs secured in your ears. 
Kotori Audio Dauntless IEMs are a pair of IEMs based on a 10mm dynamic driver, with a PU-PEEK Composite Membrane, which is made in Japan. They have a rated impedance of 12.2 OHMs, but in my subjective testing they don't inherit hiss too easily from a source, so you don't have to worry too much about their impedance and pairing. If you're a fan of technical data, the THD or Total Harmonic Distortion is quoted to be extremely low at <1% at 1kHz, 100dB. 
Sound Quality
Starting with the pairing and sources I've used to drive Dauntless, I went for flagship players, including iBasso DX320, Astell & Kern SE180, Lotoo PAW 6000, and Dethonray SG1 Pegasus. This being said, Dauntless does not respond too much to source, and you can safely use an entry-level source like Shanling UA3, Lotoo PAW S2, TempoTec V6, or Hiby FC4 to drive them. They don't need a lot of power, and don't distort easily, having a high headroom and offering a good experience regardless of the listening volume. In fact, Dauntless is one of the IEMS with the best control I've heard in the entry level price range. 
The sound of Dauntless can be described as light, snappy and dynamic. They have a wide and holographic presentation, with a neutral bass, a warm and rich / organic sounding midrange, and a well-extended, airy but smoothly textured treble. Dauntless is surprisingly dynamic, and very well layered for an entry-level IEM, easily competing with IEMS from the ~300 USD price range in soundstage and layering, like FLC 8N. 
The bass of Dauntless is mostly neutral, clean and very well controlled. The speed of the bass is natural and leans towards quick. The bass works best for rock, ACG, pop and acoustic music, but it is a bit too neutral and low in quantity for trancecore and EDM, at least if you're a fan of large bass. The bass doesn't color the midrange and isn't boomy in any way, being the kind of bass that has a good extension in the sub lows, and a controlled presentation in the upper bass, the quantity being neutral and what you'd expect from a more studio – reference presentation. 
The midrange of Dauntless is clean, super detailed, and well layered. In fact, I don't think I've heard of many IEMS with such good staging and layering, instrument separation and overall holographic presentation below the 300 USD price mark. Dauntless has superb detail, and a rich / organic presentation to textures, being somewhat smoothly textured rather than sharp. Somehow, they manage to have the detail you'd expect from Chifi IEMs, but they don't have that sharp / bright / fatiguing presentation, and Dauntless has a very natural tonality in the midrange too. The midrange has a slight emphasis on the upper midrange and a slight deemphasis on the lower midrange, giving more presence to female voices, guitars, pianos and violins, than it gives to male voices.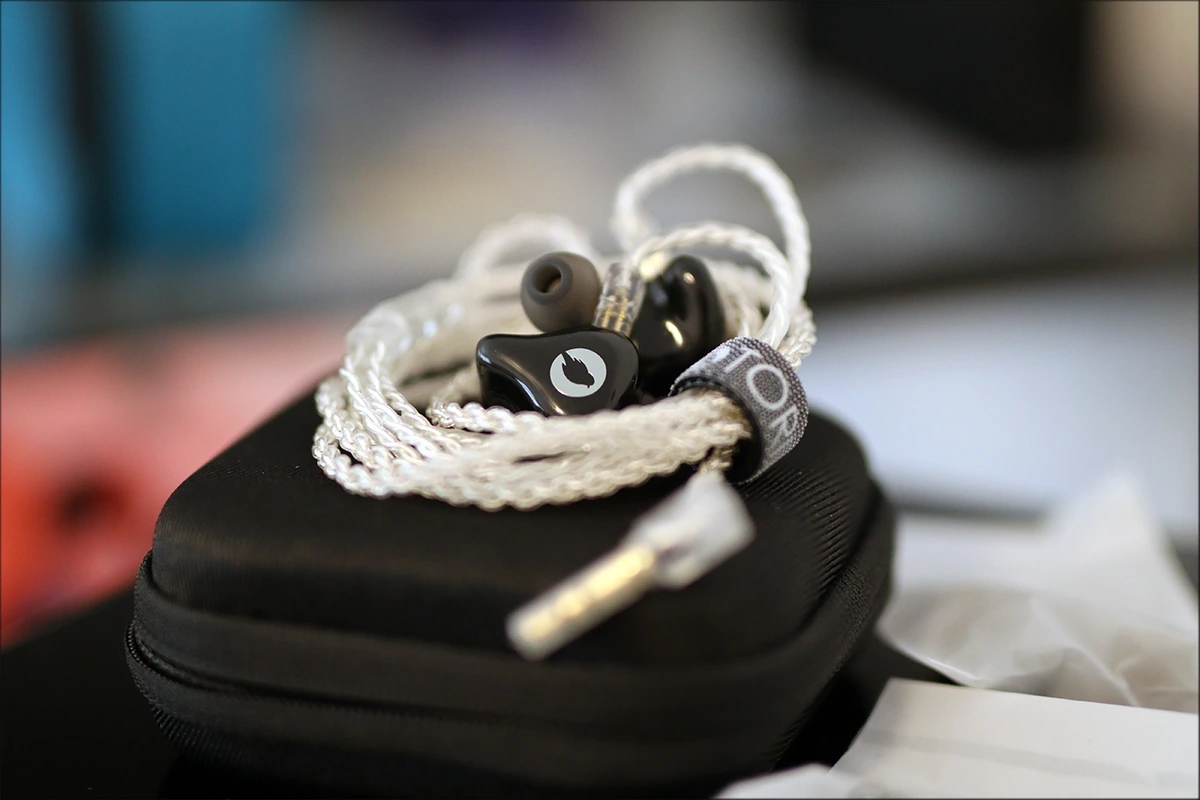 Kotori Audio really knew how to tune the Dauntless, giving it a super airy treble, but damping the treble so it is never too sharp, harsh or aggressive. Dauntless is one of the most natural, clean, and detailed entry-level IEMs I've heard, and while it doesn't have the micro detail of a flagship, it is surely enjoyable and never feels blunted or rolled off. The stronger treble extension combined with the lower amount of lower midrange and bass gives Dauntless a snappy and light sound that's on the thinner side of things, and which is better if you have a preference towards brighter tunings. They are not fatiguing though, and I can easily consider Dauntless to be a generalist IEM that should work with any music style. 
Comparisons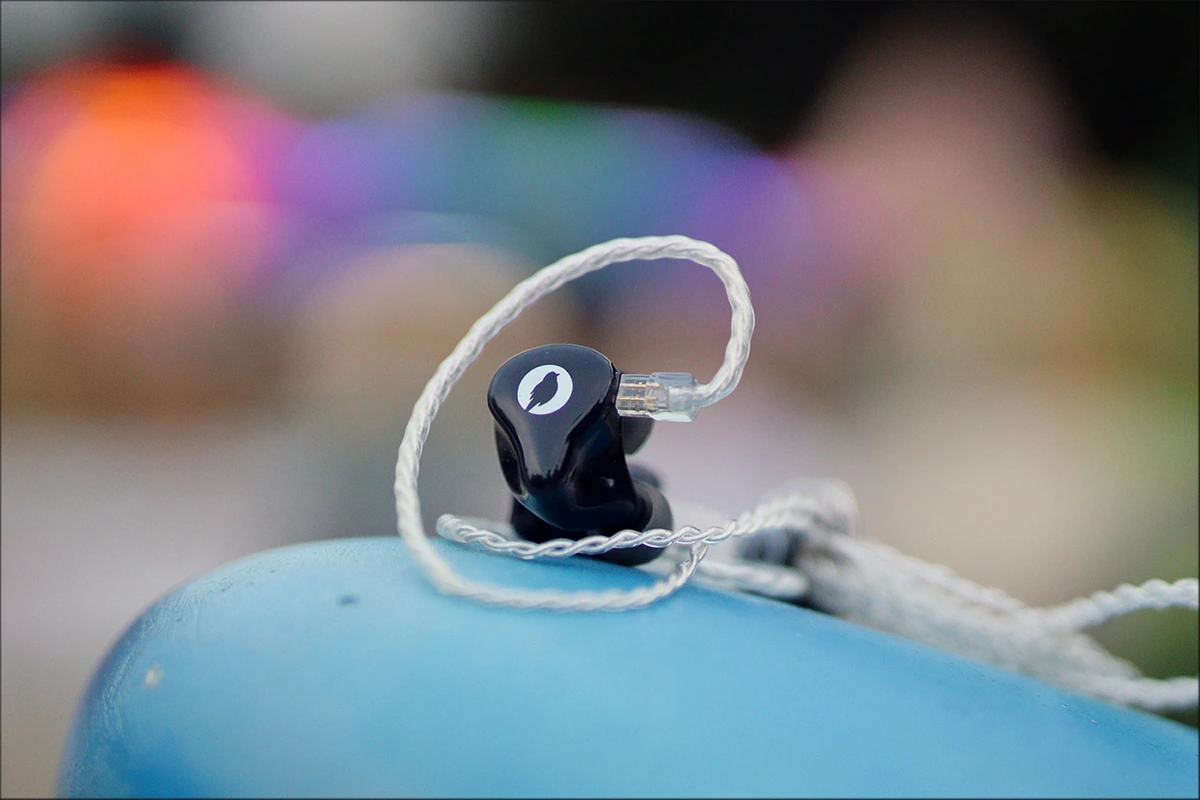 Kotori Audio Dauntless vs FiiO FD1 (63 USD vs 59 USD) – Starting with a comparison with a less expensive IEM, but one that's really well received by most listeners, I can say that Dauntless has a better comfort than FD1, having a smaller, more ergonomic and lighter shell than FD1. The cable quality is slightly better on FiiO FD1, but Dauntless offers much better detail, resolution and technical performance. The overall layering, and soundstage is more precise on Dauntless, and it makes FD1 sound really blunted and un-detailed, if you're comparing thyme side by side. Dauntless has a brighter tonality, with better treble extension, and a more neutral treble, less bass bloat. If you can afford to spend the extra USD that Dauntless costs, you're likely to have a much better experience with them. 
Kotori Audio Dauntless vs HIDIZS MM2 (63 USD vs 79 USD) – The overall comfort of Kotori Audio Dauntless is better than that of MM2, especially thanks to its lower weight, and more ergonomic build. Dauntless has a better technical performance, with a more detailed, wider and more holographic sound, better instrument definition, and a more complete staging image. The only advantage you could say MM2 has is the default cable, which is better in quality and looks more reliable, but if you're looking for a better sonic performance, Dauntless is the IEM to go for. MM2 has a slightly stronger bass, if the low end is more important for you, but if you're looking for a wider, more holographic presentation with better musicality and a more detailed sound, Dauntless should be the one to go for. 
Kotori Audio Dauntless vs IKKO OH2 Opal (63 USD vs 79 USD) – The overall build quality is actually similar, but Dauntless is lighter, and its texture / build feels better in contact with the skin of my ears, so dauntless has a slightly better comfort than OH2 Opal. The overall sound is very similar, even in tuning and tonality, but Dauntless has a slightly beefier lower midrange and bass, and it also has a wider presentation to the staging, offering a more holographic image for the music that's being played. The overall detail and clarity is also better presented by Dauntless, so although they're a few USD pricier than OH2 Opal, they're a better purchase with better technical performance. 
Value and Conclusion
Priced at 63 USD, Dauntless is easily one of the best IEMS you can grab from the entry-level price range, and has superb comfort, super passive noise isolation, and a detailed, clean and controlled sound with outstanding dynamics. They have outstanding value and are super easy to recommend, with the only inherent disadvantage being the availability, as they're only available directly from Kotori Audio, although I've added Amazon links as well, which will be automatically working if Dauntless appears on Amazon.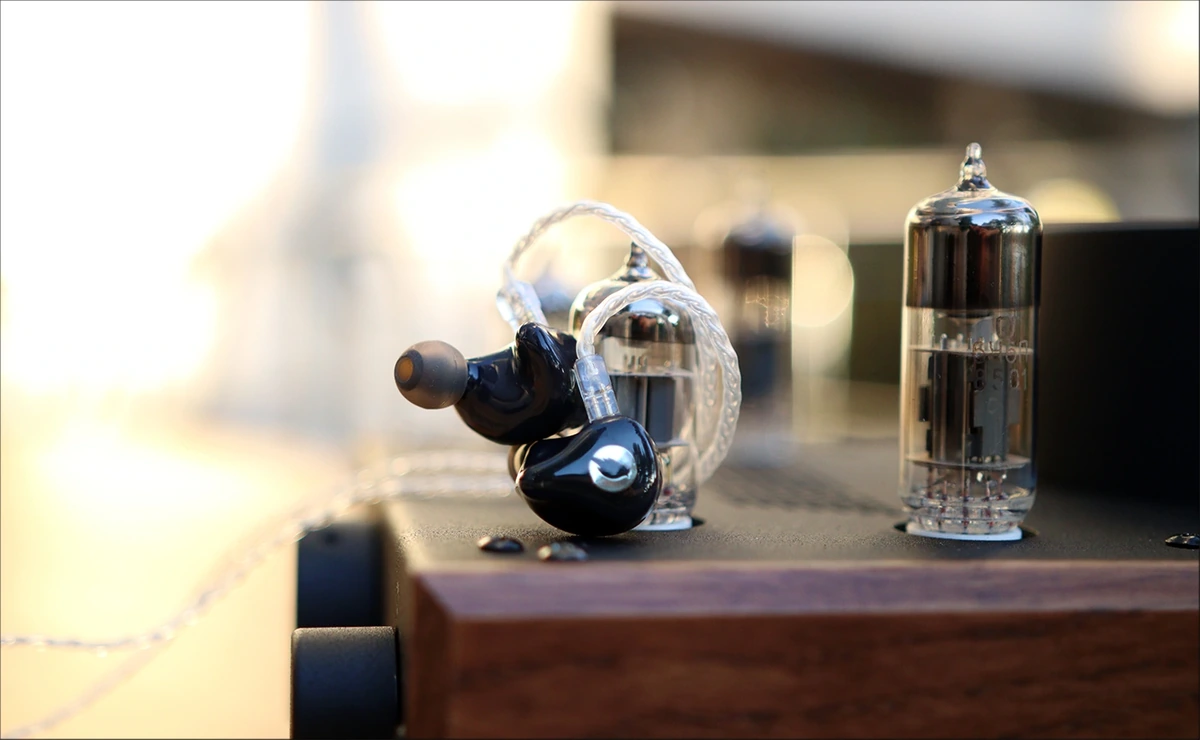 At the end of today's review, Dauntless is one of the best sounding IEMS from the entry-level price range, have superb comfort, and if you're looking for a neutral, wide, and colorful sonic experience with excellent layering and detail / resolution for the money pad I recommend them fully as your next audio adventure / purchase. 
Product Link
You can grab one from the official website here: https://kotoriaudio.com/collections/earphones/products/dauntless-iem
You can grab one from www.amazon.com here: https://amzn.to/3VvQ16I
If you're in the UK, you can grab one from www.amazon.co.uk here: https://amzn.to/3D1CrAP
And if you're from Europe, you can grab one from www.amazon.de here: https://amzn.to/3CXA3Li
---
---
--- Please remember to stay safe, and always have fun while listening to music!---
 - If you have a dime to spare, and donate, to help us with electricity and work expenses, it would make my day much brighter, as it would help me improve things around the website and increase the frequency of my posts - 
---
Full Playlist used for this review
We listened to more songs than those named in this playlist, but those are excellent for identifying a sonic signature.  PRaT, Texturization, Detail, Resolution, Dynamics, Impact, and overall tonality are all revealed by those songs. We recommend trying most of the songs from this playlist, especially if you're searching for new music!
https://www.youtube.com/playlist?list=PL_cjBXGmwSHSdGcwuc_bKbBDGHL4QvYBu
--- Contact Us ---






---
---