Maktar Spectra X2 – Power For Apples
Maktar Spectra x2 is a DAC/AMP made for smartphones, and iPhones (the model we're reviewing today), and it features a price tag of 200 USD, placing it above, or at least in line with iFi Hip-DAC2 (150 USD), Earmen Sparrow (200 USD), and Lotoo Paw S1 (170 USD), all of which will be the competitors and comparisons for today's review on X2 and its usage.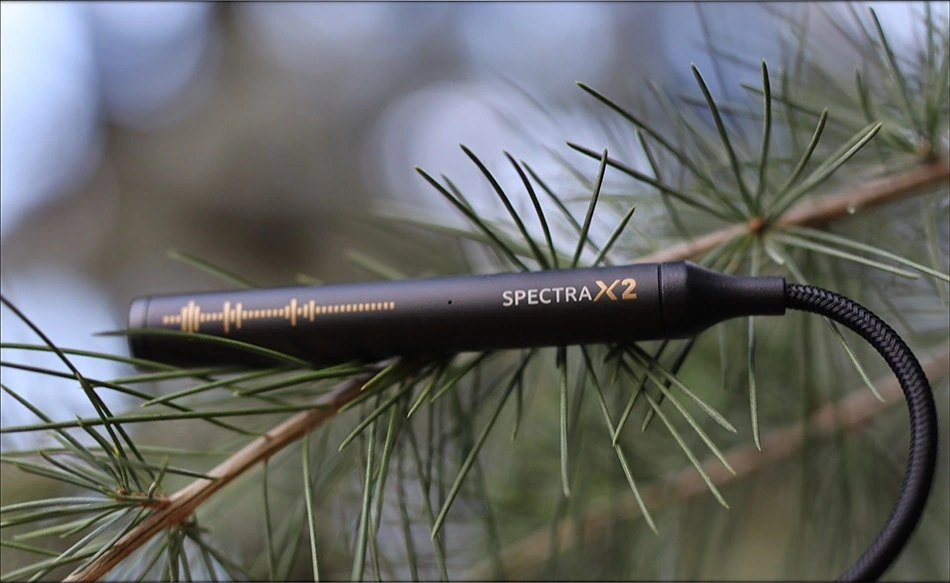 Introduction
Maktar is the new name for the old company NextDrive, a company that produced the Spectra X, a DAC / AMP / Dongle that has the same shape as Spectra X2, but which was made for Android. As we studied before, Spectra X had tons of power, good control, low distortion, and was priced similarly to Spectra X2. The units are produced in Taiwan, and the company takes great pride in being Taiwanesse, their units having apple certifications and all that needs for them to be supported on all iOS devices. 
It should be noted that I have absolutely no affiliation with Maktar or NextDrive. I'd like to thank Maktar for providing the sample for this review. This review reflects my personal experience with Maktar Spectra X2. Every opinion expressed is mine and I stand by it. The purpose of this review is to help those interested in Maktar Spectra X2 find their next music companion.
Product Link
You can grab one from www.amazon.com here: https://amzn.to/3JW1iXU
If you're in the UK, you can grab one from www.amazon.co.uk here: https://amzn.to/3tenFSK
And if you're from Europe, you can grab one from www.amazon.de here: https://amzn.to/3ndXo2Z
Packaging
First things first, let's get the packaging out of the way: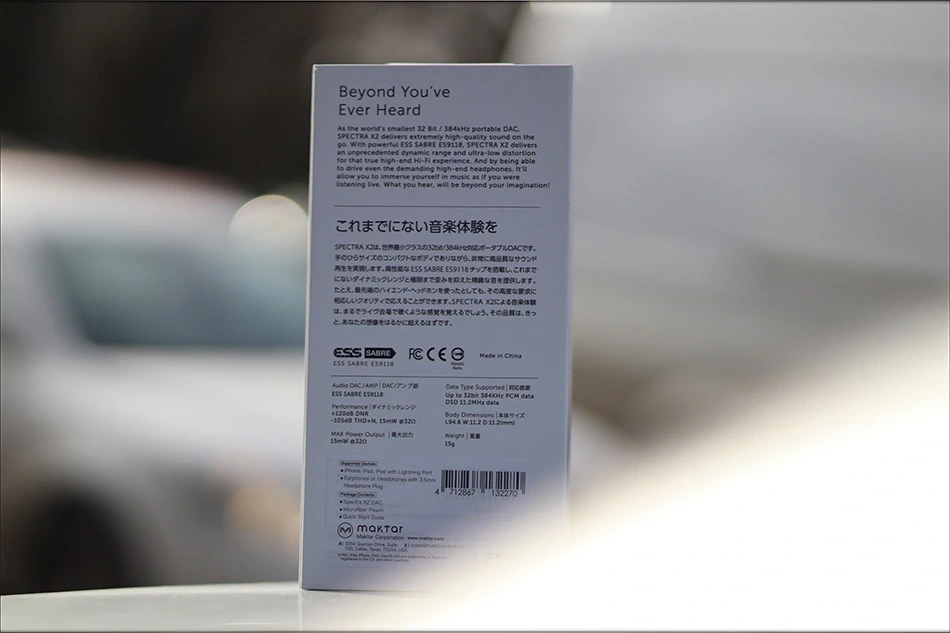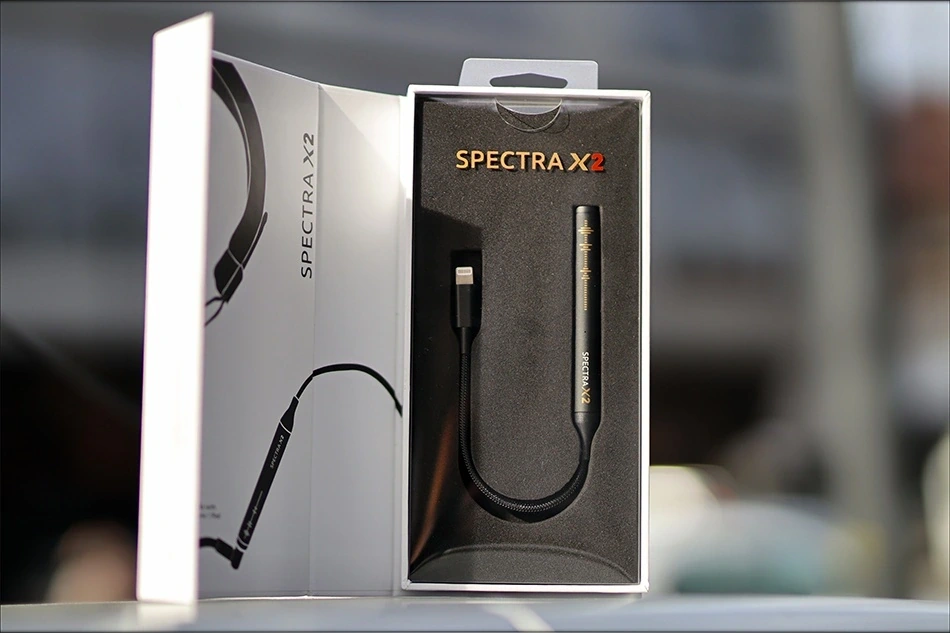 The package of Spectra X2 is really simple, this is a dongle DAC/AMP for iPhones and comes with a little carrying pouch, although that won't be using it, but rather for storage. 
Build Quality/Aesthetics/Functionality
Spectra X2 follows the same build as the original Spectra X, being a want type of DAC/AMP with a long solid metallic body. It features one stereo 3.5mm jack, with gold plated connectors, and one lightning connector for smartphones. The DAC used inside Spectra X2 is a Sabre ES 9118EQ, a pretty decent DAC unit, and it supports PCM decoding up to 384kHz / 32 Bit, and DSD 256. 
The power output of Spectra X2 is much lower than that of the original spectra, and now we have a power output of 15 mW, enough for all IEMs, but not enough for big sized headphones, with a weight of just 17 grams, and a THD of -105dB. The unit is recognized instantly on any iPhone, but I noticed that iPhone puts it to sleep rather quickly if no music is playing, so if you pause your song for too long, you will need to disconnect and reconnect it to start it up. 
The cable that connects the DAC/AMP body to the lightning connector is covered in a fabric sheathe, and the unit generally feels reliable, with no random disconnects or bugs for the time I've been using it. I was able to drive IEMS like QoA Adonis, Campfire Ara,  Campfire Mammoth, Earsonics Corsa, 7Hz Timeless, and even some easy to drive headphones like Sivga Robin SV021. It won't have enough power to drive HIFIMAN Arya Stealth, or Avantone Pro Planar. 
There's no background noise present with Spectra X2, and it drains very little power from iPhone, with no drawbacks to using it as far as I can tell. Where the original NextDrive Spectra X used to get warm during usage, the new Spectra X2 remains moderately cool during usage. 
Sound Quality
If you keep in mind that it won't have enough power for driving full sized headphones, Spectra X2 is more of an alternative to using your iPhone with TWS IEMs, especially if you're not a fan of Apple Airpods Pro and such, and X2 with most IEMs will get louder than iphone + TWS IEMS. I am mentioning this because a lot of folks have been asking me about the volume, and indeed, Spectra X2 does not get quiet as loud as other DAC/AMPs, but the overall sonic signature tends to be great, even if we're considering the price point.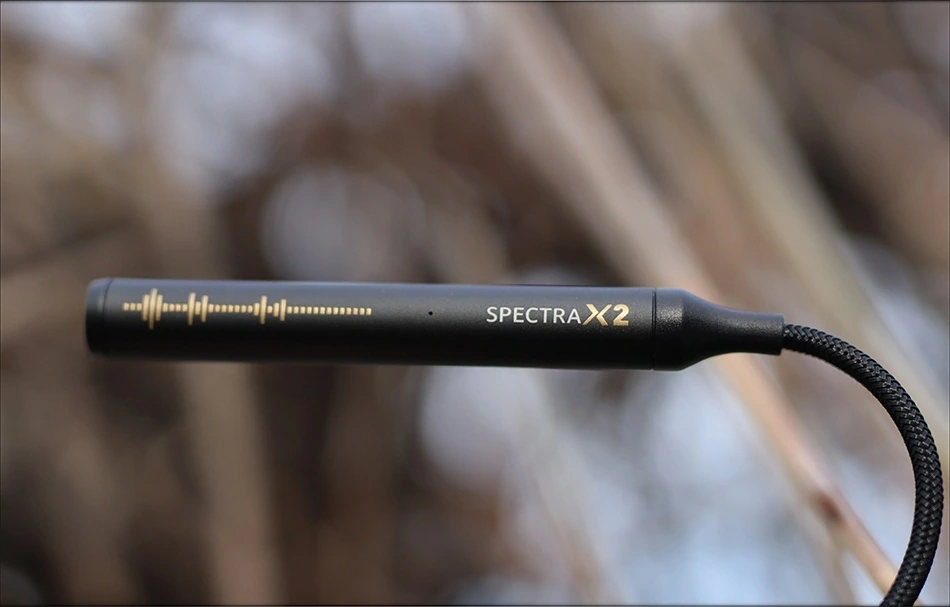 The main highlight here is that for iphone, most TWS IEMs tend to sound rather poor, as Iphones do not come with LDAC or aptX, and products like FiiO BTR5 are rather useless here. In fact, there are very few DAC/AMPs for iPhones and that pair well with them, so Spectra X2 is one of the very few options iPhone users have if they're looking for the best sonic performance they can get on the go. 
The overall tuning and signature of Spectra X2 is clean, detailed, wide and holographic. It has a really colorful midrange, with a ton of detail, a rather quick and snappy bass, with good body and depth, and with a sparkly treble to keep music interesting and enjoyable. 
The bass of Spectra X2 is really clean, articulated, has a natural decay and speed, with a punchy nature. Despite it being fairly punchy, it is well controlled and presents no bloat, being fairly detailed. 
The midrange is neutral, with a slightly bright presentation. It is also really colorful, vivid and clean, with good detail. The thing that impressed me the most is the overall soundstage, which goes really wide and deep, paired with the excellent imaging resulting in a really holographic presentation. 
The treble is clean, crisp and sparkly, with great extension up top. Being above the average DAC/AMP when it comes to its entire sound, being more neutral and more sparkly, also slightly brighter, Spectra X2 can be really surprising and reveal detail in music that you typically don't hear with most dongles. The overall maximum volume with IEMs is higher than what I can get with any TWS on Apple, including their own Apple Airpods Pro, and Spectra X2 is simply enjoyable even at high volumes. 
Comparisons
Spectra X2 is priced higher than most competitors, and at 200 USD, it has a similar price point to the original Next Drive Spectra X, but this time it is made for iPhones and to drive IEMs. The main competitors I picked can sometimes do a bit more than it, including having embedded EQ profiles. The power consumption and maximum volume of Spectra X2 are lower than most competitors. 
Maktar Spectra X2 vs iFi Hip-DAC 2 (200 USD vs 150 USD) – Hip DAC is the one DAC/AMP with a battery that everyone loves, and which works with Apple devices too, but it doesn't come with a lightning connector. The overall driving power is much higher on hip-dac2, but it has a different signature from Spectra X2, being much warmer, thicker, fuller and more focused in terms of soundstage. Spectra X2 sounds wider, deeper, has a more black background with less noise, and more space between instruments. The sad part is that Spectra X2 is designed to drain little power, so it mainly can power IEMs, but I was able to enjoy it with some high-end options too, but if you will need power for headphones, hip – dac 2 should be the obvious option here. 
Maktar Spectra X2 vs Lotoo PAW S1 (200 USD vs 170 USD) – PAw S1 has more abilities, including an on-board EQ, it has a balanced output and more driving power, with physical buttons to control it. It is also Apple compatible, and ships with an apple connector, but it drains more power from your iPhone when used. The overall signature is warmer, smoother and with less treble sparkle on PAW S1, while it is more neutral, more dynamic and more punchy on Spectra X2. If you have cold sounding IEMS, PAW S1 would be more recommended, while if you're rather happy with your IEMS, Spectra X2 may be able to improve the dynamics and punchiness of the sound. If you're really into DSD, PAw S1 decodes DSD up to DSD 128, while Spectra X2 decodes DSD up to 256.  
Maktar Spectra X2 vs Earmen Sparrow (200 USD vs 200 USD) – Sparrow comes at a very similar price point to Spectra X2, and both are ergonomic, with good designs. The biggest difference here is in the driving power, as Sparrow has more driving power on both Single Ended and Balanced, and has a pretty similar signature to Spectra X2. Both work with iPhones, but Sparrow draws considerably more power from an iPhone than Spectra X2, and gets considerably more warm during usage. Even though Sparrow supports playback from iPhones, it doesn't come with a lightning adapter, so that's a little extra cost you're going to inquire when going for it. 
Value and Conclusion
For the 200 USD price point Maktar is asking for Spectra X2, it provides a really nice overall signature, and since most dongles are made for Android, and Type-C devices like laptops or PC computers, it is nice to see a company giving some love to Apple enthusiasts as well. The value is medium here, and for 200 USD you're slowly creeping into the portable DAC/AMP territory, but if you need something ultra portable, yet with an excellent tuning / signature, Spectra X2 is really good, and one of the very few options currently available. 
At the end of the day, if you're looking for a reliable DAC/AMP/Dongle for your iPhone and need something with a really dynamic, punchy and colorful sound, plus if you're mainly tired of low volume from TWS IEMs, and need something ergonomic, Maktar Spectra X2 is fully recommended and a great alternative to using Bluetooth-based devices. 
Product Link
You can grab one from www.amazon.com here: https://amzn.to/3JW1iXU
If you're in the UK, you can grab one from www.amazon.co.uk here: https://amzn.to/3tenFSK
And if you're from Europe, you can grab one from www.amazon.de here: https://amzn.to/3ndXo2Z
---
---
--- Please remember to stay safe, and always have fun while listening to music!---
 - If you have a dime to spare, and donate, to help us with electricity and work expenses, it would make my day much brighter, as it would help me improve things around the website and increase the frequency of my posts - 
---
Full Playlist used for this review
We listened to more songs than those named in this playlist, but those are excellent for identifying a sonic signature.  PRaT, Texturization, Detail, Resolution, Dynamics, Impact, and overall tonality are all revealed by those songs. We recommend trying most of the songs from this playlist, especially if you're searching for new music!
https://www.youtube.com/playlist?list=PL_cjBXGmwSHSdGcwuc_bKbBDGHL4QvYBu
--- Contact Us ---






---
---