Lotoo PAW 1 XY Mic Player / Recorder – Records My Dreams
Paw 1 is a complex recording interface bundle with a price tag of 800 USD, and with multiple usage scenarios. It has an embedded memory of 64 GB, which should be enough for most people, and it also has a type-C interface, it can drive headphones, and the kit comes with a pair of high-quality Lotoo IEMs, a holding handle, and windscreen protection. It will be compared to other portable recorders such as Zoom H5, which also has an XY Microphone, but also Zoom H2n, which has multiple microphones, and a microphone for desktop named Maono AU-HD300T. The variant I'm reviewing is a full package made out of Lotoo PAW 1 Recorder Interface, The LM-180A High Resolution XY Microphone, LE-M1 In-Ear Monitors designed by Lotoo, the ICS-P1T Mini Tripod / Recording ARM, and the Hard Carry case designed for the microphone. I will be reviewing it as a bundle / setup. All of the extras are priced extra above the Paw 1, and the price tag of 435 USD is for the recorder alone, the whole package costing 800 USD, minus the LE-M1 IEMS, which have a price tag of 269 USD.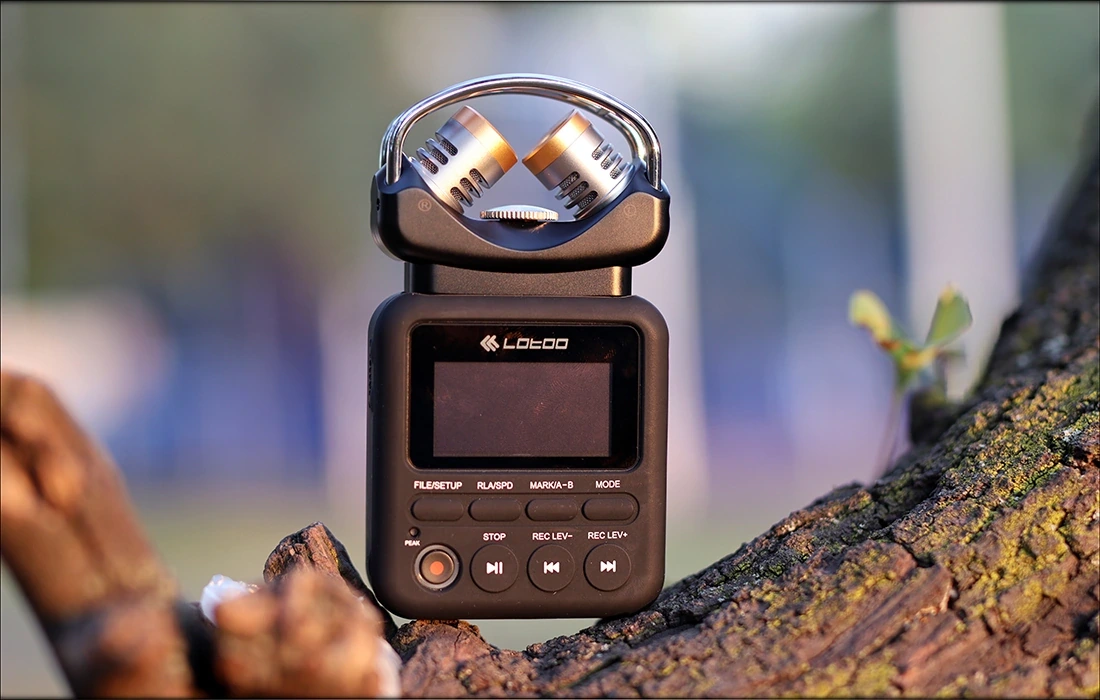 Introduction
Lotoo is that one really awesome company with tons of audio products for both music listeners and artists, today's review focusing on one of their excellent recorders. You should always keep in mind that Lotoo designs their products to last, and I'm still enjoying their PAW 6000 Music Player, which made it to over 90 reviews after having its own review, being one of the most successful music players ever created. Even their PAW S1 DAC / AMP is super popular and tons of people rock one, including at least five friends from Romania who purchased one after reading my review. Lotoo is easy to work with and provides excellent warranty, being one of the companies I have an easy time recommending. They generally make reliable hardware and software, and they are not your typical chifi company, although they are from China. When available, their products can be bought from Amazon or local sellers like Music Teck in the USA or Sound Perfection Project globally. 
It should be noted that I have absolutely no affiliation with Lotoo. I'd like to thank Lotoo for providing the sample for this review. This review reflects my personal experience with the Lotoo Paw 1 Recorder / Bundle. Every opinion expressed is mine and I stand by it. The purpose of this review is to help those interested in Lotoo Paw 1 Recorder find their next music companion. 
Product Link
You can grab one from www.amazon.com here: https://amzn.to/3EfzKud
If you're in the UK, you can grab one from www.amazon.co.uk here: https://amzn.to/3KCzLe9
And if you're from Europe, you can grab one from www.amazon.de here: https://amzn.to/3Ec3kkc
Packaging
First things first, let's get the packaging out of the way:
The package for this bundle is extraordinary, as it includes all of the accessories for a successful recording experience. The package includes:
Paw 1 Recorder Unit with all its accessories

Carrying hard case to protect the recorder, XY microphone, and dead cat filter

A tripod / extender arm 

Dead cat filter

Lotoo Le-M1 IEMs for monitoring what you're recording (this is part of the way I've been using it, it is sold separately)
Now, that's the big package contents, but the main PAW 1 package also has some handy accessories inside: 
Rubber Case 

2 x AA Batteries

Belt Clip

Cable Winder

Hand Strap

Type-C Cable

Mini Screwdriver
Build Quality/Aesthetics/Functionality
There's actually pretty sparse information available online, and Paw 1 only saw a big release inside of China, but for the quality it offers, I'm looking forward to it becoming available in Europe and other countries as well. The main unit is basically a recorder interface that uses 2 AA batteries for its power, and has an internal memory of 64 GB to store the data it records. It can record in high resolution, 96kHz / 24 Bit streams, it can connect to a remote app control, and has automated AI for noise canceling. It has a modular design, you can adapt and use other microphones, besides the original XY Mic included in the package, and it works as a USB Audio DAC for listening to music too. 
In fact, Lotoo is one of the big music player producers, and PAW 1 is rated to be capable of decoding DSD files, and has a full metal body. With a full set of batteries, it can last over 30 hours, the same for listening to music, if you decide to fill its internal memory with music files. The internal memory is limited at 64 Gb, and I wish that Lotoo would release a larger version, or a version with a microSD slot, but that would be much more about putting some music on it and using it to play music, because for recording, you don't have what to do with 64 GB or more. I recommend copying the files on it as often as possible to make sure you're not forgetting what you recorded. To help explain, I tend to record all my video reviews and the audio for them on a 16 GB card, and I never manage to fill it. With 64 GB, you could record an entire movie with the outtakes necessary, and still have some space left. 
It has one microphone input at the top, where you will attach the LM-180A XY Stereo Microphone, and it has one 3.5mm headphone output, where you'd typically connect the LE-M1 IEMs also provided in the package. The extender arm / mini tripod attaches at the bottom using the screw attached to it, and it works both with and without the silicone case on PAW 1. Generally speaking, PAW 1 is absolutely perfect and I enjoy it as a recorder, it is super mini sized, which helps conceal it better, especially if you're recording a group that has problems with large and imposing recording equipment (music teachers might know what I mean), or if you need a recorder that you can take for longer trips. PAW 1 also has type-c for the USB connection, and since it doesn't need to charge, you just need to make sure it has batteries inside, and you're good to go for literally hours of recording. Transfer speeds are fast, and I had no problems connecting PAW 1 to both a PC and a laptop. 
The IEMS are super comfortable, have a thin and flexible cable, have no driver flex, and I would say they are sitting comfortably in the ~280 USD price range judging by their overall sonic clarity / detail, comfort and build quality. The LE-M1 IEMs have a 2-Pin Detachable cable, and the cable is replaceable. They are rated at 105db/MW for the SPL, which is good, and an impedance of 32 OHMs, which means that they are not overly sensitive to hiss. The IEMs come with their own carrying case, and I'm happy to report that while writing I checked, and Le-M1 do appear on Music Teck at about the price I predicted. They are most probably getting their own separate review as well. 
I would recommend purchasing PAW 1 as a bundle with the LM-180A microphone, they are made for each other, and using it with different microphones, but ones based on a 3.5mm jack won't usually result in a quality that's as high as when using the XY microphone made by Lotoo. You also have a much more convenient recording solution with the whole package, as you can just hold the PAW 1 + LM-180A with their mini tripod / extender arm and have excellent audio quality. 
Sound Quality / Usage 
Using the Paw 1 to record music is actually quite a pleasure. It has a secured record and stop recording button, so you can't mis press the record or to miss press the stop recording. You have to press once to engage the pre-recording function, then press once again on the recording button to actually start recording. To stop from recording, you have to long press the stop button, for about 5 seconds. This is actually quite good, because it helps you avoid sad situations, like a miss press that could prematurely end your recording session before you finished gathering all of the stuff you needed. 
The recorder itself has a fantastic sonic reproduction and recording quality. Using it as a music player, it sounds close to, or even above Lotoo PAW S1, with a pretty similar overall clarity, detail and resolution, but a slightly lower driving power. The overall impact is super good, and it has the magical DAC inside. In terms of recording ability, the Paw 1 experience is also superb, it has great overall detail, and super good resolution, with superb soundstage and overall dynamics. 
This is actually important, because we're talking about a portable XY Microphone interface, one that is basically used to record noises, sound effects and design elements, rather than voices. I made multiple videos, where I highlight the differences between different types of microphones, and how each sounds like, so it will be good to watch those to get a better idea of how an XY microphone sounds like, how Paw 1 sounds like, and how it actually handles in real life usage. The overall sonic performance is superb, but it records as much of the background information as it records the foreground, it has excellent spatiality, but it will record echo in an echoey room, it will record the background noise of a scene. This is because of its design, XY Microphones are made and designed to gather everything that is happening around them, it is sensitive, but surprisingly, it won't reach a clipping point easily, and you can have pretty loud noises, so it handles dynamics quite well. 
The overall sound is detailed, crisp and indeed it has super low background noise. Since I've been recording audio for my videos, I know what a good versus a bad interface / XY microphone sounds like, and in my early days I was using only XY microphones, because they were affordable and simple to use. Paw 1 is much quieter than all of the Zoom and other entry-level XY microphone competitors, and it offers excellent recording abilities for a portable recorder, it has superb handling of wind noise if you use the dead cat with it, and it also has low background noise, even if you turn it loud. Somehow, Lotoo provides better microphone preamplifiers inside of Paw 1 than most of the competition, and this makes me smile. I needed a high end XY microphone for recording certain sound effects for Eternal Hour, the latest game made by Seventh Heart Studios, and I got myself what I needed with Paw 1. It is perfect for this, because it can record those in a crisp, well defined sense, yet not overdo things. 
The LE-M1 IEMs have a really clean and neutral presentation that is super detailed. I was reviewing the bundle without knowing their cost, but I blabbed to myself that those are around 280 USD, and what do you know, that's exactly what they cost. This is a reviewer experience for you, as well as good pricing from Lotoo, they didn't over-priced the LE-M1. LE-M1 will be receiving their own full written review, so please check out Audiophile-Heaven for that as well, as it will be my pleasure to review those high quality IEMS in their own right. 
You may not require IEMs right away for monitoring, but if you're out in the field doing actual recordings for a project, you need to know how what you just recorded sounds like without a huge delay. Often, I get home to notice that maybe I had the microphone pointed too much to the left or the right, and having IEMs to monitor that is great, so I would recommend considering LE-M1 for PAW 1, especially if you want a neutral monitoring IEM. The level of detail and resolution of LE-M1 is perfect for PAW 1 and it basically means that you will surely be able to tell whether you recorded what you were intending to. PAW 1 has good driving power for over-the-ear headphones as well, but I would really recommend considering closed back headphones if you want to go large, because it may pick up on some of the background noise if you go with a pair of open backs instead. For this purpose, you can consider headphones like AIAIAI TMA-2 Wireless+, OneOdio Monitor60, or BLON BL-B60. As far as IEMs go, Lotoo LE-M1 has the best price / performance ratio for a monitoring IEM that I've seen in the price range, so it would be best to stick with it.  
The sound recorded by the PAW 1 + LM-180A tends to be wide, clean and have low background noise. It also tends to have excellent overall detail and good soundstage depth; you can hear the difference between recording a sound that's close to the microphone, and one that's farther away. We have a neutral quantity of bass, since the XY Microphone is mainly designed for sound and action that happens more in the midrange, but we have a sweeter midrange presentation that's fairly euphonic, perfect for recording female voices and speech, along with a fairly well extended treble, if you want to record percussion instruments that include cymbals or special instruments from cultural processions. In fact, PAW 1 has almost no roll off on either end, which means that it can be used at a commercial level, including for recording orchestras, as although it has a neutral bass, it doesn't roll off the bass. 
Comparisons
Lotoo PAW 1 + LM-180A vs Zoom H2n (800 USD vs 200 USD) – Although both those microphones are XY in design, the sound is totally different between them, and PAW 1 has a superb sound with no background noise and really good detailing, plus excellent build quality, where H2n creaks if you squeeze it harder, gets scratched really easily, and it sound has super loud background noise, plus poor detailing. If sonic quality is your main concern, I would recommend PAW 1 any day, even despite the price difference. The sonic difference is just too large to not recommend PAW 1 in this situation. The headphone output for monitoring is unusable on H2n, and the noise floor can sometimes be at the same level as the sound that it is trying to monitor.
Lotoo PAW 1 + LM-180A vs Zoom H5 (800 USD vs 280 USD) – Zoom H5 is a bith more fresh compared to H2n, but it still has a considerably higher noise floor, with less details and a more dynamically flat sound than PAW 1. Just like the high-end recorders from other companies, PAW 1 handles dynamics really well, while if you get from a moderately quiet to a moderately loud passage with H5, you will hear distortions, as it tends to handle noise worse. The headphone output of H5 is incredibly bad still, and I would not consider H5 for serious audio work if you need monitoring, but it can be ok for very small projects where you have no other options, PAW 1 being fit for large commercial projects where you want to record scenes, sound effects and even whole bands for commercial purposes. 
Lotoo PAW 1 + LM-180A vs Zoom F6 + Rode NTG 3B (800 USD vs 1600 USD) – We have a more fitting comparison here, because the price of the two setups is more similar, but let's first talk about the convenience. F6 costs about as much as PAW 1 + LM-180A does, but without any microphone. This puts it at a disadvantage from the start. Using NTG-3B, you do get a microphone, but the price of the setup is double that of PAW 1, and the overall resolution doesn't improve that much. In fact, for most situations where you want to record an instrument, or a band, PAW 1 will do better, also it will do better for sound effects, as it can record depth and a staging, while NTG3B is mainly better for voices and human content, where you want to conceal the microphone, or keep it away from the speaker. Generally speaking, F6 consumes much more power, and NTG 3B needs phantom power, the whole setup being much less convenient, more complicated to use, but still not resulting in a lower handling noise. If you even imagine you can go outdoors with the F6 + NTG 3B Setup to record sound effects, you will need some help literally, while PAW 1 is perfect for this. 
Lotoo PAW 1 + LM-180A vs Maono AU-HD300T (800 USD vs 69 USD) – I wanted to make this comparison, not to put the Maono mic to shame, but to explain that if you're looking to get an all-in-one setup, Maono AU-HD300 would be fairly good for doing a podcast. It has a really crisp voicing, but it is mainly made for male voices, thickening and lower the overall pitch and offering a somewhat dark presentation for female voices. Also, PAW 1 is worlds ahead when it comes to sensitivity, as you have to speak centimeters away from AU-HD300 to get any kind of input, while with PAW 1 you can literally be tens of meters away from the source of the sound and still get a reliable sound. You can even record whole scenes like a forest noise, or birds chirping with PAW 1, while Maono AU-HD300T is incredibly quiet and has a high background noise, not being fit for anything like this. This being said, Maono AU-HD300 is much more cost effective if you need a podcast mic, PAW 1 being a professional tool made for movie and game sound design. 
Value and Conclusion
While I always talk about the value of the playback setup and equipment, it is not often enough that I talk about the value of the recording equipment actually used to record the music you're likely playing right now in your speakers and IEMS. Paw 1 has superb value, as a bundle, with its own XY microphone, but not just because it has a nice design, but because it has superb overall handling, good 64 GB of memory available to record, and because it has a 2 AA Battery power, so you'll never really run out of power using it. 
I wish that we had 2 AA power setup for music players too, and Paw 1 is a really nice addition, but if the total space feels low, you shouldn't be disappointed, you're extremely unlikely to fill that up if you're using it as a recorder. This being said, I would fill up at least half with a compilation of music, it works really well as a music player, having beautiful sonics, and Lotoo really does not take things lightly when it comes to their sound. 
At the end of the day, if you're looking for a high-end recorder interface, with an XY Microphone, Lotoo designed something really amazing with their Paw 1 and the LM-180A XY Microphone, and they are fully recommended at 800 USD. 
Product Link
You can grab one from www.amazon.com here: https://amzn.to/3EfzKud
If you're in the UK, you can grab one from www.amazon.co.uk here: https://amzn.to/3KCzLe9
And if you're from Europe, you can grab one from www.amazon.de here: https://amzn.to/3Ec3kkc
---
---
--- Please remember to stay safe, and always have fun while listening to music!---
 - If you have a dime to spare, and donate, to help us with electricity and work expenses, it would make my day much brighter, as it would help me improve things around the website and increase the frequency of my posts - 
---
Full Playlist used for this review
We listened to more songs than those named in this playlist, but those are excellent for identifying a sonic signature.  PRaT, Texturization, Detail, Resolution, Dynamics, Impact, and overall tonality are all revealed by those songs. We recommend trying most of the songs from this playlist, especially if you're searching for new music!
https://www.youtube.com/playlist?list=PL_cjBXGmwSHSdGcwuc_bKbBDGHL4QvYBu
--- Contact Us ---






---
---