OneOdio Monitor 60 – Huge Cans For My Soul
OneOdio Monitor 60 is a high-quality monitoring headphone priced at about 80 USD at the moment of writing this review, made for music producers, DJs and artists on a budget. It features a 50mm full-sized dynamic driver, and it will be compared to Sivga SV021 (150 USD), Dekoni Blue Planar Magnetic Headphones (250 USD), and Master & Dynamic MH40 Wireless (250 USD). I simply have not listened to many other headphones priced so low, so it will be hard to keep the price out of the equation, but let's have a look at what OneOdio managed to pull while on a budget.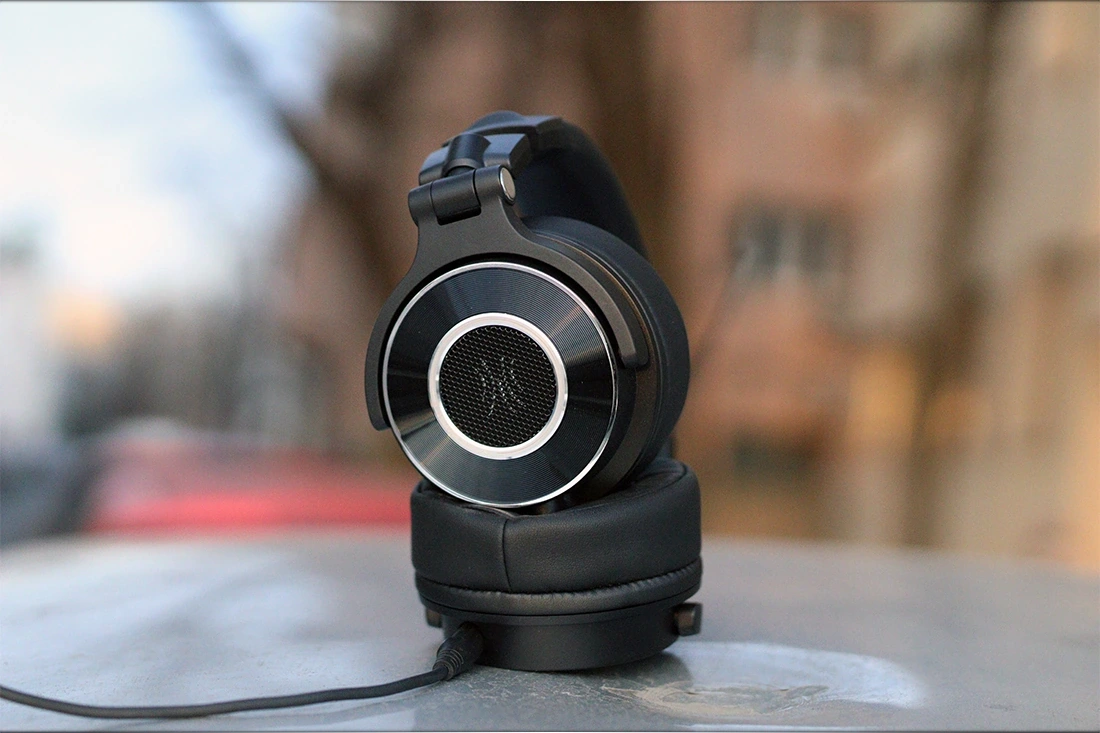 Introduction
I have very little real information on OneOdio, but they seem to be enthusiastic about creating budget products for music producers, as well as artists, and they have a clean track record, delivering quite well on their promises, with headphones, as well as interfaces that are well regarded. I can say from personal experience that they are very professional, speak english very well, are patient and will help you with any problem you may encounter with their products. 
It should be noted that I have absolutely no affiliation with OneOdio, I am not receiving any incentive for this review or to sweeten things out. I'd like to thank OneOdio for providing the sample for this review. Every opinion expressed is mine and I stand by it. The purpose of this review is to help those interested in OneOdio Monitor 60 Headphones find their next music companion. 
Product Link
You can grab one from www.amazon.com here: https://amzn.to/35mlMJJ
If you're in the UK, you can grab one from www.amazon.co.uk here: https://amzn.to/3rl4HbE
And if you're from Europe, you can grab one from www.amazon.de here: https://amzn.to/3KIDreE
Packaging
First things first, let's get the packaging out of the way: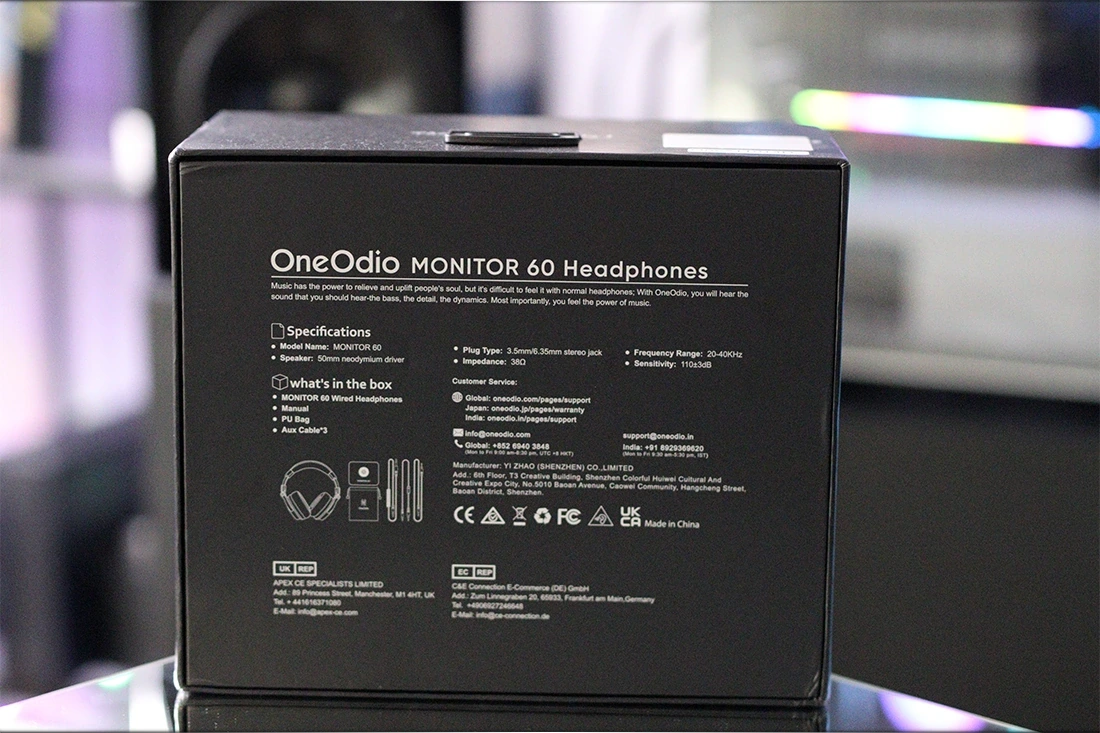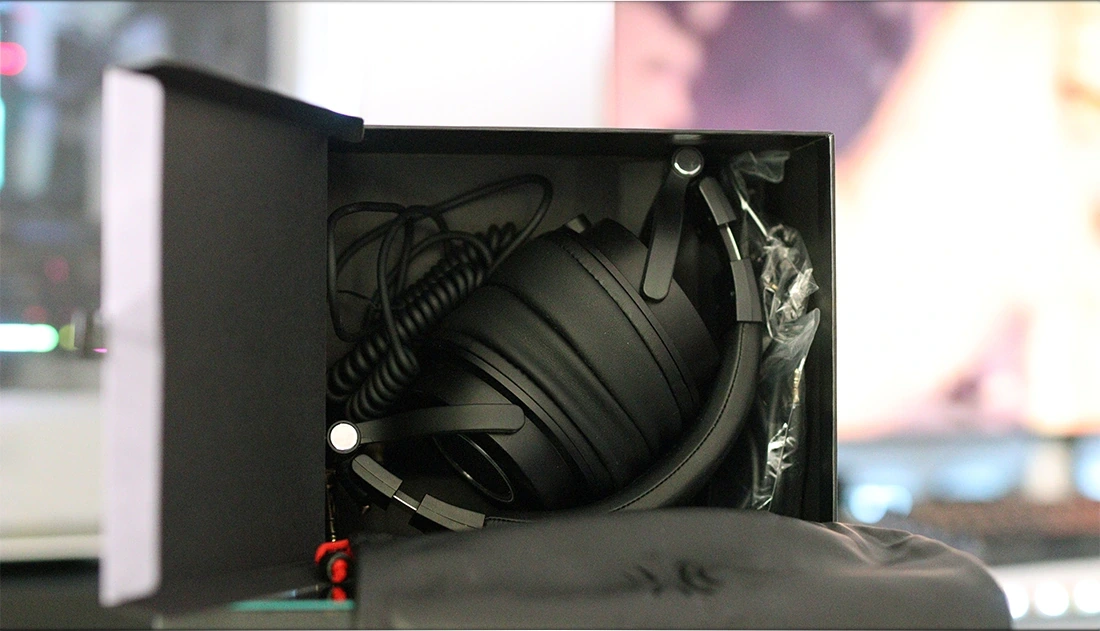 The package of OneOdio Monitor 60 is actually quite nice, and they come folded, to showcase their folding ability, and to save some space. The headphones come with a carrying PU Bag, three cables, one fully straight, and one coiled, and one with a microphone, and with a manual. This is by far the best package you can expect to get below the 100 USD price mark. 
Build Quality/Aesthetics/Fit/Comfort
We have good technology inside Monitor 60 from the start, with a 50mm dynamic driver, which promises deep bass and tons of punch. They also have huge earpads, and the comfort is absolutely perfect, the earpads are thick, large and provide excellent cushioning for the headphones. The headband also has thick soft cushioning and those are the kind of headphones that will stay on your head for long hours without bringing you any fatigue. 
The cable can be connected on any side, perfect for djing regardless whether you're left or right handed, and the cable length is perfect for the coiled cable, but if you need a longer one for late night shifts, the straight cable goes a really long way. The headphones are also really light, and the earpads have enough space inside for my medium sized ears without me touching the pads on any side. 
The build quality of Monitor 60 is good, for the price point. They are somewhat easy to scratch and damage, if you're not careful. They fold in every direction possible, and creak less than Focal headphones. All cables have a nice soft touch to them, and are comfortable to use. The adjusting mechanism is fairly clicky and works well, while the headphones are somewhat hard to drive, needing about 120 / 150 of volume on Astell & Kern SE180. They should easily be drivable by most interfaces out there. 
If you're looking for passive noise isolation, Monitor 60 has quite a bit of it, and it is in between 10 and 15 dB of passive noise isolation, which is excellent for such a comfortable headphone. They leak a bit, which is natural given the size of their driver, but you could listen quietly without anyone really knowing what you're listening to, if you listen quietly. Even at loud volumes, they leak far less than any open-back model, and even less than most closed-back headphones.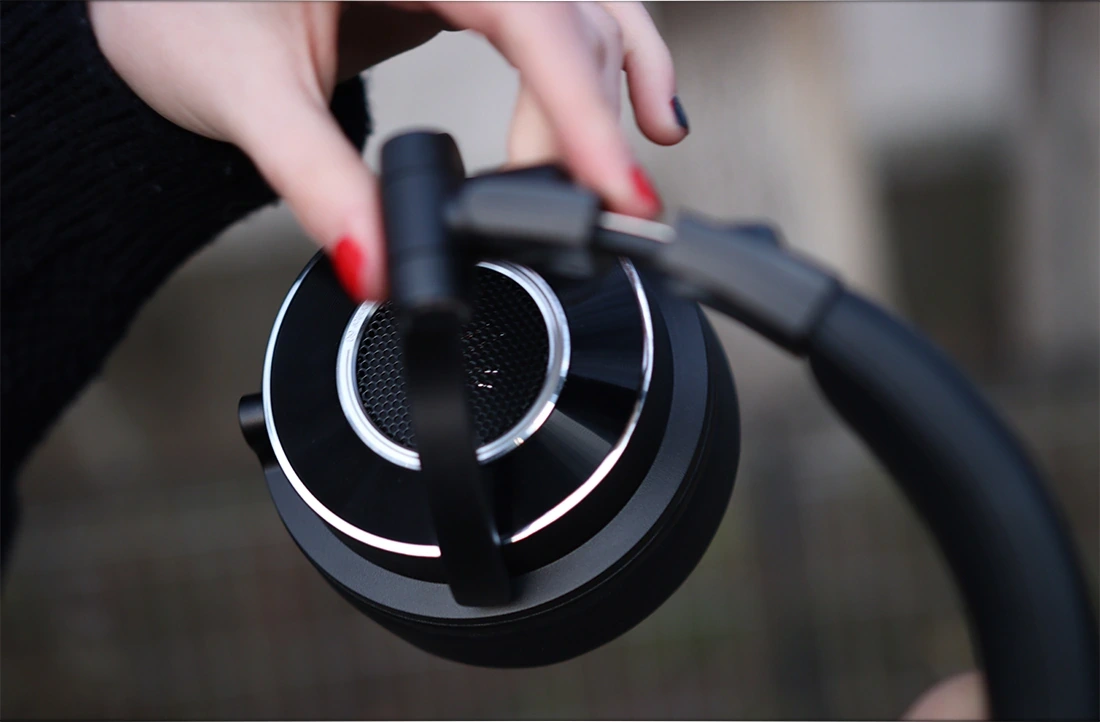 All in all, Monitor 60 is a really comfortable, large and light headphone with good construction quality, and with no real competition in the price range. 
Sound Quality
If we start with the sources, I have been using mostly high-end DAPs to drive the Monitor 60, because I have those easily available, so I've been using Astell & Kern SP2000T, Astell & Kern SE180, iBasso DX300, iBasso DX240, Dethonray DTR1+, and Lotoo PAW 6000 to drive the Monitor 60. I have also used Cyrus One Cast, as well as EVO 4 from Audient, which is a very affordable entry-level interface with microphone AMPs. All in all, Monitor 60 does not scale very much with the source, and you can use any interface you have available, like a FiiO K5 PRO. I would advise against ultraportables with low power, if you like to listen loud, as Monitor 60 needs quite a bit of power to punch hard and heavy.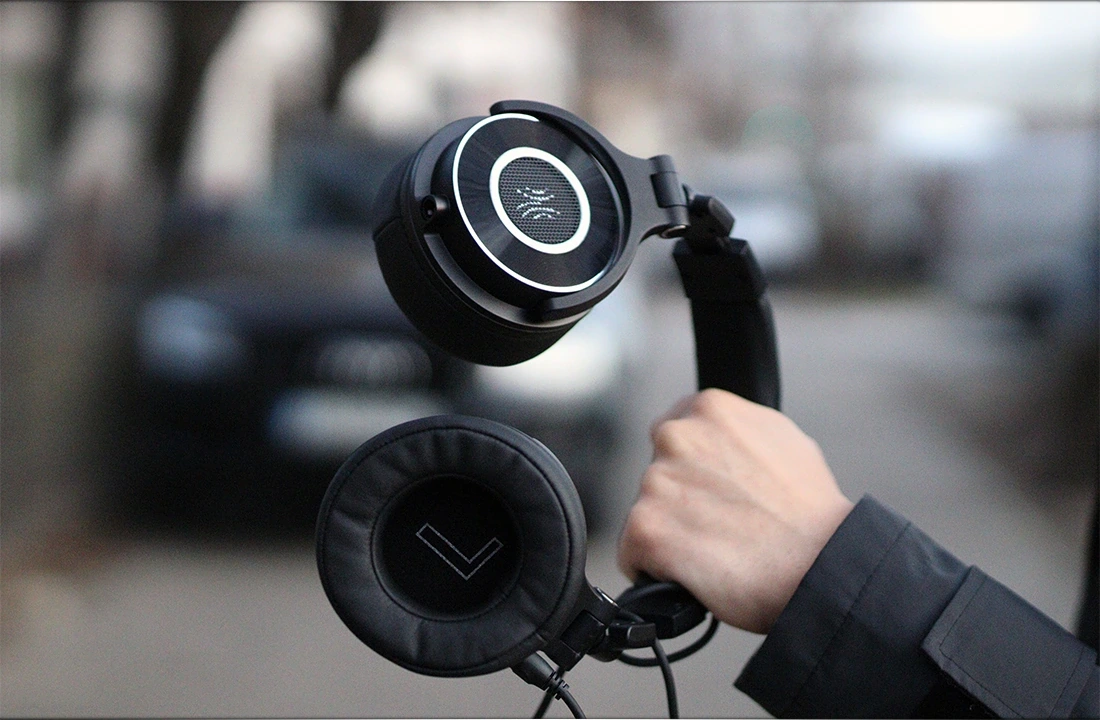 The general sound of Monitor 60 can be described as moderately V-Shaped with tons of bass, a sparkly treble, tons of detail, and outstanding resolution / technical ability. They tend to sound better than what you typically get around 300 USD in terms of macro detail, sonic speed, and overall instrument separation. 
The bass of Monitor 60 is deep and heavy, with most of the bass energy present after 50 Hz, and with good bass depth and impact until about 300 Hz. This means that they have a warm sound, but it is not a veiled or overly thick sound, and the overall bass presentation is with a slow decay, good instrument body, tons of energy. The kind of bass they present works well with all music styles, both EDM, Acoustic, Rock, Metal and Punk. Even classical sounds beautiful on Monitor 60, and they are perfect regardless of your musical taste. 
The midrange is recessed compared to the bass and the treble, with about 10 dB, the bass being enhanced with about 10 dB above the midrange, the treble being also enhanced with about 7-8 dB above the midrange. The midrange has very little coloration, and is very natural, clean, revealing and detailed, with extreme technical revealing ability for the price. The midrange is wide and well separated, clean and music generally sounds crystalline and clean. Monitor 60 is not extremely thick, and instead goes for a natural-slightly thin presentation with long musical decay. This also means that they have a slightly splashy presentation that is never too dry, harsh or fatiguing. In fact, this is how I would best describe their sound, clean, crystalline, open and detailed, without being fatiguing. They are also quite dynamic, and you never feel like you're bored or like the sound is flat. 
The treble of Monitor 60 has a bit of coloration, just like their graph indicates, and it has a slight dip right in the lower treble, to avoid harshness and metallic resonances, but it also has an enhancement at the level of the bass right after, then a slight dip, then the treble stays quite uplifted for most of its presentation. This won't make any real sense if you're just reading my description like that, so I can say that it sounds somewhat splashy, clean, airy, and has a good sparkle on most music, being interesting, but not fatiguing. You need to keep in mind that the overall presentation is really analytical, and mini details are very well exposed by Monitor 60, making a perfect headphone for the DJ and music producer on a budget. The overall presentation is similar to a HD800S with much more bass, and you need to brace for far more detail than the price range typical has to offer. If anything, Monitor 60 can be a bit sharp sometimes, especially with aggressive recordings like Sirenia. 
Comparisons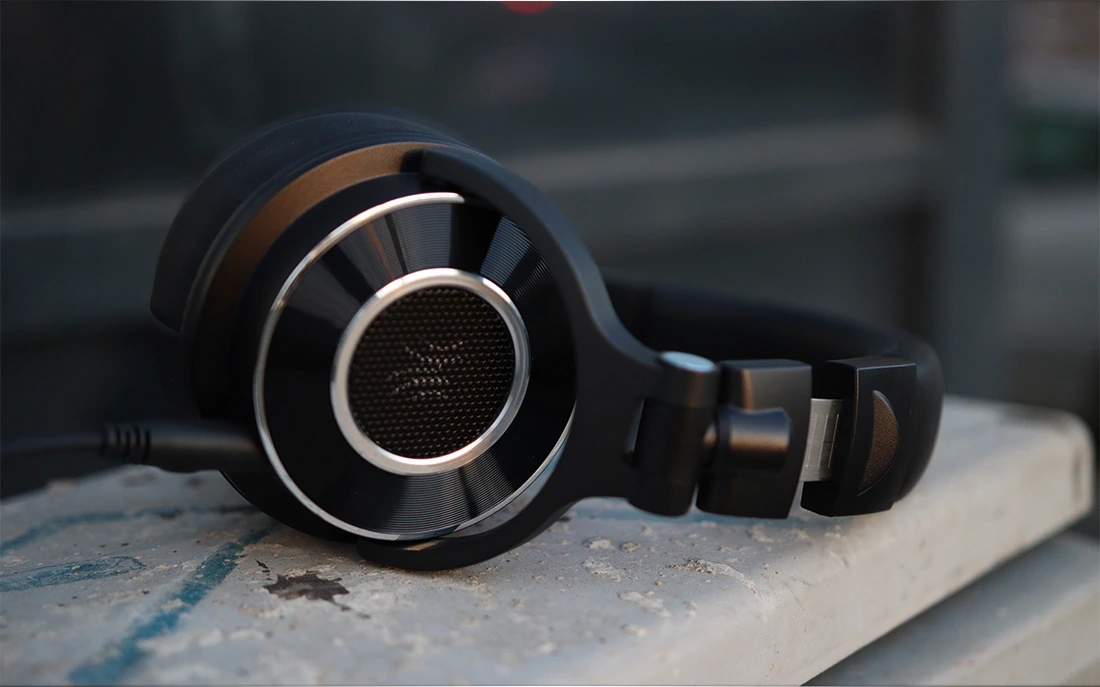 OneOdio Monitor 60 vs Dekoni Blue (80 USD vs 250 USD) – Dekoni Blue is actually even harder to drive than Monitor 60, and will get loud harder, needing more push and power. The overall comfort is comparable, but the build quality is better on Dekoni Blue. The overall sound has less treble on Dekoni Blue, with more focus on bass and impact, but a smoother treble that's a bit more refined. At the same time, Monitor 60 is more analytical and can at times extract more macro details from music, at the cost of sounding perhaps sharp at times. The note decay is a bit quicker on Dekoni Blue as it can resolve micro details better, as expected for the price difference. 
OneOdio Monitor 60 vs Master & Dynamic MH40 Wireless (80 USD vs 250 USD) – The overall functionality is higher on MH40 Wireless as they have Bluetooth functions and you can use them wirelessly, but at the same time, their best sonic presentation can still be found overt the wired connection. What's more, like all wireless headphones, the maximum loudness on Wireless is lower than that over wired with a high quality source. The overall sound is more detailed, cleaner and more open on Monitor 60, which has more sub bass as well, and more impact on the bass. MH40 Wireless sounds more flat, and also more intimate. 
OneOdio Monitor 60 vs Sivga SV021 (80 USD vs 150 USD) – The comfort is actually similar between the two, but Monitor 60 swivels in more directions, and is easier to adjust to more head sizes and shapes. On the other hand, the build quality feels better on SV021. The overall sonic presentation is similar between the two headphones, Monitor 60 has a more sharp presentation, a bit more detail, but less refinement and the treble in particular is presented more naturally on SV021. 
Value and Conclusion
OneOdio created an extreme value item with Monitor 60, and this is the type of headphone that I would get if I wanted to make music, or listen to music, with excellent detail, and if I was on a budget. The overall detail level is great, they have a good soundstage, they have good build quality, and are comfortable, basically checking every single thing that a headphone should be doing around this price point. 
In fact, they are so good, they will be the first product to make it to Audiophile-Heaven's Hall Of Fame in a long while, for the sub 100 USD price point. I even cleaned my Hall Of Fame recently, so it is good to see an entry-level product making it once again to my favorite list.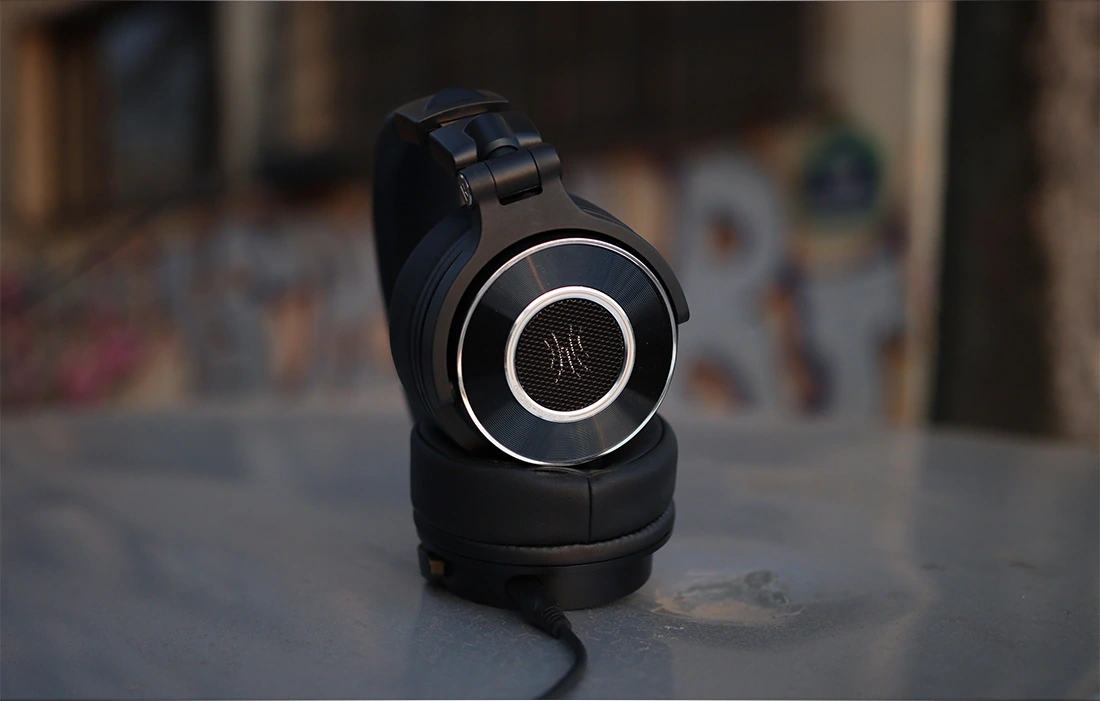 At the end of the day, it doesn't really matter if you're a passionate listener, beginner creator, or just need an affordable headphone, as long as you don't mind some slightly sharp edges, and if you want a clean, open, detailed headphone with good bass, and good comfort, which is closed back, then Monitor 60 will be the perfect choice at this moment. 
Product Link
You can grab one from www.amazon.com here: https://amzn.to/35mlMJJ
If you're in the UK, you can grab one from www.amazon.co.uk here: https://amzn.to/3rl4HbE
And if you're from Europe, you can grab one from www.amazon.de here: https://amzn.to/3KIDreE
---
---
--- Please remember to stay safe, and always have fun while listening to music!---
 - If you have a dime to spare, and donate, to help us with electricity and work expenses, it would make my day much brighter, as it would help me improve things around the website and increase the frequency of my posts - 
---
Full Playlist used for this review
We listened to more songs than those named in this playlist, but those are excellent for identifying a sonic signature.  PRaT, Texturization, Detail, Resolution, Dynamics, Impact, and overall tonality are all revealed by those songs. We recommend trying most of the songs from this playlist, especially if you're searching for new music!
https://www.youtube.com/playlist?list=PL_cjBXGmwSHSdGcwuc_bKbBDGHL4QvYBu
--- Contact Us ---






---
---