Cocktail Audio N25 Streamer – Elegance & Usability Connected
Coming straight out of the technologized South Korea, N25 is a flagship streamer with DAC functions, and priced at 1400 USD. For this price, it features a Streaming function, network player, Roon point, and MQA decoding, along with a DAC function, so you can connect it straight to an external Amplifier. It will be compared to other high-end and flagship DACs / Streamers, including Magna Hifi Mano Ultra MK2 (1200 USD), Cyrus One Cast (2000 USD), and Soundaware A1X PRO (700 USD). Given that it has a DAC function, it will also be tested as the main DAC for a few headline systems, a Violectric HPA V340 Amplifier (2000 EURO) + HIFIMAN Arya Stealth Headphones (1600 USD), and SMSL DO200 Amplifier (280 USD) + NHT C3 Speakers (1000 USD). 
Introduction
Cocktail Audio is a large company from South Korea, focused on delivering revolutionary high resolution HiFi Systems. They design, create and refine the listening experience for music lovers from all over the world, and have been doing so for the past two decades, having been established since 2003. They bring to us a selection of high quality multimedia players, along with CD Rippers, Music Servers, and cocktail Audio belonging to Novatron, a much larger conglomerate of IT based companies. Similar to Pink Faun, Novatron aims to deliver and satisfy the needs of the everyday audiophile while using a computer, and having noticed that most computer components deliver a sub-par experience for music lovers, they decided to do everything in their power to correct that. Even my personal journey has revealed that computers are not ideal for music listening, and I've been plagued by background noise, buzzing, and even minor electric discharges from various computers over the years.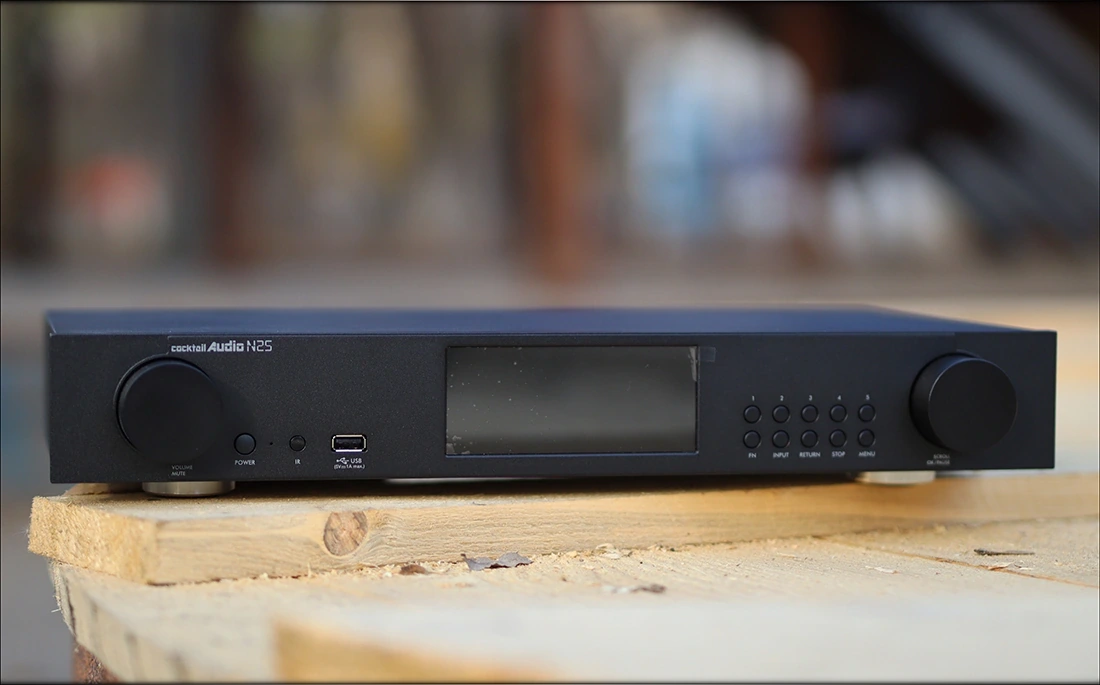 All of this being said, cocktail audio is different from other brands of streamers, because they offer us a pure digital music server, but with a Player and DAc function, USB DAC functions, and Native DSD decoding, along with MQA and support for major streaming services, including Roon and Tidal's MQA. The best part is that you never have to stress out because they will become outdated as they replace the need for a computer, but can play music in an elegant and effective fashion, removing all the stress that a computer usually carries for music listening. 
It should be noted that I have absolutely no affiliation with Novatron or Cocktail Audio. This review reflects my personal experience with the Audio N25 Streamer. Every opinion expressed is mine and I stand by it. The purpose of this review is to help those interested in the Audio N25 Streamer find their next music companion. 
Product Link
You can grab one from www.amazon.com here: https://amzn.to/3qaQhtU
If you're in the UK, you can grab one from www.amazon.co.uk here: https://amzn.to/3HKDOmK
And if you're from Europe, you can grab one from www.amazon.de here: https://amzn.to/34DxJKH
Packaging
First things first, let's get the packaging out of the way: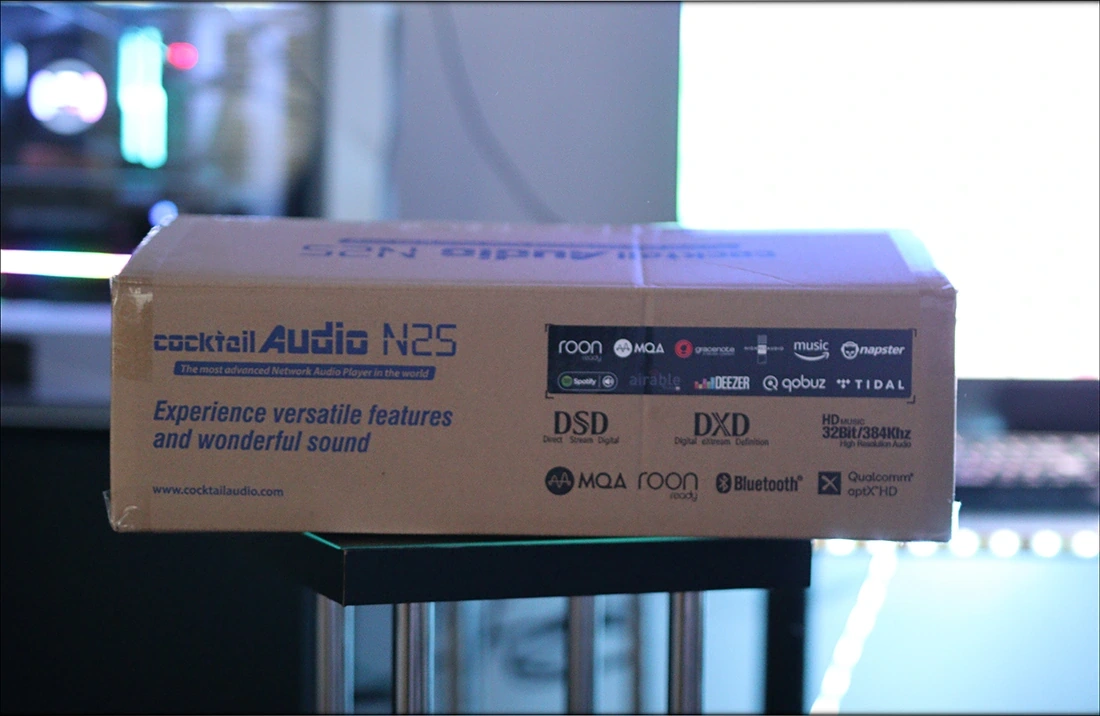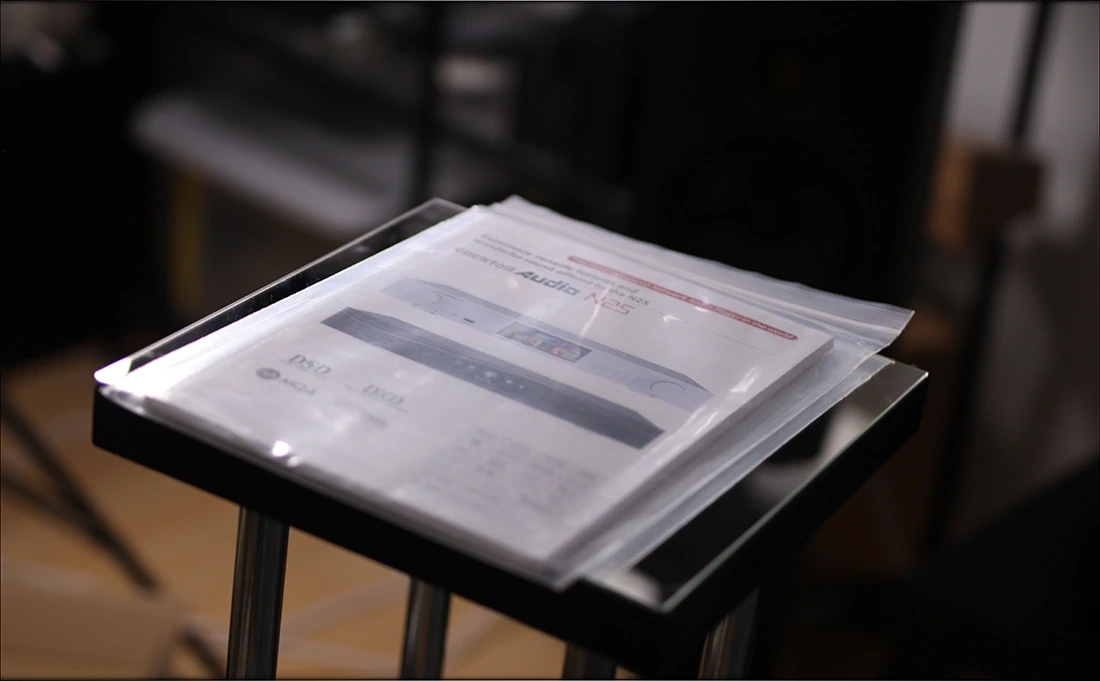 Usually, the package is quite underwhelming and I find the need to complain, even if at least a bit, about how little accessories are included with a product. Cocktail Audio and Novatron probably read Audiophile-Heaven religiously because they really did include everything you may dream of, and beyond with the N25. I am not even joking or saying this lightly this time around, as we can see a multitude of unusual accessories with N25. 
We have the main package, where we can find N25 well protected, along with its detailed remote, and a power cord. But what we weren't expecting to find inside are a collection of accessories, like a Bluetooth Antenna, an FM Radio Antenna and a DAB Antenna. As optional, I also got the Wifi USB Dongle (you need the original one for it to work), and a Bluetooth Transmitter, for using it to power Bluetooth Headphones and Speakers / AMPs. 
Build Quality/Aesthetics/Functionality
The only thing I can say about N25 is that it can do so much… It is so hard to really enter the review without first stating that if you read my review of the Mano MK2 Ultra, and expect the N25 to be the same thing, it will do so much more. The first, and most important feature, is the USB DAC function, so you can basically connect N25 to your computer, and for me, this is by far, the most interesting aspect of N25. You can basically take advantage of all the filtering, cleaning and improvements it does to the sound, without having to rely on Streaming apps and protocols, if you don't want to.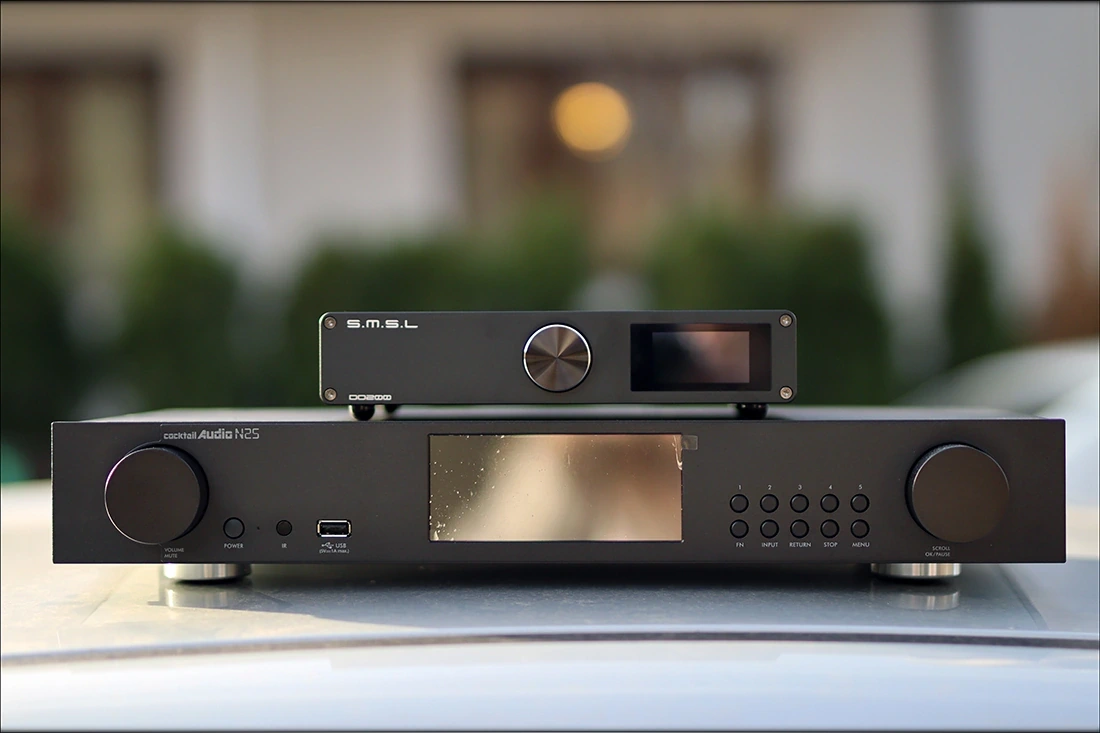 Physically, the unit is extremely light for its size, but also really wide and has a beautiful display at the front. There are two large wheels, similar to Cyrus One Cast, but the left one is for volume / adjustments, while the right one is for navigating the system / OS of N25. We also have 5 rows of buttons, each with two buttons for a simpler navigation, and a power button at the front. I recommend using the remote, since it makes everything much simpler and more logical while using N25. 
There is a lot of space for airflow on the laterals of N25, and happily it doesn't get hot during usage. The back of the unit is where all the fun happens, and we have basically everything you could dream of. This includes the fuse, on/off switch and the power plug, but also the digital inputs in Coaxial and Toslink. We also have a Bluetooth Antenna, HDMI ARC Input, and a DAB Antenna input. Although they are not in a specific order, we also have USB Audio Input, Ethernet input, and USB Host functions, for using N25 with external HDDs.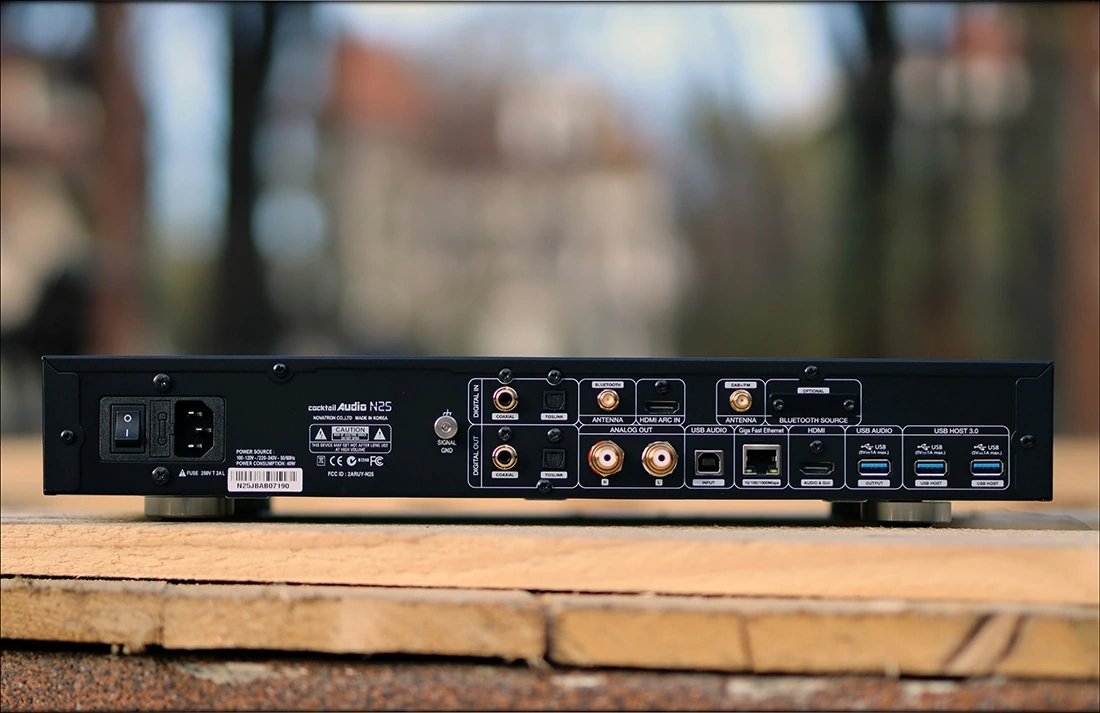 The digital outputs include Coaxial and Toslink, optional Bluetooth output, but there's also USB Audio output, for powering basically any single DAC on the market, without the need for expensive and complicated cables, or for specific inputs like I2S. Cocktail N25 is basically made for someone who owns a PC computer and just wants to improve their listening experience, it is made to be used with basically any other DAC you have at home, and even if you don't have another DAC, you don't have to worry, N25 comes with an analog output too, because it has a DAC inside. I am really excited to dig in the N25 for answers and to test how it fares against other streamers. I have tested its USB DAC function, and found that on the display it shows the current rate and data type, for example PCM and 48 kHz, and it also shows a beautiful VU Meter motion effect. We have access to volume control, and this is a true lossless type of volume control, so no more worries about having a DAC with no volume. The overall sound is instantly cleaner and has better separation than using Cyrus One Cast directly from my PC computer. 
I also went ahead to test how it combines with external HDDs, and mainly used HDDs that already have their own power source, so large 3.5″ HDDs, especially large capacity ones. Anything from WD works just fine, including my current 10 TB HDD. N25 is able to see all the folders and files on the HDD, and navigating it is extremely quick. Although I was really not expecting this, N25 is able to play all of my music files, including MP3, FLAC, Ogg, but also video files, for those where I have live concerts and such saved, even BluRay Rips. This includes Mp4 files, but not MKV or AVI files. N25 is able to read metadata really well, for both music and video files.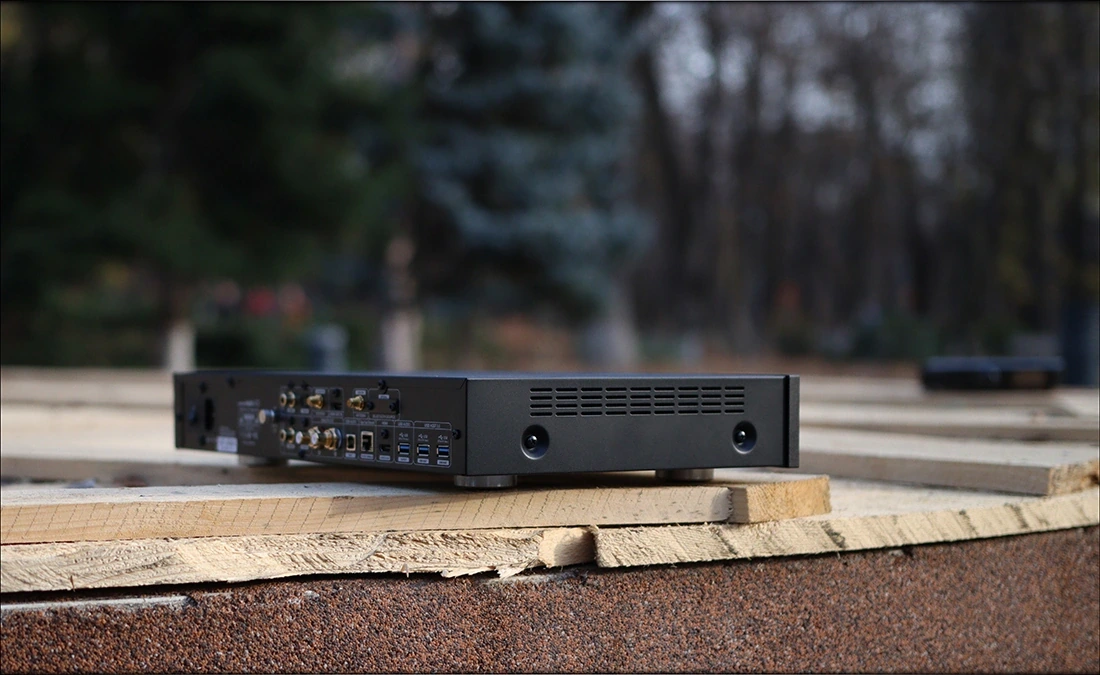 If you don't want to see the display, you can press on Clock on the remote, and it will switch it to a clock image, and pressing again turns off the display. N25 has support for Shuffle, Repeat One, Repeat All and Normal, if you press the Menu button on the remote. Playing music from an external HDD, you can also quickly mute, stop, or play / pause a song using the remote. 
To use it via Bluetooth, you just need to turn N25 to Bluetooth BT Source from the remote, and you're good to go. It is easily discoverable by any smartphone or Bluetooth transmitter. One thing you do need to do, if you plan on using it via Wifi, is that you need to introduce anything you write via the 9-key keyboard, in the same fashion as older phones used to. It feels good to experience it once in a while, and since you're not likely to need this done often, it isn't a huge detriment to its general usability.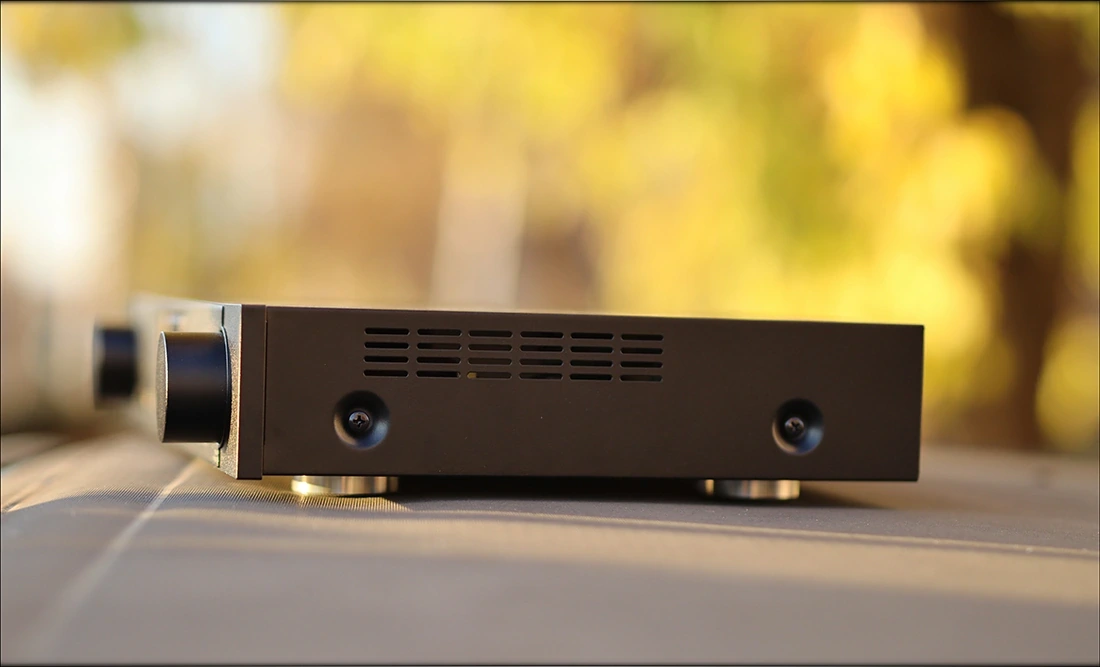 We also have a 1.0GHz A9 Processor feeding the N25, along with an isolated power supply circuit with separate digital and analogue pathways. The display is a 4.6″ LCD display with a 800×320 retina resolution. There's HDMI ARC input, and HDMI output for showing the GUI screen, or sending the audio signal to a TV. We have one USB 2.0 input at the front, for USB Sticks, but two USB 3.0 high speed inputs at the back of the unit, which means that all your files will be read instantly (tested and it passed the test). The Bluetooth Receiver is aptX HD capable. Although this is not noted in the manual or the website, viewers reported that the HDMI ARC is eARC, which may cause some compatibility uses for some users. 
The streaming services supported by N25 are Amazon Music, Tidal, MQA, Deezer, Qobuz, Sptify, Napster and Internet Radio. It also has Multi Room support for Group Play, and also Airplay. As far as file support goes, we have MQA, DSD, up to DSD 256, DXD support, PCM support up to 32 Bit / 384 kHz, and flac / mp3 support. We have UPnP Server support, including Server , Client and Renderer, Samba Server / Client, and N25 is certified and supported as a Roon Ready Endpoint, which is a nice indicator of its quality, as Roon tends to be quite picky with what it certifies as Roon Ready. The list of file types compatible with N25 includes Wav / Flac, AAC, CAF, Alac, AIFF, AIF, Mp3, Ape / Cue, Ogg, M3U, Mp4, PLS, etc.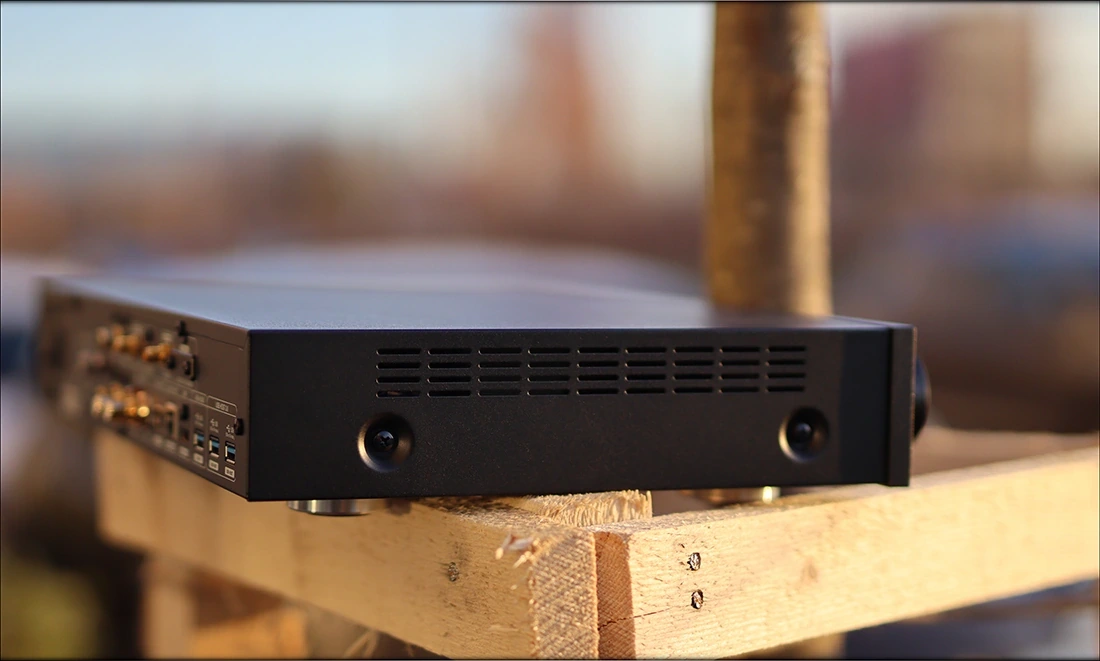 If you want to control it as a streamer, you have to rely on its own Android and iPhone app, the Novatron MusicX Neo. The app looks and feels like the OS of N25, minimalistic, practical, snappy. 
Software 
Since I already explained in a previous written review why Streamers might influence sound, I will not repeat myself, and I won't insist on explaining how they work, but basically, they clean and improve the integrity of the digital signal. Some may apply certain tricks to improving the sound, like upsampling of the original signal, reclocking, jitter removal, and more. I feel it is really unfair for me to say that computers are ideal, as all of my computers have created serious headaches when it comes to audio. 
N25 has a simple yet very functional Operating system, it is able to receive signals from basically any input you can dream of, decode MQA and basically any kind of usage scenario you can think about. Everything runs well, and I haven't encountered any bugs with it, although starting it up can take a few seconds, and waiting for it to connect to networks and changing the input can also take a few seconds. The USB input does not have any added latency, and you will not feel like the audio is out of sync from the video, so you can freely use N25 for watching movies, and playing video games, including shooters. 
While using N25, I tried forcing it to run into errors, but it simply doesn't want to give up. The CPU it sports is quicker than the CPU of half laptops folks used to have in 2010, and it shows. The unit reacts quickly to commands, and although the remote is a bit too detailed and has a few too many buttons, it does its job well. It is entirely possible to button the unit directly and navigate it from there, but I find it more comfortable to have it seated somewhere in the back. The VU Meter is a really cool touch, and since I'm one of those who would purchase an NZXT Z73 cooler with a display, I like having minor cues showing in the background.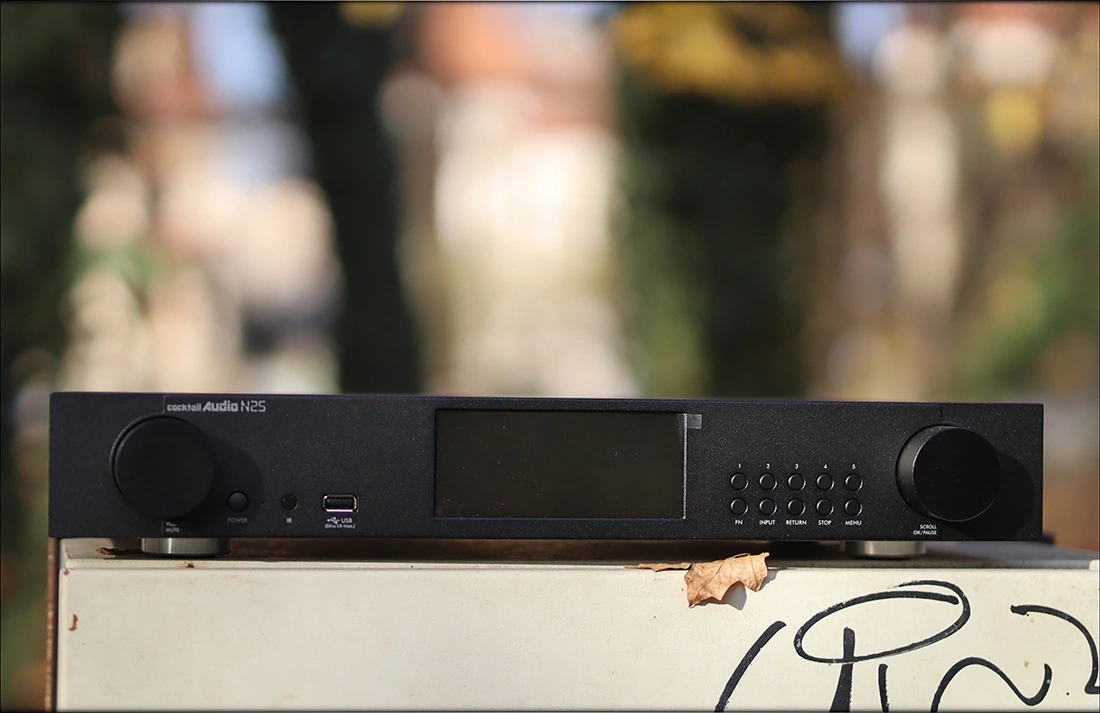 The N25 app is clean and responsive, but it is not extremely fancy. The whole cocktail audio experience works like this, but after having used some streamers and products from other companies, N25 is smoother and more elegant than most audiophile-grade streamers with a display. Although products from Aryllic sound good for their money, using them is a nightmare, and their apps are really not my cup of tea. With N25, I never felt like complaining about the app or the software of the Streamer itself. Having a physical volume wheel is extremely handy as you can quickly adjust the volume to your liking. 
One thing that really surprised me is how effective the isolation has been for cocktail Audio for the bluetooth and the wifi interfaces. With most devices, you hear some interference and background noise when switching to Bluetooth or Wifi, and especially for such a wide and large unit, I would have expected some trouble when using Wifi, as my router is under the table, and the signal goes through the entire unit at all times, while streaming. Both with Wifi and Bluetooth, N25 is perfectly silent, and although Bluetooth doesn't have a sonic performance exactly as good as when you use a Digital input, n25 has absolutely zero noise added from using the Bluetooth or the Wifi input. 
Although there is a USB driver available from the company and on their website, my windows 10 computer actually works by default with N25 with no drivers, and there's no special configuration necessary for using N25 as a USB DAC. I avoided taking photos of the OS / display to showcase how it works and how it looks like, mostly because there are really good explanations of how the unit works in the manual. The only thing you may complain about N25 not doing is to play videos, but I like to believe that when you invest 1500 USD in a streamer, you also have at least a decent TV with QLED or OLED, and any mini display would be better for functions like VU Meters than watching videos on a 4.6″. You will need to always have the USB antenna inserted at the front, otherwise the unit may lock up, which is something to keep in mind. 
Sound Quality
I have used N25 as both a standalone media center, using its own DAC, and as a digital to digital converter / streamer / receiver / digital source. It also works as a Bluetooth Sink, but the bluetooth sound is not quite as clear and well defined as it is when using it as a standalone streamer, regardless of the source (USB / HDD / Network). The DAC chip has superb performance, and although it is a mere ES9018K2M DAC that you can see on dongles, and some entry-level DACs from China, the implementation in N25 gives it a really beautiful sound. I have paired N25 with multiple systems, including headphone and speaker systems, and I can count Cyrus One Cast (used as an AMP but also as a DAC, being fed digital signal from N25), Violectric HPA v340, being used as a headphone amplifier, Feliks Audio Euforia, being used as a headphone amplifier, Audio-GD Master 19, being used as a headphone amplifier, Burson Funk, being used as a stereo integrated amp, Keces S3 being used as a DAC/AMp, Audio analogue AAdac, being used as a DAC and fed digital signal from N25, Rebel AMP being used as a headphone amplifier, and Denafrips Ares II being used as a DAC, being fed digital signal from N25. I have also used HIFIMAN Arya Stealth, HIFIMAN Ananda, Sivga Peacock, Campfire Ara, Campfire Vega 2020, Unique Melody MEST MK2, Spirit Torino Super Leggera, Audeze LCD XC, and Dan Clark Aeon Flow RT, in multiple configurations.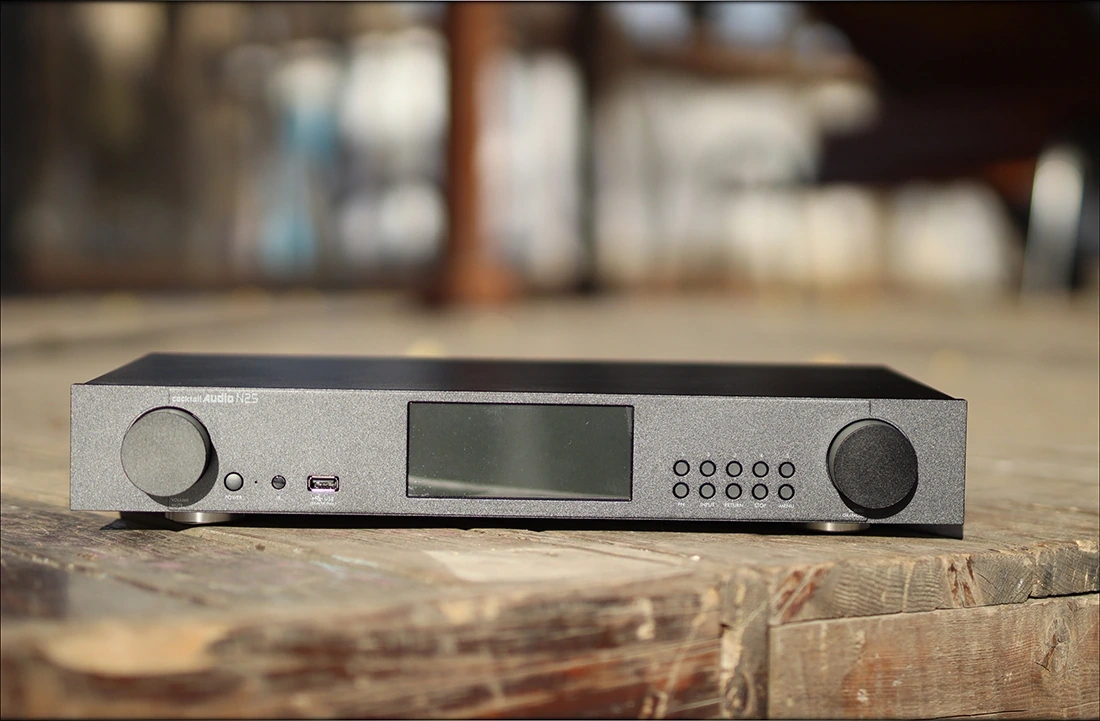 I have allowed N25 about 100 hours of burn-in before taking the final notes, although I did not notice changes in the sonic presentation with usage. It seems to always have the same effect on all systems, and does the same thing for all DACs it is feeding. This is nice to hear, because you aren't forced to choose a single usage scenario by the design. The unit sounds just as good regardless of how you decide to use it, and you're free to enjoy it any way you like. 
When used as a Streamer, it provides a cleaner, deeper sound, with better instrument separation and a wider soundstage. The overall image seems to get wider and deeper, while you tend to notice much more music, with less distractions. While the dynamics can't exactly become better when using a streamer, music just seems more colorful and presented with more detail and clarity. In fact, the effect is quite strong, and really easy to notice during ABX testing, even by listeners who don't know what they're looking for. I arranged this as a fun experiment with a few friends, and they all noticed N25 as sounding deeper, wider, and with a blacker background, during a blind test. The files used were mostly flac files, with both electronic and rock music, and multiple speaker and headphone setups. Following the bass lines is easier when you implement N25 in a system, and the bass seems not only better defined, but also to have less distortion and a quicker speed, better timing. The midrange seems to be presented cleaner, clearer and with more detail. The treble stays the same, although with N25 it feels like the treble is a bit smoother and less fatiguing. Oddly enough, this seems consistent with the differences that other streamers bring to a system, so it is quite possible that the reclocking / processing they do follows the same principle.  
Using N25 as a standalone unit with digital input, but using its own embedded DAC, the sound is really deep and clean, with a dynamic and clean presentation. It doesn't follow the same level of detail or signature as most dongles that sport the ESS ES9018K2M DAC, but rather it sounds like a proper high-end DAC. The overall presentation is smooth in texture, clean and really clean, with a controlled and smooth bass.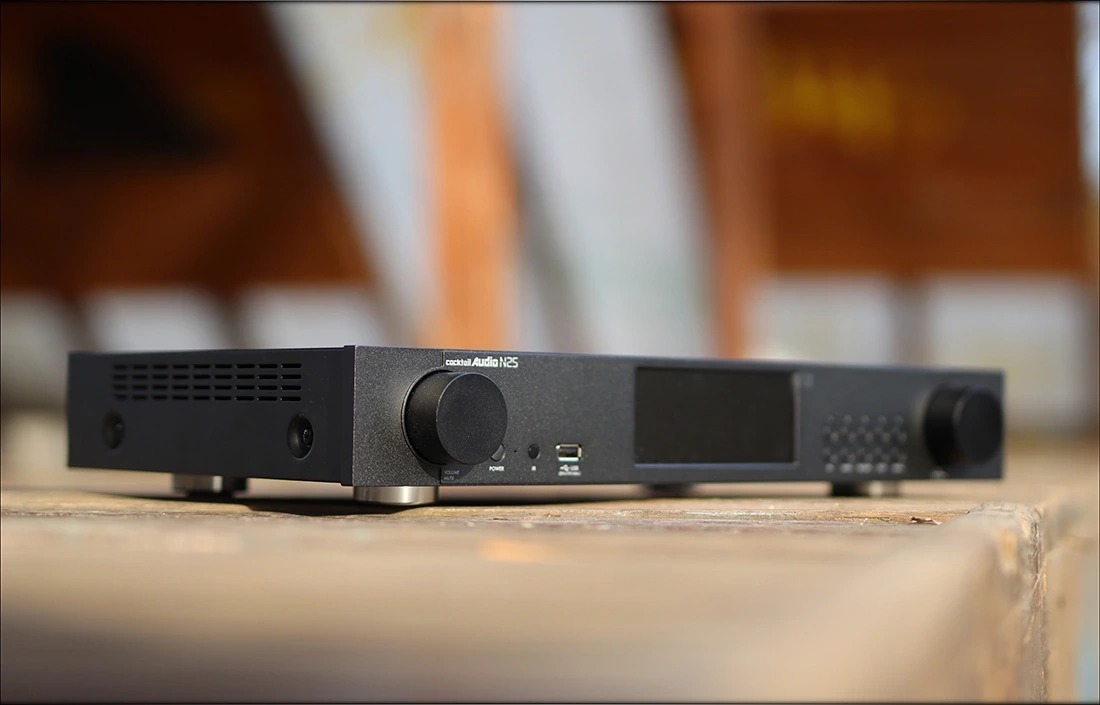 The bass of N25 is well-rounded, slightly warm, and well extended down to the lowest octaves. It doesn't impose in terms of quantity, but it has a really smooth and fluid musical presentation. The focus is not on the quantity, but the quality of the bass, and it has a natural, smooth presentation. The impact and slam is great, N25 keeping a certain neutrality here, having just the natural amount of slam and impact, rather than being bass-shy or bass-heavy. 
The midrange of N25 is where most of the fun happens. Despite the ESS ES9018K2M being a really ubiquitous DAC that's been implemented in a few dongles, Chinese DACs, and more, it is always the implementation, not the DAC chip itself that results in the final presentation. Cocktail Audio implemented it as an alternative, since most people investing 1500 USD in a streamer, most probably have a high-end DAC like AAdac from Audio Analogue, or Keces S3, but N25 sounds so fun, that I often don't feel the need to power an external DAC anymore. The dynamics and soundstage it has are really good, even good compared to 1000 USD DACs, with detail reaching similar levels to competition, like Ares II from Denafrips. In fact, since Ares II is known to have a softer impact, it is worth mentioning that N25 has a high impact, but a smooth texture that's fatigue-free. 
The treble of N25 is on the smoother side, with good extension up to the highest octaves without a bother, but it presents the music in a relaxed and smooth fashion, with a de-emphasis on cymbals and hard edges, giving a more fluid presentation to everything that's being played through it. Most reviewers and listeners would call the signature of N25 as relaxed, mature and well-defined. The zero-distortion policy that applies to every aspect of it gets applied here as well, and the unit simply can bring music to the maximum volume without any feeling of overdrive or distortion, beautifully blending punchiness, power and slam with a refined treble and good dynamics. 
Comparisons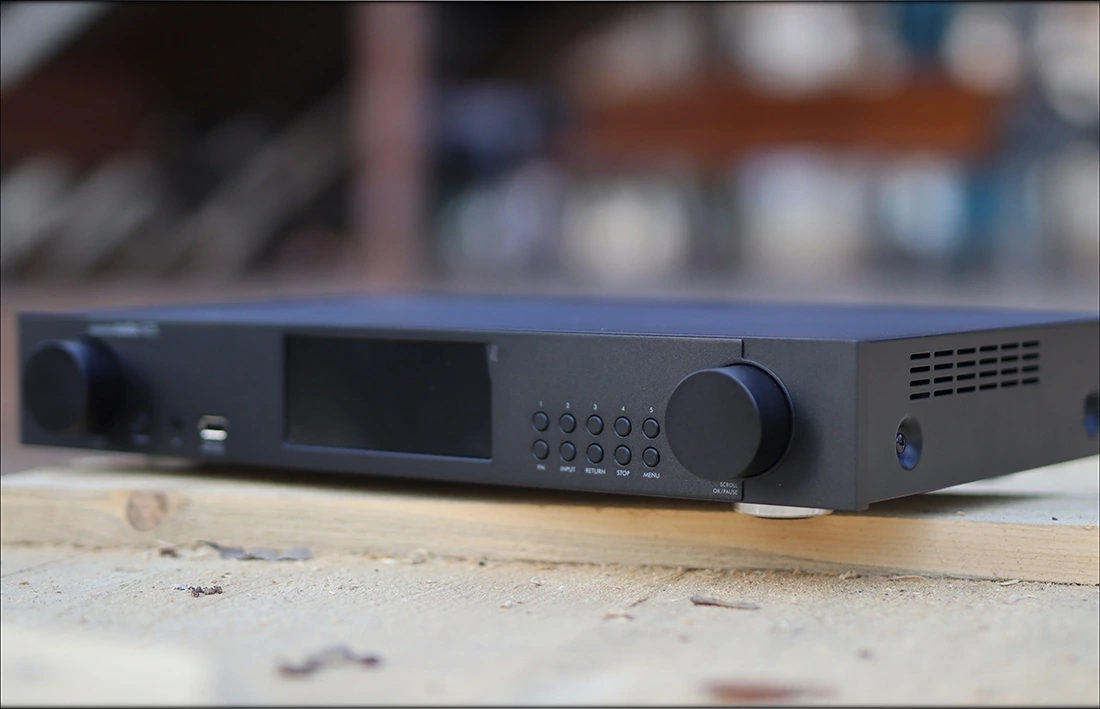 Cocktail Audio N25 vs Magna Hifi Mano MK2 Ultra (1500 USD vs 1200 USD) – While this comparison may feel a bit like I'm favoring N25 a bit too much, the facts are that it only costs 300 USD more, but the functionality is much better than with Mano, which only has I2S and Coaxial outputs, where N25 is extremely versatile, being able to take in signal not only from ethernet, but also Bluetooth aptX HD, read external HDDs, work as a USB DAC, has coaxial input, toslink input, can send bluetooth signal to external systems, and even decode internet radio, and FM radio. While not all of those features will be handy for you, they are still useful features you're likely to want from a streamer that's supposed to connect everything around your home. N25 has a DAC and even has analogue outputs, plus the DAC inside is really well implemented, sounding clean, clear and detailed. The sound, if you're using both as streamers, is actually comparable, and both bring similar improvements to a system, better clarity, instrument separation, a wider and deeper soundstage. Where Mano MK2 Ultra seems to smooth out the treble a bit more, N25 seems to be more neutral and more detailed, Mano MK2 Ultra is more fluid and N25 has more analogue-like sound. Both are great and improve a system, but N25 is far easier to use if you have a PC computer and plan on connecting a streamer for reclocking and Digital to Digital conversion. 
Cocktail Audio N25 vs Soundaware A1x PRO (1500 USD vs 700 USD) – This comparison is not exactly fair, as the price of N25 is considerably higher than A1X PRO, but A1X pro has a headphone AMP that's quite good, and DAC functions too. Here, I think that if you need an all-in-one Streamer / DAC / AMP, A1X PRO could do nicely for the price, but as far as streamers go, N25 is much better, both functionally and sonically. Functionally, the GUI is quicker, everything is more streamlined with N25, it has more features (MQA, HDMI ARC, quicker USB Speed, you can adjust the volume via its volume wheel, etc.), and sonically, it is more clean, more clear, more detailed, and sounds wider, with better instrument separation. If you pay double the price, you get more than double the functionality and an improved sound, so N25 shows good overall value here. 
Cocktail Audio N25 vs Cyrus One Cast (1500 USD vs 2000 USD) –  Cyrus One cast costs just a bit more, but it can do more, and less at the same time. The digital inputs and outputs of One Cast are lower than those of N25, and One Cast sounds worse if you want to rely heavily on the bluetooth input, having no option for a bluetooth output, but at the same time, it can drive speakers, take in an analogue input, and drive headphones, with a Class AB AMP for headphones, and class D AMP for Speakers. At the same time, Cyrus One Cast is marketed as a streamer itself, but if you're using both N25 and One Cast via the USB Input, N25 can actually help One Cast sound a bit cleaner via its USB input. If you're to invest the money in either of them, you really need to take into account what your system currently looks like. Cyrus One Cast can be a one device system, with a really high-end headphone AMP, speaker AMP, Receiver, Streamer, Photo Preamp, and Bluetooth input, while N25 is a dedicated streamer that does only streaming, but does it better, can play from an external HDD, decode MQA, act as a roon endpoint. Both units have an entry-level DAC embedded, N25's DAC sounds a bit better, while One Cast sounds really nice as a headphone / Speaker AMP, and I would just use a different DAC for it entirely. Ironically though, One Cast is great as a Streamer too, so I would intake data with it, pass to a DAC for decoding, then use the AV input and use it as a headphone / Speaker AMP. N25 works great as both DAC and Streamer. It seems that as a streamer, N25 is better than all alternatives tested to date, although against One Cast in particular, the features of Cyrus One Cast make it more of a smart AMP than a streamer. 
Pairings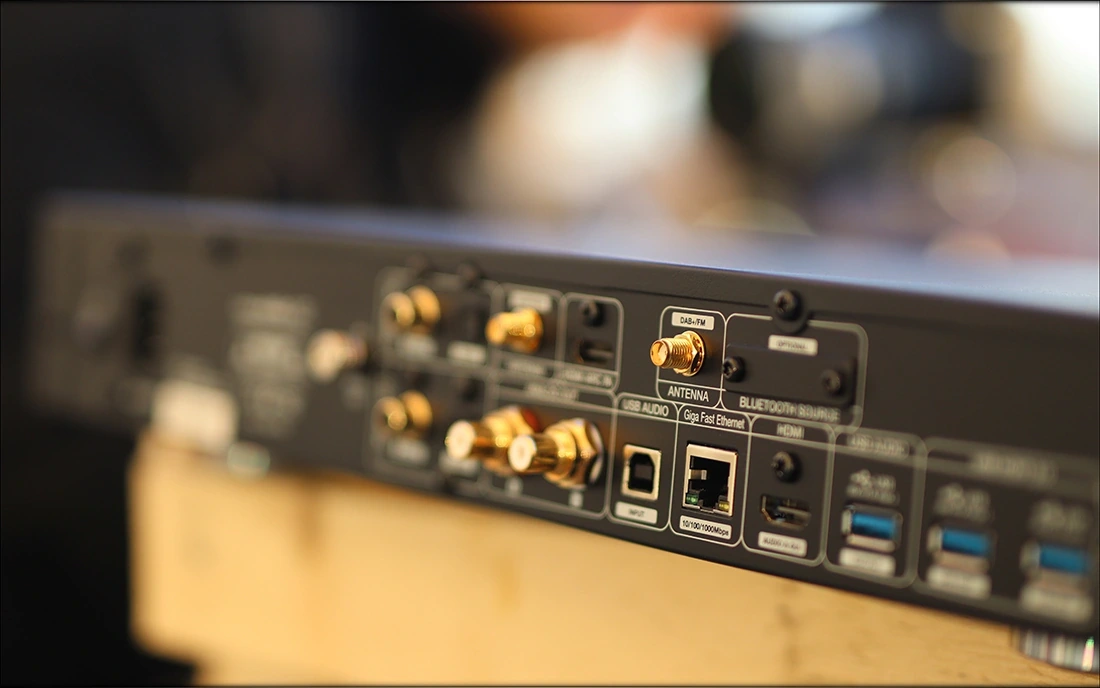 Cocktail Audio N25 + Violectric HPA V340 Amplifier (2000 EURO) + HIFIMAN Arya Stealth Headphones (1600 USD) – This is the main system I wanted to test N25 with, because I really like both HPA V340 and Arya Stealth, as both are excellent products, while N25's more budget DAC is one that people can still question. When used as a DAC for the system, it creates a really wide, and deep image, with tons of detail, and good clarity. The background is really clean, with no noise, but it also has a nice amount of punch to it. If there's anything that isn't quite where I would've wanted, using N25 as a streamer when adding a high-end DAC to this system, like AAdac from AudioAnalog, shows that the DAC inside N25 has less micro detail than high-end DACs have when you climb the price ladder. Around this price point, I actually like the punchiness and overall impact more than Ares II from Denafrips, when using them side by side. 
Cocktail Audio N25 + SMSL DO200 Amplifier (280 USD) + NHT C3 Speakers (1000 USD) – I really like this pairing, as N25 counters the more mellow presentation of DO200 with some needed clarity, and good detail. I also appreciate the overall soundstage of the pairing, and C3 is a speaker that likes some punch, but also has good detail revealing ability, so they can reveal how N25 influences a system, even when compared to other Streamers / DACs. N25 seems to have the best effect on how quiet the background is, as well as the soundstage size. 
Value and Conclusion
There's been a lot of talk about the value of a streamer, especially since my review on Mano Ultra MK2, but at the end of the day, they are an important part of your system, after you surpass a certain point. My best suggestion, if you don't believe that an improved cable, or a streamer can change a system's sound, is to try and listen to one. I personally am a big science geek / enthusiast, so when I report that N25 improves the sound of my system, it is done after a rigorous blind ABX test, putting it to the wall. N25 is a complex sound system that helps streamline the music listening experience and has features that even your PC won't support, like having a bluetooth sink with aptX HD abilities (not supported on most windows configurations), sending Bluetooth signal in aptX HD (also not supported on most windows configurations). It improves the sonics if you're using it with a computer, but also offers isolated streaming, even Roon configurations, as well as airplay and MQA decoding abilities. For the price of 1500 USD, which may seem steep at first, it offers far more than most competitors do around this price point, even without taking the sonic performance into account. 
But when we start listening to N25, iot is clear that it offers not only a very compelling package, but also excellent sonics, excellent instrument separation, and a more colorful midrange with less background noise than if it isn't used in a system. I'm a fan of simple things, it can work without the need to invest in anything else besides N25, it works with any USB Cable, it can read files from my external HDD, which is 10 TB in size, and if you have a tidy collection based on the Music Style / Artist / Year – Album / Song Number . Song Title hierarchy, you'll find any piece you're looking for in no time. 
Before the end of today's review, I am going to add cocktail audio N25 to Audiophile-Heaven's Hall Of Fame, as one of the best streamers out there, and the best streamer I tested to date, a truly impressive listen and experience. I haven't started doing awards like other websites yet, but if I will start, I will need to award Cocktail Audio N25 the "Best Streamer of 2022" award for sure. I am looking forward to hearing more of their products, as so far cocktail Audio offers a better performance than most streamer makers out there.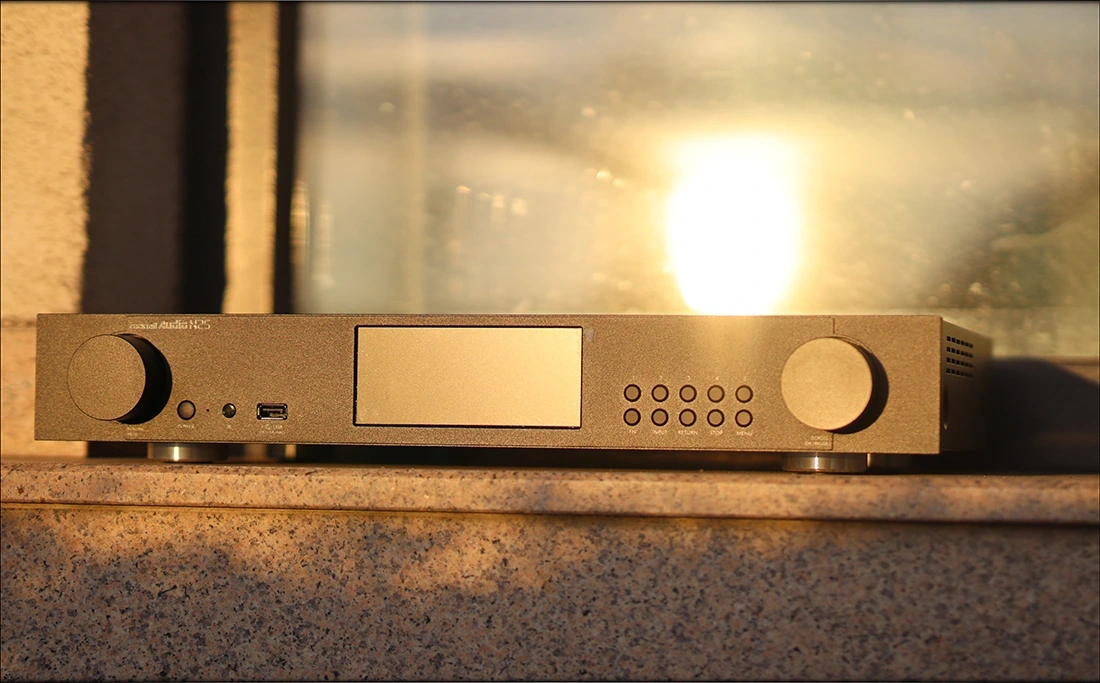 At the end of the day, if you're looking for beautiful sonics, excellent usage scenarios, with support for Bluetooth inputs, Bluetooth outputs, MQA decoding, Roon Point support, External HDD support, and even USB DAC support, with a beautiful, well isolated, detailed sound, and good Wifi coverage, then cocktail Audio N25 is the best streamer I can recommend you out of everything I reviewed so far. 
Product Link
You can grab one from www.amazon.com here: https://amzn.to/3qaQhtU
If you're in the UK, you can grab one from www.amazon.co.uk here: https://amzn.to/3HKDOmK
And if you're from Europe, you can grab one from www.amazon.de here: https://amzn.to/34DxJKH
---
---
--- Please remember to stay safe, and always have fun while listening to music!---
 - If you have a dime to spare, and donate, to help us with electricity and work expenses, it would make my day much brighter, as it would help me improve things around the website and increase the frequency of my posts - 
---
Full Playlist used for this review
We listened to more songs than those named in this playlist, but those are excellent for identifying a sonic signature.  PRaT, Texturization, Detail, Resolution, Dynamics, Impact, and overall tonality are all revealed by those songs. We recommend trying most of the songs from this playlist, especially if you're searching for new music!
https://www.youtube.com/playlist?list=PL_cjBXGmwSHSdGcwuc_bKbBDGHL4QvYBu
--- Contact Us ---






---
---