NxEars Basso – Long Awaited, But Welcome
NXEars Basso is an IEM made with 4 Balanced Armatures, a real copper face plate, and an MMCX Removable cable. They are priced at about 550 USD at the moment of writing this review, so they will be compared to fierce competition like iBasso IT07, Jomo Audio P3 Percussion, IMR Opus Mia, FiiO FA9, and Light Harmonic Mera Signature.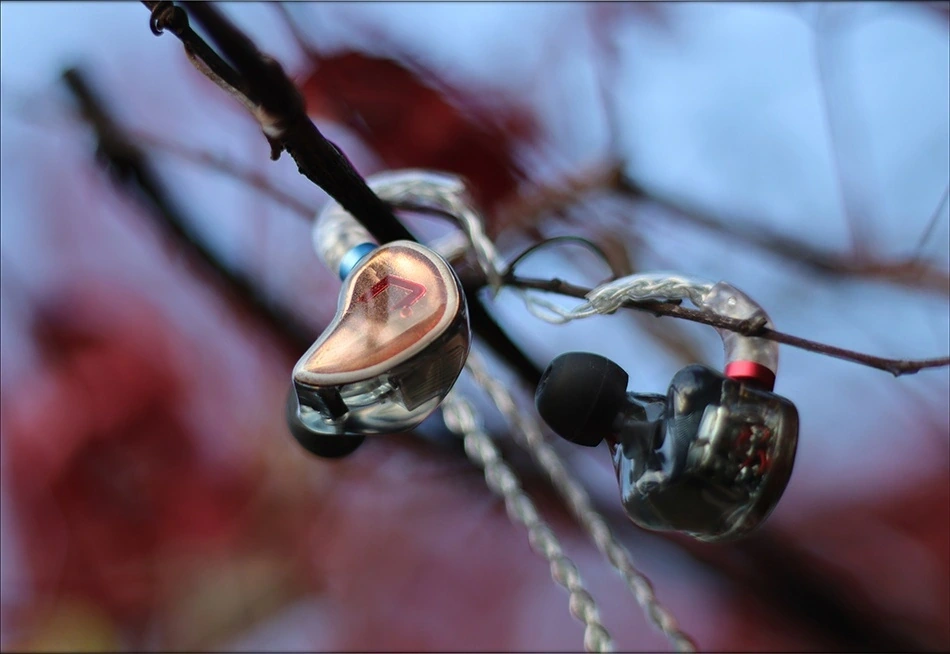 Introduction
NXEars is a very professional company that actually creates new unique tech for IEMs, rather than just implementing the existing one in new products. They rely on Knowles Balanced Armatures, and they also use an AGL tech inside their IEMS, or Aperiodic Ground Loading tech. This is basically a soundstage tweak that allows you get a close to over-the-ear experience from an IEM. They also use multiway crossovers, so it will be interesting to analyse whether those affect overall coherency and since we're having multi-BA designs, the bass performance will also be interesting. From my personal experience, I can say that NXears are really pleasing to work with, and while my package reached me extremely slowly, after a few months, that has nothing to do with NXears, and from their HQ, it was shipped within a few days. The issue there was with the international postage which is still recovering slowly from the pandemic, so although the title may imply I'm angry, NXears has nothing to do with that. Their IEMs are made with excellent quality, and you can expect a long and trusty service from them. 
It should be noted that I have absolutely no affiliation with NXEars, I am not receiving any incentive for this review or to sweeten things out. I'd like to thank NXEars for providing the sample for this review. Every opinion expressed is mine and I stand by it. The purpose of this review is to help those interested in NXEars Basso find their next music companion. 
Product Link
You can purchase your NxEars Basso from here: https://www.nxears.com/product/basso
You can always grab one of the APR 204 from a local dealer, or on www.amazon.com, once it goes available there: https://amzn.to/3La6ngh
Packaging
First things first, let's get the packaging out of the way:
I received no official package with the Basso, just the IEMs, three sets of tips, and a carrying case. I understand that the commercial package is much better, but I can't comment on it. The caring case is basic, and the tips too.
My cable is actually borrowed from the more expensive model Opera, but two of the 4 strands of each IEM were cut to bring the quality closer to the cable of the Basso. I considered it fair to explain this, as you may be able to notice this in some of the photos. 
Build Quality/Aesthetics/Fit/Comfort
NXEars Basso is a really solid IEM, with a plastic / acrylic shell. The copper face plate is actually a great addition to the IEMs, as it gives them a classy-modern look, but also helps with the sound, improving the bass. While any metal could have worked, copper is particularly nice to work with in Audio, although most of the time it is found inside cables. 
The MMCX Connector is of an excellent quality, it makes a satisfying click when it is inserted, while the eartips are supported by a very smaller lip at the IEM level. The tubes are quite long, and will result in a deep fit with the Basso, and I used Spinfit tips, as they are compatible with the Basso. I try to use the same tips throughout all my reviews, to eliminate as many of the differences as possible. 
The spinfit tips have a very snug fit with the Basso, they sit nicely. The default tips can slide out and you can sometimes find the silicone tips in your ear after taking the IEMs out. The overall comfort is rather good, I love the fit, and the IEMs are almost swallowed by my ears. They are not the smallest and won't work as well for smaller ears. The passive noise isolation is really good, about 20 to 30 dB of passive noise isolation.
There are no metallic grilles or protections on the IEM bores, so it is possible for wax and other debris to enter them. I suggest cleaning them every once in a while, to protect them. Balanced armature drivers are not prone to damage, you only need to fear the tubes clogging. The cables can turn freely inside the MMCX sockets. 
Sound Quality
I want to start by saying that I actually love the sound of the Basso, they are a really fun, bass-mids centered IEM with a really natural tuning. The sub bass in particular is nicely emphasized, while giving some substance to the lower bass too. I have been using a few portables to power the Basso, as they don't need a lot of power. Among those, I relied the most on Lotoo Paw 6000, Lotto Paw S1, Shanling M2x, Hiby R2, and even Tempotec v1a Variations. 
The upper bass is recessed, which is different from most IEMs, so the Basso is not one bit veiled and unnecessary thick, rather being open, impactful, dynamic and vivid. The bass is really clean and has excellent reverberance, while having a natural amount of texture. It compliments both metal, EDM, pop and classical music alike. The Basso is really forgiving of bad recordings, and listening to the song "I was once, possibly maybe perhaps a cowboy king" by Asking Alexandra results in a really fun and natural experience. The fun part is that both the demo and the studio version sound awesome, so you don't have to worry if your main style is old-school rock like Ozzy. 
The midrange is really really natural. There are no dips, no peaks, voices are a bit forward, but really natural, with one of the closest to actual real tonalities I've ever heard. The overall detail level is good, but the signature is slightly smooth, so Basso is not made for those who want every texture in the sound extruded. Rather, they trade this kind of texturization for a really musical and liquid experience. In fact, the entire sound reminds me an awful lot of the Rosson RAD-0, and their smoother yet liquid presentation. The soundstage is actually great, and Basso has a grand presentation, which is helped by both the large bass and the wide sounding midrange. 
I can't say for sure if it will be everyone's cup of tea, but I can guarantee that everyone hearing the Basso will like them, no one will ever say to themselves that this is not a good IEM. The presentation is enjoyable universally, regardless of taste and music style. 
Then, there's the treble. The treble would be the weakest part of the Basso, and I'm saying this because they have a smoother, more relaxed treble. This is great if you don't like strong treble, but it can be a bit boring with certain metal music styles. This being said, the treble works great for loud listening volumes, and it is never fatiguing, despite having some presence, enough to keep the Basso universally entertaining. The lesser focus on treble and enhanced midrange helps a lot with guitars and instrumentals, and also with dynamics. All in all, Basso is really enjoyable, warm and fun regardless of what you're looking for and expecting, but it will be a full season's heaven if you like warmer natural signatures. The sound of Basso could be considered to be really analogue-like, and reminds me a lot of the time I experimented with Vinyl records. 
Comparisons 
When a company goes for this price point, they are well aware that they're going to be compared to a ton of other IEMs, and that someone investing this kind of cash in a single IEM will want to have the best with no second thoughts. This is why I selected a few IEMs that both have a similar price point, but also a similar signature, to help you choose the one that would best fit your tastes. 
To drive the Basso, you mainly need a silent source, as they are sensitive to hiss, but they require little power and are well driven by almost anything decent. This means that you could be rocking a FiiO BTR5 or Qudelix 5K, and have lots of fun with the Basso. You could also be rocking a high-end DAP like iBasso DX300, or Lotoo Paw 6000, and have the time of your life with the Basso, but at the end of the day, even a smartphone can drive them perfectly well. It is always fun to find and recommend an IEM that is not source picky, because it means you're safe from all the hassle of switching sources and from finding the perfect pairing. 
NXEars Basso is probably the most permissive IEM out there when it comes to both the driving source and the music material played, they just sound good regardless of what you're doing with them, and how you're using them. 
NXEars Basso IEMs vs FiiO FA9 (500 USD vs 500 USD) – This is probably the most balanced comparison I am doing today, thanks to the price being pretty much equal. I've been spoiled by the package and accessories of FA9, so it is going to win all the points I have to give for that. The comfort is a bit better on FA9 too. In terms of sonics, Fa9 is actually even more general and generalist and generic than Baso, and where Baso is really natural, fluid and coherent in sound, FA9 is simply a high-quality V-Shaped sounding IEM. There's very little in terms of coloration with FA9, and they could easily pass for everyone, having a nice detail, soundstage, separation and being really well balanced in everything. Baso is a bit more specific, being a bit warm, having a smoother treble, and a smoother presentation in general. If you're listening to a ton of old music, NxEars Baso should be your choice, while if you're listening to contemporary music a lot, FA9 may be a better choice. For guitars, Baso, while if your music has a lot of synthetic instruments, Fa9 has a bit more textures that help with that. 
NXEars Basso IEMs vs Jomo Audio P3 Percusion (500 USD vs 425 USD) – When you don't want to go equal or bigger, you want to go lower in price with the comparisons, and P3 Percusion is an excellent example of this. The sound of P3 is actually different from Baso, despite them having a similar concept at the roots. P3 is a bit larger and the comfort is a bit better on the Baso, at least for my ears. The deeper fit and the ergonomy of the shells works better on Baso. The sound is more punchy, and far more punchy, on P3. Jomo audio is not joking when they are saying that they made an IEM for drummers, and you can totally hear one of the most natural drum experiences on P3, with every single detail being there. This also means better cymbal reproduction, so better treble, with more energy, while Baso sounds way more natural in the mids, with a warmer midrange, larger and more open midrange, and a more happy tuning. While P3 is uncolored, Baso sounds natural, and if anything, they are a bit warm. Baso works better with more music styles, especially if you're a bit unsure about your tastes. If you often find yourself enjoying rock, metal or percussion, the P3 is a must, or at least "a must hear". 
NXEars Basso IEMs vs iBasso IT07 (500 USD vs 900 USD) – I think it is good to always explore how something compares to both more expensive and more affordable competitors, as otherwise you could be missing some key comparisons someone is following. This happens to me often, as sometimes I myself am not quite sure what I want to go for and why, so I end up reading reviews from multiple price brackets, to at least understand the differences between those brackets before I can think of a decision. Such is the case here, where IT07 is quite a bit more expensive than the Baso, but they also have a natural sound. The biggest difference is in detail and refinement, and IT07 is an upgrade form the Baso, and it is more pricey too. Things are almost linear here, with the price increase, the quality increase is pretty good. But this also means that if you don't have the 900 USD to shell out, you could get the Baso and have a similar experience. There are some differences too, with Baso being smoother, more liquid sounding, and warmer, happier sounding, while It07 is more mature, and more precise, but less jolly in sound. 
NXEars Basso IEMs vs IMR Opus Mia (500 USD vs 700 USD) – Opus Mia has waay more bass than the Baso, and even if you could EQ the Baso, it could never have the rumble and deep impact that Opus Mia has. The treble is also far more uplifted on Opus Mia, and they have more detail, but this results in a less natural midrange, and the detail comes at a trade for listening comfort. By comparison, Nx Ears BASO is far more natural in the mids, and has a better compatibility with a wider range of music styles. I can do Metal, Rock and EDM with Opus Mia, but with Baso I can go for anything, from Post-Hardcore, to Jazz to Deathcore. Opus Mia is more sensitive to hiss, and they have a larger body, NX Ears Baso having a better comfort, although Opus Mia is made of Metal, while Baso is made of Acrylic / Plastic. You could take the edge off Opus Mia and tone down their upper midrange, potentially making them smoother, but the mids are still a bit more natural on the Baso. 
NXEars Basso IEMs vs Light Harmonic Mera Signature (500 USD vs 700 USD) – Mera Siggy is the kind of IEM that is strongly V-Shaped, but which I appreciated was a great value back when I reviewed it. The comfort is actually great on both IEMs, but the sound is quite different. The upper midrange of the Mera Signature is much more emphasized, and so is the lower bass and sub-bass compared to the rest of the signature. This causes the Mera Signature to be rather V-Shaped, and in comparison Nx Ears Baso is far more natural, more forgiving and has more presence in the midrange. Mera Signature has recessed mids and works really well with electronic, pop and EDM music, but Baso works well with all music styles, and is easier to recommend unless you know you want an aggressively V-Shaped IEM. Detail and resolution is better on Mera Signature, but the price is higher too. 
Value and Conclusion
The value of the NXEars Basso is excellent, and despite their upper midrange price point, they deliver a unique and pleasing experience. The build quality of the IEMS is great, and although mine came with the better cable, but cut, I do think that even with their own default cable, they would sound amazing. 
I have never heard of an IEM that has such an easy time being driven from a large number of sources, is so comfortable, and sounds so darn natural, all at the same time. Basso also has the unique quality of being actually detailed while going for this signature, and if I was comparing them to Beyerdynamic Xelento, I would say that Basso has more detail and resolution, despite the lower price point. This is also a huge argument on why I do think they have a great value. 
The lack of a commercial package and their own cable are the only things stopping me from adding them to Audiophile-Heaven's Hall Of Fame, but I promise to explore the other NXEars models too, and hopefully their Opera IEMs will come complete and I will be able to add them here, because with the experience and performance of the Basso, they did win a place in my heart and Fame Hall. 
At the end of today's review, if you're looking for an upper midrange IEM that sounds natural, is easy going about the source, and doesn't force you to purchase anything else, and if you like a deeper fit and tons of passive noise isolation, the NX Ears Basso is an excellent purchase, and an IEM I can totally recommend you to get in 2021. 
Product Link
You can purchase your NxEars Basso from here: https://www.nxears.com/product/basso
You can always grab one of the APR 204 from a local dealer, or on www.amazon.com, once it goes available there: https://amzn.to/3La6ngh
---
---
--- Please remember to stay safe, and always have fun while listening to music!---
 - If you have a dime to spare, and donate, to help us with electricity and work expenses, it would make my day much brighter, as it would help me improve things around the website and increase the frequency of my posts - 
---
Full Playlist used for this review
We listened to more songs than those named in this playlist, but those are excellent for identifying a sonic signature.  PRaT, Texturization, Detail, Resolution, Dynamics, Impact, and overall tonality are all revealed by those songs. We recommend trying most of the songs from this playlist, especially if you're searching for new music!
https://www.youtube.com/playlist?list=PL_cjBXGmwSHSdGcwuc_bKbBDGHL4QvYBu
--- Contact Us ---






---
---