Fly With Me – Earmen Sparrow Ultraportable DAC / AMP 
Earmen Sparrow is like a tiny thumb drive that can actually drive IEMs and Headphones. It costs 200 USD, being one of the more pricey DAC/AMPs that exists in this tiny shape, and it has a type-C port, and a driving power of 4.0 V on the Balanced output. It will be compared to Lotoo Paw S1, Centrance DACport HD, and iFi Hip DAC. The pairing list will include Final Audio A8000, Sivga P-II, and Meze Rai Penta.
Important note: I have edited this review, to better follow the internal guidelines, and after having the original unit replaced, as it seems I was experiencing a fault in the build and it was not performing up to the maximum potential. After re-reading it, I realized I was suffering from a strong melancholy at that time I first wrote the review, as it was right when the first Corona lockdown happened, so I edited certain paragraphs that came out considerably more negative than were intended.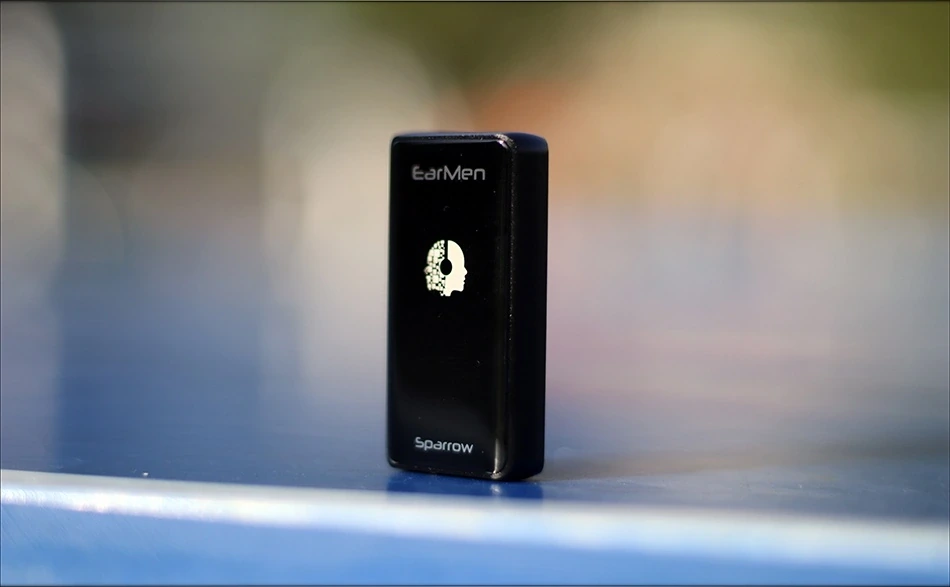 Introduction
Earmen is a company from USA, and they are friendly with their customers. This came as a surprise to me, who knew about Auris Audio and them coming from Serbia, but it has been confirmed by them that Eramen is an American Brand, and all their products come from the USA. 
You can totally purchase their products and rely on them, but be careful because after a while you may need that warranty. Happily, they are the type of guys who will help you recover it, even if you somehow manage to lose it. The name sparrow seems to come from the company wanting to design is as a killer against the Dragonfly series from Audioquest. The company has a dual approach, having both great scientific data to back their products, and great overall subjective impressions, their products usually being the result of good concept and design.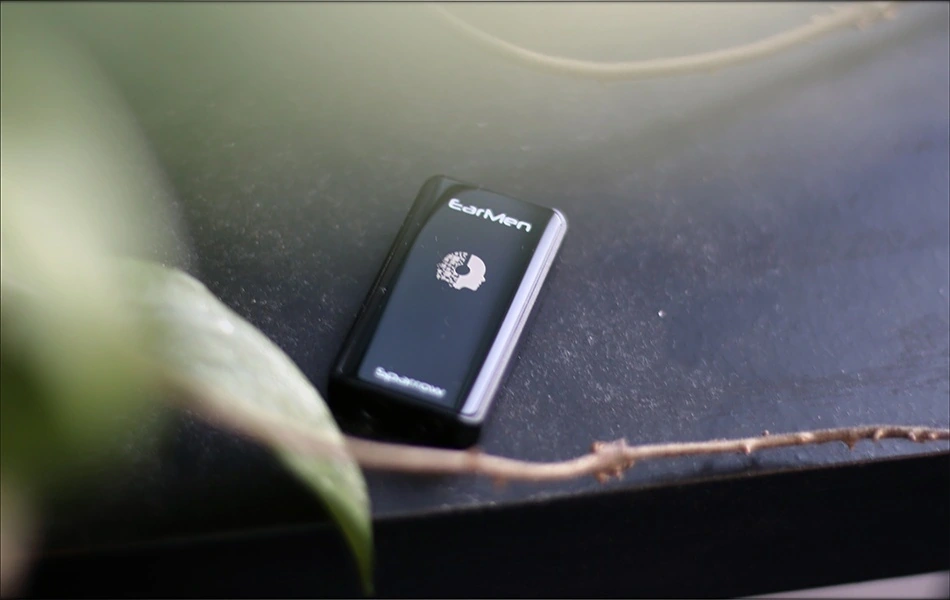 It should be noted that I have absolutely no affiliation with Earmen. I'd like to thank Earmen for providing the sample for this review. This review reflects my personal experience with the Earmen Sparrow. Every opinion expressed is mine and I stand by it, the purpose of this review is to help those interested in Earmen Sparrow find their next music companion. Since I reviewed many competitors as well, this review isn't trying to sell the Sparrow to you, but rather trying to help you decide on what is the best choice for you, based on pairings, comparisons and descriptions.
Product Link
You can get the Earmen Sparrow from here: https://earmen-shop.com/products/sparrow
Packaging
First things first, let's get the packaging out of the way:
We're talking about a high-end DAC/AMP at this price point, and it does come with extras, two high quality cables. You should try to shield it a bit while out and about, but the full metallic build paired with a glass body is actually pretty scratch resistant, and I have not been able to damage it while in usage. 
Build Quality/Aesthetics/Functionality
Happily it has more than enough power for anything you may imagine throwing at it. Usually, companies like to over brag about their products, which is not helping as many of you guys have been returning and asking me why certain DAC/AMps can't drive your headphones properly. The sparrow should have more than enough juice for portables. It has a really beautiful aesthetic, and this is how my dream ultra portable DAC/AMP looks like. Smol, glassy, and made like a tiny tank. Really tiny one. It is a slightly slippery device, so be careful when handling it.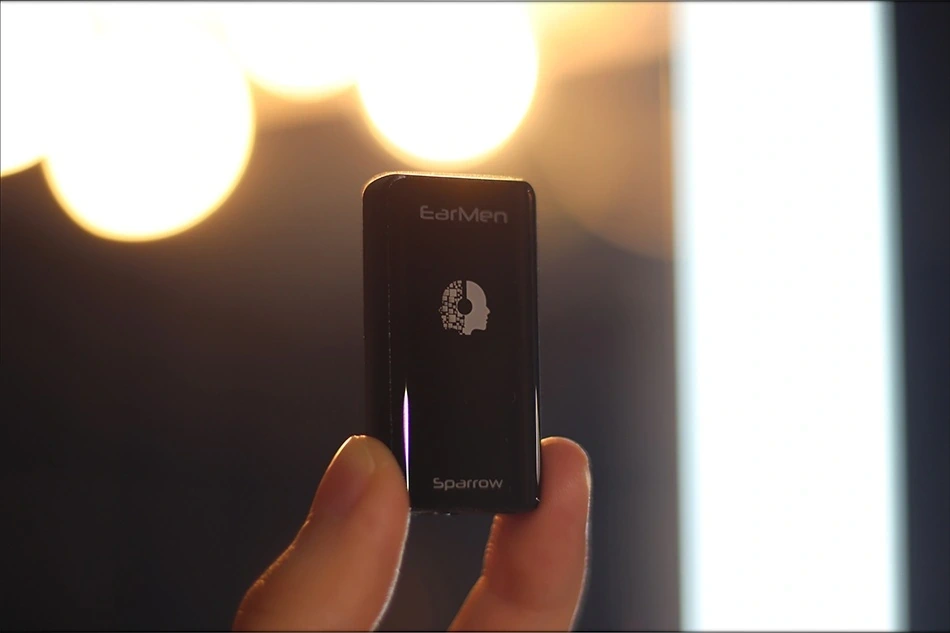 I would recommend using double sided velcro strips to attach it to your smartphone while using it. It has no Bluetooth like FiiO BTR5, but it has MQA decoding abilities, along with DSD and DXD decoding abilities. It is also one of the very few DAC/AMPs that stays fairly cool during usage, and which can drive Sivga P-II very well from the balanced output. The sound is incredibly good with MQA, so if you haven't tested MQA yet, you better give it a go, it is fun and the sound is pretty great. 
The balanced output sounds much better than the Single Ended one, and it has more driving power too. It is easily recognized by all my smartphones, windows computer and laptop, and doesn't need a driver installed. If you need an alternative cable, I recommend checking out this one, which I use and I like a lot: https://www.amazon.com/CableCreation-Braided-Compatible-MacBook-Resistance/dp/B01CZVEUIE
The unit is light, and feels well made, and the Earmen Logo lights up during usage, and in different colors depending on what type of files you're decoding. The DAC inside is an ESS ES9218PRO, a really ballsy one actually. In fact, it is the only ultraportable DAC/AMP that has this DAC in the PRO version, and Earmen is not afraid to use it at its full potential.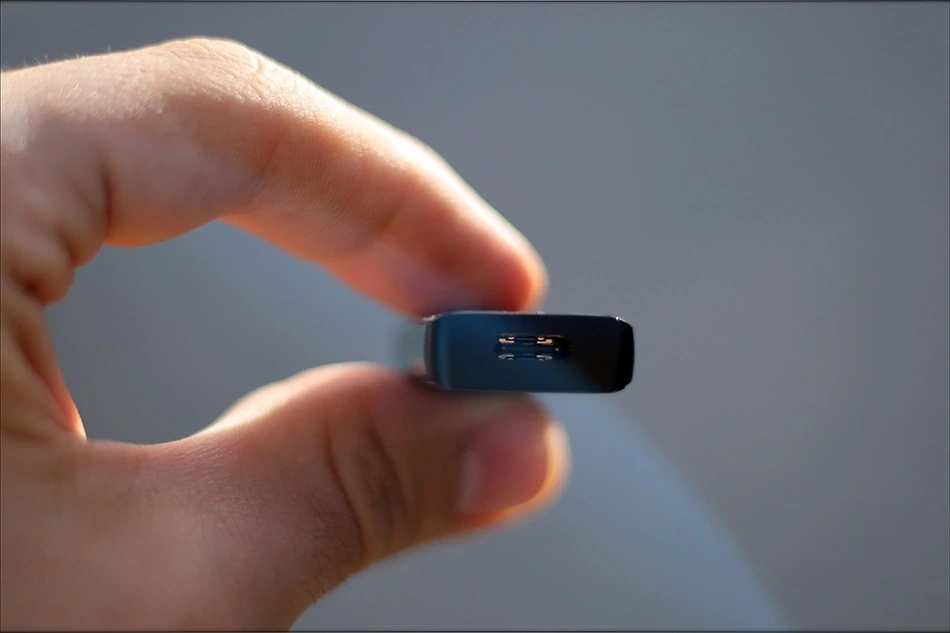 Despite all of this, it doesn't really drain too much battery from my Xiaomi Note 9S or Huawei P20, so I can easily recommend it for portability. It doesn't take noise from being close to a smartphone either, being well protected from EMI or interference, and I experienced no issues with it while using it, although the original cables did not work well for me, and I like the ergonomics of aftermarket ones. 
Technical Data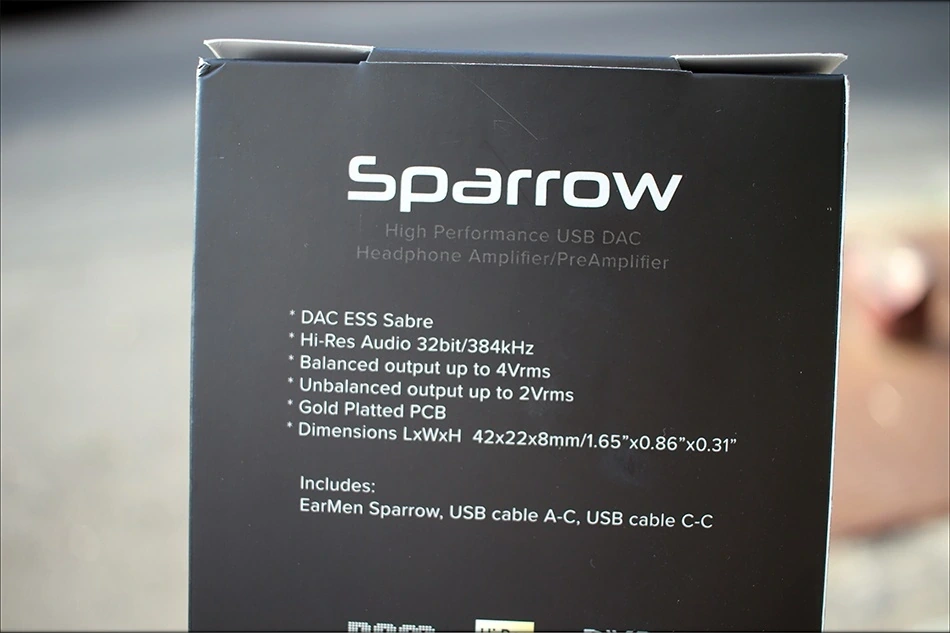 Video Review
Sound Quality
The sound of the Sparrow is really impressive, being one of the most transparent and detailed DAC/AMPs you can find around the price point. It doesn't have much of a signature, as transparency itself means that it doesn't color, but rather play what it is being fed. Earmen Sparrow has a really clean sound, with tons of detail, a wide soundstage, and reminds me an awful lot of NextDrive Spectra X, when it comes to the dynamics, having a magically dynamic presentation. Please be careful, the volume from the balanced output can be really loud at 10/100 with IEMs, so it has tons of power to spare, but if you don't adjust it carefully you may lose an IEM or an ear. 
The overall sound of the Sparrow can be described as extremely clean and precise, with no elevation at any point in the sonic range. It has a linear performance, with a quick, tight bass, deep soundstage, and with an energetic treble, good air and a wide soundstage. 
The bass is generally really quick and snappy, but can get really low and hit you with extreme impact. The deep rumble is outstanding and reminds me more of what stuff in the ~500 USD price range can do. The overall extension is better on the balanced output, with even more impact, and the bass is extremely clean. Using MQA files, the bass seems to warm up a bit, and to sound more analogue-like, with better realism and more quantity, yet the same quick and revealing presentation. 
In fact this is a very persistent characteristic of the sound of Sparrow, it is clean to the point of insanity. There's no background noise, there are no uncontrolled passages, and regardless of what you connect it to, it has really good authority. The dynamics in the mids are extremely good for the price, and the overall texture is smooth, grain-free, and fatigue-free. It has that special juicy presentation for guitars that I enjoy greatly, and in my book the mids are a 10/10. 
The treble is also nicely done, with a good extension up to the highest octaves, with really nice details and a wide soundstage. The overall sound is slightly forward, so metal music lovers will surely appreciate the Sparrow. The name starts to make sense, and it is a good counterpart to the Dragonfly series. The Audioquest gems are known to be a bit laid-back and relaxed, the Sparrow being there for the attack. Having compared them side by side, I would say that the company aimed perfectly well at eating away their competition. For example, if you hear them side-by-side, you know that Sparrow is much quicker, more punchy, more dynamic. The treble is my favorite part of the Sparrow, being so brilliant in extension and energy that I'm rocking to Dance Gavin Dance and Closure in Moscow even while writing those very words. 
Comparisons
The main comparisons I picked for your reading pleasure are with Lotoo Paw S1, Centrance DACport HD, and iFi Hip DAC. 
There are tons of good USB DACs in this price range, like the Earmen TR-AMP (which is just 50 USD more than the sparrow), being one of my favorite DAC/AMPs still in 2021. 
Earmen Sparrow vs Lotoo Paw S1 (200 USD vs 170 USD) – Lotoo Paw S1 has a 4.4mm balanced output, where Sparrow relies on a 2.5mm one. Given the size and shape, it is understandable why each went for the respective option, and S1 is nowhere near as portable as the Sparrow. I would describe the S1 as being wider, with more emphasis on warmth, and less air in the treble. The Sparrow is more engaging, has a more vivid and colorful midrange, is more dynamic, and the Sparrow has a more juicy mid paired with more treble extension. The Sparrow also sounds slightly more forward, bringing more detail to the listener, and although it doesn't have an EQ option like S1, it seems to have better control at maximum volume, with lower distortion. 
Earmen Sparrow vs Centrance DACport HD (200 USD vs 180 USD) – Centrance DACport HD is aimed at those who want to use it with really hard to drive cans that cross the entry-level price point, and who don't want to use a balanced cable for it. The DACportHd sounds warm, forward and aggressive sound with tons of power. The Sparrow has even more power over the balanced output. Earmen Sparrow has more detail, a more vivid and colorful midrange, and a deeper soundstage, with better instrument separation. 
Earmen Sparrow vs ifi Hip DAC (200 USD vs 150 USD) – The Sparrow has more driving power on Balanced, with a more engaging and dynamic midrange, and a deeper soundstage. There's better treble extension to the Sparrow, with more air and more sparkle, plus better control at the maximum volume. 
Pairing 
The pairing part will include pairings with Final Audio A8000, Meze Rai Penta, and Sivga P-II. I went with pretty pricey IEMs because the Sparrow is aimed at harder to drive and more picky partners, and it makes more sense when the IEM can reveal how good the source is as well. 
All of the partners I picked are easily driven By the Sparrow, and it could easily drive a HIFIMAN Deva, iBasso SR-2, and even an HIFIMAN Arya too, so don't be shy with pairing it when you got for its mates. 
Earmen Sparrow + Final Audio A8000 – (200 USD + 2000 USD) – A8000 is a bit of a benchmark to me, and the Sparrow passed the test! It got good details, no background noise, and a ton of impact in its sound. The dynamics are awesome too, and the overall engagement factor is great, making me keep this pairing always close to me when I go out and about. 
Earmen Sparrow + Meze Rai Penta – (200 USD + 1300 USD) – Meze Rai Penta is actually helped a lot by the Sparrow, as it gives them a sparkly sound in the highs, which they direly needed. They have a smooth top end, and are somewhat too laid back for rock and metal. Sparrow is here to help, pump up their sound, improve their detail, and give them a beautiful, musical sound with more life and more engagement. 
Earmen Sparrow + Sivga P-II – (200 USD + 400 USD) – I was really surprised to hear that the Sparrow had enough power to drive the P-II on balanced. The sound is really balanced, sparkly, fun and engaging. I'm impressed by the speed of the bass and nice extension in the treble, and the wide soundstage. Overall, a really recommended, albeit slightly unlikely pair when you think about how much I struggled to drive P-2 well, once again showing how good the Sparrow can be. 
Value and Conclusion
The value of the Sparrow is great, especially if you want a mini-sized DAC/AMp that can properly play MQA files, and where the TR-AMP has been a genius product, the Sparrow shows once again that the company can make some great products.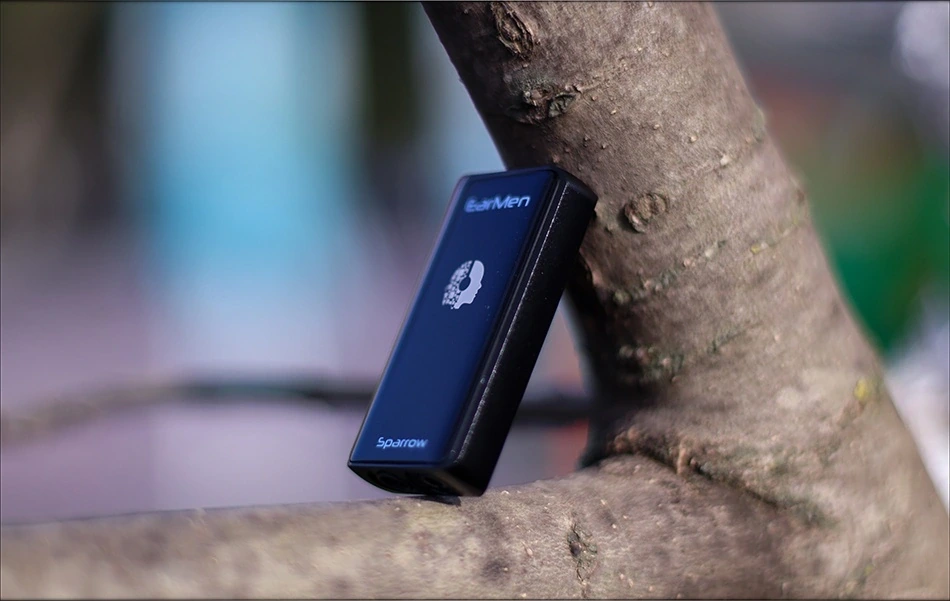 The build quality is really good, and it doesn't disappoint in any way. Although the body is not marketed as being covered in gorilla glass or any other type of protective glass, I found no scratches after taking photos of the Sparrow and using it for a while, and as you can see from the photos, I've been a bit adventurous with it and taking it outdoors. 
The decoding abilities are impressive, with MQA, DXD and DSD, along with PCM all being read by the Sparrow. In fact, it is one of the very few DAC/AMPs on the market that has the ES9218PRO on the market, and it manages to take full advantage of it. 
The sound is clear, punchy, and it has plenty of dynamic and driving power. The sound is so good that it is probably in my top 3 best portable DAC/AMPs below the 300 USD price point, and just like the TR-AMP, Earmen shows us that they can totally make something that sounds good. 
At the end of today's review, if you want something well made, by a company who knows what they're doing, if you want to hear one of the best a mini DAC/AMP has to offer, and if you like a clean, clear, detailed and sparkly sound, with excellent dynamics and punch, the Earmen Sparrow is really easy to recommend to you. 
Product Link
You can get the Earmen Sparrow from here: https://earmen-shop.com/products/sparrow
---
--- Please remember to stay safe, and always have fun while listening to music!---
 - If you have a dime to spare, please donate, and help us! It would make the day brighter for me and my wife- 
---
Full Playlist used for this review
We listened to more songs than those named in this playlist, but those are excellent for identifying a sonic signature.  I recommend trying most of the songs from this playlist, especially if you're searching for new music! The playlists are different for Spotify, Tidal and Youtube, and based on the songs I enjoy and are available on each!
https://www.youtube.com/playlist?list=PL_cjBXGmwSHSdGcwuc_bKbBDGHL4QvYBu
https://open.spotify.com/playlist/5J3oloz8Riy9LxEGenOjQ0?si=979ba4f082414be7
https://tidal.com/browse/playlist/330fd544-8e5b-4839-bd35-676b2edbb3d5
--- Contact Us ---





---