Best Of ANC & TWS – Master & Dynamic MW07Plus IEMs 
MW07Plus is the premium TWS to get right now, with a full metallic case, a multitude of colors, Acetate plates, Bluetooth 5.0 and Be drivers. They are priced quite steep, at 300 Euro / USD, which makes them the most pricey TWS in the entire world, so I have to compare them with IEMs too for this round. We will explore how they stand up to MW07GO, Periodic Audio Carbon, Final Audio B3, and FiiO FH7, and if they are the best TWS IEM in the entire world or not (given their price).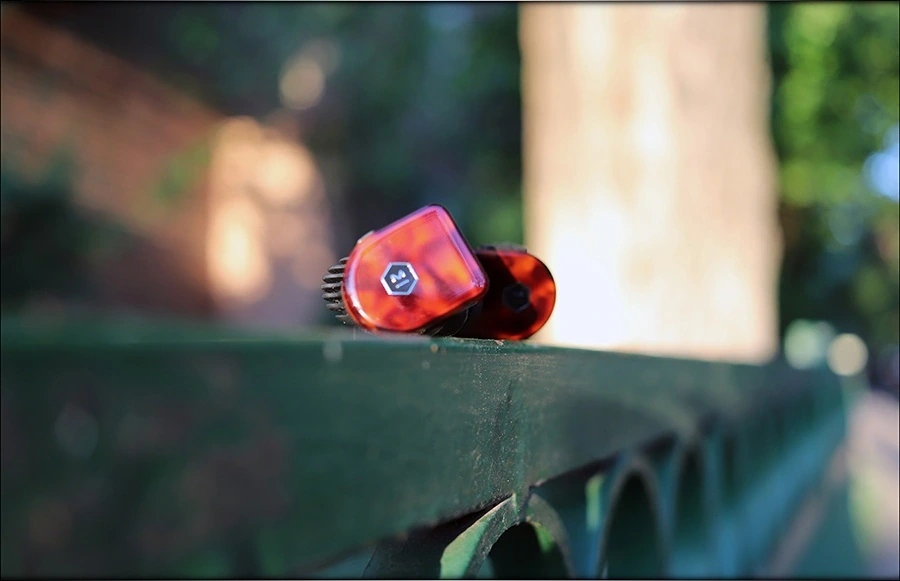 Introduction
Master & Dynamic is always a pleasure to work with, a company that designed some of the best products I heard, which are also reliable. The editor / photo artist / video editor for Audiophile-Heaven has been using MW07GO daily, because they are comfy and she likes the sound, and the IEMs are still holding, so I can guarantee good quality from Master & Dynamic in my experience. They also have a very committed staff who answers mails swiftly and which provides excellent overall support for their customers. 
It should be noted that I have absolutely no affiliation with Master & Dynamic, I am not receiving any incentive for this review or to sweeten things out. I'd like to thank Master & Dynamic for providing the sample for this review. Every opinion expressed is mine and I stand by it, the purpose of this review is to help those interested in Master & Dynamic MW07Plus find their next music companion. 
Product Link
You can purchase Master & Dynamic MW07PLUS from www.amazon.com here: https://www.amazon.com/Dynamic-MW07-Plus-Wireless-Earphones/dp/B07Y28Q22S
Packaging
First things first, let's get the packaging out of the way:
This time we're looking at a package that's a solid 10/10, with a full metallic charging case, charging cables, a pouch to store the charging case, and with excellent overall presentation. 
It is more or less the same as the package that MW07GO comes with, but that charge / carrying case looks much better than what MW07GO has. 
Youtube Video 
Build Quality/Aesthetics/Fit/Comfort
The build quality is insane. The faceplates look and almost feel like pure marble, but it is light thanks to the acetate build. The IEMs are slightly heavier than the GO version, and they come with almost three times the battery life of the original MW07. I actually liked the original MW07, but there's no comparison, the new ones are top dogs.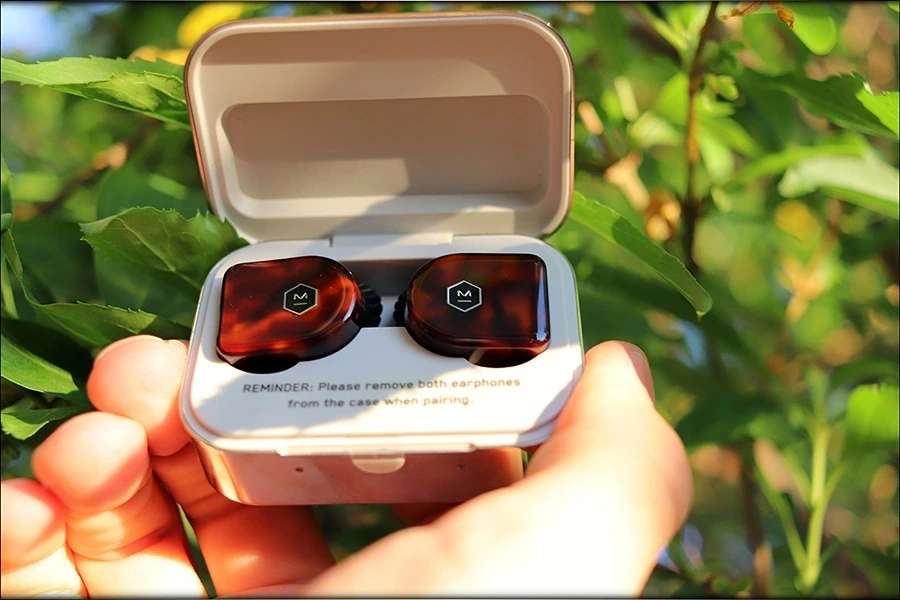 We have Bluetooth 5.0 + aptX, with ANC or active noise cancellation, and a Be or Beryllium driver. Everyone's going crazy about those drivers, and despite it being a rare and pretty obscure material, when embedded correctly in audio, Be can make everything sing. The carrying / charging case is much heavier than the one for MW07GO. There's an IPX5 water resistance rating, so it won't kill the IEMs if you drop them in water. 
The actual battery life is about 7-8 hours of play time, and it takes 40 minutes to charge them. It isn't quite what M&D rates them, but still close, since I tested them almost always at maximum but with ANC turned off. The case has three additional charges, so the IEMs with ~7 hours of music, and the case with another 21 hours, you have almost 28 hours of total play time on a full charge of the case and IEMs, which is much more and much better than most competitors offer at any price point. 
The ANC feature has one of the best implemented out there, sounds much better than any competition I've heard regardless of the price point, but the tech as a whole is still not quite there yet. I would say that if you really need isolation, you should go with something wired and which isolates better. The comfort of MW07Plus is perfect, just like MW07GO, thanks to their small-ish size, wings tips, silicone tips, and ergonomic design. I actually prefer the comfort of MW07GO a bit, because they are lighter. 
Overall, they isolate fair, are very comfortable, and ergonomic. Battery life is great, connectivity is great with no dropouts, and you can manually put them in pairing mode easily. They have buttons for controls which means a hassle-free experience, at least for me.  
Sound Quality
Where the wearing is as good as expected, the sound quality is actually a different chapter, as they are pretty aggressively V-Shaped and colored in tuning. MW07Plus is not made for audiophiles in particular, and instead have a beautifully musical and commercial sound with a strong bass, a thick and colored midrange, and a sparkly treble with good bite. 
The bass can be described as large, impactful and controlled for its size. It goes really low, has excellent overall extension, and the bass can be considered really nicely textured / can be said to have beautiful detail. They go low and hit hard, with a large amount of bass. The bass is enhanced considerably above the midrange, and it is the entire bass that's uplifted, from the sub, to the mid all the way to the upper bass. 
MW07 Plus dips from the upper bass and upwards until the upper mids, where it starts uplifting again, making the lower treble and the main treble quite sparkly. The midrange is quite detailed, natural and organic, despite the dip and the slight thick coloration it picks up from the bass. I would call the entire signature fairly coherent, but it is not perfect. It tends to favor both male and female voices equally, but it doesn't like ethereal or wide-sounding music, being fairly focused. The stage is medium in size, but it is ball-shaped, going as deep as it goes wide. MW07Plus is especially dynamic, and has good textures too, with excellent impact all-around. 
The treble is probably the weakest point, as it is still sparkly, but not quite as loud as the bass. The treble has good presence, but rolls off after about 9kHz. It has a slightly hot presentation. Thanks to the recessed midrange, and the limited treble extension, the whole sound is never bright. 
Comparisons 
Given their price, I mainly went with wired earphones when making the comparison list for Mw07Plus. This list includes FiiO FH7, Final Audio B3, MW07GO, and even Periodic Audio Carbon.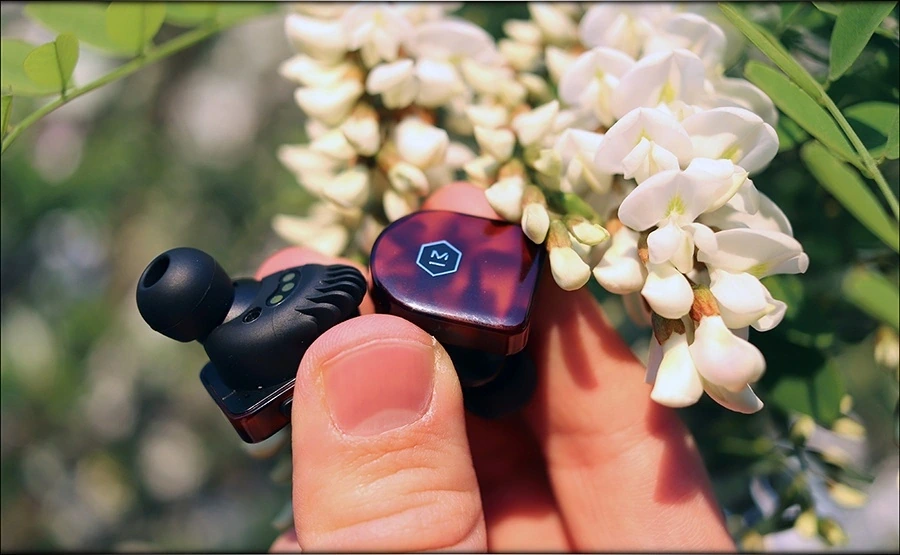 Usually, I would compare a TWS IEM to another TWS IEM, but this one wanted to be special with the price, so it should be special with the performance as well. 
Master & Dynamic MW07 Plus vs Periodic Audio Carbon (300 USD vs 400 USD) – I want to start right away and tell you that somehow MW07 manages to be a bit more comfortable than the Carbon. The tech inside is different, and they are much better equipped to be compared to Periodic Audio Be. The sound is generally thicker, more bassy, deeper and more bass canon on the Carbon. They really rumble in the lows, and MW07Plus sounds really balanced and playfully V-Shaped by comparison. Both have good detail, and the Carbon has a bit more, but with the tech inside and Bluetooth, MW07Plus can get dangerously close. 
Master & Dynamic MW07 Plus vs Master & Dynamic MW07GO (300 USD vs 200 USD) – The Go version is lighter. It is more comfortable. It sounds a bit better to my ears, being more balanced, lighter and more snappy. The Plus version has a far better battery life, looks and feels better built. It is more premium from the moment you open the package. Generally, the Plus version is what I would consider perfect for a TWS IEM, but my editor settled for the GO, as it is better for when you're doing physical activities and for when you need a light TWS IEM. 
Master & Dynamic MW07 Plus vs FiiO FH7 (300 USD vs 450 USD) – FH7 is a classic by now. One of the IEMs I recommend the most to everyone, from newcomers all the way to veterans, but MW07Plus goes for a mini version of that sound. I wanted to add both here because MW07Plus is a bit more convenient than FH7, it is lighter, and easier to use. MW07Plus is thicker, boomier, has more bass and more treble roll-off. It is also more laid-back and relaxed, where FH7 is brighter and more detailed. Both have a good stage, FH7 is larger. This being said, when switching back and forth, it doesn't feel like MW07Plus is a huge downgrade and like it is a poor TWS IEM, but it does sound like it has its own flavor and worth its asking price. 
Master & Dynamic MW07 Plus vs Final audio B3 (300 USD vs 500 USD) – Final B3 is brighter. More comfortable too. The package is better for Mw07Plus. It feels like M&D put more effort into the package, while with Final Audio, they generally place more effort in the product itself. The sound is brighter, more open, with a larger soundstage and more detail for Final B3. The sound of Mw07Plus is more punchy, deeper, bassier and more laid-back. M&D 07Plus generally sounds colorful and enjoyable for long periods of time, where Final B3 sounds more energetic and engaging. 
Value and Conclusion
The value of MW07Plus is not quite as good as that of the MW07GO, but it is still fairly good. Despite them being commercially-tuned, M&D actually went all-in and delivered the best they could with the Plus variant. It is the most expensive TWS IEM on the market right now, and it also is the most premium one. It will be a long while before someone designs something that can get close to them in the overall price / performance balance.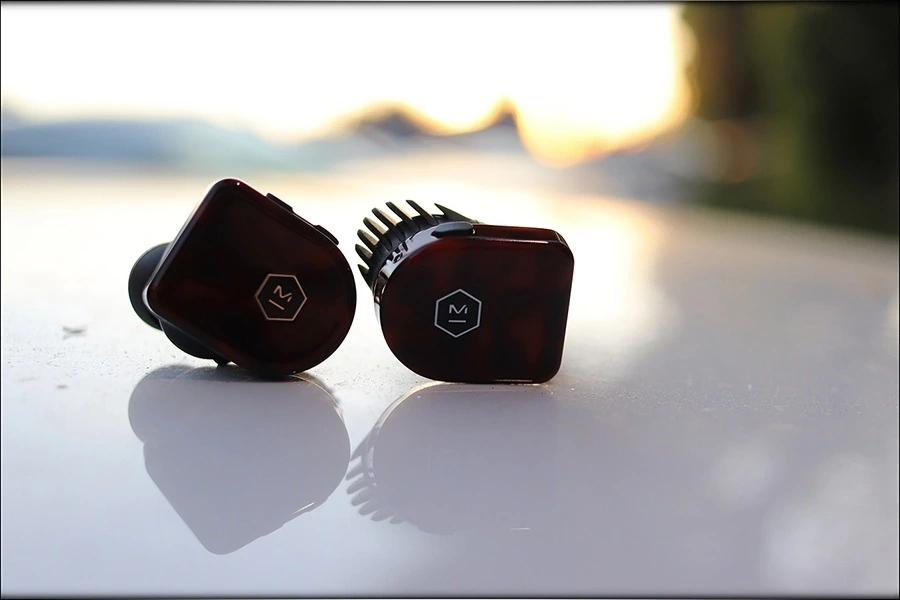 To be honest, I also reviewed the latest Airpods in video, but they were so poor that they didn't motivate me to finish a written article about them. They were just boring and and worth the effort, but MW07Plus motivated me. MW07Plus made me want to listen to it more, it made me want to finish this article and share it with you. 
The package has that premium quality, and while Apple packages are smart, M&D ones are smarter, better and cooler. The GO version comes with what is the most fancy charging / carrying case, and the one that has the most life inside. 
The IEMs also have huge battery lives, and they have a beautiful design and build quality. 
The sound is a bit commercial in tuning, so you can expect a typical V-Shaped presentation, but I'm blown away by the detail, clarity and soundstage. The Plus reminds me a bit of Final B1, they went for a similar presentation and way of being the odd one in the series. 
At the end of today's review, I can safely and totally recommend MW07Plus. It is a nice sounding IEM from a good company, that will support it. They have excellent comfort, and if you want premium and don't mind the high price tag, MW07Plus is clearly one of the best TWS IEMs money can buy. 
Product Link
You can purchase Master & Dynamic MW07PLUS from www.amazon.com here: https://www.amazon.com/Dynamic-MW07-Plus-Wireless-Earphones/dp/B07Y28Q22S
---
--- Please remember to stay safe, and always have fun while listening to music!---
 - If you have a dime to spare, please donate, and help us! It would make the day brighter for me and my wife- 
---
Full Playlist used for this review
We listened to more songs than those named in this playlist, but those are excellent for identifying a sonic signature.  I recommend trying most of the songs from this playlist, especially if you're searching for new music! The playlists are different for Spotify, Tidal and Youtube, and based on the songs I enjoy and are available on each!
https://www.youtube.com/playlist?list=PL_cjBXGmwSHSdGcwuc_bKbBDGHL4QvYBu
https://open.spotify.com/playlist/5J3oloz8Riy9LxEGenOjQ0?si=979ba4f082414be7
https://tidal.com/browse/playlist/330fd544-8e5b-4839-bd35-676b2edbb3d5
--- Contact Us ---





---