Two For Bass, One For Treble – 1More Quad Driver IEMs And Stylish TWS Review
1More Quad Driver is a 4-Driver IEM priced at 170 USD, while the Stylish TWS IEMs are priced at 100 USD. Quad Driver will be compared to iBasso IT01S, Shozy CP IEMs, and Final Audio E4000. Pairings with HIDIZS AP80, FiiO K3, and Shanling M2x will be included as well. The Stylish TWS will be compared with HIFIMAN TWS600, Lypertek Tevi, and RHA TrueConnect. 
Introduction

1More is one of those companies that made a name for themselves for having one of the best unboxing experiences there are. The sound of their products has always been fair for the price, and they mostly have products in the entry-level and the midrange zones, without dipping in the high-end and flagship territories. Even their current flagship is priced at 200 USD, which isn't even midrange for some listeners. This being said, their products are some of the best made, with good overall quality, and they really make the unboxing experience nice. They answer emails quickly, and provide good service, but are usually not represented by local sellers, so getting 1More products directly from them or large shops like Amazon would be best. 

It should be noted that I have absolutely no affiliation with 1More, I am not receiving any incentive for this review or to sweeten things out. I'd like to thank 1More for providing the sample for this review. This review reflects my personal experience with 1More Quad Driver and Stylish TWS IEMs. Every opinion expressed is mine and I stand by it, the purpose of this review is to help those interested in 1More Quad Driver and Stylish TWS IEMs find their next music companion. 
Product Link
You can always purchase 1More Quad Driver from www.amazon.com here: https://www.amazon.com/1MORE-Headphones-Reproduction-Resolution-Smartphones/dp/B06XSJV5B9/
Packaging

First things first, let's get the packaging out of the way:

1More Quad Driver

The name of Quad Driver may not be the most creative one in the world, but its package surely is. When a company has something really simple, like an IEM, without any particular features, without filters, they have a really hard time making a good package. I mean, there's not much, but there are tips, a carrying case, and a shirt clip.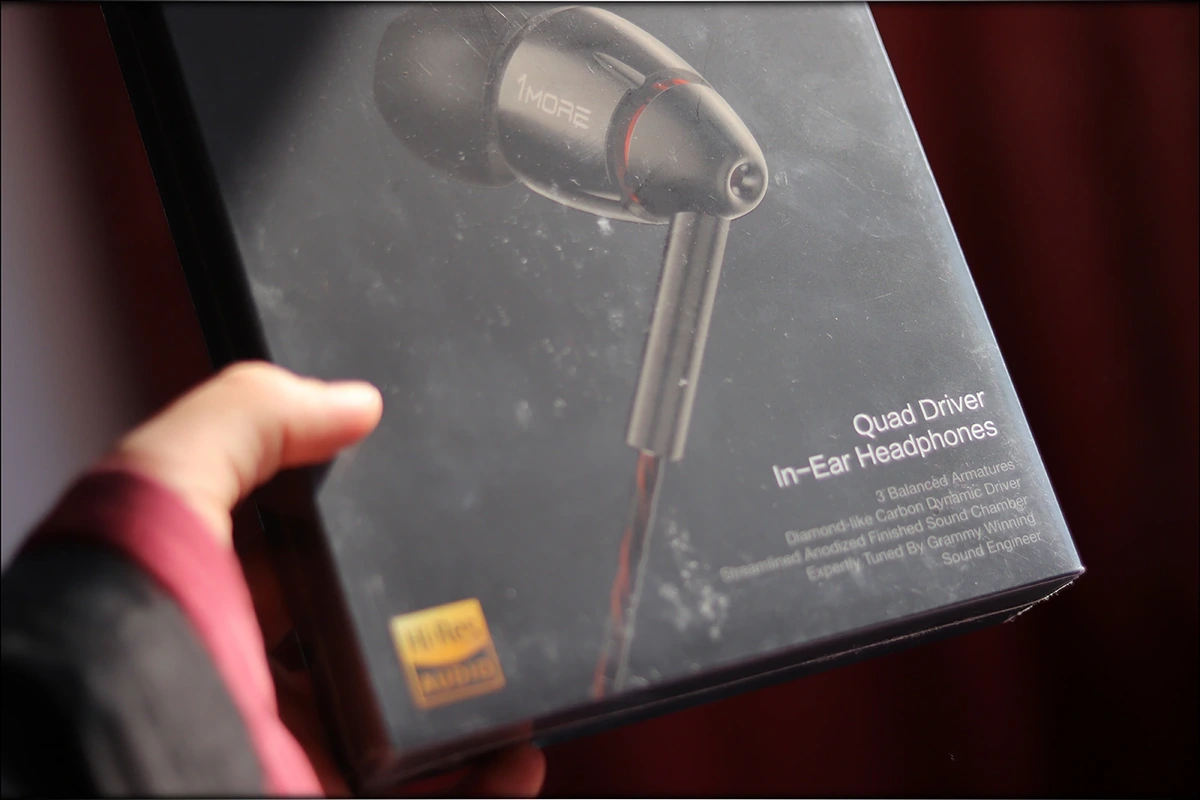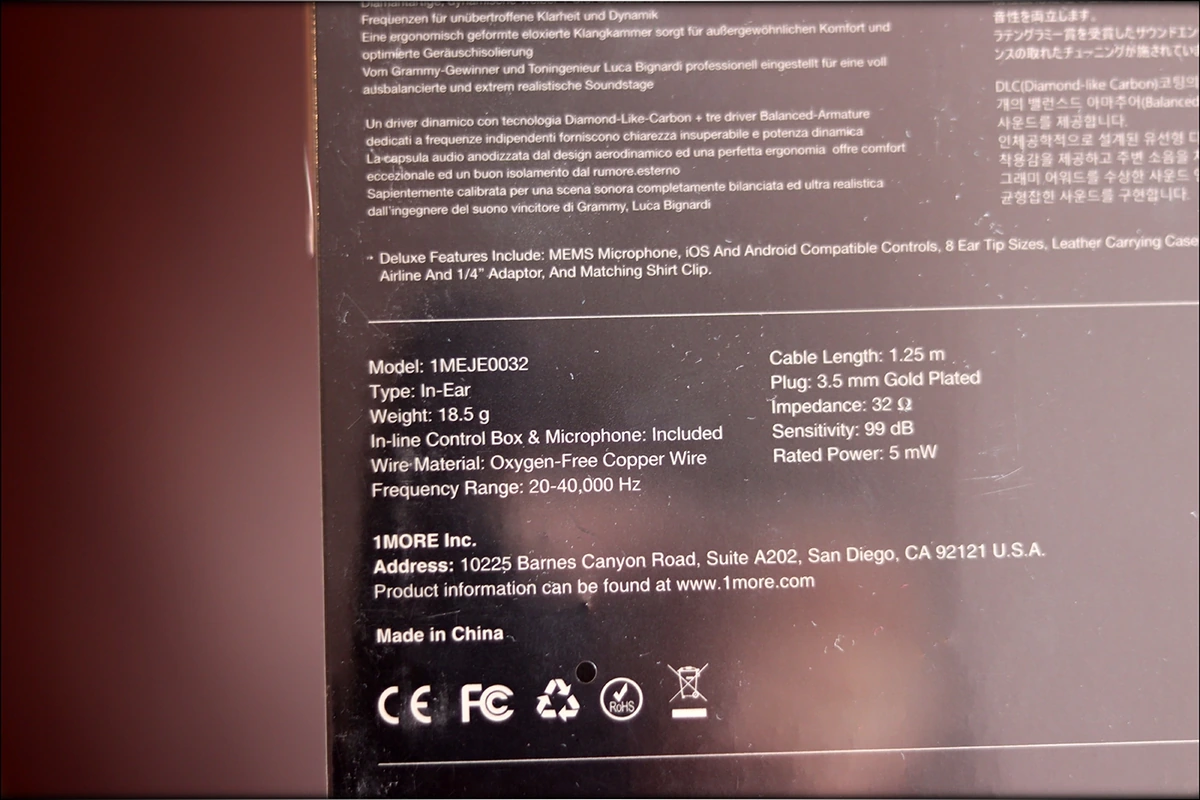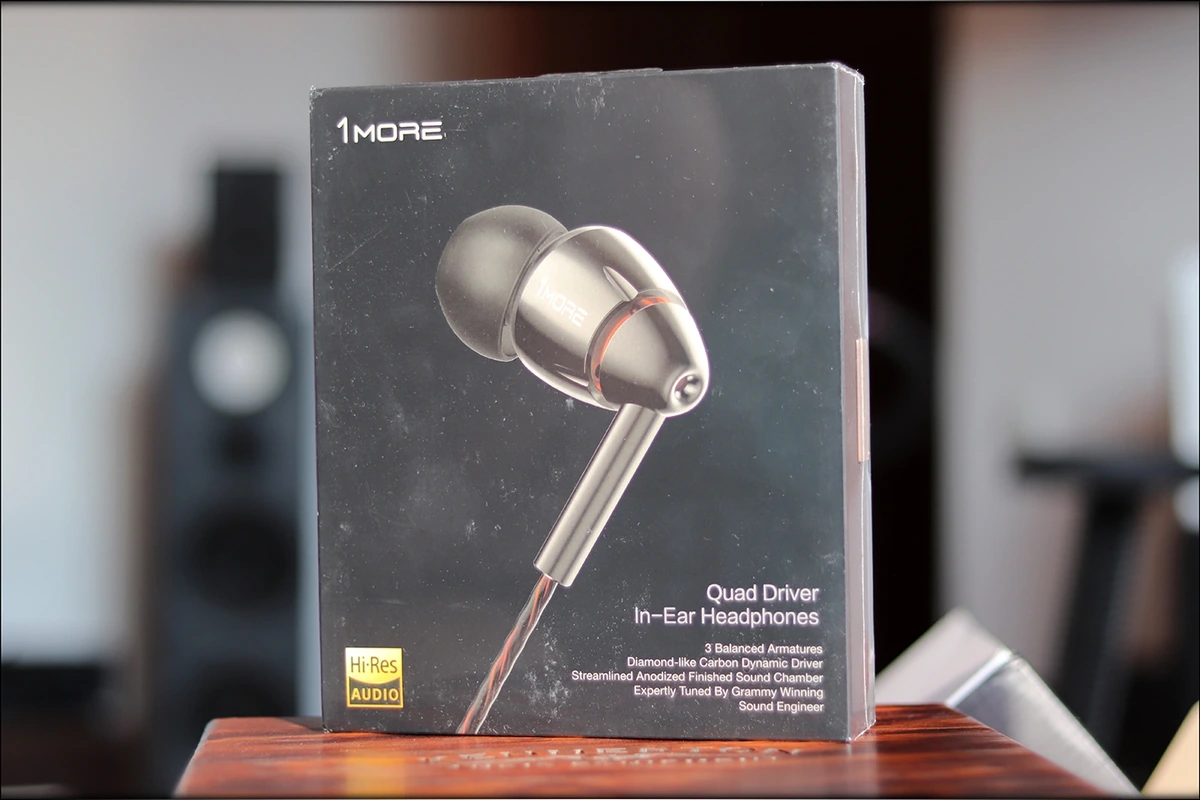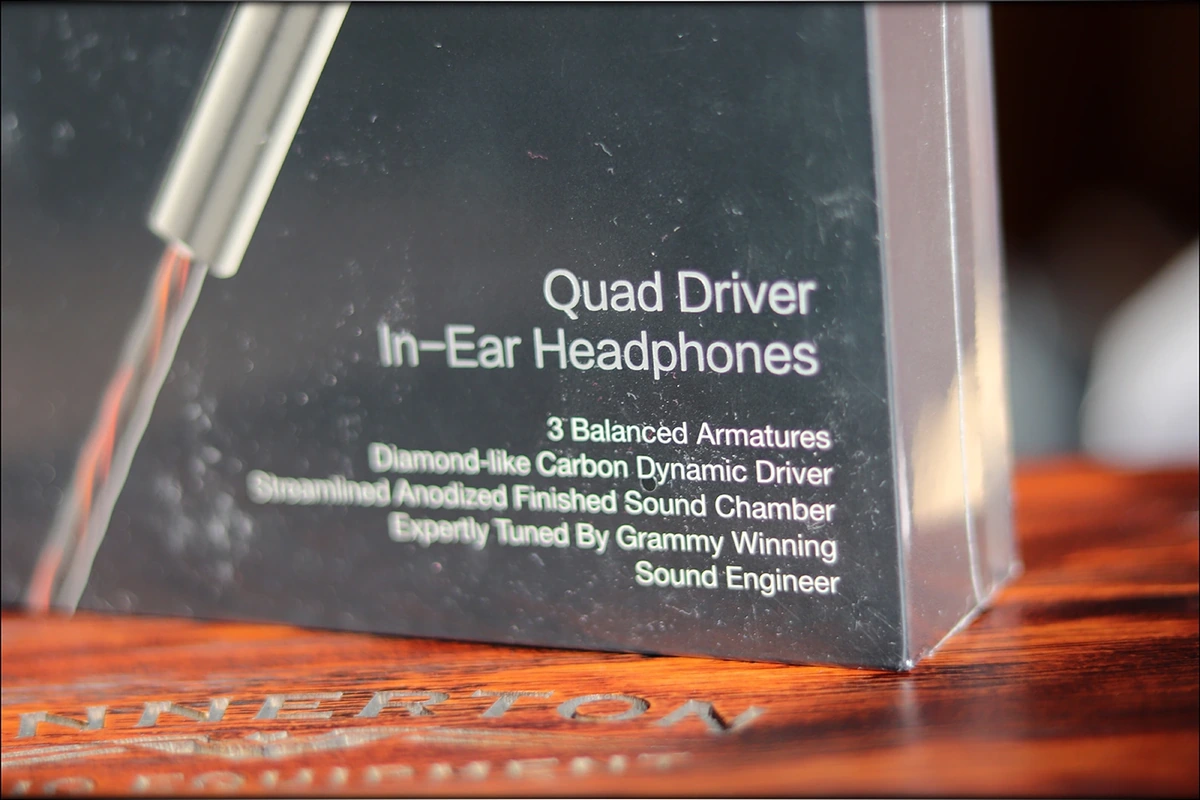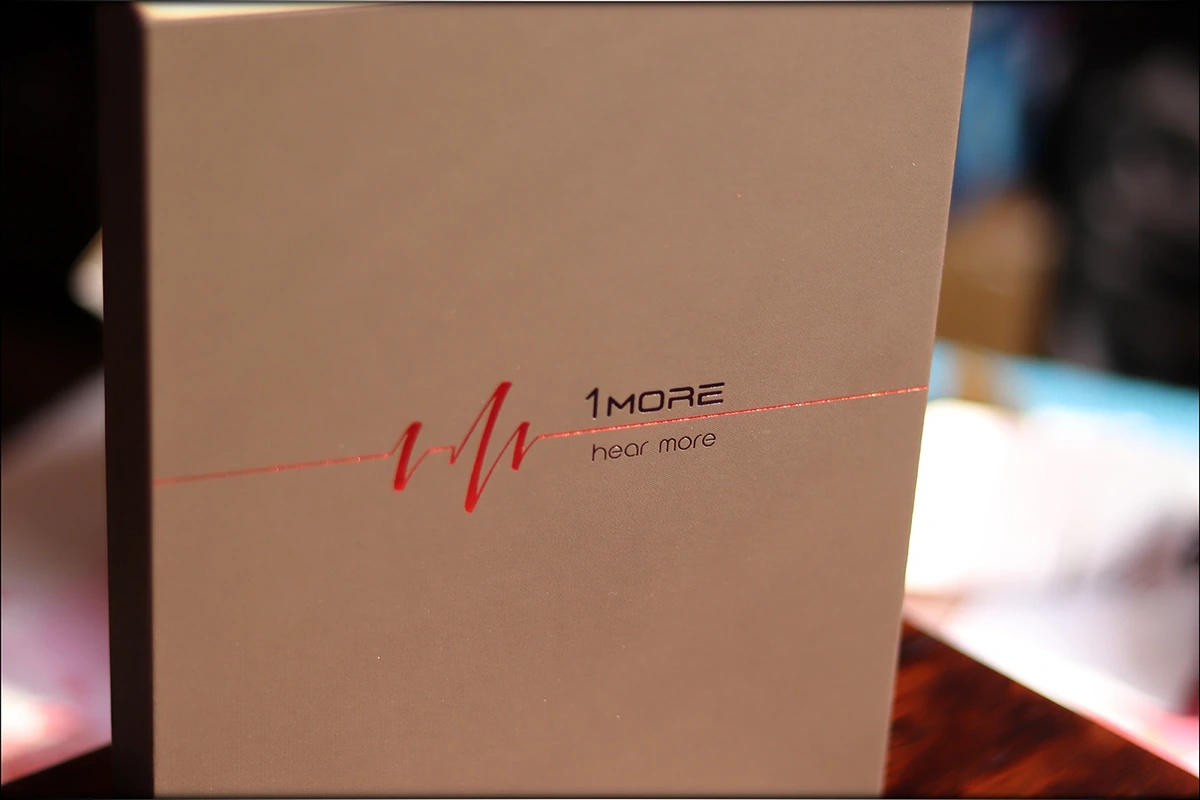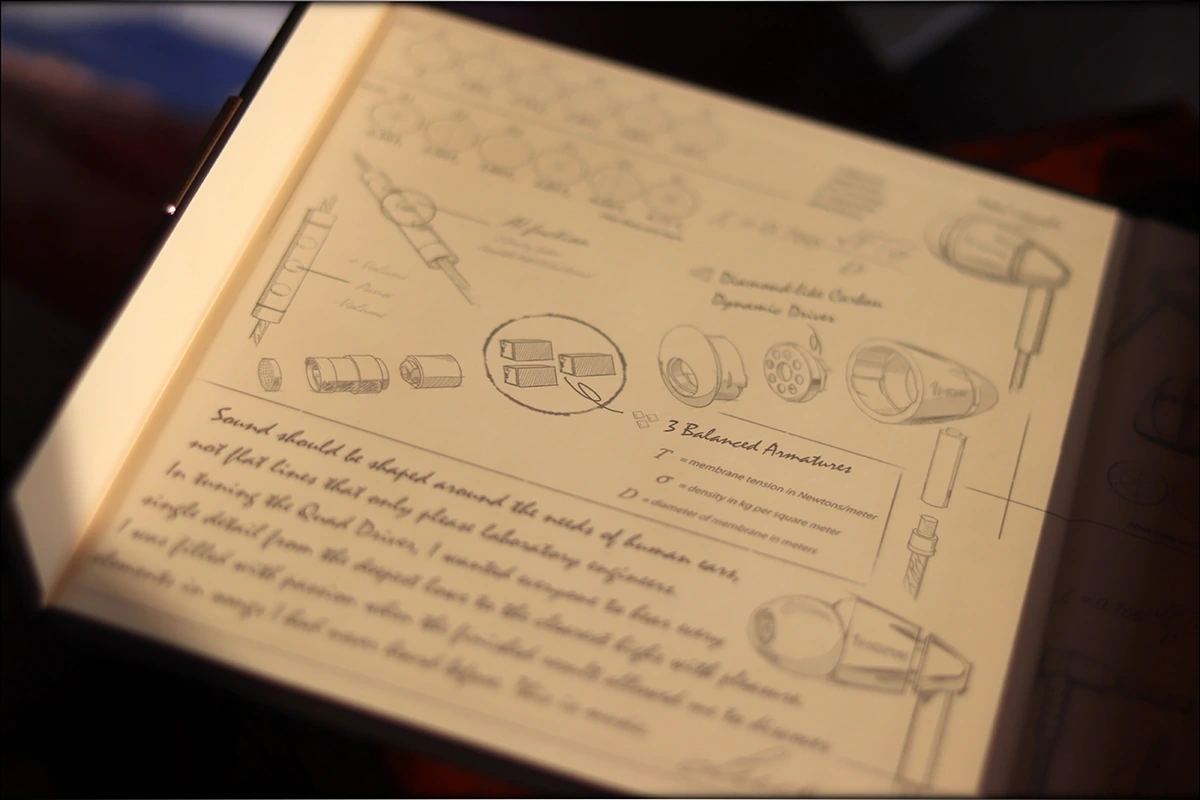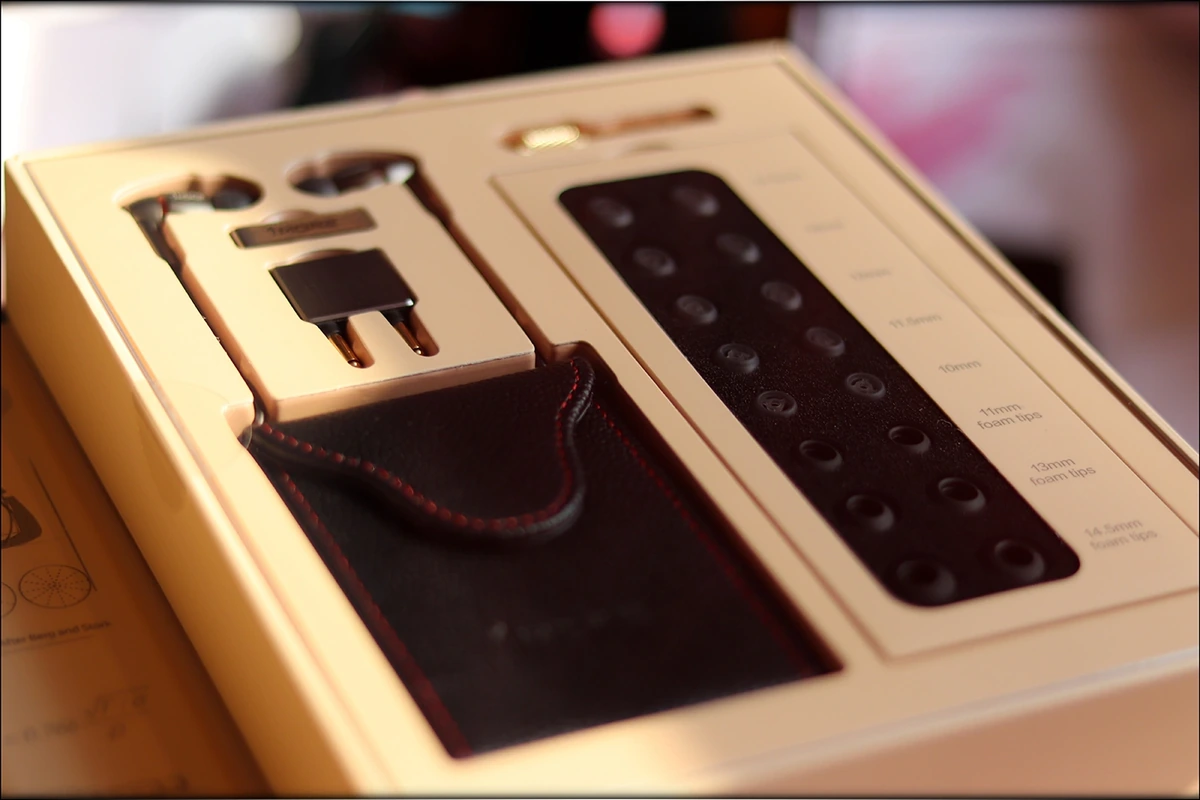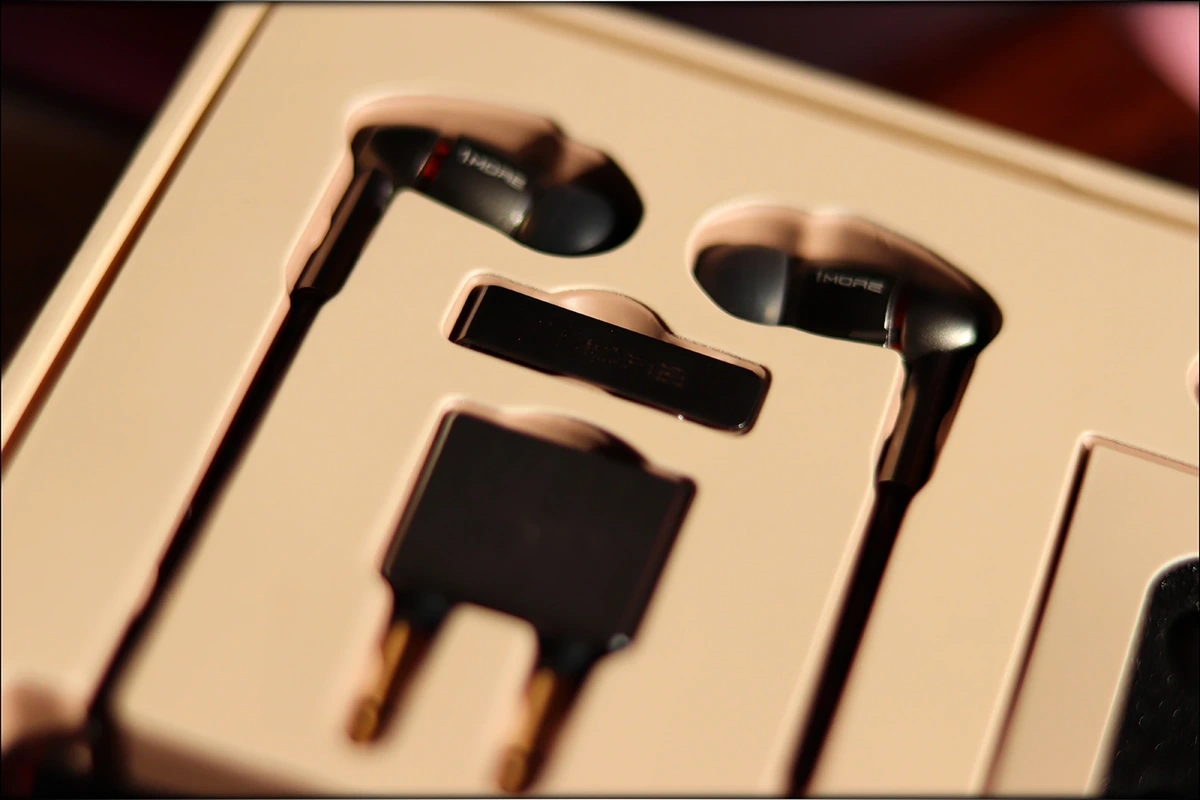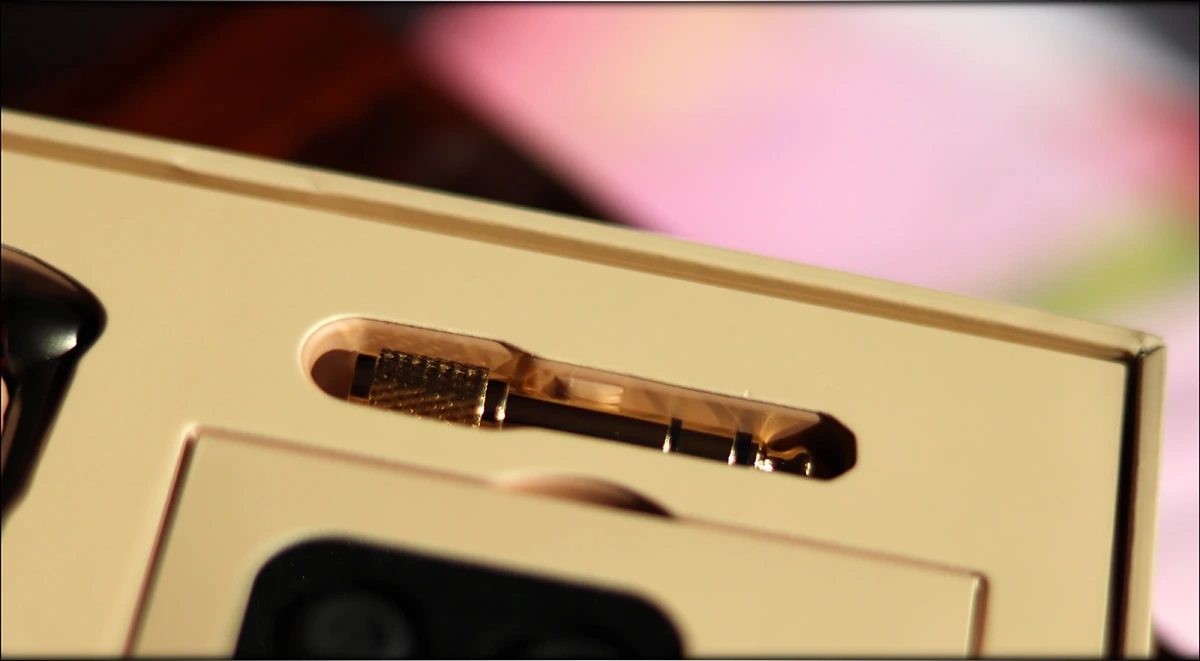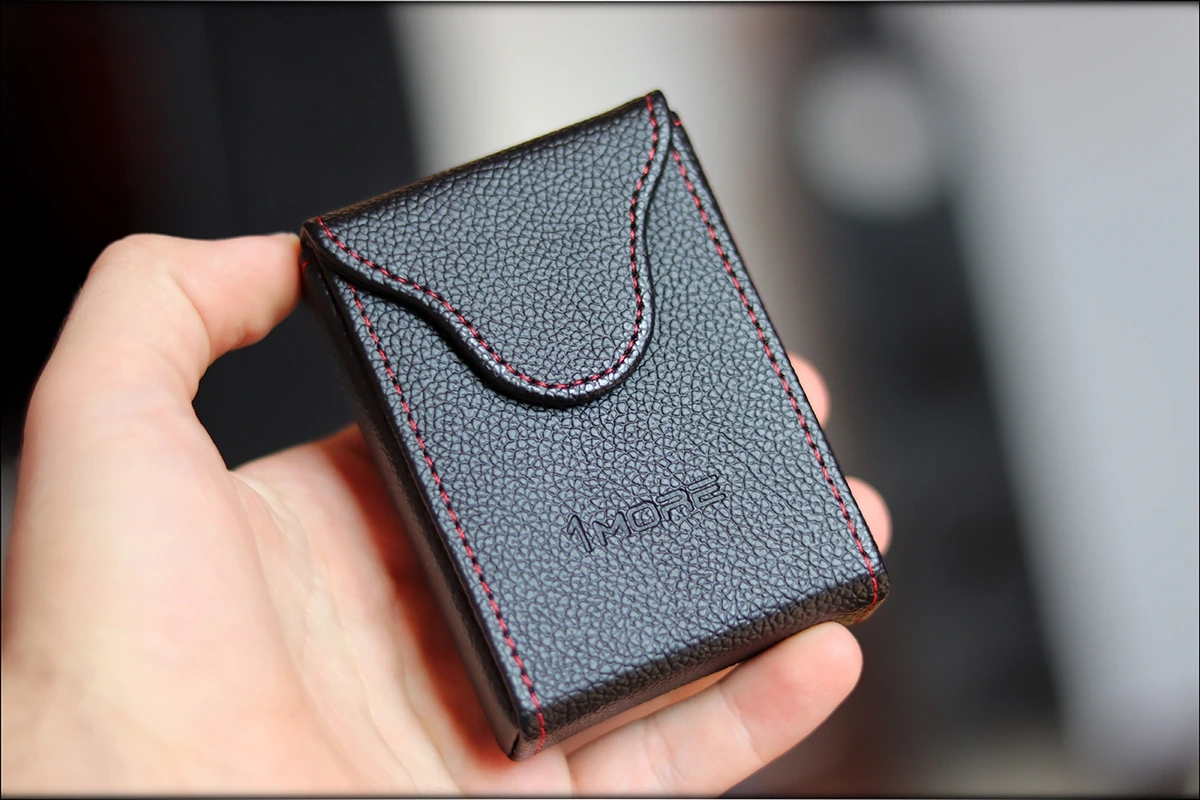 The package is great for the price, but compared to some of the competition, Quad Driver does not have a Balanced cable, and it doesn't come with more particular features. The tip selection includes foam tips as well though. 

There is a 3.5mm to 6.3mm adapter, if you'll plan on using the Quad Driver with something like a Pro-Ject Pre-Box S2 Digital DAC/AMP. 

You probably know a few headphones and IEMs that cost over 500 USD and which don't have the package of the Quad Driver. Sennheiser HD660S did not impress me that much in terms of package, and neither did the JDS Labs Atom, HIFIMAN Sundara, or Verum One, which didn't come with any package at all. 



1More Stylish TWS IEMs

I wish more companies were this stylish with the design of their package, with cool, Leonardo Da Vinci graphics, and with a cool carrying / charging case.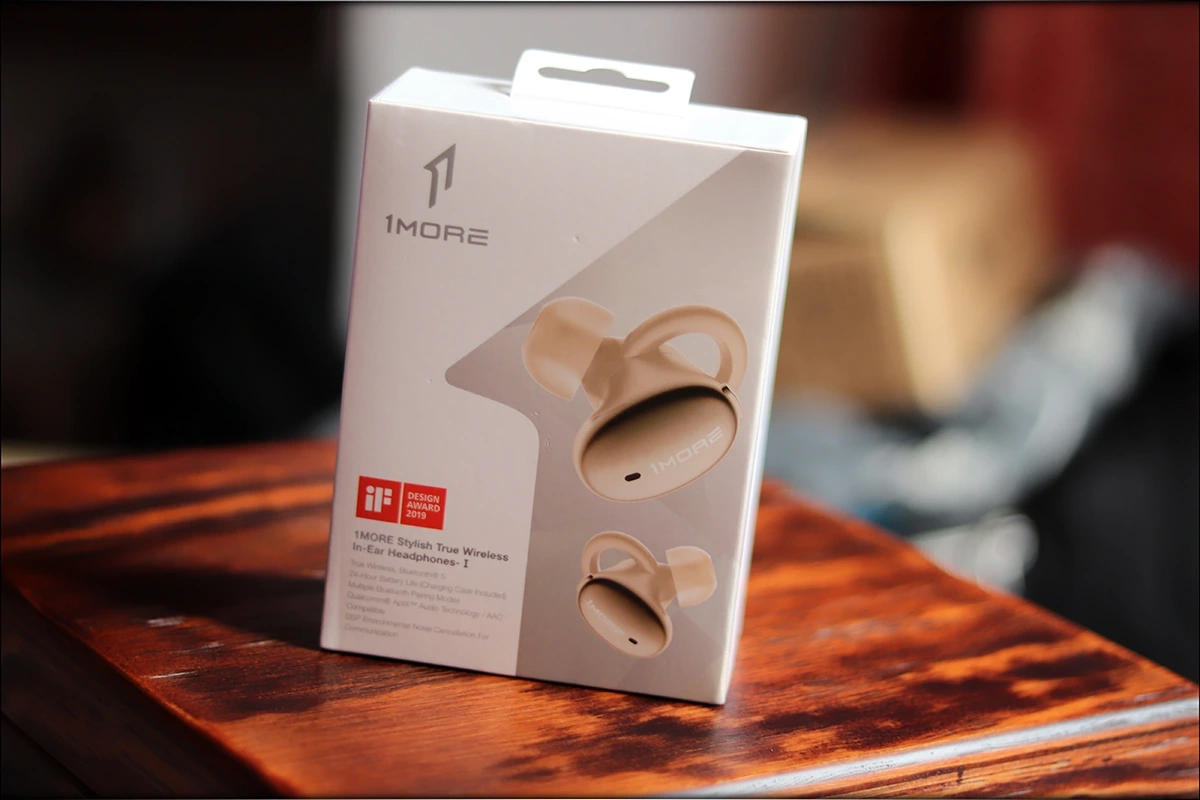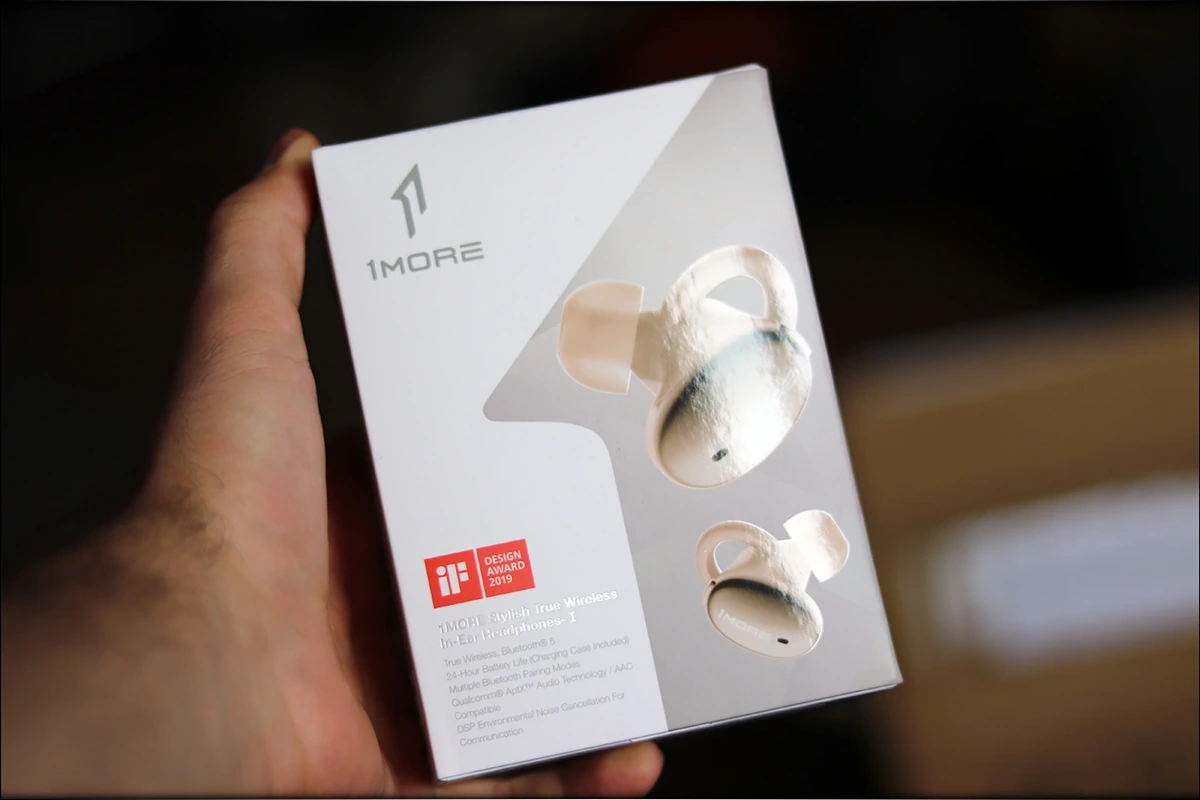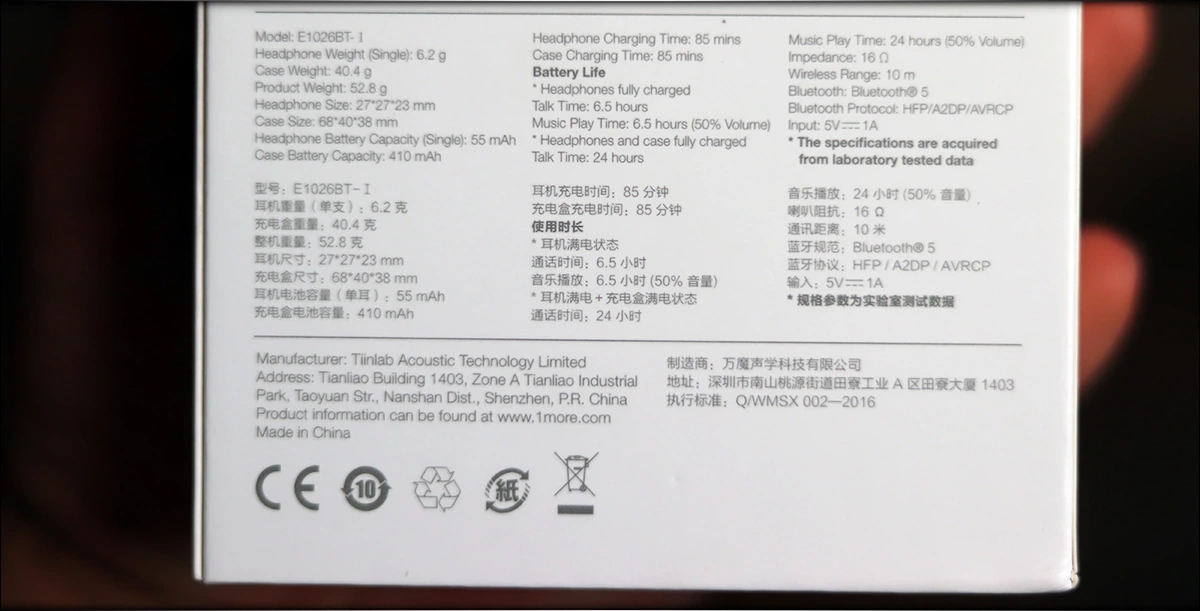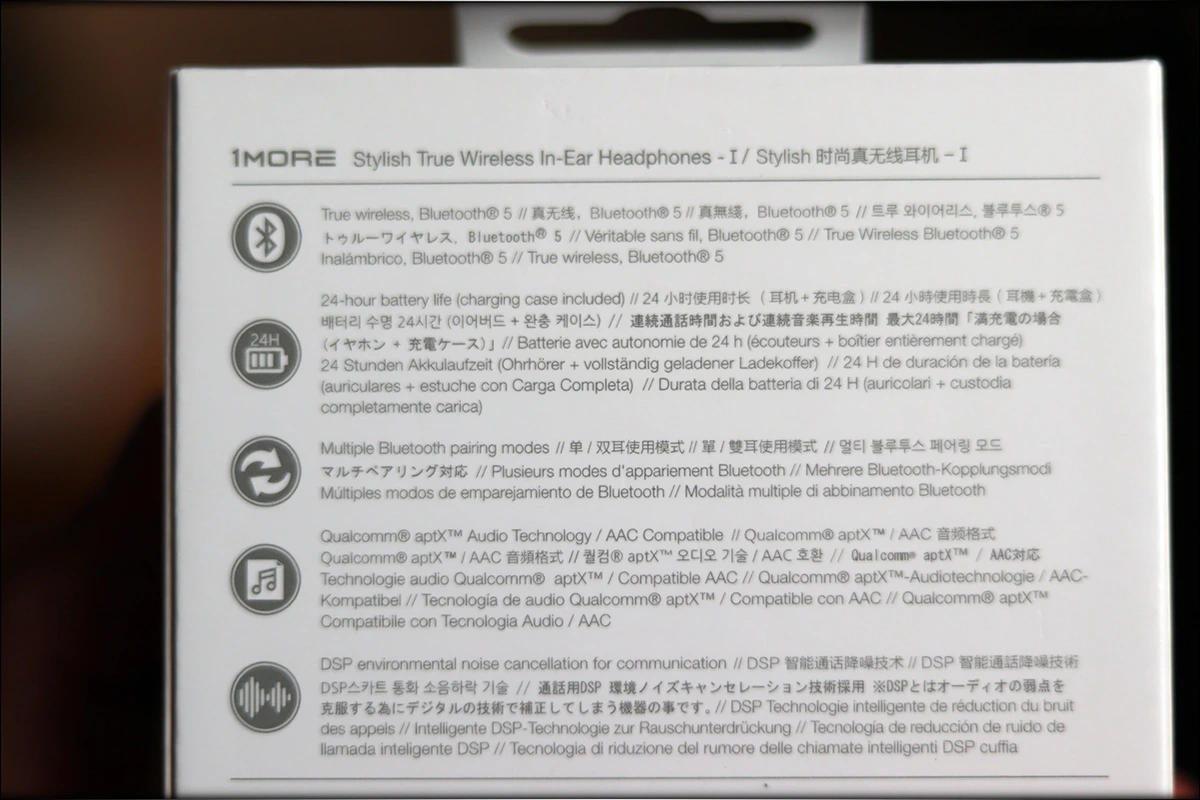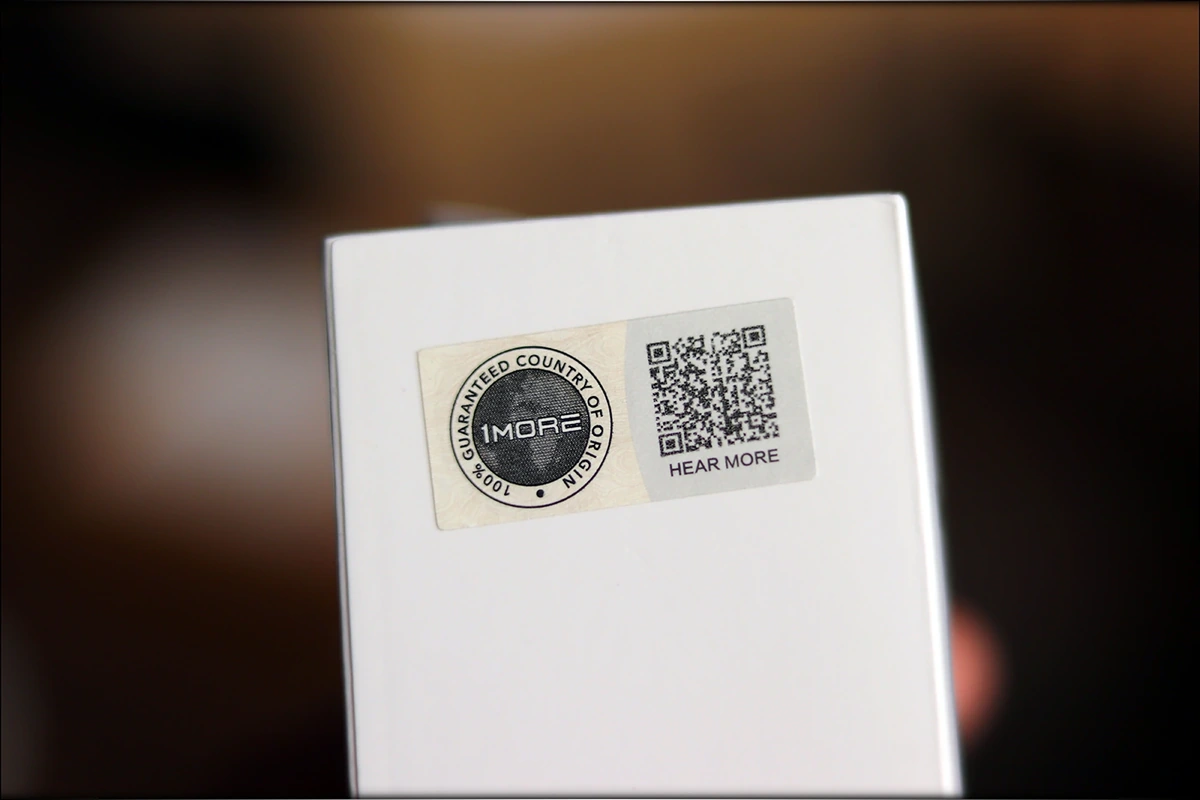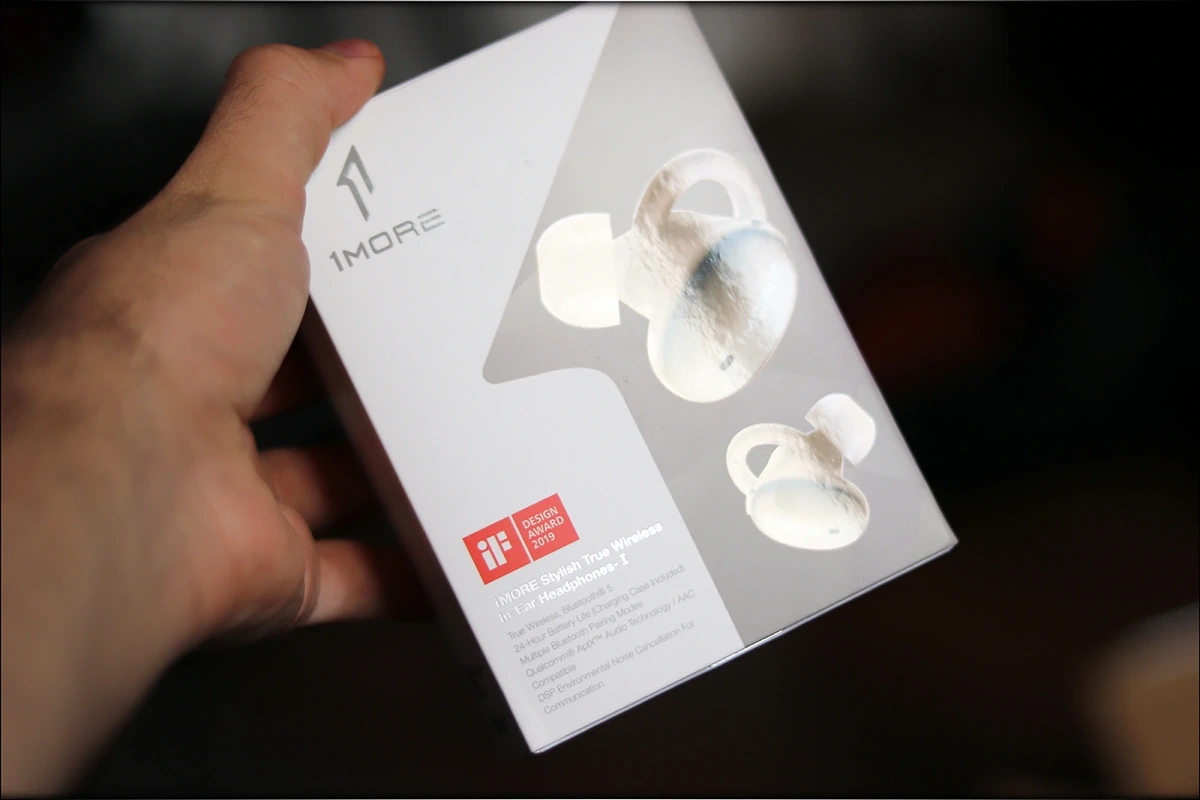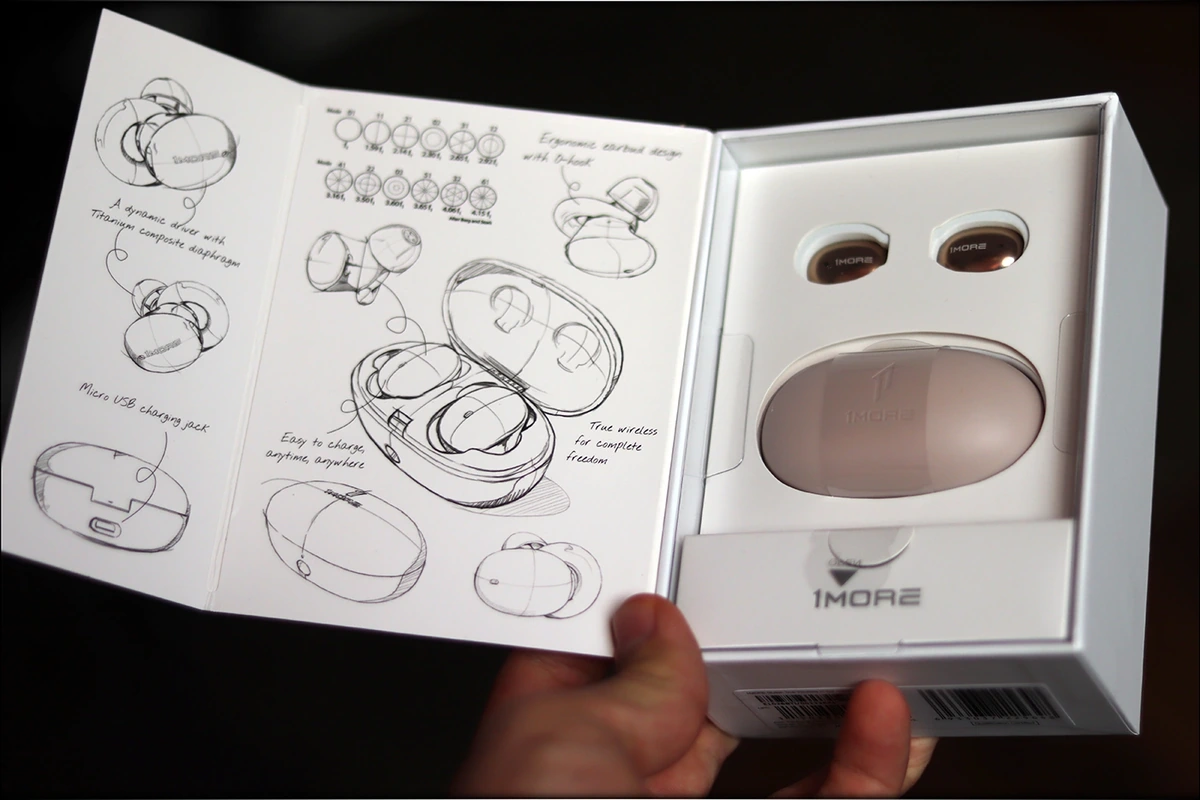 Inside the package you can find the TWS IEMs, a selection of tips, a charging cable, the charging / carrying case, and rubber pieces for the back part, so you can customise the fit if your ears are smaller or larger than the size applied. 

For 100 USD, I couldn't really ask for more, and 1More does a great job with their package once again.  



What to look for when purchasing an Entry-Level IEM / TWS IEM

https://www.audiophile-heaven.com/p/what-to-lookl.html



Build Quality/Aesthetics/Fit/Comfort

1More Quad Driver

The Quad Driver has a full metallic build, and even comes with a good selection of tips. I found the fit to be better than expected, and just like Final E3000 and Final E5000, you can wear the Quad Driver straight-down, and given how many of us aren't exactly comfortable with an over-the-ear design for IEMs, this is a great thing.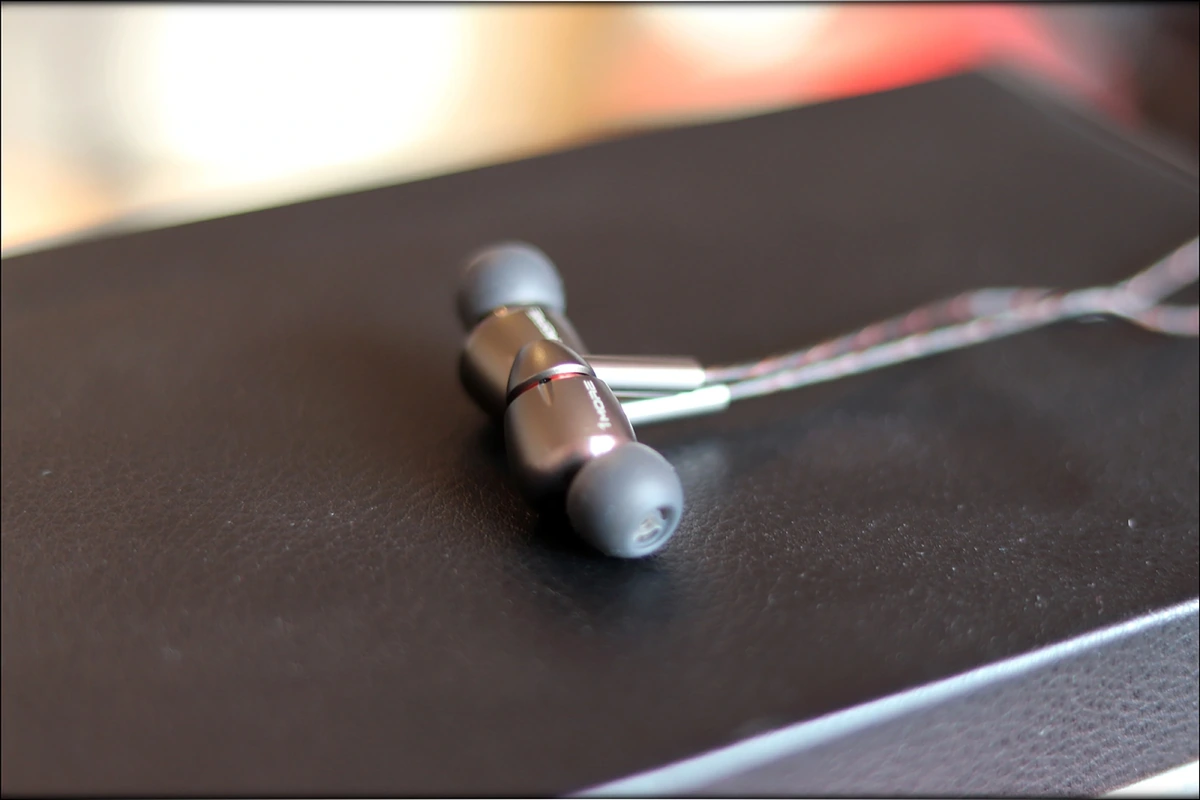 The bore size and angle make it work much better for people with large ears than for those with small ears, and although it worked fine for me, my friends with smaller ears told me that the IEMs were large for them. 

There is no driver flex, and I'm pretty happy for that, but the isolation is pretty average, so you will not get too much noise from the outside, but you won't have the ultimate isolation either. For something like that, you could look into Etymotic ER4XR, which isolate you from all the outside noise. Something with ANC, like Master & Dynamic MW65 also works well if you need more isolation. 

Quad Driver is pretty easy to drive, and you don't need the ultimate source for them, and given their overall sound that isn't the most detailed out there, you're probably good to go with any portable source. 

There is no cable microphonic noise even when wearing them straight-down, but if you plan on going for a jog while wearing them, you're probably going to want to use the Stylish TWS IEMs, or wear the Quad Driver over-the-ear. 



1More Stylish TWS IEMs

The Stylish TWS IEMs are quite different from the Quad Driver, they aren't metallic, and most of the parts that will be touching your ears are rubber. This means that they will be considerably more comfortable, and with a smaller bore size, and with a selection of both rubber rings and tips, you will get perfect comfort with them regardless of your ears size. 

The bluetooth is actually the majestic BT 5.0, and it has aptX, and AAC, so you won't be limited by the inferior SBC codec. The driver inside is Titanium coated, but it doesn't have exactly the same sound as the Periodic Audio Ti. This being said, I can see some similarities, like the heavier, weightier, bassier sound that's still clear and manages to deliver a smooth treble.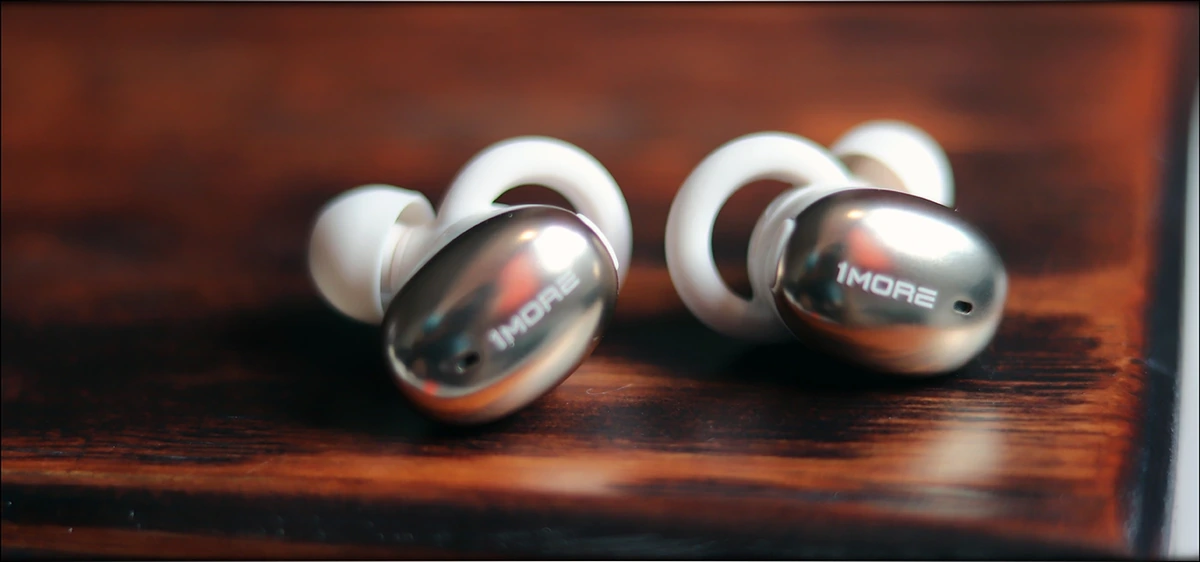 The passive noise isolation is better than the Quad Driver and even better than something like the Galaxy Buds and what Bose offers at this price point. The battery holds pretty much as much as 1More states it will. I'm really happ when companies do not test the battery using a very limited volume, because with the Stylish TWS IEMs, you do get those 5-6 hours at 100% volume. The IEMS take a while to charge when inside the case, but the case itself charges pretty fast. 

When you look at the technical number of 55 mAh battery capacity within the IEM, you imagine it dying fast, but it lasts considerably more than the Galaxy buds, so you don't have to worry about it. 

If there is any downside that I feel compelled to mention, the phone call is not stellar. On the other hand, the case has a very satisfying click when you open and close it. The magnets keep the earbuds securely inside, so you don't have to be afraid of them falling out, or loosing them if you open the case while walking. 

The case has microUSB charging though, which is heavily outdated at the moment of writing this review.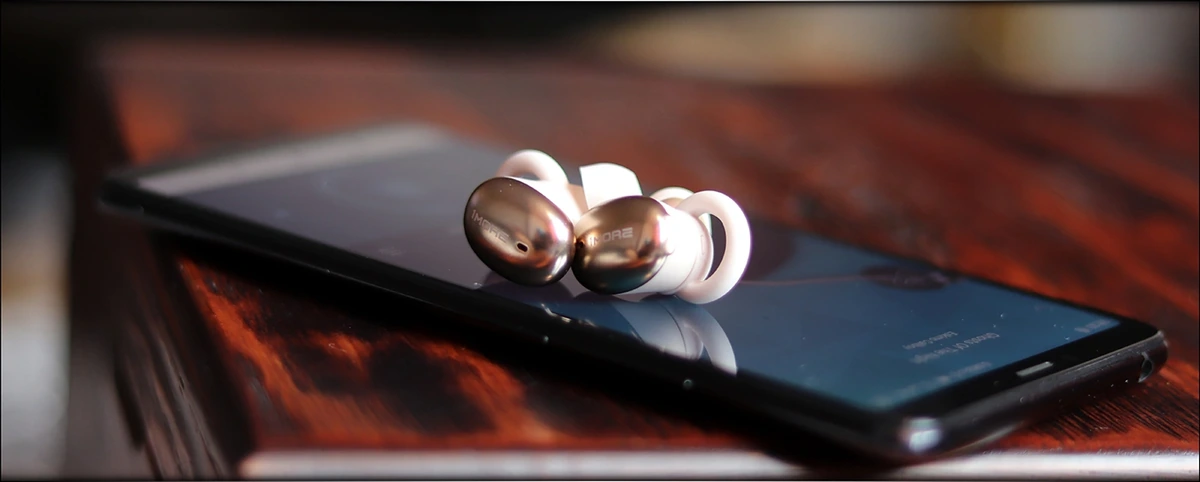 There's also the fact that you don't have to worry about touch buttons, I actually am not a big fan of touch buttons on a TWS IEM, like Astrotec S80 had, because it makes it really hard to control the IEM properly, and a lot of mistouches are registered, but with 1More, that's no issue at all. 



Sound Quality

1More Quad Driver

The Quad Driver is not necessarily the best IEM in the world when it comes to clarity, but it has a good, satisfying punch, a great bass, and a pretty sparkly treble to balance things out. There's that IE800 kind of signature where there's a good amount of sibilance, but the treble is smooth in texture, it is never harsh, there's a good amount of detail, and the thinner, less weighty midrange balances out everything to make the final result an exciting experience.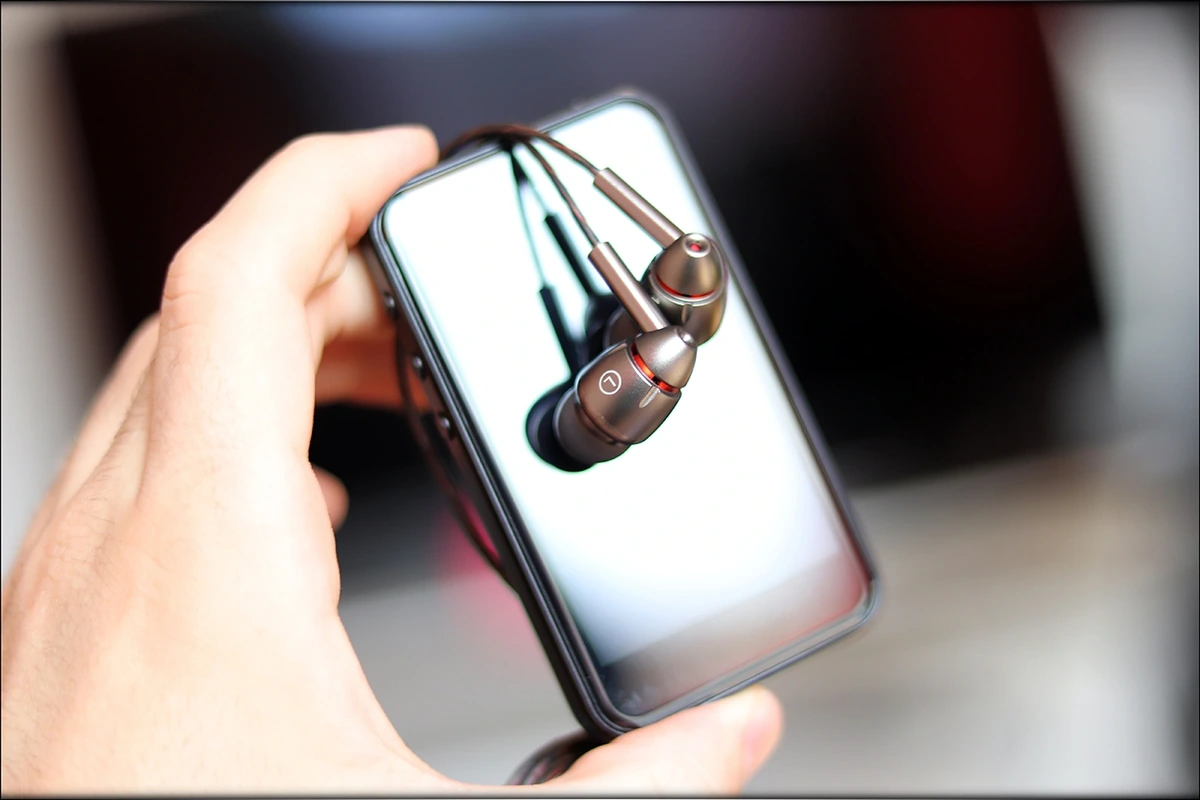 The bass is boosted compared to the midrange, it is pretty deep, but it is not the most detailed in the world. You need a quicker source for driving it, if you're going to have a more reliable bass response, unless you're okay, or you like a slightly slower presentation. The bass boost can make them a bit muddy overall, and they are not tight at all. There's no special emphasis on the sub-lows, or the mid bass, the entire bass being boosted, and resulting in a somewhat boomy response, although I wouldn't say the overall sound is very thick. 

The midrange has fair clarity, and fair detail, but the soundstage is pretty great, and so is the instrument separation. The resolution is fairly good, and there's a wet texture to the entire sound, and with the increase in the treble, the midrange of the Quad Driver reminds me the most of Sennheiser IE800 in terms of overall presentation. Not a very weighty one, lacking a bit of body, but having a smooth texture. The mids are recessed quite a bit compared to the rest of the sound, so the entire instrument and voice presence is pushed back, leading to a somewhat laid back mid. 

The treble is similar to IE800 once again, with a really sparkly spike, that makes the entire treble slightly sibilant, but smooth in texture and it has zero harshness. The Quad Driver gives such a strong vibe that 1More was trying to give some of the magic of IE800 for a much smaller price point, and I think they managed to do this pretty well. 



1More Stylish TWS IEMs

The sound of the Stylish TWS IEMs is dominated heavily by its bass, as it has over 10 dB of emphasis compared to the mids and the treble. This makes the entire sound especially thick, smooth and warm.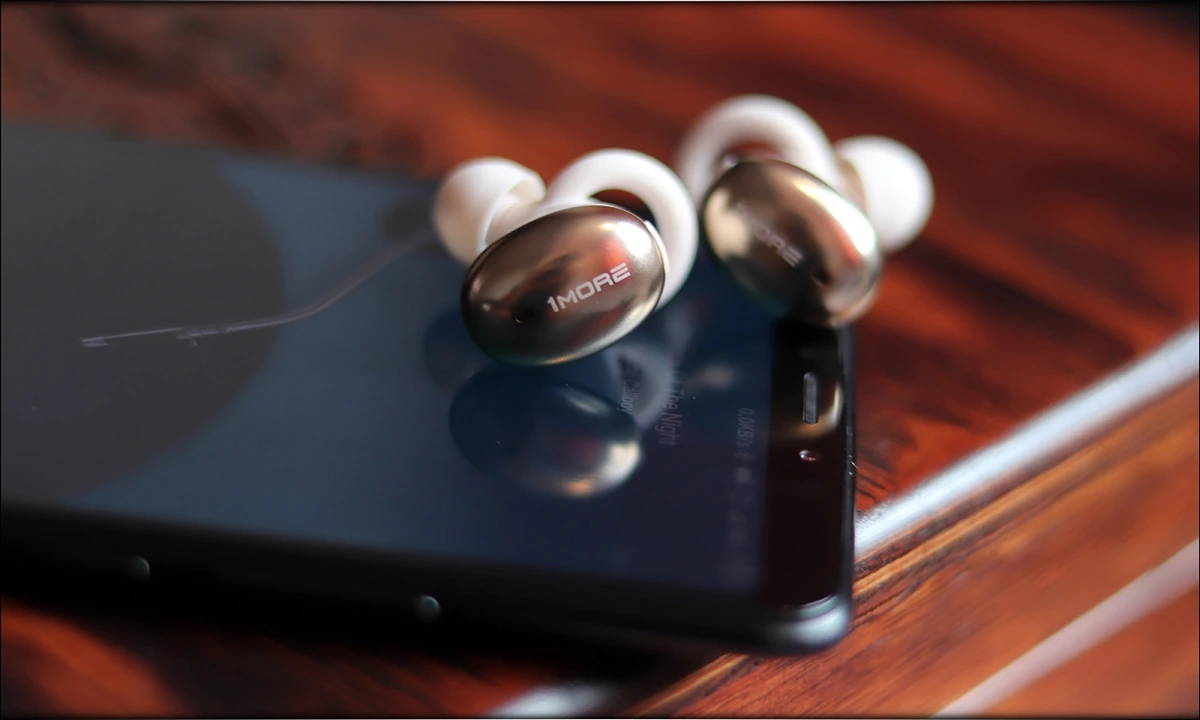 This is not the typical audiophile hi-definition sound, but for bassheads, and for those looking for a fun kind of signature, the Stylish IEMs surely deliver, and what's even better, the impact is very raw and pleasant. You get a strong punch that literally kicks you out of the room while listening to the Stylish IEMs, and you don't mind the midrange being almost a fourth of loudness of the bass, if you like the bass enveloping you in sound. 

The clarity of the entire IEM is reduced as a result, and the ones that would appreciate this type of signature are those who love large car subwoofers, and who want the bass to dominate the sound. If you're purchasing the Stylish earbuds for workouts, you should remember that while you're out and about, the bass and the treble are perceived as quieter due to the outside noise, and the noise of your own footsteps traveling to your inner ear. This means that the best experience is achieved when using the Stylish IEMs for workouts, or portably. 

The treble rolls off pretty quickly, and there's not much presence, but there's enough for it to have some detail up there, and not sound completely closed off. The stage is pretty large, as a result of the large bass, especially the width being good, although there's not much layering and not a very depth to the IEMs. 



Portable Usage

Given the fact that both of those are intended for outdoors usage, both have top notch portable usage.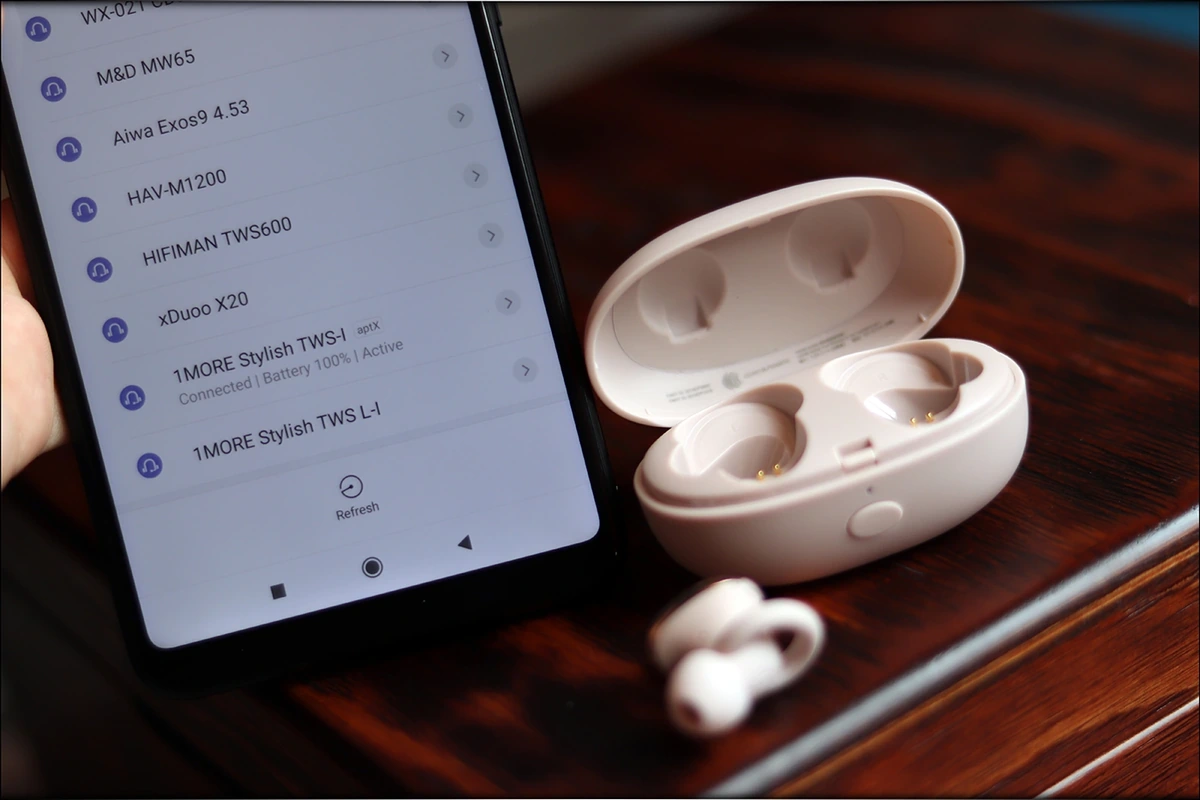 The first part is the design, and both the Quad Driver and the Stylish TWS look beautiful, making them really easy to wear outside. I mean, I am a fan of Verum one, but it looks weird, and I can't comfortably wear it while going for a workout, or when going shopping. The same can be said about Rosson RAD-0, and even Sennheiser HD660S, all of which look odd while being worn outdoors. 

If you're a younger reader, then you may want to check the edgy Triple Driver Headphones from 1More, as they also look really nice. 

Quad Driver has a poor passive noise isolation, but this can be good for portability, as, if something isolates a bit too well from the outside noise, you could get hit by a car, or run into other trouble while you're out. Stay safe and don't get eaten by a bear. 

Of course, you could always get a Chifi IEM, like the AudioSense AQ3, or the Shouer Tape, if you wanted to get something that's a bit less stylish, but if you want to go all-out on style and elegance, then both Quad Driver and the Stylish IEM are pretty much excellent. 

There's no microphonic noise with the Quad Driver, no driver flex with either, and I noticed no connection dropouts with the Stylish TWS, so both are ready for daily usage. 



Youtube Video 

1More Stylish TWS IEMs

https://www.youtube.com/watch?v=QT3vEaJRvoM



Comparisons 

The comparison part of a review is always a battlefield, and with a price of 170 USD for Quad Driver, they need to provide enough sonic performance to stand their ground, while the Stylish TWS IEMs are already pretty great value for 100 USD, but they still have some fierce competitors they need to be aware of.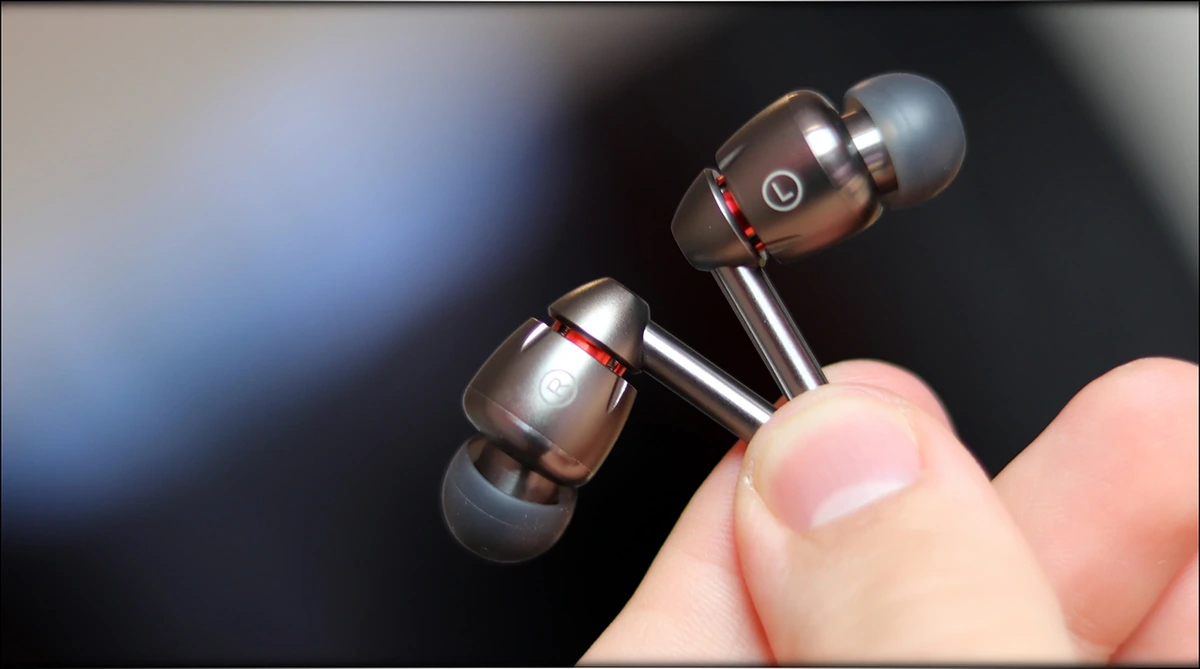 1More Quad Driver vs iBasso IT01s (170 USD vs 160 USD) – We start strong here, because IT01s has been a long time favorite for many music lovers, and I make no exception, it might as well be the one I recommend the most in the 150 USD – 200 USD price range. It is one of those IEMs that manages to do everything right, to have a balanced, natural sound, with a strong bass, lots of treble extension, air and sparkle, and with a cable that is both single ended and balanced. By comparison, Quad Driver manages to have a better package, better presentation, but IT01s has a better fit while you're wearing it. IT-01S is the kind of IEM that grows on your the more you listen, and it does sound natural, but if you're looking for some coloration, some excitement in the treble, some of the DNA of the mighty IE800, but for a lower price, a better fit, and for a more stylish package, you can always rely on 1More and their Quad Driver to provide that. 

1More Quad Driver vs Shozy CP (170 USD vs 150 USD) – Shozy CP is mid-centric, but with some bass. This means that besides the package, which is better on Quad Driver, and the fit / ergonomics, which are better on Shozy CP, the sound differences will be mostly in the treble, where Shozy CP is fairly smooth and lean, and 1More has that unnatural spike that makes me love the wet and sparkly presentation they have. This thin kind of treble is actually quite different from the smooth, relaxed and pretty natural treble of Shozy CP. As for the rest of the sound, at the end of the day, they have very similar levels of detail and clarity, but Shozy CP is thicker, heavier, the music has more body and just feels more natural. If you're going for a mid-centric presentation, and if you like a natural midrange, you can go for Shozy CP, but if you want some excitement, and if you want a sparkly treble, and a V-Shaped presentation, the Quad Driver should serve really well. 

1More Quad Driver vs Final Audio E4000 (170 USD vs 150 USD) – Final Audio is one of my favorites when it comes to providing an interesting sound, and once again, it does not disappoint. Besides being much harder to drive, and leaking sound, neither of which Quad doesn't do, E4000 is more comfortable, and can also be worn straight-down and over-the-ear. The package is better for Quad Driver, and so is the carrying case included in the package. The design looks cooler on the Quad Driver, although, if we were comparing Quad with E5000, both would be looking pretty sharp. In sonics, Quad sounds much more V-Shaped, where E4000 is fairly natural, no unnatural spikes or valleys. Nothing isn't unnaturally enhanced or dipped, where Quad Driver is one of the more colored V-Shaped sounding IEMS, with a strong bass and a strong treble spike. E4000 is not quite as exciting or as engaging as Quad Driver, and Quad Driver has more dynamics and more punch, where E4000 is more natural and has better midrange tonality, better clarity and more detail.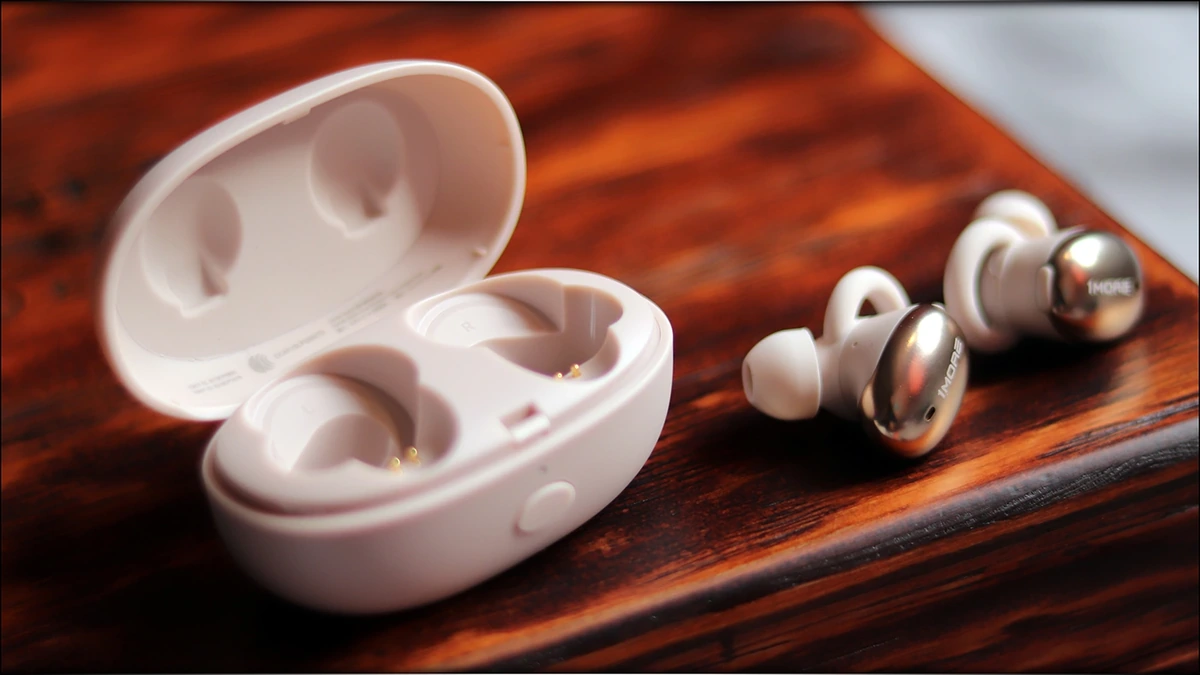 1More Stylish TWS IEMs vs HIFIMAN TWS600 (100 USD vs 150 USD) – Comparing two TWS IEMs now, they are similarly comfortable. They connect similarly well. But TWS600 does not have aptX, where Stylish TWS do. TWS600 has slightly more battery life in total, especially the charging case offering more charging cycles. This being said, the IEMs themselves are more comfortable for 1More. Both are resistant to sweat and dirt, so both are great for workouts. Both use Bluetooth 5.0. The sound is terribly different, with TWS600 being a midrange – treble happy IEM, with very little bass, and which can sound shouty, and very aggressive / forward, where 1More Stylish sounds very thick, warm, bassy, boomy, and smooth. They are literally polar opposites. You can EQ both, but where you can add quite a bit of bass to TWS600, the treble of 1More is always smooth and lean, you can't make them more forward even if you wanted to, so your best bet is to get 1More Stylish if you want a warm and bassy signature, and to get HIFIMAN TWS600 if you want a mid-centric or treble-centric IEM. Both have similar maximum volumes. 

1More Stylish TWS IEMs vs Lypertek Tevi (100 USD vs 100 USD) – Lypertek Tevi is a favorite to almost everyone who tries it, and sadly, it kind of wins here as well in certain areas, it simply is a better overall deal, especially considering it's pretty pocket-friendly price point of 100 USD. The thing here is that Tevi offers better overall proofing from sweat and dust, they are lighter, also have BT 5.0, and they have a more traditional V-Shaped signature, compared to the bass-rich and heavy signature of 1More Stylish IEMS. Both Tevi and 1More Stylish have aptX. Tevi has a total battery lifetime of 70 hours, by having 10 hours of playtime from the IEMs, and 6 times of charge from the case. This is more than double what 1More Stylish has. Tevi has a Type-C charging port, where 1More has microUSB. The call quality and microphone quality is also better for Lypertek Tevi in general. The place where 1More wins is in design, they look better, and with the Linkin Park logo of Lypertek Tevi, it is not as modern and elegant as 1More. Also, for a workout IEM, you need to compensate for the noise you'll be making yourself, so using something bass-heavy like 1More Stylish IEMs may result in a better overall sound. Lypertek Tevi sounds better if you're sitting and not moving around much, but once you get on the go, the bass rich signature of 1More tends to drown out the ambient noise better. Lypertek Tevi gets a bit louder than 1More in actual practice. 

1More Stylish TWS IEMs vs RHA TrueConnect (100 USD vs 170 USD) – This is also a new one, but RHA's True Connect has a beautiful build quality. The sad part here is that TrueConnect does not have aptX or anything above SBC. They do have BT 5.0, like 1More Stylish though. The battery has 25 Hours of combined battery with 5 hours per charge, which is lower than what 1More has with their Stylish IEMs. RHA has a stronger warranty, with a 3-Year warranty vs 1 Year for 1More. Both IEMs are water and sweat resistant. In terms of sonics, RHA sounds pretty similar to 1More, and the largest difference between them would be the overall signature not being quite as heavy and bassy for RHA. 1More has very similar levels of detail and clarity when compared to the TrueConnect, but the TrueConnect is not as heavy, it is more balanced and the midrange is more natural. Both are thick-ish, both have only fair levels of detail and clarity, and both are considerably more made to be stylish, elegant, for aesthetics and comfort than they are made for actual usage. Both have a clicky physical button on the outside, and neither doesn't have one of those inconvenient touch buttons. 



Recommended Pairings

1More Quad Driver is a smoother / warmer type of IEM, so brighter sources would typically compliment it more, but at the same time, given its price of about 170 USD, most sources would be within the 200 USD price point. This makes FiiO's K3, Shanling M2X, and HIDIZS AP80 really good contenders for pairing the Quad Driver With. 1More Stylish TWS IEMs are Bluetooth, so they won't care what source you're using them with, they will sound the same from FiiO M11, iBasso DX229, or a typical smartphone, because as long as the source has the proper codecs, it is the IEMs who do all the decoding and the amplifying, the source only sending the data to the IEMs.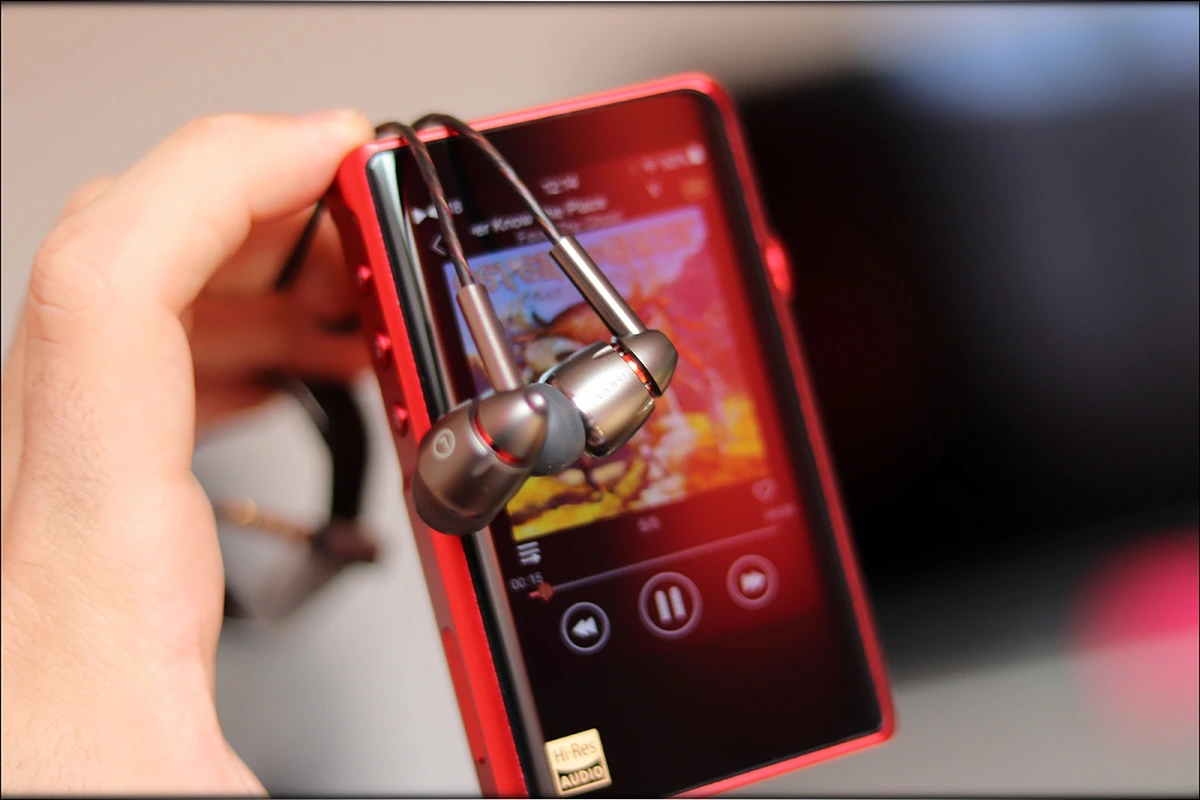 1More Quad Driver + FiiO K3 – FiiO K3 does a really good job at driving the quad driver. It has a fast enough bass to keep it in pace, and there's no hiss, nor is there any undesirable noise. Furthermore, the price of K3 makes it really easy to recommend, and although FiiO doesn't state this publicly, it should work with most smartphones, although it may drain those a bit fast. 
1More Quad Driver + Shanling M2X – If you want an affordable DAP that does a great job at driving any IEM under the sun, M2X should be it, and it has the advantage of having a magically musical midrange, a clean bass, and a punchy sound, without sounding warm and thick, like most of its competition. In fact, M2X is a really great one, that is overlooked, because it stays comfy with driving IEMs and only very easy-to-do headphones, rather than having a ton of power like some of its most direct competitors do. 

1More Quad Driver + HIDIZS AP80 – Who could forget about AP80, the tiny DAP from HIDIZS that really made a name for itself, for its warm-ish sound, clear delivery, and for a really good price performance ratio. There's also the M0 from Shanling, which has a very similar design, but I picked AP80 for this pairing, because HIDIZS managed to put a bit more punch and power in their AP80, and Quad Driver takes advantage of that, it gives them slightly more body, which helps the overall balance in the sound. 



Value and Conclusion

In the end, the value of both Quad Driver and Stylish TWS IEMs is great, and 1More managed to deliver a nice overall package for the money they asked for. They even deliver a modern take, and a special unboxing experience, so they are dual purpose, especially if you have a loved one who would love the kind of signature that Quad Driver has, or the Stylish TWS has, you could get them something they'll really remember.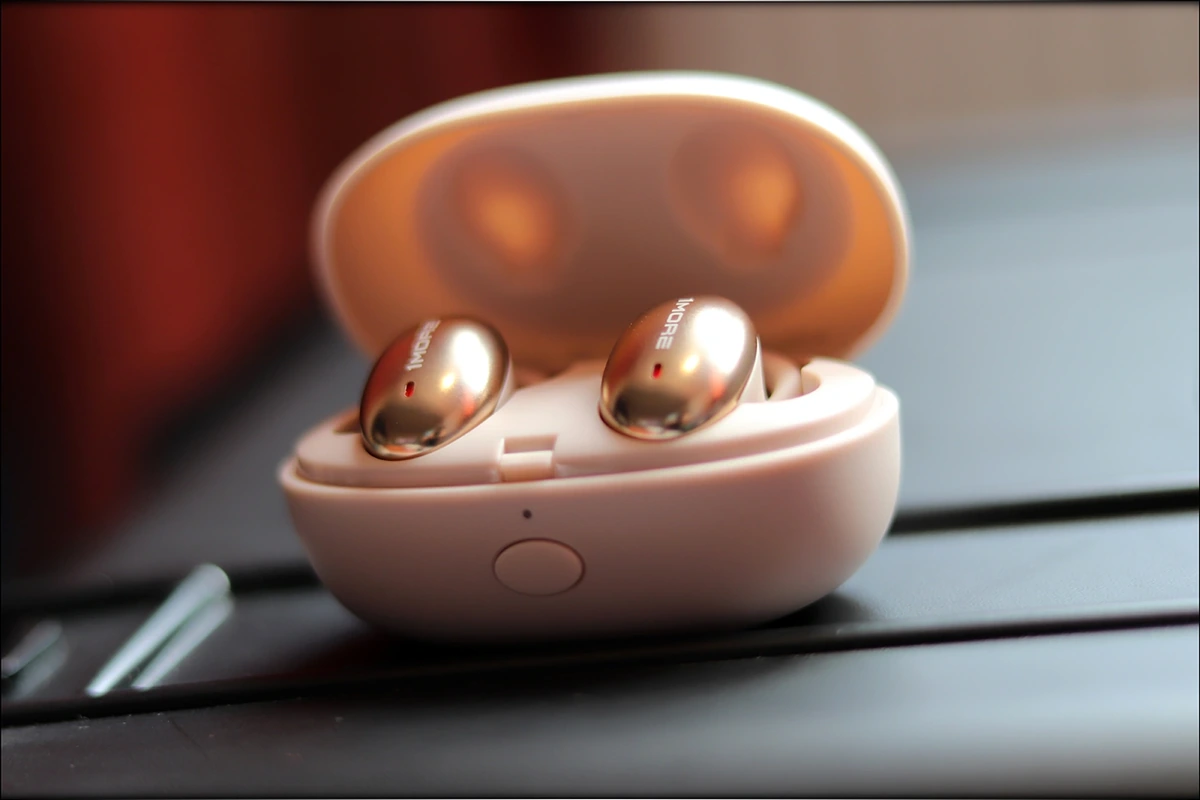 The build quality is great for both IEMS, but I feel like if you wanted a TWS IEM, you probably wouldn't go with a pink rose color, unless you are a lady, or were getting it for a lady. I think that they look gorgeous in photos, and I appreciate that 1More sent such a beautiful color to me, but I don't think it is quite that practical for most users. On the other hand, the slightly edgy design of the Quad Driver should work well for anyone, they would fit with any environment, regardless whether you are at work, going for a jog, or using them while commuting. 

The sound is warm for both, but while the Stylish TWS is a smoother sounding IEM, with a thick mid, the Quad Driver is a unique piece, with much less body, a slightly thin sound, and with a very sparkly treble. Both deliver a nice bass for those who love some impact. Both the Stylish IEM, and the Quad Driver works really well for Pop, EDM, and commercial music. The Quad Driver dips its toes into playing metal and rock as well, and you even get Bluetooth 5.0, and aptX for the Stylish IEMs, so don't worry, they sound the best it was possible for them to. 



At the end of this review, if you want a really modern-looking, elegant IEM that offers a really nice unboxing experience and has a nice package, along with a strongly V-Shaped, sparkly, punchy sound, the 1More Quad Driver is a really good choice.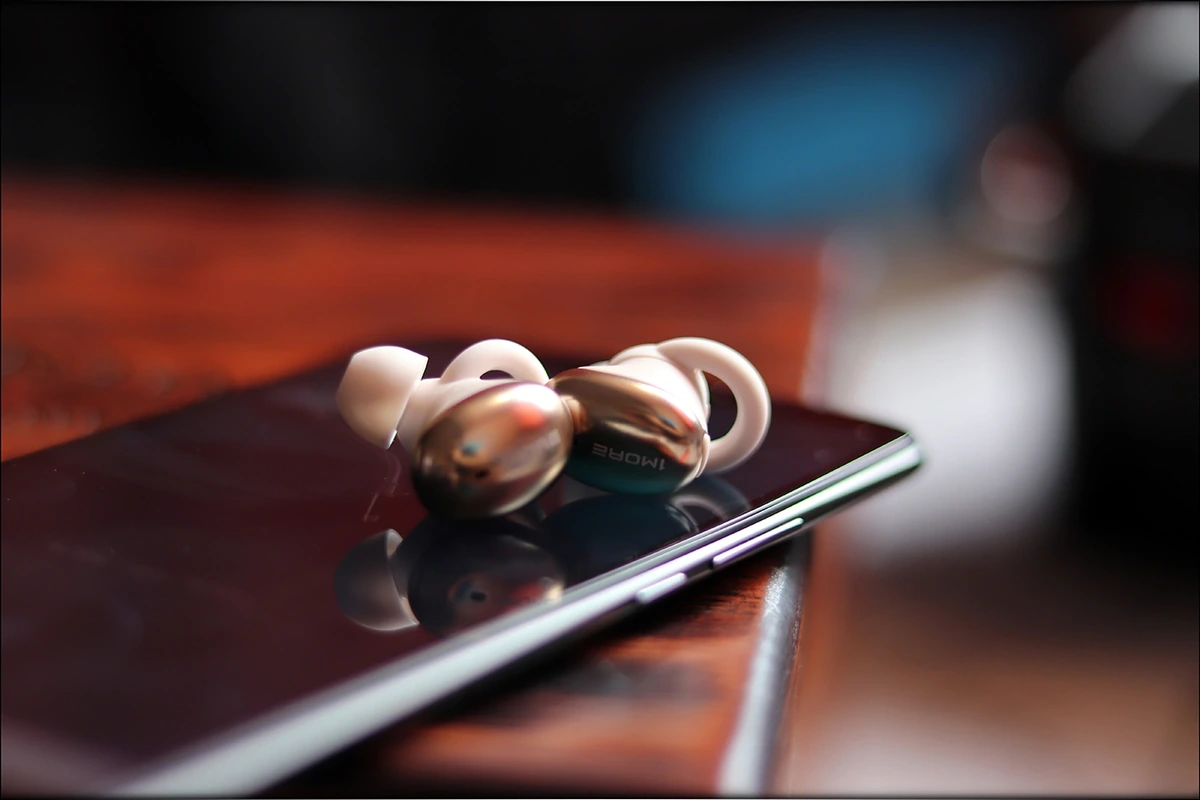 On the other hand, if you're looking for a top-class TWS IEM that offers a clear performance, with Bluetooth 5.0, aptX, and has a Titanium driver, and 24 hours of music playback, with the charging case's battery included, you could really consider going for the 1More Stylish IEMs. 
Product Link
You can always purchase 1More Quad Driver from www.amazon.com here: https://www.amazon.com/1MORE-Headphones-Reproduction-Resolution-Smartphones/dp/B06XSJV5B9/
---
--- Please remember to stay safe, and always have fun while listening to music!---
 - If you have a dime to spare, please donate, and help us! It would make the day brighter for me and my wife- 
---
Full Playlist used for this review
We listened to more songs than those named in this playlist, but those are excellent for identifying a sonic signature.  I recommend trying most of the songs from this playlist, especially if you're searching for new music! The playlists are different for Spotify, Tidal and Youtube, and based on the songs I enjoy and are available on each!
https://www.youtube.com/playlist?list=PL_cjBXGmwSHSdGcwuc_bKbBDGHL4QvYBu
https://open.spotify.com/playlist/5J3oloz8Riy9LxEGenOjQ0?si=979ba4f082414be7
https://tidal.com/browse/playlist/330fd544-8e5b-4839-bd35-676b2edbb3d5
--- Contact Us ---





---