Sweet Mid Tank – Shozy CP IEM Review
Shozy CP is an IEM (In-Ear Monitor) priced at 150 USD, which promises to deliver a sweet and midrange-forward experience, along with excellent reliability and outstanding build quality. I'll be testing whether it delivers on those promises, and where it stands in the market, compared to very well-known competitors. 
Introduction

Shozy is a pretty widely known name with music lovers, and I have written quite a few reviews about their products before, and have always had a great experience with them. They rely on an excellent track record of providing a sweet sonic signature, with a forward midrange, a leaner and more neutral bass, and a smoother treble, and they also rely on good build quality, and good price to performance ratios. 

It should be noted that I have absolutely no affiliation with Shozy or Linsoul Audio, I am not receiving any incentive for this review or to sweeten things out. This review is not sponsored nor has been paid for by  Shozy or Linsoul Audio or anyone else. I'd like to thank Linsoul Audio for providing the sample for this review. The sample was provided free of charge, along with Linsoul's request for an honest and unbiased review. This review reflects my personal experience with Shozy CP. Every opinion expressed is mine and I stand by it, the purpose of this review is to help those interested in Shozy CP find their next music companion. 
Purchase Link
You can purcahse your Shozy CP from www.amazon.com here: https://www.amazon.com/SHOZY-NEO-CP-Customized-Detachable/dp/B07H4JXXDV/
Packaging

First things first, let's get the packaging out of the way: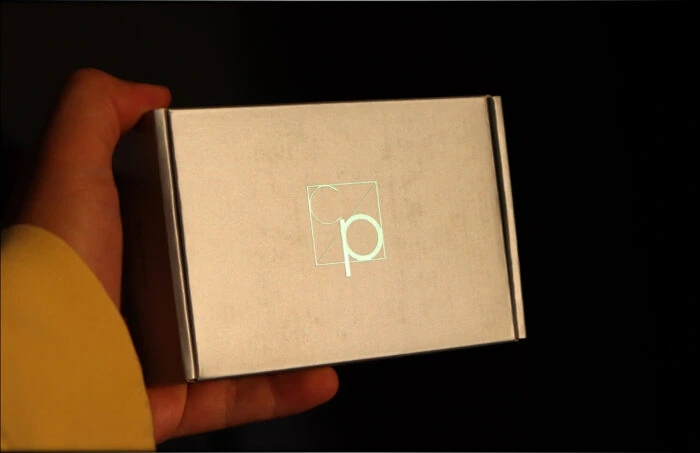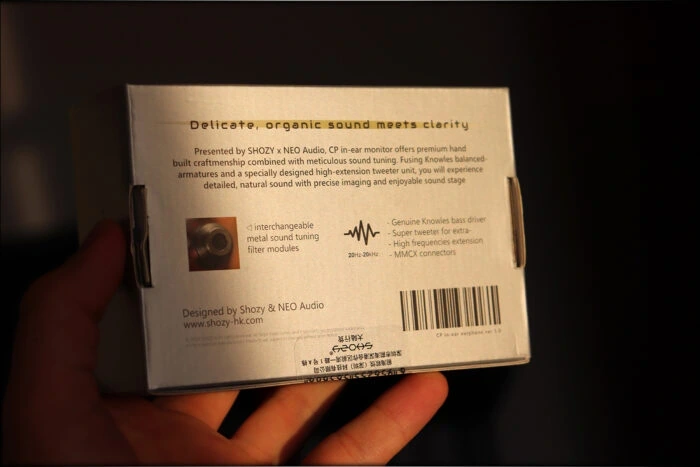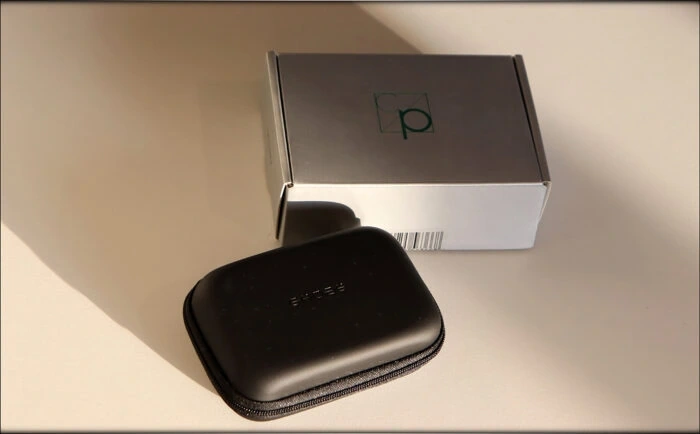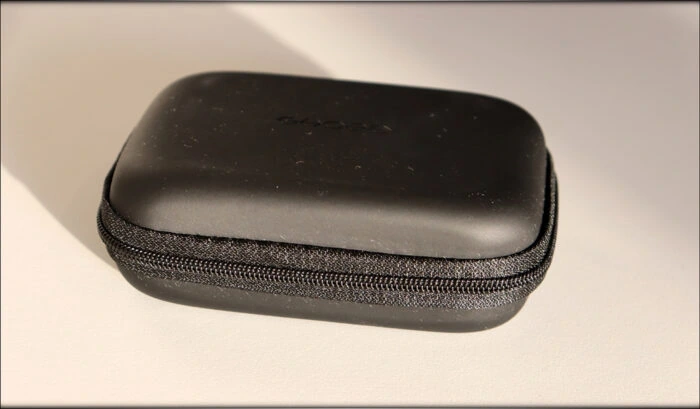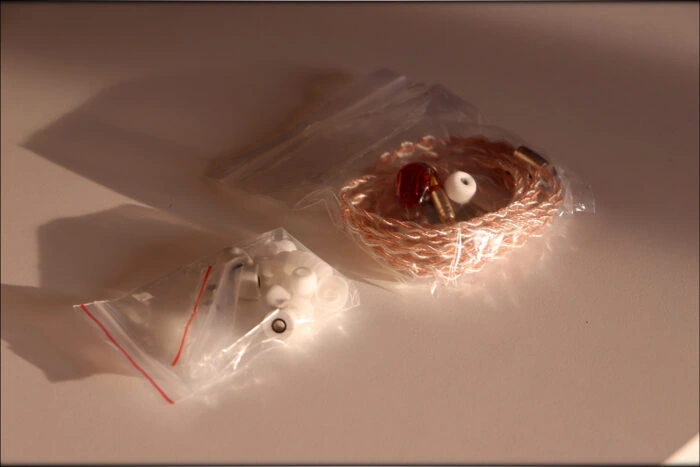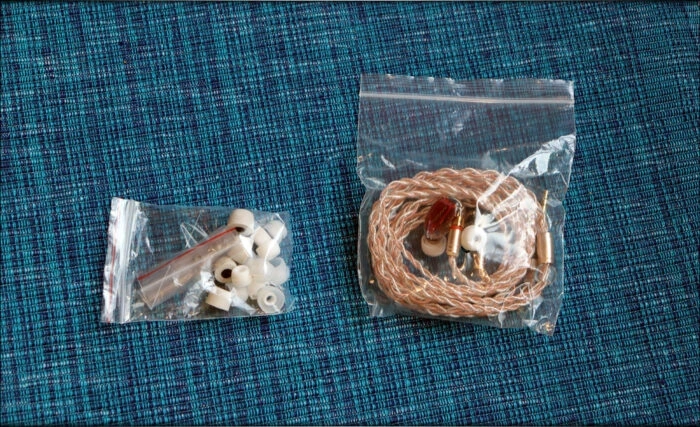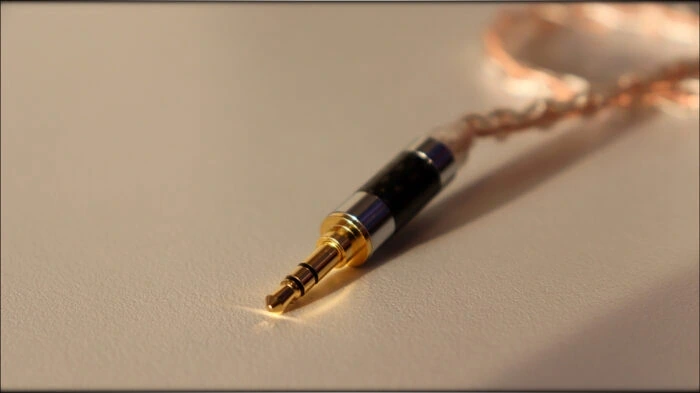 Shozy CP comes in a tiny package, and well, for a more entry-level IEM, the package is quite enough, serving well to present this IEM. 

Inside the cardboard package you will find the carrying case, which is a pretty cool accessory to Shozy CP, and quite welcome to them, adding to the package value. 

Besides the IEMs themselves, you will find spare tips, and extra filters. 

The cables are already connected to Shozy CP, but they have detachable cables, relying on the MMCX connectors. If I were to make a list of IEMs that come with interesting cables, Shozy CP would be on that list, for their thick and soft cable that looks and feels very high-end, and really amazing for the price. The cable is braided and not very springy. 

Considering the price of 165 USD for Shozy CP, the package is very good and in line with other similarly priced IEMs. They do not reach a golden level, since they do not include balanced cable, nor a solution to use balanced cables, like iBasso IT01S / IT04 does, but still, the package of Shozy CP will be enough and even more than enough for pretty much anyone getting a pair. 



What to look in when purchasing a high-end In-Ear Monitor

https://www.audiophile-heaven.com/p/what-to-lookl.html


Technical Specifications

Driver: 3 Balanced Armatures (22955 Knowles Low Frequency, Custom Mid and High)
Impedance: 30 ohms
Sensitivity: 107 dB SPL/mW
Frequency Response: 20-20kHz
Passive Noise Isolation: 25dB




Build Quality/Aesthetics/Fit/Comfort

Starting with the build quality, you will be absolutely amazed. This is not your everyday Chi-fi IEM, and everything about it screams that, and in a very loud and resounding voice. The IEM shells are not empty inside like most IEMs out there, but rather they are full, basically there being material all around the drivers and the tubes.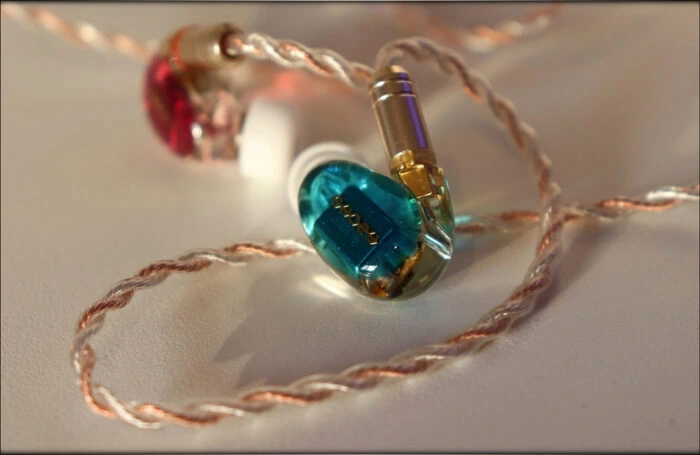 This means that the IEMs themselves are a bit heftier than you'd expect them to be, but they're not quite as heavy as larger, multi-driver IEMs, like Rhapsodio Zombie, which is quite a bit larger and has quite a few more drivers inside. Rather, Shozy CP is pretty much in line with iBasso IT-01 in terms of weight. 
The cable is pretty soft, and braided, it is not the springy type, it doesn't tangle, and it feels extremely nice to the touch. There are no cable microphonics, and I experienced no issues with it while in usage. Furthermore, the cable plug is absolutely beautiful, being a 3.5mm Gold Plated, Single Ended jack. 

Shozy CP is also extremely comfortable, with a small shell size, good ergonomic design, rounded shell, there is literally nothing to impede your comfort, and they are one of the most comfortable IEMs I have ever tested. I tend to use smaller tips with them, and the included tips are very comfortable, and do not require an immediate replacement, or a replacement at all. 

You can feel some void while wearing them, since they are an all-BA setup, and they don't require vents, so take care when inserting them and pulling them out. This also means that they have an above-average, to excellent isolation, the tips actually being a tad less isolating. If you wanted extreme isolation, you could use foam tips, and with the thick full-shell bodies, and foam tips, you'd get almost custom levels of isolation out of Shozy CP.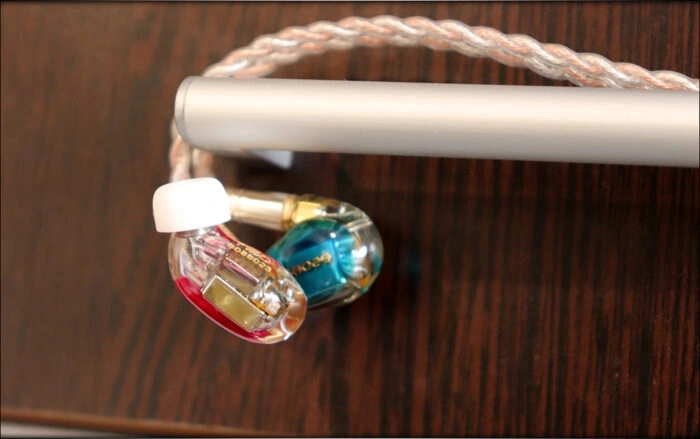 The aesthetics are quite interesting, they are one beautiful-looking IEM, with an asymmetrical design, the right earpiece being red in color, while the left earpiece is blue, according to the color coding for most products. They are even more beautiful in reality, than I could picture them in photos, and the fact they are made so well, makes them really fun to look at, hold, and use. 
All in all, Shozy CP is one of the best build, most ergonomic, most comfortable IEMs with one of the best looks in this price range, and should be given a crown for doing things so well, reaching the golden level, and setting a new standard in their way. 



Sound Quality

Shozy has a "house signature" that is quite hard to mistake, and which they have been implementing in all their products to date. This is usually a midrange-forward sound, and since they kept to their guns, people who love a sweet, more forward midrange, have been quite happy with getting Shozy products so far.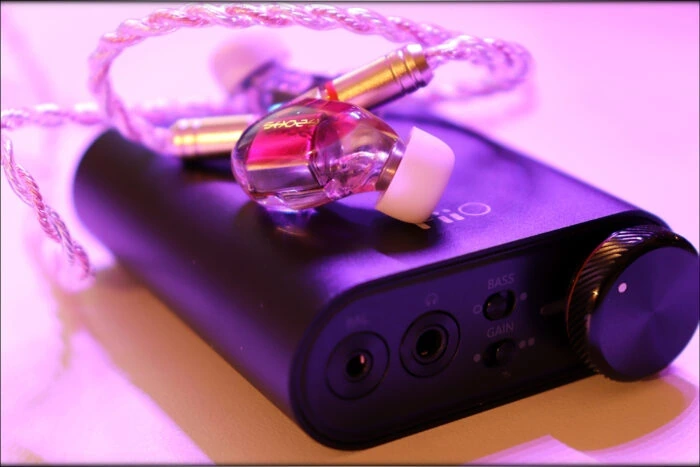 Shozy CP is also in line with their typical signature, offering a warm, smooth, midrange-forward sound, that has a good clarity, quick and nimble treble that is fatigue-free, a more intimate soundstage, and a really really natural midrange. 

Starting with the bass, they have a more neutral bass, that is present when needed, but which isn't much above the neutral line. It is fast enough for most styles of metal, and it is present enough to hear the bass guitars in Pink Floyd's albums, but the bass is not overly dramatic nor explosive, Shozy CP being a IEM for those that prefer a more neutral bass presentation, rather than a bass-heavy one. The bass speed is walking the line of natural, not being a typically BA-Fast Bass. 

The midrange is warm, enthusiastic, slightly euphonic, sweet and clear. The instrument separation is fairly good for the price range, and the tonality of Shozy CP, being slightly euphonic, will do good favors to happier and more clean-toned music, although they can play some metal fairly well, with their good detail and textures complimenting solo guitars fairly well. Being a happy IEM, Shozy CP isn't very dramatic, so they don't present violins or sad songs quite as well, most other Shozy products working also better with happier music. This works extremely well with rock, punk, pop, indie and even with older recordings, but it doesn't work well with sad music, or violins. The midrange is also fairly fatigue-free being natural and relaxed, not extremely forward, or in-your-face. 

The treble is smooth and fatigue-free, being a friendly treble that you can listen to for hours in a row, which does compliment older recordings fairly well. The detail levels aren't the most expressed since the treble is more friendly, but they avoid a "false detail", where details are virtually enhanced, rather going for a more old-fashioned type of sound, where everything is made to sound natural, and to be fatigue-free.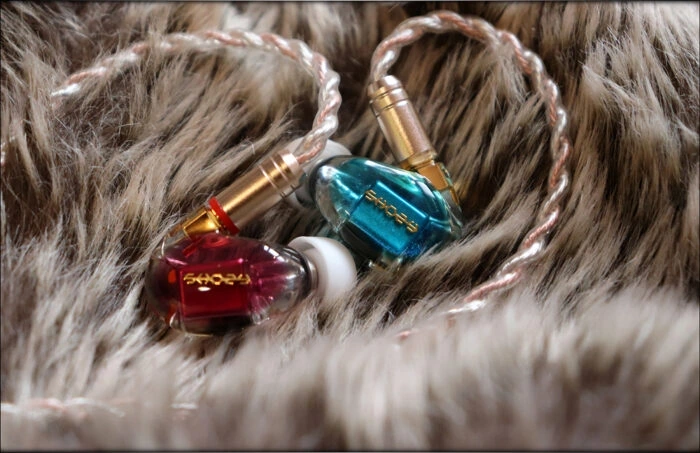 All in all, their soundstage is natural, to slightly intimate, which favors music, if you prefer feeling like you're sitting in the same room as the singer, Making Freddie Mercury's interpretation more emotional and direct. The good instrument separation and detail also compliments the forward presentation. 



Portable Usage

The portable usage is excellent. 

Shozy CP is slightly sensitive to hiss, and being an all-BA setup, with low impedance, this is to be expected, but still, the hiss isn't audible while music is playing, even at low volumes, so most sources will do just fine. Furthermore, they are complimented nicely by something small, like FiiO BTR3, which can drive them quite well, making them even more portable.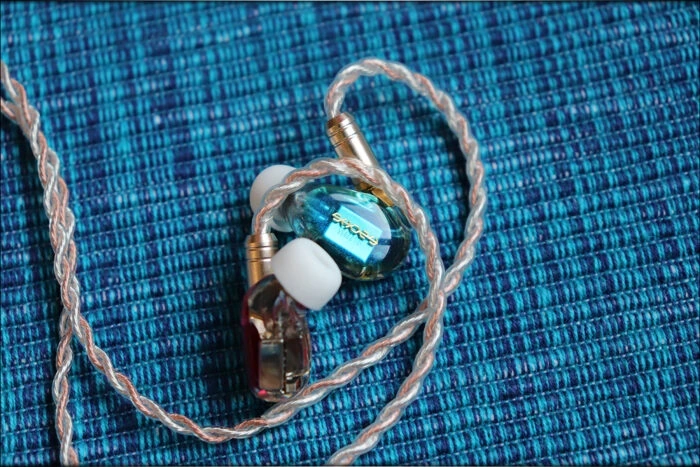 Not all IEMs are fit for running and jogging, but Shozy CP is, and I can easily recommend it for doing more intensive activities, including taking a trip around Bucharest, as I did recently while using CP. 

The cable is soft and doesn't tangle nor is springy, complimenting their already excellent fit and ergonomics, and with the around 25 dB of passive noise isolation, you won't feel the need to adjust the volume too loud, as you won't be hearing the chatter of noisy cafes, nor the noise of the subway, making CP a really good IEM for an active urban lifestyle. 



Comparisons 

Shozy CP is in a very competitive price range, and there are many other options in the 100 – 150 – 200 USD price range, but I'll try to pick some that are more prominent, to compare Shozy CP with, since it has to stand its ground against the bests of this price range, to make sense for its purchase.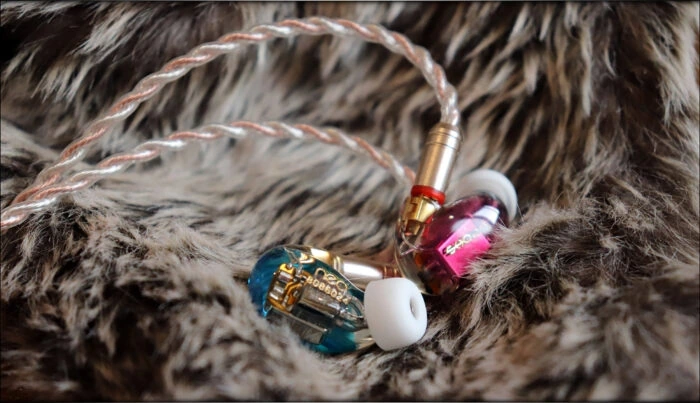 Shozy CP vs FiiO F9 Pro – Starting with the package, F9Pro wins in terms of the raw package, and by a good margin. F9Pro comes with two cables, one that is single ended, and one that is balanced, and also comes with two carrying cases, one that is peli-style, and one that is made of soft fabric. F9Pro also comes with a wider selection of tips. In terms of build quality, Shozy CP is better built, and the fact that the shells are full rather than empty inside makes them feel much better and trustworthy, but both F9Pro and CP are similar in terms of comfort, and both are extremely comfortable for me. Both provide similar amounts of passive noise isolation, although F9Pro isolates a bit less and CP a bit more, especially side-by-side. The sound is very different between the two, with F9Pro having a larger, quicker and more punchy bass, a less forward and more neutral midrange, and a more sparkly, better extended and more engaging treble. By comparison, Shozy CP feels considerably more neutral in the bass, more forward in the midrange, has a more intimate soundstage, and has a much more fatigue-free treble. If you wanted a fatigue-free experience, with a smooth treble, a neutral bass, and a natural, yet forward midrange, then Shozy CP is the one for your, while if you wanted a neutral overall IEM, with a neutral bass, neutral midrange, and a brighter, more sparkly and more engaging treble, F9Pro makes a very compelling offer as well. 
Shozy CP vs iBasso IT01 – iBasso IT01 is slightly less expensive than Shozy CP, and has recently been replaced by IT01S, which is very different from the original, but for now those having IT01 and looking to upgrade to Shozy CP, or those looking into getting either of the two are curious about how IT01 compares to CP. Starting with the package, the transport case of IT01 is better than the one CP comes with, because it is made of metal, but it is smaller in size. The build quality and comfort is quite comparable, and I actually do think that IT01 is just as comfortable as Shozy CP, but the passive noise isolation is better on Shozy CP. The build quality feels similar, and iBasso's attention to details in the build of IT-01 makes good competition for the excellent housings Shozy CP has. The sound is quite different, with IT01 having a much much warmer and more enhanced bass and upper bass, a recessed midrange, and a much more sparkly treble with more emphasis on emotion. IT01 also has a larger soundstage, leading to a very different sonic presentation from Shozy CP. If you're looking for a more V-shaped sound, with more treble emphasis, and with a warmer and larger bass, that will surely glaze everything for pure fun, then IT01 is still very easy one of the best IEMs for the 100 USD price range, but if you're looking for a more intimate soundstage, with a more midrange-forward sound, with more emphasis on euphonics rather than sparkle, and if you want a smooth and fatigue-free sound, you should check out Shozy CP. 
Shozy CP vs Simphonio XCITED 2 – XCITED 2 from Simhonio has been a personal favorite, as I had quite a bit of fun with it. They are uniquely built, but their sound is extremely detailed and clear, and they have a really addictive overall tuning. The packages of Xcited 2 and Shozy CP are pretty much the same, with a similar carrying case and a similar accessory set included with the IEMs. The build quality feels better on Shozy CP, and they have detachable cables, making XCITED 2 feel a little fixed with a non-detachable cables. The comfort is better on Shozy CP, but they isolate similarly well. Since XCITED 2 has a dynamic driver inside, it has ventilation holes, so it may isolate a bit less than Shozy CP, but this also means that they don't have void while being worn. The sound is extremely different, basically being an absolute opposite, XCITED2 being a strongly V-Shaped IEM that makes the bass quick, punchy and forward, the midrange recessed, yet extremely clear and playful, and the treble sparkly, and engaging. Compared to Shozy CP, XCITED 2 has more impact, a considerably larger soundstage, better instrument separation, but a considerably more recessed midrange, and a much more sparkly treble, while CP has a more neutral bass, with a more intimate soundstage, a more forward vocal presentation, and a considerably smoother treble that is sure to be fatigue-free. If you're looking for an exciting experience, than XCITED 2 should serve you quite well, while if you're looking for a smooth and relaxing experience, then Shozy CP should be your main choice. 



Recommended Pairings

Shozy CP is slightly sensitive to hiss, and you may want to consider sources that are inherently less hissy for them, but this isn't an issue while music is playing. Furthermore, they scale fairly well with sources, but most Players and DAC/AMPs below 300 USD should power them adequately, and should provide a very fun and complete experience. Shozy CP is even drivable by a typical smartphone, and doesn't require much in terms of source to sound good, not being very picky with their source.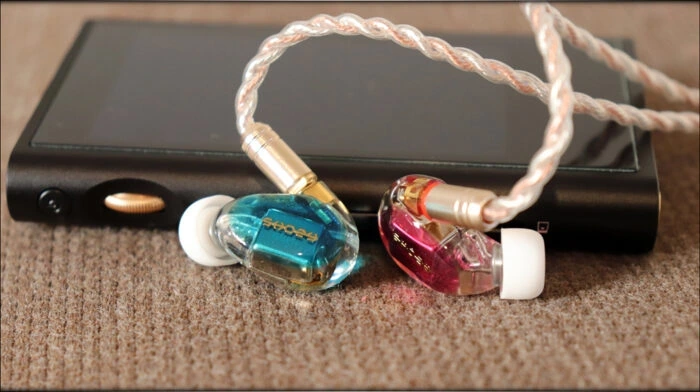 Shozy CP + FiiO M7 – FiiO M7 is quite nice for driving Shozy CP, because it is a very neutral Player, so it may help with their smooth treble, making it a bit more engaging than the average of players. M7 also has quite a few abilities under the hood, making it an excellent DAP for today's world, especially if you like the small shape, and the rather good battery life it offers. The pairing sounds pretty engaging, more neutral in the midrange, and with more treble sparkle, with the bass being slightly quicker, thanks to M7's very neutral and quick presentation. M7 also has more than enough power for driving Shozy CP. 
Shozy CP + iBasso DX120 – iBasso DX120 may be a little overkill for Shozy CP, given its really amazing sound that could pair even with a flagship, but it is a really easy to recommend player if you have Shozy CP and want a warmer, more bassy sound. In fact, with DX120, and its selectable filters and music modes, you can easily fine tune it to pair with Shozy CP the way you'd want it to, and with its dual microSD slot, and with the quick speed, and outstanding size and design, you're in for a lot of fun if choosing to go with this pairing. 
Shozy CP + xDuoo XD10 Poke – xDuoo XD10 poke is quite interesting, because, like DX120, it is quite a bit overkill for Shozy CP, but like M7, it has a very very neutral sound, with a colder overall tonality, which pairs quite well with Shozy CP, if you want a colder, more analytical sound that also compliments sad music a bit better than CP's original tuning. As a bonus, you also have a wide-coverage bass-boost that can make CP much much warmer and more bassy, but which won't make them distort nor flabby, making XD10 Poke quite a great choice if you already have a smartphone and if you want to have access to bells and whistles like streaming services. 



Value and Conclusion

Shozy CP surely stands its ground nicely to other IEMs priced similarly, even to the kings of this price range, especially if you prefer the style of sound that CP has. 

Starting with the package, you get a lot with Shozy CP, from the IEM shells which are quite nice, to the flexible braided cable, and a good selection of tips and two dust filters.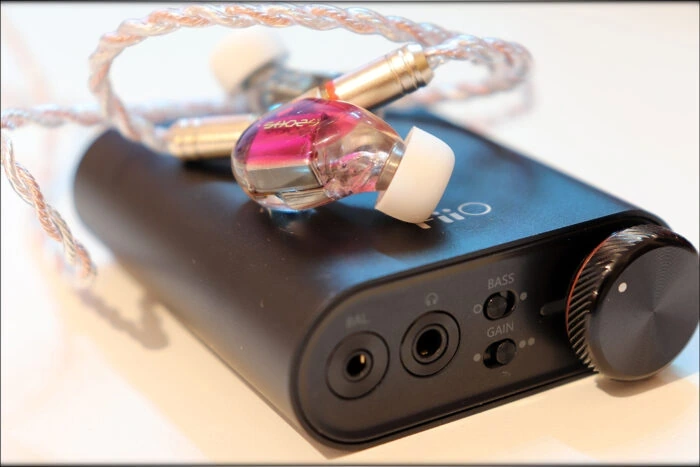 The IEM shells are designed very ergonomically, and are beautiful, and the cables are also built quite well, so you don't have to worry about cable noise (microphonics), or discomfort while wearing them. They also provide almost 25 dB of isolation from the outside noise, especially if you're using them with foam tips, so they can be used as performance In-Ears if you wanted to. 
The sound is one-of-a-kind, or rather, it is part of Shozy's house signature, which became quite known after the previous successful IEM releases. The bass is neutral, the midrange is pushed forward, and the treble is smooth and fatigue free, yet there is a good amount of clarity, detail, and instrument separation, all presented in a more intimate soundstage. 

If you are wondering about how hard Shozy CP is to pair with other devices, then you have no reason to be afraid, they are easy to pair with sources and you could be driving them from a smartphone, being a really convenient and easy-to-drive IEM.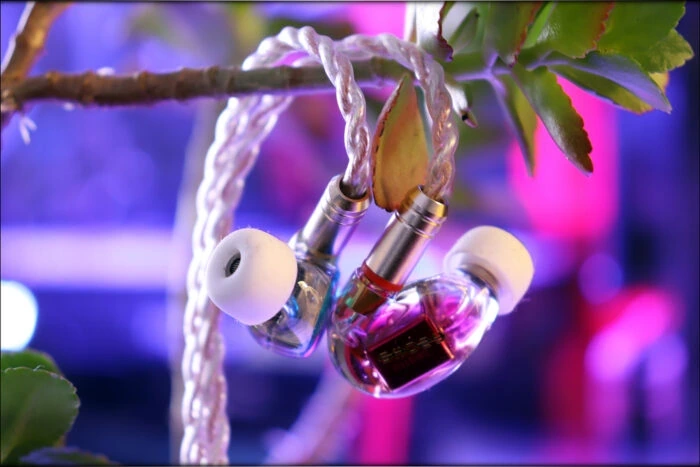 All in all, if you're looking for an euphonic, sweet, and happy-sounding IEM, with a forward midrange, an intimate soundstage, and a clear sound, you should totally check out Shozy CP, and for the best warranty, don't forget to order it from Linsoul, one of the best shops for Chi-Fi IEMs. 
Purchase Link
You can purcahse your Shozy CP from www.amazon.com here: https://www.amazon.com/SHOZY-NEO-CP-Customized-Detachable/dp/B07H4JXXDV/
---
---
--- Please remember to stay safe, and always have fun while listening to music!---
 - If you have a dime to spare, and donate, to help us with electricity and work expenses, it would make my day much brighter, as it would help me improve things around the website and increase the frequency of my posts - 
---
Full Playlist used for this review
We listened to more songs than those named in this playlist, but those are excellent for identifying a sonic signature.  PRaT, Texturization, Detail, Resolution, Dynamics, Impact, and overall tonality are all revealed by those songs. We recommend trying most of the songs from this playlist, especially if you're searching for new music!
https://www.youtube.com/playlist?list=PL_cjBXGmwSHSdGcwuc_bKbBDGHL4QvYBu
--- Contact Us ---






---
---