Triple The Bass – 1More Triple Driver Headphones Review
1More Triple Driver is an interesting On-Ear Headphone with a pretty unique aesthetic design, a ceramic tweeter, graphene bass driver, and a third bass reflex driver, priced at 200 USD, making it a competitor for ESS 422H, AIWA ARC-1, and Meze 99 Neo.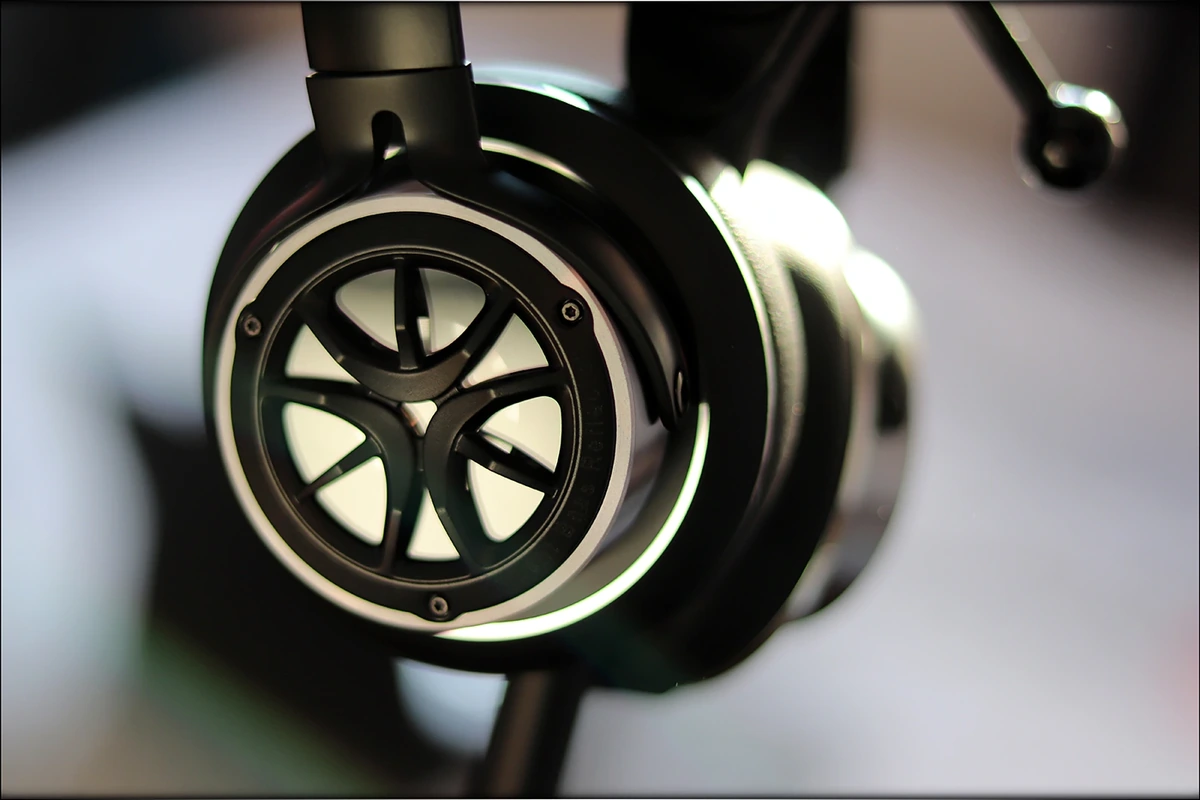 Introduction

1More is actually a very popular headphone brand, known throughout the world, being appreciated for beautiful packaging, exceptional warranty and build quality for their products, and for a very beautiful product design. You can always rely on 1More for excellent warranty and good build quality. 

It should be noted that I have absolutely no affiliation with 1More, I am not receiving any incentive for this review or to sweeten things out. This review is not sponsored nor has been paid for by 1More or anyone else. I'd like to thank 1More for providing the sample for this review. This review reflects my personal experience with the 1More Triple Driver Headphones. Every opinion expressed is mine and I stand by it, the purpose of this review is to help those interested in 1More Triple Driver Headphones find their next music companion. 
Product Link
You can get the 1More Triple Driver Bass-Tuned Headphones from www.amazon.com here: https://www.amazon.com/1MORE-Headphones-Comfortable-Tangle-Free-Smartphones/dp/B0798TVDVJ/
Packaging

First things first, let's get the packaging out of the way: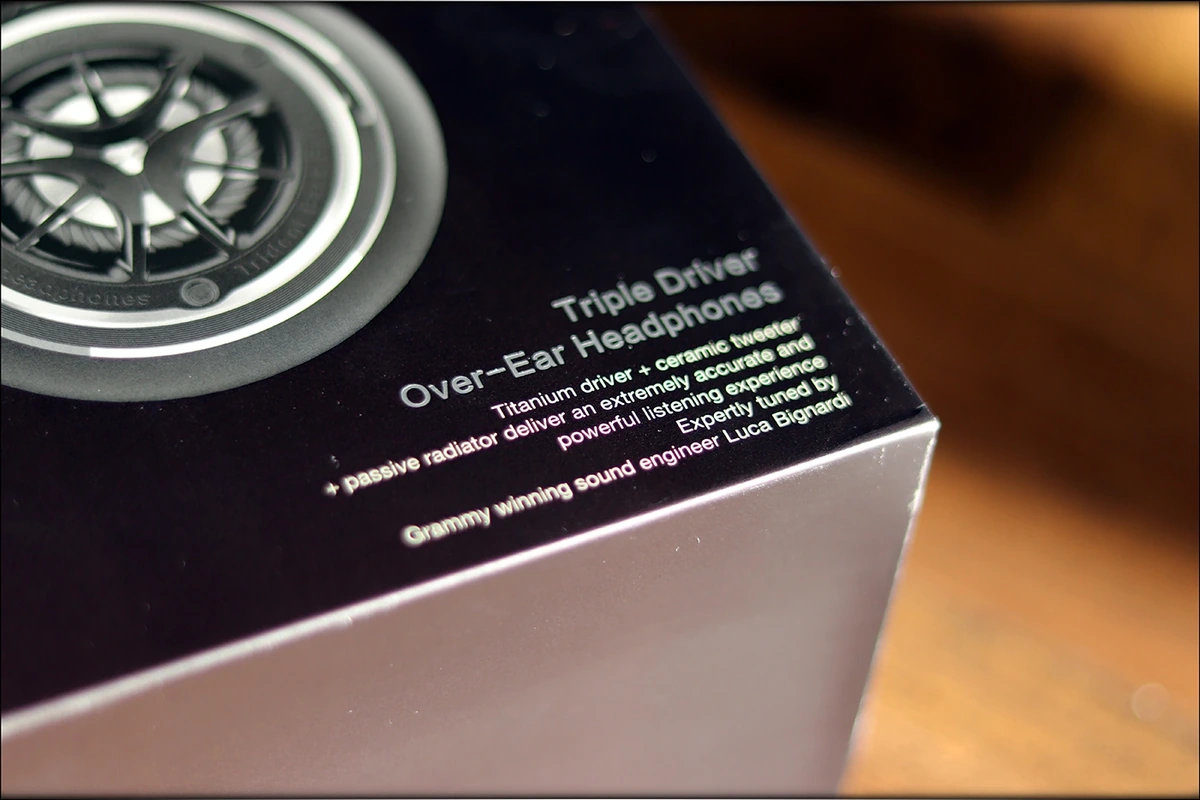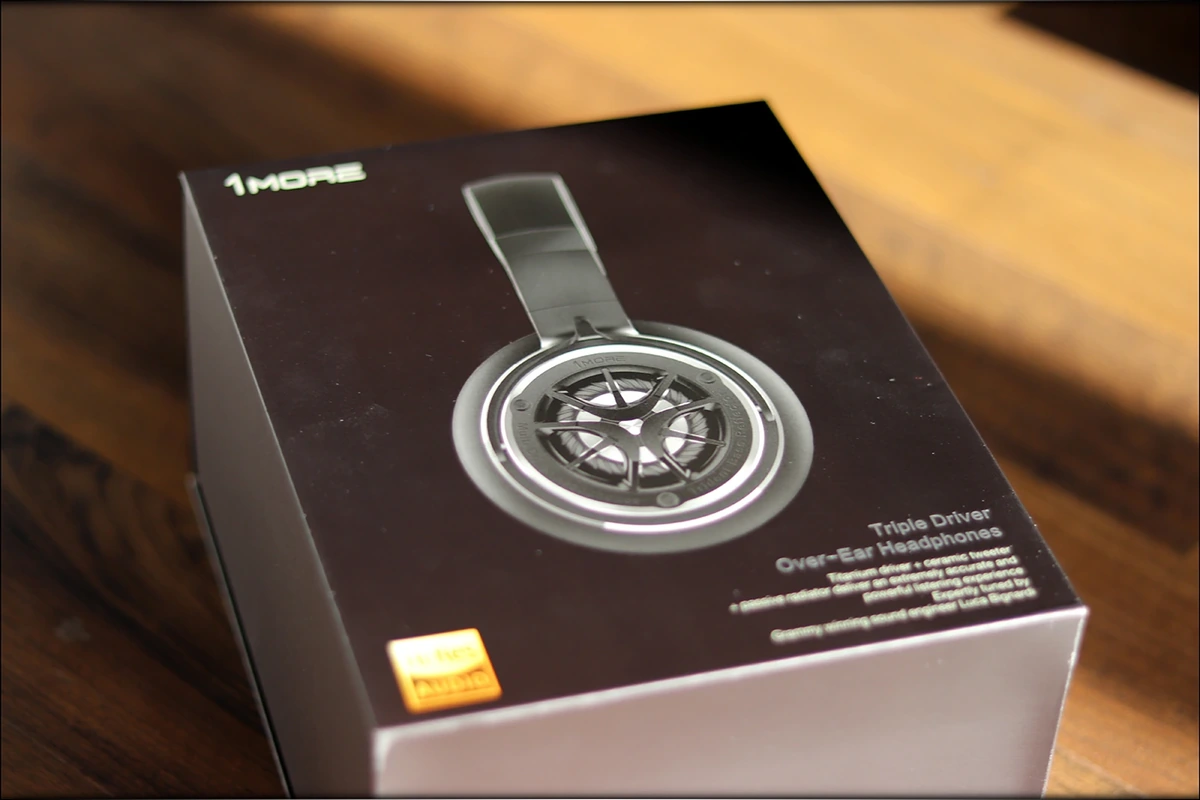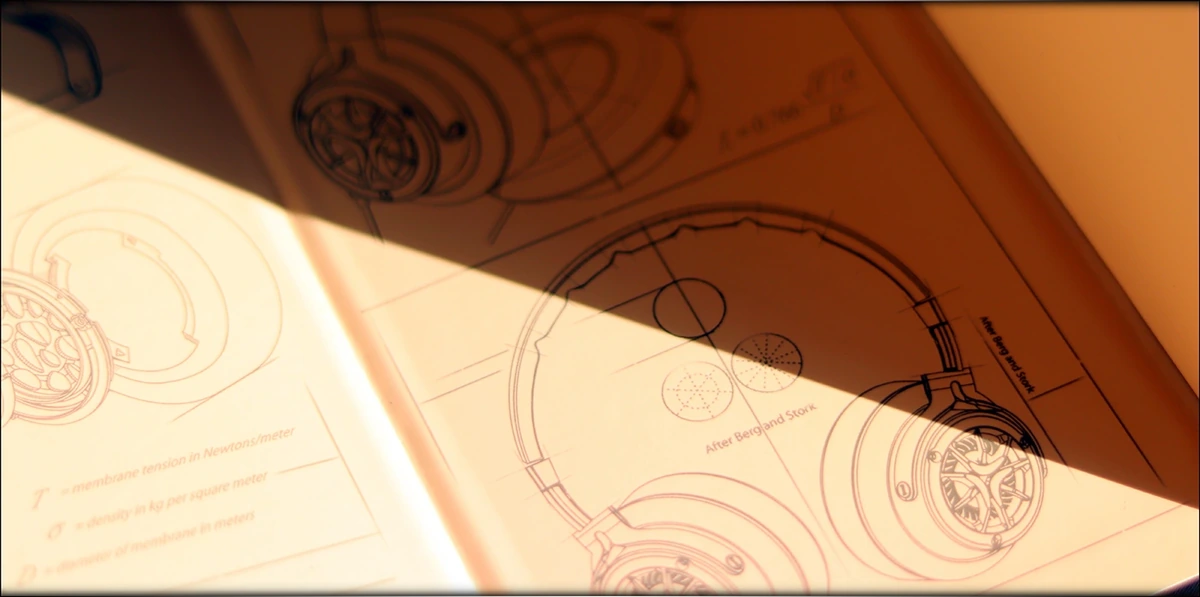 With 1More you can always hope for a nice package, and they will always deliver. Large boxes, with beautiful designs, with a complex packaging, and with excellent package contents are all signature of a 1More Product. With the Triple Driver Headphone, you get a nice carrying case, cables, adapters, and a good number of booklets about your purchase. 

The carrying case protects the headphones quite well during transport, having not only padding, but also a pretty precise shape to keep the headphones from jumping around. 

Overall, 1More is one of the best packaged 200 USD Headphones I've seen, and 1More does an excellent job with their package. 

Technical Specifications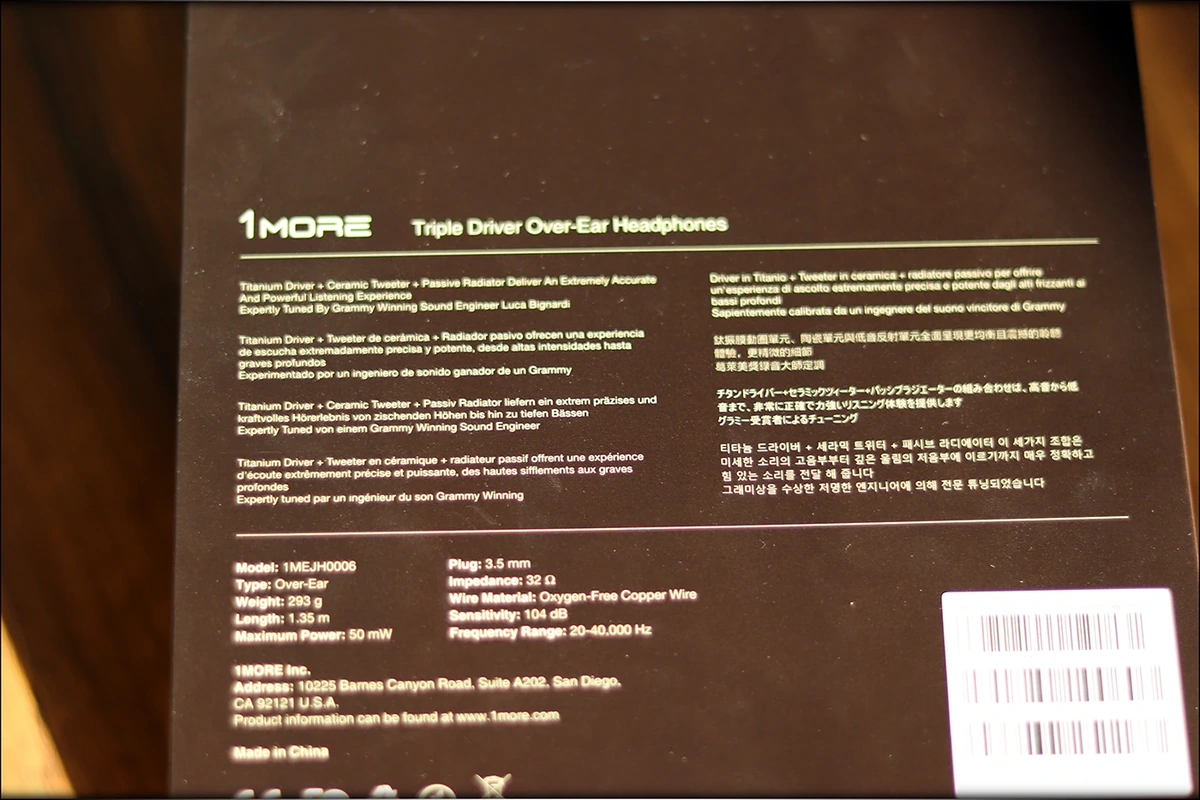 Type: Over-Ear Headphone
Name: 1MORE Triple Driver Over-Ear Headphones
Color: Titanium
Weight: 293 g
Wire: Oxygen-free Copper
Cable Length: 1.35 m
Plug Type: 3.5 mm Gold Plated
Speaker Impedance: 32 Ω
Sensitivity: 104 dB
Frequency Response Range: 20-40,000 Hz
Maximum Power: 50 mW
Implementation of Standards: Q / WMSX 003-2016



Build Quality/Aesthetics/Fit/Comfort

The build quality of the 1More Triple Driver headphones is quite excellent, they are made from plastic, but also implement metallic parts and glass (not tested, but don't drop them, the beautiful cups may be shatter regardless whether that is plastic or glass).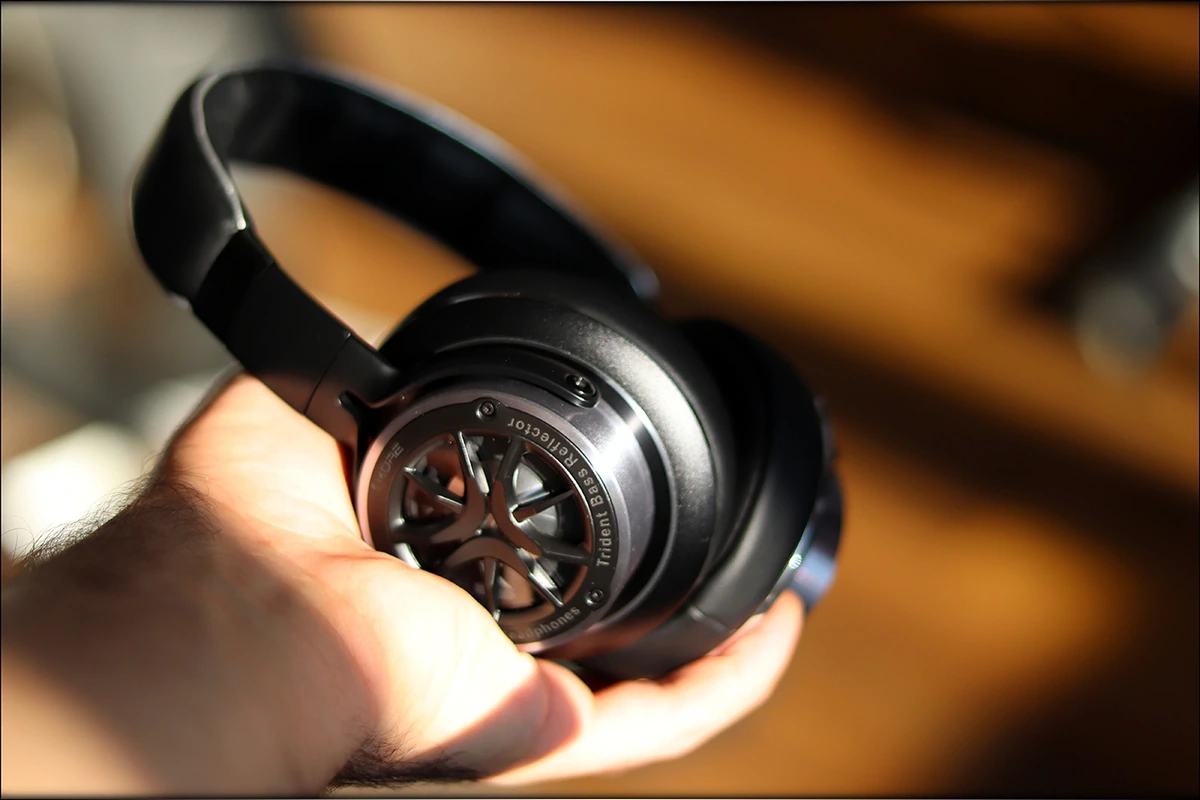 The aesthetics are quite amazing, the headphones are small, or at least small enough to look sleek, the headband is not thick nor large, the cups make an excellent ratio with the headphones. You could easily wear 1More Triple Driver Headphones while out and about, look sleek and have an awesome day. The black color with silver accents easily works with any other stylistic choices and regardless of your personal style, this headphone will work just right with you. 

When it comes to their fit and comfort, they are one of the best on-ear headphones I tested. The earpads are thick-ish, and the headband is not very solid and also has a bit of padding, and the headphones are quite light, making them pretty much one of the best designs for an on-ear headphone. The cables are detachable and connect to the headphones with two 3.5mm jacks. The cable is pretty nice, it is not microphonic and it is not tangle prone either. 

The cups move around in every direction enough for the headphones to sit comfortably in your head.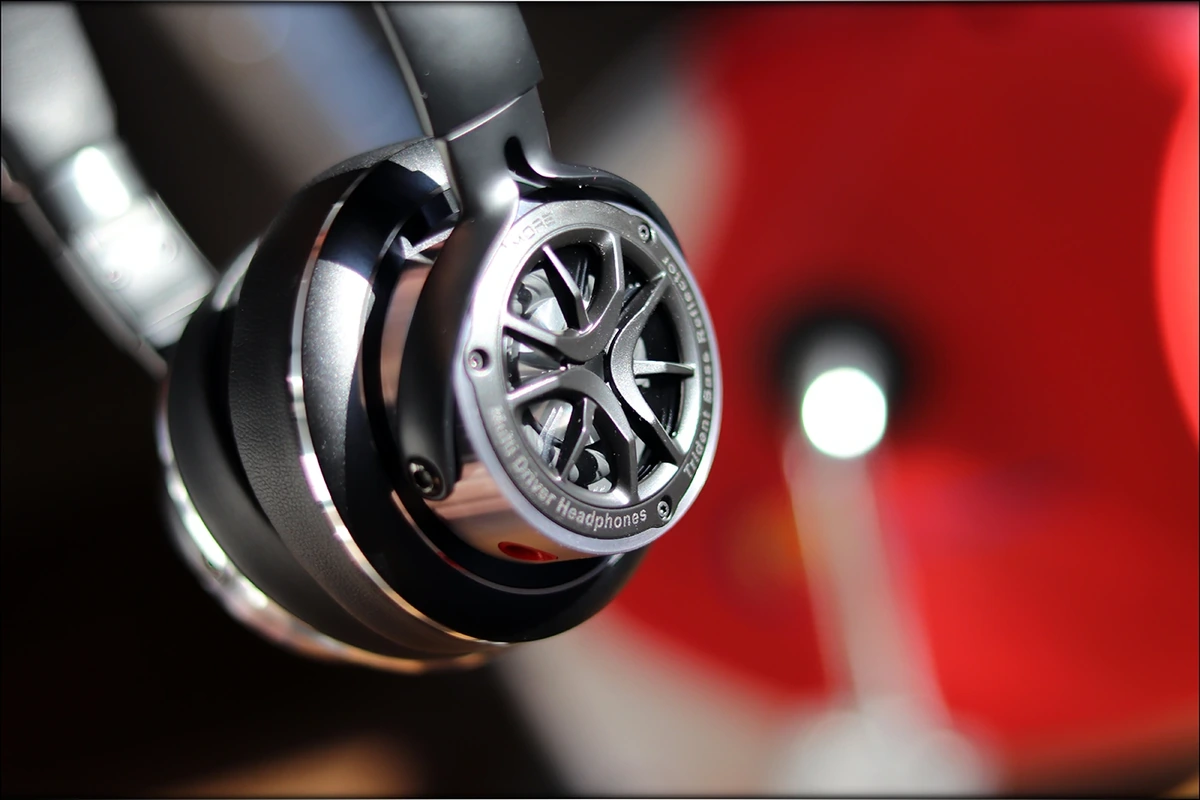 If On-Ear designs usually work well for you, and if you get good seal with other on-ears as well, the 1More Triple Driver should feel even better. The cups are not large enough for me to call them over-the-ear, but I had a good seal with them, and about 15-20 dBs of passive noise isolation. This is quite excellent, especially considering that they are designed for portable usage. 

Overall, the 1More Triple Driver Headphone is an excellent headphone in terms of build quality, aesthetics, fit and comfort. 



Sound Quality

The Sonic Signature of the 1More Triple Driver Headphones is quite warm, thick, bassy and one of those commercial-styles headphones that is made to reach low and to rumble, all while having a good amount of detail and dynamics, and while being fairly punchy.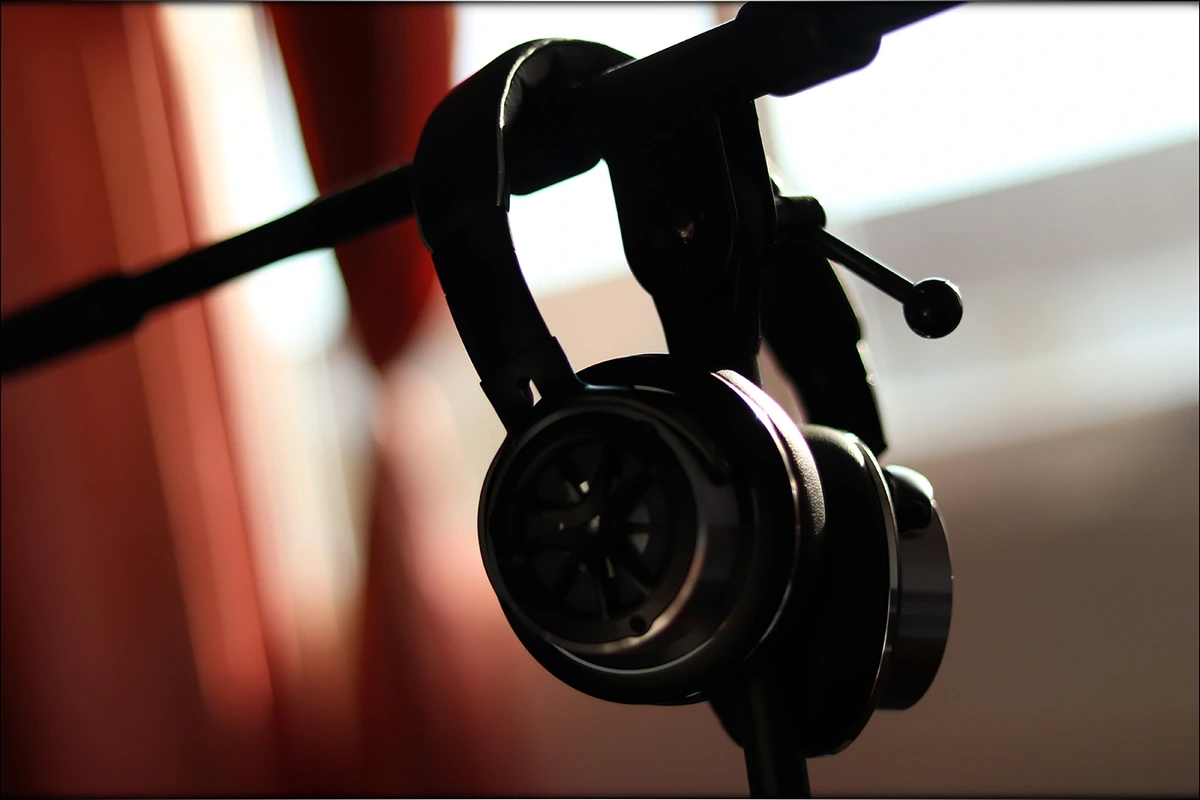 The bass is pretty deep and has a nice amount of impact, but it is not a very quick bass. The bass can be described as a bit sloppy, or even having a slightly odd rumble sometimes, but this is because the drivers are actually quite small, and the reflexive bass port, which is actually a passive bass port, has a unique sound of its own, which gives a vibration of sorts, especially to the lowest rumbles, which may feel strange if you're coming from more traditional headphones. I remember that I heard a similar kind of strange performance from the Edifier Luna Speakers that I reviewed before, which also had a passive bass port, or rather, two of them. 

When talking about the midrange, you can expect a slightly recessed midrange, with a good clarity and tonality. The midrange is tastefully thickened by the bass, but there is a proper emphasis in the upper midrange, giving violins and female voices a bit of sparkle and emotion. The texture and the speed of the midrange is also about average, so you get the big picture, but 1More Triple Driver stays away from being an analytical headphone, rather, being a fun and slightly colored sounding headphone. 

A slightly sparkly treble spices the V-Shaped sound and completes the picture quite nicely. The treble is not harsh nor too much, and actually is a bit low for metal, but it isn't entirely rolled off, especially the low treble having quite a bit of energy. The upper treble rolls off though. 

The dynamics and the overall punchiness is pretty good, especially considering the smaller design and the overall constraints that the on-ear design places on the 1More Triple Driver Headphone, and considering the price range of 200 USD. 


Portable Usage

The Portable usage of the 1More Triple Driver Headphones is pretty much excellent.



They are small, lightweight, they fold into place, and they come with an excellent carrying case which, although it offers them a good amount of protection, doesn't occupy that much space either. 

Furthermore, the headphones are easy to drive and you don't need to carry a high-end DAP or a heavy DAC/AMP to get the most out of them. 

Adding the nice cable they come with, which is flexible, tangle-free and which doesn't conduct microphonic noise, you get a very nice portable headphone. 



Comparisons 

The main competitors in this price range are ESS 422H, Meze 99 Neo, and AIWA ARC-1. Although all of the competitors I picked are over-the-ear designs, and the 1More Triple Driver is an on-ear design, 1More is actually large enough to be over-the-ear for some people, and they are all about in the same price range.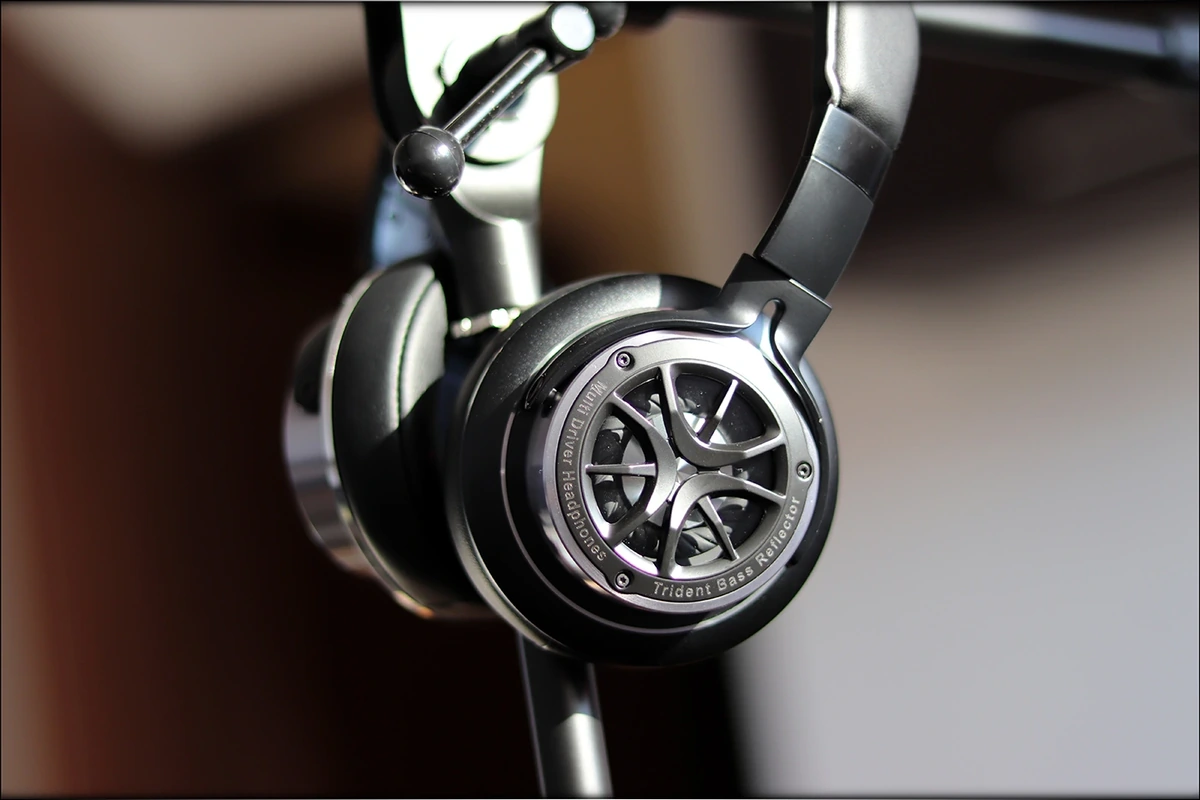 1More Triple Driver Headphones vs ESS 422H – Starting with the one with the wooden cups, 422H was a headphone I enjoyed quite a bit personally, especially for its 200 USD price tag. Both headphones come with a good build quality, although the materials in the headphone are better on 422H, while the package is better with the 1More Triple Driver Headphone. The comfort is better on the 1More, despite it being on-ear, as ESS 422H is quite heavy and its clamping force is quite high. The sound is more analytical, has more detail on 422H, while it is thicker and more punchy on the 1More. Overall, they stand on equal footing, but if you want a more light and stylish design, you 1More makes a very appealing offer, while if you want a wooden headphone with a thick and beautiful sound, you can always consider the ESS 422H, especially if you don't mind having a slightly heavier headphone. 

1More Triple Driver Headphones vs Meze 99 Neo – Meze 99 Neo is slightly more expensive than 1More triple Driver, but the comparison may be relevant to those considering both headphones. Starting with the comfort and build quality, both come with detachable cables, and both come with pretty good detachable cables for this price range, but when it comes to the comfort, 99Neo is more comfortable, it is a bit heavier, but also has larger cups and thicker, softer earpads. The sound is actually quite different, I think that for most people 1More will sound more satisfying with a deeper impact and with more dynamics and punch, while 99Neo sounds more boomy and veiled, but happily there is an EQ profile I made for them, which you can check out in my review of the 99 Classics. If you apply that EQ profile, 99Neo becomes one of the best headphones you can get in that price range, making them quite excellent. If you want to EQ and if you want a more bland looking but more comfy headphone, 99Neo is a very compelling choice, while if you want a more stylish headphone, and if you don't want to EQ much, 1More Triple Driver Headphones are pretty excellent. 

1More Triple Driver Headphones vs AIWA ARC-1 – AIWA ARC-1 are another interesting headphones to compare to the 1More, but one thing you need to keep in mind here is that you need to drop the cables when doing this comparison. Quite literally, ARC-1 sounds pretty darn bad with the cables, but they sound excellent once you use them in Bluetooth mode. In terms of comfort, 1More is lighter, more easy to fold and carry, while the AiWA ARC-1 is heavier and kind of cumbersome in practice, but they sound better and are more comfortable while being worn. In terms of sound, while you cut the wire, ARC-1 has a wider soundstage, more detail and clarity, and a quicker, more even sound. 1More, in comparison, feels more thick and warm, with more emphasis on the lows and on the impact and punchiness rather than on soundstage and details. Both are quite excellent headphones for this price range, but one is wired only, 1More, while ARC-1 should only be used in Bluetooth mode to get the best out of them. 



Recommended Pairings

For the pairings part of this review I have chosen Shanling M2X, xDuoo X20, and FiiO M9. It is fairly easy to drive the 1More Triple Driver Headphone, but a good source does improve the sound a bit.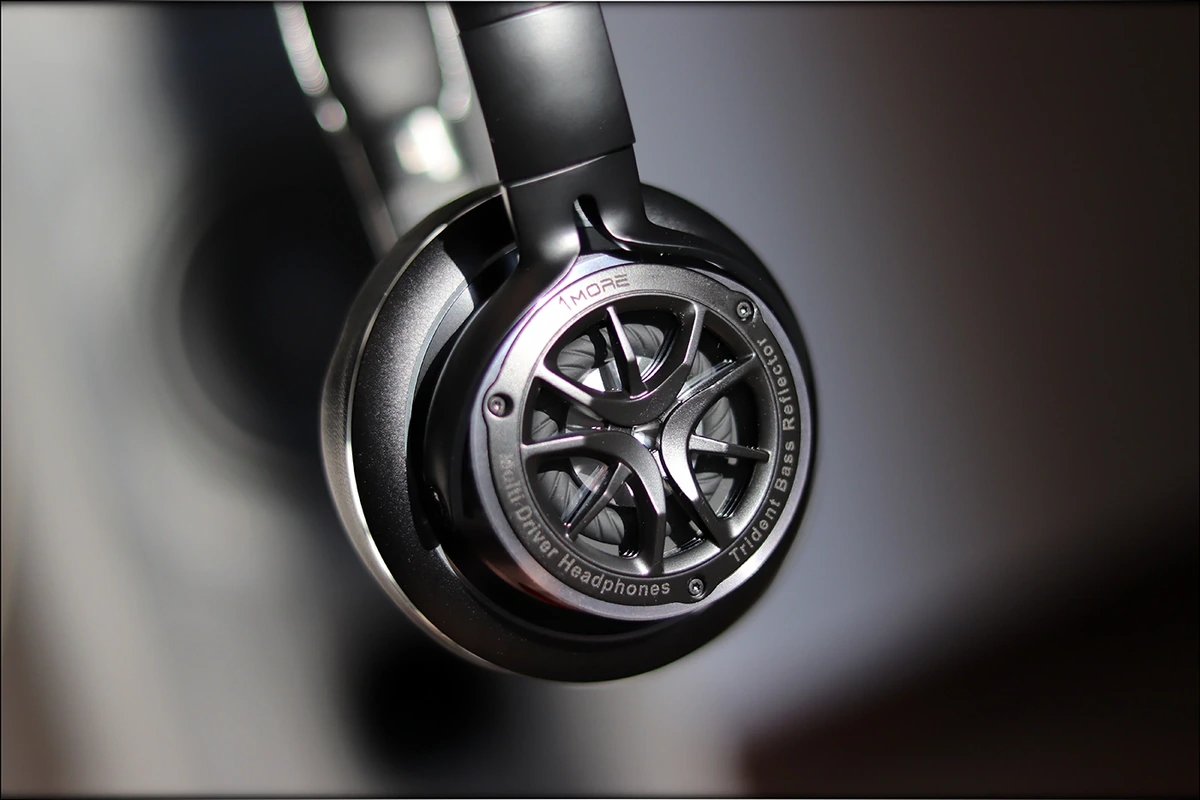 Shanling M2x + 1More Triple Driver Headphones – Shanling M2X is the first DAP that comes to mind when thinking of a good pairing for the 1More Triple Driver. This is because it has quite an excellent price / performance ratio, it has an excellent sonic quality, and it is mostly neutral, but with a sweet midrange, making it a good sonic signature to compliment the thick and bassy 1More. Furthermore, Shanling has implemented streaming apps as well with their M2X, making it quite an interesting choice of a DAP. 

xDuoo x20 + 1More Triple Driver Headphones – The RED magical X20 from xDuoo is another DAP that I consider a good pairing with 1More, because it has both the driving power, and ergonomics, plus the sound to be a nice pairing with the 1More Headphones. My unit of x20 was actually quite neutral in terms of tuning, like the other two DAPs I recommend pairing with 1More, the more neutral tuning makes it a good pairing for a pretty warm and bassy headphone. 

FiiO M9 + 1More Triple Driver Headphones – FiiO M9 is another favorite of mine, as it has excellent battery life, FiiO's excellent firmware, and a few extra abilities, like a better support for streaming services. The sound is also fairly neutral and compliments the more warm and thick sound of 1More well, making M9 another pretty inspired pair for them. 



Value and Conclusion

The value of the 1More Triple Driver Headphones is quite excellent, they cost about 200 USD, and are on equal footing with other headphones in that price range. Furthermore, they come in a beautiful package, and they come with a good carrying case, excellent comfort and a thick, lush, impactful sound, if you like a more colored presentation.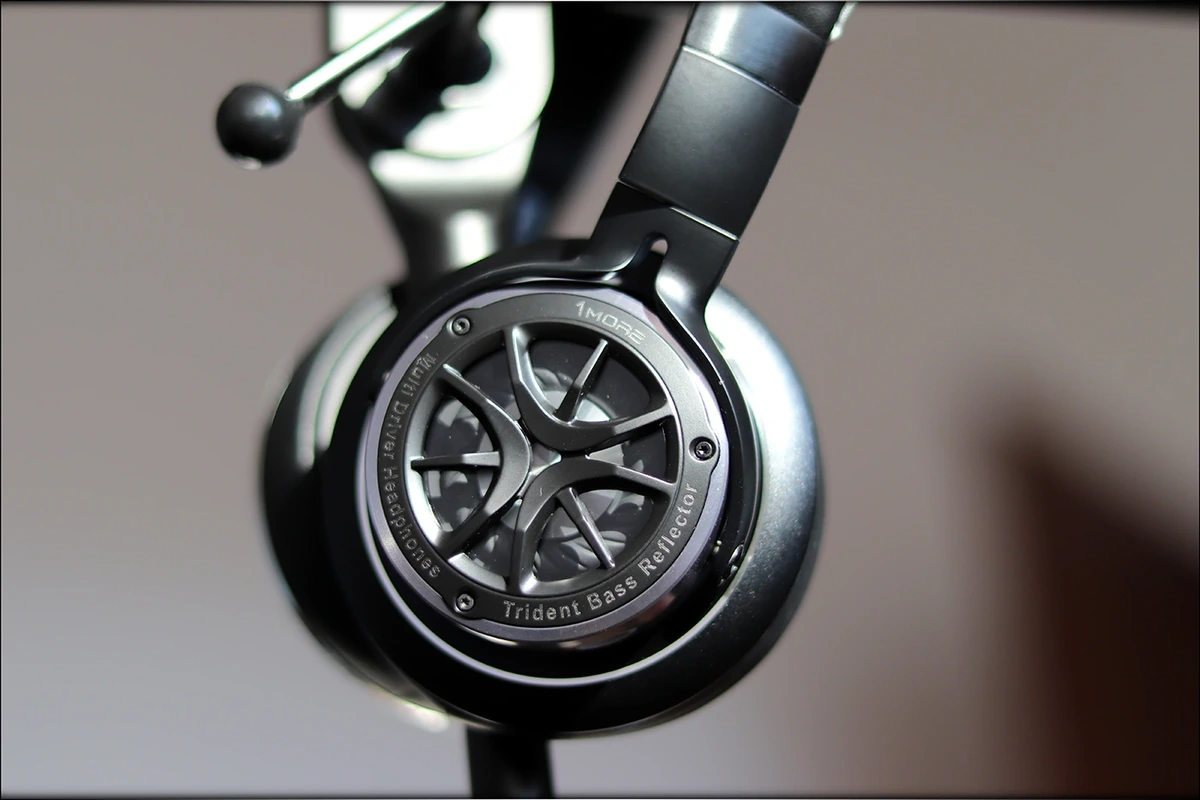 Starting with the package, they are not only presented nicely, but you get both a good carrying case, and a good cable with the 1More Triple Driver Headpohones. 

The comfort is pretty great for an on-ear design, and so is the passive noise isolation, for the price range and for the design, so you get a pretty well-rounded package. 

The sound is thick, lush, impactful, bassy, V-shaped, and pretty punchy. Everything pairs perfectly, from what you see to what you get with the 1More Triple Driver Headphones, they are a headphone worth considering, especially if you like having a more colored sound.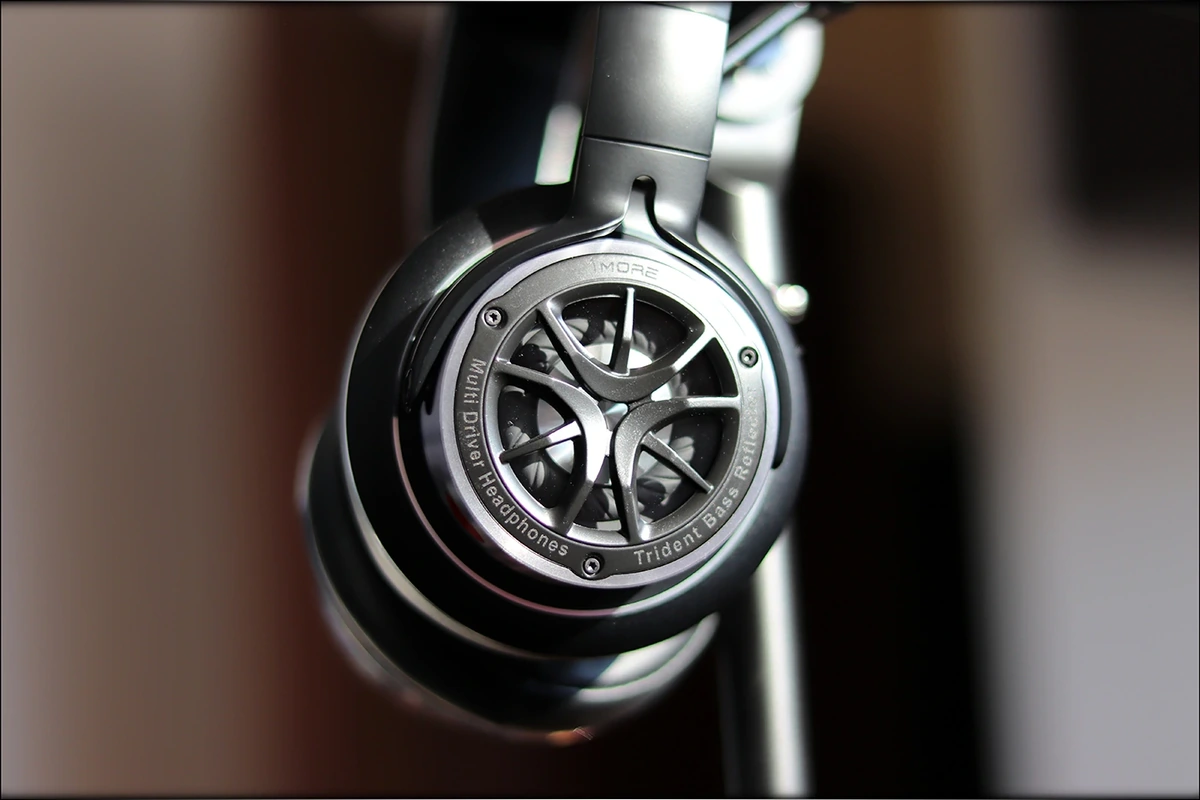 At the end of this review, if you're looking for a fun headphone, one that is bassy, warm, and which is also lightweight, stylish, and has good build quality, you should totally consider the 1More Triple Driver, priced at 200 USD. 
Product Link
You can get the 1More Triple Driver Bass-Tuned Headphones from www.amazon.com here: https://www.amazon.com/1MORE-Headphones-Comfortable-Tangle-Free-Smartphones/dp/B0798TVDVJ/
---
---
--- Please remember to stay safe, and always have fun while listening to music!---
 - If you have a dime to spare, and donate, to help us with electricity and work expenses, it would make my day much brighter, as it would help me improve things around the website and increase the frequency of my posts - 
---
Full Playlist used for this review
We listened to more songs than those named in this playlist, but those are excellent for identifying a sonic signature.  PRaT, Texturization, Detail, Resolution, Dynamics, Impact, and overall tonality are all revealed by those songs. We recommend trying most of the songs from this playlist, especially if you're searching for new music!
https://www.youtube.com/playlist?list=PL_cjBXGmwSHSdGcwuc_bKbBDGHL4QvYBu
--- Contact Us ---






---
---