Aune Flamingo BD Bluetooth Receiver DAC – Flame Of Passion Sound
Aune Flamingo BD is a $ 169 USD Bluetooth Receiver that has a good selection of inputs, a Tube PRE section for the DAC, and a really interesting sound. Given the entry-level price point, it will be compared to other entry-level DACs, including SMSL C200 (219 USD), Pro-Ject DAC BOX DS (430 USD), and Khadas Tone2 PRO (250 USD).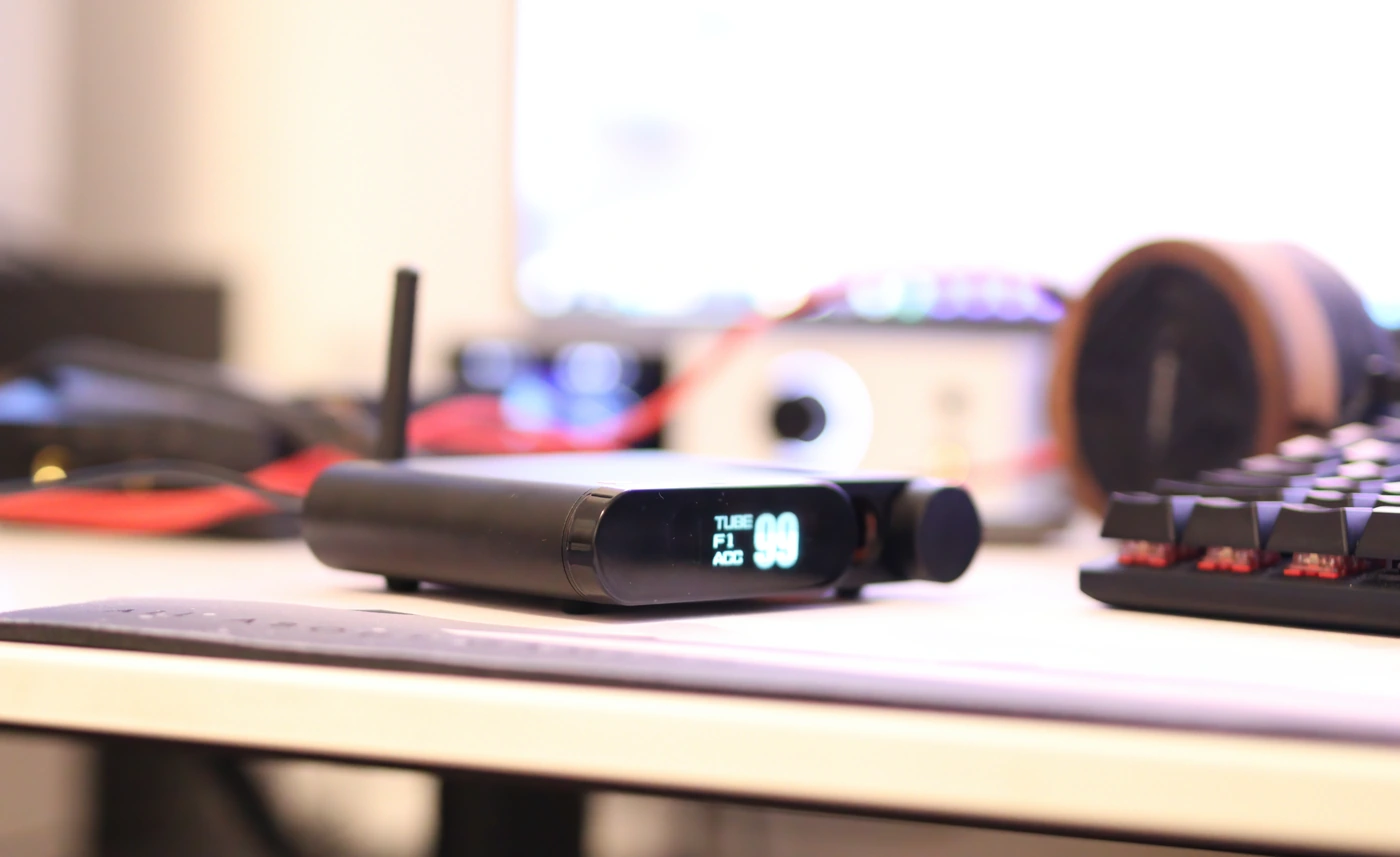 Introduction
Aune is one of those super popular companies that make super interesting products, and cover all price ranges, with products for all kinds of purposes. Flamingo BD is a super affordable Bluetooth Receiver with a Tube as the PRE, so it is a pretty exotic device by design. You can purchase Aune products from their own shop, or Amazon, where you will find most of their products and have the best overall support, largest return windows, and excellent shipping times. 
It should be noted that I have absolutely no affiliation with Aune. I'd like to thank Aune for providing the sample for this review. This review reflects my personal experience with the Aune Flamingo DAC. Every opinion expressed is mine and I stand by it. The purpose of this review is to help those interested in the Aune Flamingo DAC find their next music companion. 
Product Link
You can grab one from www.amazon.com here: https://amzn.to/3LCaB2l
If you're in the UK, you can grab one from www.amazon.co.uk here: https://amzn.to/3AF5BU1
And if you're from Europe, you can grab one from www.amazon.de here: https://amzn.to/423Gy8Z
Build Quality / Functionality
Starting with explaining what Aune Flamingo-BD also just called Flamingo is, this is a DAC that has USB inputs, but a ton of outputs. Interestingly enough, it is not the only device designed this way, and Dethonray has the SG1 pegasus made on the same idea, and it was really well received and became super popular, so we're looking forward to what a prominent company like Aune could do with the Flamingo.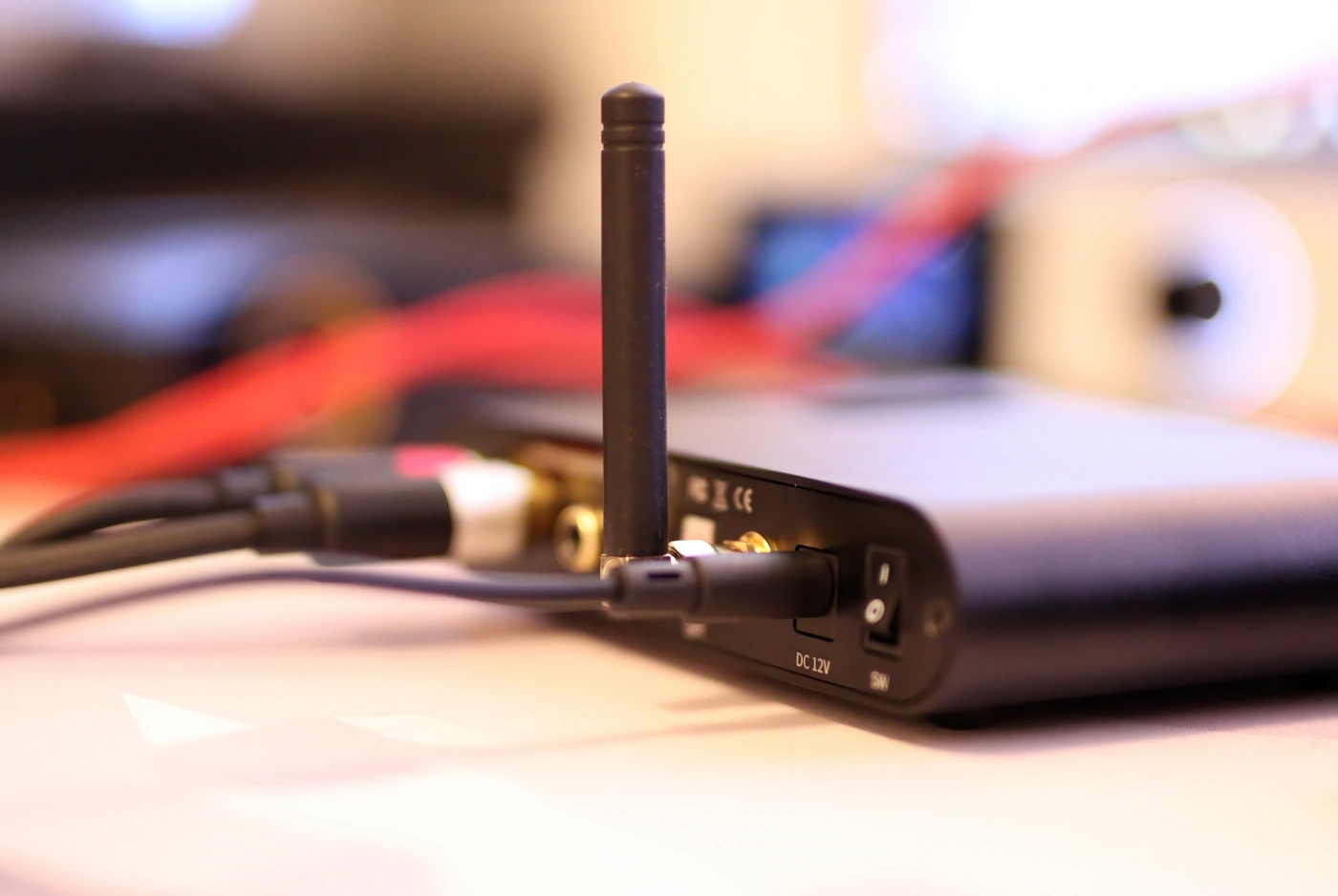 Being a Bluetooth DAC, we need to start with the fact that Flamingo BD supports aptX HD, and LDAC for the input, though Bluetooth 5.1 protocols. Of course, you can find support for SBC and AAC too, but those are very outdated, and as I pointed out in my article reviewing Bluetooth protocols, it is possible to enable LDAC on Windows, so there's no need to not use Flamingo at its maximum detail possible. It has a Tube that has the PRE function in it (there's no headphone output, so it doesn't have an actual power amplifier stage). The DAC has a Variable Line Out, so you can actually select the volume from the DAC itself, with no need to use the flawed software volume found in Windows or Android. The volume is selected using the infinite knob, that is a digital controller for the actual volume, and there's an OLED display that shows the current volume on the Flamingo-Bd DAC. 
There are filter modes on the Flamingo DAC, but like with most DACs, they don't do that much, and the difference between them is not very high, so you don't need to concern too much with those. More interesting is the fact that despite it being Wireless and Bluetooth, I noticed zero background noise with the Flamingo DAC, and despite needing a network, it does a very good job at repressing noise and sounding really clean and detailed without having grain. The outputs include RCA, COAX, and Optical. There's the antenna, the DC input, and the on/off switch.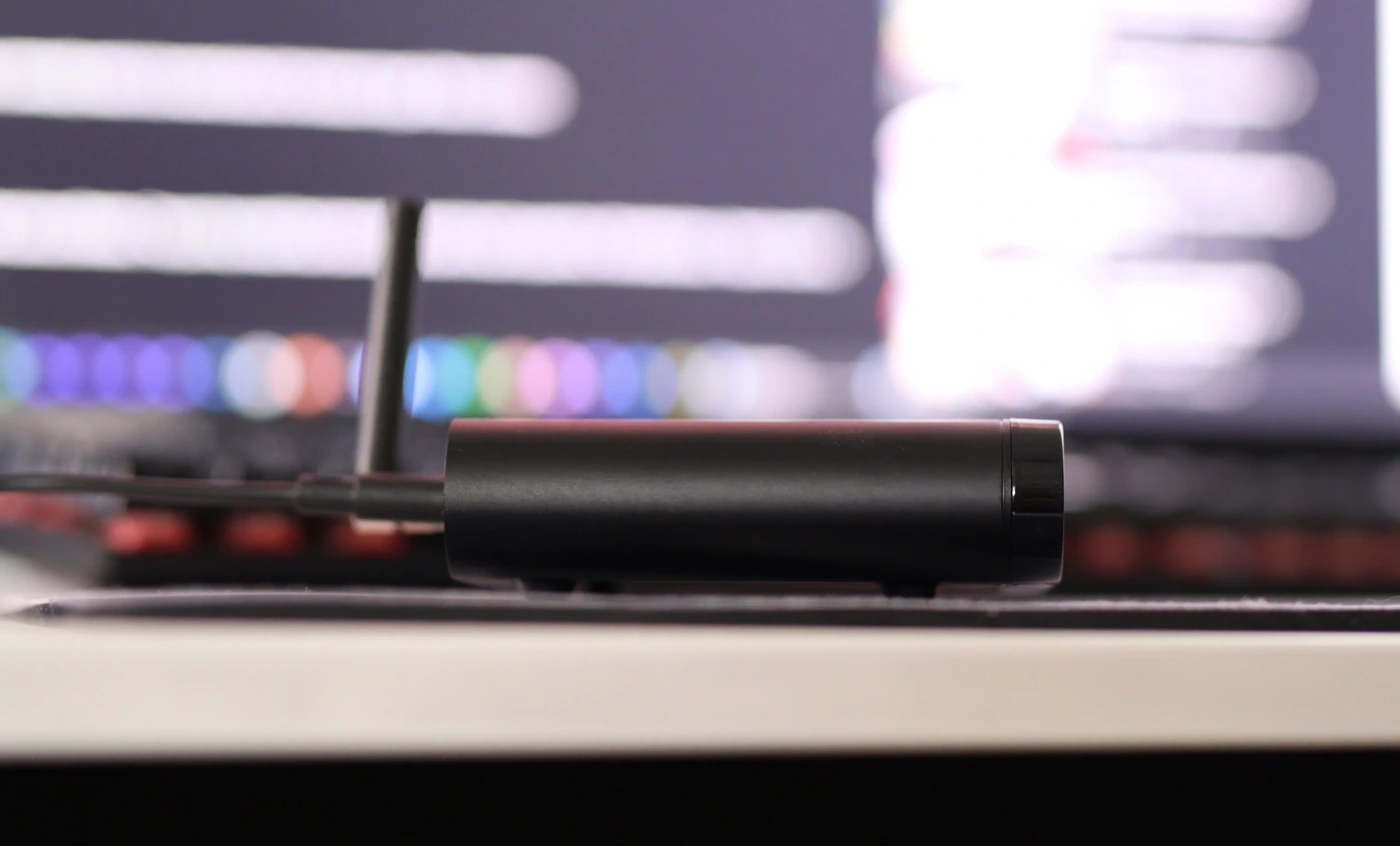 The inner workings of the Flamingo BD are super simple, the QCC5125 receiver sends data to the WM8805 processor, which sends the daca to the ES9318 DAC and to the ECC82 Tube, from which you receive the sound in the RCA outputs. Alternatively, you can send the data from the QCC5125 to the driver IC and then to Optical, or to the Isolation Transformer for the Coax output. I think that the design itself deserves an award, and I really like how Flamingo-BD looks . It is really beautiful, although for some people the Tube may not be that evident. The unit is also tiny, and if it is not evident from our photos, it has a lateral length of 135mm, depth of 101mm, and height of 27mm, taking little space on a desk. The output level is 2.1Vrms MAX, and the THD+N is 0.02% on Tube (this is low for a tube actually). We also have a low noise floor of 10uV.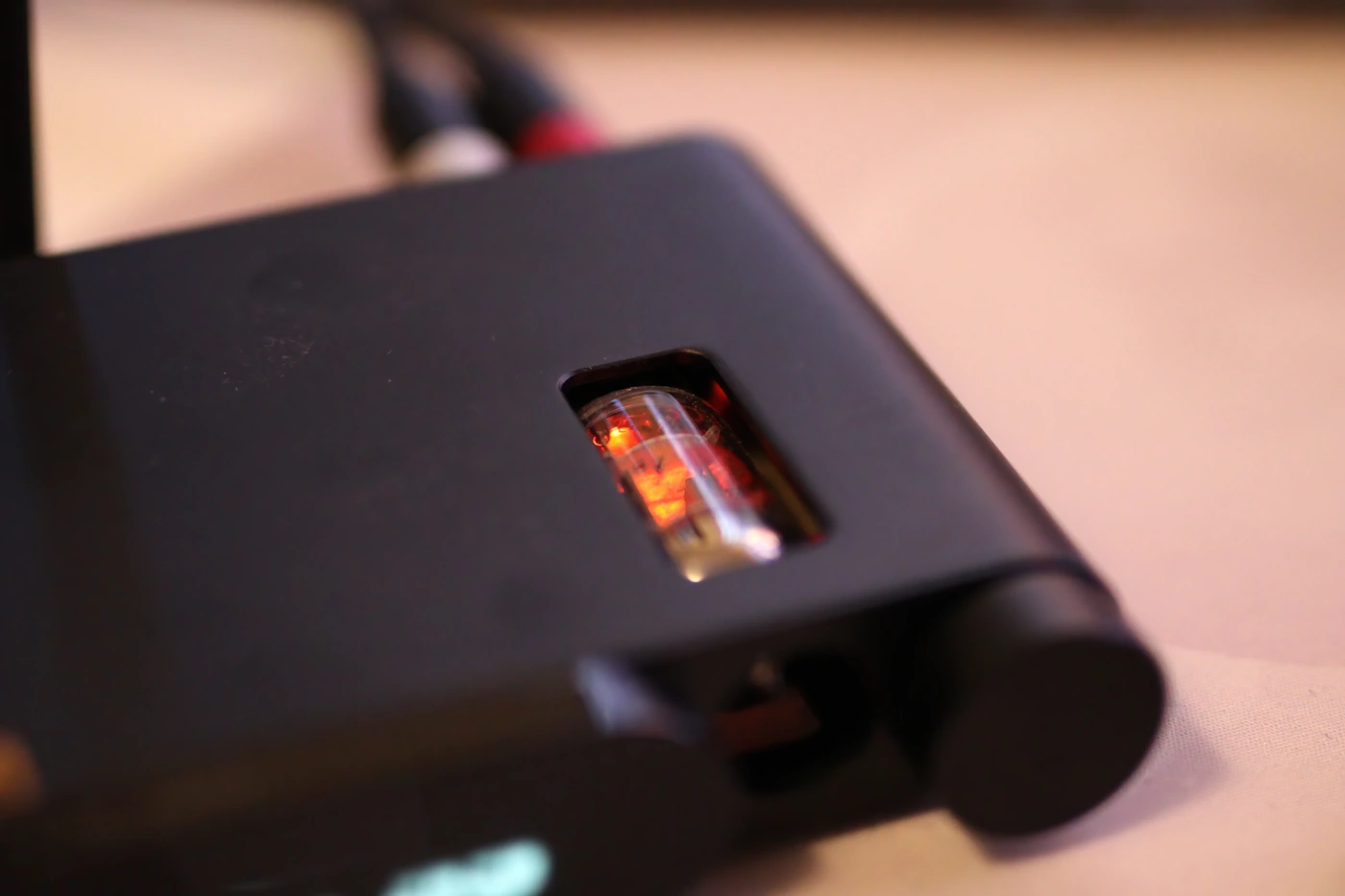 In practice, the menu of Flamingo BD is simple, quick to navigate, you can rotate the display if you want, it pairs quickly with everything and has a very stable and solid signal. My PC comes with a little fin like antenna and if it is connected, it is stable in LDAC high bandwidth at all times, plus, Flamingo BD has absolutely no background noise, no problems that I have encountered, and works like a charm. If you're using SBC, the delay for video will be noticeable and it is around 200ms, super noticeable. With LDAC or aptX HD, it is much lower, and not really noticeable with usual video content. 
Sound Quality
To test the Flamingo-BD DAC, I've paired it with a selection of complex setups, including Cyrus One Cast driving KLH Model Five for speakers, Feliks Echo 2 Amplifying the signal for a pair of Sivga SV023 high impedance headphones, Violectric HPA V340 powering a pair of Audeze LCD-5 Headphones, and Burson Funk powering HIFIMAN HE1000 V2 Stealth. Across all those pairings, Flamingo BD presented a really pleasing, rich harmonically sound, with good soundstage, a really pleasing, natural midrange with a good texture for instruments, slightly warm presentation, a smooth and pleasing treble, and with a very good resolution, especially considering the fact the PRE is tube and the whole DAC is in the entry-level range. I also appreciate the fact that it has super good dynamics, which are generally problematic with Tube setups, as you may have noticed from my review of Acro CA1000T, where the SS mode sounds really clean, dynamic and detailed, and Tube mode sounds less detailed and dynamic, switching the sound for a more rich and pleasing presentation. 
The bass of Flamingo BD is okay, and can be a bit on the lean side, with most headphones showing that it has that typical Tube sound, where the bass is either presented with some roll off, or with some level of distortion, or extra textures added, but it is also slightly warm. This being said, most of the energy in the bass can be found in the mid and upper bass rather than the lower bass, and the sub bass can be somewhat thin with rock and metal music, such as SOAD or Metallica. The bass is clearly not a strong point, but with no Tube AMPs it everly is. 
The midrange is where the magic happens, and Flamingo is super rich, detailed and clean, with that extra layer of harmonics that we typically follow tubes for, and about which reviewers tell tales about. The soundstage is naturally intimate, but with a super good instrument separation, and Flamingo Bd is rather dynamic and punchy. Usually, for entry-level tube based products, the midrange is just more distorted than it needs to be, while with Flamingo Bd it is rich, actually detailed and pleasing to the ear, although it doesn't have the super smooth and relaxed presentation that most dongle DAC AMPs like iBasso DC04PRO or DAPs like Shanling M0 PRO have. Instead, Flamingo is close to neutrality, somewhat aggressive when the song is aggressive, and somewhat smooth and relaxed when the song is as such.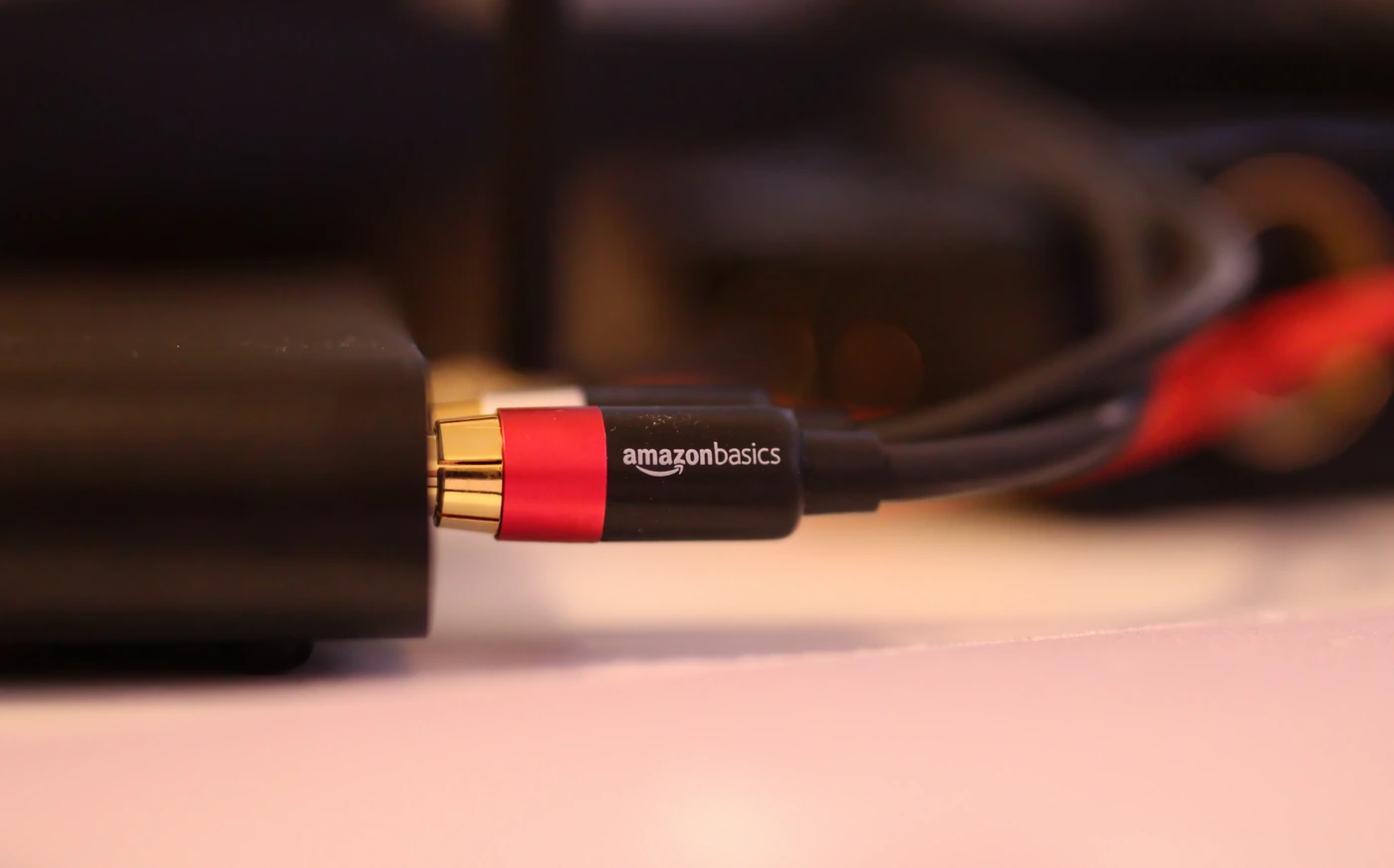 The treble of Flamingo DAC is clean, well extended, but is more relaxed than the midrange where most of the attack is, and the Tube PRE shows that tube smoother edge for the cymbals as you're probably used to, creating a sound that you can pump really loud without actually growing fatigued. Stereo imaging is super good, and Flamingo DAC is good at creating a stereo sound, but not forcing things too much. All in all, the presentation is unique to say the least, it is natural, rich, but not overly warm, and has a well extended, airy treble that is present, but not overly aggressive. 
Comparisons
Aune Flamingo BD vs Khadas Tone 2 PRO (169 USD vs 250 USD) – Starting with the design, Tone2 PRO is not a Bluetooth DAC, but it has an interesting array of Balanced RCA, but for which you will need special cables to fully use. It also has a really powerful headphone output, which is super nice to the sound, and takes even less space on your desk, but is pricier than Flamingo, and it gets much hotter compared to Flamingo Bd, which doesn't grow hot at all, even though it sports a Tube. Sonically, they are both quite excellent. I love the improved dynamics, punchiness and more colorful mid range of Tone2 PRO, which is a really neat sounding DAC AMP that can be really sharp, detailed, clean, but still has a colorful and pleasing midrange. Flamingo sounds richer, more harmonic, has less precision but trades this for what we humans like to hear, namely a higher level of harmonics, and despite a higher audible THD, Flamingo is more warm in the mids and comes through as a bit more natural. 
Aune Flamingo BD vs SMSL C200 (169 USD vs 219 USD) – C200 is also a recent good DAC, and it has a bit more versatility, because it has headphone driving abilities, but it costs a bit more than Flamingo Bd to support those. I would generally not get a C200 for headphones though, and consider it more of a high-quality DAC, so the comparison stands fair and true. The overall sound of Flamingo Bd is generally more detailed, cleaner, and has a richer, more pleasing midrange, compared to C200 that sounds more "default" with similar setups as those I tested Flamingo BD with. This being said, C200 has TRS 6.3mm outputs for speakers, which will be much better for studio monitors than the RCA Flamingo has. Generally speaking, Flamingo is better tuned, more pleasing to the ear, but not quite as versatile as a desktop unit, still I would pick it for sonics, and if you need a good bluetooth DAC, Flamingo BD is much more valuable than C200 which is a good USB DAC. 
Aune Flamingo BD vs Pro-Ject DAC BOX DS (169 USD vs 430 USD) – We have more versatility in Flamingo BD, despite it having just one input, it has better support for filters, more outputs, and is generally a more advanced DAC. The overall sonic tuning is also much better for Flamingo BD, which has a much better dynamic, better impact, better resolution, clarity, and is not fatiguing, just like DAC BOX DS. I know that DAC BOX DS is a bit old right now, but if you're wondering whether things have progressed a bit in the meanwhile, then the answer is yes, and getting a new DAC at less than half the cost of an older one will give you an upgrade over the old one. 
Value and Conclusion
In terms of value, Flamingo-BD DAC is the only product in its own class, a full Bluetooth DAC for desktop with a tube, but it can be compared to other simple DACs, and there it actually is much better in many ways, having more unique features, a better sonic presentation, better detail, and being more versatile. If only it had USB input, it would be an instant best value product easily, as the sound it has actually matches the idea of a DAC with Tubes, it sounds as such, compared to most really entry-level Chifi products (below 100 USD) that don't sound good despite having a tube in the design. Dethonray made something similar for driving headphones, in their SG1 Pegasus, but SG1 is quite a bit pricey compared to Flamingo-BD.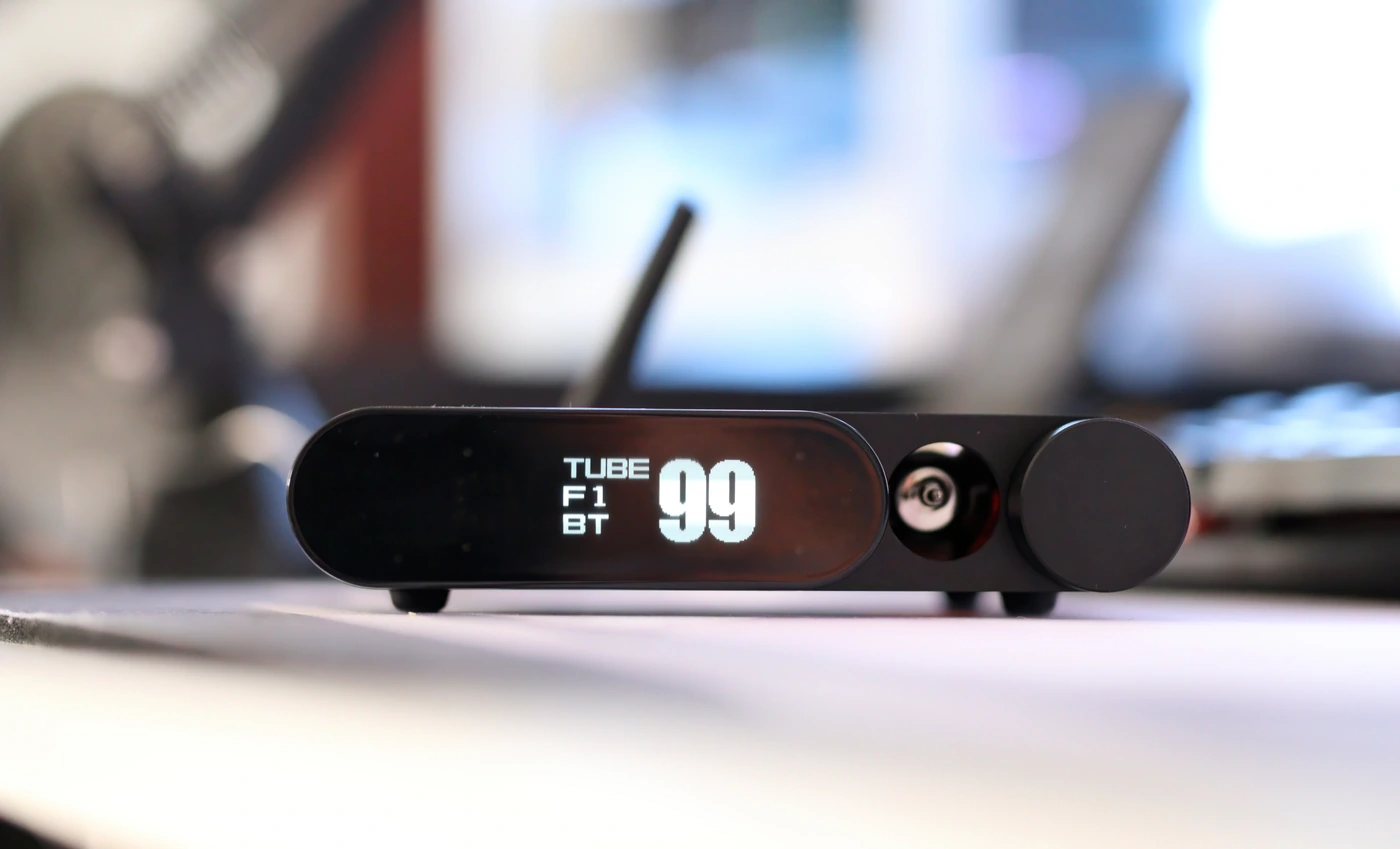 At the end of the day if you're looking for a really good Bluetooth DAC with outstanding dynamics, a colorful midrange, exciting sound, interesting design, a rich and full presentation, despite being wireless, with LDAC support, and which has a really nice selection of outputs, Aune Flamingo-Bd DAC is the best you can grab at this moment for desktop usage. 
Product Link
You can grab one from www.amazon.com here: https://amzn.to/3LCaB2l
If you're in the UK, you can grab one from www.amazon.co.uk here: https://amzn.to/3AF5BU1
And if you're from Europe, you can grab one from www.amazon.de here: https://amzn.to/423Gy8Z
---
--- Please remember to stay safe, and always have fun while listening to music!---
 - If you have a dime to spare, please donate, and help us! It would make the day brighter for me and my wife- 
---
Full Playlist used for this review
We listened to more songs than those named in this playlist, but those are excellent for identifying a sonic signature.  I recommend trying most of the songs from this playlist, especially if you're searching for new music! The playlists are different for Spotify, Tidal and Youtube, and based on the songs I enjoy and are available on each!
https://www.youtube.com/playlist?list=PL_cjBXGmwSHSdGcwuc_bKbBDGHL4QvYBu
https://open.spotify.com/playlist/5J3oloz8Riy9LxEGenOjQ0?si=979ba4f082414be7
https://tidal.com/browse/playlist/330fd544-8e5b-4839-bd35-676b2edbb3d5
--- Contact Us ---





---