Cleer Scene Bluetooth Speaker – Music Punch Packed Tight
Cleer Scene is a $ 99.99 USD Bluetooth Speaker with IPX7 Waterproofing, a snazzy design, and USB Type-C charging. It has dual 48mm passive radiators, and today it will get a full review, and be compared to other Bluetooth speakers, including Tronsmart Bang Mini (89 USD), Tronsmart Force 2 (50 USD), and Tronsmart T7 (49 USD). 
Introduction
Cleer is a neat company with a few super cool products made for those who don't necessarily have the largest budget but want to have fun with high-quality products. They have a good selection, and today we're checking out a Bluetooth speaker made by them and one that I really appreciate. You can always purchase Cleer products from Amazon, or local shops, they get super good support and don't break easily, so you shouldn't have to worry much about the warranty. 
It should be noted that I have absolutely no affiliation with Cleer, I am not receiving any incentive for this review or to sweeten things out. I'd like to thank Cleer and Jackrabbit for providing the sample for this review. Every opinion expressed is mine and I stand by it. The purpose of this review is to help those interested in Cleer Scene Bluetooth Speaker find their next music companion. 
Product Link
You can grab one from www.amazon.com here: https://amzn.to/3Wn2DOh
If you're in the UK, you can grab one from www.amazon.co.uk here: https://amzn.to/3OwOXhz
And if you're from Europe, you can grab one from www.amazon.de here: https://amzn.to/43f5TgO
Build Quality/Aesthetics/Fit/Comfort
Physically we have a speaker that has a super neat design, with a cover that feels like it was made by Ikea, practical and cool. The speaker has a nice LED strip at the front, which lights differently, depending on how much battery it still has remaining. The speaker has two radiators at the sides, but you can easily carry it in a backpack without having to worry that those will break, as I've carried it once in pockets, with keys and other stuff, while taking photos, on a beach, and it still shows no signs of usage. The speaker has a large rubber pad at the bottom, which helps it stay stable on the desk. 
The turn on and off sound really reminds me more of a naughty movie than of a speaker sound, and that is good, because I always disliked those beeps that speakers made, this one has a melody to itself. The top has volume buttons, and it does not have independent volume, those control the volume of your smartphone, there is a play / pause button, and a button with a microphone, which will do different things depending on your phone, and on my Motorola Edge 40 PRO it doesn't do anything. There is a microphone, but I think the experience of using it to take phone calls is not ideal, and would not use it as such. 
The battery is superb, clocking in at 12 hours, with this being the actual time that I got out of it, it lasted more than 10 hours of a trip, playing at max volume, and playing nicely with no distortions. There is a line in, which sounds ok, depending on your source, and as far as I can tell, the Type-C port is only for power as none of my computers don't see it as a DAC or a soundcard. It takes between 2 and 3 hours to fully charge the Scene. 
There are 2 drivers in the speaker, and it has stereo sound, it does not sound mono in person, and it uses Bluetooth 5.0 to connect to your smartphone. The connection is super good, with no signal interruptions even if the phone is quite far from it (5-9 meters or behind a wall). The Bluetooth codec used is AAC or SBC, no aptX or better codecs are visible to my Motorola Edge 40 PRO. All in all, it works super nicely, has a super ergonomic shape, and it fits inside a larger jacket pocket from where it can play music while you're doing something else. The weight is not too high, and it is waterproof with IPX7 rating (I wouldn't bathe with it). 
Sound Quality
Since this is a Bluetooth speaker, the sound will be the same regardless of the source, except that you should check out my article on Bluetooth and how it all works together. With Android, the sound may be better or worse with AAC, depending on the phone used, while with iPhone you only have AAC to use. The sound can generally be described as natural, clean, and with a fairly present bass. The maximum volume is high, there is almost no distortion, and it can be used for a trip outdoors while still being audible and even fun. The sound sounds better the louder you go, at low volumes, it can be a bit flat and unengaging, but at louder volumes it gets more and more fun. The sound is stereo, but the two speakers are so close together that if you don't keep the Scene right in front of your face, the sound will inherently sound somewhat directional, coming from a specific location. 
The bass is a bit on the boomy side, to make up for the poor low end extension, as drivers of this size can't even hope to reach lower than 50Hz, but above this frequency, the bass is present and fairly punchy, making for a pleasing listening experience. In my room, I can hear the bass traveling through my desk, it gives music a good amount of depth and thickness, with a good impact. If you've ever used a portable bluetooth speaker, it has that typical roll off in the lows. At loud volumes, the bass is pleasing to the ear, smooth in texture, and offers a super pleasing punch. The bass is natural towards fast in speed, which makes for a super pleasing punch in all music styles.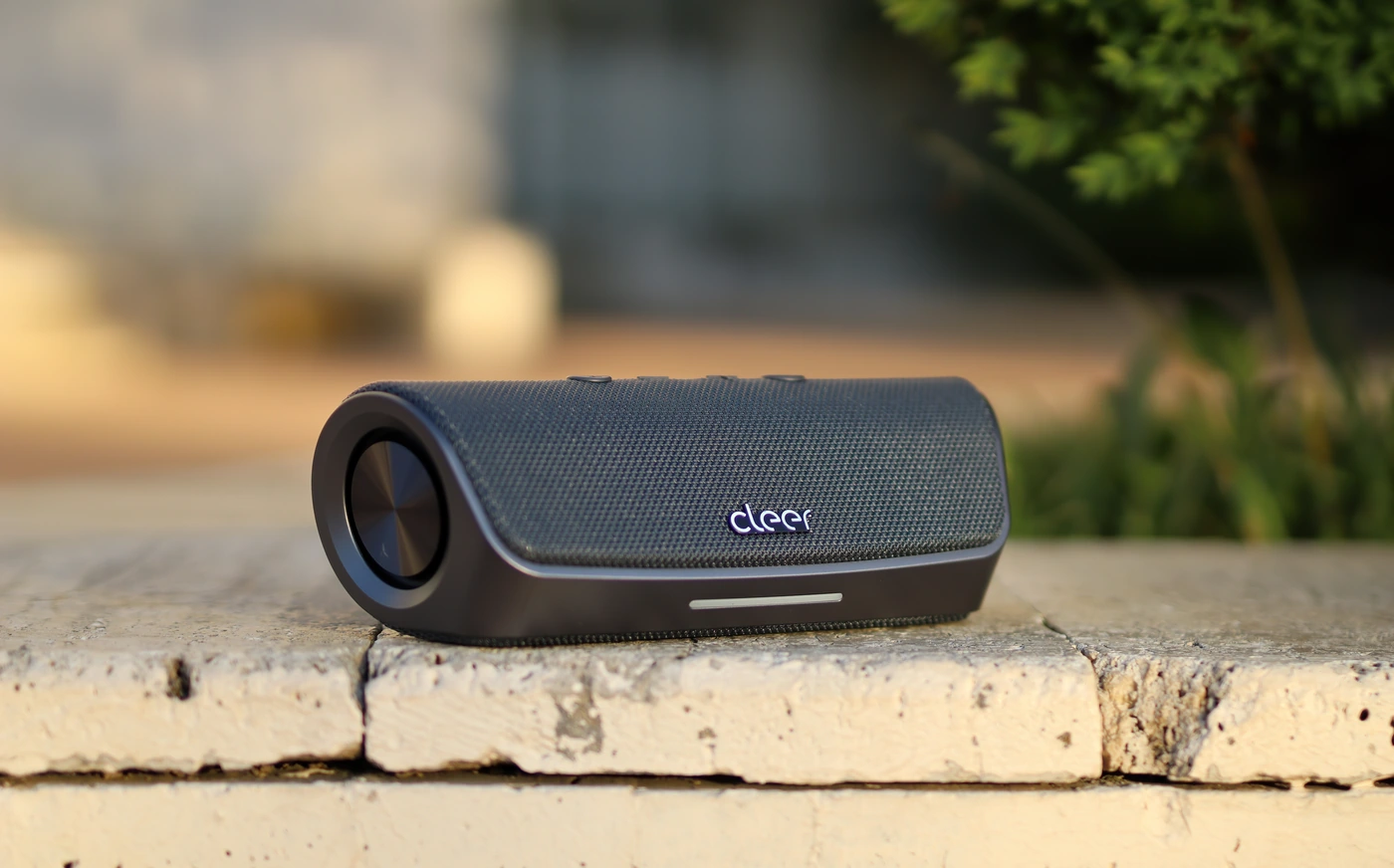 The midrange inherits some coloration from the bass, being somewhat thick, warm, and full sounding. The midrange has more presence in the lower midrange than it has in the upper midrange, and there's a good amount of detail, although it is about as much as you'd expect from the price point. I never felt like Scene sounds boring or undetailed, but it gets better at louder volumes, and in quiet environments. The music that sounds best is with it is generally rock, EDM, electronic, dubstep and pop. Music has good instrument separation and there's good stereo imaging as long as the speaker is placed in front of you. When playing songs from Dance Gavin Dance, the guitars are clearly audible and super vivid and colorful.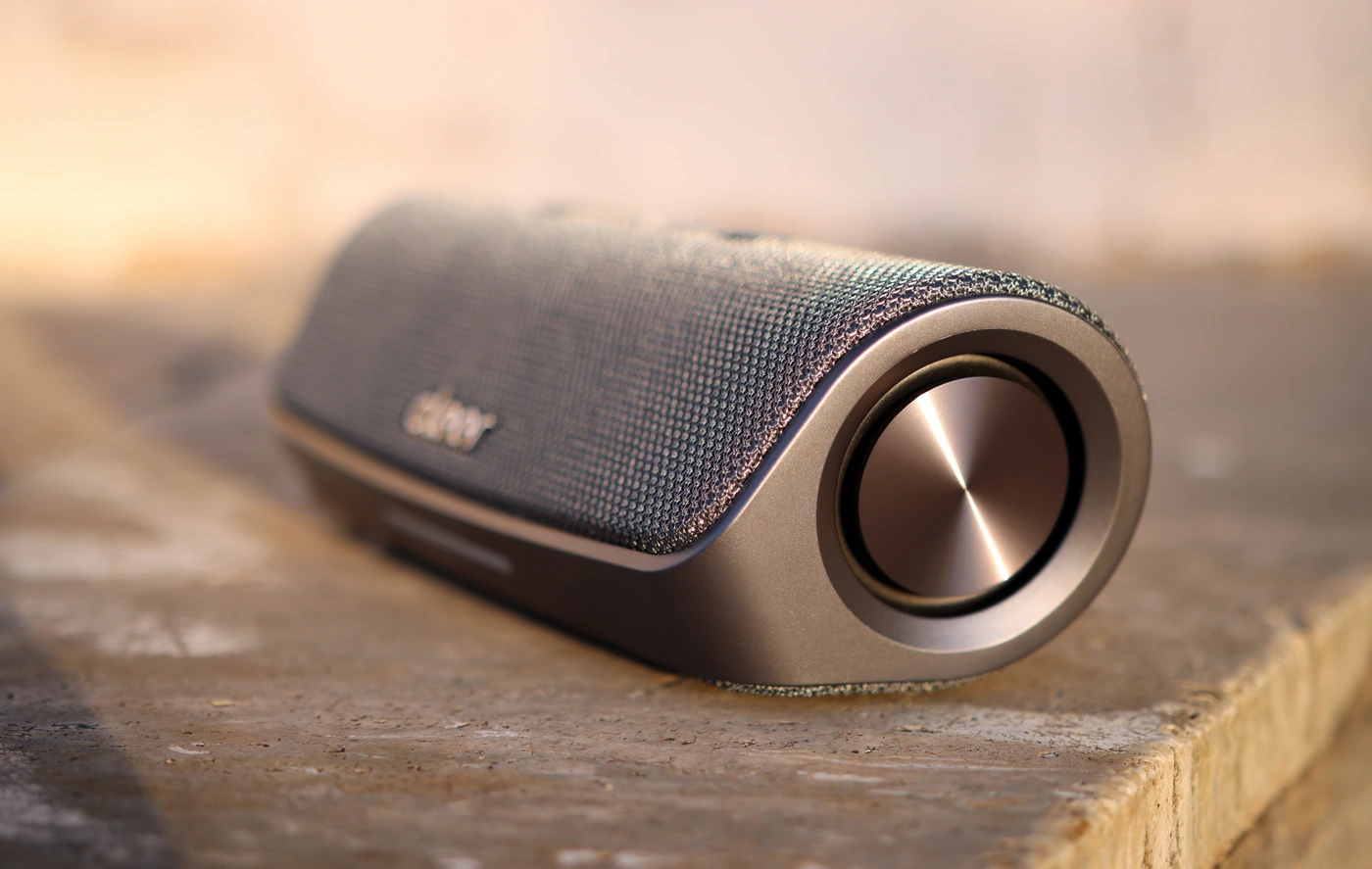 The treble is smooth and slightly rolled off, with most of the treble energy being around 10 kHz, but with a rolled off quantity relative to the midrange and the bass. The treble is never harsh or metallic, rather Scene stays in the range of being fatigue-free. At louder volumes the sound gets more V-Shaped, so there's more treble, more bass, and the midrange gets stronger in the upper midrange, making for a more pleasing listen. Bluetooth compression is audible, and I would recommend checking out my article where I explain more about Bluetooth to better understand the limitations of the algorithm, especially at AAC and SBC data rates. 
Comparisons 
Cleer Scene vs Tronsmart T7 (99.99 USD vs 49 USD) – Starting with the shape, T7 is the most direct competitor to the Scene, and it is half the price, but the bass extension and overall sonic presentation of the Scene is generally much cleaner, more detailed and more dynamic as well. T7 looks cooler, more electronic and more playful, but I prefer the scene for its simplicity. Both can surely fill a smaller room with sound, but Scene gets louder, with lower distortion, has better battery that lasts for longer, and Scene is generally recommended if you can afford it, the sound is simply much better in detail, resolution, clarity, bass depth, maximum volume, and overall treble clarity too. 
Cleer Scene vs Tronsmart Bang Mini (99.99 USD vs 89 USD) – There is a difference in size here, Bang Mini is much larger, much heavier, so it is much less likely to be around if I'm the photo artist for an event, or if I'm out and about doing something and need a source of background music. Scene has a similar maximum loudness, which I found surprising, Bang Mini has better bass extension, the bass is a bit cleaner and stays clear a bit better at loud volumes, with metal and more complex music, but for house, trance and EDM in general both are equally good. I would still pick Cleer Scene out of convenience, it has a marginally better battery life, is more ergonomic and convenient to take out and use, while the sound is still a bit more detailed and cleaner. 
Cleer Scene vs Tronsmart Force 2 (99.99 USD vs 50 USD) – Force 2 is smaller, but the size was never more comfortable for me than a speaker like Cleer Scene. Scene has better bass, better depth, more detail in the midrange, better maximum volume, better battery life, and a more pleasing sound, less harsh yet more dynamic. If you can afford the extra money, I would recommend Cleer Scene as the better option over Force 2, but it is double the price, so you have to vote with your pocket. 
Value and Conclusion
At the end of the day, the value of Cleer Scene is good, this is one of the most pleasing sounding Bluetooth speakers I've heard, and one of the very few ones I would use personally for playing background music for a photoshoot and other activities. It has just the right shape, it can get loud enough and stay cleer from distortion well enough to be competitive.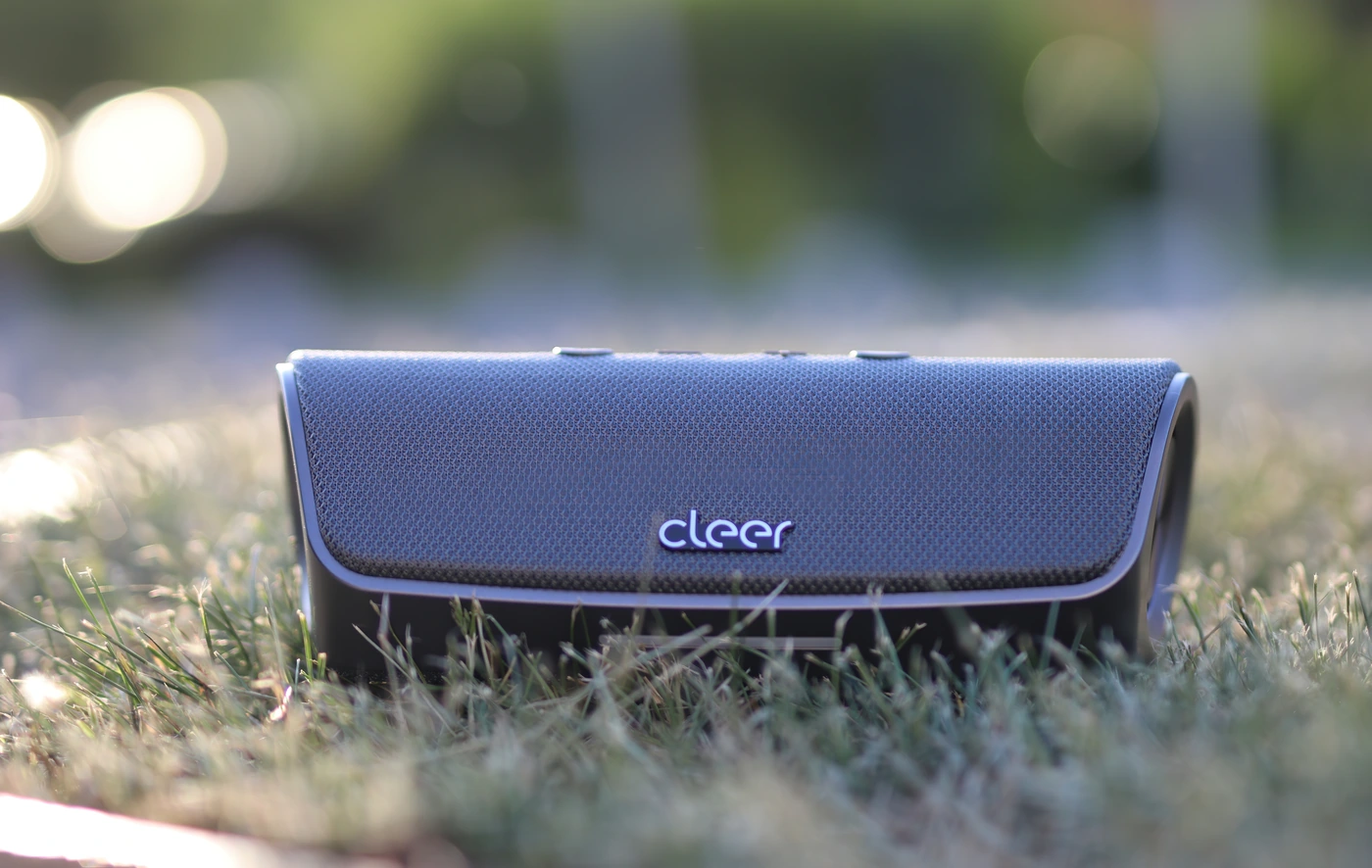 At the end of the day, if you're looking for a Bluetooth Speaker with an extremely good battery life, super nice build quality, snazzy design, stereo sound, good bass representation for its size, and super clean / clear sound, Cleer Scene is an excellent option and a speaker I will likely use in the future while I am away and want to play a bit of music. 
Product Link
You can grab one from www.amazon.com here: https://amzn.to/3Wn2DOh
If you're in the UK, you can grab one from www.amazon.co.uk here: https://amzn.to/3OwOXhz
And if you're from Europe, you can grab one from www.amazon.de here: https://amzn.to/43f5TgO
---
--- Please remember to stay safe, and always have fun while listening to music!---
 - If you have a dime to spare, please donate, and help us! It would make the day brighter for me and my wife- 
---
Full Playlist used for this review
We listened to more songs than those named in this playlist, but those are excellent for identifying a sonic signature.  I recommend trying most of the songs from this playlist, especially if you're searching for new music! The playlists are different for Spotify, Tidal and Youtube, and based on the songs I enjoy and are available on each!
https://www.youtube.com/playlist?list=PL_cjBXGmwSHSdGcwuc_bKbBDGHL4QvYBu
https://open.spotify.com/playlist/5J3oloz8Riy9LxEGenOjQ0?si=979ba4f082414be7
https://tidal.com/browse/playlist/330fd544-8e5b-4839-bd35-676b2edbb3d5
--- Contact Us ---





---