Liquid Sound – Edifier E25 Luna Speaker Review
Audiophile-Heaven will also be doing Speaker reviews, and Edifier E25 Luna makes a great start, as it was one of the first speakers I purchased recently, based on other reviews and recommendations. Whether they lasted me long enough and were good enough for my needs, is another story entirely though. 
Introduction

Edifier is a rather large company, with a lot of products on the market, but they don't have a good contact with their customers, they don't solve warranties nor answer customers directly, and at this point I'm leaning towards saying that if you'll require any kind of warranty / service from Edifier, you're on your own, or you'll need the help of the store who sold you the product. They do make good products though, and I had no issues with E25 Luna, but I did have issues with S1000DB, which I couldn't sort out, and I feel I should mention that at the moment of publishing this review, I recommend purchasing their products from stores you trust. 

It should be noted that I have absolutely no affiliation with Edifier, I am not receiving any incentive for this review or to sweeten things out. This review is not sponsored nor has been paid for by Edifier or anyone else. The sample for this review is a personal unit I purchased with my own money, initially for the purpose of listening music, and to replace the speakers of my laptop, which I was using at that point. For a long time, I've been using headphones, but I wanted to get a speaker to get a good sound when I really needed to move around my room. This review reflects my personal experience with Edifier E25 Luna. Every opinion expressed is mine and I stand by it, the purpose of this review is to help those interested in Edifier E25 Luna find their next music companion. 
Product Link
You can get the Edifier E25 Luna from www.amazon.com here: https://www.amazon.com/Edifier-USA-e25-Eclipse-Bluetooth/dp/B00GDDTTFA/
You can also get the Edifier E25 HD Luna from www.amazon.com here. It has the same sound, but some extra features: https://www.amazon.com/Edifier-Eclipse-Bluetooth-Speakers-Red/dp/B00WKIY6KK/
Build Quality / Aesthetics / Room Positioning

Those are some of the most beautiful and clean looking speakers you will ever be able to find in this world. Their entire aesthetic is liquid, they are glossy, yet aren't quite that easy to scratch, and I feel they are more of a piece of art for your desk rather than just speakers. In fact, they look so cool, that I'd keep them just as aesthetic elements for my room. 

The speaker has a frontal mid woofer driver, paired with a silk tweeter. There is a slit at the back of the speaker, with two parallel passive radiators.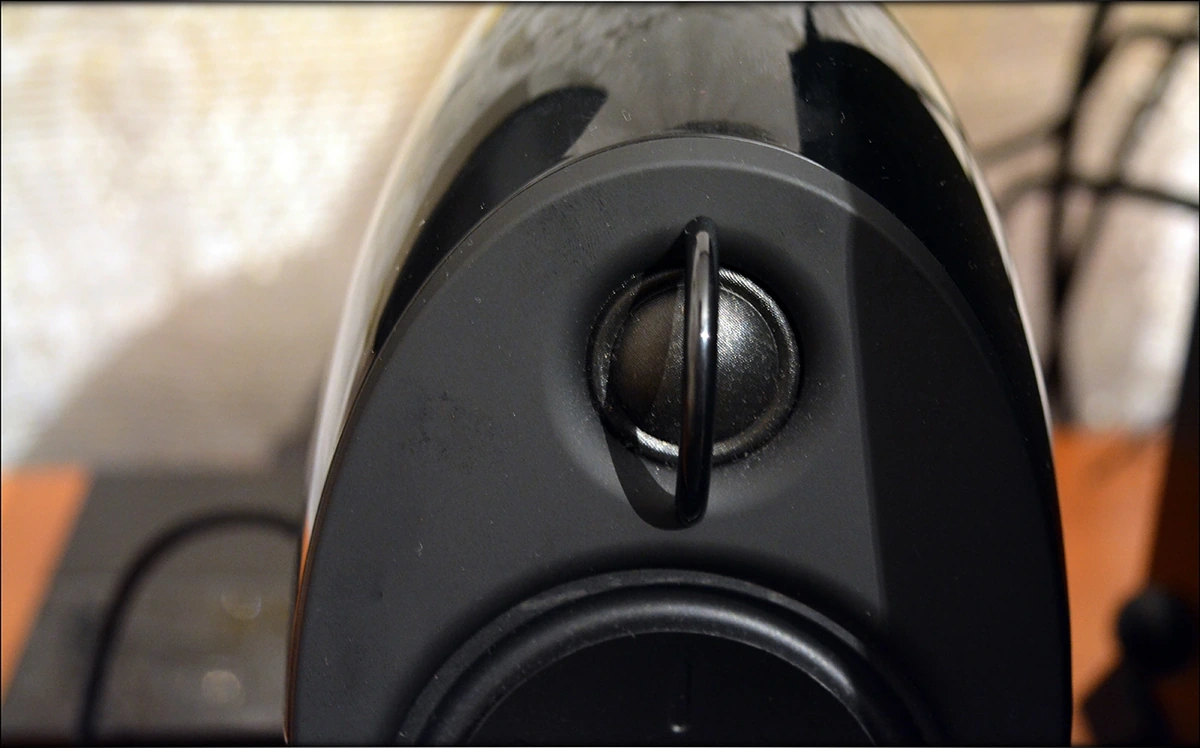 The spherical shape, and the overall aesthetic shouldn't trick you though, those are no toys, and they actually feel rather heavy, and well made. 

There is a very basic remote included in the package, which simply works, and if the remote is ever to stop working, there is a power, a volume + and a volume – touch based button on the left side of the right speaker, which also has the remote receiving sensor. 

The positioning isn't very important, but those are desk speakers, they are best positioned right and left of your monitor. I tested them pushed farther apart for getting a wider soundstage, but that didn't work, and they lost their punch, instead getting loose, the absolute sweet spot they have is on a desk, one meter away from the listener or so. They are not overly sensitive to how far they are placed from the wall, the two passive radiators at the back working well in a multitude of positions.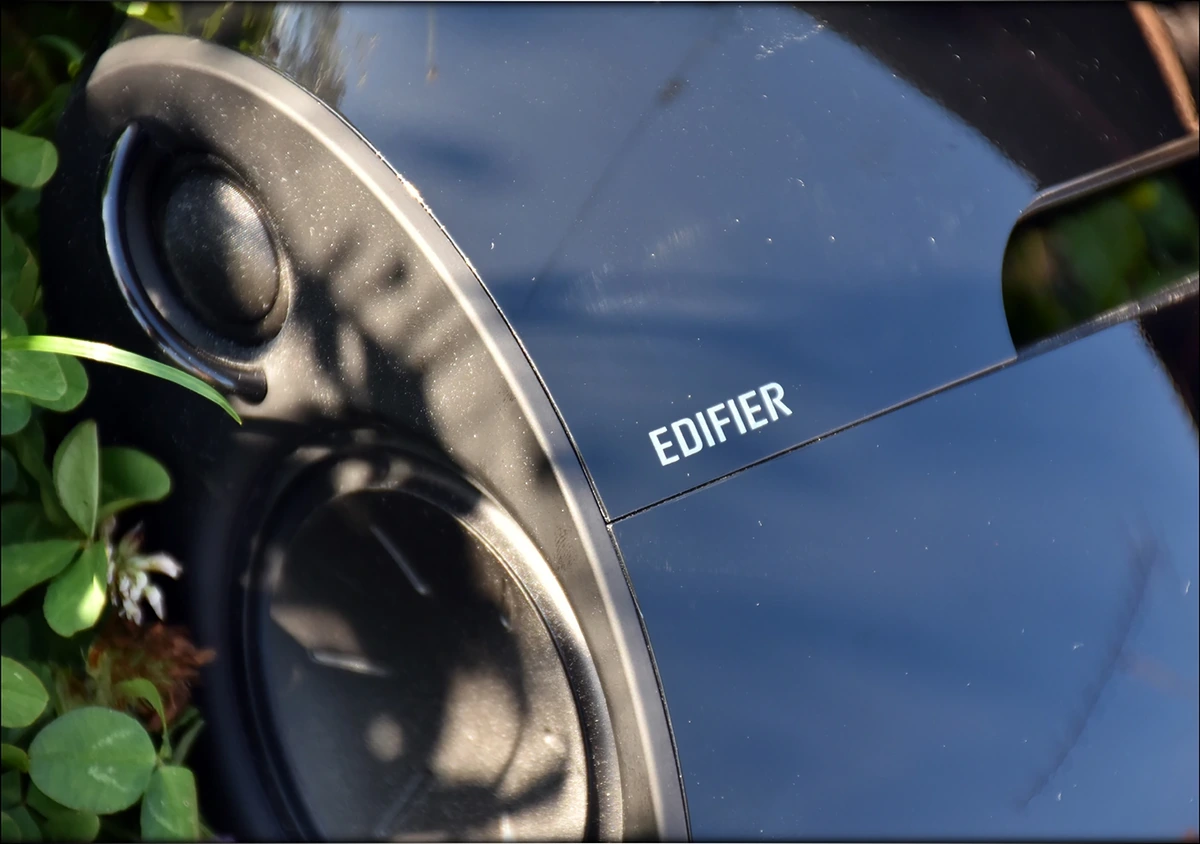 The cable connecting the two speakers is proprietary, as far as I can tell, and you'll have a hard time getting a replacement, if it ever broke. The power transformer is also a small outer box. 

The mid woofer is 3 inches in size, and so are the two passive radiators in the back. The silk dome tweeter is 19mm in size, and it is protected by a little plastic piece, so that if they fall, the driver won't get crushed. 

They rely on an Aux In input based on a 3.5mm cable, but the quality of the cable will not change the sound much, so you can freely use the cable included in the package. 

Overall, they leave a really good impression, they feel really well built, and all their functions are easy and free of issues. 



Sound Quality

With speakers things get a bit tricky, because positioning becomes pretty important, but as I noted earlier, Luna 25 is very stable regardless of its position, becomes more punchy when it is closer to the listener, and becomes smoother, and more loose if they are spread too far apart. 

Overall, the speakers are unable to cover a larger room, and are recommended for a smaller room, about 25 square meters or less. 

When using really high volumes, they get a very audible hiss and noise, and this is very distracting, so they are best used up until about half to three quarters of their max volume. At that point, they still have low distortions, and the hiss is almost inaudible. 



When used within their own limits, and when used in a good position, you get a very punchy sound, a warm, rather textured sound, with a very smooth treble, and with the lower midrange pushed forward, and everything else rolling off the farther away you get from the lower midrange. 

Starting with the bass, the small drivers start giving sound after about 70 Hz, with not much being audible before 70 Hz. This means that if you're a basshead, you'll instantly feel the lack of bass on E25, as they really do not reach very low and are not very deep. The good part comes after that, because where the bass starts, it is extremely punchy and well textured, the rather small driver responding really nicely to bass, and giving a really nice overall bass texture and feeling. 

The lower midrange is the focus point of those speakers, but this is actually quite nice, as they sound rather natural in the midrange. Male vocals sound very spot-on, although the upper midrange starts rolling off, and this leads to lack of emotion with female voices. The overall detail is good, considering they cost about 200 USD, and I have little to complain considering the kick they provide in the upper bass, and the overall nice lower midrange, but the detail is as good as the 200 USD price mark gets them. 

The treble is extremely smooth and non-fatiguing, both in texture and in quantity, as it has lower energy than the bass and the midrange. Interestingly, the treble driver actually works, and although this is a very non-scientific tests, I did place my ear next to it, and indeed it works on its own. Another note is that the treble driver gets much stronger and the treble becomes way more evident near their maximum volume, but the hiss and noise may also be distracting at that point. 

Instead, I actually managed to EQ E25 Luna and to get really good results out of them with a bit of EQ. The EQ curve reminds me a bit of Meze 99 Classics, although Meze 99 Classics didn't require much EQ in the upper midrange / lower treble, where E25 Luna asks for it. 

Overall, I'd recommend doing the following: 

Pre : -12 dB

62 Hz : +6dB
100 Hz : -1 dB
500 Hz : -3 dB
8 kHz : + 4 dB 
16 kHz : +12 dB 

With those settings the sound becomes way more clear, has much better textures, and feels much more in phase. After applying this setting, they sound pretty close to a 200 USD headphone, with the advantage that they will be sitting on your table. 

Overall, I think the sound is quite good after the EQ, and they offer a pretty wide soundstage, with good details and sparkle, good instrument separation, and with one of the most punchy and tactile bass I've seen in a speaker. In fact, even after testing many other speakers, I still haven't found the punchy and impactful kind of playful bass E25 has, and although it doesn't go very low, where it exists, it is really nice and punchy. 



Desktop Usage

The Desktop usage is excellent, they are beautiful, they are stable on a desk, easy to set up, and easy to carry if need be. They also come with a cleaning cloth, so they stay fresh, if say, dust will be getting on them. 

The positioning is easy, and they are easy to move if you want to experiment, are non-intrusive and make an excellent movie speaker setup. 



When listening to music, they work really well for punk, metal, rock, pop, and Anime Music, but E25 luna's bass doesn't reach low enough for electronic, rap or EDM. 

For playing games, they convey a fairly nice soundstage, and it is easy to tell where a sound is coming from, as long as it is somewhere in front of you, as they don't provide a good positioning / soundstage behind the listener. 

For movies, E25 Luna isn't ideal, the bass doesn't reach low enough, and some explosions lack rumble and impact. If you don't mind this little detail, they provide a clean dialogue, and good separation between dialogue and soundtracks, making a nice upgrade from most really cheap speakers, or from the speakers of a laptop. 

The maximum loudness is enough to provide background music for a small party, or for spending a lovely conversation with your loved one, or erm… more, but you can't throw a party with E25 Luna, and you won't be able to provide proper entertainment for a larger or noisy crowd, Edifier S1000DB being much better for that. 

I actually took the time to take a photo of a little flower I found when taking photos of E25 Luna.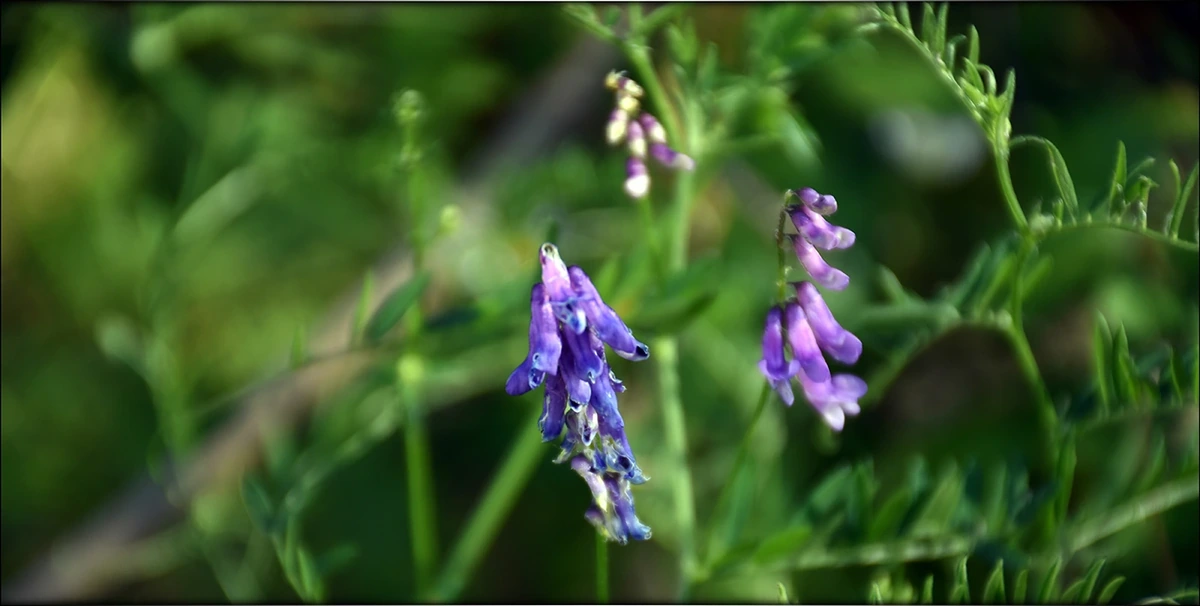 Overall, for the 200 USD price point, E25 Luna provides a really nice desktop usage, and I consider them one really cool-looking speaker with a very nice usage scenario. 



Comparisons 

I have received a few more speakers in the meanwhile, but when comparing speakers I'll be talking about ease of setting them up, how sensitive they are to placement, and the differences in sound when placed well. Comparisons won't be taking EQ into account, but I will be taking into account whether a speaker can take EQ well or not, as I consider this to be a fairly important detail.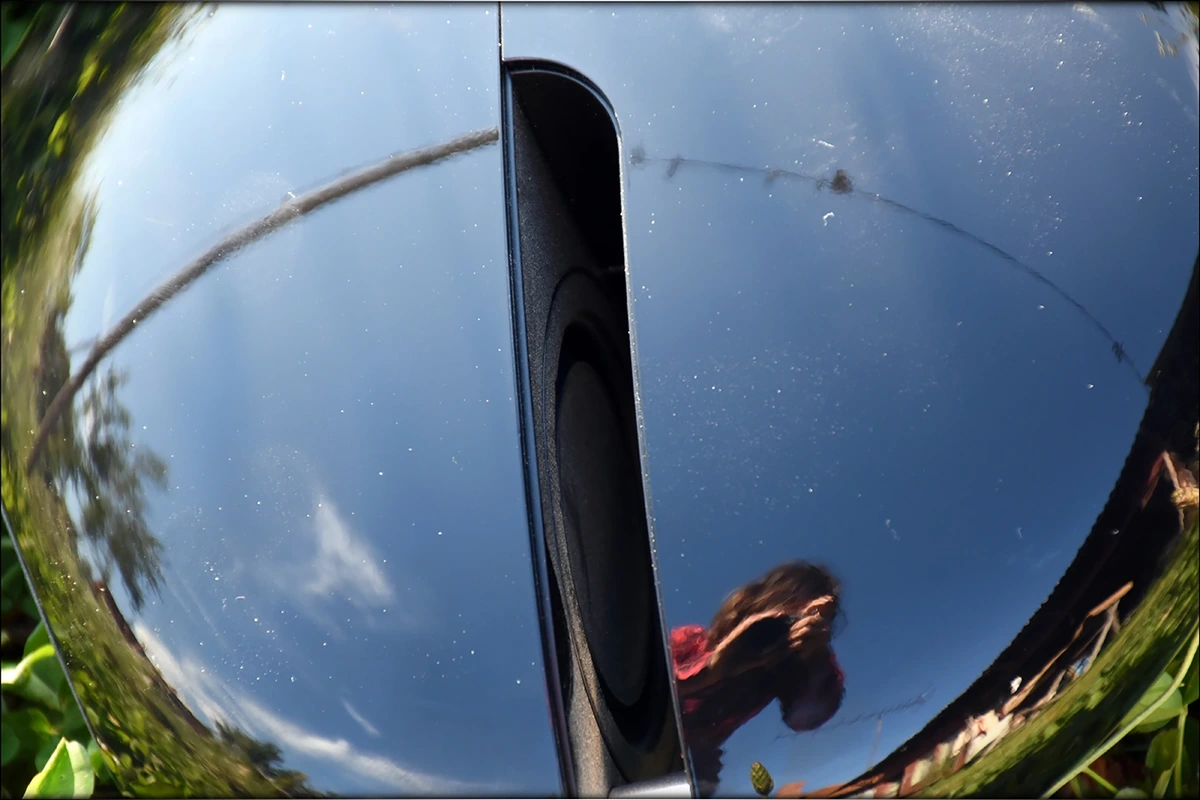 Edifier E25 Luna vs Edifier S1000DB (350 USD) – The two speakers have very few things in common, E25 Luna are a cute pair of computer or multimedia speakers, while S1000DB is a much larger, heavier and more complicated to place speaker. S1000DB needs proper placement to sound their best, and they won't be easy to play with, compared to E25 Luna. S1000DB has a much longer burn-in period, and while E25 Luna sounds pretty much the same out-of-the-box and after burn-in, S1000DB sounds terrible out-of-the-box and needs 3-4 days to reach its proper working condition. Now, after both are burned-in and placed properly, the differences are quite noticeable. S1000DB is more easily EQ-able from their Bass and Treble volume pots. S1000DB has a lower-reaching bass, but doesn't have the punchy and textured bass of E25 Luna. S1000DB is much wider in the soundstage, has much better detail and a more V-Shaped sound, with considerably more treble sparkle, especially in the upper midrange / lower treble. The definition and detail is much better on S1000DB, and they are clearly a better overall speaker. Overall, the aesthetic is nice on both, but for sound alone, if you have space for S1000DB, I'd suggest getting them instead of E25 Luna, as they do provide a better, more clean, more detailed, better separated, wider, and deeper sound. E25 Luna still has the more beautiful aesthetic, and I think they're quite fit for their purpose, as a simple pair of Multimedia Speakers. 
Edifier E25 Luna vs Audioengine A5+ Wireless (500 USD) – Now, A5+ Wireless is quite a bit more expensive than E25 Luna, but it is close enough that you may be considering it over E25 Luna (as I was at the moment of making the entry purchase for E25 Luna). Compared, A5+ Wireless is actually pretty easy to position and not quite as big as S1000DB. A5+ Wireless is clearly intended for monitoring and music production, as they have a much better detail, much better soundstage and clarity, a more impactful and actually punchy sound. The speed of A5+ Wireless is actually much better, and so is the overall build quality, but the aesthetic is still cuter and more cool on E25 Luna. A5+ can be placed anywhere, so they are versatile in this aspect. Overall, if you have the money for A5+ Wireless, they make a much better choice than E25 Luna, also having APT-X Bluetooth with good signal strength, and a much more detailed sound, but if you want a small, portable, cool-looking and non-obtrusive speaker, e25 Luna makes a nice choice, especially for their less than half of the price of A5+ Wireless.

Edifier E25 Luna vs Yamaha WX021 Musicast 20 (230 USD) – Yamaha Musicast is actually a different product entirely, a music cast / Streaming Speaker, although they also have Bluetooth. The main point would be to connect them via Wifi to your portable, or via an ethernet cable, basically being a speaker you can play lossless music on from a larger distance. Musicast 20 is compatible with Roon, Tidal and many other services, and is more versatile in this aspect than E25 Luna. In terms of aesthetics, E25 Luna is a clear winner, although, to Yamaha's strength, they were designed to blend more with the background. You need to purchase two Musicast 20 Speakers to get a proper Stereo Sound. Musicast 20 can be placed anywhere and will sound good, it feels better build than E25 Luna. The sound is much more airy and warm on Musicast 20, which can be more musical, has better treble sparkle, and doesn't have the same hissing / noise at high volumes as E25 Luna. This being said, you can't really use Musicast 20 to watch movies, and it is also made to play in the background, and will not sound so good at loud volumes, E25 Luna with their really small drivers actually being louder than Musicast 20, at about half of its volume or so. E25 Luna can get louder, before distortion and noise kicks in, so it is easier to recommend if you need loud music. Now, for a versatile multimedia speaker, E25 is clearly better designed, but if you're looking for a really high-quality sound Wireless speaker, Musicast 20 sounds better, has better clarity, a more musical overall sound, better instrument separation, and better overall definition and resolution, being clearly more euphonic than E25, although at lower volumes, as it doesn't go as loud as the little E25 Luna. They are very different products, made for different people, although I'm still testing whether you could pair Musicast 20 in such a way that you could watch movies and play games using it. 



Value and Conclusion

We reached the end of this lovely review, and I'm leaning more towards saying that it was a pleasure than not, indeed E25 Luna is not a perfect speaker, but it is very nice, and fits its intended purpose fairly well. 



The aesthetic may make it your immediate favorite, and they sound fairly good as well, especially if you like a punchy sound, and if you like a smoother presentation, or if you take the time to EQ them. 

The EQ'ed sound is a much clearer and better extended one, with better impact and definition, and they make a satisfying purchase, but they are still an entry-level speaker, there are much better options if you don't need the small form factor or the really budget price they offer, but they are still darn beautiful. 

Overall, if you're looking for a nice pair of multimedia speakers, with a punchy and smooth, creamy sound, with nice soundstage width, easy to set up, easy to connect, easy to use, and fairly fun to play with, I recommend checking out Edifier e25 Luna and considering them as your next pair, or your first one, as I'd imagine they are for most. 
Product Link
You can get the Edifier E25 Luna from www.amazon.com here: https://www.amazon.com/Edifier-USA-e25-Eclipse-Bluetooth/dp/B00GDDTTFA/
You can also get the Edifier E25 HD Luna from www.amazon.com here. It has the same sound, but some extra features: https://www.amazon.com/Edifier-Eclipse-Bluetooth-Speakers-Red/dp/B00WKIY6KK/
---
--- Please remember to stay safe, and always have fun while listening to music!---
 - If you have a dime to spare, please donate, and help us! It would make the day brighter for me and my wife- 
---
Full Playlist used for this review
We listened to more songs than those named in this playlist, but those are excellent for identifying a sonic signature.  I recommend trying most of the songs from this playlist, especially if you're searching for new music! The playlists are different for Spotify, Tidal and Youtube, and based on the songs I enjoy and are available on each!
https://www.youtube.com/playlist?list=PL_cjBXGmwSHSdGcwuc_bKbBDGHL4QvYBu
https://open.spotify.com/playlist/5J3oloz8Riy9LxEGenOjQ0?si=979ba4f082414be7
https://tidal.com/browse/playlist/330fd544-8e5b-4839-bd35-676b2edbb3d5
--- Contact Us ---





---