Modern Boombox Style – Vifa Copenhagen 2 Bluetooth Speaker Review
Vifa is a large company from Denmark, and they are aces in producing bluetooth speakers. Vifa 2 is priced at 700 EUROs. This makes it a direct competitor for Audioengine A5+ Wireless, AIWA EXOS 9, and Taga Harmony HTA-800 Amplifier + 806F Floorstanding speakers. There will be no pairings since Copenhagen 2 is a Bluetooth Speaker.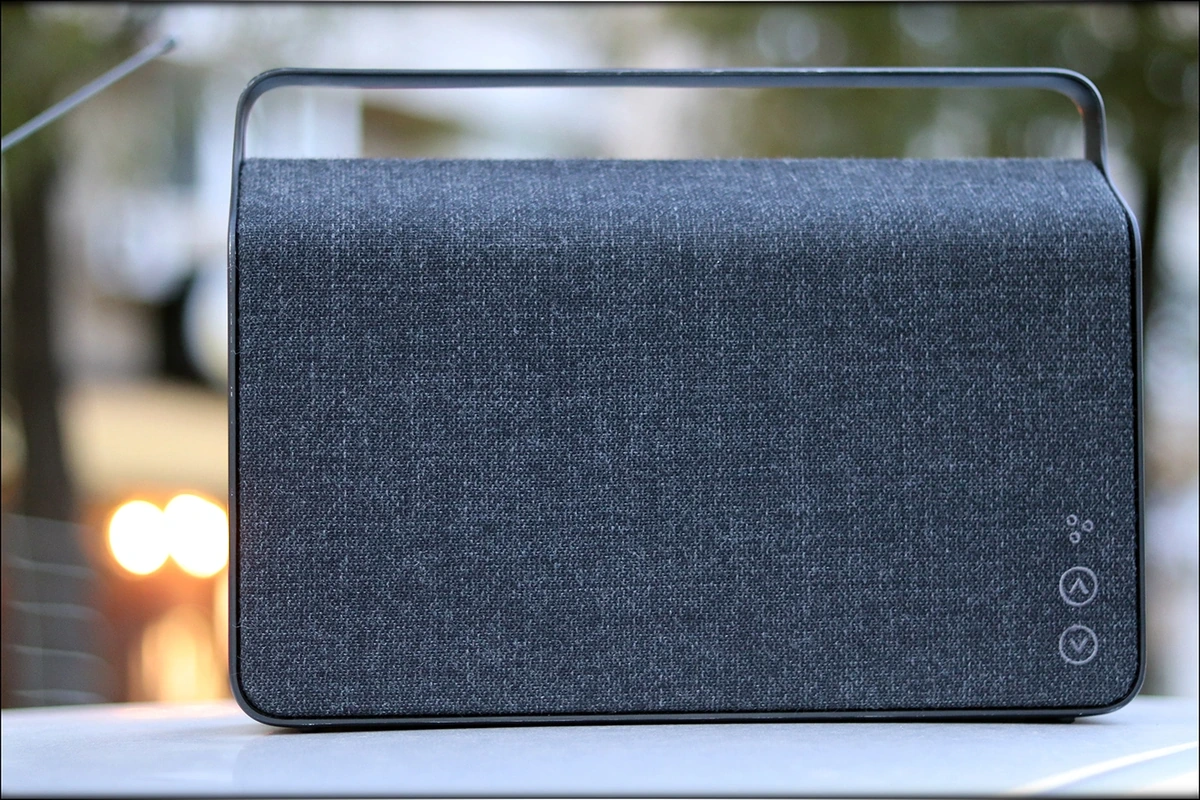 Introduction

If you haven't heard about Vifa yet, either you're not into Bluetooth speakers, Danish furniture, or maybe you're not from Europe. At least around here, Vifa are one of the most popular bluetooth speaker brands, and their Copenhagen 2 is a best selling speaker, with tens of owners in Romania alone, and many others from other parts of the world, especially Europe. They reply to every mail very quickly, and they also provide top notch service, and are reliable. From top to bottom, they are a top notch, Danish company that shows the excellence of the Nordic Countries in everything they do. 

It should be noted that I have absolutely no affiliation with Vifa, I am not receiving any incentive for this review or to sweeten things out. I'd like to thank Vifa for providing the sample for this review. This review reflects my personal experience with Vifa Copenhagen 2. Every opinion expressed is mine and I stand by it, the purpose of this review is to help those interested in Vifa Copenhagen 2 find their next music companion.
Product Link
You can always get Vifa Copenhagen 2.0 from www.amazon.com here:
Pebble Grey Color: https://www.amazon.com/Vifa-Copenhagen-Loudspeaker-Bluetooth-Connection/dp/B07HB88BWS/
Ocean Blue Color: https://www.amazon.com/Vifa-Copenhagen-Loudspeaker-Bluetooth-Connection/dp/B07H94S1NR/
Packaging

First things first, let's get the packaging out of the way: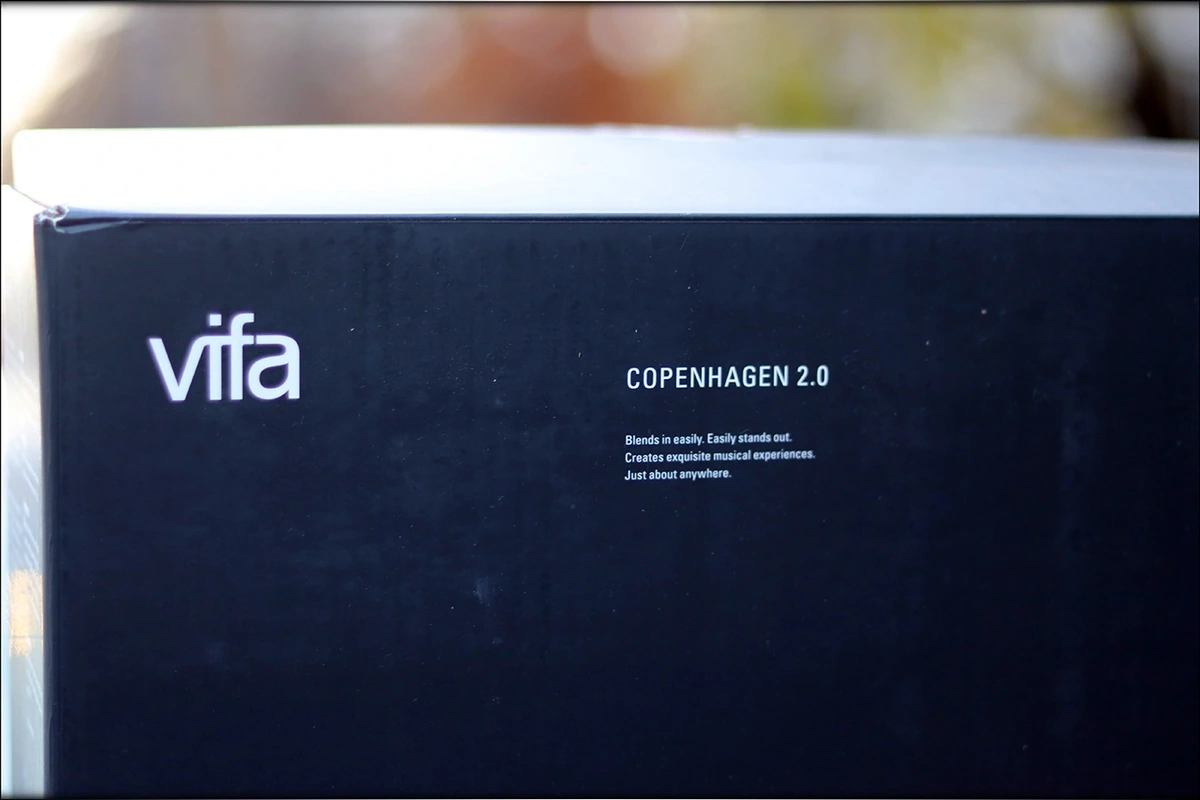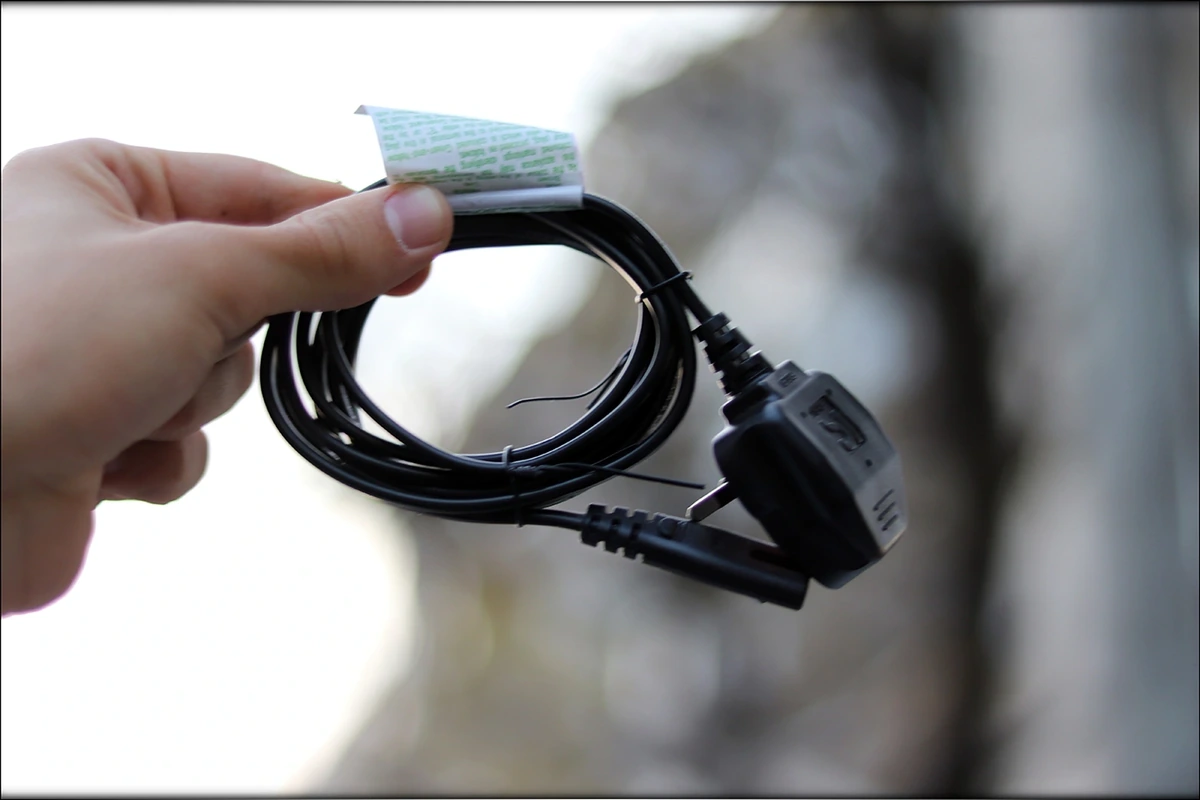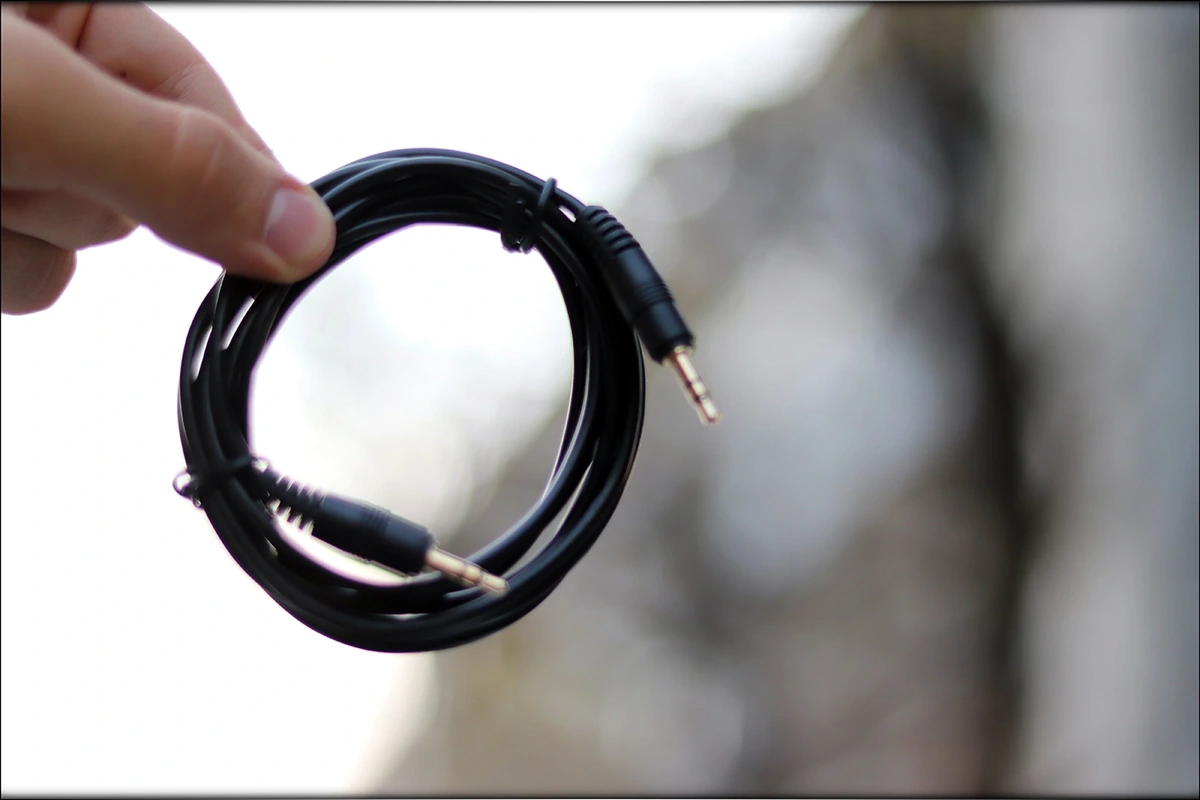 The fun part here is that Copenhagen 2 actually comes with a nice package. They come in a large box, and they come with a Manual, a Charging cable, and they also come inside a cloth pouch. I know most of you won't use that pouch to carry it around, but it is a really nifty thing to have, and for transporting it, it will protect the cloth mesh from any kind of imperfection. 

For the amount paid on Copenhagen 2, which is about 700 Euros, you get a proper flagship presentation, with nothing cut out. In fact, this is one of the most fancy, best presented speakers I've seen in a while. The Taga Harmony that is a competitor, and which comes from a package priced at 800 Euros, is barely presentable, by direct comparison. Audioengine also does a really nice job at presenting their A5+ Wireless speakers though. 

Technical Specifications

DIMENSIONS – 268 mm/362 mm/90 mm
Weight – 4,65 kg
Battery – Rechargeable Lithium battery
Colors – Pebble Grey, Sand Yellow, Ocean Blue, Pine Green, Mountain Blue, Slate Black
Connectivity – Bluetooth, aptXTM HD, audio, Wi-Fi Direct, Wi-Fi networked, Wired optical or analog (3.5 mm minijack), USB disk
Materials – Frame/One piece diecast aluminium, Enclosure/ABS reinforced, Grills/Custom made Kvadrat textile
Tweeter
2 X 28 mm Vifa driver unit with soft dome and neodymium magnet.
Midrange
2 X 50 mm Vifa driver unit with aluminium cone and neodymium magnet.
Woofer
2 X 80 mm Vifa driver unit with flat sandwich cone and neodymium magnet. Mounted mechanically back to back in a force balanced configuration, supported by 4 passive radiators.
Frequency response – 50hz – 20khz @ +/- 3 dB
Bluetooth® wireless technology
Qualcomm® aptX™ HD audio
Wi-Fi B/G/N, 2.4GHz
Apple AirPlay
Works with DLNA
DSP signal processing
Lithium Ion battery
Force Balanced Woofers
6 channel high performance power amplifier



Youtube Review 

https://www.youtube.com/watch?v=DXOb1CdFmYs



Build Quality/Aesthetics/Fit/Comfort

The build quality is something else entirely. In fact, just like how Rosson RAD-0 was built quite interesting for a headphone, Copenhagen 2 is built differently than most portable speakers. This is no AIWA EXOS 9, this is more like a fine piece of furniture, like an expensive IKEA sofa or furniture piece that you really want in your living room. 

The entire speaker is made of metal, and quite heavy, making it pretty hard to carry around. My solution to carry it on a park trip, while on my first dates with my current girlfriend, was to strap a belt to Copenhagen 2, and carry it on my shoulder. This looked very spartan and unprofessional, and not quite what I should have been doing, and people were actually asking me why I bought my living room to a picnic, but to my defense, the sound made it all worth it. 



That's the entire point of Copenhagen 2, it sounds so good that I really am willing to put up with all the downsides of using it. The maximum loudness is not like a speaker, it is more like a concert public address speaker. You can't imagine how happy I was when I first turned it on, took it to maximum, and felt its deep bass rumbling my clothes, and a crisp, clean sound punching me in the face. The 6-Driver design makes everything sound very stereo actually, and despite it being a single speaker, nothing sounds mono, it just ain't mono. 

There is aptX HD, as well as Airplay, DLNA, and there is Wifi Direct as well. Basically, if you need connectivity at the best quality, Copenhagen 2 has got you covered. It sounds best via Bluetooth, and I recommend using it like that. It doesn't feel like it lowers the battery life either, so don't worry about running out of juice because you're using it on-the-go. 

I aim at talking about the actual usage of something, and what I did discover after spending a lot of time with it. With Copenhagen 2.0, I noticed that I actually love the way the company put fabric over the entire speaker. It feels cozy to the touch, and a lot of people actually touch a speaker. It is fairly easy to clean, and a speaker that is portable will have the chance to get dirty. I dropped mine from at least two meters, but it came out with only two minor scratches. It did not die, nor did it break. It did not even bend, just barely scratch, so kudos to Vifa for designing something so nice. 



On the other hand, using it is pretty terrible unless you get creative. The Bluetooth connection is perfect, and I had in every literal sense zero dropouts. Nada. Regardless of the source. Music always sounds awesome from this speaker, no issues. But man, that handle is hard to use when it is this heavy, and you really have to remember charging it daily, if you're using it daily. You get about five hours of battery life if listening at maximum volume. You're looking at 8-9 hours if listening at more moderate volumes, but who cares about a moderate volume, when you can throw a party, have top quality sound, and look stylish at the same time. 



Sound Quality

So, how can it sound, to be worth seven hundred Euros, be complicated to carry, but still make sense to own? Well, it sounds better than almost any 2.0 speaker configurations you can get at this price point. Louder, clearer, more controlled, but also portable, and convenient to use. This has to be like my favorite portable speaker ever in terms of sound, and I kid you not, I'm a fan of the boom box idea. 



Starting with the overall sound, it is controlled, deep, clean, crisp. The treble is sparkly, but doesn't really bother, it is never sharp. It has a wet texture, which makes it sound natural and despite having good sparkle, it is never intrusive. The bass is really well-rounded and deep, reaches as low as a full-blown floorstanding speaker, but all that rich, deep impact comes from a portable speaker. The midrange is slightly recessed, but clean, crisp, and very very detailed. I'm talking about seven hundred Euros worth of headphones in detail. 

Starting with the bass, it is one of the deepest, cleanest I have heard. It is actually quicker than most would expect, and clearly quicker than most of its competitors (portable speakers). It can really reach that 50 Hz, and unlike the promises of the Covid Quarantine ending before May, it is not a lie. The bass of Copenhagen 2.0 is what I would call impactful, it has meaning and rhythm. Even when you're outdoors, you don't get a rolloff in the bass, you can still hear and feel it, even if taking Copenhagen 2.0 for a walk. 

With the midrange, it is not quite the same story, and if you want to hear it clearly, you have to be in the front of the speaker. I mean, you'll still hear it even if you're the one wearing it, but it will be slightly lower in volume, so it will be even more recessed. It is not quite clear to me whether the speaker was designed to be used indoors or outdoors, but it excels in both conditions, and the volume can be loud enough to bother everyone in a few hundred meters range, but you will still get the details of your music sharper than a Nikon camera takes photos. In fact, this is one of the things that surprised me the most about Copenhagen 2.0, I was expecting it to be more or less about fashion, form, design, but not about sound. I reviewed RHA True Connect TWS, which are more about design and comfort than they are about sound, but the guys at Vifa are not joking around. With aptX HD, Copenhagen 2.0 is actually more detailed, clearer, crisper than your average 500 USD Headphones, and it has more detail even than Adam Audio Studio PRO SP-5, which was a bloody detailed headphone. 

The detail does not stop in the midrange, as it does in some pretty pricey speakers, like Buchardt S400, but instead, Copenhagen 2.0 manages to sound more or less the same as the Buchardt S400, but while still being priced at less than half the price. In fact, this is something interesting that came to my mind recently, but Copenhagen 2.0 has pretty much the same detail, clarity, punch and bass as the Buchardt. The treble of Copenhagen is sparkly, it has good extension up to 14 kHz, and it has excellent air. In fact, it is one of the best trebles I heard in a speaker, not just a portable speaker, and I'm not only shocked, but actually slightly unsettled by this. Feels like Vifa did their best for the sound, while most speaker companies were a bit afraid to sprinkle in some extra spice to them treble. 

The dynamics of this speaker are out of this world, and if punchy, engaging and crisp are things that appeal to you, then you should really consider getting it. On the other hand, it is not chill, not smooth, not relaxing at all. Copenhagen sounds like a live music festival that you can carry with you. If you listen to Death Metal, or to Black Metal you can carry it with you in the woods, things which may be desirable if you live in a nordic country and if you're a fan of spicy rock. 

There actually is a soundstage to it, and it is huge. As I said, I keep comparing it to Buchardt S400, but this is because it is the closest thing in terms of sonics that I have around, but man, Copenhagen 2.0 competes in the size, especially the width of the soundstage. The depth is not quite as good, but for 700 Euros, Copenhagen 2.0 has the width of a proper 2.0 speaker setup. I know there is some DSP at work that helps with this, but I don't hear it changing my music in a bad way, and if Vifa could start making headphones that used the same tech, I would be the first in line to get a pair. 



Portable Usage

Or desktop usage? Why not both? 



This is clearly what the director board of Vifa thought when designing Copenhagen 2.0. There's nothing about this speaker that speaks of its portability more than the single, large metallic handle it has. To make it practical, I strapped a belt around it, as I show in my Youtube video review of it: https://www.youtube.com/watch?v=DXOb1CdFmYs

This being said, the belt sadly snapped, either because of my chubby self, because I was dancing too much with Copenhagen 2.0, or because it was too heavy for that belt (amazing that belt could keep my pants on though), so anyways, my Copenhagen 2.0 took a fall. It survived it, and lives to the day to tell the tale of my abuse, and nonetheless, sounds just as good. So portability has a big check from me.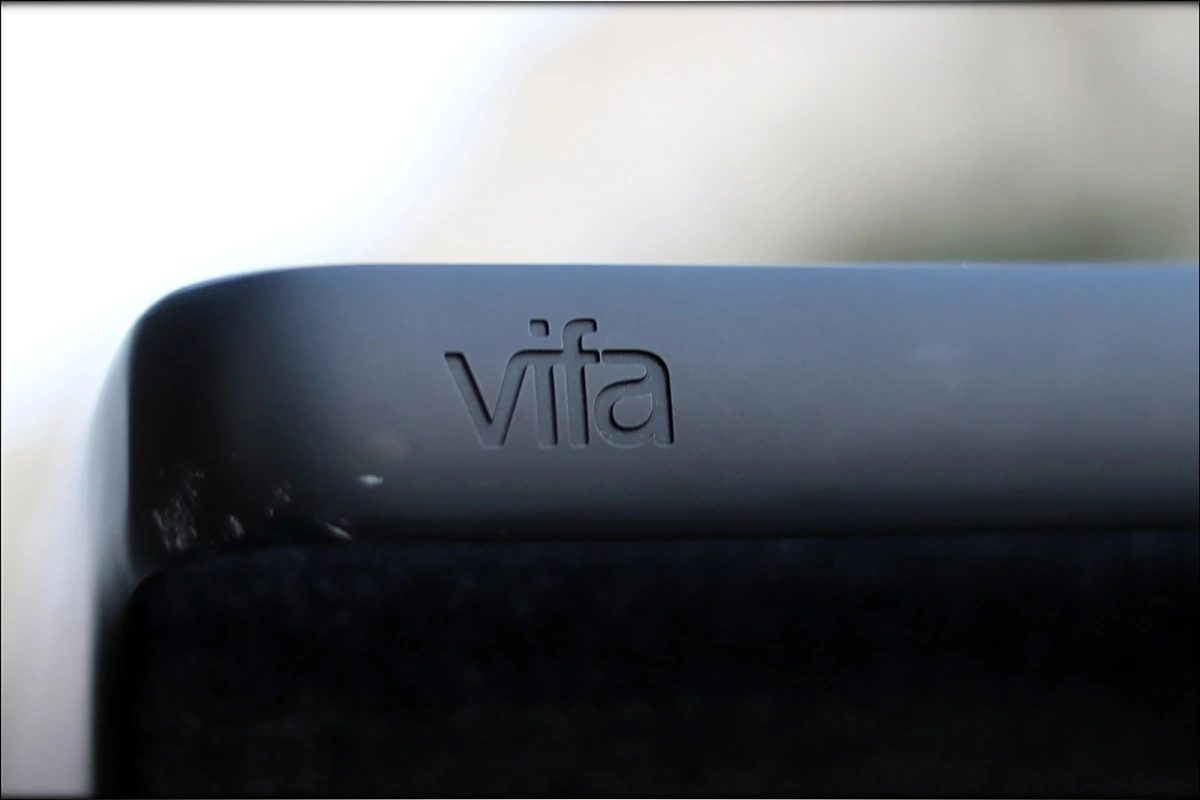 For desktop / room usage, it is fairly easy to describe. It looks sexy, it looks sexy, you can have it somewhere on your desk, or on a table, it would make a date way more spicy and romantic, and everyone will love it. You can also throw a large part, and I'm talking about 10 people or more here, using just one Copenhagen 2.0. 

This being said, when doing that portable usage, I'm not sure if everyone will still love you. I guess it would depend on their music tastes. A lot of people in Bucharest are riding bikes with music at loud volumes coming from speakers. Judging by the quality, and loudness, I saw at least two different Copenhagen users that were using them in this fashion. 

You can easily throw a party on a picnic using Copenhagen 2.0. If used at full volume, the battery life is not that great, about five hours of usage, but you get the option to connect to any power outlet to charge. No special power adapters required either, so you won't have to bother about anything, the power cord is the most typical power 2-Pin connector in the entire world. I noticed that it has about 10 meters of actual Bluetooth range where it will never disconnect. Doesn't matter what you do. I took it for long walks in Bucharest's own Herastrau park, and I got full signal 100% of the time. 

Overall, great usage regardless whether you decide to go portable or stay at home with it. 



Comparisons 

The main competitors for Vifa Copenhagen 2 are from a wider range of prices and designs. Nevertheless, since Vifa priced it a bit high, I took the liberty to compare it to some more exotic enemies. It still won, but I did my best to give it a hard time… Since this is a Bluetooth Speaker, there are no pairings in this entry, I can't really say its sound was different regardless of the device I had it paired with. There's an AUX cord, but it was inconvenient to use, compared to the really comfortable, and good-sounding Bluetooth mode, so all comparisons are made while using Copenhagen 2.0 in Bluetooth mode. 



Vifa Copenhagen 2.0 vs Audioengine A5+ Wireless – When comparing the two, you should keep in mind that both have an excellent build quality, both come in awesome packages, and with a rich set of accessories. Things start to differ when you listen to them though, because Copenhagen 2.0 actually sounds much more open, more sparkly in the treble, more dynamic, and more punchy, with more bass extension, so better reach down low. The bass has better depth, and overall, the whole sound is just more vivid. A5+ sounds more forward in the midrange, and has more details in the midrange, but it also feels really dry and the sound, if you're not doing actual mastering, feels flat and not quite that fun. This is okay though, since they were intended for monitoring usage rather than for music listening. You would expect that a somewhat mono-ish one-block speaker like Copenhagen 2.0 would sound compressed, or at least narrow, but it actually has a wider, more open sound than A+5, which, to its defense has a deeper sound with more layers, but which doesn't feel as wide and holographic. Loudness-wise, you could throw a party with both, but to get people moving and dancing, you probably would need something like Copenhagen, with its bass. 

Vifa Copenhagen 2.0 vs AIWA EXOS 9 Speaker – You may wonder how it stacks against some other boomboxes, especially one that is physically larger. To be honest, I was expecting EXOS 9 to have a better bass, but while it is really large and enjoyable, there's way more detail and punch in Copenhagen 2.0. EXOS 9 is actually kind of slow in the bass compared to Copenhagen 2.0. In terms of build quality, both are rather awesome, and both companies did a good job of making a nicely done speaker. The sound is actually larger from the smaller and more portable Copenhagen 2.0. I see myself carrying Copenhagen 2.0 with me on a park trip, on a picnic, but I do not see myself taking EXOS 9 on my shoulder, it is too large and heavy, so it is not as practical, if you need a portable speaker. Copenhagen is a perfect balance for that. You may not guess this judging from their size, but you can take Copenhagen louder, while it is still clear and crisp, where EXOS 9 at maximum volume is quieter. 

Vifa Copenhagen 2.0 vs Taga Harmony HTA800 + 806F Speakers – This is where I was amazed. The price made the two close enough to each other, and I mean, enough, for me to do a crazy comparison. There's too much of a difference, but I wanted to say that if you thought floorstanding speakers are even remotely fun to unbox and carry around, you have to climb them three floors with no elevator and you'll change your mind. The package of 806f is also very poor compared to the luxury that Vifa has in their packaging. After you finish setting everything up, you can rest assured, the Taga Harmony setup can sound louder than Copenhagen 2.0, so if you're a party monster, you can rely on it. On the other hand, the sad part here is that Copenhagen 2.0 manages to actually have a pretty similar bass reach, more detail and clarity in the midrange, and much more treble sparkle and air. 806f rolls off after 4 kHz and has some large dips that color the sound heavily, compared to Copenhagen 2.0 which is fairly natural and sounds much closer to a live concert. I can see the advantage of 806f being used for slow music, jazz, or house / EDM exclusively, there it performs a bit better, and its coloring tends to help, but Copenhagen 2.0 is much more universal, the signature works really really well for a wide range of music, and I feel that if you're looking for something to use with your entire music collection, Vifa designed a cool piece for you. 



Value and Conclusion

There's no such great value with Copenhagen 2.0, despite all of me telling you how much I love it. It is fairly expensive. But also on sale in many parts of the world, where it can be found for 500 USD or even 400 USD new. Just keep an eye open, and be careful, it really is worth the 700 USD full price anyways, if you like its design, and the concept. The sonic performance is where it should be for that money anyways. But it still went on the market for a pretty hefty price, so I'm not going to say it isn't expensive.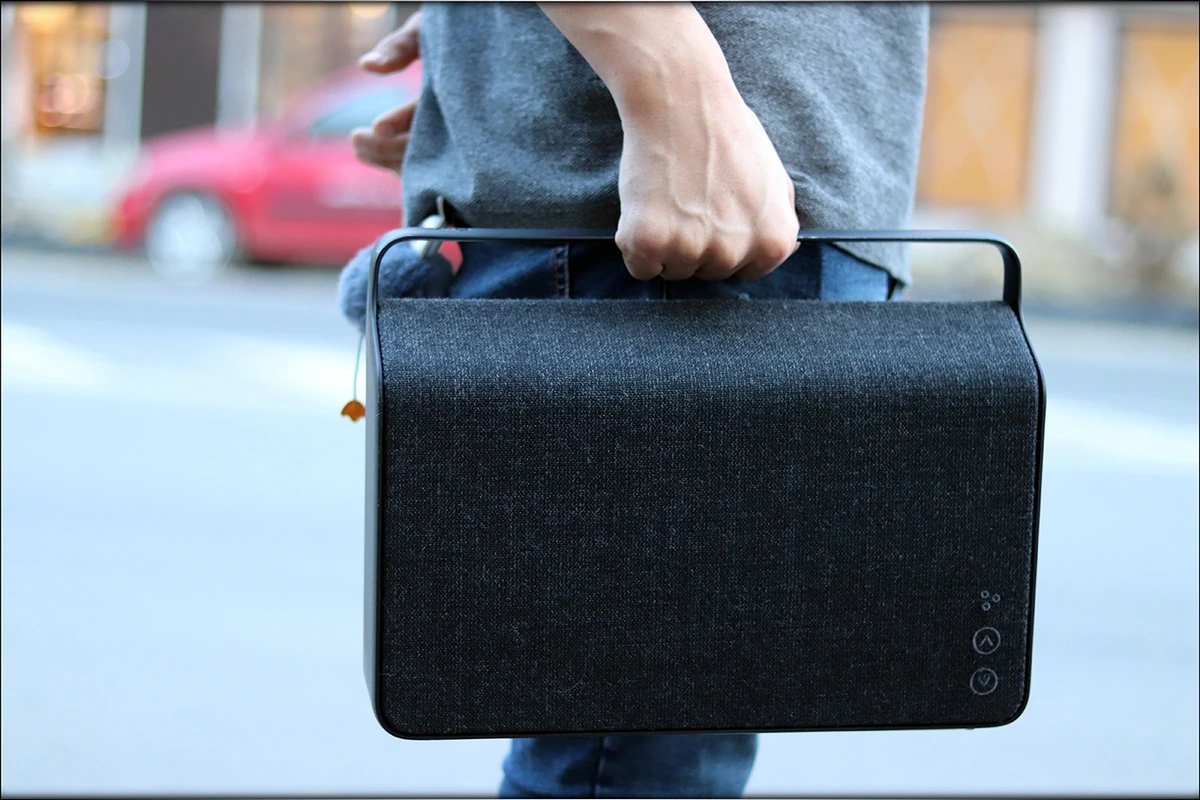 The package though, is in line with the price, and so is the build quality, and the design. I mean, I got the gray version, which is sleek and sexy, but you may be the type who wants a bit more color in your life. Vifa has other speakers on sale as well, which are smaller, and which I plan on reviewing in the future, so keep an eye open, if four kilograms are too much for your and if you consider that Copenhagen 2.0 was an interesting idea. 

The sound of Copenhagen 2.0 is really crisp and vivid, punchy and clear. You get a rich detail, a deep bass, and enough impact for you to have tales to tell your kids about it. In fact, it sounds more lively and alive than many 2.0 speaker setups, and you're sure to get a large soundstage from it, making it one of my most recommended speakers in this price range, and something I will be using myself for a while to come. 



Before the end of this review, I will add Copenhagen 2.0 to Audiophile-Heaven's Hall Of Fame for being an awesome speaker, for having a really stable bluetooth connection, and for its sonic quality, which is probably the first reason it goes to my little list of good products. 



At the end of this review, if you're looking for a punchy, crisp and detailed speaker, if you want to have it at home, but you may throw a party every now and then, or if you and your lover love taking long walks, and if you want to spice that up with some romantic music, then you should totally check out Vifa Copenhagen 2.0, as it may end up being your companion for a long time to come. 
Product Link
You can always get Vifa Copenhagen 2.0 from www.amazon.com here:
Pebble Grey Color: https://www.amazon.com/Vifa-Copenhagen-Loudspeaker-Bluetooth-Connection/dp/B07HB88BWS/
Ocean Blue Color: https://www.amazon.com/Vifa-Copenhagen-Loudspeaker-Bluetooth-Connection/dp/B07H94S1NR/
---
--- Please remember to stay safe, and always have fun while listening to music!---
 - If you have a dime to spare, please donate, and help us! It would make the day brighter for me and my wife- 
---
Full Playlist used for this review
We listened to more songs than those named in this playlist, but those are excellent for identifying a sonic signature.  I recommend trying most of the songs from this playlist, especially if you're searching for new music! The playlists are different for Spotify, Tidal and Youtube, and based on the songs I enjoy and are available on each!
https://www.youtube.com/playlist?list=PL_cjBXGmwSHSdGcwuc_bKbBDGHL4QvYBu
https://open.spotify.com/playlist/5J3oloz8Riy9LxEGenOjQ0?si=979ba4f082414be7
https://tidal.com/browse/playlist/330fd544-8e5b-4839-bd35-676b2edbb3d5
--- Contact Us ---





---