iBasso DC05 DAC/AMP Dongle – Power For Androids
iBasso comes back to the entry-level to help music lovers enjoy their passion, DC05 being a 69 USD Dongle DAC/AMP with a Dual ES9219C DAC, and capable of decoding MQA up to 16X, and 140mW output power. I will also be comparing DC05 to Spectra X2 from Maktar (200 USD), Soundmagic A30 (50 USD), and Audirect Beam 2 (100 USD).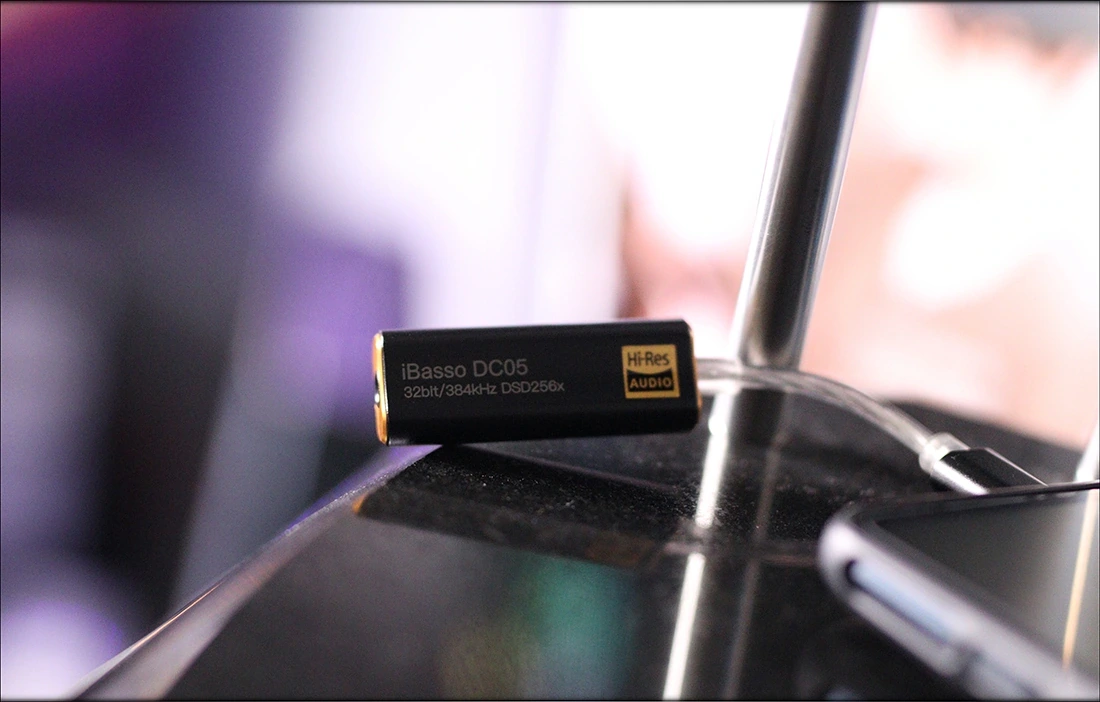 Introduction
iBasso has been creating and designing DAPs, IEMs, Headphones and Dongle DACs for over 10 years now, and they've been the company to offer best service and coverage for their products to this date, leaving competitors in the dust when it comes to supporting really old products like the mighty DX200, and even if your question is how to replace its battery, iBasso will take the time to help and answer all your questions. You can be sure that they will be there for you if you need support. They usually have the best price / performance ratio for high quality products, so most of their products are fully recommended purchases in terms of value for what you're getting, so I hope that DC05 will keep this tradition for iBasso. 
It should be noted that I have absolutely no affiliation with iBasso. I'd like to thank iBasso for providing the sample for this review. This review reflects my personal experience with iBasso DC05. Every opinion expressed is mine and I stand by it. The purpose of this review is to help those interested in iBasso DC05 find their next music companion. 
Product Link
You can grab one from www.amazon.com here: https://amzn.to/3uiaDUC
If you're in the UK, you can grab one from www.amazon.co.uk here: https://amzn.to/3rgJqzY
And if you're from Europe, you can grab one from www.amazon.de here: https://amzn.to/3s3LVor
Packaging
First things first, let's get the packaging out of the way: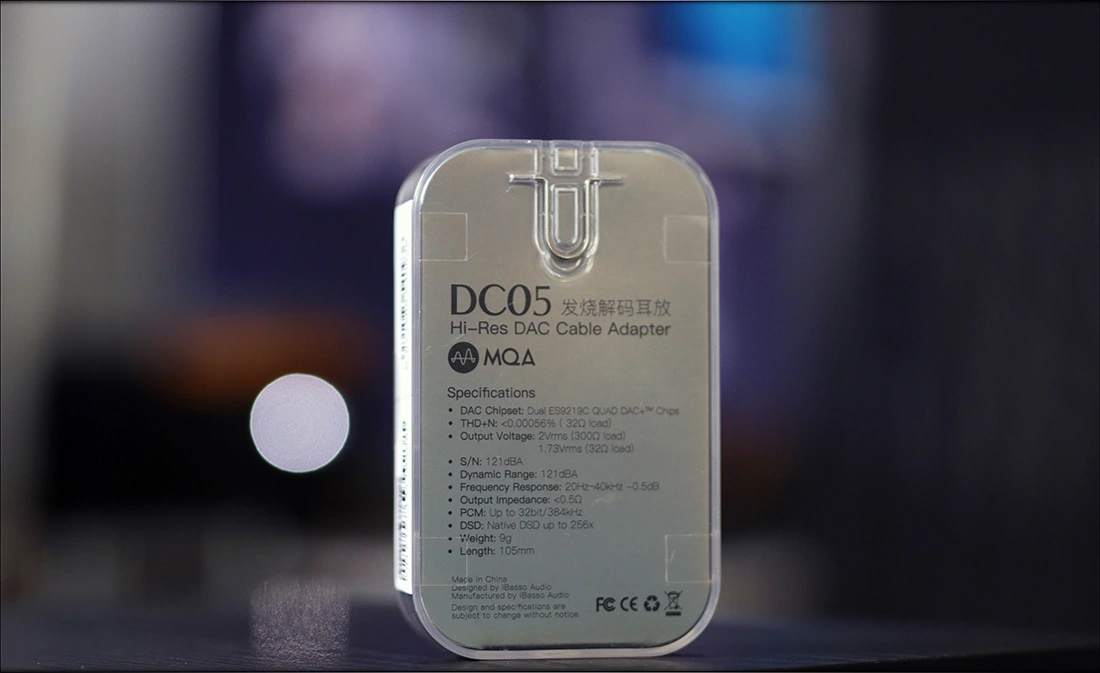 DC05 is a really simplistic dongle DAC, but it still comes with a fun little adapter. It is a type-C adapter, so iBasso knowing that we would want to use it with computers too, included a Type-A to Type-C adapter in the package. You can use that adapter for anything else, if you have a type-C device and need such an adapter. 
Build Quality/Aesthetics/Features
DC05 is a single ended dongle DAC/AMP featuring Dual ESS Sabre ES9219C DAC chips, arranged in an iBasso custom Qad DAC+ tech circuit. They also included the Time Domain Jitter Eliminator and HyperStream III Architecture. You should know that they didn't pick a random ESS chip for the job, and ES9219C is part of Sabre's Hifi Line of DACs, offering a 64-step internal volume control, which adds some control for IEMs, if you find that there's too much variation between two steps of volume. 
We have excellent decoding abilities too, with MQA decoding up to 16X, and 32 Bit / 384 kHz for PCM. iBasso didn't leave out DSD fans either, and DC05 can decode up to DSD265. iBasso is not shy to mention the technical data of DC05, as it features 121dB of Dynamic Range, and 0.00056% THD+N. The total frequency range is rated to be between 20Hz and 40kHz, enough to impress both humans and serpent people. 
The power rating is rather high for a dongle, at 140mW for 16OHMs, and 93mW for 32 OHMs. The output impedance is not very high, at 0.5 OHMs, and if you want to use DC05 as a pure DAC with an external AMP, it has a 2V signal at 300 OHMs, and 1.73V at 32OHMs. If you're looking for comparisons, DC05 has almost double the driving power DC03 had, even though it has the same size physically. 
Speaking of which, DC05 is pretty much a tiny metallic device, with a cable, and a headphone jack in 3.5mm single ended format. It takes in signal through its type-c male port. All in all, the unit is fairly quiet with IEMs, and I also noticed that it does not draw too much power from my smartphone, leaving the battery life fine while using it. At 9 grams, you have very low chances to notice that you're using it.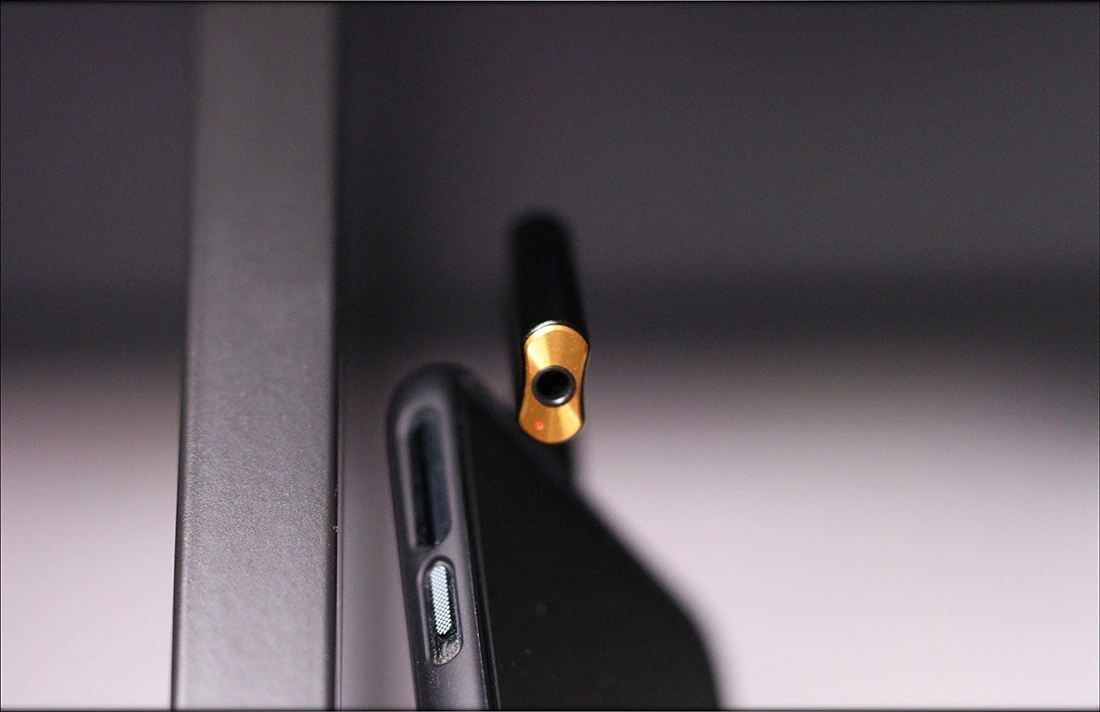 Despite consuming rather little from my smartphone's battery, it is normal for DC05 to get fairly warm, and it consumes more battery while it is not playing something and turns cooler while it is playing something, having a Class-A like behavior. While I don't think DC05 is quite enough for HIFIMAN HE400SE, or HIFIMAN Deva, it is good to go if you're running iBasso IT01X, iBasso IT07, and iBasso SR-2, and even iBasso AM05. More surprising is that DC05 has enough power for Sivga Robin SV021, Avantone Pro Planar, and even Sivga Peacock. It can bring all of those to very satisfying levels, and I'm one of those crazy listeners that goes loud, so if it wasn't powerful enough, I would tell. This may be partially the reason why I wasn't reminded to review anything from DC01 and until now, as I understand the previous series had lower driving power. 
Sound Quality
The overall presentation of DC05 is detailed, clean, but also has a strong bottom end, with a nice amount of impact and depth. The treble is on the smoother side, fatigue-free, yet it is brighter, more lively, more aggressive and forward, also more dynamic and vivid than the vast majority of dongles that I reviewed to date. With a more intimate soundstage, DC05 works well with brighter and wider sounding IEMs / Headphones, and as it has quite a bit of power, should be fine for most portable headphones and IEMs. 
Speaking of which, I've been using DC05 with a vast collection of IEMs for writing today's review, including Campfire Holocene, Tin T3 Plus, Dunu Falcon Pro, IMR Audio Ozar, and Earsonics Corsa. All of those were easily driven by DC05, and I couldn't notice any hissing or background noise with any of them, but I could notice excellent control, low distortion, and a good overall instrument separation with all of them. 
The bass of DC05 is enhanced a bit above what I would consider purely neutral, having a strong bottom end extension and impact. This reflects well for EDM, Dubstep and Electronic music in general, where you can hear the deepest bass notes in every song, and you can even notice nuance and depth quite easily. DC05 doesn't sound like it has a bass boost turned on, but it surely has good weight and body to music. 
The midrange of DC05 is clean, crisp and clear, and somewhat bright in the overall signature. This is because the treble isn't necessarily aggressive, but the midrange has that "iBasso house sound", of being live, energetic and punchy. The dynamics of DC05 are over-the-top, and for such an affordable tiny dongle, it has quite a bit of life in it. The stage is intimate, but there's good instrument separation and stereo imaging, so DC05 sounds pretty precise in spatiality. It has enough stage width to not be narrow, but doesn't go above natural. Happily, the soundstage is well rounded, so there's a similar amount of depth as it is of width. 
The treble of DC05 is smooth in texture, but energetic in quantity, punchy and vivid. This means that DC05 presents the full might of that "iBasso house sound" of live, dynamic and punchy. The treble has excellent extension, and you never hear a roll off, but you don't really feel any fatigue, as the treble is not harsh nor metallic. I could say that DC05 has outstandingly low noise floor and background hissing, so any IEM, even ultra sensitive ones should do just fine paired with it. 
Comparisons
iBasso DC05 vs Matkar Spectra X2 (69 USD vs 200 USD) – I was able to compare those loosely, since they are not interchangeable , DC05 being a Type-C dongle for Android, and Spectra X2 is made for iPhones. The sound is actually comparable, but Spectra X2 has a bit more dynamics and more detail, where DC05 has more punch in the lows and more impact in the bass. 
iBasso DC05 vs Soundmagic A30 (69 USD vs 50 USD) – A30 is thicker, larger, and draws even less power from smartphones. This comes at the cost of driving power, and DC05 has considerably more driving power and amplitude, being able to drive harder to drive headphones and push more volume into both IEMs and Headphones. If you can afford it, the difference in price is worth it for DC05, if you want a better sonic performance. 
iBasso DC05 vs Audirect Beam 2 (69 USD vs 100 USD) – Beam 2 is a bit more ergonomic with the cable detachable, but it draws quite a bit more power from the smartphone, shortening its battery life. The overall driving power is comparable between the two. The sound is actually fairly similar, and both are pretty peppy, pretty forward, lively and punchy, and also dynamic. Beam 2 is a bit brighter than DC05, and where DC05 has a stronger bottom end, Beam 2 has a stronger treble edge, and sounds a bit wider, at the cost of depth. 
Value and Conclusion
At the end of the day, DC05 has a pocket-friendly price, and it is a pocket-friendly device, with a tiny shape, and low power draw. It follows the tradition of iBasso providing excellent price to performance ratio, and I will be adding it to Audiophile-Heaven's Hall Of Fame, right next to iBasso IT00, one of the few entry-level IEMs that really surprised me over the years. 
At the end of today's review, DC05 is tiny, it is nimble, but packs a punch and some roar. It sounds live, and if you're looking for a high-quality dongle to power both your IEMs and your Headphones, with a dynamic and punchy sound, DC05 should be the one to go for, at 69 USD.
Product Link
You can grab one from www.amazon.com here: https://amzn.to/3uiaDUC
If you're in the UK, you can grab one from www.amazon.co.uk here: https://amzn.to/3rgJqzY
And if you're from Europe, you can grab one from www.amazon.de here: https://amzn.to/3s3LVor
Technical Specs
Dual ESS Sabre ES9219C DAC chips

iBasso Custom Quad DAC+ Technology

Time Domain Jitter Eliminator

HyperStream III architecture

MQA Decoding

32-Bit/384kHz PCM decoding

Native DSD256 decoding

THD+N: <0.00056%

Output voltage: 2Vrms(300Ω load), 1.73Vrms(32Ω load)

Output power: 140mW@16Ω, 93mW@32Ω

Frequency Response: 20Hz-40kHz

Dynamic range: 121dB

SNR: 121dB

Output Impedance: <0.5Ω

Weight: 9g

Length: 105mm

Interface: Type-C, 3.5mm Single Ended
---
---
--- Please remember to stay safe, and always have fun while listening to music!---
 - If you have a dime to spare, and donate, to help us with electricity and work expenses, it would make my day much brighter, as it would help me improve things around the website and increase the frequency of my posts - 
---
Full Playlist used for this review
We listened to more songs than those named in this playlist, but those are excellent for identifying a sonic signature.  PRaT, Texturization, Detail, Resolution, Dynamics, Impact, and overall tonality are all revealed by those songs. We recommend trying most of the songs from this playlist, especially if you're searching for new music!
https://www.youtube.com/playlist?list=PL_cjBXGmwSHSdGcwuc_bKbBDGHL4QvYBu
--- Contact Us ---






---
---