SMSL C100 DAC – Stereo Desktop HiFi, Type-C With MQA, Optical and Bluetooth Decoder
SMSL C100 / S.M.S.L C100 is a $119 USD Hifi Stereo USB Desktop DAC designed by SMSL and sold by Aoshida Store, with a strong DAC decoder inside, namely the AK4493S DAC chip, and with MQA decoding abilities, Optical, Bluetooth, USB and coaxial input, and with a remote. It will be compared to other entry-level DACs, including SMSL C200 (219 USD), JDS Labs Atom DAC+ (100 USD), and Topping E30 (130 USD).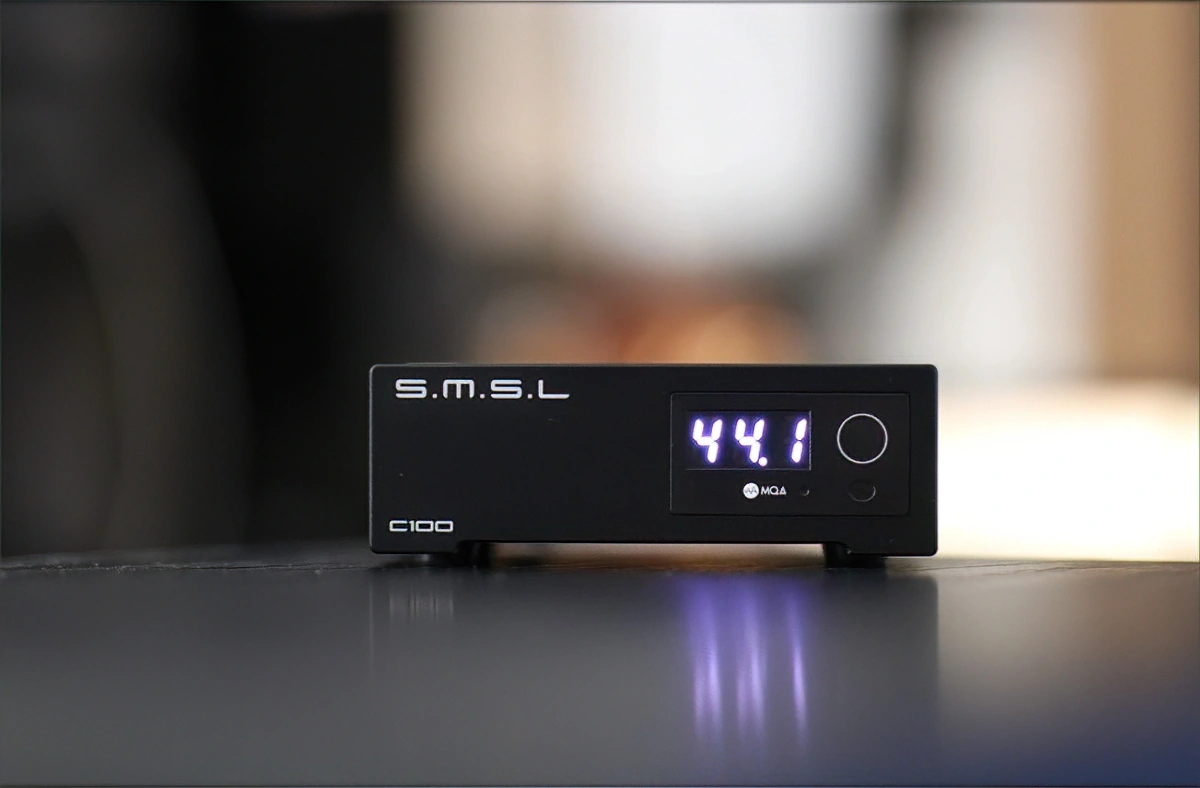 Introduction
SMSL has been a house name for entry-level and high-performance DACs / AMPs for a while now, so it is interesting to see the cheapest or rather the most affordable unit they designed to date. The Bluetooth abilities are not interesting, with my smartphone only seeing the SBC protocol of C100, but it comes with MQA decoding for the USB connection, along with Optical and Coaxial inputs, and with a super low price point, it is interesting to explore what you're able to do on a budget. It is the best to always purchase your audio and all your products from known sellers that you really trust, so I recommend working with Aoshida, the store that sent today's review, they are available both on their own website, and also on Amazon, in case you want and need the double layer of protection that Amazon offers. 
It should be noted that I have absolutely no affiliation with Aoshida or SMSL. I'd like to thank Aoshida Audio for providing the sample for this review. This review reflects my personal experience with the SMSL C100 DAC. Every opinion expressed is mine and I stand by it. The purpose of this review is to help those interested in the SMSL C100 DAC / Digital – To – Analogue Converter find their next music companion. 
Product Link
You can grab one from www.amazon.com here: https://amzn.to/3QNZ5ln
If you're in the UK, you can grab one from www.amazon.co.uk here: https://amzn.to/3QSP7ip
And if you're from Europe, you can grab one from www.amazon.de here: https://amzn.to/3QUih0Y
Official Link: https://aoshida-audio.com/products/smsl-c100
Build Quality / Aesthetics / Under The Hood / Functionality
This has to be the tiniest DAC I reviewed to date, and my photos can't do justice to just how small C100 is. There's barely enough space at the back to accommodate the RCA outputs, and the Antena, and the Type-C port, and that's about it. The inside is more interesting, as it houses AKM's latest chip, the AK4493S chip, which should provide a really pleasing music experience.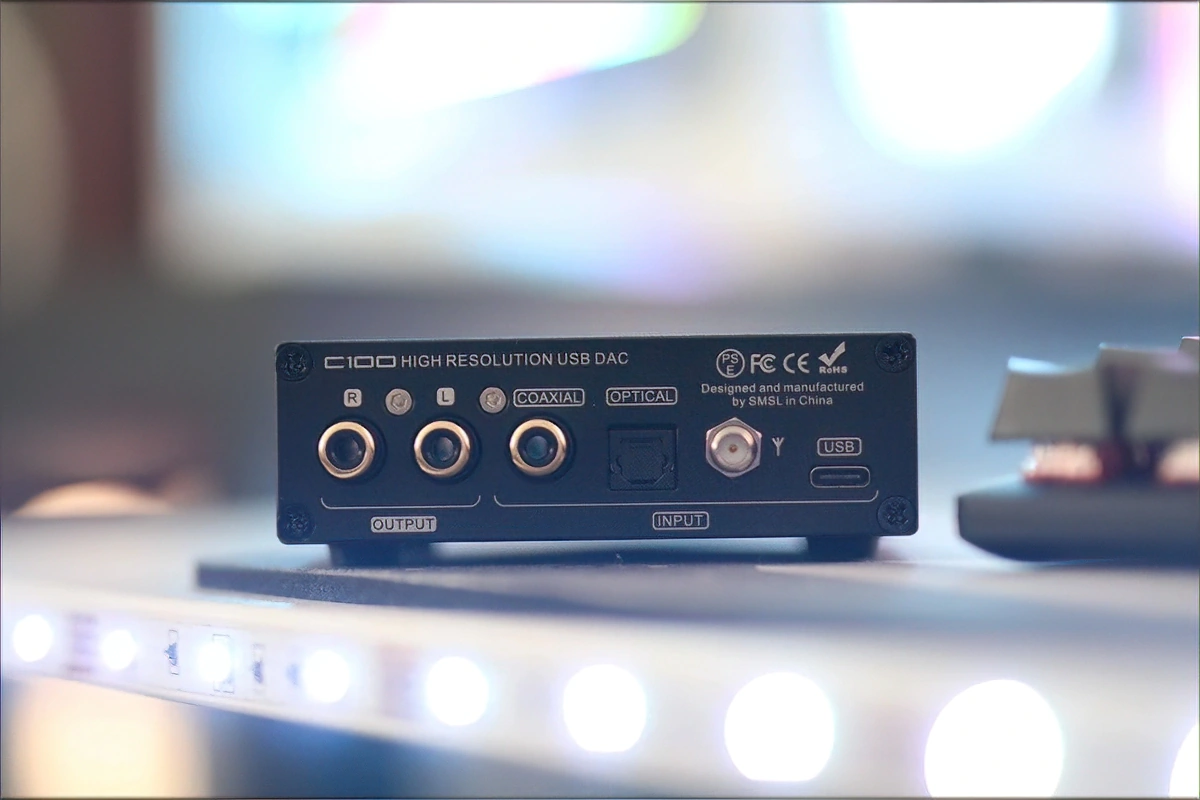 Even better, C100 has XMOS XU-316 for the USB support, and it supports a sampling rate as high as 32 Bit / 768 kHz, if you have music that goes that high. It even has support for DSD512, so you can enjoy one of the four albums available today in that resolution. Joking aside, I test sources mostly with redbook CD flac, since I know from your mails that most viewers simply don't have a hi-res piece outside of Streaming services. In fact, a DAC like C100 is most likely going to end up in a system for Youtube and TV enjoyment, but still, it should improve the sonic quality wherever it goes. 
The fun part is with MQA, because C100 has support for MQA over the Type-C USB port, and this is indeed something new and not seen on other entry-level DACs, like on the most prominent competitor, the Topping e50. C100 is the kind of DAC that simply works, it has just one output at the back, but it does have a total of 4 inputs, coaxial, optical, USB and bluetooth, making it rather versatile. You can use it just by touching the front part, and it does come with a remote, which is the most useful part for it I can imagine.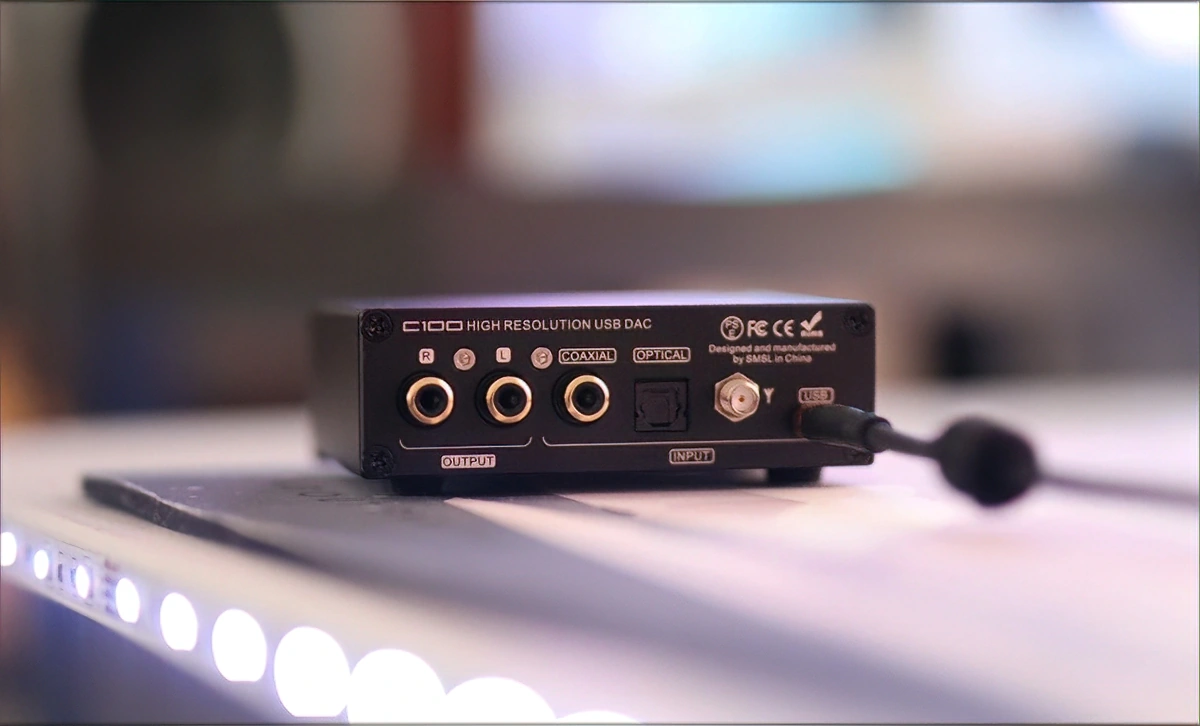 There's a tiny monochrome display that you can use to configure it, and it will cycle between the inputs, as well as allow you to set the display brightness (it is possible to turn off the display completely by pressing the FN key on the remote), and it will allow you to cycle between the filters, and to set the volume. I find this really handy, as C100 has adjustable volume, and you can adjust it if your amplifier expects a lower source, or if the amplifier does not have volume control. There's a key on the remote to mute C100, and the volume goes from 0 which is max, to -40, which is the minimum. Holding a button pressed will quickly change the volume, so you don't have to repeat a key press multiple times for large adjustments.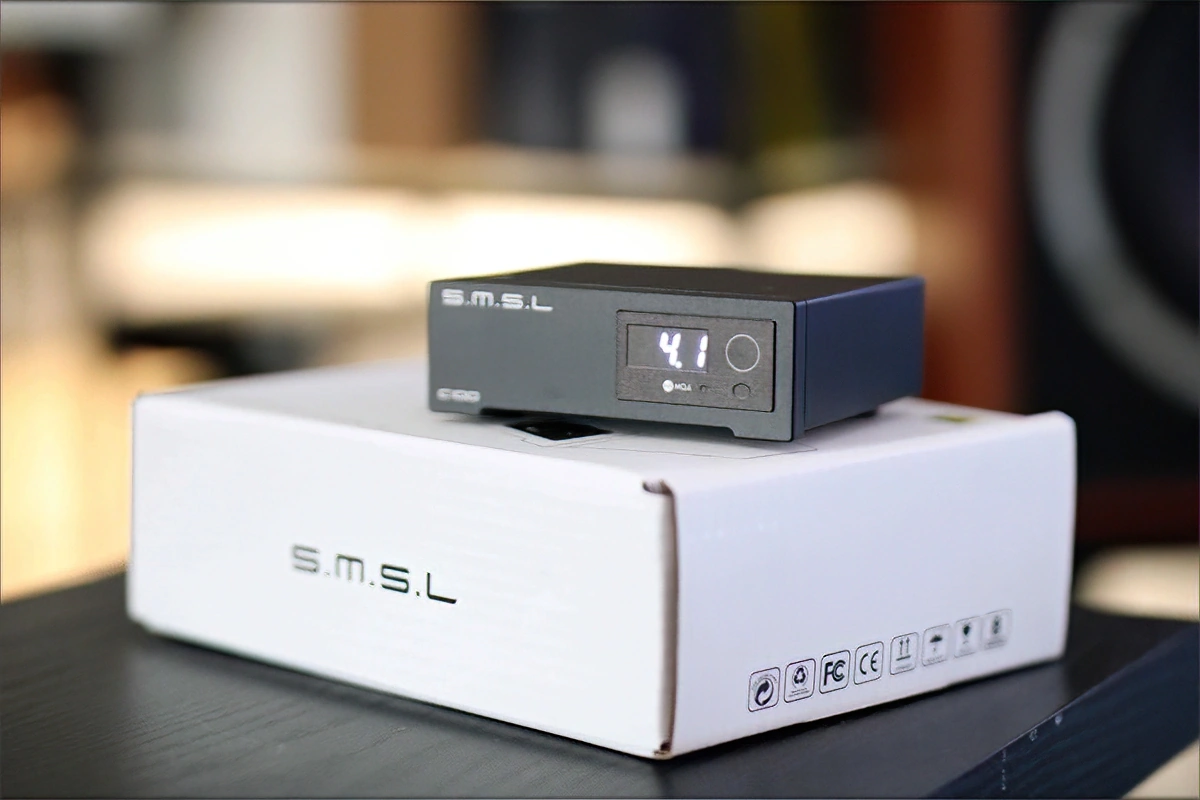 I noticed no problems while using C100, no odd bugs, it does not need a driver, and simply works with Windows 10 when it is connected to a computer. The Bluetooth input only supports SBC, so no advanced Bluetooth codecs, and the output level is a classy 2.0 Vrms, with a THD of 0.00013%, a dynamic range of 121 dB and a SNR or 121dB. As you can imagine, it doesn't grow even warm during usage, and with a power consumption of less than 5W, this 190 grams DAC won't cause issues for anyone ever. 
Sound Quality
As SMSL C100 is a standalone DAC, it does not have headphone driving power abilities, or speaker amplifier, or anything like that, so I had to make a complex setup to fully test it. I've used it together with Feliks Audio Echo 2 Tube Amplifier to drive Sivga SV023, also with Cyrus One Cast, to drive KLH Model Five, Buchardt S400 and NHT C3, and with Violectric HPA V340 Amplifier, to drive HIFIMAN HE1000 V2, Dan Clark Aeon Flow Noire, Audeze MM-500, Westone MACH 60, Westone MACH 40, Oriveti OV800, and FiR Audio Frontier Series NE4. Through all those tests I was able to determine that SMSL C100 has no audible background noise or hissing through the USB input, or through the Bluetooth input. It has a good resolution and clarity, and the sound is generally somewhat mid centric, with a softer and mellower attack, but good resolution, and a somewhat bright tonality to all music played through it, faithful to the sound SMSL usually has.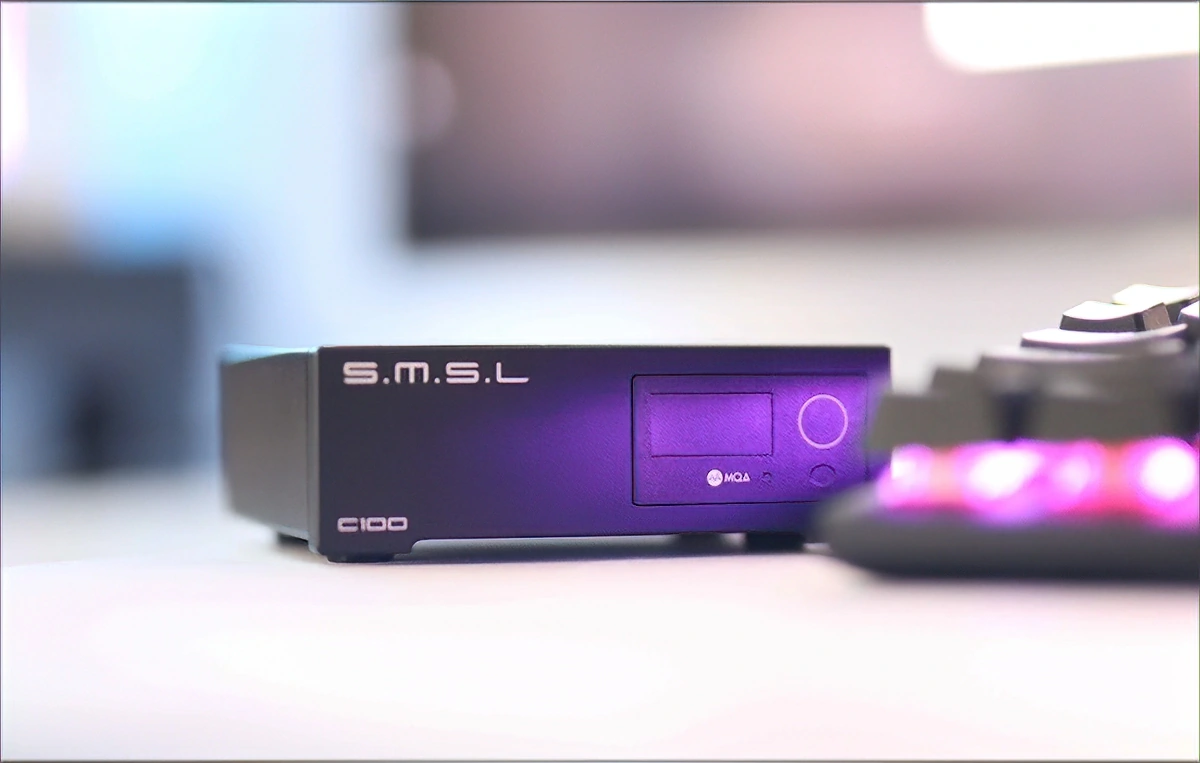 Starting with the bass, it is generally mellow, clean and natural in speed. SMSL never designed a device that sounds warm or thick, and C100 is no exception, it sounds rather natural edging on neutral, with a smooth bass texture. It is able to reach as low as 20 Hz, but the neutral quantity will never make you go Wow from the bass. 
The midrange is the central element of the C100 sound, and like with all SMSL products, it has a really clean and natural sounding midrange, with good resolution, clarity, and a more forward presentation. Voices are presented somewhat close to the listener, in a more intimate fashion, but happily there's a good sense of space and width, and C100 doesn't sound narrow or constrained. I was pleased to hear a good resolution, detail and clarity, and if you're looking for an upgrade, it sounds considerably better than the motherboard of my computer, if connected to the same amplifiers, but you can get an even better experience with SMSL and Aoshida's own DO200, and C200. As usual, the order of importance in the sonic resolution / quality chain is Transducer (Speaker / Headphone / IEM) > Amplifier > DAC > Cables / Extras.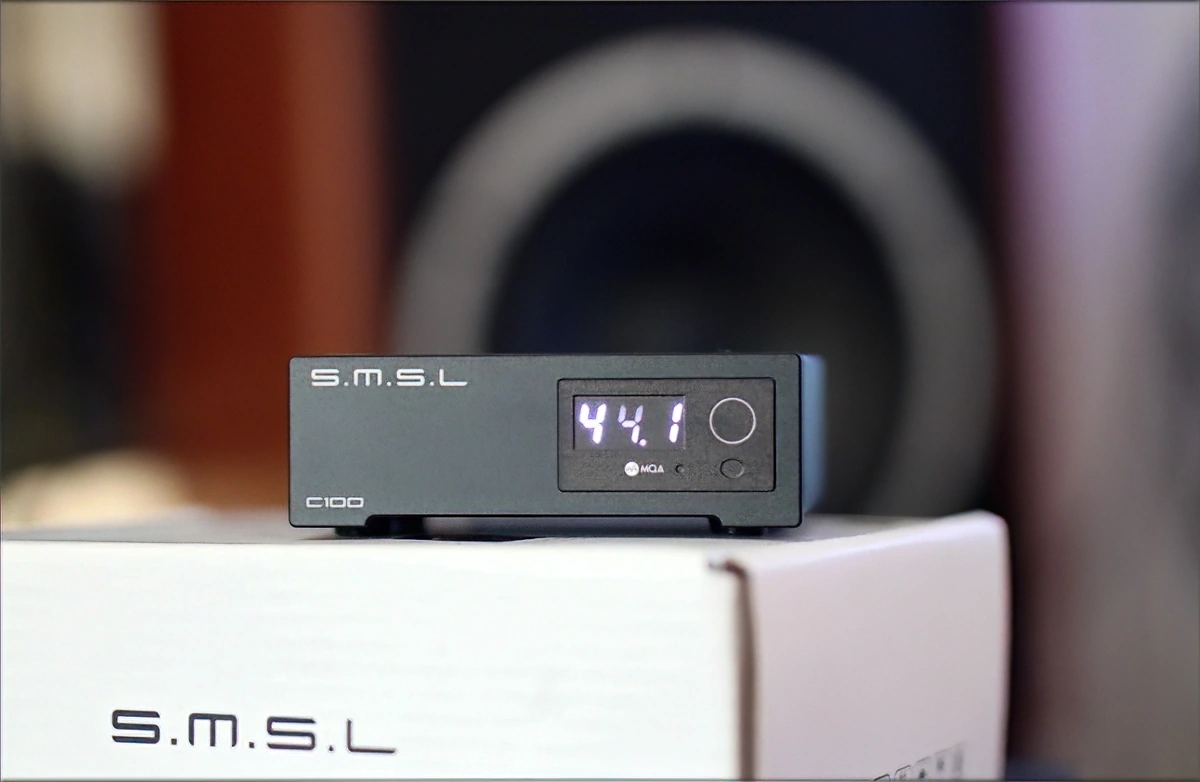 The treble of the C100 is clean, detailed and smooth in texture, with no harsh, metallic or aggressive parts, but with a good sense of air and space. It is generally super pleasing, and I am willing to say that I heard details and parts that I don't usually hear if using the motherboard output, so I'm quite pleased with the performance of the C100. 
Comparisons
SMSL C100 vs JDS Labs Atom DAC+ (119 USD vs 100 USD) – Starting with a really strong competitor, Atom DAC+, like most of the DACs from this comparison, requires a power brick to power it at all times, while C100 works by drawing power from the USB Type-C connection with no problems. The inputs are also more on the C100, with Bluetooth and coaxial above the optical and USB present on Atom DAC+, and C100 has volume control, which is not present on the Atom DAC+. The sound is about equal, both have good resolution and clarity, the midrange of C100 sounds slightly more forward, voices are a bit more intimate, with male voices in particular standing out a bit more, and female voices being a bit softer, and impact also a bit softer on C100. Atom DAC+ is a bit more neutral and flatter in general. 
SMSL C100 vs Topping e30 (119 USD vs 130 USD) – The design is better for the newly released C100, as it comes with a sleeker, black design, the remote is more useful, and also has MQA decoding abilities, with a USB Type-C connection. The Bluetooth receiver only decodes SBC as far as I can tell, but E30 needs a power connection to work, while C100 draws power from the USB Type-C connection with no need for extra steps or wires. The sound is also improved on C100, which has a better detail, better clarity, and a better instrument separation. The midrange is a bit warmer on C100, and a bit colder on Topping E30. 
SMSL C100 vs SMSL C200 (119 USD vs 219 USD) – C200 is a larger device, with similar abilities and features as C100, but with an added headphone output, and TRS Balanced outputs. It also uses a larger cattle plug power input and cannot be powered from the USB like C100 can. Overall, if you want to stay with a smaller device and don't plan on driving headphones using it, C100 makes more sense, does not require a wall power connection, and the sound is actually fairly similar between then, with C200 being slightly more detailed and resolute, but not by a large enough margin to justify the price difference, especially if you're budget and space bound. 
Value and Conclusion
SMSL C100 is the most affordable DAC released by SMSL and sold by Aoshida to date, so it is interesting to see that it still has a pretty high performance and is pleasing to use, plus that it doesn't come with any issue, but that it can decode MQA over the USB input and that it has a good build quality too, and that it comes with a much-needed remote, so with the price tag of 119 USD, I say it is an excellent value, and a valuable addition to any sound system, if you want a really tiny DAC.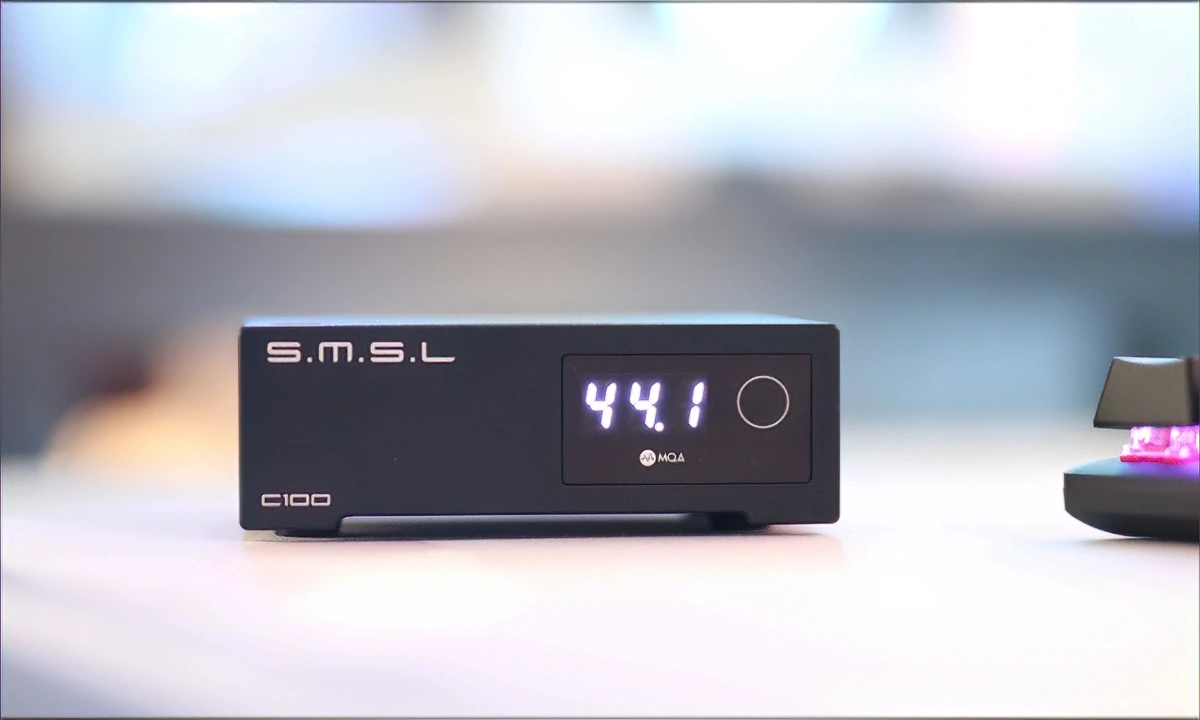 At the end of the day, if you're looking for an high-performance DAC with a tiny form factor, but which comes with a remote, and which has a mid centric sound with good vocal presence, good clarity and resolution, and with a good space between instruments, plus fair instrument separation, SMSL C100 is an excellent option and a DAC I fully recommend.  
Product Link
You can grab one from www.amazon.com here: https://amzn.to/3QNZ5ln
If you're in the UK, you can grab one from www.amazon.co.uk here: https://amzn.to/3QSP7ip
And if you're from Europe, you can grab one from www.amazon.de here: https://amzn.to/3QUih0Y
Official Link: https://aoshida-audio.com/products/smsl-c100
---
---
--- Please remember to stay safe, and always have fun while listening to music!---
 - If you have a dime to spare, and donate, to help us with electricity and work expenses, it would make my day much brighter, as it would help me improve things around the website and increase the frequency of my posts - 
---
Full Playlist used for this review
We listened to more songs than those named in this playlist, but those are excellent for identifying a sonic signature.  PRaT, Texturization, Detail, Resolution, Dynamics, Impact, and overall tonality are all revealed by those songs. We recommend trying most of the songs from this playlist, especially if you're searching for new music!
https://www.youtube.com/playlist?list=PL_cjBXGmwSHSdGcwuc_bKbBDGHL4QvYBu
--- Contact Us ---






---
---