KBEar Aurora – Arctic Sunrise
KBEar Aurora is a high quality IEM priced at 169 USD, available from Amazon, and comes with a large 10mm single dynamic driver, and a nice thick blue cable. They will be compared to other high quality IEMs including Dunu Falcon PRO (220 USD), Linsoul 7Hz Timeless (220 USD), and QoA Queen of Audio Adonis (190 USD). It has been confirmed that a new version of Aurora with different aesthetics will be released soon, but I confirmed it with KB Ear and Ms. Wendy that the sound will be absolutely the same, so the review is valid for all variations of Aurora from KB Ear.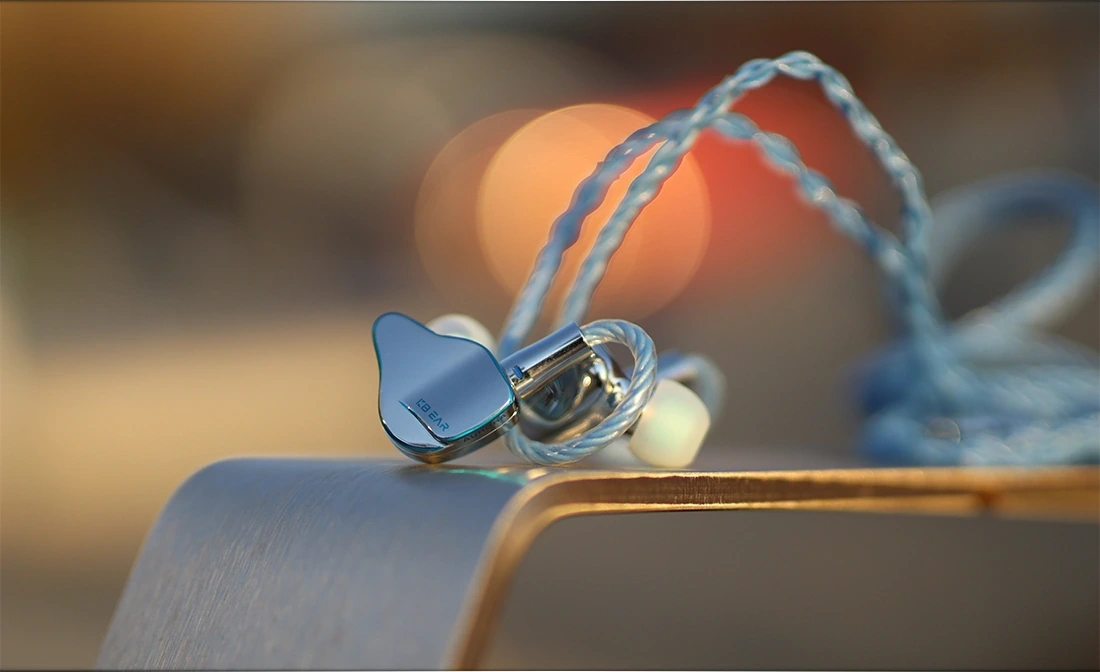 Introduction
KBEar has long been known for high quality affordable IEMs, and good reliability both of their products, but they decided it is time to dip their toes in a higher price range, so we have the Aurora we're reviewing today, an IEM with a considerably higher price tag than previous KBEAR releases, but with a package and sonic performance to match the tag. If you want to purchase KBEar products, it is best to use Amazon and Linsoul when possible, as shipping costs quite a bit to and from China, and local / international shops usually have much quicker solution times than shipping something back to the producers in China. 
It should be noted that I have absolutely no affiliation with KBEAR, I am not receiving any incentive for this review or to sweeten things out. I'd like to thank KBEAR for providing the sample for this review. Every opinion expressed is mine and I stand by it. The purpose of this review is to help those interested in KBEAR Aurora find their next music companion. 
Product Link
You can grab one from www.amazon.com here: https://amzn.to/3he9Zjq
If you're in the UK, you can grab one from www.amazon.co.uk here: https://amzn.to/3BPcguB
And if you're from Europe, you can grab one from www.amazon.de here: https://amzn.to/33RAM1W
Packaging
First things first, let's get the packaging out of the way:
The package of Aurora is actually better than what we're used to seeing from KBEAR, as this time they invested in a pretty nice box, with a few interesting extras included, the biggest one being the beautiful leather carrying case. The full package includes: 
Aurora earphones

Stock cable

Four pairs of colorful ear tips

Three pairs of grey red ear tips

Cleaning brush

User guide
Build Quality/Aesthetics/Fit/Comfort
The Shell of Aurora is made from an Aluminum Alloy with vacuum plating. The shell is a bright silver in color and decorated with brilliant blue outline, writing and accents. KB Ear got quite serious with Aurora as they included a 10mm Tintanium Dome Dynamic Driver, customized for them. 
The cable that is included with Aurora is a bright blue in color, which subjectively is a bit odd / weird to see, but it is of a very high quality, flexible, very safe from microphonic noise, and not tangle prone. The Cable connects to the IEM with a 2-Pin connector that has just the right tightness for actual usage, and the cable is a silver plated copper wire cable. 
Aurora has an impedance of about 18 OHMs, and they are somewhat sensitive to hissing, especially from noisier sources, or sources with a high output impedance. Their rated frequency response is from 20 hz to 20 kHz, and their Sensitivity is of 105dB, but they are mostly easy to drive and won't be an issue for most smartphones and portable sources. Although KBEAR have been courageous with their photo shots, I would advice against sprinkling water on Aurora as they do not have an IPX Rating. 
The actual wearing comfort is subjectively excellent, and Aurora is one of the most comfortable IEMS I had in my ears, despite their somewhat large size and slightly heavy design. They have a really ergonomic inner design, and present no driver flex for my ears, plus the default white tips installed on them work just well for me, and they have an ergonomic soft wrap for their cable. The cable is also of an excellent quality, and Aurora generally feels like a high-end IEM as far as the construction goes. 
There is a lot of ventilation on Aurora, inside and lateral, so the passive noise isolation is mostly average, and I can hear myself quite clearly typing with no music on, but even at very quiet levels music will cover my typing noise. Aurora leaks very little and it is ok for portable usage if you don't want to bring too much attention your way. 
Sound Quality
Before writing today's review, I have allowed about 150 hours of burn-in for Aurora, to keep things fair towards them, and I have used the cable they come with. I also used a multitude of sources, all from their single ended outputs, since Aurora does not come with a balanced cable. The list of sources includes Astell & Kern SE180, Astell & Kern SP2000T, iBasso DX240, iBasso DX300, Lotoo PAW6000, and Dethonray DTR1+ Prelude. I noticed that they prefer being paired with a stronger source, and despite their low impedance, they will become more engaging and more dynamic if the source has a good headroom, and Aurora scales well with the source. Aurora is somewhat tip dependent and you will get much better and more accurate bass and mids if using tips that compliment your ears and your fit with them.  
The overall signature of Aurora can be described as slightly V-Shaped, clean, clear, it has a flat tendency where it doesn't have a strong emphasis on lows and highs and only a moderate one. The detail level is good, resolution is good, but soundstage width is extremely impressive, as Aurora produces a really wide and holographic sound with a lot of space in between, but at the cost of instrument separation, as instruments are less separated than on competitors. The fact that the company managed to design a unique tuning is surprising and I like the Aurora for ethereal and atmospheric music, but the somewhat scattered and airy presentation won't work quite as well for forward and aggressive music. The louder you go with Aurora, the more detailed, more dynamic and more engaging it sounds. 
The bass of Aurora is clean, very deep and very nuanced, with beautiful subsonic presentation, and there is no significant roll off that I can detect and talk about, which puts Aurora way ahead of the competition in terms of bass. It won't cover the base for diehard bassheads, but for most users who just want a nice sub and bass, the Aurora sonic presentation is really well balanced and fun, both for EDM, Electronic, Metal, House and Rap. The mid bass in particular has some recess to it, which can make Aurora slightly cold, but avoids the boominess and bloom of the lows. The bass has natural speed, slow enough to be natural with all music, and quick enough to work for metal and rock. 
The midrange of Aurora is unique. They clearly have a large shape inside the IEM with the function to create dispersion, or the driver is tuned quite uniquely, because they have a huge soundstage to my ears, with a ton of width, and a really holographic presentation, but at the cost of instrument separation which is fair rather than good. The midrange has a sweet tonality and works perfectly for female voices, guitars, and even more aggressive instruments such as trumpets sound enjoyable and non-fatiguing, non-harsh. The midrange has a natural speed to it, and the character of Aurora is slightly wet and splashy, which makes it fluid and musical with pretty much all music styles. Aurora is fairly engaging and dynamic, without a visible compression for their sound. 
We have a nicely extended treble with Aurora, as it reaches about 14kHz, which is quite good for the price. The treble lacks the last few sparkles of air, but has excellent resolution until the 14kHz it presents, and it has a ton of detail, Aurora doing quite good with their treble. The treble speed is quick, but has a somewhat wet character, so the treble is harshness free and sibilance free at the same time. The treble quantity relative to the midrange is somewhat high and Aurora has both ends uplifted above the mids, but the midrange isn't distant or too recessed, just moderately so with most music. Most people will hear Aurora as balanced-natural-slightly V-Shaped. 
Comparisons 
KBEar Aurora vs Linsoul 7Hz Timeless (169 USD vs 220 USD) – Timeless seems to have received mostly love, although like any thing that exists in this lovely world, there are those who didn't like it quite as much. The comfort is comparable between them, although the faceplates of Timeless that are large are slightly less comfortable for me, Aurora winning in the comfort aspect. The sound is more technical and more detailed on Timeless, but it also has much stronger treble and a more fatiguing sound that's brighter, despite also having more sub bass as well, being more aggressively V-Shaped. Timeless is more technical, and also more pricey, but Aurora has a more enjoyable midrange, with a more natural tonality, and is more musical as well as smoother in the mids and less aggressive, which works well with all music styles as long as you're not looking for an aggressive signature on purpose. 
KBEar Aurora vs Queen of Audio QOA Adonis (169 USD vs 190 USD) – Adonis is a great IEM, and one that I recommend heavily, but as far as comfort goes, Aurora is slightly more comfortable than Adonis, which tends to be slightly larger despite being slightly more rounded. The sound is more analytical from Adonis, with a brighter, more technical approach, as they have a more detailed sound, and a quicker speed to bass, treble and midrange. Aurora sounds more natural, and it is easier to enjoy with rock, metal as well as electronic music, despite the slightly lower resolution. For those who are detail addicts and who want a really quick and revealing sound, Adonis is still awesome, but for those who want a stronger sub bass, and a more balanced tonality, Aurora is easier to recommend, and should bring a smile to your face quicker. 
KBEar Aurora vs Dunu Falcon PRO (169 USD vs 220 USD) – Dunu Falcon-Pro is slightly larger than Aurora, and Aurora is generally slightly more comfortable than Falcon Pro, also slightly less dependent on tip rolling. Having tested them side by side, Falcon Pro is considerably warmer in the midrange and mid bass, it has more warmth, slightly more thickness and more substance, where Aurora has a colder, brighter sound that's more sparkly. Dunu is more open, as in wider, but not necessarily more holographic than Aurora. Aurora extends better in both the sub bass and the upper treble, where Falcon-Pro's performance is slightly worse at both ends. Aurora does really well for those who want a more technical sound with more focus on detail, where Falcon Pro is more romantic, and better for those who appreciate a warmer sound with less focus on the technical aspect. 
Value and Conclusion
KBEar seriously outdone themselves with Aurora, and this is the kind of IEM that I enjoyed a lot and can safely recommend to friends, close ones and those looking for a high price / performance ratio. Everything, from the package, build quality, and the sonic performance is excellent with Aurora and I consider KBEar to be improving and providing better and better products every day, Aurora being a good example of it, as they punch nicely for their 169 USD price point. I have enjoyed my time with Aurora quite a bit, despite having pretty low expectations and I find it to be fun to the point where I will listen to it even after posting today's review. 
At the end of the day, if you're looking for a natural sounding IEM with a good amount of width, a fair instrument separation and excellent overall detail for the money, Aurora is an excellent choice, and as long as you remember to try some tip rolling, you should have an excellent experience with them, and they are a fully recommended purchase. 
Product Link
You can grab one from www.amazon.com here: https://amzn.to/3he9Zjq
If you're in the UK, you can grab one from www.amazon.co.uk here: https://amzn.to/3BPcguB
And if you're from Europe, you can grab one from www.amazon.de here: https://amzn.to/33RAM1W
Specifications
Driver unit: 10mm Strong Magnetic Nano Titanium-plated Diaphragm
Earphone shell: High grade aluminum alloy
Interface/Connector:2PIN 0.78MM
Plug type: 3.5MM
Impedance: 18±2Ω
Sensitivity: 105±3dB
Frequency response:20hz-20KHZ
Cable length: 1.2m
Cable material: 8 core OFC silver-plated cable without microphone
---
---
--- Please remember to stay safe, and always have fun while listening to music!---
 - If you have a dime to spare, and donate, to help us with electricity and work expenses, it would make my day much brighter, as it would help me improve things around the website and increase the frequency of my posts - 
---
Full Playlist used for this review
We listened to more songs than those named in this playlist, but those are excellent for identifying a sonic signature.  PRaT, Texturization, Detail, Resolution, Dynamics, Impact, and overall tonality are all revealed by those songs. We recommend trying most of the songs from this playlist, especially if you're searching for new music!
https://www.youtube.com/playlist?list=PL_cjBXGmwSHSdGcwuc_bKbBDGHL4QvYBu
--- Contact Us ---






---
---