Soundmagic A30 DAC/AMP – Baguette Of Sonics
Soundmagic A30 is a baguette-shaped DAC/AMP, just like NextDrive ones, and it is priced at 30 EUR / 50 USD. This would make it technically one of the most affordable DAC/AMP I reviewed to date, and I know very few DAC/AMPs at 50 USD to compare it to, so the review will focus on its sonics and usability alone.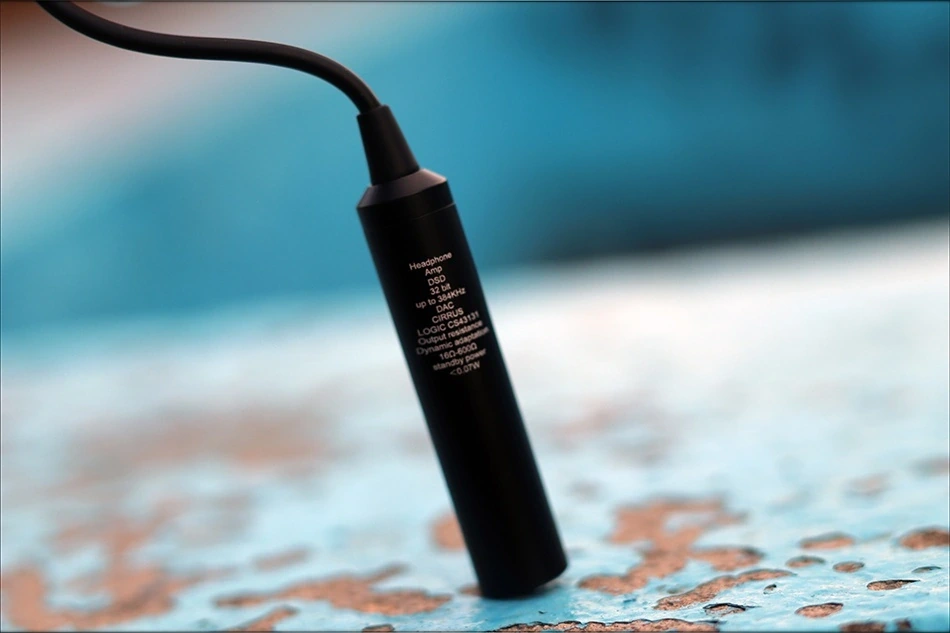 Introduction
Sondmagic is a growing company from China, having both expensive and affordable products in their portfolio. They make the HP1000 I liked a lot, which is an amazing closed back headphone, but also the Sport IEMs ST80, which are a unique product, rich in the package, but fairly basic in the sound. This sets an all-over-the-place bar for Soundmagic, as far as their favorite sound goes, but it is clear where their heart lies when it comes to their warranty and support, as they're a nice company with great support for their products.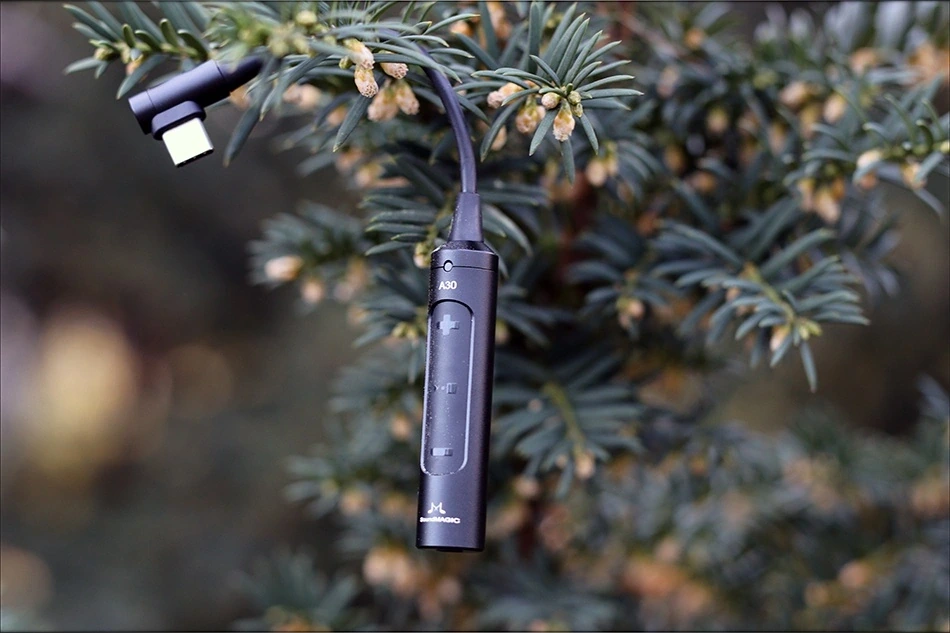 It should be noted that I have absolutely no affiliation with Soundmagic. I'd like to thank Soundmagic for providing the sample for this review. This review reflects my personal experience with SoundMagic A30. Every opinion expressed is mine and I stand by it. The purpose of this review is to help those interested in Soundmagic A30 find their next music companion. 
Product Link
You can grab one from www.amazon.com here: https://amzn.to/3HoBxOJ
If you're in the UK, you can grab one from www.amazon.co.uk here: https://amzn.to/3wQNd7Z
And if you're from Europe, you can grab one from www.amazon.de here: https://amzn.to/3oEaZAK
Packaging
First things first, let's get the packaging out of the way: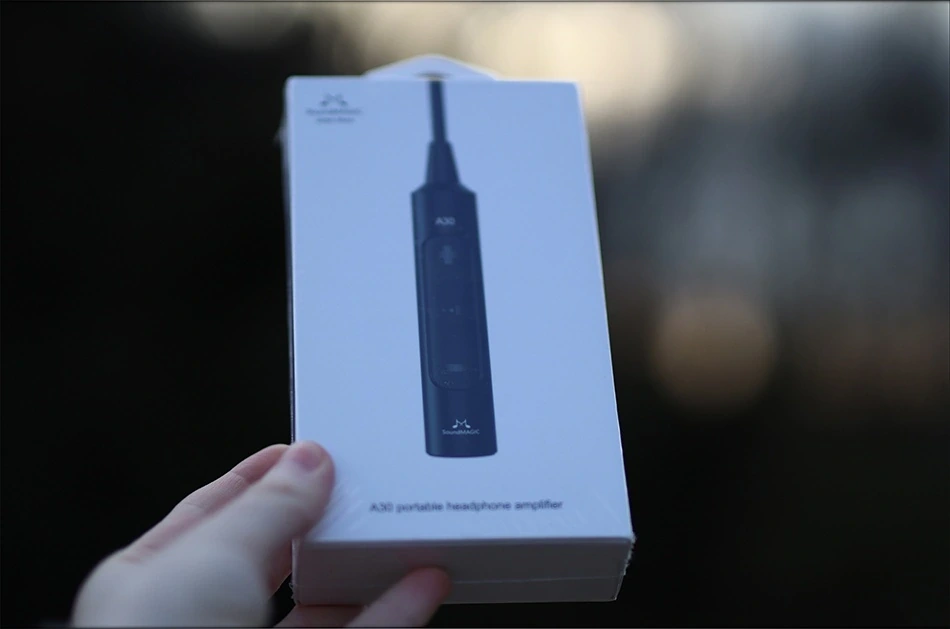 The DAC/AMP comes in a pretty straightforward and basic package, with more than the bare minimum included.
Where most companies, for this price point, would have included just the DAC/AMP, Soundmagic decided to play it rough and include not only the DAC/AMp, but also a Type-A to Type-C adapter, allowing us to use the adapter with PC computers. 
Build Quality/Aesthetics/Functionality
The baguette shaped DAC is really basic, it has an angled Type-C connector, and a baguette shape with a 3.5mm output. This is pretty much everything there is to talk about it, the cable is flexible, it is practical. Power consumption is rather low, and it wont draw too much from your smartphone's battery.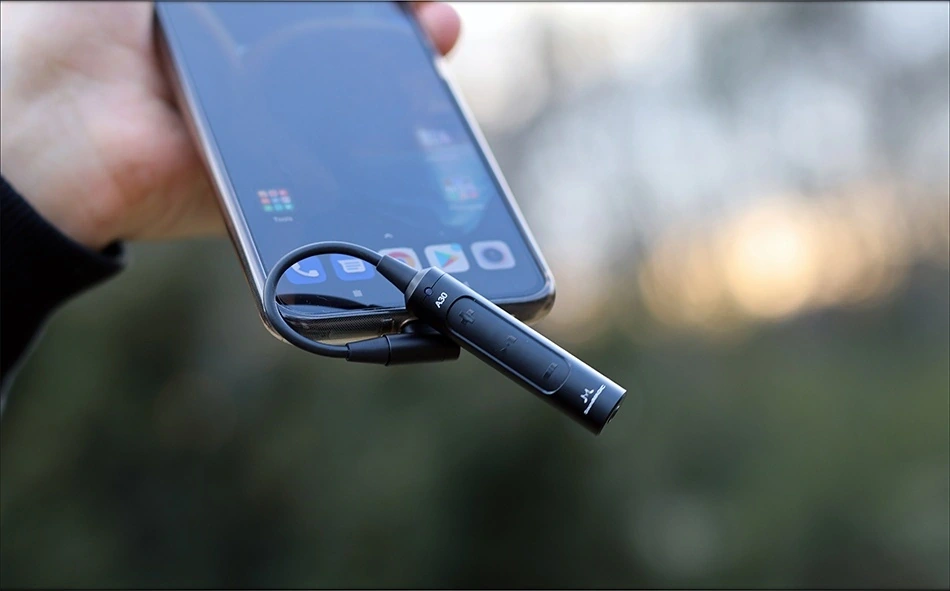 The volume and play buttons found on the body of the mini baguette are compatible with most smartphones but do not seem to work on my Pc computer, although this may have something to do with the way my PC is configured. It is 10 CM in length, and weights 11 grams, being rather portable, and it is based on a Cirrus Logic CS43131 DAC. It supports High resolution PCM, as high as 24 Bit / 384 kHz, and it also supports DSD up to DSD256.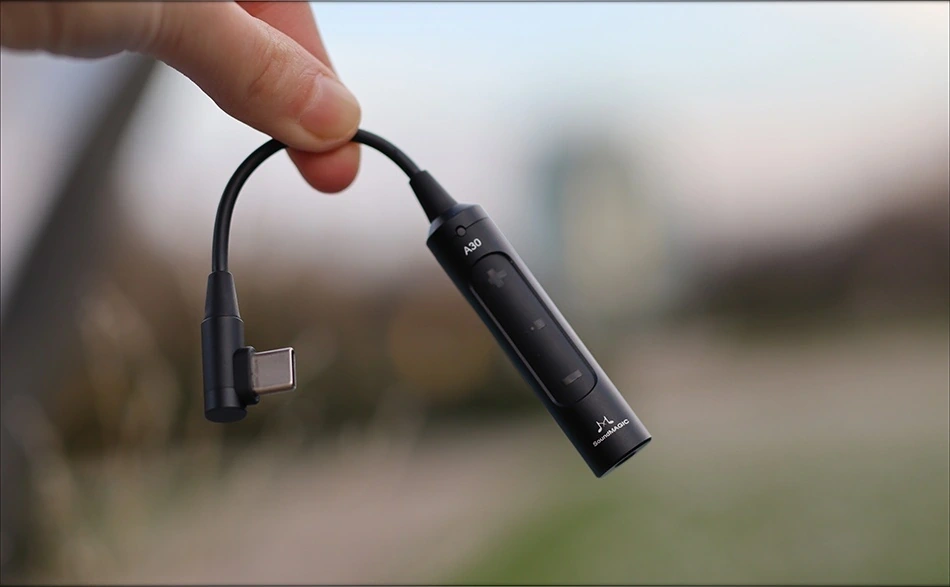 For the driving power, it has a fairly low driving power, and it is fit to drive mostly portables, although the company states that it should be good to go for up to 600 OHM headphones. That is, if you listen fairly quietly. It has low background noise and hiss with IEMs, so it should fit nicely for that. There is an iPhone version out there, named A30i. 
Sound Quality
In terms of driving power and ability, I was not happy with the maximum volume with HIFIMAN Sundara, HIFIMAN He400SE, or Soundmagic HP1000. The sound is controlled and clean, so it doesn't go overboard and distort, but the maximum volume is fairly limited and I simply don't listen that quiet, so I will recommend it mostly for IEMs like Campfire Holocene, Moondrop Illumination, IKKO OH1 Meteor and Metalure Wave. As I tested it with quite a few IEMs, I figured that the way it sounds, it pairs well with pretty much anything. If you're spending 50 USD on a portable DAC/AMP, you most probably don't expect to be driving a Sennheiser HD660S, and if you are, there are good options around 200 USD, but most options sub 100 USD have low power delivery and while A30 can indeed drive pretty hard headphones well, the final result is a sound that's too quiet for my tastes.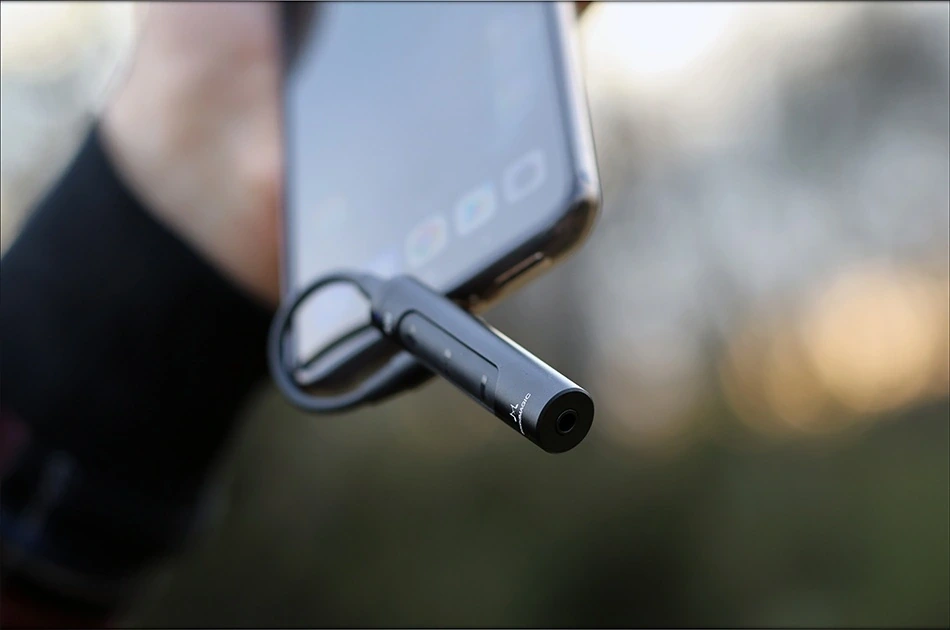 Starting with the overall signature, A30 is warm, with an euphonic, smooth and fun sound. There's a good sense of space and detail, and the soundstage width is great, plus if you're comparing it to a smartphone and the default sound of my Black Shark 4 smartphone, the sound of A30 is much cleaner, with better dynamics and more driving power. It is not like Black Shark 4 has an audiophile DAc/AMP inside, but A30 can beat every smartphone I have on hand, and if your smartphone doesn't have a 3.5mm headphone jack, you're probably going to party when you find out that A30 works with Huawei, Xiaomi, Black Shark, Oppo from my tests. 
The bass is deep and clean, with good extension as low as 20 for IEMs, and with good control in the lows. In fact, the bass is so clean and clear that the company doesn't joke around when they say that it can drive headphones well, but the bass is also warm and uplifted from what I would consider truly neutral. The treble is also smooth and slightly rolled off, which enhances the sensation of a warm and colored sound. I like the way it can paint a thick and heavy low end with IEMs like IKKO OH1.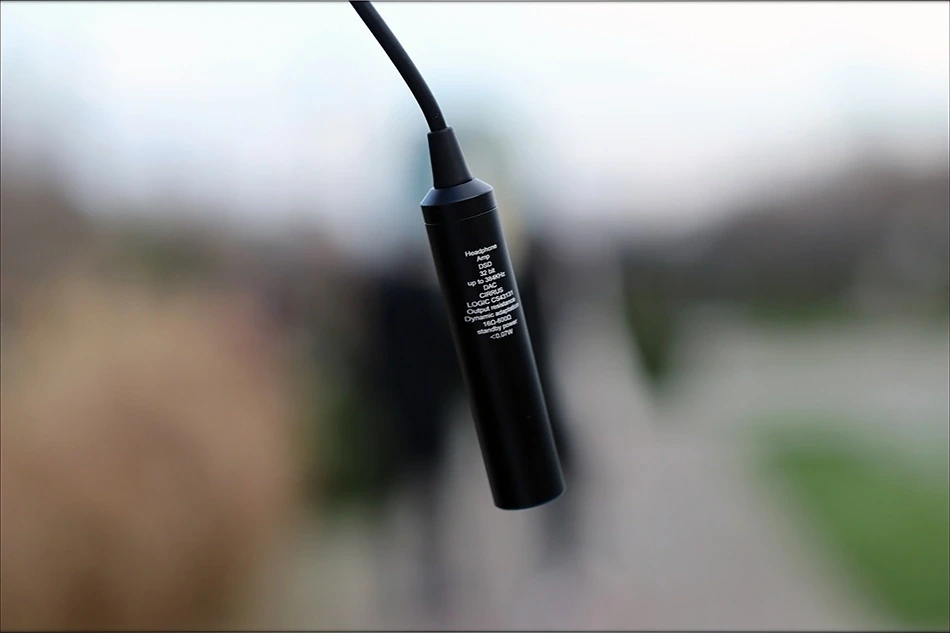 We're looking at a clean and flat midrange, and as other people called it, there's not a lot of dynamic in the midrange, but it all depends on what you're comparing the sound to. If you're comparing it to most 150 USD DAC/AMPs, it is fairly flat and won't be very interesting, but if you're comparing A30 to a smartphone's default sound, it has more dynamics, better detail and more overall resolution than most smartphones. At the end of the day, the sound should be fairly enjoyable and clean, with a good sense of width too. There's not a lot of depth in the sound. 
At the end, we have the treble, which is smooth, gently rolled off, and not very sparkly. It does have a fair extension to it, but it is too soft for rock and metal, unless you're listening to some laid back bands like Hawthorne Heights, which sounds fairly clean and fun on A30. 
Value and Conclusion
At the price of 50 USD, Soundmagic A30 is a good addon for a smartphone, even if it has a 3.5mm headphone output, but a true blessing if it doesn't have a headphone output already. You need something to push music from your smartphone, and you will be happy to hear that A30 is the perfect DAC/AMP for the job. For the price you get great performance, and a TypeA to TpeC adapter thrown in too.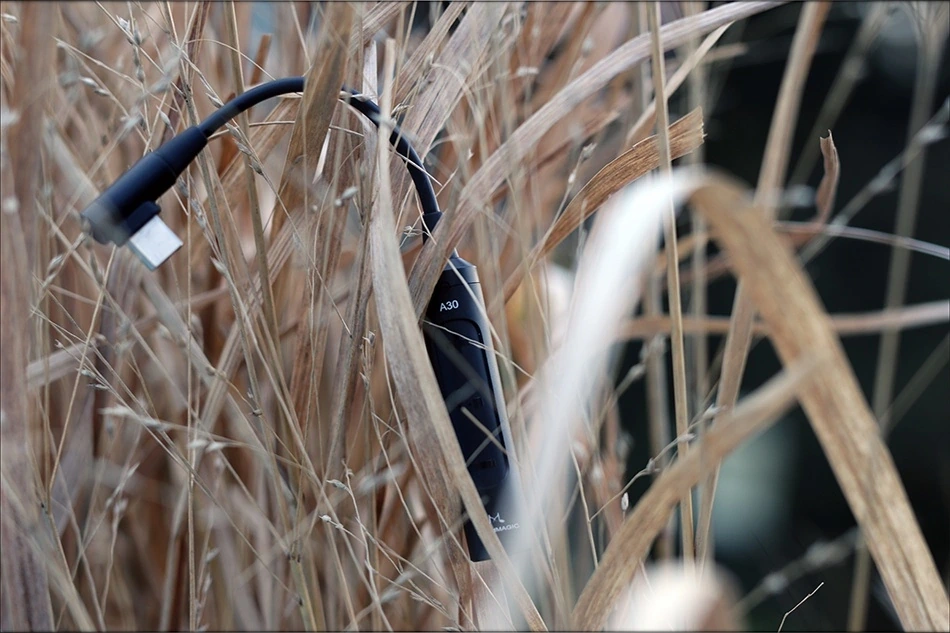 At the end of the day, if you need a fair performance from a DAC/AMP, if you have just 50 USD for it, and if you fancy a smoother, warmish sound, with good clarity and a distortion-free experience, I recommend A30 with zero reticence. 
Product Link
You can grab one from www.amazon.com here: https://amzn.to/3HoBxOJ
If you're in the UK, you can grab one from www.amazon.co.uk here: https://amzn.to/3wQNd7Z
And if you're from Europe, you can grab one from www.amazon.de here: https://amzn.to/3oEaZAK
---
---
--- Please remember to stay safe, and always have fun while listening to music!---
 - If you have a dime to spare, and donate, to help us with electricity and work expenses, it would make my day much brighter, as it would help me improve things around the website and increase the frequency of my posts - 
---
Full Playlist used for this review
We listened to more songs than those named in this playlist, but those are excellent for identifying a sonic signature.  PRaT, Texturization, Detail, Resolution, Dynamics, Impact, and overall tonality are all revealed by those songs. We recommend trying most of the songs from this playlist, especially if you're searching for new music!
https://www.youtube.com/playlist?list=PL_cjBXGmwSHSdGcwuc_bKbBDGHL4QvYBu
--- Contact Us ---






---
---