Pro-Ject Head Box DS – Mini Size, Maxi Sound
Head Box DS is a DAC / Headphone Amplifier made by Pro-Ject in Austria, and priced at 400 USD at the moment of its release, and now being a pretty old-school device, as it was released around 2016, so about 5 years ago. I will be comparing it to the Palab M1 Mini (500 USD), Pro-Ject DAC BOX DS (430 USD), and Chord Mojo (500 USD).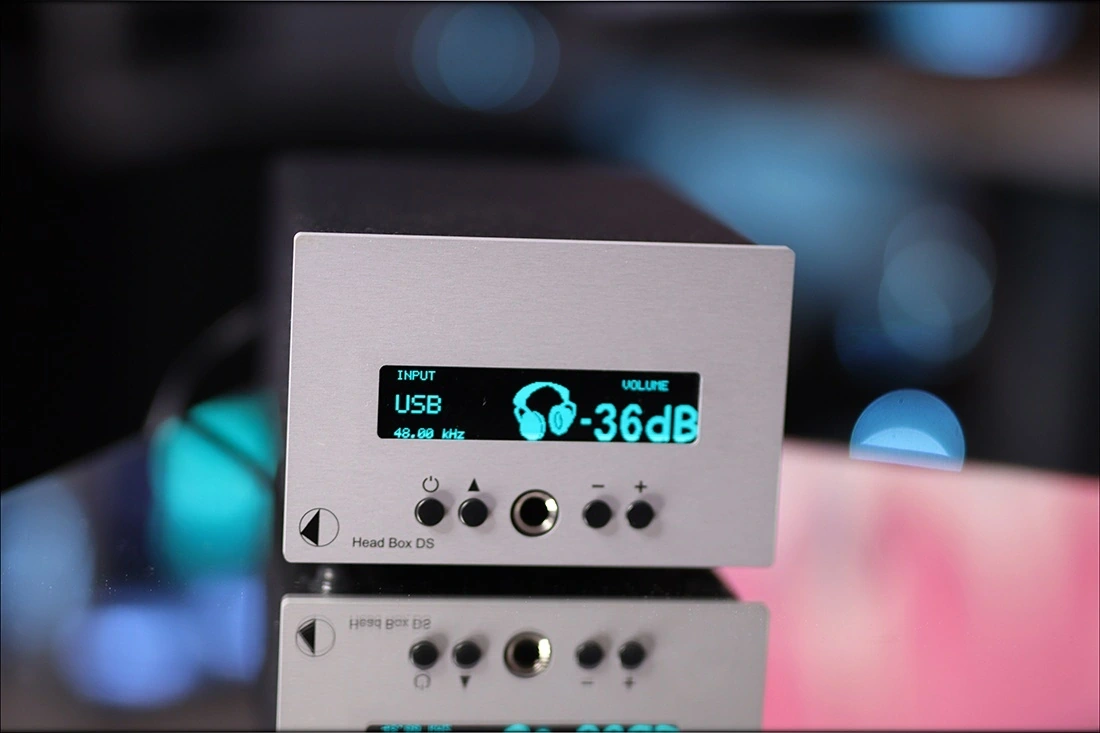 Introduction
Pro-Ject is an awesome company from Austria, with a wide product selection, but while they make some reliable tech, they usually don't sell their products directly and rely on third party shops for their sales. I recommend always purchasing local Pro-Ject products, and going with the shops that offer the best warranty. Since the Head Box DS is a slightly older product now, you may be able to find it second hand more than new, but it should showcase the tech and ability of Pro-Ject fairly well. 
It should be noted that I have absolutely no affiliation with Pro-Ject. I'd like to thank Pro-Ject for providing the sample for this review. This review reflects my personal experience with Pro-Ject Head Box DS. Every opinion expressed is mine and I stand by it. The purpose of this review is to help those interested in Pro-Ject Head Box DS find their next music companion. 
Product Link
You can grab one from www.amazon.com here: https://amzn.to/3pmA6bw
If you're in the UK, you can grab one from www.amazon.co.uk here: https://amzn.to/3dfLvEw
And if you're from Europe, you can grab one from www.amazon.de here: https://amzn.to/3DnPTvw
Packaging
First things first, let's get the packaging out of the way: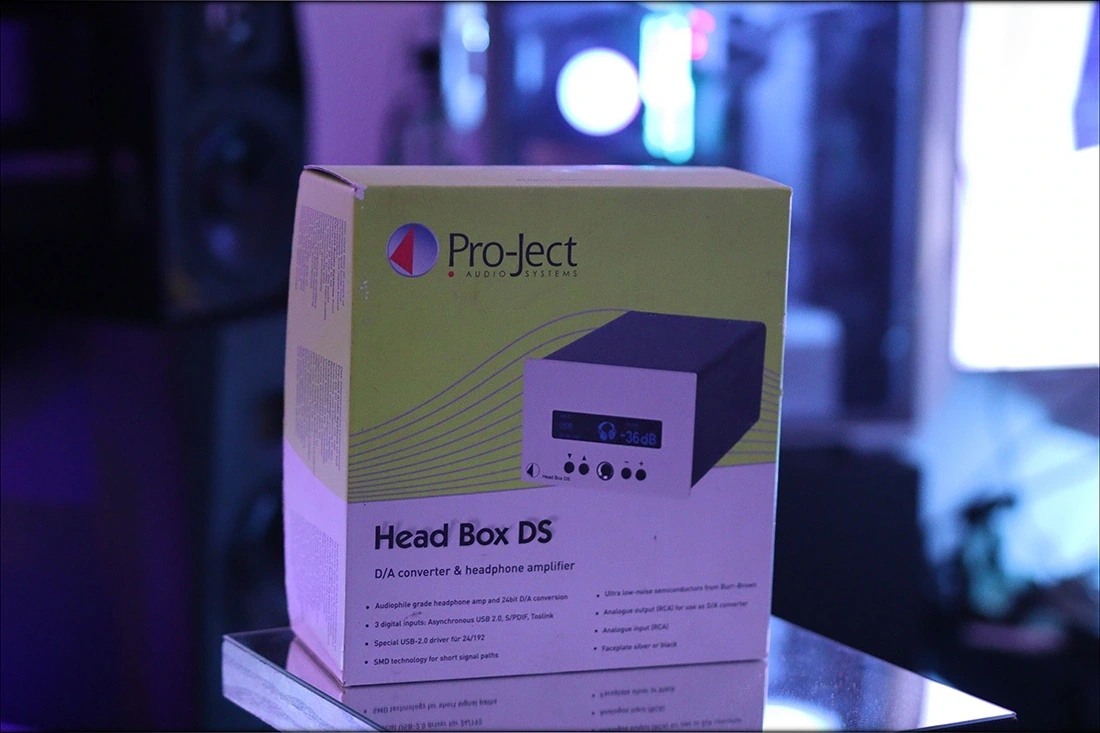 The package still includes a CD with the drivers, which is fun for me, because I haven't seen physical CDs in a long while. The unit works driverless on my windows 10 computer, so there's no need to rush in installing it, plus the unit arrives with a power converter that has plugs for every country. There is no data / audio cable in the package, but the Head Box DS DAC/AMP is protected really well from bruises during shipping. 
Build Quality/Aesthetics/Functionality
Head Box DS is a really heavy DAC/AMP, being almost one kilogram, and it has a nice design with a large silver faceplate, and a rugged, scratch-resistant case. The case has really good interference resistance, and it has rubber feet to stick to your table, having a somewhat industrial but also pretty hip design.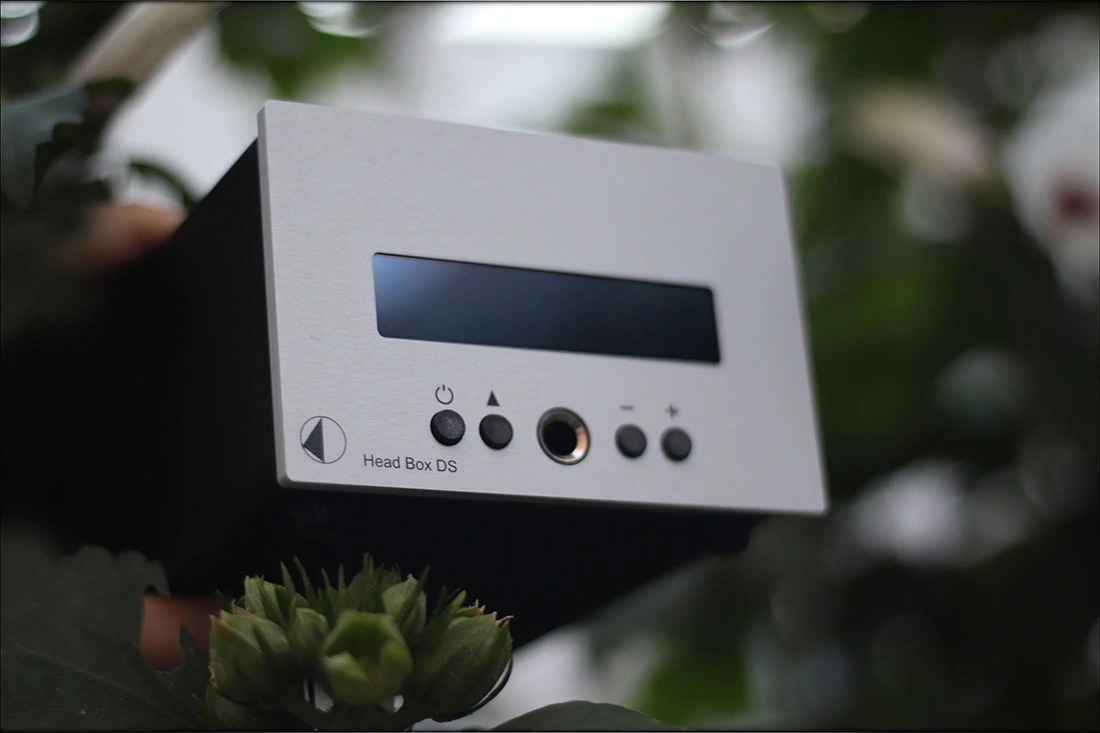 The face of the device has a large display that shows the input, sample rate, and the current volume. It is pretty colorful, and bright, but not uncomfortable and doesn't distract from other activities. It has 4 buttons, and from left to right, it has a power button, an input selector, and two volume buttons. The buttons are good quality, clicky and satisfying, but they are uncomfortable to use in the long run. Most people dislike pressing the buttons many times to increase or lower the volume. The volume goes as low as -87dB, or as high as 0dB, which is the maximum it goes. You can keep the button pressed so it goes faster, and it is fairly fast, which is great, compared to something like the Soundaware A1X which needed one click and didn't register 
The headphone output sits right at the center, and it is a 6.3mm single ended jack, with enough power to drive both dynamic and planar magnetic headphones properly, having had good experiences with Sendy Audio Peacock, Audeze LCD-XC, HIFIMAN Arya Stealth. For IEMs, there is a bit of background hissing, especially with uber sensitive IEMs like Campfire Atlas, but the sound is ok with Campfire Ara, Unique Melody MEST MK2, or with Final Audio E5000 (well, that one needs a lot of power, not low hissing and low output impedance).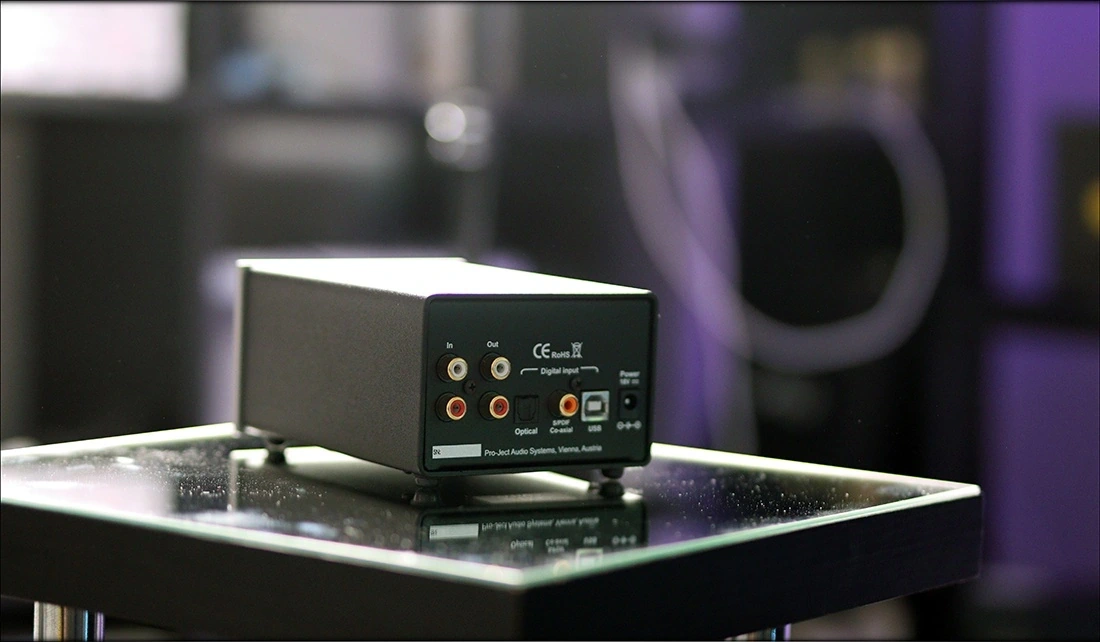 The inputs include RCA analogue inputs, optical, Coaxial / SPDIF, and USB inputs. It also needs a power connector at 18V. The DAC used is a Cirrus Logic CS4344, 24 Bit / 192 kHz Delta Sigma DAC, with PCM support up to 192kHz. The headphone output has up to 350mW at 32 OHMs, and 60mW at 300 OHMs. It is ok for hard to drive dynamics like Beyerdynamic T1, Sennheiser HD800S. Pro-Ject likes to showcase a great SNR rating of 112dB at full loudness, with a low THD of just 0.0014%. 
You can use Head Box DS as a DAC too, and it is more clean and clear, more crisp than Dac Box DS, also made by Pro-Ject, so they follow different signatures for each one of their products. In fact, Dac Box DS is the smoothest DAC I heard to date, while Head Box DS also inherits smoothness in the midrange, being clean and non-fatiguing, but has a good treble presentation, where DAC BOX Ds has much less sparkle in the highs. If you connect an external amplifier, or speakers, you should keep in mind that Head Box DS does not mute the RCA analogue output when you connect headphones, they both run at the same time. The unit gets fairly warm during normal usage. 
Sound Quality
Since I mentioned listening to Head BOX DS with many headphones, the main headphones I used for today's review are Sendy Audio Peacock, HIFIMAN Arya Stealth, Audeze LCD-XC, Campfire Ara, Avantone Pro Planar, and Metalure wave. 
The general sonic presentation of Head Box DS can be described as clean, neutral, with a smooth texture, and a wide soundstage that is also deep. The dynamics are pretty great, while detail levels are fair for the price point. Something about the overall midrange captivates me, Head Box DS has a really good tonality in both male and female voices, but the impact tends to be softer than most of the competition, which makes you focus on the voicing more. 
The bass of head Box DS is neutral, without any specific coloration, and I would say that it is on the lighter side. Regardless of the headphones it is paired with, the bass tends to be flat and linear, with no special impact or energy, which changes the focus, even in rap and hip-hop, or electronic, to the midrange. 
The midrange of the Head Box DS is clearly the focus of its sound, with a really smooth texture, and excellent dynamics, but once again, with fairly gentle impact. The voicing is really natural, and even in songs like those from ERB, Eminem, or Megan Stallion, you hear the voices like the artist is right next to you, both in presence, forwardness, but also in how natural the voicing is. Head Box DS presents everything in a huge soundstage, with a wide area between instruments, and good imaging. The detail level is impressive, but since the bass has a linear / neutral presentation, the midrange can lack body, although I would not say it ever sounds thin. 
The treble is neutral, well extended, but has a smooth texture. Head Box DS is generally fatigue-free, and sounds pretty clean, with a good amount of detail, but the treble can be slightly low in quantity if you mainly listen to metal and rock. It tends to sound better as you go louder, being able to express better dynamics, impact and resolution at louder volumes, and keeping low distortions at high volumes. Sadly, at lower volumes, dynamics, bass quantity, and overall punchiness are lower, but the soundstage is still wide, with good instrument separation. I would get the Head Box DS if you're into relaxing, clean sounds, but not if you're into punchy and energetic signatures. It can be said that the Head Box DS sounds refined and mature. 
Comparisons
Most comparisons will be with similarly priced DAC/AMPs that I already reviewed, but I want to mention that if you're looking for a really high-performance DAC, there are much better options around 440 USD, like SMSL DO200, which has XLR outputs, along with LDAC, aptX HD, I2S and more features, and this is how an older product like Head Box DS may be showing its age in certain aspects. 
Pro-Ject Head Box DS vs Chord Mojo (400 USD vs 500 USD) – Mojo is the DAC/AMP that everyone was talking about years ago, as being the thing to get around 500 USD. It will be replaced by a Mojo 2 soon, based on images leaked on many Facebook audio groups, and the new variant should come with a type-C connector, at least, and sonic improvements as well. The sound of Mojo is smoother, fuller, warmer and bassier. By comparison, Head Box DS sounds cleaner, less fluid, but more impactful. Both DAC/AMPs are similar at the dynamic level, but Head Box DS is wider in the stage, where Mojo is deeper. 
Pro-Ject Head Box DS vs Palab M1 Mini (400 USD vs 500 USD) – Palab M1 Mini has many features over the Head Box DS, like MQa support, a balanced output, and doesn't need a separate power input, plus it uses the more common type-c input, so from the start, it is easier to recommend technically. When it comes to their sound, Head Box DS is deeper in the soundstage, where Palab M1 Mini is more fluid, more detailed, cleaner, with better overall soundstage width, more dynamic, more punchy and has better control. M1 Mini is also better for driving IEMS, having a lower noise floor, and more driving power over the balanced connector, making it universally easier to recommend than Head Box DS, at the same price.
Pro-Ject Head Box DS vs Pro-Ject DAC Box DS (400 USD vs 430 USD) – We have a tight situation here, both DACs being from the same company. Using the Head Box DS as the DAC versus using the DAC Box DS as the DAC actually shows some interesting results, as Head Box DS actually sounds better than the DAC Box DS, with more detail, better resolution, better extension in the treble, and more dynamics. Where DAC BOX DS wins, is in being smooth and fatigue free, as it is even smoother, and more relaxed than Head Box DS, but that's brought to an exaggeration here, because DAC BOX Ds can be somewhat unengaging and bland sounding compared to Head BOX DS which is fairly balanced and fun.  
Value and Conclusion
In today's money, the Head Box DS is not priced competitively at 430 USD, and it feels outweighed by portables and more affordable DAC/AMPs, but it still has good value for what it is. Since I have a unit made about 5 years ago, that I can still find enjoyable, and which still has personality, and good detail / resolution, if you can find one on sale, I wouldn't avoid it at all. Pro-Ject has designed newer, more aesthetic variants with better technical performance, and I suggest checking out their newer products, like the S2 Digital I reviewed in the past.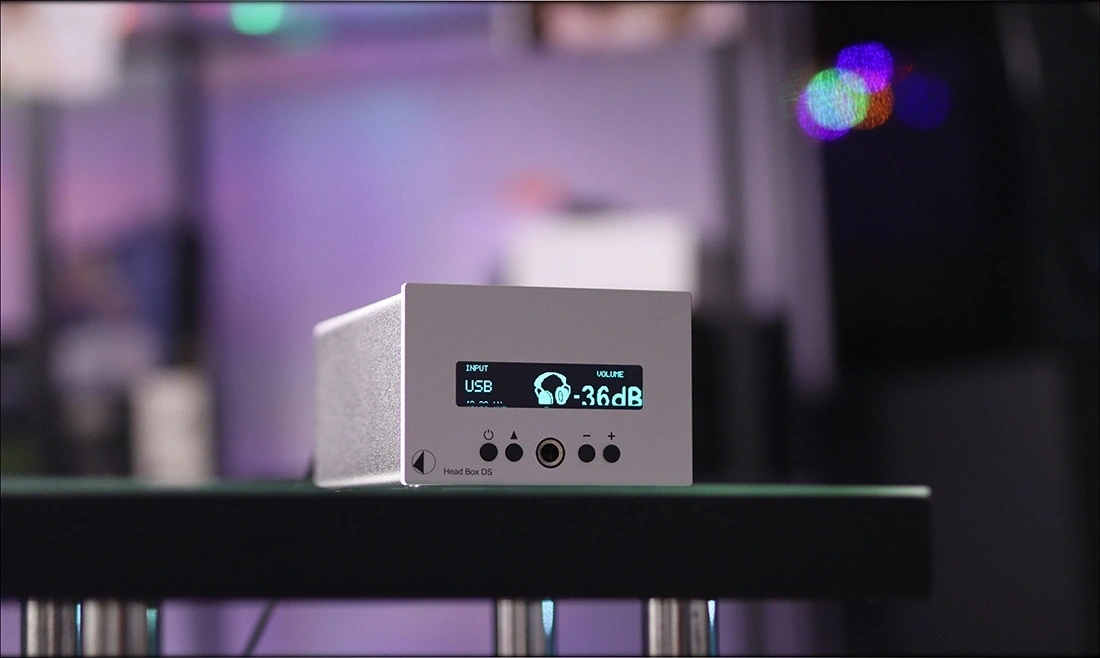 Head Box DS has a snazzy display, tons of steps for its volume, it has a good build quality, it has a clean design, and all the inputs you may need. You can even use it as a standalone DAC, so you're not going to feel sorry if you go for it, but you will surely feel happy about the purchase if you needed a refined, mature sounding DAP that's relaxed, fatigue-free, and fairly linear. 
At the end of the day, Head Box DS is a nice DAC/AMP and I totally recommend it if you're looking for a clean sounding DAC/AMP with a smoother treble, clean midrange, wide soundstage, spot-on tonality, and with good build quality. Don't forget that you may be able to find it for a fraction of its original price since it is quite old now, so make sure to check out all the places that may have it, if you like the design and the relaxed sound it bears. 
Product Link
You can grab one from www.amazon.com here: https://amzn.to/3pmA6bw
If you're in the UK, you can grab one from www.amazon.co.uk here: https://amzn.to/3dfLvEw
And if you're from Europe, you can grab one from www.amazon.de here: https://amzn.to/3DnPTvw
---
--- Please remember to stay safe, and always have fun while listening to music!---
 - If you have a dime to spare, please donate, and help us! It would make the day brighter for me and my wife- 
---
Full Playlist used for this review
We listened to more songs than those named in this playlist, but those are excellent for identifying a sonic signature.  I recommend trying most of the songs from this playlist, especially if you're searching for new music! The playlists are different for Spotify, Tidal and Youtube, and based on the songs I enjoy and are available on each!
https://www.youtube.com/playlist?list=PL_cjBXGmwSHSdGcwuc_bKbBDGHL4QvYBu
https://open.spotify.com/playlist/5J3oloz8Riy9LxEGenOjQ0?si=979ba4f082414be7
https://tidal.com/browse/playlist/330fd544-8e5b-4839-bd35-676b2edbb3d5
--- Contact Us ---





---