Sivga Phoenix Headphones – Rise, Fly, Roar
Sivga Phoenix is the next best thing made by Sivga, and it is a dynamic headphone priced at 250 USD. It comes in the Zebrano color I have, and in Europe it costs closer to 300 EUR rather than 250 USD, thanks to taxes. It will get compared to HIFIMAN Deva, Sivga P-II, Aeon Flow RT, and OLLO S4X. The pairings will include Lotoo Paw 6000, iBasso DX300, and HIFIMAN R2R. For practical reasons, you can totally pair them with lighter sources like Shanling M2X, FiiO M11, or Lotoo Paw S1. 
Introduction
Sivga is a pretty cool company, and some of the most forward-thinking ones out there. Their headphones include P-II, and the Phoenix, both which have been really well received by music lovers out there. They offer excellent warranty, service and product quality. I can wholeheartedly recommend them and purchase from Amazon, since there you're covered by Amazon's excellent warranty and support. 
It should be noted that I have absolutely no affiliation with Sivga, I am not receiving any incentive for this review or to sweeten things out. I'd like to thank Sivga for providing the sample for this review. Every opinion expressed is mine and I stand by it, the purpose of this review is to help those interested in Sivga Phoenix find their next music companion. 
Product Link
You can grab a pair of the amazing Sivga Phoenix from www.amazon.com here: https://www.amazon.com/SIVGA-Phoenix-Polycarbonate-Zebrano-Headphone/dp/B08BLJR1DL
Packaging
First things first, let's get the packaging out of the way:
The package of the Phoenix is one of the best I've seen at 250 USD.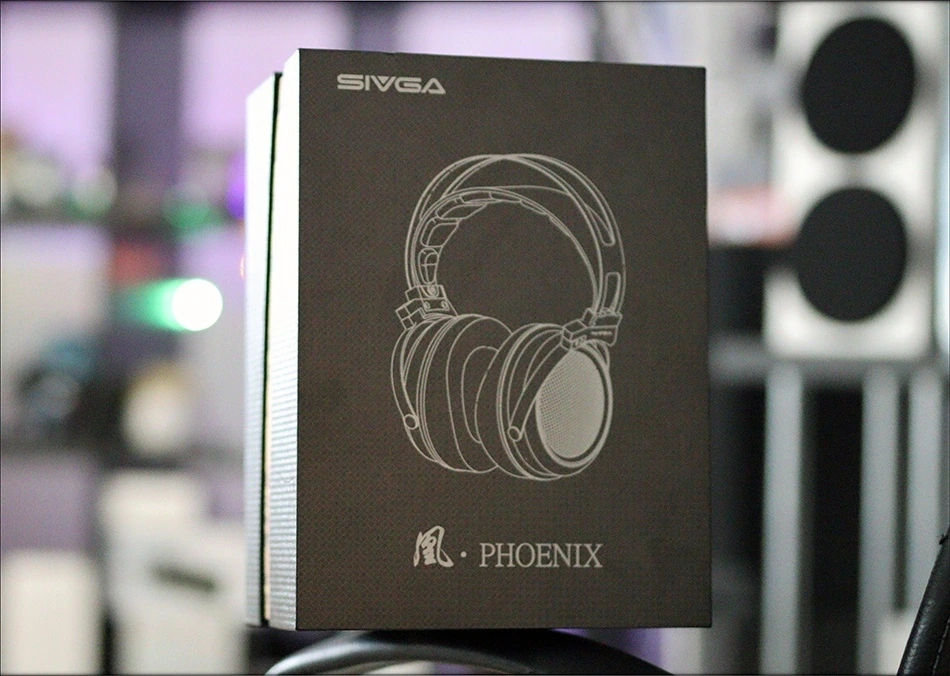 They have this beautiful geometric design for the box, but the headphones also come with a carrying case that's of a great quality.
This, combined with the excellent default cable, and the 3.5mm to 6.3mm adapter makes the package perfect. 
Build Quality/Aesthetics/Fit/Comfort
The build of the phoenix is really good, with actual wood in the earcups, a nice sleeved cable, and the same amazing earpads as we've seen with the P-II. 
The support mechanism is made of metal, combined with a leather headband, and it allows for adjustments in all directions, making the Phoenix a headphone that can fly with any head out there. 
The earpads are pretty much perfect for my ears, but if they were any smaller, they would've been too small, so they are at the limit of being perfect for my ears. They are soft, and offer excellent isolation from the outside noise, and the entire headphone feels more like a semi-open design rather than a full open-back design. They do leak like an open-back headphone though, so no partying late at night while wearing the Phoenix. 
In terms of driving factor, they have 32 OHMs of impedance, and a SPL of 103dB. In actual practice and in my experience, they are incredibly easy to drive for a full sized headphone, and most sources will not struggle with them. They are slightly sensitive to hiss, if your source is really hiss-happy, so I would avoid most entry-level Chinese DAC/AMPs.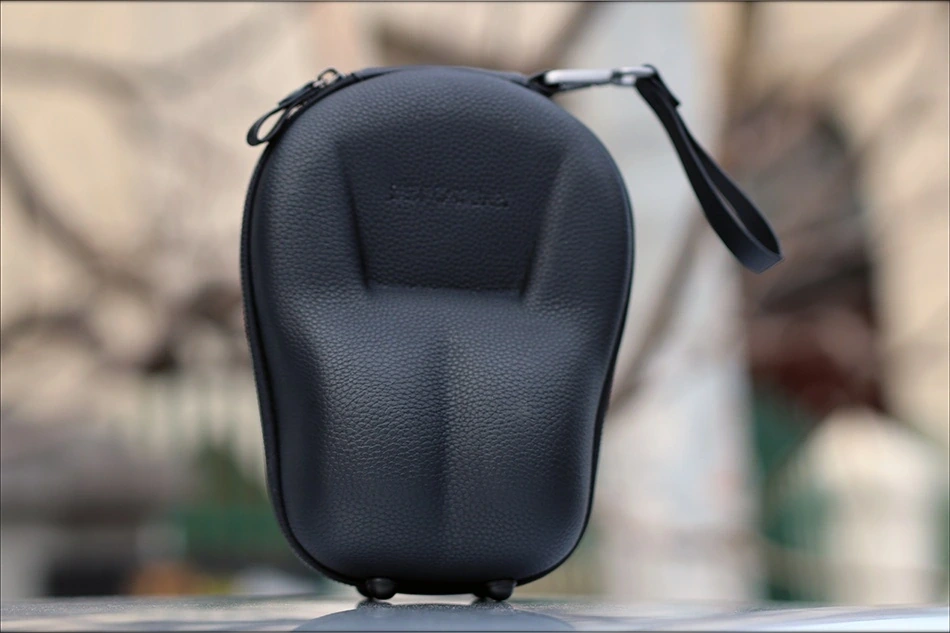 The cable is of a fairly good quality and length, tangle-free and fairly soft, yet solid. It is nowhere near as soft as Verum One cables were in their initial release, but happily it is softer than the cables of HarmonicDyne Zeus. 
All in all, the fit and comfort are perfect, the build quality is perfect on my pair, and I am really happy with the carrying case too, so we're looking forward to a positive overall impression so far. 
Sound Quality
The sonic signature of the Phoenix can be described as slightly smooth, open, really detailed, natural in tonality, natural in speed, warm, and generally juicy – vivid. The treble has smooth textures, but has good extensions up to 15-16 kHz, and I can happily listen to some post-hardcore without feeling like the whole song is choked. The Phoenix is the kind of headphone that's detailed yet musica, rich yet sparkly. My biggest complaint would be that 
The bass of the Sivga Phoenix is a huge surprise for me. I tend to enjoy a beefier low end, but I dislike an uplifted upper bass that colors the midrange too much, since I am sensitive to muddy sounds. On bands like Eskimo Callboy – Banshee, I noticed a clear, yet naturally quick bass. The bass tends to go low and deep with EDM, like Zomboy – Lights Out, but it can stay slow and delightful on songs that call for a moody presentation, like Jill Tracy – Torture. 
Still with Esmiko Callboy and their song Banshee I noticed one of the best textures and details I've heard in the sub-500 USD price range with the Phoenix. I am easily able to tell apart tons of background notes in instruments and effects that happen all at once, while the voices are forward, but don't really shout. The soundstage is huge in width, and fairly natural in depth. Jill Tracy's Voice is as smooth yet hoarse, young yet old as I've always heard it. She has a beautiful unique voice, and the Phoenix has a positive impact on the emotion expressed in each word. The midrange speed is much quicker than the bass speed and this leads to an enjoyable, quick presentation. Textures in particular are really well expressed, and micro-detail is insanely good. Everything is vivid, juicy and enjoyable, from guitar riffs all the way to very quiet background electronic effects in Machinae Supremacy songs. The midrange character is dry, reminds me a bit of the Etymotic dry type of mid. I love it a ton, especially since I have a kick for detail and analytical sounds, but I can see the Phoenix sounding a bit too dry in the mids for some. 
The treble is actually surprisingly good. It manages to be detailed, clean, sparkly, all while offering a good amount of air to the Phoenix. My biggest fear when I learned that they have a detailed treble, was that they would be somewhat bright or too much. For example, I absolutely loved the overall detail of HP1000 from Soundmagic, but their treble can be strong, while with the Phoenix, I feel compelled to turn them loud and rock on without ever being bothered by the treble. The treble detail is excellent and they are more detailed in the midrange than in the treble. Cymbals are expressed slightly smooth in texture, so no harshness and no sibilance. Overall the tuning is perfect and enjoyable for someone looking for a natural sound. 
I noticed that some folks praised the soundstage, me included, while others felt it was narrow and limited in width. I think that the biggest factor there was the source. Despite the Phoenix being extremely easy to drive, I used a Lotoo PAw 6000 for most of my listening. When switching to a more entry-level source, or something that doesn't have a large stage, like XD-05Plus, I felt like the soundstage reduced heavily in size, and did indeed become narrow. If driving the Phoenix out of a smartphone, they will be quite narrow. Same about the treble, they tend to reveal source a lot, so a smoother, less sparkly source will have a stronger impact on their sound than most other headphones. P-II, the other Sivga model, actually was not very source dependent, and has the same signature across all sources. 
Comparisons 
The main comparisons for the Sivga Phoenix are with HIFIMAN Deva, Ollo S4X, Sivga P-II, and Aeon Flow RT. Those should cover a large ground when it comes to how the Phoenix performs relative to its competition. 
Sivga Phoenix vs HIFIMAN Deva (250 USD vs 300 USD) – Deva has a lesser package actually, aht the Phoenix has a really nice carrying case. The thing with the Deva is that for 300 USD, it comes with a BLuemini, which gives it a high-end bluetooth source. That's pretty much like having a high-end DAP for the Phoenix, so both are good value, Deva maybe a bit more. The comfort is better on Deva, but the sound has more impact on the Phoenix. The dynamics are better on Deva, and it has a wider soundstage, but the Phoenix has considerably more detail in the midrange, more background information and micro-details, with considerably more overall textures in the mids. The treble is much smoother on the phoenix, and the bass is less emphasized, where Deva sounds straightforward V-Shaped in comparison. If you want a large stage, Deva it is, while if you appreciate detail and if you have a good source already, the Phoenix is a really compelling option for less money. 
Sivga Phoenix vs Ollo S4X (250 USD vs 400 USD) – Ollo S4x is actually at the same level of detail as the Phoenix. And that's not a good thing, because S4X is a full sized monitoring headphone, yet the phoenix is able to keep up. The stage is a bit wider on the Phoenix, while the sound is a bit more natural, textures are a bit more dry in the midrange, while the treble has slightly more air and detail on the phoenix. S4x wins in terms of bass depth, size and expression, and also a bit of comfort. S4X is the more natural, more mature headphone here with a more even and well-thought sound for music enjoyment.  
Sivga Phoenix vs Aeon Flow RT (250 USD vs 500 USD) – Here I am a bit unfair, as Flow RT is about twice the price of the Phoenix at least. The best part is that the sound isn't necessarily twice as detailed, and Aeon Flow RT was a detailed monster already. The bass is thicker, stronger and more thumpy on Aeon Flow RT. It is more natural in speed and has a more natural presentation on the PHoenix. The overall detail level is similar between the two, with Aeon Flow RT being slightly more detailed, especially with no dampeners installed. The overall clarity is similar, and I prefer the overall rich smooth organic signature of the Phoenix for Jazz, Classical, and Rock. For Metal, EDM, and uplifting music in general, the Aeon Flow RT still has an edge, especially thanks to their strong treble and sparkly / peppy presentation. 
Sivga Phoenix vs Sivga P-II (250 USD vs 400 USD) – Here's the one you were looking for! The main differences start in how easy they are to drive, where P-II is actually harder to drive than the Phoenix. This may also be why the Phoenix comes with 3.5mm SE cable only, while P-II comes with a Balanced 4.4mm one. The overall sound is more thumpy and warmer on the P-II, with a stronger bass, especially upper bass, where the Phoenix has a richer, smoother, more organic midrange, they have comparable levels of detail, and the treble is smoother on the phoenix. The P-II does feel like an upgrade from the Phoenix, but the Phoenix is still really good, especially for Rock, Metal and slower music like Jazz and Classical. P-II feels a bit better built and should fit larger heads and larger ears better. 
Recommended Pairings
The main pairings I went for are with HIFIMAN R2R2000, iBasso DX300, and Lotoo Paw 6000. All of those are excellent sources regardless how you look at it, and I need to emphasize that Sivga Phoenix is really sensitive to a source's characteristics.
This means that a wider source will make them wide, a narrow source will make them narrow, a brighter source will give them a nice sparkle, while a smooth source will give them a smoother and better blended treble. 
Sivga Phoenix + HIFIMAN R2R2000 (250 USD + 2500 USD) – The best part about the R2R2K is the dynamics and the beautiful midrange it is able to give to the Phoenix. I am absolutely in love with the guitar solos from this pairing, but also with the female voices, as well as the soundstage, which is large enough to be interesting, both wide and deep. The next best part is how easy the Phoenix is to drive, you merely need a few ticks from the volume of the R2R2K to make them go full Pow Power, 
Sivga Phoenix + iBasso DX300 (250 USD + 1200 USD) – DX300 really emphasizes on how mature and refined the sound of the Phoenix can be. They have a beautiful, large sound with tons of detail, but also a rich, organic midrange with excellent detail and micro-detail. The bass hits hard and with excellent control, so both EDM and Jazz is natural and expressed with excellent emotion. 
Sivga Phoenix + Lotto Paw 6000 (250 USD + 650 USD) – It has been once again with Machinae Supremacy when I discovered and noticed how amazing of a source Paw6000 can be. The best part is how the sound is a bit soft, a bit mellow, yet extremely detailed. I am in love with the wide soundstage of the pairing, as well as the juicy guitar solos and the excellent overall detail. I can see how the Phoenix would have sounded dry if using a dry source like fiiO M3 PRO, but with Paw6000, I am having the best time of my life, and I feel like I'm rocking the best combo I could get at this price point. 
Value and Conclusion
The value of the Sivga Phoenix is insanely good, and I totally recommend it as your next headphone if you're looking for an affordable but enjoyable can. They won't cost the world but they will offer a world of fun when it comes to music. 
The build quality, package and even comfort should be great. The only situation where I see you not liking them is if you had a larger head, or larger ears. Both the headband is slightly smol, and the earpads are slightly small, or at least at the limit for me. This means that Sivga Phoenix fits for me as my head being the maximum they can accommodate. 
The cable is great, despite the more exotic 2.5mm connectors at the level of the earcup, just like the Sivga P-II. As long as you have a source with a 3.5mm output, like FiiO BTR5, Lotoo Paw S1, or even a DAP like Hiby R3 PRO you will be fine. 
The next best part is the sound, which is lively, engaging, dynamic and vivid. The detail level is extremely good, as long as the source is good, and there's a beautiful amount of micro-detail revealed by the Sivga Phoenix driven by a good source. 
At the end of today's review, if you're looking for one of the best headphones in the ~250 USD price range, if you have smaller ears, and if you love a rich, organic, detailed, clean, crisp, deep, punchy sound with nice dynamics, the Sivga Phoenix is a 10/10 and a fully recommended headphone that you should be able to rock out to and enjoy for years to come. 
Product Link
You can grab a pair of the amazing Sivga Phoenix from www.amazon.com here: https://www.amazon.com/SIVGA-Phoenix-Polycarbonate-Zebrano-Headphone/dp/B08BLJR1DL
---
---
--- Please remember to stay safe, and always have fun while listening to music!---
 - If you have a dime to spare, and donate, to help us with electricity and work expenses, it would make my day much brighter, as it would help me improve things around the website and increase the frequency of my posts - 
---
Full Playlist used for this review
We listened to more songs than those named in this playlist, but those are excellent for identifying a sonic signature.  PRaT, Texturization, Detail, Resolution, Dynamics, Impact, and overall tonality are all revealed by those songs. We recommend trying most of the songs from this playlist, especially if you're searching for new music!
https://www.youtube.com/playlist?list=PL_cjBXGmwSHSdGcwuc_bKbBDGHL4QvYBu
--- Contact Us ---






---
---