SVS Prime Wireless Pro Powered Speakers – Hifi Magic All Inclusive 
SVS Prime Wireless Pro is a $899 USD (internationally, without VAT), 4999 RON (Romania, AVstore, final price) pair of high-end speakers with a package that includes literally everything you may require, including the speakers, 200W Active Power (50W x 4 , 4 – Way stereo integrated amplifiers), Wireless abilities, a DAC, and an eccentric sound that's sure to satisfy even the most serious of audiophiles. Today we're reviewing those hidden jewels of audio, and also will be comparing them with other setups, including Rubyoung R830 (749 USD), KLH Model Five (2499 USD), NHT C3 (1250 USD), Aurender S5W (2999 USD), and Buchardt S400 (1800 USD).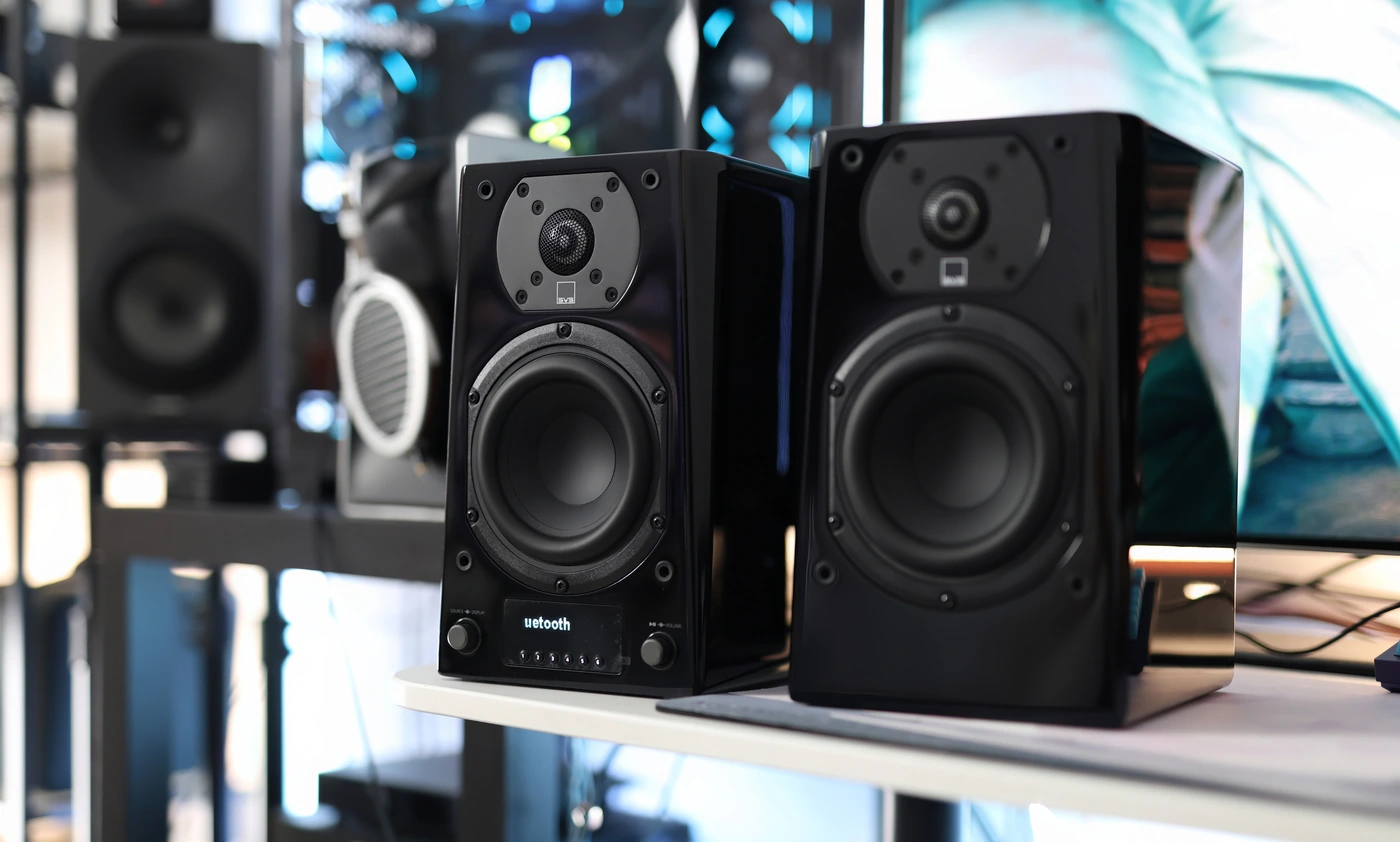 Introduction
SVS is one of the most popular subwoofer companies out there, with the name being actually SV Subwoofers. The SV name comes from the two founders of SVS, Ron Stimpson, and Tom Vodhanel. The company was designed as a high-end subwoofer designer company but making their products affordable and accessible to all music lovers, ending once and for all the exclusivity of a good sound just for those who pay extreme amounts for their overpriced setups. The company is based in Ohio, and they hold a direct relationship with their customers and the owners of their products, as you can easily engage and communicate with SVS, they provide a platinum level of service and support. So far, everyone who's heard a SVS product has been truly amazed by the experience and today we're putting that to test with the SVS Prime Wireless PRO system, which is a 2.0 powered system, and it is exactly not what the company is most popular for, which is subwoofers. On the other hand, this is one company that's better purchased from local dealers such as AVstore, which does a great job at promoting and helping customers find the right SVS product for them. As an Amazon influencer, I earn from qualifying purchases, and there will be Amazon links too, but for SVS speakers and subwoofers, it is a good idea to check with the local AV stores to see if you can listen to the speakers you're going to buy before purchasing. SVS is one of the very few companies that offers 45 Day Risk Free Trial At Home, 2-Year Unconditional Warranty, and free, fast shipping and returns. 
I'd like to thank SVS and AVstore for providing the sample for this review, in exchange for my honest opinion. We are not receiving any incentive for this review and Audiophile-Heaven has no affiliation with SVS or AVstore beyond this review. 
Product Link
You can grab one from www.amazon.com here: https://amzn.to/45Rnuwg
AVstore Link Romania – https://www.avstore.ro/boxe-amplificate/svs-prime-wireless-pro/
If you're in the UK, you can grab one from www.amazon.co.uk here: https://amzn.to/40oRNte
And if you're from Europe, you can grab one from www.amazon.de here: https://amzn.to/3QIYRgI
Build Quality/Aesthetics/Fit/Comfort
Stereo speakers all have a similar design in the world, and Prime Wireless Pro is no exception, those being basically two speakers, very compact and well designed, each quite heavy, and with a glossy finish that you ought to keep in pristine condition, as if you purchase those you'll be using them for many years from now on.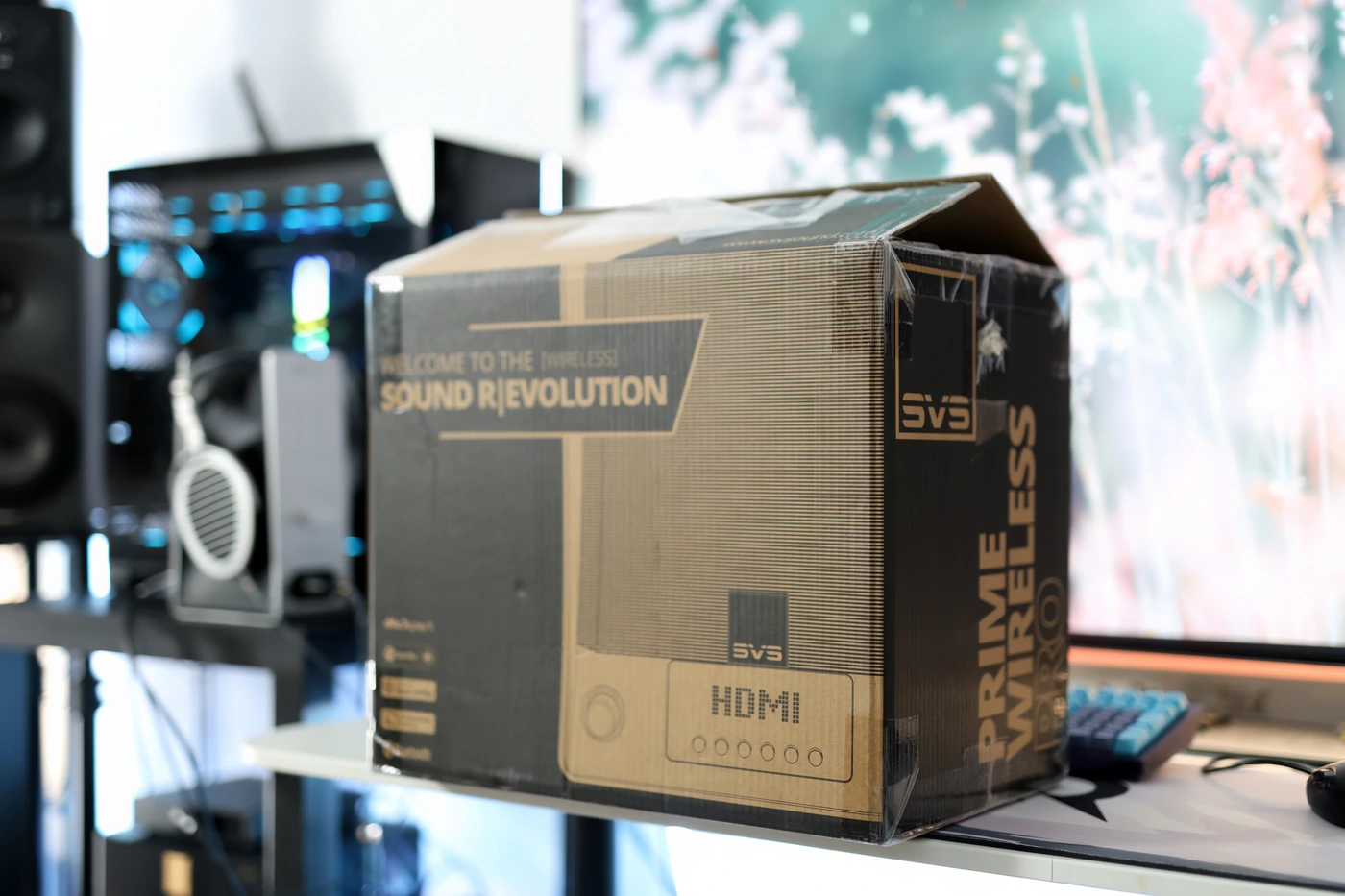 The important part and distinction from other speakers is that those are self powered or active speakers, which means that they have an amplifier inside, and they include a potent, 200 Watt amplifier, with 50 watts per channel, with a 192kHz / 24 Bit DAC, and a precision tuned digital crossover. The speakers will provide a really clean sound, and that's just the beginning, as those are made for wireless connectivity, and music lovers can stream music via Wifi, Airplay 2, Chromecast, and Bluetooth.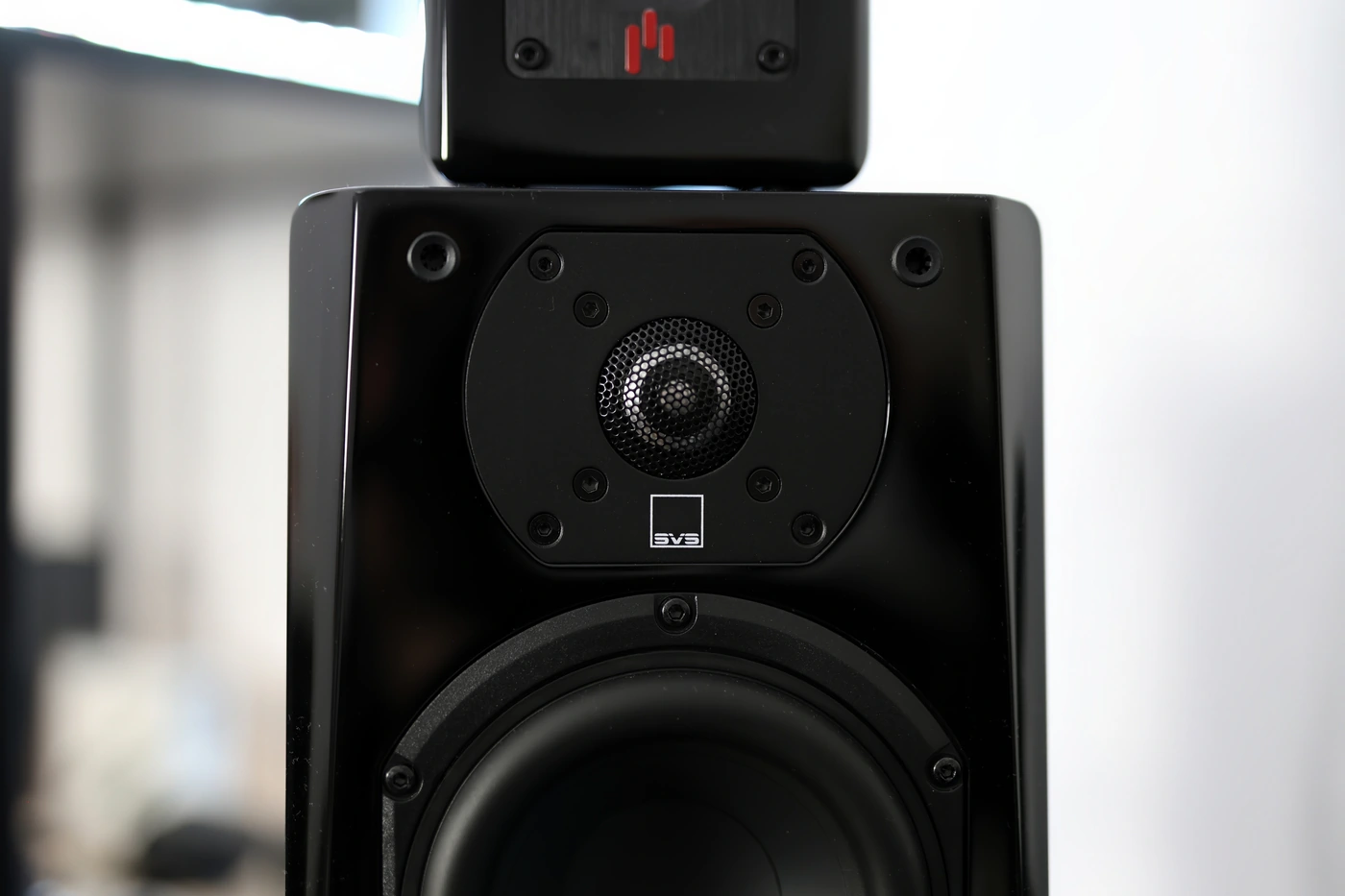 If you're into AV more than Audiophilia, those will still be perfect for you, as they come with HDMI for TVs, including HMCI ARC and eARC. There's a line in, optical input, 3.5mm aux input, and even ethernet inputs. As we're talking about SVS and their main course is bass, we have a subwoofer output, to get a much fuller and deeper sub-low end output. There's a smartphone and a desktop app, they come with a remote, and they can use voice commands, plus you can configure everything from the display at the front as well.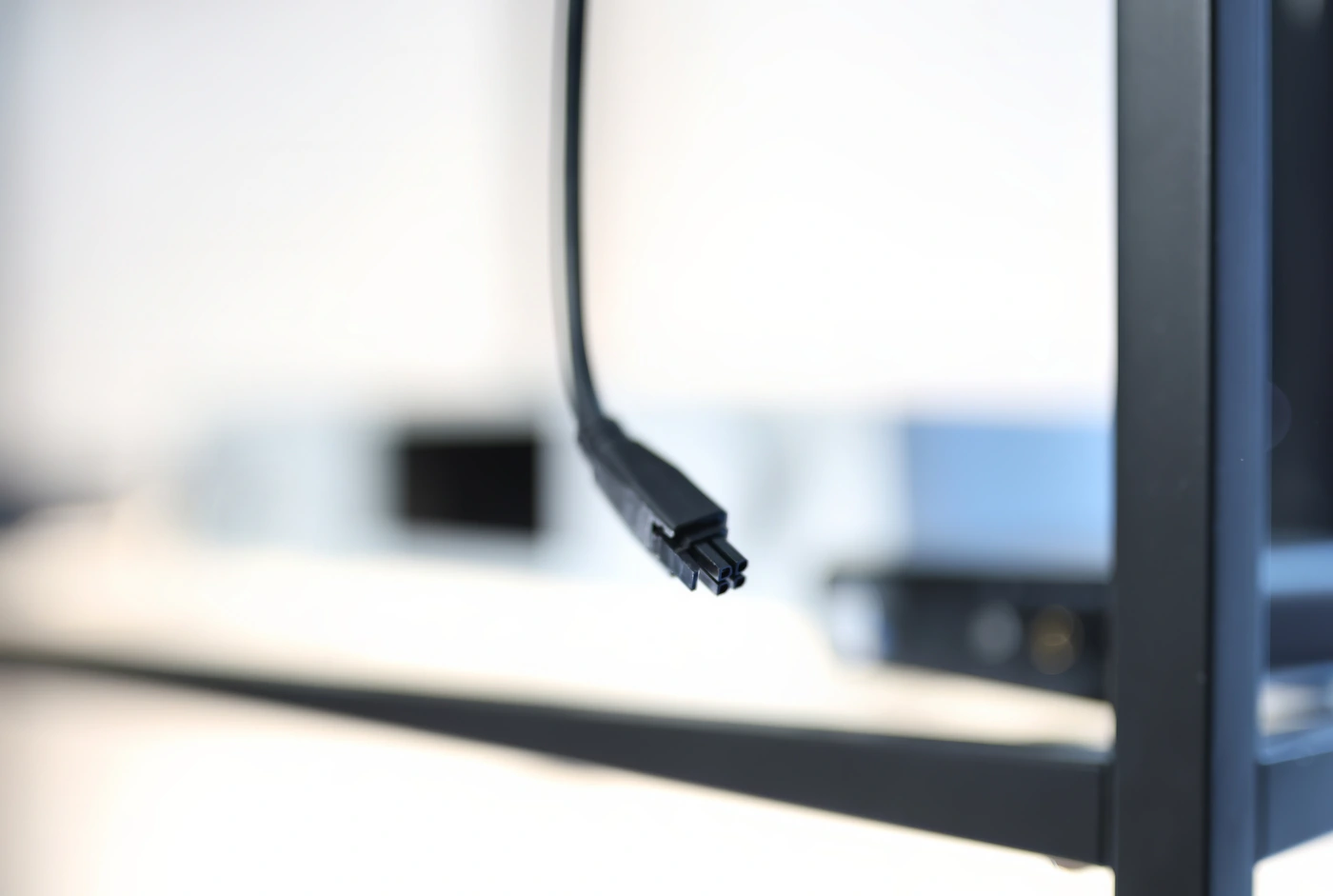 Usually, when we see Wireless, we shy away from a product, as it typically means limited in resolution or less than perfect, but SVS Prime Wireless Pro can play high resolution files with dts over Wifi, so you won't lose any micro detail from your music by using them. Something that both audiophiles and movie enthusiasts need to keep in mind is that for a truly immersive experience, a 2-Channel setup is generally the best, and soundbars won't do justice for your movies the same way Prime Wireless Pro does. 
When the company promised that they can deliver an experience that far exceeds the cabinet size, I was doubtful, but SVS Prime Wireless Pro actually sounds as big, as wide and as holographic as KLH Model Five when that one's properly amplified, those aren't just some speakers pretending to play, those are a proper stereo setup. The sound is provided by an acoustically optimized 1″ Aluminium tweeter driver, which has an FEA-optimized diffuser for a broad dispersion, resulting in a wide and convincing soundstage. 
The midwoofer is a high-output 5.25″ mid-bass driver, capable of producing real slam and impact. You may have noticed a number of smaller buttons beneath the right speaker, and those are there for offering 6 presets, so you can have your settings quickly accessible, such as podcasts, playlists, streaming stations and more.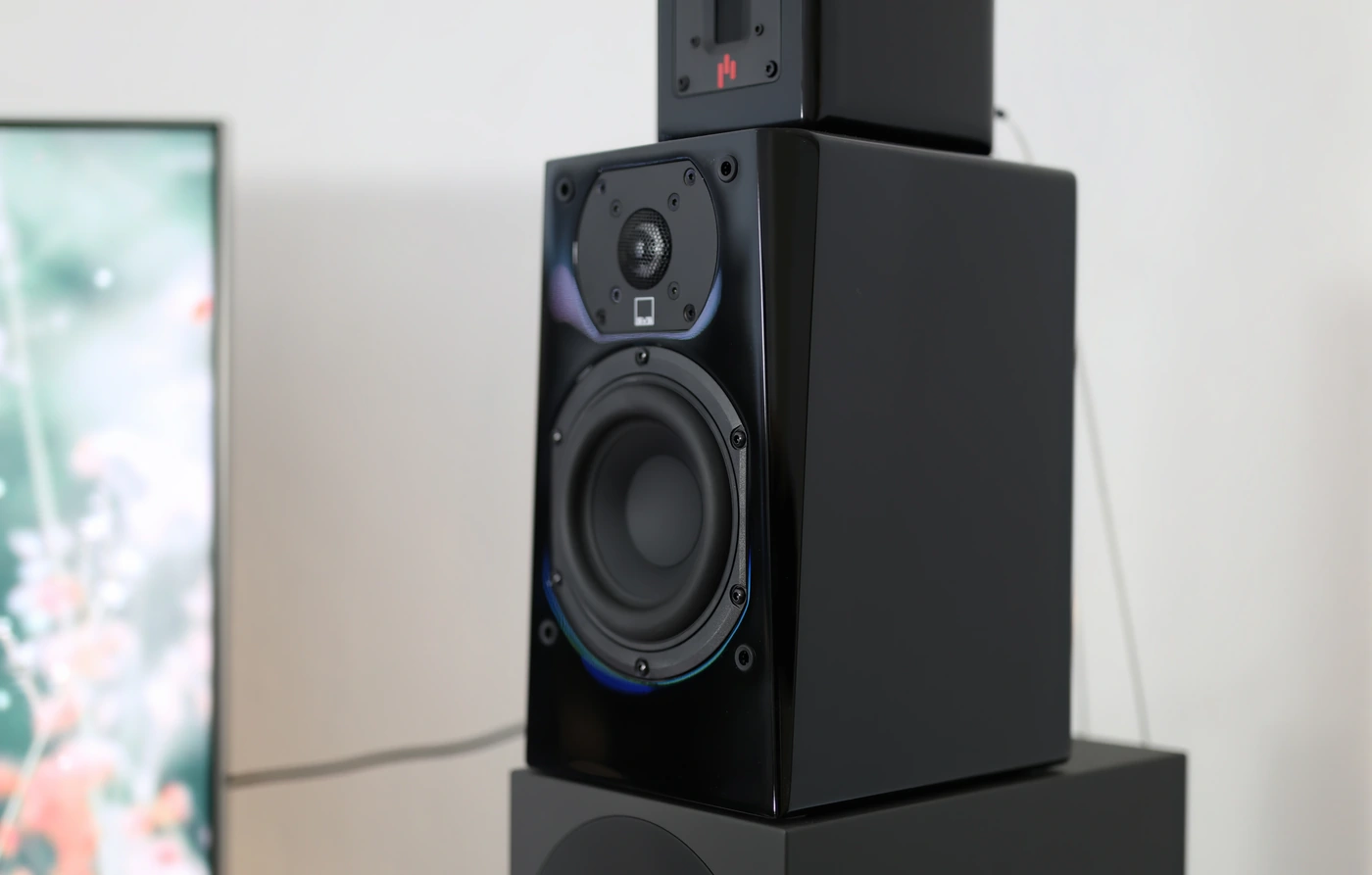 In my setup, I actually noticed that I needed to have the speakers reversed, as my power outlet and the DAC are on the left side, but it works ok if you reverse the RCA Line in cables as well. The power cord is quite short, but it is easily replaceable. What is harder to replace is the cable between the speakers, which is short for my room and needs, and had me rearrange the speakers. There are longer interconnect cables available, and easily replaceable, in 15 feet and 20 feet, which is about 4.5 meters and 6 meters.The original has around 3 meters, which, depending on your TV and room setup might not be enough.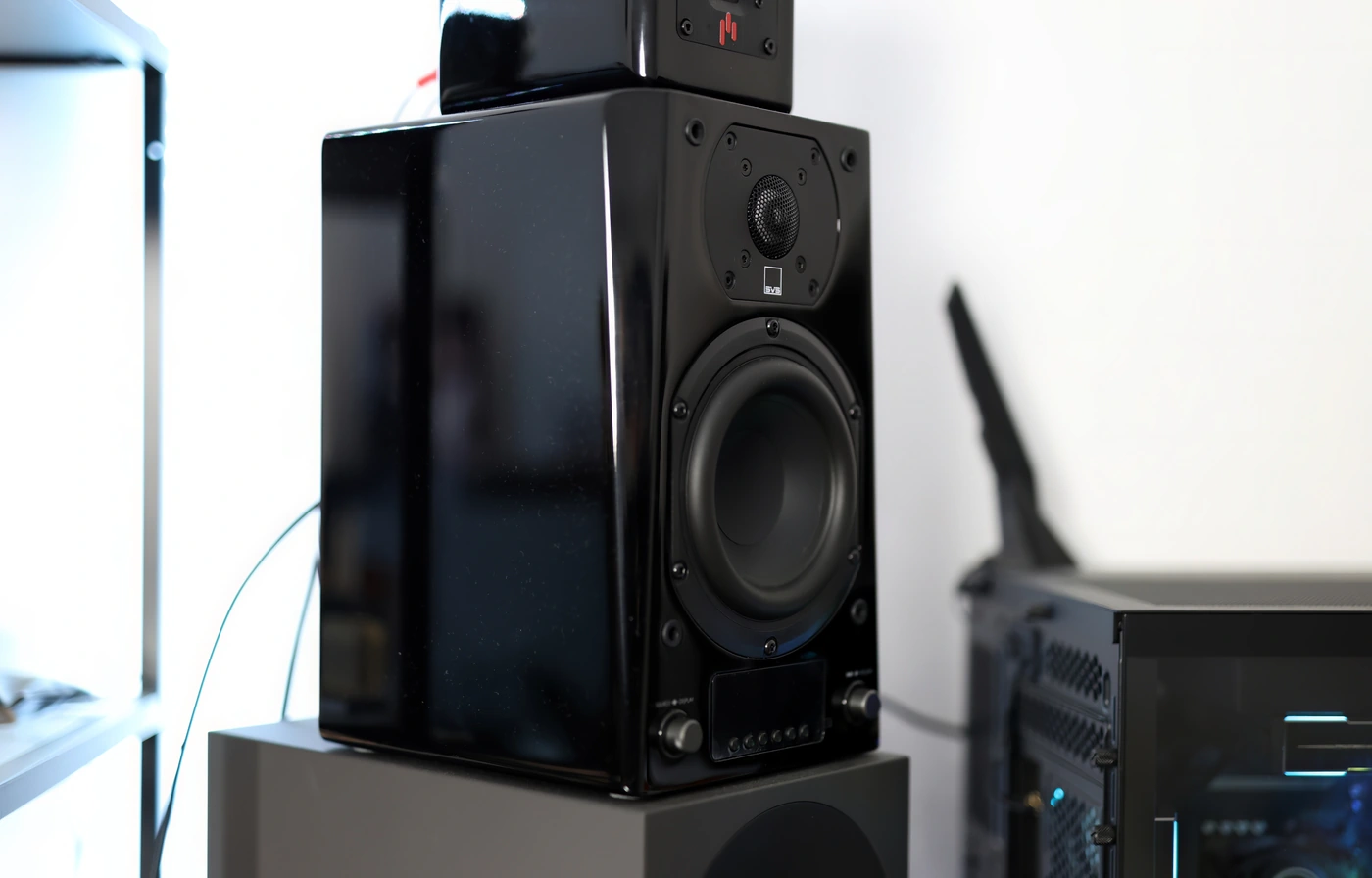 The streaming app used to connect the speakers to any other service is the DTS Play-Fi, which is the same app used by Polk, and McIntosh. It is a pretty spartan app, it works okay in my experience, or at least SVS optimized their framework for those speakers, everything works pretty nicely. The services that can be used for streaming include Spotify, Pandora, iHeartRadio, Napster, Tidal, SiriusXM, InternetRadio, Amazon Music, and Qobuz. You can also add everything that is on your smartphone if you consider the Bluetooth route, although this Wifi or Ethernet streaming with the DTS Play-Fi App is lossless. You can even update the firmware via the DTS Play Fi app, and everything works very well. 
The streaming app is actually quite practical, it simply works. It has excellent support, it is smooth, and I can even play music from my smartphone. I am surprised by how easy it is to set everything up and how nice those speakers can sound from a wireless source. I am willing to say that in fact, over wifi, or ethernet, they sound better than from the line in, the resolution is a bit better, the sound is cleaner, and more crisp. 
It is ideal to engage the Critical Listening mode to get the best sonic performance. The only thing that I could see as an inconvenient is that the volume bar is at the bottom and I often touch it by mistake, but SVS does not make the DTS Play app, and I would have to address them to get this fixed.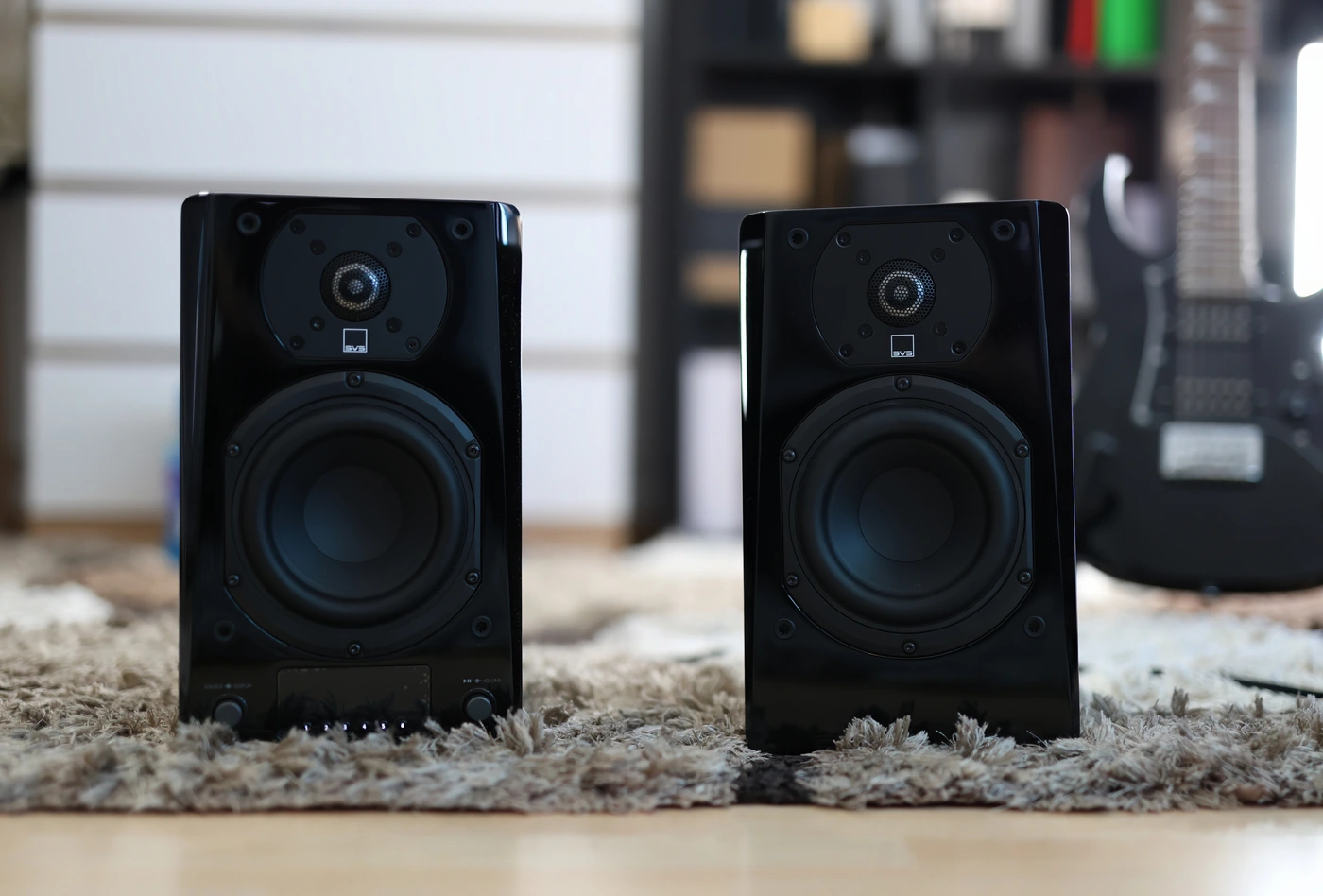 The subwoofer output actually changes the sound quite a bit. The thing here is that it activates a low pass filter at 80 Hz if a subwoofer is detected, which tends to change the sound and will rely a lot on the subwoofer for producing the low-end part of the sound. In the package you will find a power cord, and everything you may need to fully use the speakers. The active speaker doesn't grow warm or hot during usage, and all in all, the setup is clean, tidy and works well.  
Sound Quality
First off, you can really use this speaker for anything. They have so many usage scenarios that it is hard to say you will ever grow tired of them, they can play well with basically anything, including using them with a PC via the optical input, PC via an external DAC, TV via HDMI ARC and eARC, Streaming with both Ethernet and Wifi. I have tested all of the ways you can use those speakers, and I was surprised by the fact that they sound very similar across all inputs, everything is really rich, crisp and super detailed, but the best sounding input is the Line Input, if you have a high-quality DAC. For today's review I've used the HIFIMAN EF400, HIFIMAN EF600, Aune S9C, and FiiO K9 PRO DACs to power the SVS Prime Wireless PRO. I have also used them with the Bluetooth input, and the Wireless Streaming services.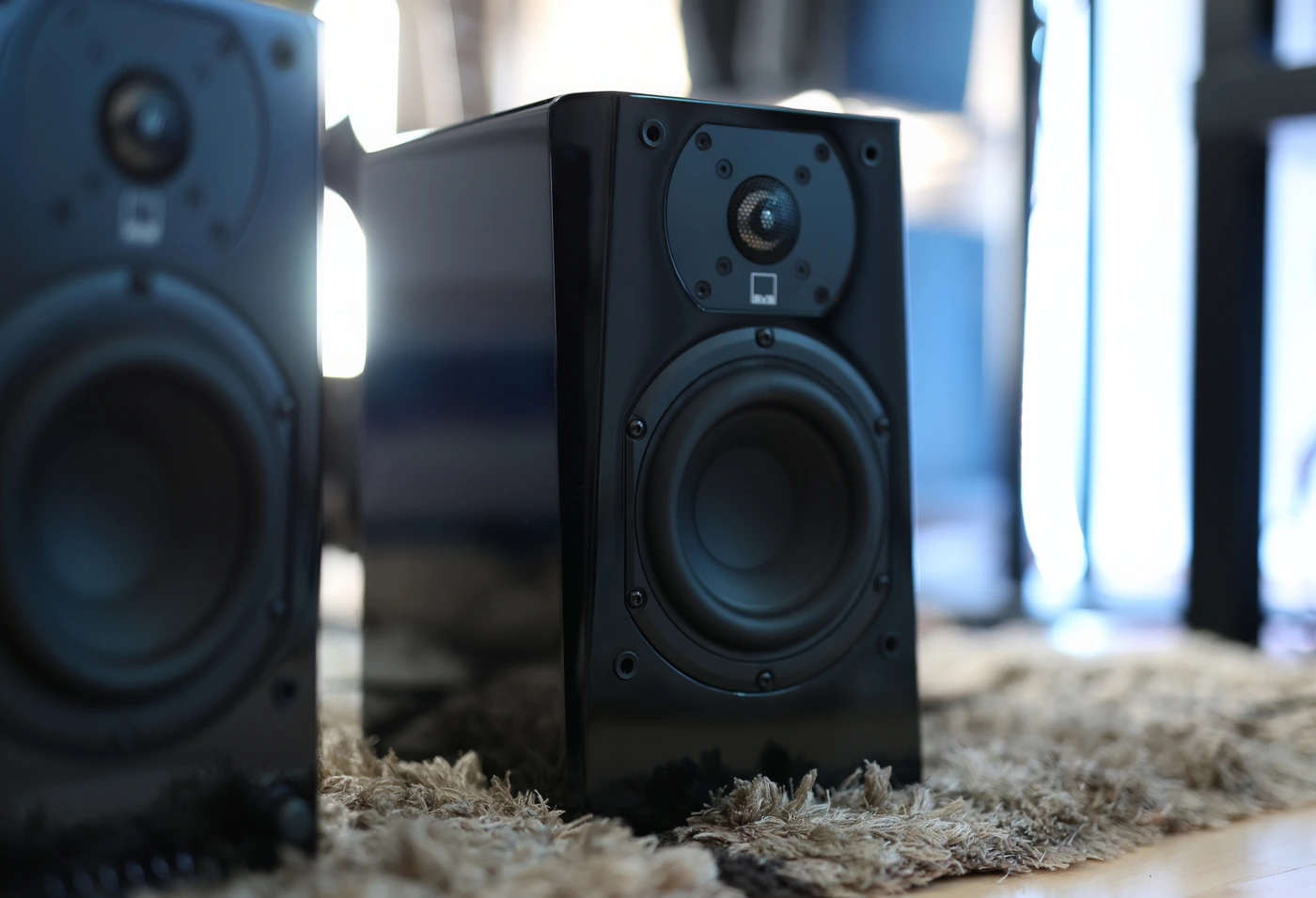 Sonically, especially if you're coming from entry-level speakers, you would generally assume that speakers which are ported, or which have a hole at the back or at the front, would theoretically sound worse than those with a sealed design, but SVS proves this theory to be wrong, and that port actually helps a lot with the weight, substance and fullness of the sound. Even better, those are speakers that have outstanding dispersion and it really doesn't matter where you place them. Since the tweeters are rounded in shape, and placed somewhat outside of the speaker cabinet, you end up with a sound that spreads widely and evenly across the room. The radiance cone, how much you can be offset from the center of the speaker's firing direction, is rather wide, between 75 and 110 degrees, and you'll still be getting a really crisp, sharp and clean sound. Speaking of sound, the sonic signature of those speakers is something else entirely. They sound sweet, both male and female voices sound sweet, and there is such a rich presentation of the midrange that they leave you blown away by their signature entirely. The sound without a subwoofer rolls off below about 60 Hz, which is not very high, but that is a limitation of the speaker size, and I would rather have the sweetest, most pleasing midrange, and a crisp, sharp treble and add a subwoofer for the low end, especially as SVS is one of the best makers for subs in the entire world.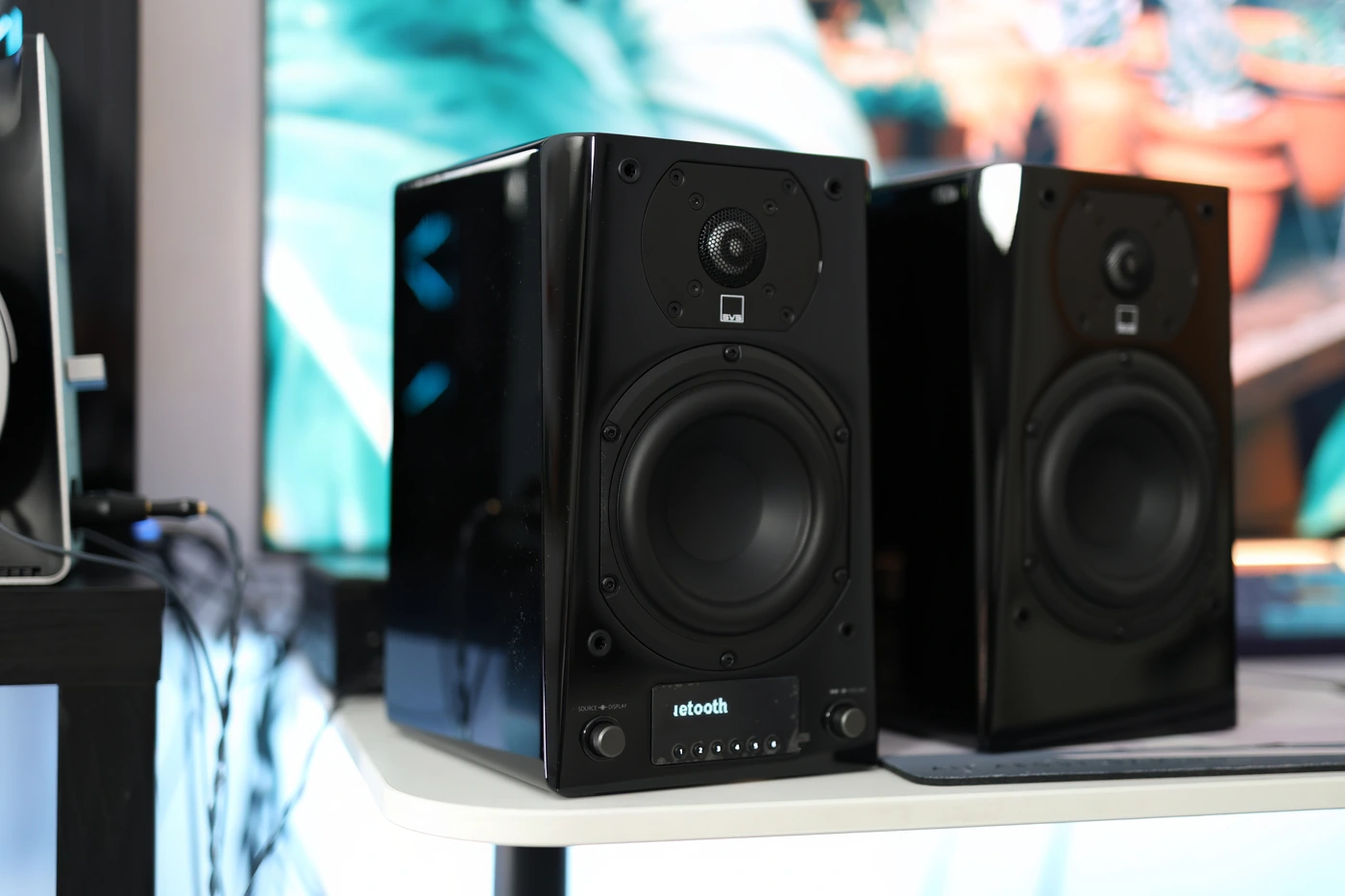 Starting with the low end, SVS made sure that there is a good amount of substance, body to music, and SVS Prime Wireless PRO hits you right in the chest, with an impactful sound, but most of the impact is above 65 Hz, which means that if you want low end, you will need one of the delicious sounding SVS Subwoofers. The speakers themselves are solid, stable, they have a controlled sound and zero distortion, even if you bring them to the maximum volume, so they are more than capable of holding a mini party, but the low end presence needs a bit of extra oomph from a bigger driver. All instruments have body and substance, and the mid woofer is fluid in sound, with a non-fatiguing texture, clean and detailed transients, and with a super pleasing signature. There's a linear presentation of the bass, so you will not notice any extra or overbearing information, and the bass goes for a lush, bountiful signature.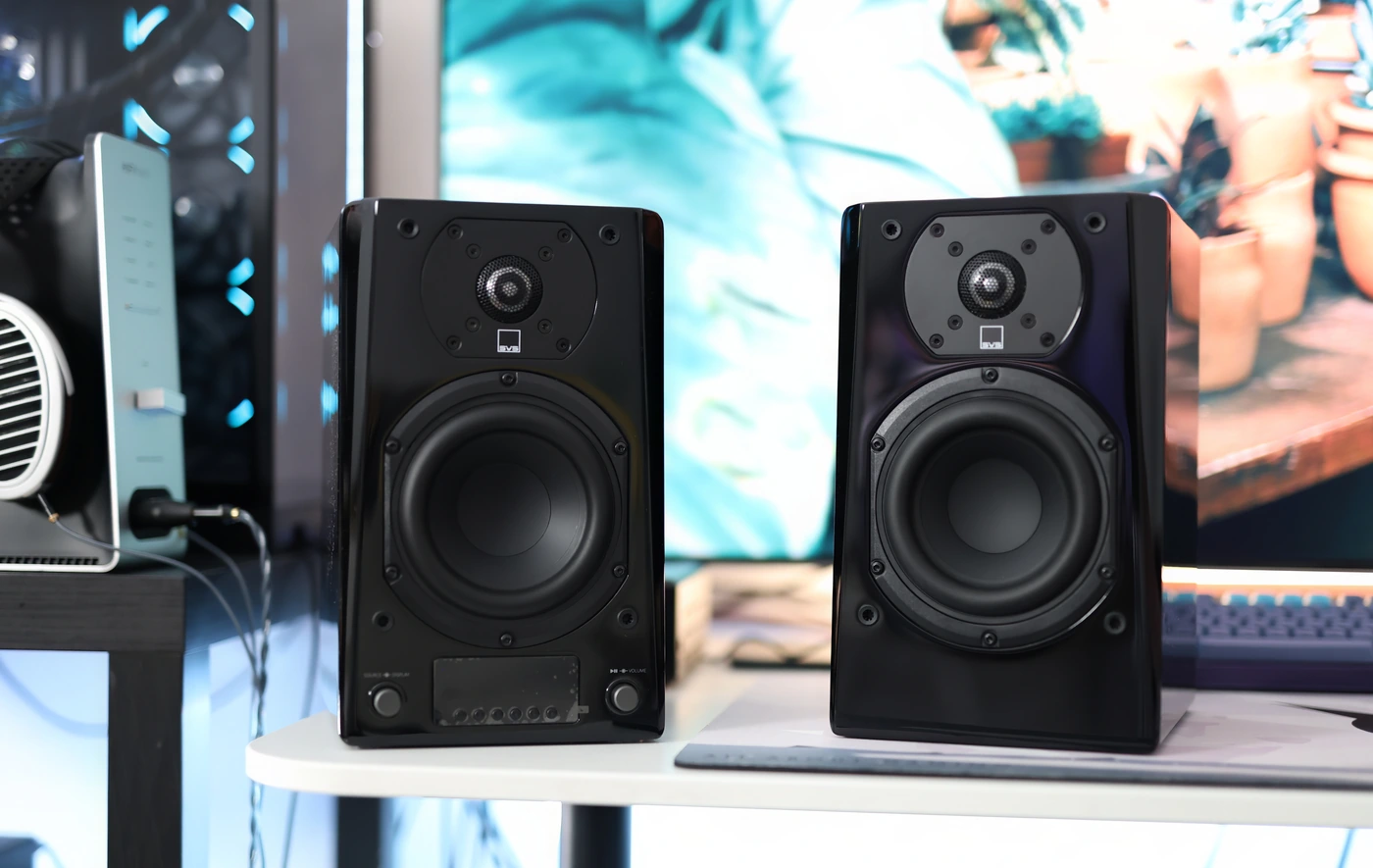 The midrange is quite linear in the presentation, edging on being forward, with textures shining through with excellent richness and a really pleasant timbre. If there was a pair of speakers that ever truly sounded rich, this is it, and they make KLH Model Five sound textureless, too liquid and loose, and they close really similar to my favorite midrange, the Aurender S5W, a pair of wireless speakers that really had a perfect midrange. It is quite sad that I couldn't enjoy the S5W more back then and now either, as they also don't have a lot of bass, but it is next to impossible to actually connect a subwoofer to them. It makes me appreciate the subwoofer integration on SVS Prime Wireless PRO even more, and the thing with those ones is that everything just works, you don't have to worry about the integration, DAC, or anything else. In fact, with how well streaming works, and how you can have those connected even to a SUB without a DAC, the whole user experience is 10 stars. The midrange changes a bit when you have a subwoofer connected, it becomes even more precise, more snappy and more detailed, as it allows the subwoofer to take care of the low end, and the mids are even better. Both male and female voices sound beautiful, male voices have a mid centric sound that gives them a really forward, clean presentation, while female voices always sound sweet, playful and rich. There is richness in everything, all textures are organic and pleasing, coherent and super well tied together. While with most speakers you worry about how well things will combine together, with SVS Prime Wireless PRO, music makes sense, instruments are separated, but not too distant, they combine well together, without being mashed together.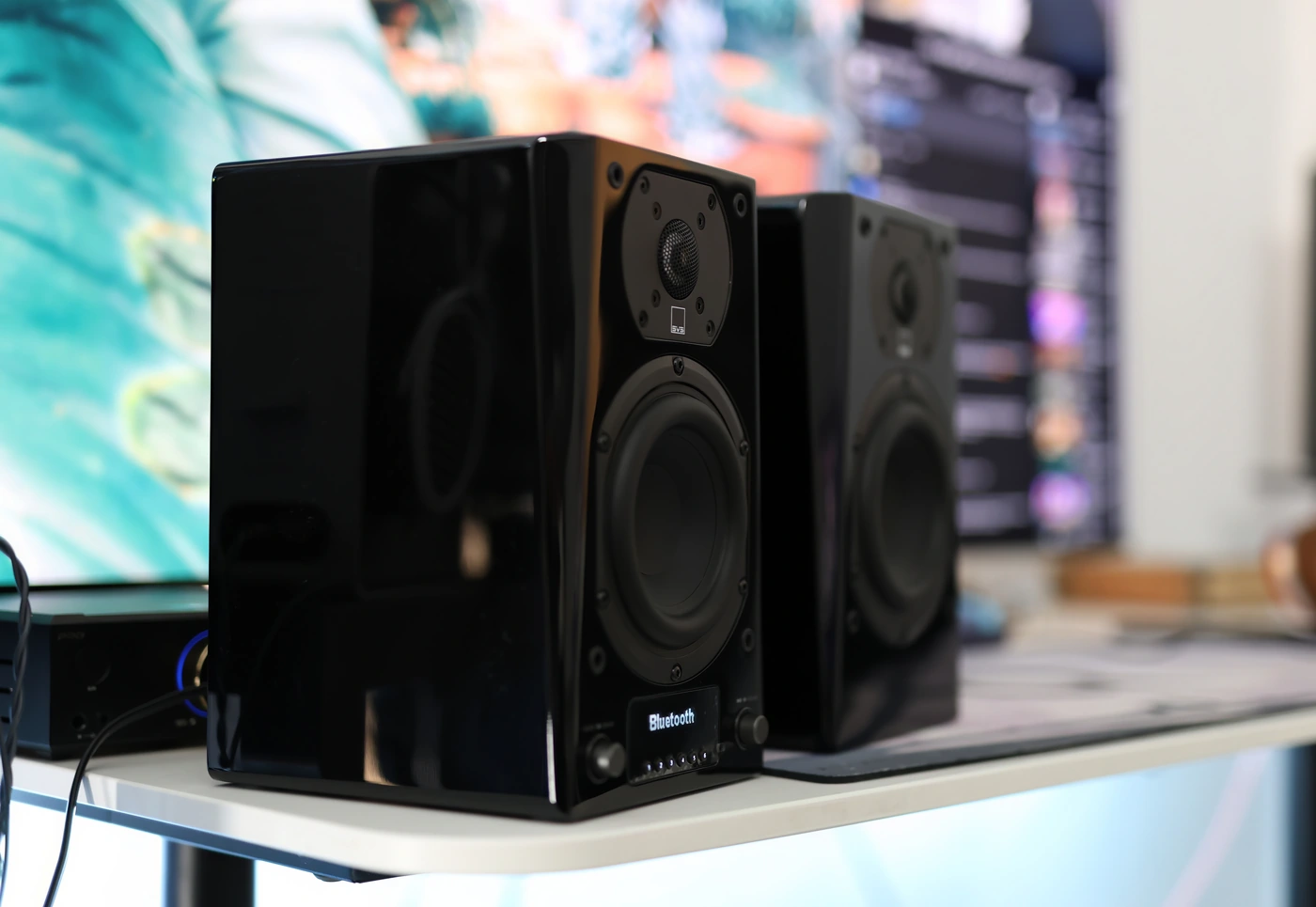 What I'm trying to say is that you can actually hear and understand what each sound is, background snares sound like background snares instead of bags of coins hitting a wall, guitars sound like guitars, and not like a castor is eating a guitar, it feels like this level of coherency should be mandatory for a pair of speakers, and SVS finally delivers on it. Every single lyric makes sense, and they have the kind of resolution and clarity that HIFIMAN Arya Organic and HE1000 V2 Stealth have. I can finally watch movies without needed subtitles, the voices don't sound muffled anymore. And even though the mids are somewhat forward, they are well controlled, with no distortion, and especially no harshness. They are not particularly smooth, just rich, natural, smooth but not losing the texture and resolution in that smoothness. I tend to usually be more cohesive when I am describing sound, but that's because sound tends to be far more colored and not provide such a pleasing presentation most of time. 
The treble is what I would consider the cherry on top, it is bright, airy, and well extended up to the highest octaves. If you ever thought that SVS would make a rolled-off speaker because they mainly make subwoofers, you'd be totally wrong, they made a really clean, airy, detailed and crisp treble for the SVS Prime Wireless PRO, the kind that adds energy and punch to hi-hats, snare hits and cymbal crashes. Most instruments tend to have harmonics in the higher registers, and SVS Prime Wireless PRO is fully capable of rendering those in full width, without getting metallic, and harsh. Even bands like Infant Annihilator or Crossfaith in their Artificial Theory For The Dramatic Beauty, you can enjoy every single track without the treble cutting your ears wide open, yet, you hear that those bands had bright mastering and mixing there. When we switch to Dance Gavin Dance, regardless of the album, the things you notice are: how clean each song sounds like, how sweet every guitar note is, how clear the voice is, both the screams and the clean parts, and how pleasing / enjoyable listening to music feels through those speakers. While any speaker regardless of the cost can play back the voice of an artist, it takes good, controlled speakers to reproduce inflections and nuance in each song well, and SVS Prime wireless PRO does just that. This is one speaker that allows you to hear mixing and mastering in each song too, so they have a signature, that is wide, open, holographic and fun, but also allows bright recordings to be bright, wide recordings to sound wide, and narrow / intimate recordings to sound intimate and narrow. For example, Electric Callboy sounds wide and holographic in all their albums, while Hawthorne Heights sounds quite narrow and intimate in all their albums, yet both have sweet sounding guitars and clean voices.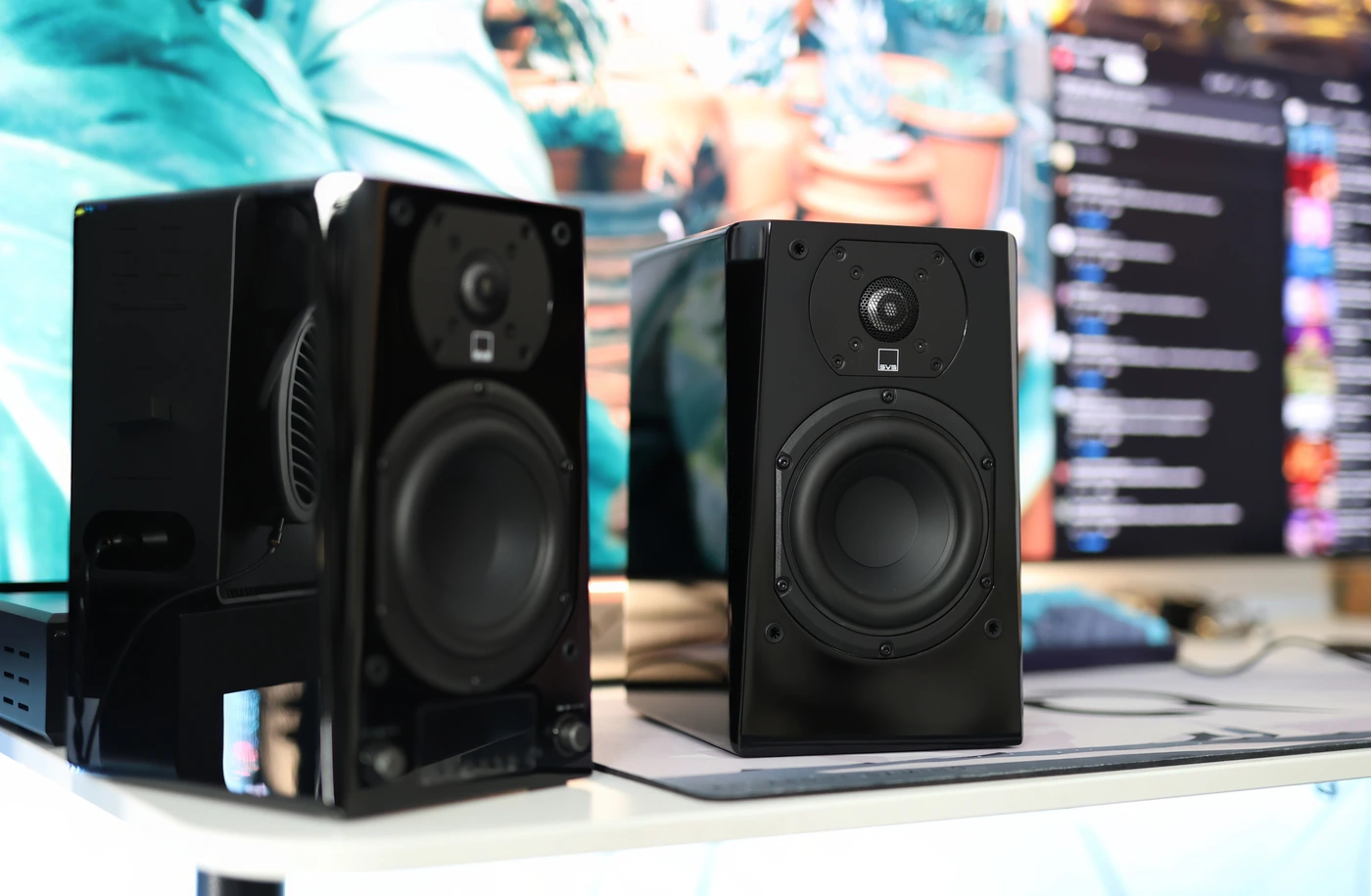 I actually need even more paragraphs to describe how good the overall instrument separation and soundstage width is. Since the bass is limited in extension, the sound is not particularly deep, but the tweeters of SVS Prime Wireless PRO aid in the width and height of the sound, creating a really holographic feeling, and good lateral separation / imaging. The more impressive and dramatic the music is, the more dramatic the soundstage becomes. Jazz and jazz fusion bands are incredible, they sound super contrasty and dramatic, for example Just Like Vinyl is out of this world played on SVS Prime Wireless PRO. The dynamic range is full, you can get extremely quiet sounds played next to loud passages, without them drowning each other, the speakers have the ability to allow for the full width of dynamics that bands like La Dispute require to sound live and real. This is the only speaker I heard besides Aurender S5W that can make One Morning Left sound truly enjoyable, sweet and pleasing, but those have far better bass, better impact, and the sound is much less harsh, more cohesive, as S5W can be incredibly metallic and harsh when placed side by side with Prime wireless PRO. In fact, the voicing is so clear that you can hear and understand the lyrics of Carach Angren and other extreme metal bands with extreme amounts of distortion, SVS Prime Wireless PROP is just able to play those clearly and cleanly for you to understand everything. 
Comparisons 
For each comparison, I've been using a combination of amplifiers and DACs, including HIFIMAN EF600, Aune S9c PRO, and FiiO K9 PRO ESS for the DACs, and SMSL AO300, Keces S300+ and SMSL DO200 MKII for the amplifiers for all the passive speakers. To drive the SVS Prime Wireless PRO, I've been using either HIFIMAN EF600 from the line in port, or wireless streaming from the DTS Play Fi app. Generally, SVS Prime Wireless PRO actually sounds a bit cleaner and more controlled from the wireless streaming app, but it makes testing more complicated, since there's a few seconds between each song. 
SVS Prime Wireless PRO vs Buchardt S400 (899 USD vs 1800 USD) – And here comes the first, S400 is a great bookshelf speaker with a strong treble, strong bass, and despite its bookshelf size, you could get away with using just them and no external subwoofer. This being said, they cost 1000 USD more than SVS Prime Wireless PRO, and that's without including the amplifier, and they do need one and a DAC. The sound is quite different, S400 has good dispersion, they create a really pleasing soundstage, a natural sound, with a rich upper bass and bass, and rich lower midrange, plus an airy, sharp treble that's detailed, yet somewhat soft where it really matters. By comparison, SVS Prime Wireless PRO sounds detailed, clean, wide, holographic, shallower, with less bass, but richer in the midrange, sweeter for male and female voices, cleaner in the midrange, being able to render important aspects of sound better, voices, richness in the midrange, and textures of guitars, pianos, violins, everything is more cohesive. S400 has a bit of a dip in the midrange presence, which likely is given by the crossover point between the mid woofer and the tweeter, and SVS Prime Wireless PRO seems to not have any kind of holes in its sound around that range, so it ends up sounding more natural and cleaner overall. Both are excellent speakers, there's some extra technical ability in S400, but where it matters, which is the mids, SVS Prime Wireless PRO delivers unmatched performance, and it does that in the price performance ratio and versatility too. 
SVS Prime Wireless PRO vs KLH Model Five (899 USD vs 2499 USD) – KLh Model Five is a pair of speakers that I love to bits, and a nice crossover between a floorstanding speaker and a bookshelf, but you will likely be surprised to hear that I actually don't like their sound more than I do the SVS Prime Wireless PRO. The main reason behind this is that the midrange of SVS Prime Wireless PRO is more cohesive, it is smoother, yet richer, more detailed, more dynamic. The trick is that Model Five comes alive at really loud volumes, while you can get excellent sonics from SVS Wireless PRO even at really quiet volumes, making it a more versatile setup. Some folks may be enough with Model Five without a subwoofer, but for my taste, I feel I need a subwoofer with both Model Five and SVS Prime Wireless PRO, the treble of Svs Prime Wireless PRO is airier, cleaner and smoother in texture, basically more refined and mature. You would have a hard time saying either is bad, but SVS Prime Wireless PRO matches so well with rock, metal, Jazz, and Pop that I have to give it a thumbs up, plus most of the time I can't listen loud enough to justify the presence Model Five which comes alive above 70 dB, while SVS Prime Wireless PRO will be great even at volumes quieter than my keyboard typing noise. The setup with SVS is cheaper overall, it does not need a DAC, or an amp, but it will need a subwoofer, which can run as much as the speakers if you want a really good sub, but that would still be true for Model Five too, so after a certain point you're likely to need a sub regardless what setup you have.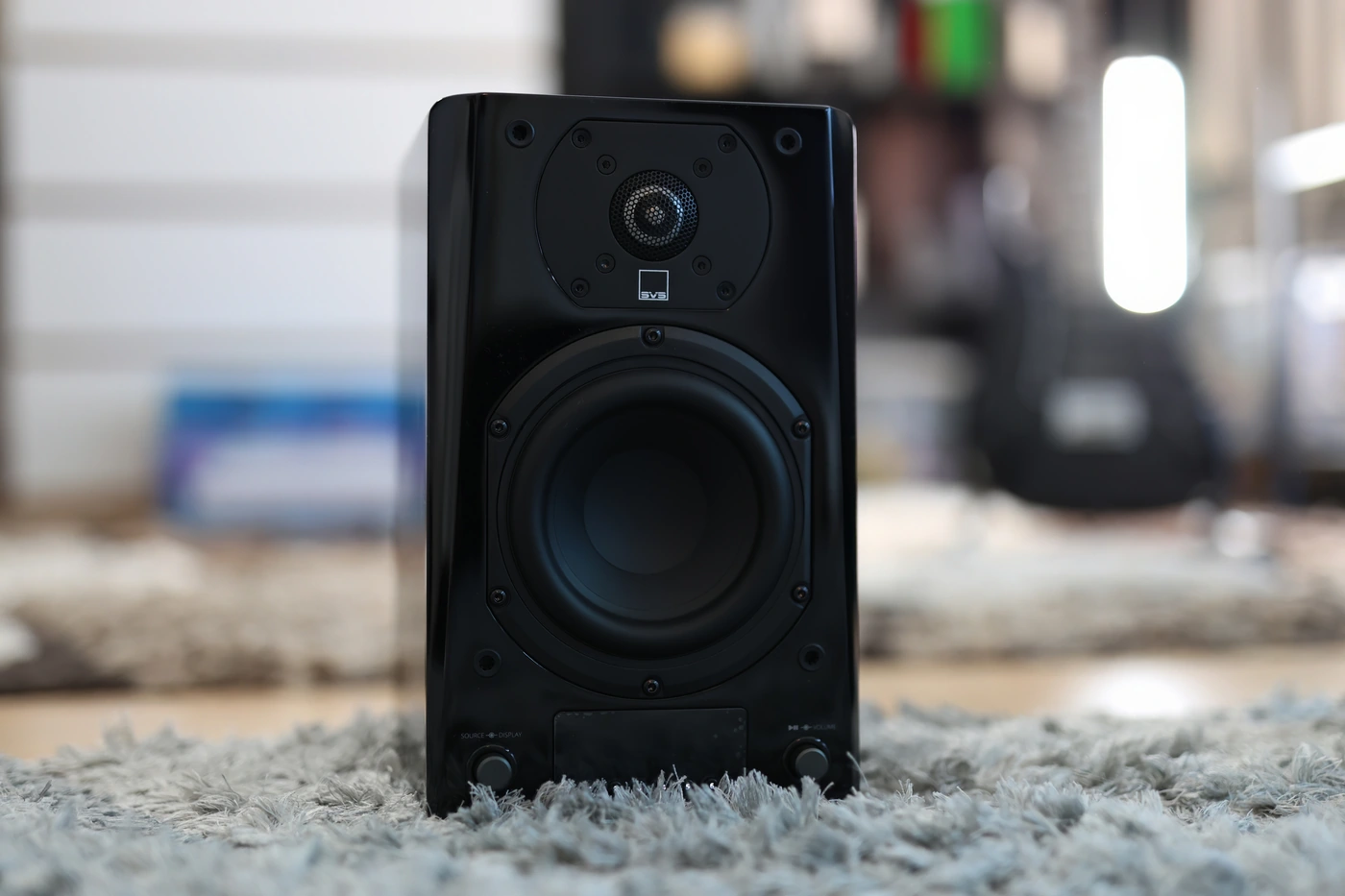 SVS Prime Wireless PRO vs Rubyoung R830 (899 USD vs 749 USD) – Starting with the build and design, R830 is a single speaker, it has stereo speakers, but it is not a stereo thing, because you'd need two to play the channels, at some distance. This being said, R830 is not a streaming speaker, it is either bluetooth or line in design, and it still needs a power outlet, so it is not a portable Bluetooth speaker. Naturally, this would mean that you'd need two R830 to get a stereo sound, and that would make it a pricier setup compared to SVS Prime Wireless PRO. The sound of R830 is deeper, it reaches low-end notes considerably easier, it has more punchy and more impact, but at the same time SVS Prime Wireless PRO is more cohesive, smoother in textures, yet richer sounding at the same time, more organic. Guitar solos are sweeter as presented by SVS Prime Wireless PRO, male voices are more powerful, female voices sweeter and cleaner, and the soundstage is far larger, wide, deeper and more holographic. I would grab the R830 for its design, and if you wanted more punch, and to avoid getting a subwoofer, there's no way to do that with it, but if you're not a hardcore Bluetooth fan, SVS Prime Wireless PRO is cheaper, you get two speakers, streaming, and a dedicated subwoofer out, basically you get a much better setup for less money. 
SVS Prime Wireless PRO vs NHT C3 (899 USD vs 1250 USD) – I love the C3, it is a larger speaker, also in piano black finish, but it is a bit scratched now, as I really didn't know how to really keep them clean. This being said, they still work really well, and they sound good, but the sound of SVS Prime Wireless PRO is cleaner, more cohesive, and snappier, with a brighter, airier treble that has better high-end extension, and more detail. NHT C3 can play low-end notes better, and you can almost get away without a subwoofer for them, but since for them I would also recommend a subwoofer, SVS Prime Wireless PRO is a somewhat better detail, they already have the amplifier part, they already have all the bells and whistles needed for hassle-free streaming, and they already have a subwoofer output, it is much easier to set up the SVS Prime Wireless PRO, and the setup costs less, so they get a thumbs up for a more detailed, brighter sound. C3 is better if you want a smoother sound, with less texture, a more laid back presentation, and a dedicated midrange driver that will push the midrange slightly more forward.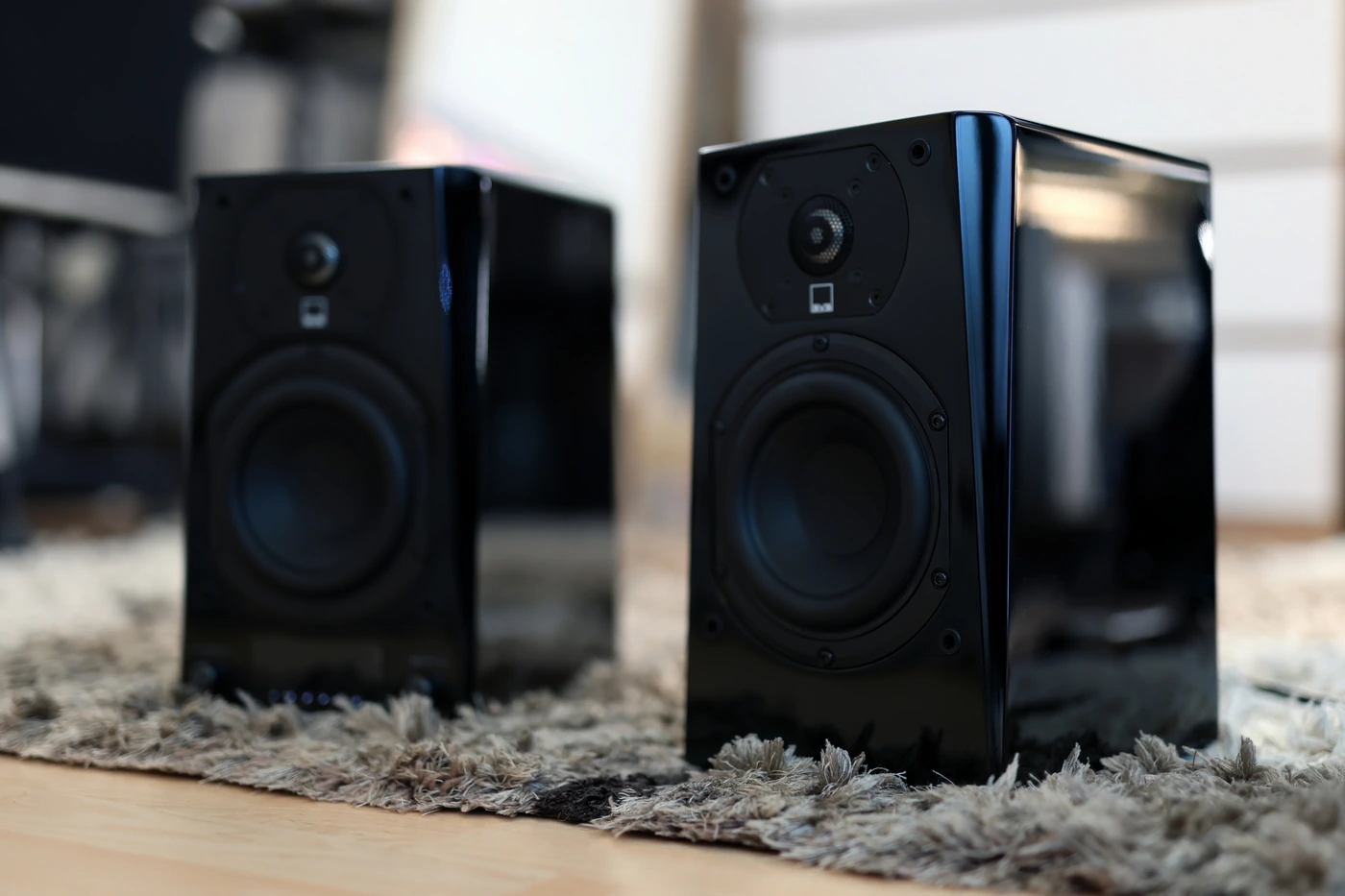 SVS Prime Wireless PRO vs Aurender S5W (899 USD vs 2999 USD) – Both of those are wireless speakers, although there is a huge difference in versatility, and while you can connect the SVS Prime Wireless PRO to a network and play music from your smartphone and streaming services, that is not possible with Aurender, and S5W needs you to play music from a typical source, smartphone or computer, using their stick that sends data. S5W can be battery powered, which is not possible for SVS Prime Wireless PRO, but to power S5W from a power outlet, you need two sockets, while you need just one for SVS Prime Wireless PRO. The maximum loudness with good clarity and control is much higher on SVS, which can go far louder, be far more controlled and sound cleaner. The overall signature of S5W is much brighter, edging on being metallic, harsh and exaggerated, and they roll off below about 60 Hz, which creates a somewhat hollow sound, with very little bass, while SVS Prime Wireless PRO sounds far more balanced, more cohesive, guitars sound sweeter, and they handle both male and female voices better. The technical detail of S5W is a bit higher, and they can create a somewhat louder soundstage, but it comes at the cost of S5W sounding potentially too bright, and too harsh, while SVS Prime Wireless PRO balances things much nicer, is more versatile, larger in size, but also can be a streaming endpoint, play music from multiple sources, and most important, has a subwoofer output, which it really needs. 
Value and Conclusion
The price performance coefficient is ultra high, those are speakers that can easily take on 2999 USD speakers and still come out winners, they can fill the room as well as floorstanding KLH Model Five can, and still be wireless, self powered, have a functional streaming app, and line in, it is a package that is next to impossible to beat, especially below 1000 USD. The only thing you need to keep in mind is that your setup will not be complete without a subwoofer, but guess who makes the best subs, SVS, so a full setup from them is in order to get the the full 20 Hz – 20 kHz frequency response we all desire.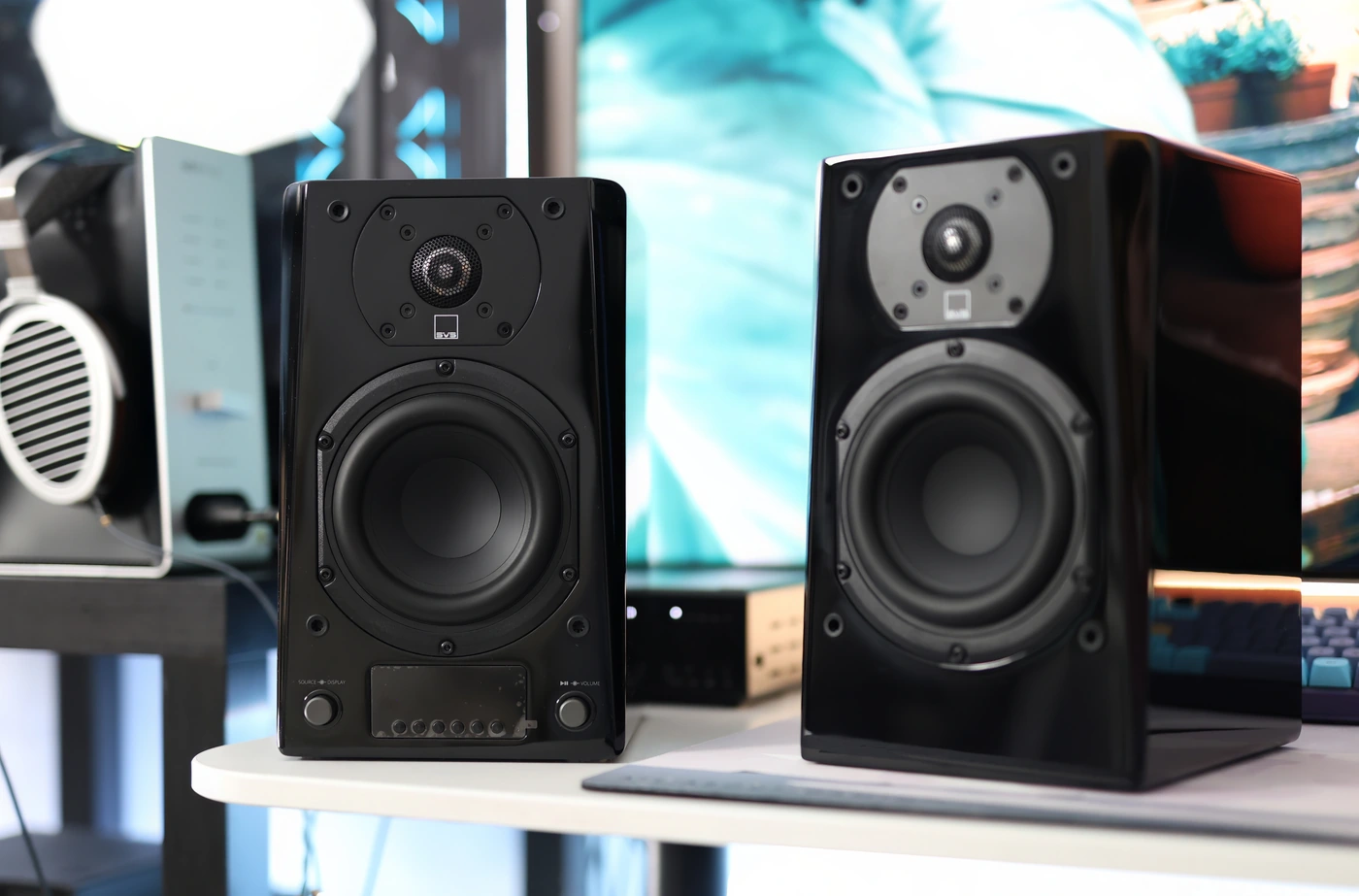 I was not prepared to do this, I did not expect to do this, but those speakers just make me do it, I have to add the SVS Prime Wireless PRO to the Audiophile-Heaven Hall Of Fame, with an award for the best sounding speaker of the year in order for them, those are simply incredible, and in 2023 I have not heard any pair that beats them, so let's have a round of applause for a performer that you'd look at and give a hard pass, but love when you hear.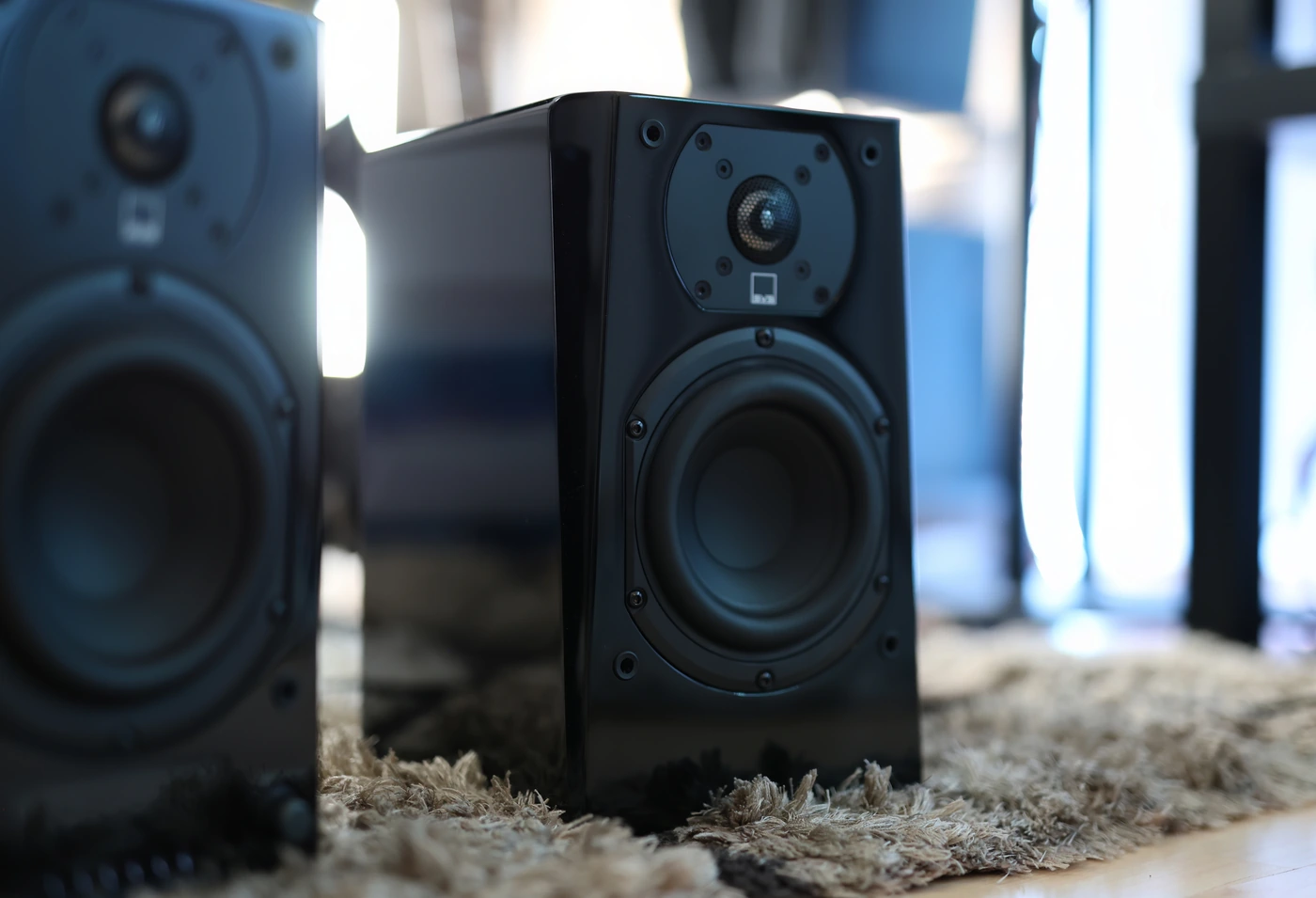 At the end of the day, I am having an incredible time listening to the SVS Prime Wireless PRO, this is a speaker I can love, I can enjoy and never leave, this is a pair of speakers made to be perfect, mids, treble, and even mid + upper bass. If you add a subwoofer from SVS, you'll have a setup that everyone will envy for both its looks, sonic performance, design, versatility and most of all, tuning and presentation. 
Product Link
You can grab one from www.amazon.com here: https://amzn.to/45Rnuwg
AVstore Link Romania – https://www.avstore.ro/boxe-amplificate/svs-prime-wireless-pro/
If you're in the UK, you can grab one from www.amazon.co.uk here: https://amzn.to/40oRNte
And if you're from Europe, you can grab one from www.amazon.de here: https://amzn.to/3QIYRgI
---
--- Please remember to stay safe, and always have fun while listening to music!---
 - If you have a dime to spare, please donate, and help us! It would make the day brighter for me and my wife- 
---
Full Playlist used for this review
We listened to more songs than those named in this playlist, but those are excellent for identifying a sonic signature.  I recommend trying most of the songs from this playlist, especially if you're searching for new music! The playlists are different for Spotify, Tidal and Youtube, and based on the songs I enjoy and are available on each!
https://www.youtube.com/playlist?list=PL_cjBXGmwSHSdGcwuc_bKbBDGHL4QvYBu
https://open.spotify.com/playlist/5J3oloz8Riy9LxEGenOjQ0?si=979ba4f082414be7
https://tidal.com/browse/playlist/330fd544-8e5b-4839-bd35-676b2edbb3d5
--- Contact Us ---





---