Arylic A50+ HIFI Streamer Amplifier – Chugg Stereo Power
Arylic A50+ is a 200 USD Streaming Amplifier for Stereo Speakers, with a super powerful 50W x 2 Class D configuration, a sturdy and ergonomic body, and Bluetooth inputs. It will be compared to other Stereo amplifiers around the price point, including AIYIMA D03 (160 USD), Soundavo NSA-250 (300 USD), Arylic A50 (220 USD) and SMSL AO200 (280 USD).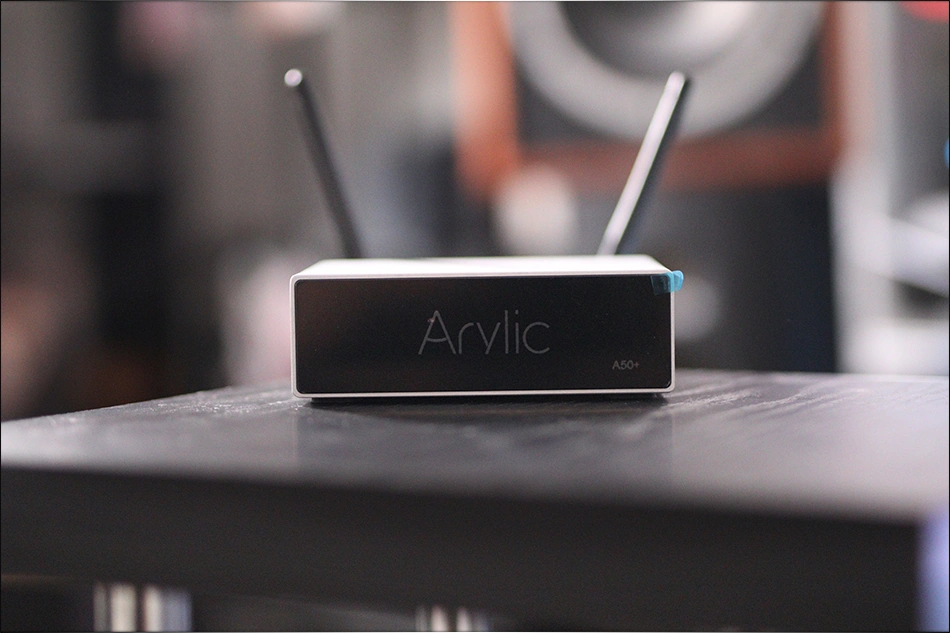 Introduction
Arylic is a well-known company from China producing streamers, and a series of super successful entry-level amplifiers that everyone appreciates for the superb driving power, but good sonic quality. They are sold through their own website, and Amazon worldwide. Amazon will offer you the best overall warranty, support and shipping times.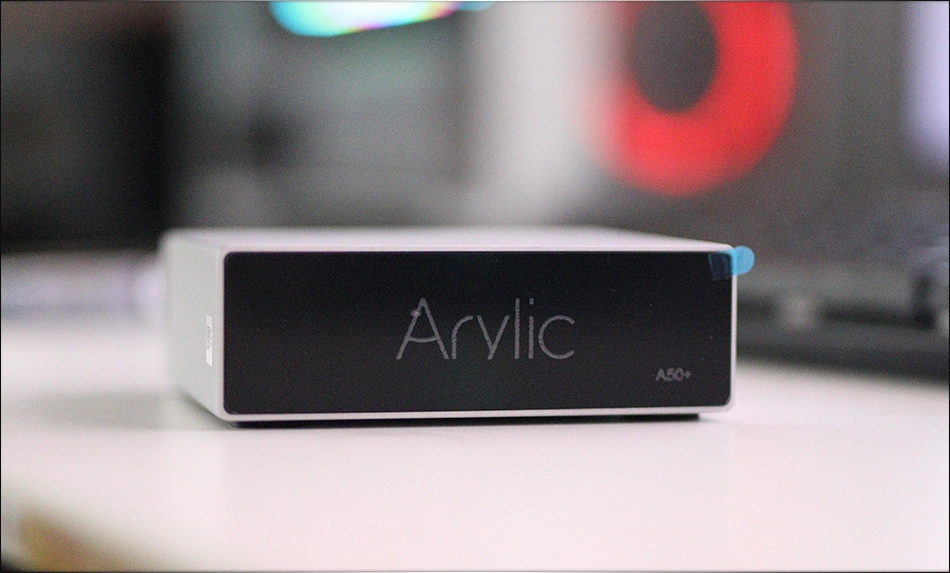 It should be noted that I have absolutely no affiliation with Arylic. I'd like to thank Arylic for providing the sample for this review. This review reflects my personal experience with Arylic A50+. Every opinion expressed is mine and I stand by it. The purpose of this review is to help those interested in Arylic A50+ find their next music companion. 
Product Link
You can grab one from www.amazon.com here: https://amzn.to/3NlIFik
If you're in the UK, you can grab one from www.amazon.co.uk here: https://amzn.to/3DuYI9c
And if you're from Europe, you can grab one from www.amazon.de here: https://amzn.to/3zx5Yjr
Build Quality/Aesthetics/Features
If this is your first time checking out an Arylic product, A50+ is a hifi streaming amplifier, basically designed to power a pair of passive bookshelf speakers, and to receive its signal from a streaming source. You wouldn't be able to tell this looking at its size and design, but it has quite a bit of power and it runs in the efficient Class D, having 50W x 2 at 4 OHMs for the driving power, and 30W x 2 at 8 OHMs. I have reviewed the A50 in the past, and liked it a lot, the new A50+ coming with some considerable improvements compared to the previous variant. 
We see support for basically all the streaming apps available out there, including Spotify, Tidal, Amazon Music, Napster, Deezer, tune in, iHeartRadio, XIMALAYA, QQ Music, QQFM. There's also support for Airplay, DLNA, Qplay, UPnP, and A50+ can even play music from a portable USB Flash Drive, form a NAS, and it has a Line In. 
The DAC inside of A50+ is a TPA3116 DAC, and it allows for better processing than the previous Arylic devices, plus decoding for Hi-Res files. There's DSP tuning via ACPWorkbench, allowing you to correct for room errors, and to add a bit of lows or of treble as needed. The music app is becoming better and better, and you can connect to A50+ directly from a web window, if you're using its IP, and this is really nifty, as it allows you to update the firmware, manage the wifi connection and do a factory reset if things get screwed up somehow. The Hi-Res decoding I was talking about goes as high as 24 Bit / 192 kHz, and A50+ works with FLAC, MP3, AAC, AAC+, ALAC, Ape and Wav files.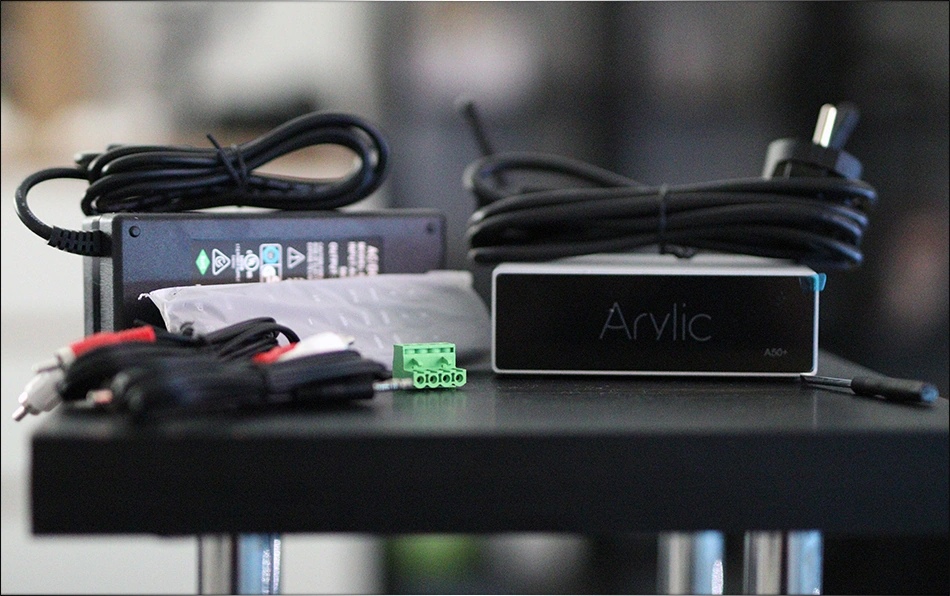 For those who want to purchase multiple units, you can set up rooms, and using the 4Stream app, you can configure multiple listening zones. Shockingly, it supports Gapless playback. Although the company sells it as easy to start with, the speaker connector still relies on that tiny green connector which will work only with thinner speaker cables and can take a while to set up. The package is rich though, it includes a remote, the power converter, also RCA cables and 3.5mm to RCa cables.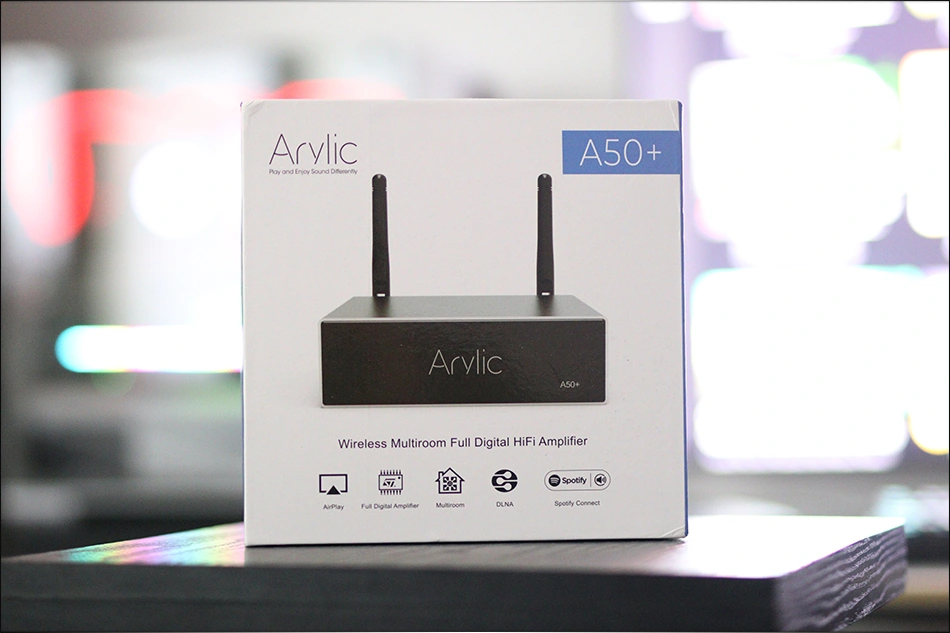 There's a dedicated subwoofer output for you to connect an external sub, and A50+ can be connected to a network with both Ethernet and Wifi. There's also an Optical input, and an RCA input. The Bluetooth antenna supports Bluetooth 5.0, but the highest I was able to get Bluetooth was SBC, though some companies managed to add LDAC and aptX with ulterior firmware updates. 
In my personal experience, A50+ works pretty well, you don't need an engineering degree to set it up, and it is convenient to use. As long as your speakers are not too power hungry, you should be able to enjoy A50+ a lot with zero hassle. 
Sound Quality
Since A50+ is a power amplifier, and doesn't even have RCA output, you can't use it with an external amplifier, and it is a one-stop solution to which you connect just the speakers, not a DAC or an AMP. To get a good idea of how it sounds, I've used A50+ with NHT C3, Buchardt S400, KLH Model 5, and Audioengine HDP6. The power is enough for bookshelf speakers, but not quite enough for floorstanding speakers, and KLH Model Five sounds underpowered. This being said, I would still use an external subwoofer for all those speakers, as they can't reach lower than 45 Hz regardless of the power that's being fed to them.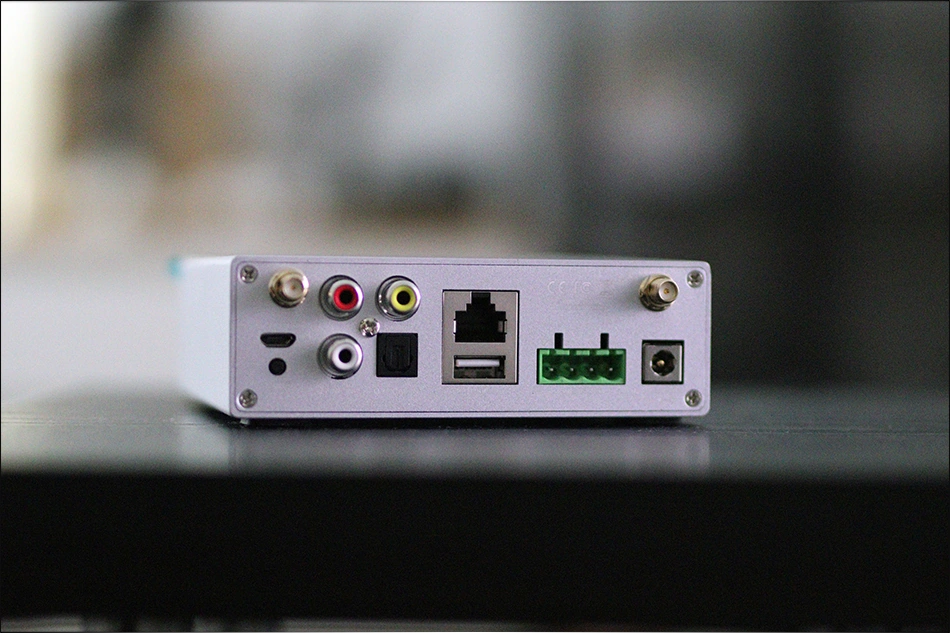 The sonic presentation of A50+ is really similar to all the other Class D speaker amplifiers, like Soundavo NSA-250 and AIYIMA D03. The sound is natural, somewhat V-Shaped with a slightly limited dynamic, but a good amount of detail and a good resolution. It creates the feeling of soundstage well laterally but doesn't present music with a lot of depth. It gets better and more dynamic, more punchy when at louder volumes, and there's a constant background noise that can be heard, which increases slightly with the volume, but is generally not audible while music is playing, only if you leave the AMP on and no music is playing. You start to notice the differences between different amplifiers after you use them side by side, otherwise all Class – D entry-level AMPs tend to be similar.
The bass of A50+ has a full, natural and slightly warm / thick presentation. It isn't colored per se, but it is not fully neutral either, and compared to something like Roksan Caspian, the bass of Arylic A50+ surely has a specific warmth to it. We also have good extension, which will usually be limited by the speakers, as bookshelf speakers rarely can reach much lower than 40 Hz, situation in which you'll be happy to have the subwoofer output, as you'll be able to get an active sub to get the full bottom end for your music.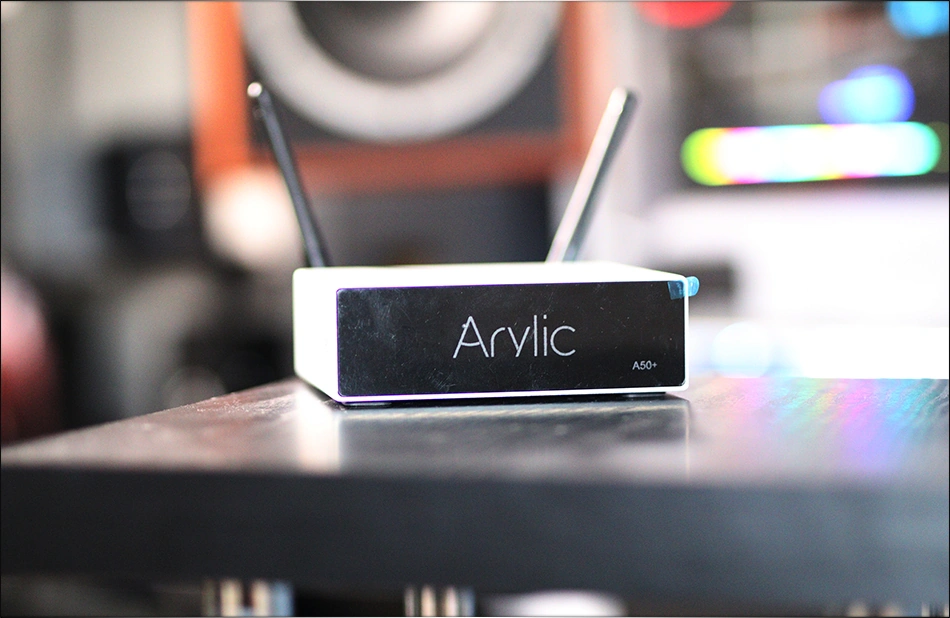 The midrange of A50+ is a wide, well separated and detailed mid. On the other hand, details can easily get lost in complex songs, and it is best for simpler pop, electronic and edm music, as for orchestral and complex classical or death metal with multiple layers of guitars it can struggle a bit. The dynamics are ok, and just like A50 and other Class D AMPs, it can compress the dynamics a bit, resulting in a flatter sound, especially when it comes to the depth. The midrange tonality is super sweet though, and A50+ has good musicality, has a fluid texture and never sounds digital or harsh, being a fluid sounding, musical DAC/AMP. 
The treble is presented rather sharply, with the lower treble having most of the highlight in the sound of A50+, the upper treble being slightly rolled off regardless of the EQ setting applied to A50+. The treble can be a bit sharp and harsh if the song is mastered poorly, but you can easily tone it off via EQ. 
Comparisons
Arylic A50+ vs SMSL AO200 (200 USD vs 280 USD) – The first comparison will place A50+ at a slight disadvantage as AO200 has a higher power output, and Bluetooth, but it does not have a DAC inside. This is somewhat controversial, and it means that if you want to run AO200 you will need an external DAC to use it, it doesn't have ethernet or any complex streaming abilities. The maximum power output is higher on AO200, at 50W into 8 OHMs, basically being twice as strong as A50+. Now, if you're using bookshelf speakers, you're unlikely to bring either to maximum volume, while if you're using floorstanding speakers, you;ll need at least AO200, if not something stronger to use. The sound is very different, with AO200 being mid centric, with lower treble and bass quantities, being somewhat flat sounding, while A50+ is much stronger in the bass and the treble, and pulls the midrange backwards, giving the feeling of a wider soundstage, at the cost of more distant voices. If you need an AMP for a pair of speakers AO200 is stronger, while if you need any kind of streaming, multiroom and complex features, A50+ has everything, including support for a multitude of streaming apps. 
Arylic A50+ vs Soundavo NSA-250 (200 USD vs 300 USD) – We have two strong hifi amplifiers, with NSA-250 having streaming abilities too, with Wifi, Bluetooth and Ethernet, just like A50+. In fact, NSA-250 also has Subwoofer output, and has traditional speaker outputds, which make it easier to connect speakers with thicker wires. The power delivery is very similar, and I suspect that the main class D AMP chip used is also the same, the main differences being that Soundavo has a slightly different feature setup, slightly stronger wifi / bluetooth signal, and a somewhat lower maximum volume compared to A50+ which can go a bit louder. NSA-250 is clearer and has lower distortion though, which helps a lot, and while A50+ uses the versatile 4Streaming app, Soundavo uses the Soundavo Music App. They are both very capable, I'd go with Arylic if you need multiroom and a smaller device, and would go with NSA-250 if you need a simpler DAC / Integrated but want normal speaker connectors and don't mind the larger size. 
Arylic A50+ vs AIYIMA D03 (200 USD vs 160 USD) – We have a slightly lower price for D03, and it has a similar Class D amplifier, as A50+. AIYIMA D03 also has a subwoofer output, which is nice, but the weight is higher and the streaming part is not present on AIYIMA, as it is more of a DAC / Stereo HIFI AMP than a multi room streaming amplifier. The power output is considerably higher on D03, although it loses control once you get above a certain power level, so both are usable for about the same volume, with zero distortion. This being said, for needier speakers, D03 does a slightly better job, giving more punch and dynamics to the likes of KLH Model 5. On the other hand if you need streaming and advanced features, A50+ is much richer in the features it has, even including a high quality DAC. 
Arylic A50+ vs Arylic A50 (200 USD vs 220 USD) – There are some differences between the original A50 and the new A50+, especially the subwoofer output, which allows you to connect a subwoofer to A50+, and which was not present on the original A50. Having them side by side, the new A50+ seems to be slightly more detailed, and to have better resolution but also to have better depth, and better dynamics. The driving power is essentially the same, but A50+ will struggle less if you plug in an external subwoofer to take care of the lows in your music. 
Value and Conclusion
The price of A50+ is lower than the price of the original A50, but it has been improved in many ways, you have an easier time connecting to it, it has the same convenient design, but has better compatibility with both streaming services and it has a slightly better sonic presentation too. 
At the end of the day, if you're looking for a super convenient, Class D stereo hifi streaming amplifier, with outstanding support for streaming services, outstanding support from the producing company, and which is available on Amazon, Arylic A50+ is fully recommended as the brains and muscles of your bookshelf system. 
Product Link
You can grab one from www.amazon.com here: https://amzn.to/3NlIFik
If you're in the UK, you can grab one from www.amazon.co.uk here: https://amzn.to/3DuYI9c
And if you're from Europe, you can grab one from www.amazon.de here: https://amzn.to/3zx5Yjr
---
--- Please remember to stay safe, and always have fun while listening to music!---
 - If you have a dime to spare, please donate, and help us! It would make the day brighter for me and my wife- 
---
Full Playlist used for this review
We listened to more songs than those named in this playlist, but those are excellent for identifying a sonic signature.  I recommend trying most of the songs from this playlist, especially if you're searching for new music! The playlists are different for Spotify, Tidal and Youtube, and based on the songs I enjoy and are available on each!
https://www.youtube.com/playlist?list=PL_cjBXGmwSHSdGcwuc_bKbBDGHL4QvYBu
https://open.spotify.com/playlist/5J3oloz8Riy9LxEGenOjQ0?si=979ba4f082414be7
https://tidal.com/browse/playlist/330fd544-8e5b-4839-bd35-676b2edbb3d5
--- Contact Us ---





---