Soundavo NSA-250 Streaming HIFI Amplifier – Power Hidden In The Network
Soundavo NSA-250 is a streaming Amplifier priced at 300 USD formally, but available on Amazon for 200 USD at this moment, which means that it will be compared to other stereo HIFI Amplifiers such as Arylic A50 (220 USD), Burson Funk (550 USD), SMSL AO200 (280 USD).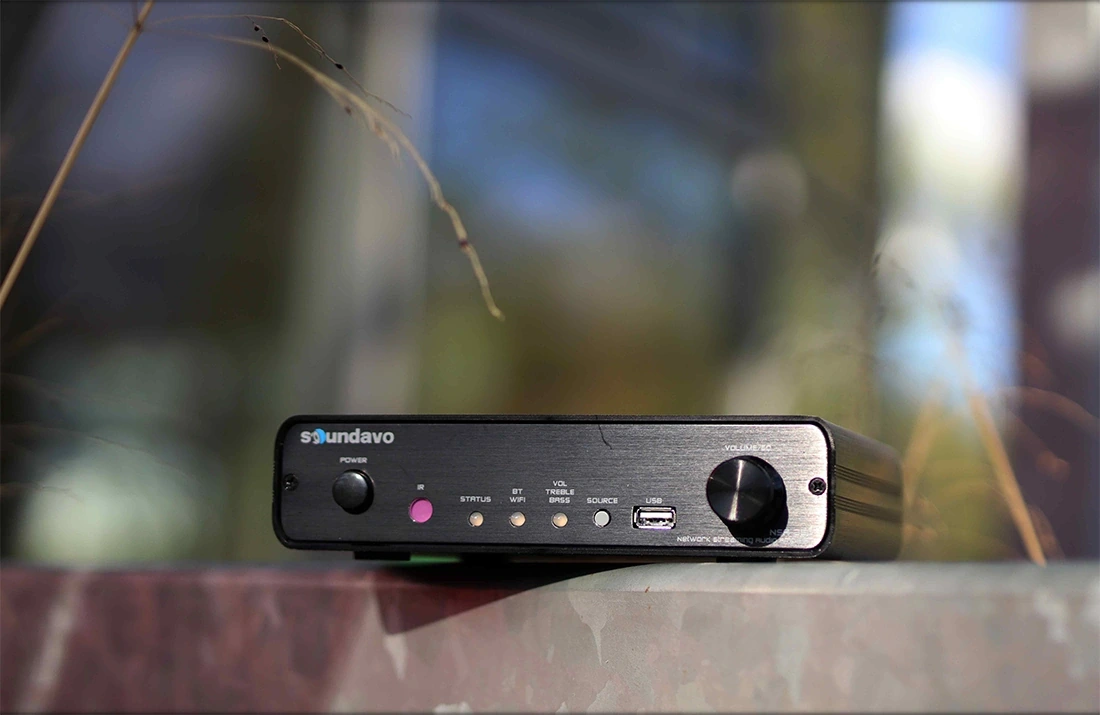 Introduction
Soundavo is the kind of company that pops every once in a while to surprise us with a few excellent but really unexpected products that we start to fall in love with, and remember for a long time. This is the case with the NSA – 250, which comes to take us by surprise right after having reviewed the HP-1 DAC / Headphone AMP that was a total success, both for me as a review, having gained over 90.000 views, and for the company, being almost sold out everywhere. Since then, I heard no complaints about the quality or reliability issues, and most folks have been rather enthusiastic about their experience with Soundavo, leading to today's review on the NSA-250, a more pricey, but much more complex streamer / HIFI Stereo Amplifier / DAC / Bluetooth receiver. 
It should be noted that I have absolutely no affiliation with Soundavo. I'd like to thank Soundavo for providing the sample for this review. This review reflects my personal experience with Soundavo NSA-250. Every opinion expressed is mine and I stand by it. The purpose of this review is to help those interested in Soundavo NSA-250 find their next music companion. 
Product Link
You can grab one from www.amazon.com here: https://amzn.to/3nztFS4
If you're in the UK, you can grab one from www.amazon.co.uk here: https://amzn.to/3ApDV6O
And if you're from Europe, you can grab one from www.amazon.de here: https://amzn.to/3bJ68LA
Build Quality/Aesthetics/Features
We have a rather small unit that feels good to the touch, with a full metallic build, and three strong LED lights at the front. Unless you plug it in, you don't imagine how strong the LED lights are, but that's good because you will know whether the unit is working or not. There's an IR sensor next to the power button, which is a simple push in / push out button. There's a Source Selection button that cycles through the sources, next to the LED lights, and there is one USB port between this button and the volume wheel. 
The USB port is for reading USB sticks, although there is no clear rule for what kind of files NSA-250 can read and how, or if there is any file size, file number or other limitations to using a USB stick. The unit has a rather large volume wheel that can turn indefinitely, and which is basically a digital controller, and which has clear clicks between the steps of volume. 
At the back of the NSA-250, we have a Wifi Antenna, Bluetooth Antennae, but also a Wifi reset button. There's an AUX input RCA jack, which is for using NSA-250 as a standalone Amplifier, from an external DAC. There's also a Sub out, which acts as a separate subwoofer output, which is rather nice. I am using something like that anyways, since I love having a separate sub for the lows, as none of my current speakers can't touch the lows well enough. The input list includes an Optical input, an Ethernet input, the frontal USB input, and NSA-250 can also receive Bluetooth and Wifi signals, along with support for multi room apps, as well as support for Tidal, Napster, Qobuz, Amazon Alexa and Spotify as streaming services.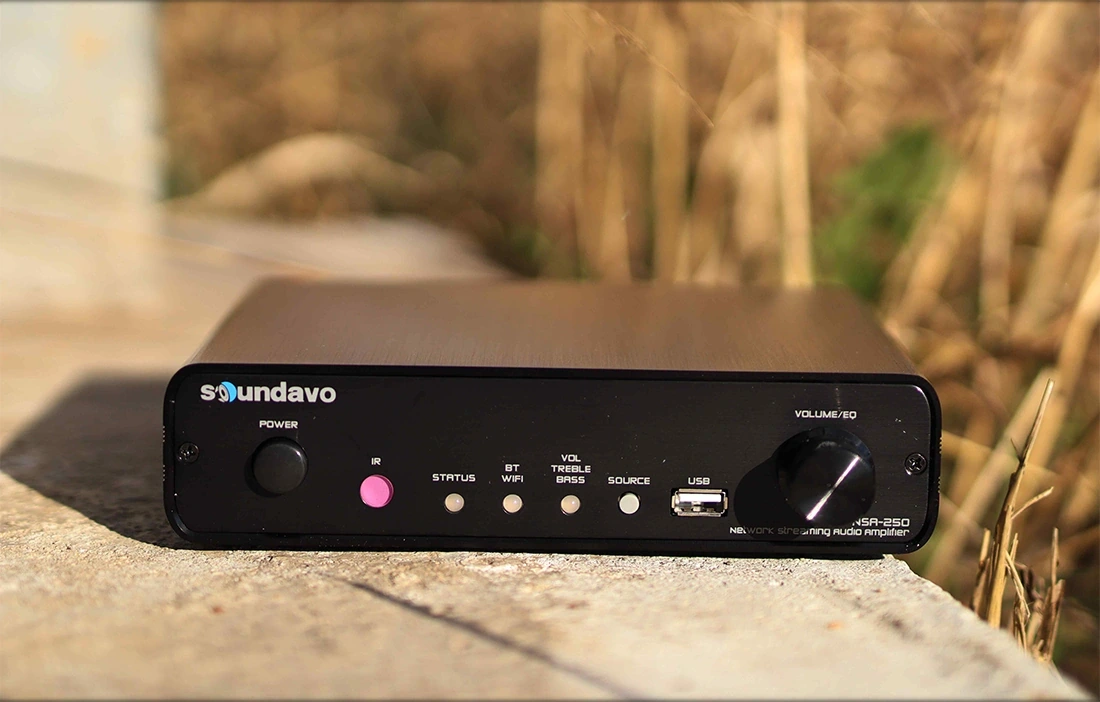 Practically, NSA-250 is the most comprehensive, complete solution for music listening, multi-room setup, and amplification for a stereo system that you can use today. It does not have a separate digital output, or a separate RCA output, to use with another amplifier, so it is mostly intended for budget systems and for powering bookshelf speakers, having a power delivery of 50W in class D, at 4 OHMs. This translates to about 25W at 8 OHMs at maximum, which should be enough for most easily driven passive speakers out there. The bluetooth protocols have support for SBC, and I have not been able to use any other protocol with NSA-250, limiting the bluetooth support somewhat in my experience. You can notice that the company came with the name NSA-250 from the fact that the amplifier has 25W of power at 8 OHMs. 
The wifi signal strength is good, and it supports airplay and DLNA, along with 2.4 GHz 802.11 b/g/n wifi networks, but no 5.0 GHz networks. The signal to noise ratio is >90 dB at maximum volume, while the THD is about <1% at maximum volume. At a subjective level, the unit is pleasing to use, does not get overly hot during usage, and it is easy to configure. The DAC offers support for up to 192 kHz / 24 Bit signals, and the speaker jacks are gold-plated, easy to use. I could get to playing music in less than 3 minutes, which is top notch for such a complex multi room setup. 
Unfortunately, when turning the volume down, you will get a loud BEEP at maximum volume once you reach the lowest volume level, which can be quite off-putting. The maximum actual volume is decent, not extremely loud, and with speakers such as NHT C3, you could be left yearning for more, if you're throwing a party. It is louder than I listen at any given moment, and great for using the NSA-250 as a multiroom setup. Speaking of which, the multi room app and support is great, everything works easily, and you even have a remote. There's a very spartan EQ available that allows you to increase the treble or the bass on NSa-250, but it is hard to use it without having the smartphone app installed. The app, named aptly, Soundavo Music App is lightweight on the phone and easy to use. 
Sound Quality – Speaker Output 
You can mainly use NSA-250 as a speaker amplifier, as it does not have support for any other kind of output. But it has many inputs, even optical and USB. The overall sound can be described as clean, clear, detailed, fairly natural, with no particular coloration for a smoother, bassier or lighter signature. Everything sounds right in its own place, while the level of background noise is decent. There is some hissing with most speakers I tested the NSA-250 with, including Buchardt S400, and NHT C3, but that hissing is usually easily drawn out by playing music, and the background noise is lower than what I've heard with Adam Audio T7V, which have a much stronger hissing in the tweeters while at idle. From what I can gather, and from personal experience, this is one of the drawbacks of using a class D amplifier, but should not be a big issue for those who don't sit right next to the speakers. 
The bass of NSA 250 is clean, deep and fairly well rounded. In fact, the overall bass is generally deeper, fuller and more voluptuous than what Cyrus One Cast can play, which is surprising, but the bass coming from NSa 250 is quite slow in character, both helping fill a room, but also creating a more natural feeling to music. Naturally, this means that resolution takes a little hit, but it resolves nuance and finer details a bit better than most entry-level Class D Amplifiers, like Arylic A50+. More comedy than you might think, the active subwoofer I am using, Adam Audio T10S actually cannot use the passive subwoofer output from NSA-250, without a special cable, because this one subwoofer is designed in such a way that you're supposed to connect the DAC output to it, and the speakers take signal from it, rather than working as your average passive subwoofer. This being said, the signal is slower than when feeding the T10S directly from a DAC, creating a slower, beefier, stronger bass. 
The midrange of NSA 250 is clean, natural, with some slight compression audible on all inputs. I would describe the midrange as ever so slightly recessed relative to the bass and the treble, and fairly punchy and colorful. If you're looking for details, the NSA 250 is good at technicalities, and fairly good at both medium and higher volumes, becoming slightly less dynamic at lower volumes, but still keeping a good sense of space. Speaking of space, the sound is generally wide and has good instrument separation, and like the bass, the midrange has a slightly slower and more natural character. A slower midrange means that most macro textures are presented less fatiguing and less sharply than with other AMPs, so NSA 250 is a good option for listening to older and poorly recorded music. 
NSA 250 has a clean, pretty bright and well extended airy treble. For the price point, I was expecting a pretty crushed treble presentation, but NSA-250 is actually quite good, having a good amount of sparkle and a stronger, sharper presentation. If you want to tone it down, you can do that via the EQ from the app, but generally, I feel like the treble of NSA-250 is well tuned for both NHT C3 and Buchardt S400, where it brings both of those to life fairly nicely. 
If you're wondering what's the best way to use the NSA-250, the sound will be the best using the optical input, or Tidal / Wifi Streaming / Airplay. Those tend to be lossless, and provide very good sonics. The bluetooth takes a hit in overall detail and dynamics, but it is still pretty enjoyable and fun, and you have the option of using an RCA input, which depending on the DAC you have, will sound quite good. The main reason the RCA input doesn't get to be the best sounding in my list is that when taking in streaming, you get the best overall presentation with the least distortion. Since the EQ is active even in RCA mode, it is safe to assume that when using the RCA input, the unit has to decode the signal via an ADC then process then back to DAC, which lowers the overall quality a bit, and it also inherits more distortion from the DAC than it would when using the streaming part, which has the least processing happening. 
Comparisons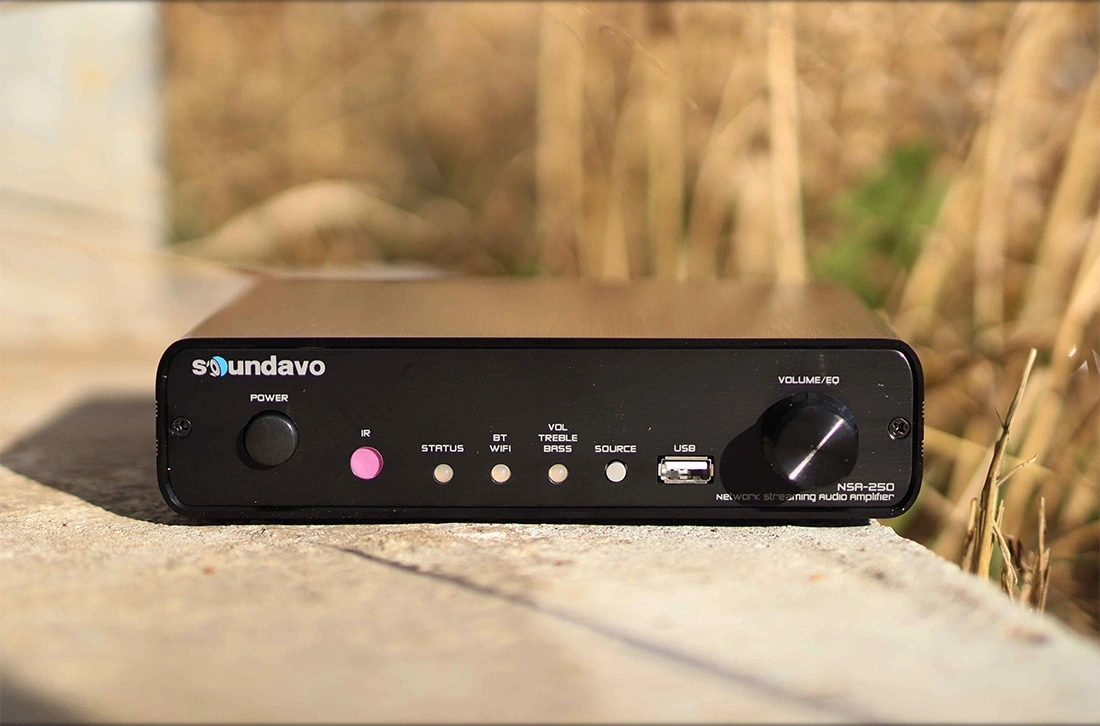 Soundavo NSA-250 vs SMSL AO200 (300 USD vs 280 USD) – We also have a good competitor on AO200, which is slightly larger, and also has bluetooth input. The final versatility is better on the NSA-250, which has better overall connectivity, and has more inputs, and the sonic award goes to NSA-250 as well if you want a more neutral tuning. AO200 tends to be quite colored in the treble, where it has a softer, more mellow presentation. AO200 has slightly more driving power at maximum, with lower distortion, but the two go toe to toe when it comes to the dynamics and punchiness they present in music. AO200 is a slightly more mature product, but has less connectivity and once again feels like more of a standard hifi stereo amplifier, while NSa-250 is a multi room amplifier with better support for making your life easy. 
Soundavo NSA-250 vs Burson Funk (300 USD vs 550 USD) – Burson Funk is going to have some gains when it comes to driving speakers, as well as having a full Class A headphone amplifier, and costing double or more, the price of the NSA-250. But how much is it worth investing in it. Well, the first thing to notice here is that Funk is a very simple HIFI Amplifier, it has no DAC, no Wifi, and no Streaming abilities, like NSA-250 has. It has stronger driving power, and lower distortion, plus better detail, but requires an external DAC to work, and it gets considerably hotter during usage. NSA-250 is physically smaller, lighter and feels much better for general usage as a streamer / multi room amplifier engine, than Funk which feels like a heavy and large traditional stereo amplifier. 
Soundavo NSA-250 vs Arylic A50 (300 USD vs 220 USD) – We have two good multi room amplifiers, both with good support from the producing company. A50 is smaller in size, and made some more serious sacrifices along the way, as it has a non-standard speaker connector, and takes considerably more time to set up. In reality, the maximum volume from both is similar, with A50 having maybe a bit more volume at max, but also slightly more distortion at the maximum. The overall connectivity is better on NSA-250, although both are somewhat limited if you want to use Bluetooth, and you'd still need something like FiiO BTA30 or Auris BluMe PRO for it. If you're looking for lower distortion and better overall control, for a more detailed sound, and more clarity, Soundavo NSA-250 is better to go with, at the cost of the physical device being larger, and possibly more pricey. 
Value and Conclusion
At the end of the day, it is surely safe to say that NSA-250 has outstanding value with superb performance for the price paid. It has all the features you can dream of, and it performs strongly better than the price point would suggest, having a really detailed, clean and crisp sound compared to most alternatives in the price range. It also has better overall dynamics, better punchiness and more detail than most alternatives, being able to play music from more sources, with less effort from the listener.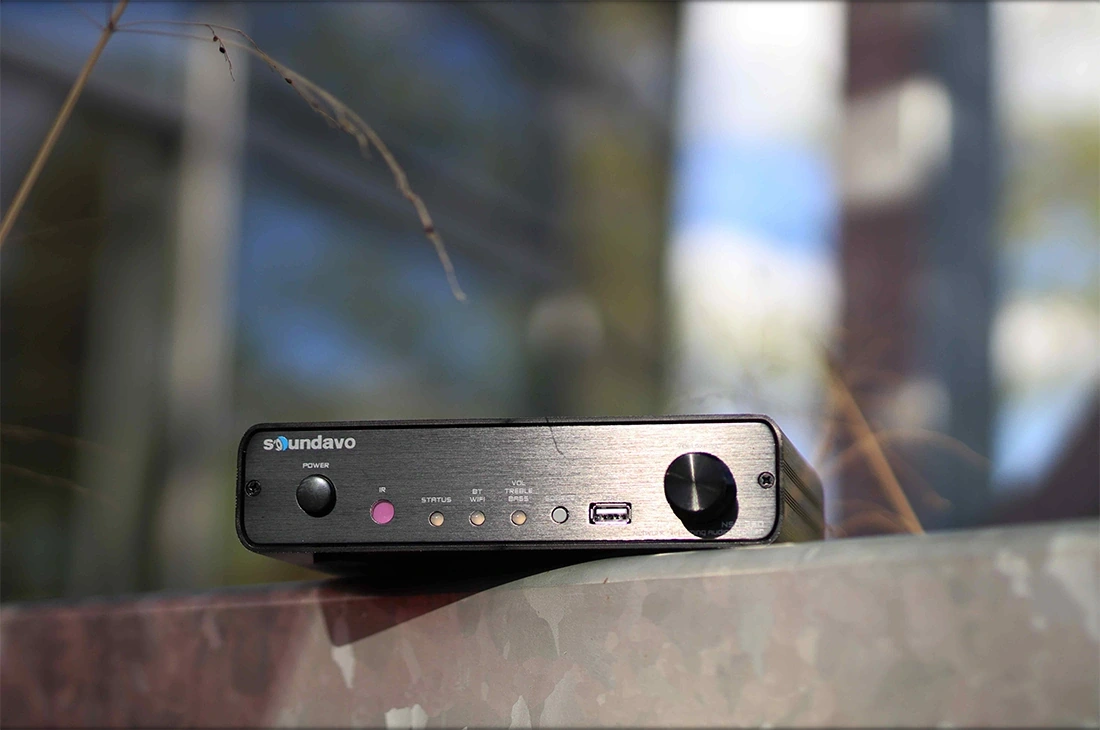 If you're looking for a super versatile multi room stereo hifi amplifier, with good support for streaming, wifi, Tidal, Bluetooth and optical input, with an EQ to sway the treble and the bass with a few dB either way, and if you're looking for superb price to performance ratio, Soundavo has the right answer with their NSA-250 HIFI Streaming Amplifier, a superb package, with super nice design, and good support, available from Amazon at a price that's pretty promising. Speaking of which, at the moment of me posting this written review, the price on Amazon is about 200 USD, about 100 USD lower than on the Soundavo Website, making NSA-250 the most affordable high quality multi room hifi amplifier available today, with the bonus of having an extra subwoofer output. 
Product Link
You can grab one from www.amazon.com here: https://amzn.to/3nztFS4
If you're in the UK, you can grab one from www.amazon.co.uk here: https://amzn.to/3ApDV6O
And if you're from Europe, you can grab one from www.amazon.de here: https://amzn.to/3bJ68LA
Packaging
First things first, let's get the packaging out of the way: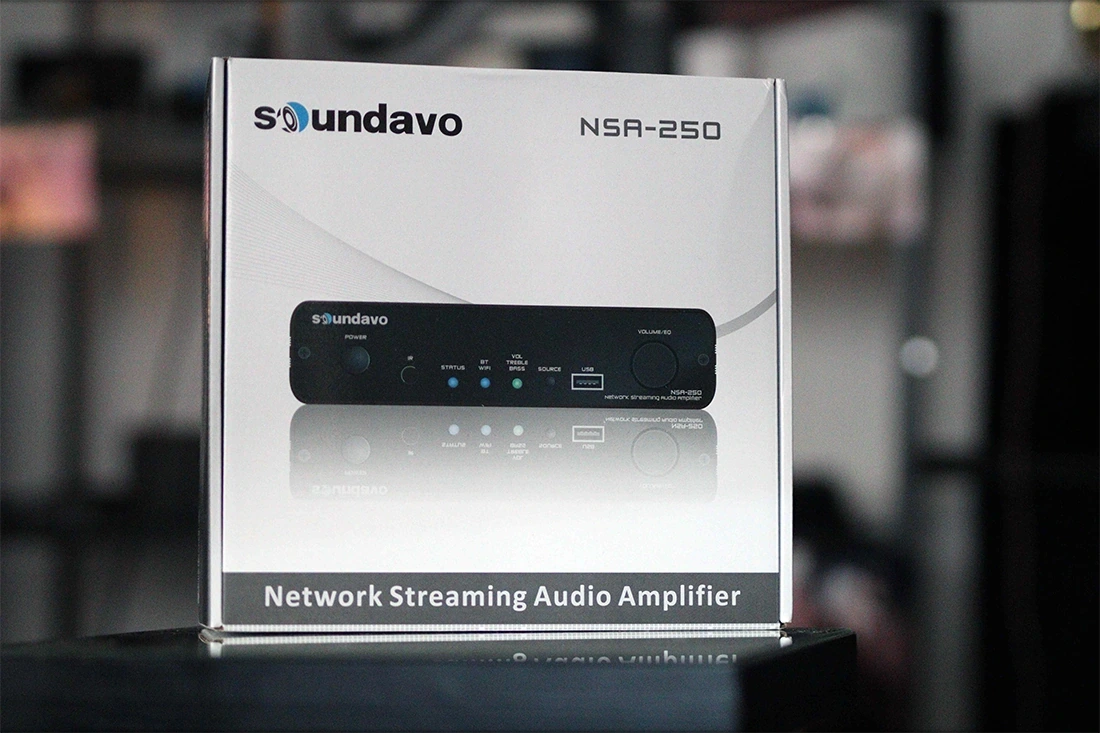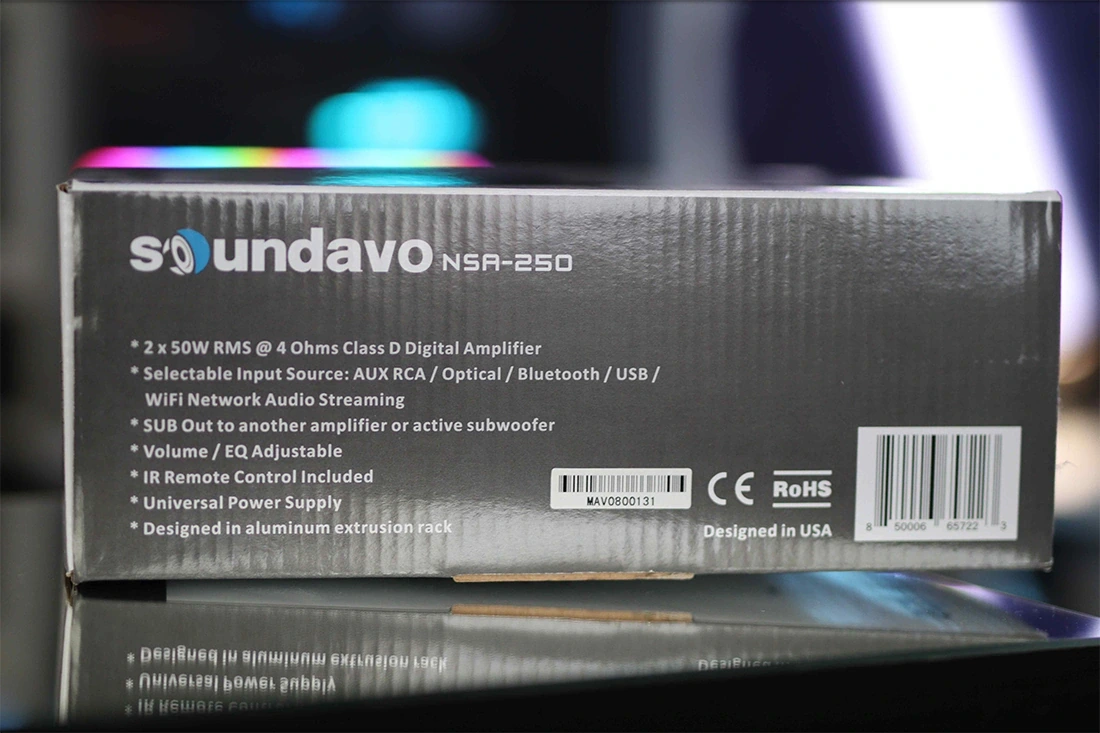 The package of NSA-250 is rather complex and complete, including all of the cables and accessories you may require to use it at its maximum potential. The full package includes a remote, the power cord, and even more. Here's the full list of what you'll receive with NSA-250:
NSA – 250 Streamer / Amplifier Unit 

Remote

Power Cord

Manuals 

Packaging 

Wifi Antenna

Bluetooth Antenna
---
---
--- Please remember to stay safe, and always have fun while listening to music!---
 - If you have a dime to spare, and donate, to help us with electricity and work expenses, it would make my day much brighter, as it would help me improve things around the website and increase the frequency of my posts - 
---
Full Playlist used for this review
We listened to more songs than those named in this playlist, but those are excellent for identifying a sonic signature.  PRaT, Texturization, Detail, Resolution, Dynamics, Impact, and overall tonality are all revealed by those songs. We recommend trying most of the songs from this playlist, especially if you're searching for new music!
https://www.youtube.com/playlist?list=PL_cjBXGmwSHSdGcwuc_bKbBDGHL4QvYBu
--- Contact Us ---






---
---