Aune X1S GT BT DAC / AMP / Streamer – Flow Of Music
Aune X1s GT is a 349 USD DAC/AMP with LDAC Bluetooth, Balanced 4.4mm Headphone Output, and Hi-Res decoding. Given the price and design, it will be compared to the Soundaware A1X (700 USD), iFi xDSD DAC/AMP (400 USD), and Palab M1 Mini (500 USD).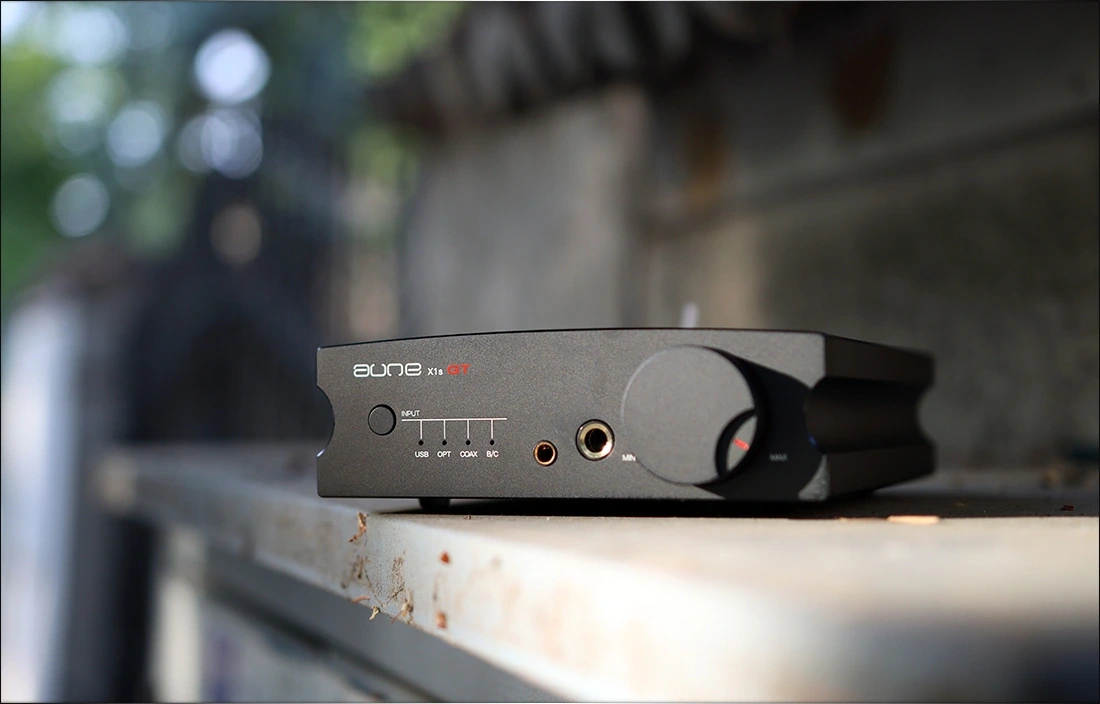 Introduction
Aune Audio is a large company from China, quite well known with Audiophiles, for their superb DACs and AMPs. In fact, Aune has grown so much over the years that they have IEMs, portable tube AMPs, and more. I actually have reviewed other Aune products in the past, and their S6 PRO has been a super recommended DAC/AMP for years on Audiophile-Heaven, so having a look at a newer and smaller product will be interesting and should highlight the direction in which Aune Audio is evolving.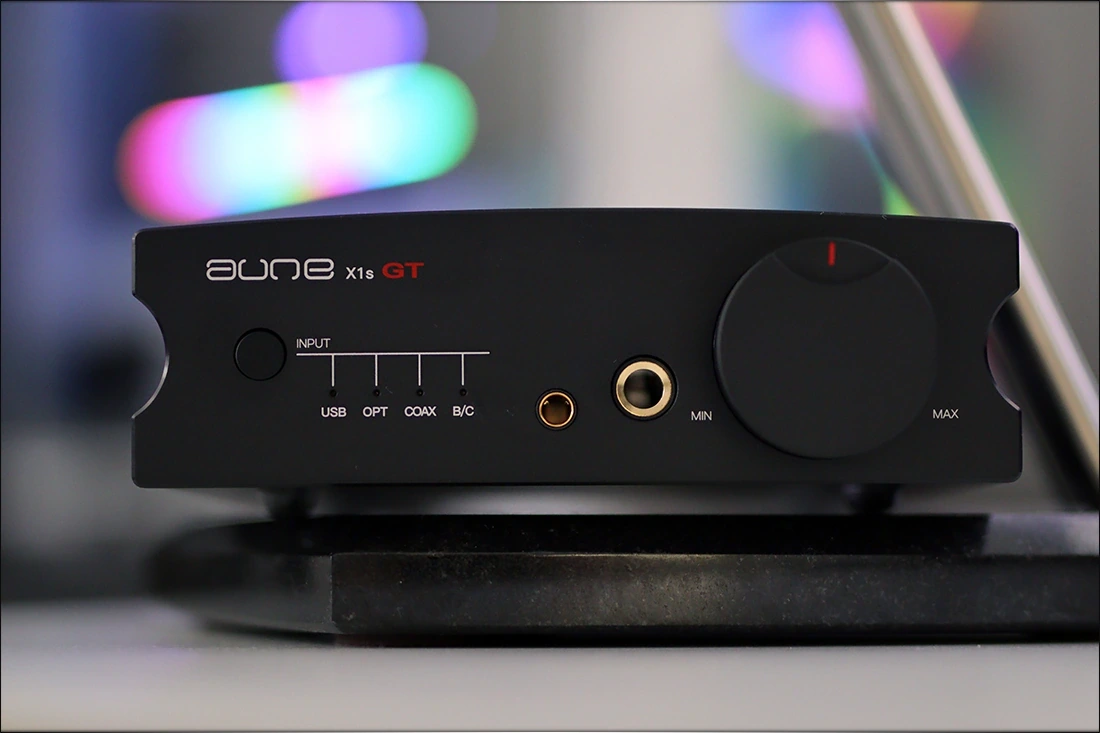 It should be noted that I have absolutely no affiliation with Aune Audio. I'd like to thank Aune for providing the sample for this review. This review reflects my personal experience with the Aune X1s GT. Every opinion expressed is mine and I stand by it. The purpose of this review is to help those interested in Aune X1s GT DAC/AMP/Streamer find their next music companion. 
Product Link
You can grab one from www.amazon.com here: https://amzn.to/3Q4pUjU
If you're in the UK, you can grab one from www.amazon.co.uk here: https://amzn.to/3d8hMQZ
And if you're from Europe, you can grab one from www.amazon.de here: https://amzn.to/3oW9Bd7
Build Quality/Aesthetics/Features
We start the review with a rather ergonomic and edgy-looking unit, that reminds more of a sports car than your average industrial audiophile device. The front of the unit is neatly presented with a large button for cycling through the inputs of the X1S GT, along with two headphone outputs and one large volume wheel. There's a super sleek red LED ring around the volume wheel, which helps you see it better and gives the whole unit a sportier design. 
In fact, if you're not used to cars and automotive terminology in general, GT stands for Grand Tourer, and it is usually a type of car designed for high speed and long-distance driving, usually part of the flagship and luxury cars. X1s GT is the eighth generation of the X1 series made by Aune, and it has a 4.4mm Balanced output, along with a 6.3 Single Ended headphone output. 
The data rate support extends as high as 32 Bit / 786 kHz for PCM and DSD512 for DSD. There's support for up to 384kHz and DSD128 via Coax too. X1s GT is promised to work with smartphones too, provided you have an OTG connector, and it has a PLL Core, a unique clock core that allows the whole device to run in sync when it comes to its clock. If you're an enthusiast of clocks and reclocking, there's support for 10 MHz external clock, which supports high-end external clock inputs, like Aune XC1.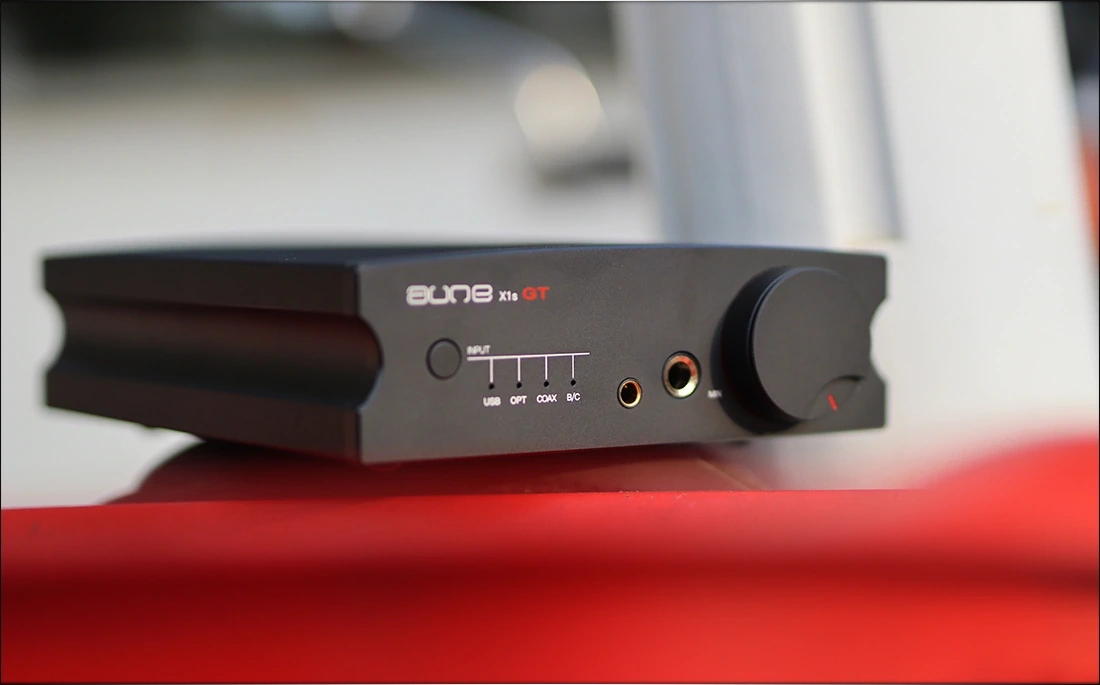 We have a fully balanced headphone amplifier, based on the classic B1 fully discrete amp circuit, but this time it features a 4 AMPs setup, 4 x 24 BJTs, with 227 components in total. The ALPS potentiometer allows for better dynamics and volume control than digital potentiometers usually do, and it is fully analogic, it stops turning at max, and has enough sway for both IEMs and headphones. To give you some idea of the driving power X1S GT has, I'm using it at about 3 o'clock for hard to drive headphones such as HIFIMAN He1000 V2, Audeze LCD-XC and Crosszone CZ-8A. You can use IEMS up to 12 o'clock, and there's no channel imbalance from about 8 o'clock. We have about 4 times as much power over the 4.4mm balanced headphone output, at 1200 mW, enough for all power hungry headphones, but the 6.35 Single Ended output tops at 320 mW of maximum power. Both of those power outputs are through an impedance of 32 OHMs. 
At the back of the unit, we can find a preamp output, and a line output, the difference between them being that the preamp output has variable volume, based on how you set the volume wheel. There's also an optical input, USB input, Coax input and external clock input. The unit I have in particular has Bluetooth support too, with support for high-end codecs, including LDAC. At the back there's also a power switch, and a power input, the unit coming with its own external power converter too.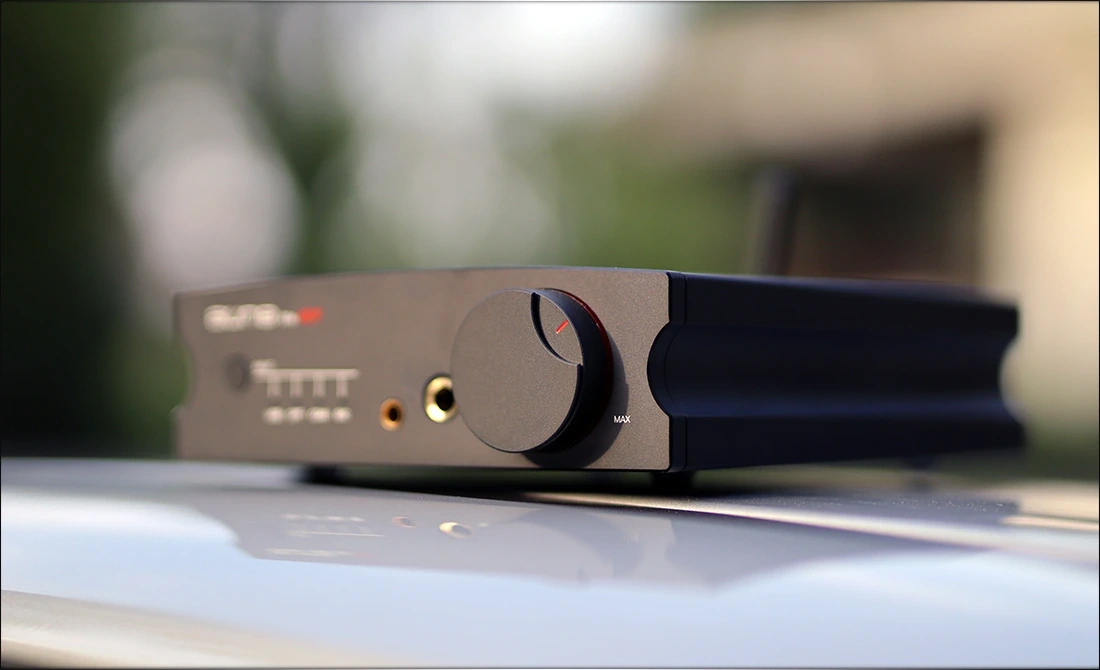 If you're a fan of technicalities and audio science / measurements, X1S GT measures a SNR of 120 dB, along with a THD of 0.00013%, figures that are outstanding even on paper. The company goes as far as providing dedicated measurements on their product page as well. Aune products have 2 years of warranty globally, and orders placed until 12 o'clock ship the same day, from Germany. Shipping is also free within the European Union from the Aune-Store. Their products are also usually available on Amazon most of the time, so you have a wide selection of purchase options. 
In the absence of a sonic impulse, X1S GT fades out the sound, and when you press play on something new, it fades in the sound. This is pretty cool and it avoids having loud pops and noise, giving you a pleasing experience. There is absolutely 0 delay when using Aune X1s GT as a USB DAC, so it is fit for competitive gaming and movie watching, along with anime and other digital guilty pleasures. 
Sound Quality
Let's start by noting the technical performance of Aune X1s GT, including the fact that the 1200 mW of power at 32 OHMs is enough for basically any headphone you're likely to have when ordering it, including Sivga SV023, Audeze LCD-XC, HIFIMAN Edition XS, KLH Ultimate One, and Crosszone CZ-8A (especially with the balanced cable). Aune X1s GT also has surprisingly low noise levels with IEMS or In-Ear Monitors, and I noticed absolutely no background noise running it with Ambient Acoustics MAD24, HeartField Acoustic Deer, XENNS Mangird Tea 2, IMR Acoustics Dark Matter, and Oriveti OV800. Although the company doesn't note the output impedance in particular, it is very low, as I could notice absolutely no hissing or background noise.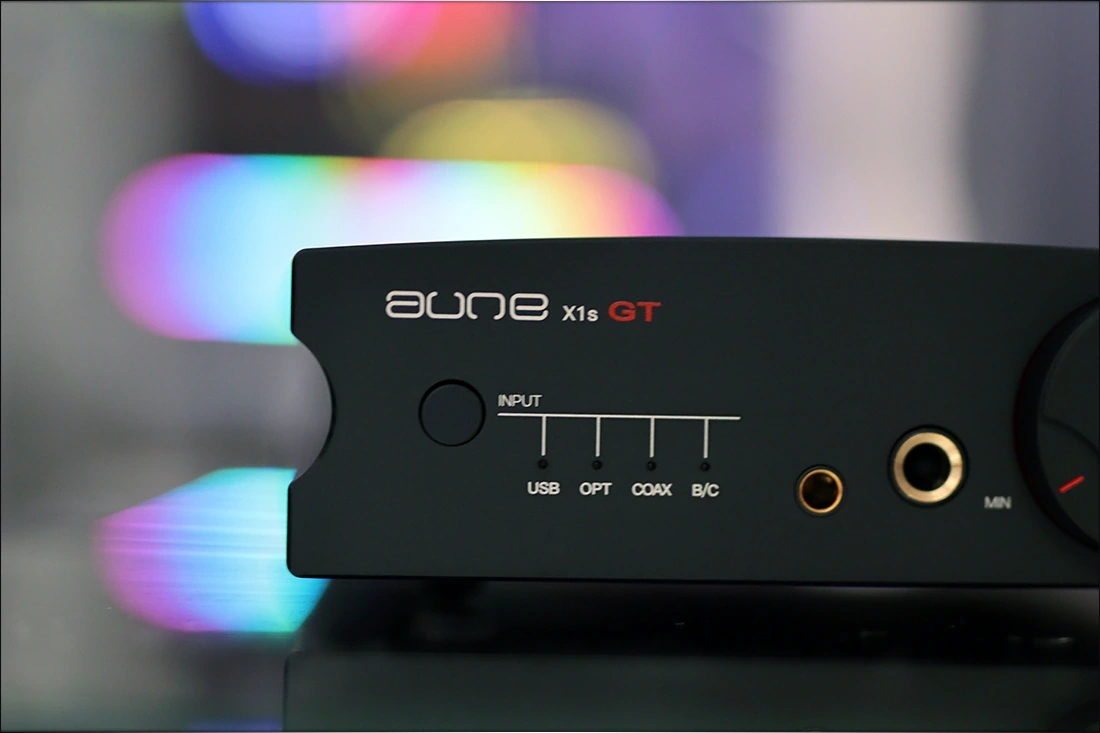 In fact, this transfers to the sound of Aune X1S GT, this is a DAC / Headphone Amplifier with a super black background, a very deep and also warm presentation. The sense of depth and lows is impressive, and although the price point wouldn't let you imagine this, X1s GT has full control over HIFIMAN He1000 V2, giving them a deep and impressive bass, especially at high volume. Maximum volume handling is superb on Aune x1s GT is superb too, which means that it can be used at its absolute maximum with no audible distortion, the company offers a product similar to a luxury grand tourer car, you can use the entire range of promised ability to your fullest taste.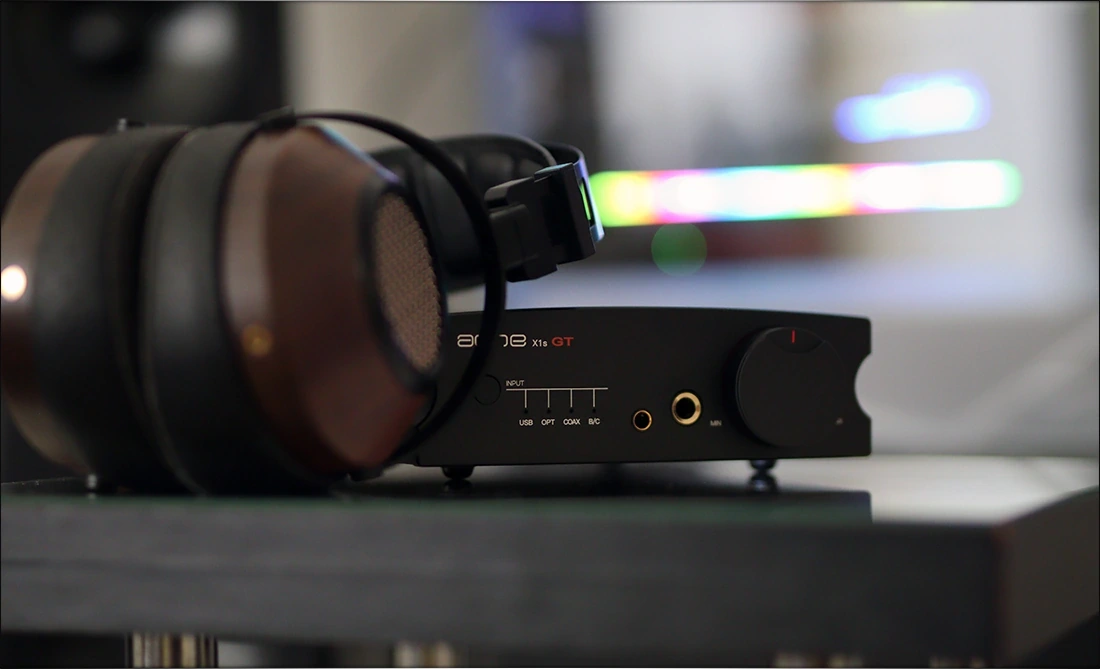 The bass of Aune X1s GT is a huge surprise, super deep, controlled and punchy. The slam is superb, and Aune X1s GT works just as well with both Planar magnetic headphones and dynamic headphones, both with low and high impedance ones. The amplifier modules really do their job well, as long as you're using the balanced output. If you need finer volume control, then you can always use a 6.3 mm to 3.5mm adapter and use the single ended headphone output. The bass has its presence and energy evenly spread across the whole bass range, and the whole low end is somewhat uplifted, giving music a really full, natural and clean presentation. 
The midrange is also slightly colored from the bass warmth and depth X1s GT has, and the midrange is also fairly smooth. This means that most music will sound musical, fluid and fatigue-free through Aune X1s GT, although it has a pretty natural size for the soundstage, and has good detail. The listening experience is relaxed and carefree, with a low background noise, and a fluid presentation, X1s GT being a master of blending musical notes together all whilst hiding recording mistakes.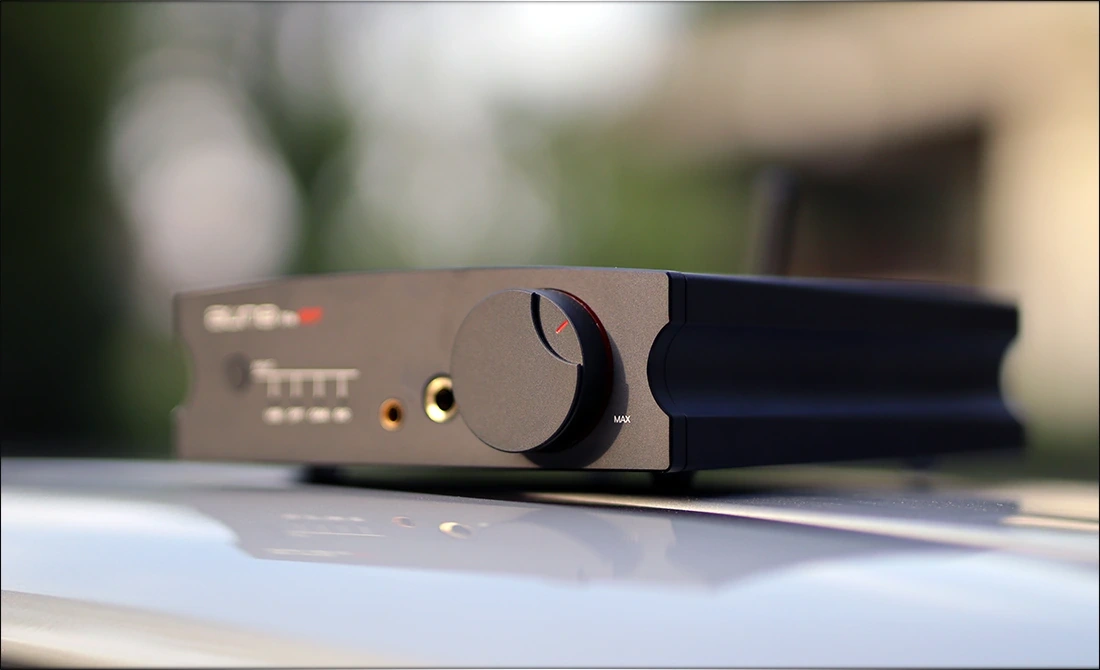 Aune X1s GT also has a super smooth and clean midrange that's fatigue-free in presentation and won't ever force you to change the song, even if you're playing Infant Annihilator or newer Metallica albums. The treble of X1s GT is detailed though, and has good extension, but the texture is incredibly smooth and relaxing, the whole presentation being perfect for those who always complain that their setup is fatiguing. The dynamics are excellent for the price point, and X1s GT is generally a super pleasing experience regardless of the headphones or active speakers it is driving, being perfect for both Adam Audio T7V and Edifier S1000DB. 
Comparisons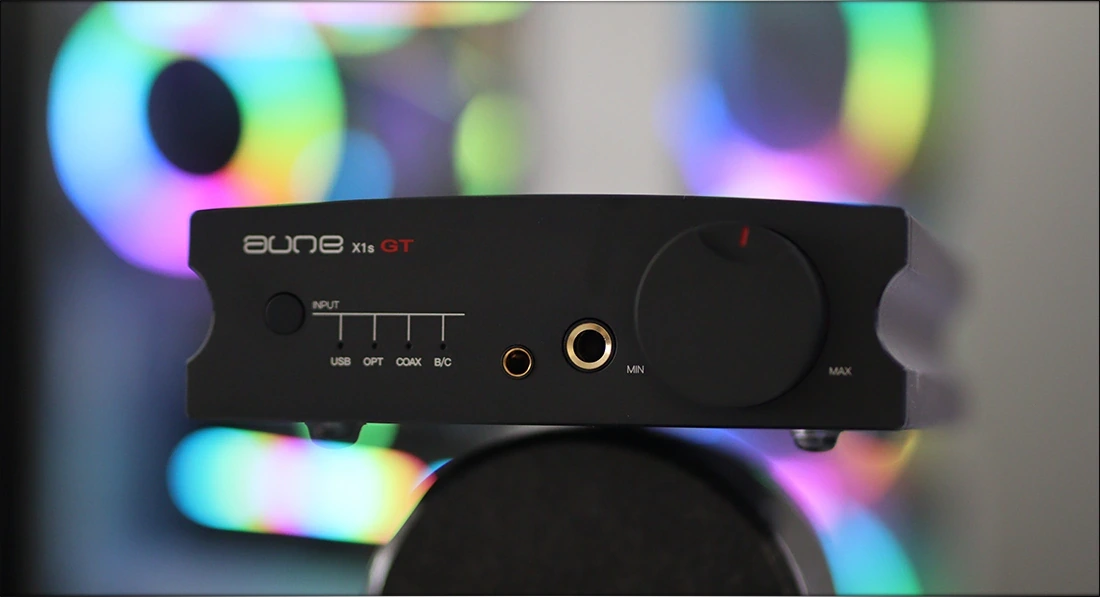 Aune X1s GT vs Soundaware A1X (349 USD vs 700 USD) – We have two streamers here, although the main ways to use Aune X1s GT are as a USB DAC / Sound Card and with the Bluetooth input, while A1X can do more traditional streaming. The main headphone output has more driving power on Aune X1S GT, and it has better volume control than the 1-step click volume control A1X has. The overall sonic performance with headphones has better depth on Aune X1S GT, while it is more aggressive and forward with A1X, which has slightly better dynamics thanks to this. The DAC output is similar, although X1S GT is slightly warmer and smoother, while A1x is more neutral. Given the price difference, Aune X1S GT is much better if you're planning to use it as a headphone amplifier, and it can be just as good of a streamer for those who just need a very effective DAC/AMP with LDAC Bluetooth (which A1x from soundaware does not have unfortunately). 
Aune X1s GT vs iFi xDSD DAC/AMP (349 USD vs 400 USD) – Now we're talking about two headphone DAC/AMPs with similar usage functions. The Bluetooth input on Aune X1s GT is much better than what iFi usually implements because iFi does not allow us to use LDAC. The overall shape and ergonomics is much smaller for xDSD. The sonic performance is actually quite different. When driving headphones, both have good control and maximum volume, but Aune X1s GT has much better control at higher volumes, and you can't use the maximum volume on xDSD with as low of a distortion. On the other hand, the signature is really different too, xDSD has a stronger treble, stronger impact on the cymbals and a much more forward and aggressive sound. Aune X1s GT sounds thicker, warmer, smoother, more relaxed, more controlled and deeper. The two are both great, but if you want a peppy and energetic presentation, xDSD will deliver that well, while if you want a more controlled, authoritative, deeper and smoother presentation, X1s GT can deliver that better. Also, only xDSD from those two is a portable device, while x1S GT is a pure desktop device that needs wall power to work. 
Aune X1s GT vs Palab M1 Mini (349 USD vs 500 USD) – The whole comparison part of today's review has been placing Aune X1s GT against DAC/AMPs that are priced higher than it, so it would be good to end the review in the same spirit. Palab M1 Mini is a portable DAC/AMP with good build quality, but it has a much simpler design than X1s GT with fewer inputs. The maximum driving power is higher on X1s GT, especially over the balanced output. The sonic performance is actually pretty similar, both having a smooth, full and deep sound. The bass is stronger on Palab M1 Mini, and it has even lower treble presence and energy compared to X1s GT which ends up sounding more neutral and natural compared to M1 Mini. Both are superfluid and have good detail and resolution. M1 Mini is like a portable version of X1s GT, which is warmer, fuller, deeper and has more bass, while X1s GT is like a desktop variant of M1 Mini with more maximum power. 
Value and Conclusion
For most folks, a unit like Aune X1s GT can replace an entire streaming system, and will become the new sound card, where you can plug in your favorite headphones, both dynamics and planars, IEMs and portable earphones, but also your active speakers. For a price of 349 USD, Aune X1s GT is an incredible deal and you're unlikely to find something that's as good in the price / performance ratio department. You can even purchase a more affordable version for 319 USD if you don't need Bluetooth.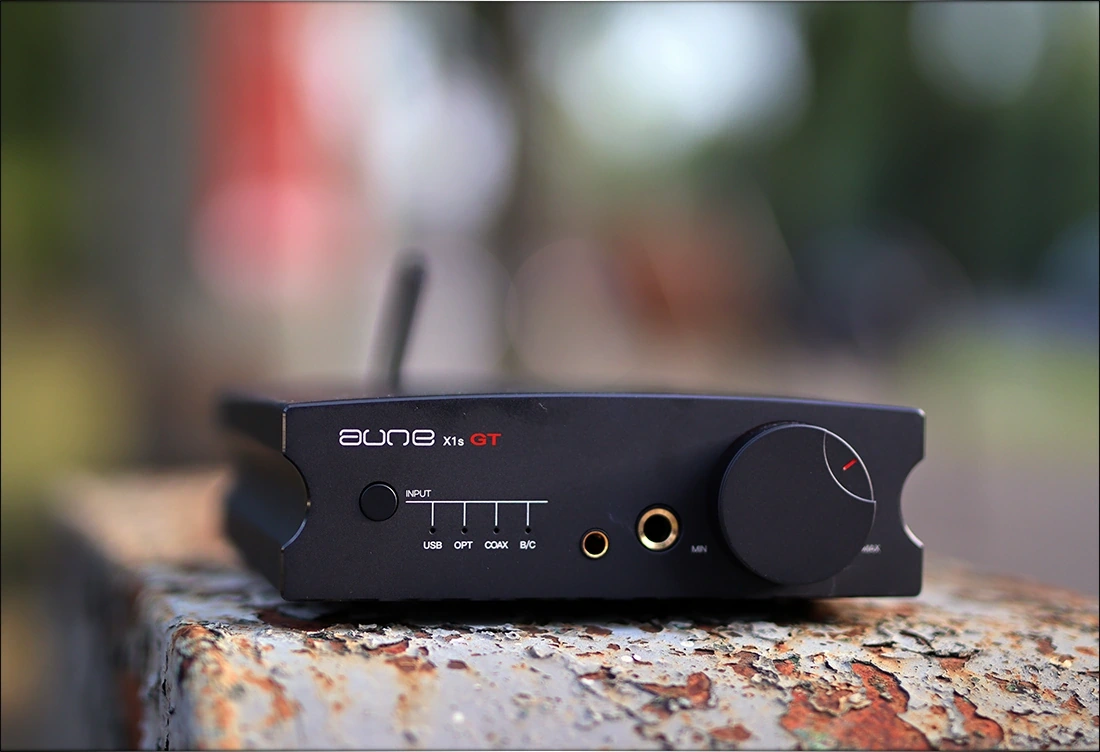 In fact, the Aune X1s GT is so good that I'm going to add it to Audiophile-Heaven's Hall Of Fame for its superb performance, clean and detailed sound, low background noise level, and sleek design, along with the incredible price / performance ratio.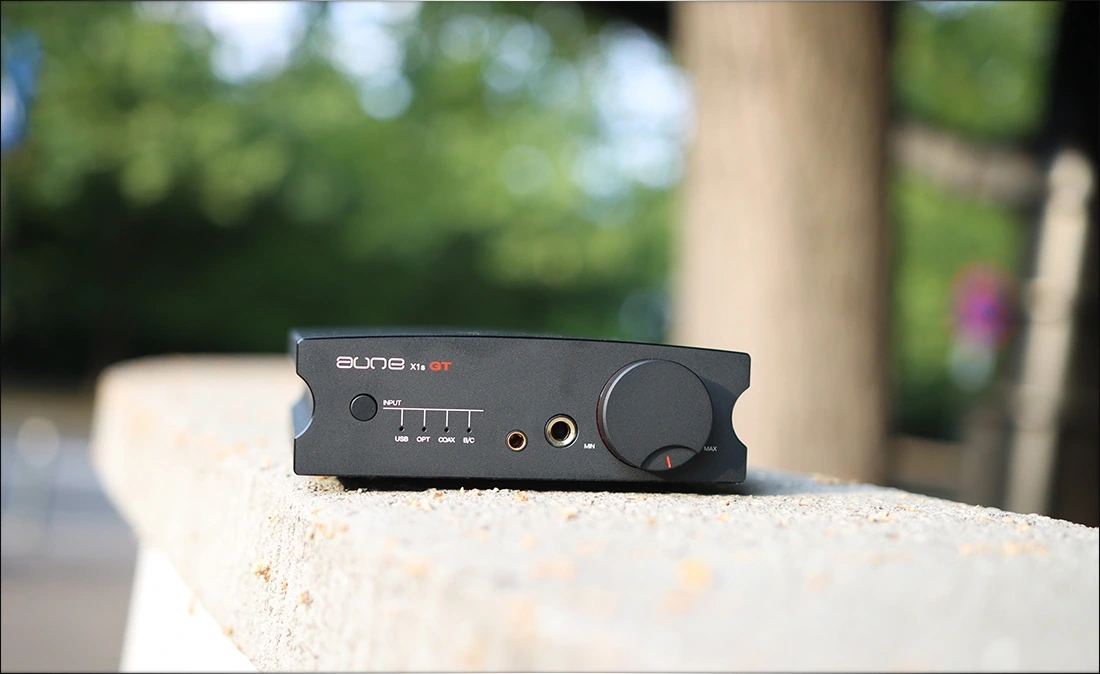 At the end of today's review, if you're looking for a super well priced DAC/AMP with Bluetooth LDAC input, balanced 4.4mm Headphone output, a natural, smooth, and warm sound, with superb build quality, and high driving power, but control and low distortion, Aune X1s GT is a fully recommended purchase at the 349 USD price point it is currently selling at. 
Product Link
You can grab one from www.amazon.com here: https://amzn.to/3Q4pUjU
If you're in the UK, you can grab one from www.amazon.co.uk here: https://amzn.to/3d8hMQZ
And if you're from Europe, you can grab one from www.amazon.de here: https://amzn.to/3oW9Bd7
Packaging
Let's get the packaging out of the way: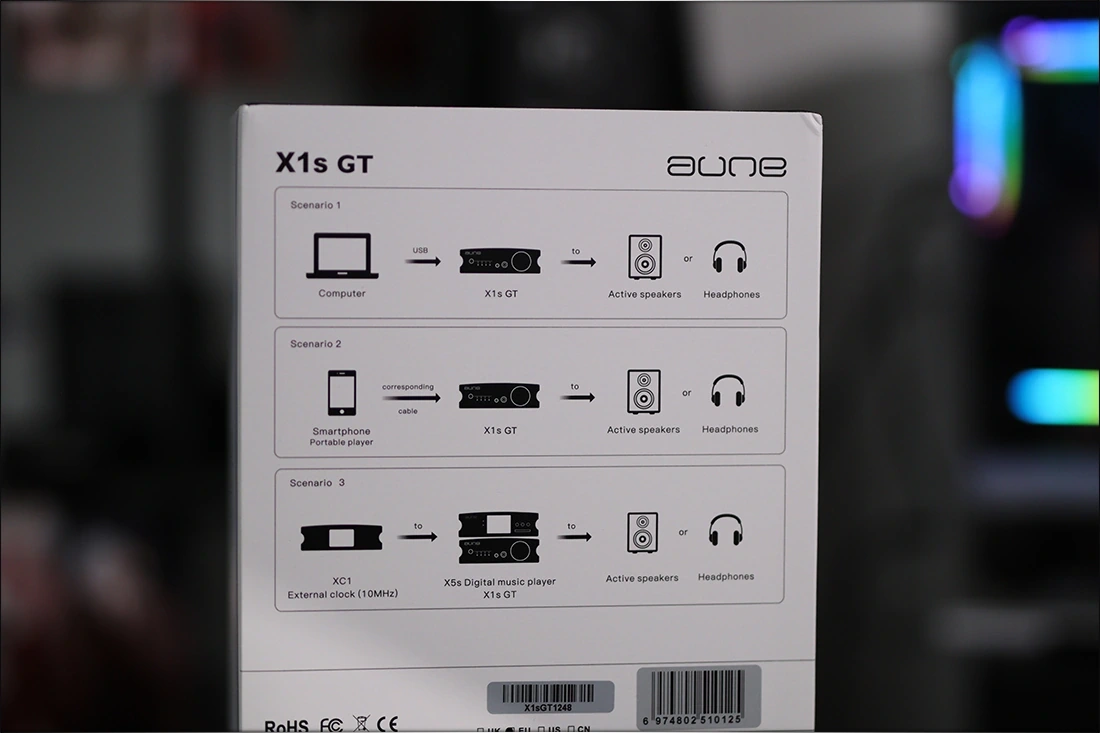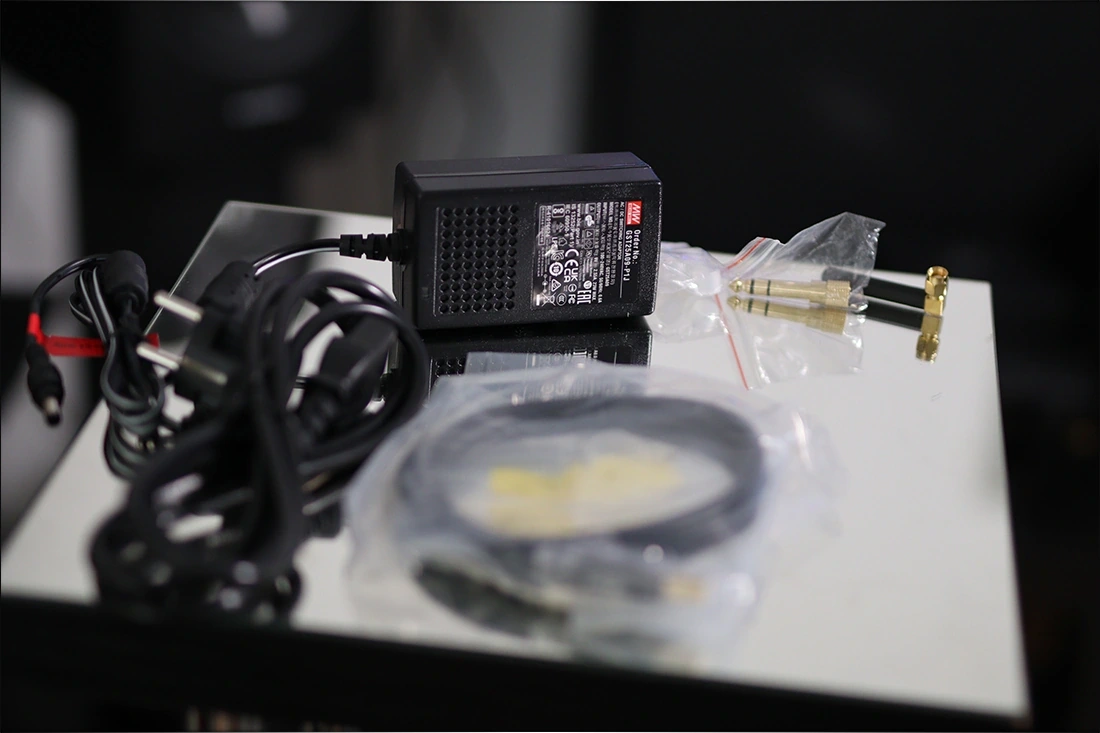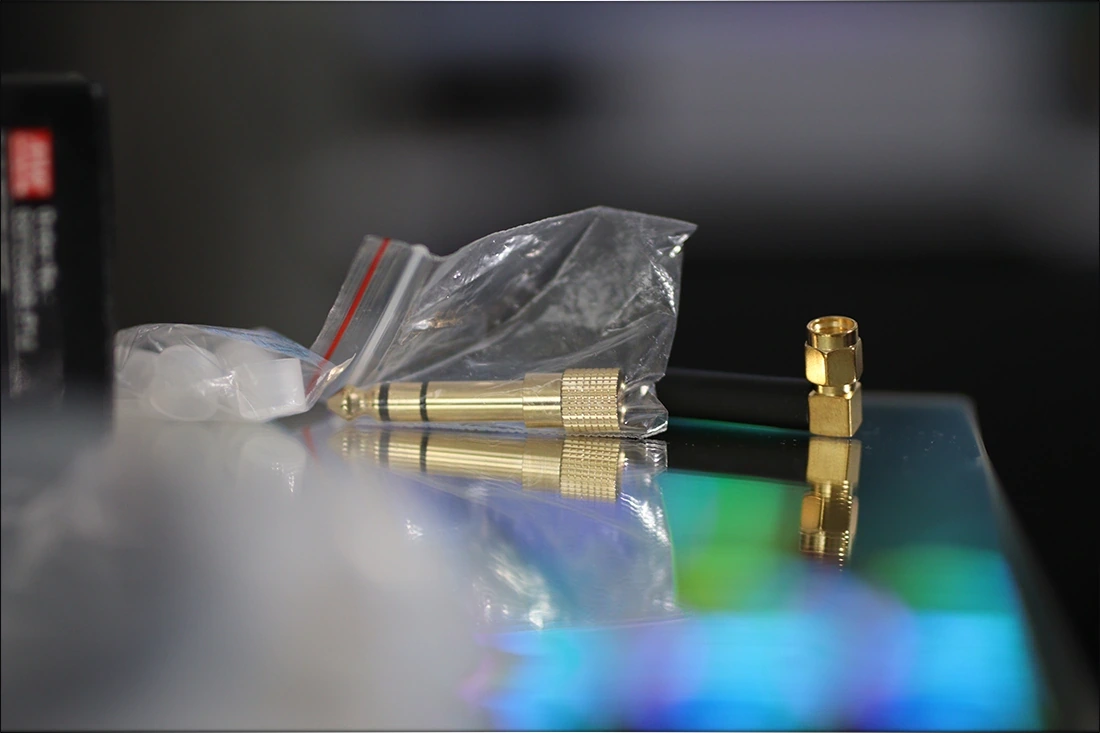 One X1s GT Desktop DAC/AMP/Streamer

One USB Input Cable

One 6.35mm(M) to 3.5mm(F) adapter

One power adapter

User guide
Specifications
Product type – DAC / Headphone amplifier

USB chip – XMOS

Inputs: 1x USB-B, 1x Optical Toslink, 1x Coaxial, 1x BNC for 10MHz clock

Outputs – 1x Line stereo RCA, 1x Pre-out stereo RCA, 1x Single-ended Jack 6.35mm headphone output, 1x Balanced Jack 4.4mm headphone output

Supported sampling rates – USB : PCM up to 32bit 768kHz, DSD up to DSD512, Coaxial / Optical : PCM up to 24bit 192kHz, DSD up to DSD128

Power supply supplied – Meanwell 9V 2.55A (5.5 / 2.1mm Jack)
Aune's Trusted PLL(Phase Locked Loop) Technology

Supports high-resolution 32-Bit/768kHz PCM decoding

Native DSD512 decoding

Digital Input support with Coaxial and Optical inputs
Fully Balanced 4.4mm headphone output + Single-Ended 6.35mm headphone output

Fully-Discrete Amp Circuit
Four different drive modes
High-quality audiophile-grade components including Communication-Level PCB, and more
ALPS Potentiometer Volume Control

Astonishing design with Red-coloured light behind the volume wheel

Musical, Smooth Sound Tuning
Input Parameters
USB: 32-bit/768kHz, DSD512

Coaxial: 24-Bit/384kHz, DoP128

Optical: 24-Bit/192kHz, DoP64
Output Parameters
Output Level: 2.0Vrms

SNR: 120dB
DNR: 120dB

THD+N: 0.00013%

Output Power(4.4mm): 1200mW@32Ω

Output Power(6.35mm): 320mW@32Ω
---
---
--- Please remember to stay safe, and always have fun while listening to music!---
 - If you have a dime to spare, and donate, to help us with electricity and work expenses, it would make my day much brighter, as it would help me improve things around the website and increase the frequency of my posts - 
---
Full Playlist used for this review
We listened to more songs than those named in this playlist, but those are excellent for identifying a sonic signature.  PRaT, Texturization, Detail, Resolution, Dynamics, Impact, and overall tonality are all revealed by those songs. We recommend trying most of the songs from this playlist, especially if you're searching for new music!
https://www.youtube.com/playlist?list=PL_cjBXGmwSHSdGcwuc_bKbBDGHL4QvYBu
--- Contact Us ---






---
---