Love Your Pocket – Jade Audio EA3 IEMs Review 
Jade EA3 is made by a sub-base company of FiiO named Jade Audio, and they are priced at 40 USD. They will get compared with FiiO F9 PRO, Shozy Hibiki, and with REVONEXT QT3. Given their price point, they will mostly be paired with less expensive sources, or ultraportable DAPs like M6 from FiiO, so the pairing part will be combined in the build quality section of the review.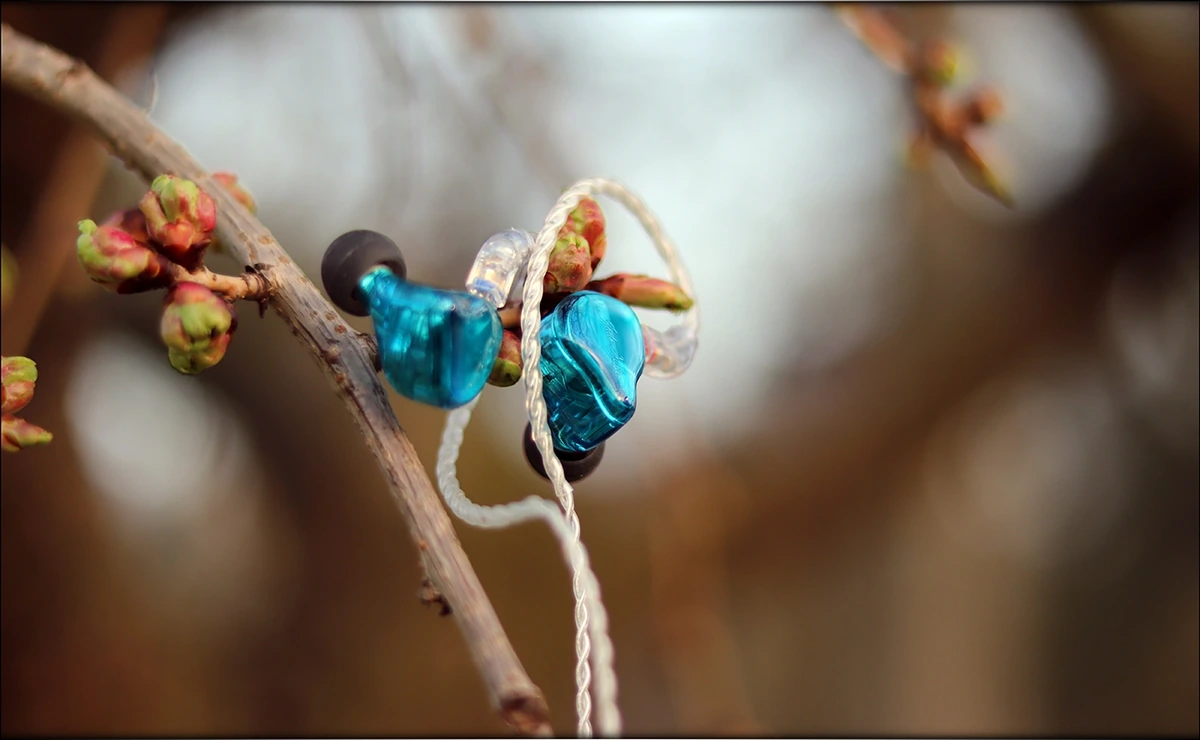 Introduction
If you haven't heard by FiiO yet, I really invite you to read some of my reviews about their products, because they're one of those really awesome companies who does everything they can for their customers and helped shape the current audio world that we know. They are a large-ish company now and it is recommended to get their products from their official channels rather than directly from FiiO, unless you live in China, as your local sellers can serve you a bit better than FiiO can directly from China (since shipping a package will include taxes, shipping costs and all).
That being said, it should be noted that I have absolutely no affiliation with FiiO, I am not receiving any incentive for this review or to sweeten things out. I'd like to thank FiiO for providing the sample for this review, with me being responsible for paying the custom taxes. Every opinion expressed is mine and I stand by it, the purpose of this review is to help those interested in Jade Audio EA3 IEMs find their next music companion. 
Packaging
First things first, let's get the packaging out of the way:
EA3 does not come with much, just the IEMs and extra tips. FiiO usually has better packages, and it feels like the Jade sub company will save you some bucks on the package but still offer the same quality we're used to seeing from FiiO. 
Youtube Video 
https://www.youtube.com/watch?v=NpmnUVSkvkg
Build Quality/Aesthetics/Fit/Comfort
The build quality is great, pretty plastic but pretty comfy. The body is large enough to fill most ears, but still not big enough to be uncomfortable for those with smaller ears. The cable is detachable, and of an excellent quality for the price point, which is 40 USD. The large dynamic driver is visible from the outside.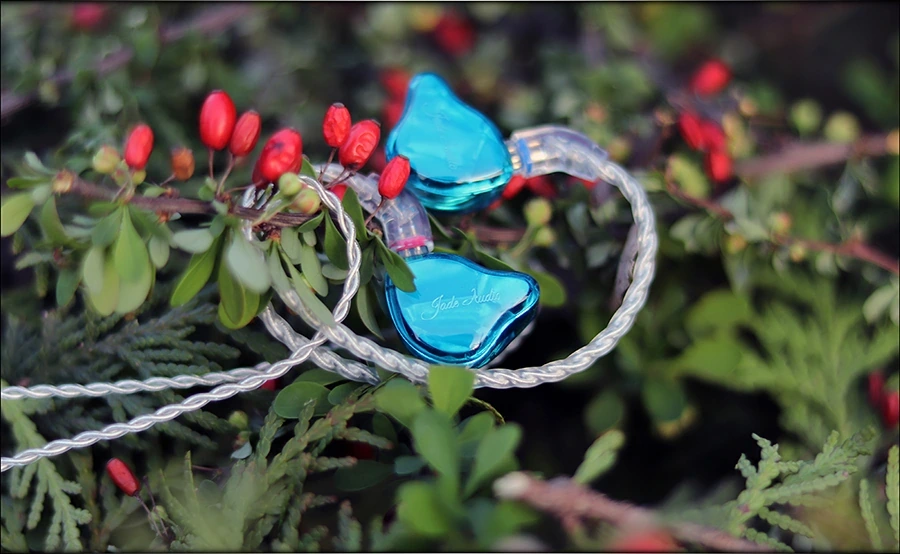 Happily, there is no driver flex with the EA3, FiiO managed to cut it out, with a vent, and there is no cable microphonic either. The default tips are not great in quality, and if possible, I would recommend upgrading to better tips, but they are nowhere near as bad as the default tips that most entry-level chifi iems come with, so it should be good to go, especially for the new audiophile who isn't looking for Final Tips or Spinfit Tips in particular. 
The term Chifi basically comes from the idea of Head-Fi and other headphone / earphone -related ideas ending in -fi, and Chi-Fi comes from Chinese-Fi, which applies to most Entry-Level earphones coming from China. 
The drive factor is good, EA3 is medium to drive, not particularly sensitive to hiss, so it will work with any portable or ultraportable DAP, like FiiO M5, Shanling M2x, Hiby R3PRO, and even with DAC/AMPs like Lotoo Paw S1, Earstudio HUD100 or FiiO Q5s. 
All in all, EA3 feels like a nicely built IEM, and although it is fully made of plastic, the design is original, and better than the alternatives from KZ which are always ripoffs after bigger, better products. 
Sound Quality
Speaking of an IEM with a warm, and beginner-friendly signature, you can absolutely go for EA3 if you're a fan of warmer signatures with a large bass, holographic and wide presentation, and if you like having a lot of impact. They are not very relaxing, since the midrange is quite uplifting and the treble is too, EA3 is a touch forward in general, and if you want something to relax to, FiiO has the darker-sounding F5. Most of their other IEMs, like the F9PRO, FH7, and FA9 are quite energetic. FH5 is borderline between being relaxing and being quite uplifting and energetic. 
The bass of the EA3 is the central element of their sound, with a nice amount of body and impact. IT is a natural to slow timed bass, but it reaches very low, down to the 25 Hz range, which is excellent. The bass warms up the midrange, and it bleeds a bit in the mids, creating a feeling of warmth for the entire sound. There's a good amount of detail and clarity with the EA3, as they are able to outline two or three basslines in complex tracks, but they are not quick enough for death metal and aggressive music. 
The midrange is also pretty natural in speed, so they never come through as analytical, rather being pretty natural, pretty sweet and pretty musical. Indeed, where FiiO as a brand is known for fairly analytical and clear / somewhat bright and cold IEMs, it looks like the Jade sub-brand is going for warmer signatures. The soundstage is pretty wide, and not very deep, and EA3 has a pretty holographic presentation. 
The treble is somewhat uplifted overall, enough so that the signature never feels dark, but not enough for me to call it traditionally V-Shaped. The treble has a fairly natural presentation, not a lot of grain, and if I was to complain about anything, I would have wanted a bit more sparkle. All in all, the signature is very versatile, works for classical as well as it works for rock and meal, but also for EDM and Pop. 
Comparisons 
The main competitor list for the Jade EA3 includes a ton of IEMs, since the Chifi producer market releases a new Chifi IEM every week, and not every one of them dies in a few months. I tried to pick a few important competitors, so I will be comparing the EA3 with FiiO F9PRO, Shozy Hibiki and Revonext QT3.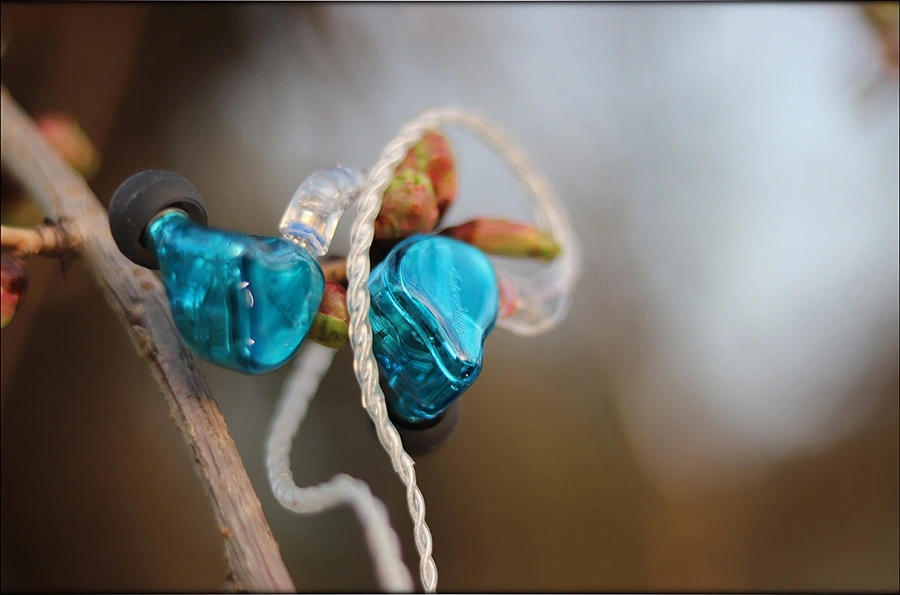 Pairing the Ea3 with smartphones like the Huawei P20, or Xiaomi Redmi Note 9s is a great ideea too, although most of the competitors generally ask for better sources, so if you're wondering about pairing, Ea3 is simply not picky, which is why I skipped the pairing part of the review. 
Jade EA3 vs FiiO F9PRO ( USD vs USD) – FiiO F9 PRO is quite a bit more expensive, but this doesn't stop the EA3 from having some advantages over FiiO's previous ace. Starting with the warmer sound, the sound also has a wider soundstage, and Ea3 is easier to drive and pair with DAPs and even smartphones, so it is much simpler to recommend, especially if you're a beginner in Audio and want to see how a high-quality IEM sounds like. 
Jade EA3 vs Shozy Hibiki MK II ( USD vs USD) – Hibiki is pretty cool by itself, but it lacks the package, and the detachable cable to be as cool as the Jade Ea 3. The sound also has better bass, and better low reach on the Ea3, and better treble extension, air and sparkle on the Ea3. Hibiki is more forward and even warmer than EA3, to the point where the sound is a bit fuzzy. All in all, Ea3 is more recommended in general than the Hibiki MKII in ever aspect, except for the plastic that touches your ear, which had a more comfortable finish there. 
Jade EA3 vs Revonext QT3 ( USD vs USD) – QT3 is an unique case, because it has a lower end package, but it has a more detailed sound. It is more V-Shaped, and has a brighter treble, which may sound appealing at first, but that treble is quite shrill and metallic, in comparison to the more natural and less fatiguing treble of the EA3. All in all, if you want a super V-Shaped sounding IEM, you can go for QT3, but if you want something that's warm, impactful and more comfy to listen to long-term, then EA3 is a better option. 
Value and Conclusion
The value of the Jade EA3 is better than that of most Chifi IEMs, because the sound is really good, and they have a good build quality, along with an excellent comfort. 
This being said, it is no news for FiiO to get the ergonomics right, and so far they had excellent ergonomics and build for every one of their IEMs, from the days of F9 all the way to FH7 and FA9 which have been released recently. No driver flex, paired with a nice cable makes it really easy to recommend the Jade EA3 more than the other options out there in the sub 50 USD price range. 
The sound is warm, pleasant, it provides the listener with an impactful and uplifting presentation, but it doesn't miss out on the treble, like Xelento did, and the sound also has a pretty wide and holographic presentation, making it easy to listen to the Jade EA3 regardless whether you enjoy rock, pop or electronic music. 
At the end of this review, if you want a great IEM for 40 USD, if you're looking for fairly good comfort, and if you don't mind the plastic, if you want a good cable, along with a nice dynamic, punchy sound with a warm tint, the Jade EA3 is an awesome option and the IEM I can easily recommend you, even now, a few months after I posted the original Youtube Video Review. 
---
---
--- Please remember to stay safe, and always have fun while listening to music!---
 - If you have a dime to spare, and donate, to help us with electricity and work expenses, it would make my day much brighter, as it would help me improve things around the website and increase the frequency of my posts - 
---
Full Playlist used for this review
We listened to more songs than those named in this playlist, but those are excellent for identifying a sonic signature.  PRaT, Texturization, Detail, Resolution, Dynamics, Impact, and overall tonality are all revealed by those songs. We recommend trying most of the songs from this playlist, especially if you're searching for new music!
https://www.youtube.com/playlist?list=PL_cjBXGmwSHSdGcwuc_bKbBDGHL4QvYBu
--- Contact Us ---






---
---