FiiO F9 – Emotional Affordable Audiophile
FiiO F9 is an amazingly good IEM produced by FiiO, while they tried to bring as much quality they could, at the lowest price point it was possible. After tinkering with many designs, they managed to create one nifty little IEM.
---
Introduction

FiiO is a very well-known company from China, which has been known for years, for keeping their customers close to their hearts, for organizing tours for their amazing products, and for bringing some of the best innovations in the DAP world when they first created their FiiO X5 and X5ii models. FiiO started producing IEMs with their first few models, like FiiO EX1, which were made together with another great Chinese company named Dunu, but their latest models are produced by FiiO themselves, offering a good sight into what FiiO has been up to lately. 

It should be noted that I have absolutely no affiliation with FiiO, I am not receiving any incentive for this review or to sweeten things out. This review is not sponsored nor has been paid for by FiiO or anyone else. I'd like to thank Sunny from FiiO for providing the sample for the review. The sample was provided along with FiiO's request for an honest and unbiased review. This review will be as objective as it is humanly possible, and it reflects my personal experience with FiiO FiiO F9. Every opinion expressed is mine and I stand by it, the purpose of this review is to help those interested in FiiO F9 find their next music companion.
Product Link
You can get FiiO F9 and other FiiO products from www.amazon.com here: https://www.amazon.com/FiiO-F9-Headphones-Detachable-Compatible/dp/B074TXH4KX
Packaging

First things first, let's get the packaging out of the way: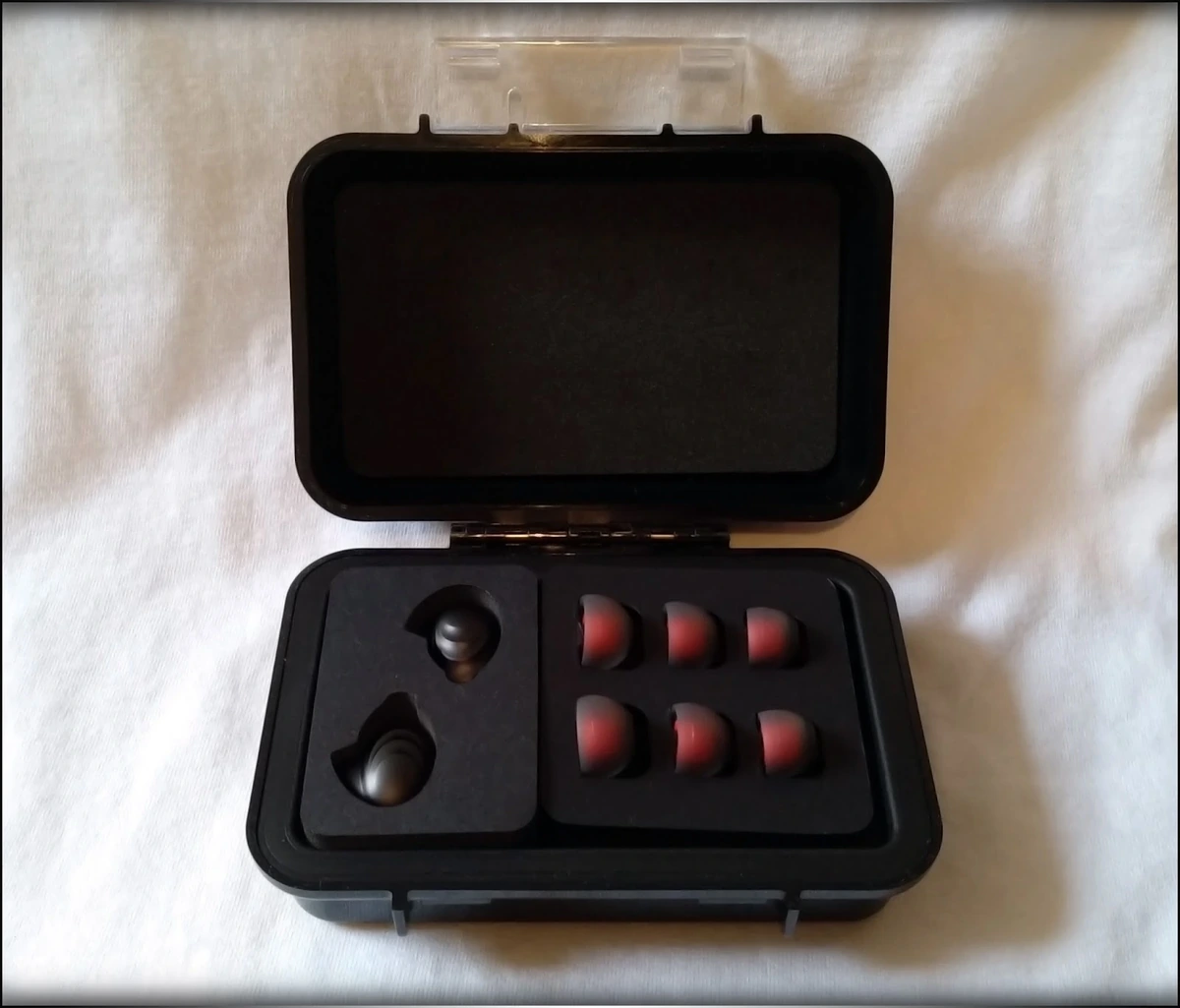 FiiO has always been lovely with their package, and F9 is a standing proof of this. They packaged F9 in the same fancy package as they wrap their Flagship Devices, like FiiO X7mkii, which we recently reviewed. 

F9 comes in a dandy-elegant-looking box, with a black and red color, and a smooth surface. You can find a beautiful rendering of F9 on the front of the package, along with some useful information on the back of the box. FiiO includes their authenticity sticker on the top of the box as well, ensuring you that you're always protected from counterfeit items, and that you're using the FiiO quality. The list of items included in the box is longer than most IEMs at this price point. 

Inside the outer box, you can find a matte black cardboard box, which serves to protect F9 and their package. Within that box, you can find FiiO's carrying box, a beautiful, glossy box, made in the same style as the well-known and Pelican boxes. Next to it, there is a small cardboard compartiment that includes the 3.5mm SE cable, and the extra 2.5mm Balanced cable for F9.

Inside the Glossy Carry-Box you can find The F9 IEM bodies seated in a foam cutout, next to a wide selection of tips for F9. The inner part of the FiiO Carrying case is rubberized, so it does an amazing job at protecting F9 during transport. 

The packaging is complete and has an amazingly high number of extras for a IEM priced as low as F9, making it an amazing unboxing experience and an amazing overall deal.
Build Quality/Aesthetics/Fit/Comfort

After having experienced the fit and comfort of some of the world's greatest IEMs, I am happy to now feel what FiiO brings to their fans and supporters, especially since they had a lot of time to refine and develop F9. 



Starting with their outer appearance, F9 is sleek and elegant, with a slightly matte surface, having a wing-like texture on the outer part of the IEM shell. The cables sport a tight and secure MMCX connection that has proven to be quite good at withstanding long-term usage. The inner part of the IEM body sports two tiny holes (vents) that help F9 breathe while in usage, defending against the typical void of only-BA setups. Since F9 has a dynamic driver in their setup, they require this vent for their dynamic driver to work its best. 

FiiO F9 comes with two cables, one smooth, with a microphone / remote, ear guides, and ended in a 3.5 SE connector, and the other cable ended in a 2.5mm Balanced connector, being braided and feeling a tad supler than the SE one. 

When it comes to the comfort, F9 is one of the most comfortable IEMs out there, having a somewhat deeper fit, excellent ergonomics, and a very good selection of tips included by FiiO. 

Not only the comfort is excellent, but F9 also provides excellent isolation from the outside noise, being one of the few IEMs that can compete with fully sealed solutions without being one. The highlight of their comfort is their ability to just disappear in your ears, at the same time making you forget about your surroundings. F9 is a quite nice IEM when it comes to also staying in your ears for hours in a row, being comfortable even after five – six hours of continuous usage. 


Sound Quality


FiiO F9 has quite a vibrant, revealing and lively tuning, with an emphasized low end, that has a natural decay to its bass, a slightly recessed midrange, and an enthusiastic top end with a bit of an added sparkle in the 7-8kHz area. Their resolution is fairly good for this price point, being able to reveal quite a bit of the hidden details in your music, all while having a very good timing and keeping a fair naturalness through their signature. 

F9 tends to have excellent extension on both ends, especially for this price point, having a signature that is to fall in love with.

All sonic impressions have been taken with FiiO X7mkii, which we reviewed here: https://audiophile-heaven.com/2018/01/fiio-x7mkii-infinity-sound.html



Bass


The bass of FiiO F9 is quite deep and goes down low, the sub-bass being able to truly rumble the listener, without bleeding into the mids or overtaking the sound. The bass is slightly enhanced in the mid-bass, giving good weight to each musical note, and adding a bit of impact to the sound, once again, without bleeding into the other sonic aspects and without taking over any other part of the song. The bass feels balanced with the rest of the sonic spectrum. One can easily start to shake their head or entire body while listening to FiiO F9, the bass having a tendency to enhance the listener with a sweet emotional response. 



Midrange


FiiO F9 has a sweet and delicious midrange that places an emphasis on the emotional connection and the lively feeing of each song, being excellent at giving music a vivid and lively feeling. The lower midrange is slightly recessed, giving F9 a bit of space to breathe, all while keeping the whole signature full and rich. The texture of the midrange is quite excellent, F9 being good at providing a look into the detailing and textures of the music it is playing. The upper midrange is slightly more elevated in comparison to the lower midrange, giving music an excellent emotion and portrayal, F9 giving both female vocals and violins a bit of magic with its emotional sound. 



Treble



The lower treble of F9 is quite nice as well, having a nice resolution and quite amazing revealing abilities. It grows a bit more enhanced at the 7kHz area, giving cymbals a bit more bite, and acoustic music a bit more magic, a bit like how RE800 from HIFIMAN does. This doesn't make F9 harsh or sibilant in any way, and that lower treble enhancement stays within what is quite enjoyable with most music, especially if one enjoys a bit more sparkle in their music. This little peak can easily be EQ'ed with most sources, being something that can be attenuated if the listeners prefers a smoother sound to their music. 

The upper treble extends fairly well up top, providing enough air for instruments to breathe, having a nice resolution, especially for this price point. 

The treble makes micro-details quite evident, and it gives a slightly longer trail to cymbals, providing a very clear and accurate sound. Acoustic guitars have a really nice bite and definition, especially when it comes to metal-strings acoustic guitars. Metal music is fully enjoyable and most music sounds rather lively and lovely through them. 



Soundstage
The soundstage of F9 is quite good as F9 is not an intimate IEM, their soundstage instead extending in all directions, providing really good spatial cues. The soundstage has a bit more width than it has depth, giving F9 a wide feeling to them, while not being the most accurate in describing the depth or distance from which a sounds comes from. Even so, most music is quite enjoyable, and especially electronic music gives an amazing 3D experience with F9, and considering the comfort and the isolation, the final result is extremely enjoyable. 



ADSR/PRaT
The ADSR/PRaT characteristics of F9 are quite good for this price range, music having a fairly good attack and decay for each musical note. Fine textures in synths are revealed nicely, and for the price point there is absolutely nothing to complain about.  



Portable Usage



FiiO F9 is extremely portable, not only because they don't require any extra amplification above a typical smartphone, but they are extremely comfortable and portable as well. Having their own dedicated high-quality transport case surely helps F9 stay fresh even while in unfriendly environments, and the excellent comfort and isolation make F9 one of the best IEMs to take out on a walk. 

There is a nice sense of value FiiO adds on F9 by adding a high-quality balanced cable, and that one is quite portable as well, being braided and quite flexible, just like their default cable. 

The provided selection of tips are enough to fully enjoy F9, thing which is quite rare as I usually prefer using SpinFit tips. 

The volume requirements of F9 are within what most smartphones and tablets can output, but their sound is quite a bit better while using a dedicated source. 
Comparisons 



FiiO F9 vs Dunu DK-3001 – Starting with the bottom end, F9 has similar amounts of bass when compared directly to DK-3001. The midrange is quite similar in presentation as well, while the top end tends to be somewhat similar as well, DK-3001 having more extension, resolution, detail and being a tad smoother in the long run. 

FiiO F9 vs FiiO F9Pro – F9Pro is the bigger brother of F9, with improved Knowles Drivers, although they are almost double F9's price. F9 Pro has the same dynamic driver inside, so the bass amounts and qualities are quite similar with F9, but the midrange and the top end feels more vivid and lively on F9Pro, the high end extension being quite noticeable better on F9Pro. 

FiiO F9 vs iBasso IT01 – iBasso IT01 tends to have similar sub-bass amounts when compared to F9, IT01 has considerably more mid-bass amounts, sounding fuller and warmer than F9. The top end is smoother on IT01, although it also has a nice bite and definition. The soundstage is deeper and wider on IT01. Both are excellent IEMs at this price point. F9 being more V-Shaped with a less thick sonic signature. 

FiiO F9 vs MO MZero – MO MZero is a full sized BT Headphone that is priced at a similar price point as F9. The comfort is slightly better on F9 for my ears since MZero is a bit smaller in its pads. The sound of MZero has more bass amounts, with more impact, and a thicker sound in general. The midrange is similar, with more clarity and emphasis on the upper midrange for F9. The treble is more enhanced on F9, being smoother and having less extension on MZero. Of course, they are different products, but given their price point, MZero makes an interesting competition for the 100$ Market.  

FiiO F9 vs Astrotec AM850 – AM850 makes a serious rival for F9, having a somewhat similar signature, with a slightly less recessed midrange, with more sub-bass hit and a larger soundstage, sounding a bit brighter as well. F9 is a tad more comfortable in the long run, having a better package, and having detachable cables, along with a 2.5mm Balanced cable included in the package. 

FiiO F9 vs Kinera H3 – At this point, Kinera H3 is slowly being phased out for the newer H3Plus, but H3's comparison with F9 might be quite interesting to quite a few readers. Starting with the bottom end, Kinera H3 has a tighter bass, a more recessed midrange, and a considerably more enhanced top end. The package is quite good for both IEMs, H3 also having detachable cables. H3 has 2-Pin connectors, thing which we wished for to be included in more IEMs, the MMCX connectors on F9 being still extremely good. In the long run, H3 is much brighter, but that brightness might also lead to more revealing abilities. F9 sounds more balanced, more even and smoother in direct comparison. 



Recommended Pairings

FiiO F9 + iDSD Nano BL – One of the best pairings out there, as iDSD Nano BL is as portable as F9 is, making any Smartphone or Tablet a truly enjoyable audiophile experience. The depth of F9's soundstage is amazing with this pairing, along with the definition of each musical note, and with the general detail and resolution of F9. iDSD BL has more than enough power to properly drive F9, and it has proven to be one of the best pairings they can get. 

FiiO F9 + X7mkii – X7mkii is one of my favorite flagship DAPs, also made by FiiO. Although not exactly in the entry-level price area, X7mkii gives F9 a vivid, open and dynamic sound, with excellent soundstage width and depth, all while giving them all the sparkle they need through their sound. Being quite portable, the pairing is very nice to take on a trip, X7mkii being able to drive F9 even at pretty low volumes. X7mkii's instrument separation are top notch, along with the general life and emotion they place in F9. 

FiiO F9 + HIFIMAN MEGAMINI – HIFIMAN MEGAMINI is yet another excellent DAP which has proven itself through time, like most of HIFIMAN's devices, driving F9 with excellent authority and giving them a very wide and powerful sound. There is a slight trace of hiss at times, but the whole Megamini + F9 package is well worth its asking price, considering how nice both items are. Megamini tends to make F9 even wider than they are in general, giving them a slightly more forward sound, absolutely welcome for Metal and more aggressive music. 

FiiO F9 + Shanling M2s – Shanling M2s is another well-priced DAP, this time focusing on features, having APT-X, and other bells and whistles, rather than sound alone. It can drive F9 quite well, giving them a slightly thicker sound, with a slightly smoother top end and giving them more depth to the sound. The focus of this pairing is its potential and wide array of usage scenarios, making F9 quite a lovely solution for your music needs. 

FiiO F9 + HIDIZS AP200 – AP200 is a great source to drive F9, giving them a vibrant and vivid sound, with a wide soundstage and a fairly good instrument separation, along with excellent timing and impact to their sound. 

FiiO F9 + Opus #3 – Opus #3 is one of the higher end sources one might use with F9, and it helps them gain ground when it comes to the air they have to breathe and to the general impact and vividness of their sound. Instrument separation and reveal abilities are also quite enhanced by Opus #3.

FiiO F9 + FiiO X5-3 – FiiO X5-3 is a great source for F9, and actually recommended with them as it tends to smooth out their top end a bit, giving them a slightly more relaxed and even presentation. 
Value and Conclusion

FiiO F9 is priced very fairly, at around 100 USD, being one of the most accessible IEMs with a good quality to their sound and with an excellent build quality. They come packaged in one of FiiO's amazingly complete and comprehensive packages, and they come with a lot of extras, like two cables, one from which is balanced, and with a wide selection of tips.



The carrying case also adds a good value to the whole package, making F9 a complete package for outdoors usage.

At the end of the day, if somebody is searching for a balanced, to slightly V-Shaped, with a little sparkle in the top signature, FiiO F9 is one of the most comfortable options out there, with excellent ergonomics and build quality, being one of the IEMs I can recommend the most. 

If there is any downside I should mention to readers interested in them, the 100$ IEM market is very crowded, with a lot of excellent offerings, which we will be reviewing in the future, and even FiiO F9's bigger brother, F9Pro, might be quite the excellent option in the long run, but as things stand, F9 is one of the best equipped, best priced IEMs with excellent ergonomics, and easily accessible IEMs from a reputable company! 

The design and sound are surely worth their 100$ asking price, and if you're looking for an amazing experience at this price point, F9 should totally be in your shopping list!
Product Link
You can get FiiO F9 and other FiiO products from www.amazon.com here: https://www.amazon.com/FiiO-F9-Headphones-Detachable-Compatible/dp/B074TXH4KX
---
--- Please remember to stay safe, and always have fun while listening to music!---
 - If you have a dime to spare, please donate, and help us! It would make the day brighter for me and my wife- 
---
Full Playlist used for this review
We listened to more songs than those named in this playlist, but those are excellent for identifying a sonic signature.  I recommend trying most of the songs from this playlist, especially if you're searching for new music! The playlists are different for Spotify, Tidal and Youtube, and based on the songs I enjoy and are available on each!
https://www.youtube.com/playlist?list=PL_cjBXGmwSHSdGcwuc_bKbBDGHL4QvYBu
https://open.spotify.com/playlist/5J3oloz8Riy9LxEGenOjQ0?si=979ba4f082414be7
https://tidal.com/browse/playlist/330fd544-8e5b-4839-bd35-676b2edbb3d5
--- Contact Us ---





---