Monster Power, Midrange Price – xDuoo TA10 USB DAC & Headphone Amplifier
What happens when a company designs a really decent, or otherwise even awesome DAC and Tube Headphone Amplifier for just 290 USD, is xDuoo TA10. Given its price point, Burson PlayMate, Pre Box S2 Digital, and iFi xDSD are the main competitors for Today's Review on an amazing little unit from a growing company from China. Pairings with Rosson RAD-0, Sennheiser HD660S and Verum One will also be included in Today's review of the TA10 from xDuoo and Xtenik.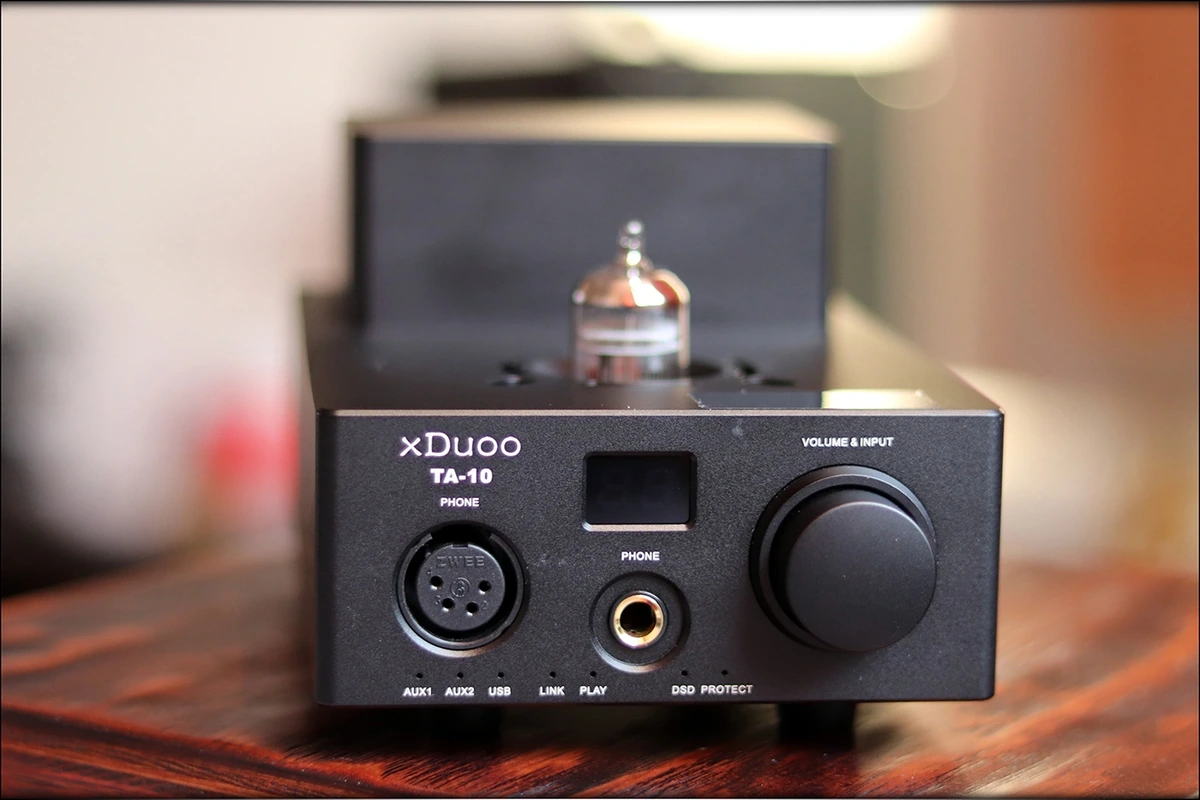 Introduction

xDuoo is an interesting growing company from China, but they aren't the star in Today's introduction, as they are more of a shadow company that I can't advice you to purchase directly from, instead I suggest you to get your products from resellers of xDuoo products, like Xtenik, who are known to provide one of the best service, quick answers to their customers, along with excellent support. When you order from Xtenik, you are welcomed by a professional team that's there to help you and to guide you to the best product for your needs. Generally, they also have some of the best prices around, with excellent sales going on, and with some rare products easily accessible from any corner of the world. 

It should be noted that I have absolutely no affiliation with Xtenik or xDuoo. I'd like to thank Xtenik for providing the sample for this review. This review reflects my personal experience with xDuoo TA10. Every opinion expressed is mine and I stand by it, the purpose of this review is to help those interested in xDuoo TA10 find their next music companion.



Product Link

https://www.xtenik.com/product/xduoo-ta-10-usb-tube-headphone-amplifier/
Packaging

There's not quite that much included in the package of xDuoo TA10, but you have all the essentials waiting for you, including a power cord, a high-quality USB cable, a little guard for the Tube, to protect it while it is installed. There is also a mini CD with the Drivers for using TA10 as a USB DAC, and there is also a Warranty card, and a 3.5mm to a 6.3mm adapter, as the main output from TA10 is a single ended Headphone Output in a 6.3mm. There is also an XLR Headphone output, but I do not consider that to be the main output of TA10 as it doesn't have a proper balanced amplifying stage. 

Technical Specifications


Classic tube 12AU7
Top level XMOS 8-core chip (XSA-U8A-64)
AKM flagship DAC AK4490
USB/coaxial digital interface
A class Transistor expansion
USB OTG
Dual clock system
Combination of tube and transistor
Japanese ELNA SILMC capacitors
Shell made from aluminum
Magnetic tube guardrail
Power supply: AC 100–240V
Supported OS: Windows (requires drivers), Mac
Sample rate: SB input
PCM: 16–32 bit/44.1–384 kHz
DSD: DSD64–DSD256 (1bit/2.8M–11.2M)
DXD: 24–32 bit/352.8–384 kHz
Output power: Phone: 2,000 mW (at 32 ohms); XLR: 2,000 mW (at 32 ohms)
Frequency response: 10 Hz–100 kHz(+/- 1 dB)
Gain: +18 dB
Distortion: ≤ 0.01% (1 kHz, 32-ohm load)
Suitable headphone impedance: 8–600 ohms
Size: 9.1 x 4.7 x 4.1 in (23 x 12 x 10.5 cm)
Weight: 3.3 lbs (1.5 kg)
USB input
Two sets of AUX inputs
SPDIF output
AUX output


Build Quality/Aesthetics/Functionality

Starting with the build quality, we're looking at a DAC/AMP that is solid, maybe a touch too solid. The Tube is guarded by a little magnetic guard, and you can take that off, but the tube itself is extremely hard to remove from the device, and replacing the tube, which is a replaceable part, is much harder than on any other Tube Amplifier. There is a Volume & Input selector wheel at the front of the device, along with a mini display, that shows the current volume. The display is bright and easily visible from any angle, but it doesn't do much more other than showing the current volume.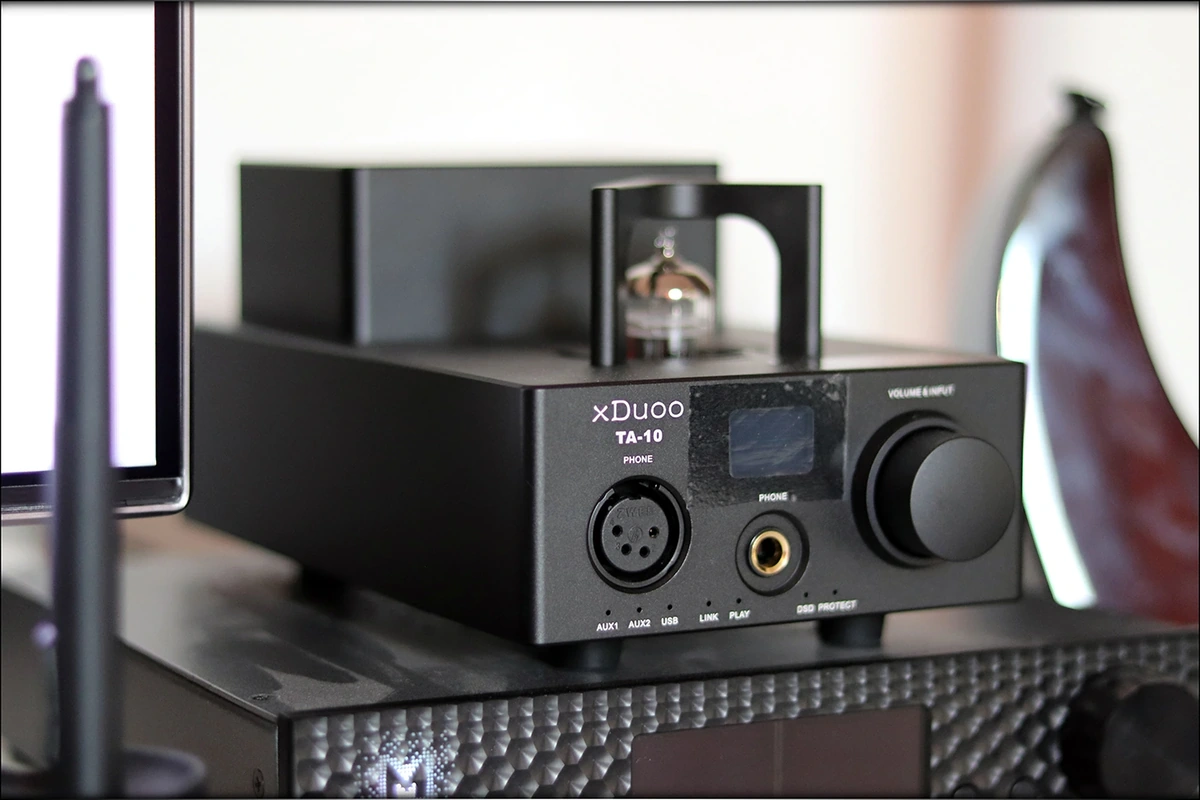 There is a series of LCD lights at the bottom of the device that shows the current input, along with a DSD light that tells you whether you're running a DSD signal to TA10. 

The feet of the device are made of rubber, and although it is a really small and light unit, chances are it will never slide off your table. Most of the weight of the device is at the back of the device. 

Speaking of a really useful tiny device, TA10 has a SPDIF Output, a USB Input, two Auxiliary inputs, which are in RCA format. Those are there if you want to use TA10 only as a headphone amplifier, or as a PREAMP, rather than using it as a DAC. This being said, it would be a pity to do so, since the DAC inside is of a very good quality, and it is an AK 4490, which by all means, is a very decent DAC, especially for this price point. I personally am more of an ESS DACs fan, but AK will do just fine if the implementation is right. TA10 offers up to 32 BIT decoding, and DSD up to 256.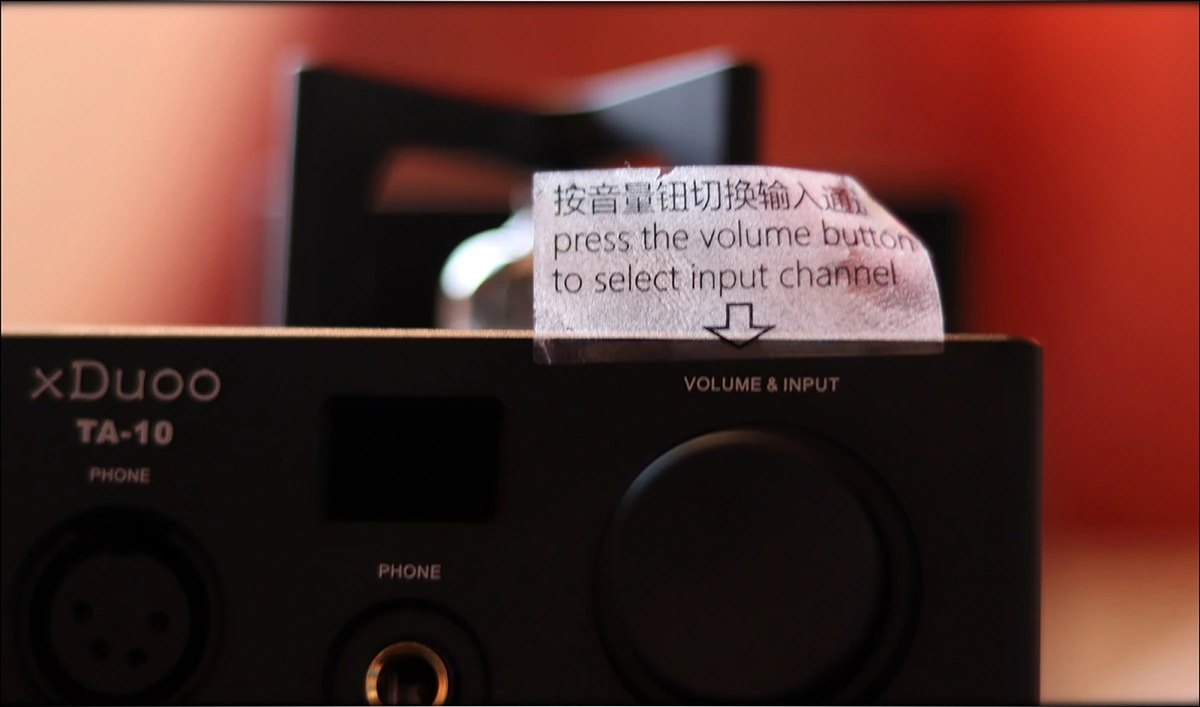 When looking at it, you wouldn't imagine that it has a lot of power, but it has almost 2 WATS of power running through it. You will be able to drive Audeze's Planars with TA10, and even other hard to drive headphones, it has no issues. Even with 600 OHM Headphones, like Beyerdynamic T1, are driven perfectly by TA10. HD800 is also no issue for this tiny AMP, and I am closing in to believing that if a company wanted, they would be able to design a really affordable unit that would be pretty future proofed, and well, TA10 is just that, with a wide format coverage, but also with an excellent overall driving power and nice build quality. 

When looking at Hagerman Tuba Amplifier, or Aune S6 PRO, both of which are priced at almost double the price of TA10, but deliver much less driving power, I am reminded that power alone isn't everything when it comes to a headphone DAC/AMP.

With PREAMP functions as well, as it has a Line Out, you surely can do a lot with this Tube AMP based on the 12AU7 Tubes. There are a lot of tubes around to do rolling with, if you wanted to, but I would suggest sticking to the original tube and replacing when it runs out, as it is inexpensive, at about 10 USD a piece, and lasts for a long time. 

Overall, the unit does get hot, like any tube Amplifier, and it is pretty much future-proof in every aspect, the remaining important part being how it sounds and how well it keeps its cool when it comes to its actual performance, rather than the features it packs.  



Video Review Link

https://www.youtube.com/watch?v=zHtKa9S1-0c



Sound Quality

The tonality of TA10 could be described as quite thick, way more dense and punchy in the sub-bass than it feels in the midrange and the treble. There is a pretty large difference between the thick, raw, punchy and impactful sub-bass, and the looser, softer, smoother treble. This is actually quite rare for an amplifier, and the tuning is quite specific. With specific headphones, the pairing is just heaven, while with others, it can sound a bit loose and tryhard. This being said, most pairings have sounded quite amazing, and there were more that sounded great than those that sounded bad with TA10.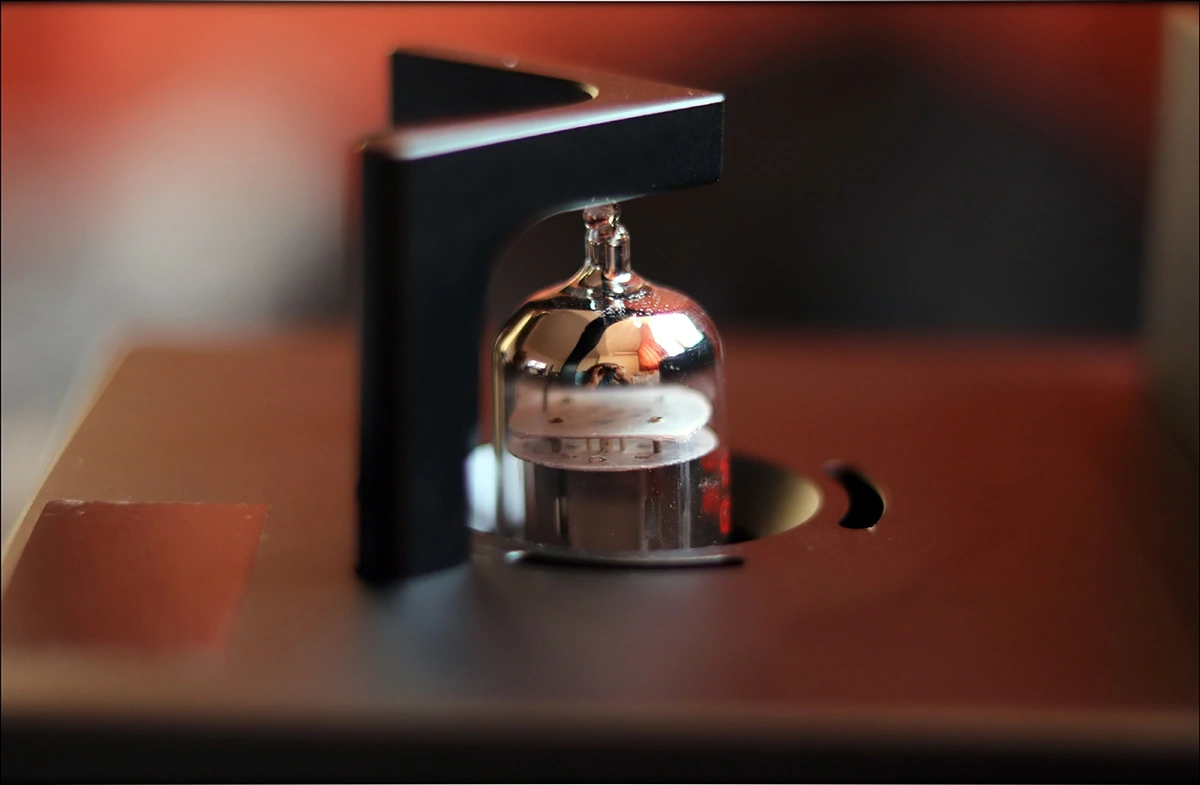 The bass of TA-10 is really thick and firm, thick and impactful. The stock tube isn't exactly known for bass, but it looks like TA10 decided to not care and to have an amazing bottom end anyways. The DAC had a word to say about this, and so had the rest of the design, but overall, the end sound is simply outstandingly strong in the sub-bass. If you prefer a warmer, more musical sound, with more in the mid bass, you can always look for Tube upgrades. Headphones that would naturally express a strong low-end, like Audeze LCD-2C, or Audze LCD-MX4, are going to take advantage of TA10's for sure. The speed of the bass isn't exactly the strong point of TA-10, as much as the size, density and impact is. This is important to keep in mind, because music like EDM sounds really impressive, while technical death metal, or rock in general may have a bit too much bass that is a bit too slow. For the 290 USD price point, the resolution and detail of the bass is amazing as well, with a lot more to offer for those looking to listen than for those looking for critical listening. 

The midrange is really forward, and with headphones like HE6SE, which are known to be bright, but have a good vocal presence, you can hear a lot of the textures and voices being brought quite forward. This leads to a really engaging experience, with a wall-of-sound like of presentation, that works well for metal, rock, and jazz, also for EDM. If you like your Classical to be quite dynamic, TA-10 will also work well for classical and orchestral. Upgrading the tube will change the sound, and you could always get a warmer tube that would make TA-10 more musical, and a bit less forward, if you didn't come at peace with the original tube.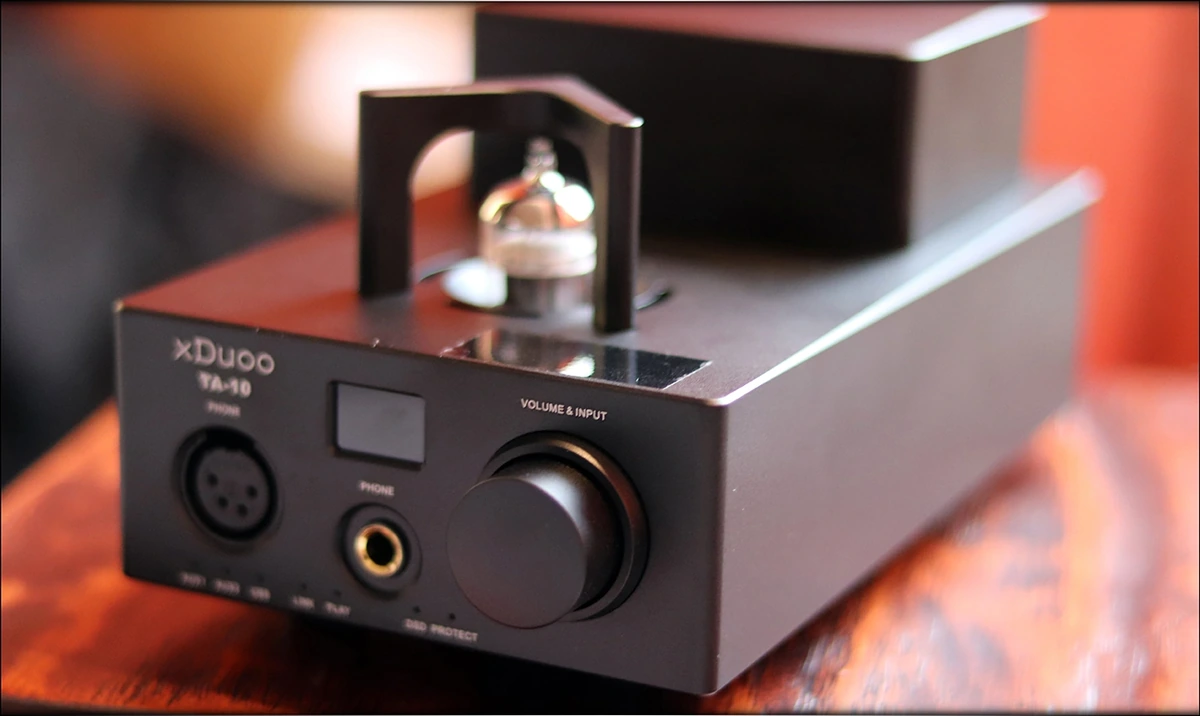 Where I had only praise for the midrange and the bass, for their forward, engaging presentations, the tob end is pretty rolled off, and despite offering excellent detail, clarity, and just overall having good refinement, it lacks impact and textures. Since the stock tube is generally known to sound more clinical and bright, I would have guessed that TA-10 would be less warm, or at least have a similarly strong top end, like the bass and the midrange, but instead, you get a really soft and smooth experience up top. If you're a bit of a treble head, you can bump the amount of treble a bit via EQ, and TA-10 will take it well, but there's a limit to how much you can do so before things get out of phase.

The soundstage could be considered to be on the smaller side, making everything intimate, as if you'd be sitting in the same room as the artist when they composed the music. This works quite well for Jazz and room music, especially as the depth is good on TA-10, but if you're searching for the widest, most spacious sound, sadly TA-10 isn't specialized and won't provide that. Rather, you should be interested in TA-10 if you're looking for a closer, deeper sound. The dynamics are quite excellent though, and you don't hear the music compressed out of TA-10. 


Desktop Usage 

You can't use TA-10 portably even if you wanted to, as it requires a constant connection to a power outlet. This being said, there are headphones, and even tube products that can be used portably out there, like the OVC Tube Headphones, and the AMP 9 from iBasso, for their DX220, DX200 and DX150. All of those are portable products that can be used outside, but which have some tube magic.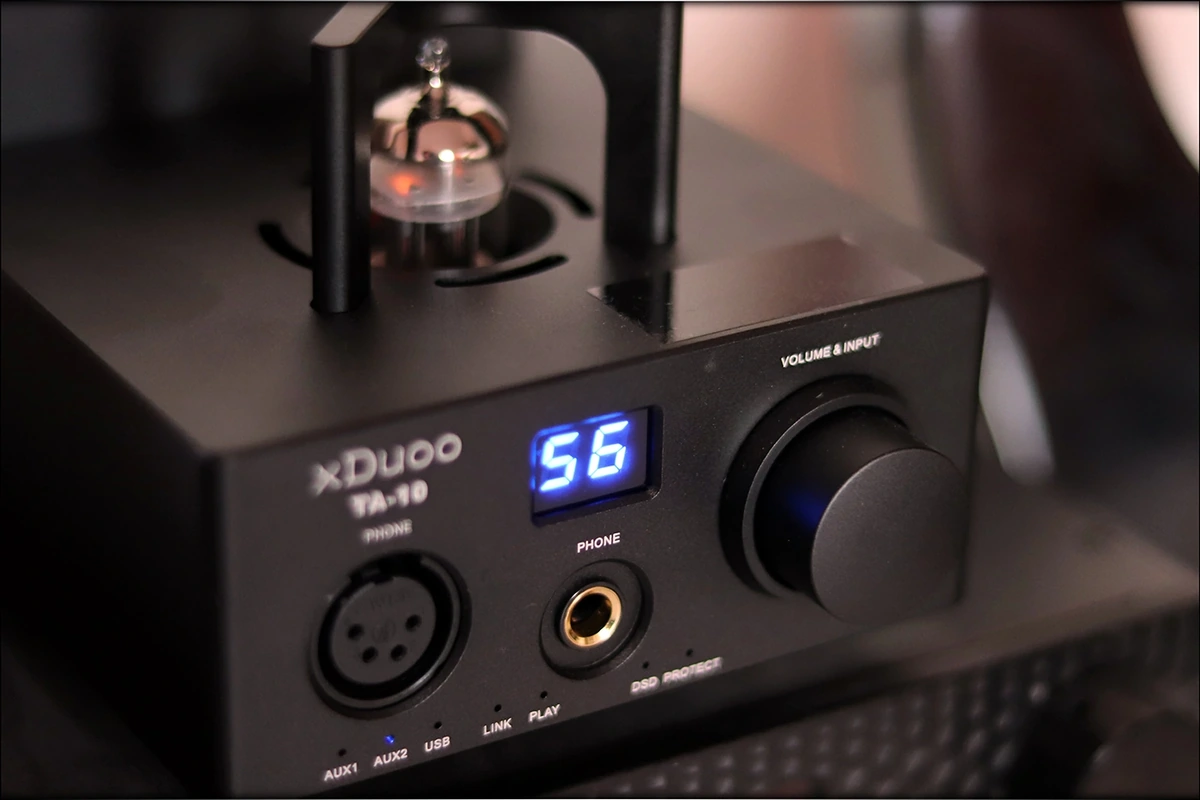 I also reviewed some Tube-Based products before, like Feliks Euforia, Feliks Echo, and ifi iTube 2. It looks like tube-based products are still made for desktop mostly, and TA-10 makes no exception. If you're looking to power some large, heavy-duty headphones, like HIFIMAN HE6SE, HIFIMAN Arya, or even something like Sennheiser HD660S, which makes an excellent pairing with TA-10, then having a full sized desktop amplifier is going to be a good thing, as you're unlikely to want to take it out of your home. 

The device itself is not quite that heavy, and has a small footprint on your desk, so you don't have to worry about your listening setup being cluttered. Furthermore, having both an amplifier and a DAC inside, you won't require to have a separate DAC. At this price point, you probably wouldn't be investing in a DAC that would work separately from TA-10 anyways, so a one-device solution is pretty excellent in my honest opinion, if you were looking to power your headphones, have some Tube Magic, and also have it all at 290 USD. 

The device is practical, it takes little space, provides a good amount of driving power, and doesn't need anything else besides a source to work. Furthermore, it takes in both SPDIF and USB signals, along with AUX, so you have the freedom to connect it to any source you want, making it a really good choice if you want to use it as a tiny desktop device, regardless whether you'll be connecting it to a DAP, a tiny laptop, or a large desktop workstation, it will still look nice and provide excellent service. 



Comparisons

The main competitors in this price range, for TA-10 are Burson PlayMate, iFi xDSD, and Pro-Ject Pre-Box S2 Digital. All of those are priced at a similar price point and are similar devices in design and purpose.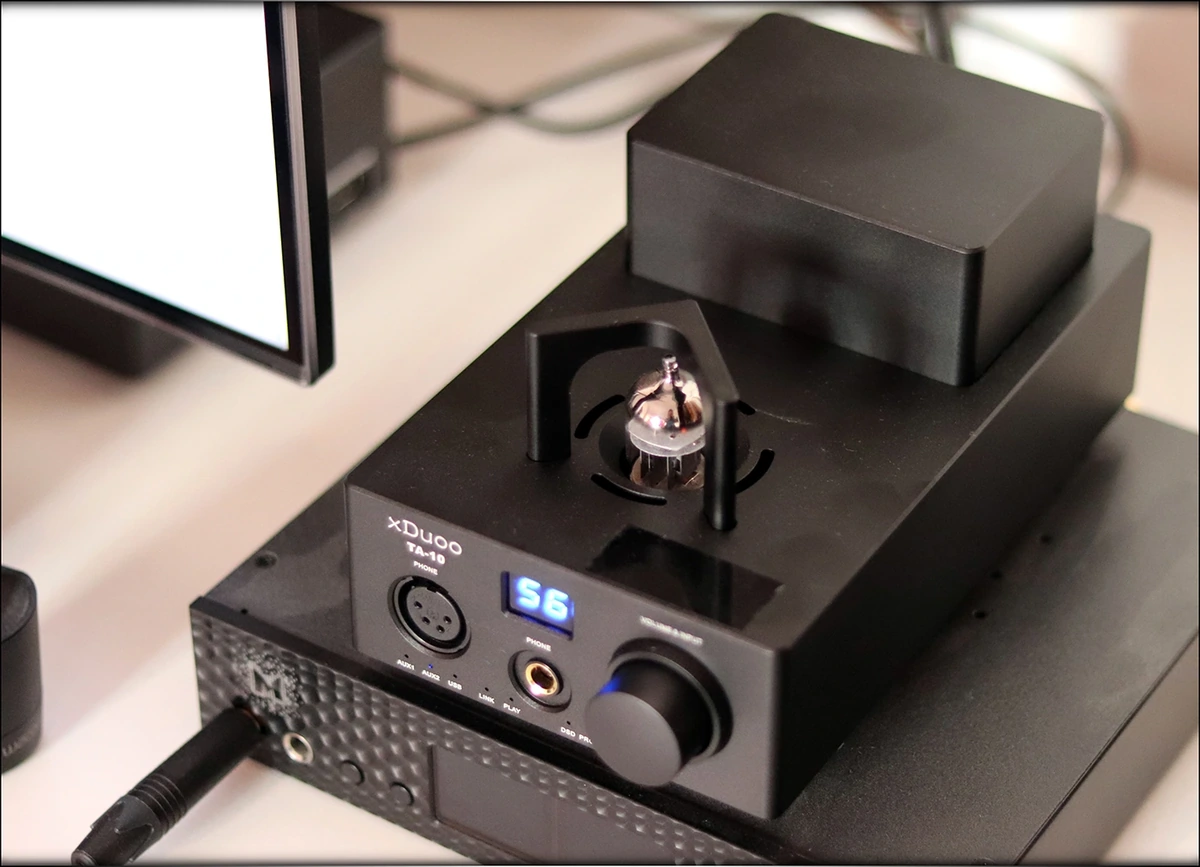 xDuoo TA-10 vs Burson PlayMate – Starting with a pretty pertinent comparison, the main difference between TA-10 and PlayMate is that PlayMate is a full Class A Amplifier, and has a Solid State design, where TA-10 relies on a Tube for its amplification stage. Both offer a strong power, good overall ergonomics, and good build quality. Both also offer possibilities to play with their sound, TA-10 by removing and replacing its Tube, while with Burson PlayMate, you can replace the OP-AMPs to change its signature. In terms of sonics, which is pretty much the only part that is different, Burson is considerably wider, brighter and more digital-sounding than TA-10, which is intimate, thick, and bassy / warm. There is a good sense of dynamic in both DAC/AMPs, but Burson may sound a bit more compressed compared to TA-10 which has a really good dynamic range. On the other hand, Burson PlayMate may have more driving power, especially for power-hungry cans. 

xDuoo TA-10 vs iFi xDSD – iFi xDSD is a portable DAC/AMP, but it also boasts about its driving power, along with its price, being just 110 USD more expensive than TA-10. This means that if you could afford TA-10, you could probably afford xDSD as well, so I think that the comparison makes a lot of sense. Furthermore, despite the lower number of inputs and outputs, and the no XLR output of xDSD, it can be used as a desktop device anyways. In terms of driving power, TA-10 has more, but in terms of sound, especially since you have the tweaks to your disposal, xDSD sounds wider, more punchy, and generally more dynamic. It doesn't have enough driving power for Audeze LCD-MX4, for example, but where it has enough driving power, like especially for IEMs, I recommend it more, I prefer the more balanced sound. TA-10, by comparison sounds much more intimate, closer to the listener, more forward, and also thicker, warmer. In general, I think that I prefer the sound of TA-10 for music that is supposed to sound thick, and for rock and metal, the sound of xDSD. 

xDuoo TA-10 vs Pro-Ject Pre-Box S2 Digital – Pro-Ject Pre-Box S2 Digital costs about 400 USD, and it is a very expensive DAC, with headphone outputs, but when compared with TA-10, only the DAC is better, because the headphone output is heavily underpowered, and TA-10 sounds much more dynamic, more punchy, more lively, also has more detail and clarity. In general, for very sensitive IEMs, S2 Digital can do okay, so with something like Atlas, you may get a better experience with S2 Digital, and so you would with something like Dunu DK-4001, but with headphones, even with relatively easy to drive headphones, like Ultrasone Signature DXP, you get better overall sound with TA-10, since it just sounds more detailed, clear, and more punchy. 



Pairing 

The main pairings I have chosen for this review, are a few magical ones, and a few really hard to drive ones, because well, the power of TA-10 is one of its best highlights. I generally recommend it more with headphones than IEMs, as it does a better overall job. Rosson RAD-0, Sennheiser HD660S, and Verum One are a few of the headphones that worked really well with TA-10 in my experience.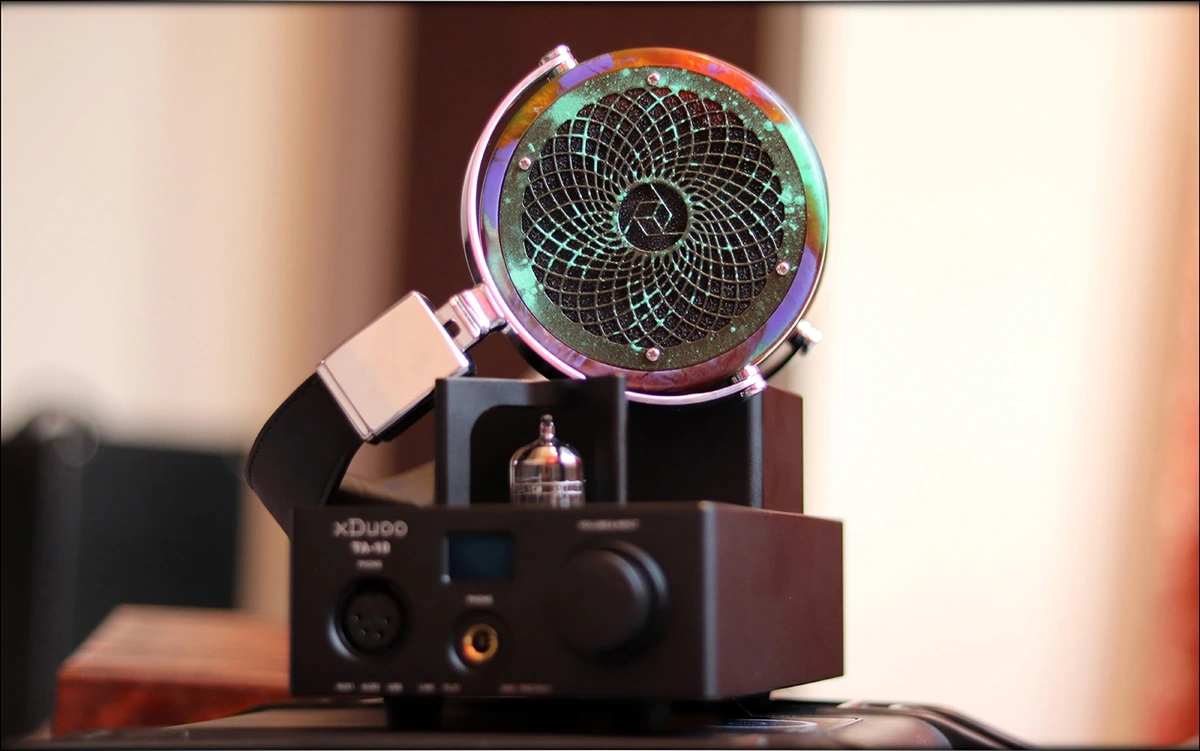 xDuoo TA-10 + Verum One – This is a relatively easy to drive headphone, and despite that, if you're going for thick and smooth, you could go all-in, so Verum one makes a natural pairing with TA-10, as Verum one is also a relatively thick and warm headphone, so complementing it with another thick and smooth source makes the entire sound really warm, intimate and close to the listener. This is, of course, if you were already going for this signature, otherwise, you could compliment Verum One with a brighter sounding DAC/AMP, like Burson Play. 

xDuoo TA-10 + Rosson RAD-0 – Rosson RAD-0 is another headphone that is relatively thick and warm, but it is not necessarily a too warm one. Rather, it can provide one of the best bass in the world, with a liquid bass that really amazes me every time I hear it. Now, in terms of pairing, if you wanted to make RAD-0 as thick and warm as possible, and also make it more intimate, then pairing RAD-0 with TA-10 should work really well, but otherwise, there's a plethora of amplifiers and DACs I recommend RAD-0 with, including Mytek Brooklyn DAC+. The thing is, even with a more entry-level option like TA-10, it still has enough power and dynamics, punch and control to make RAD-0 sing, so you don't necessarily have to spend an arm and a leg to enjoy it greatly, once again TA-10 proving that it is a really good budget choice. 

xDuoo TA-10 + Sennheiser HD660S – Sennheiser HD660S is a pretty warm and thick headphone to begin with. It also doesn't have the largest soundstage, being rather intimate, and it also is prone to eating a lot of power.  In this sense, if you loved HD660S's signature, and always wanted to get more out of it, without losing its base signature, then this is a really good chance to experience it to the fullest, and since the question about what 300 USD DAC/AMP I could recommend for HD660S did come up a lot of times, I think that TA-10 is the answer for many out there, making it a really awesome DAC/AMP to consider if you have HD660S. 



Value and Conclusion

The value of xDuoo TA-10 is undeniably good, as you have a full sized, complete music device for 290 USD. Furthermore, you have a device that has both a DAC, a Tube AMP, and enough driving power to be considered a full sized desktop unit for that price, and if you purchase it from XTENIK, you can also take advantage of the excellent service they provide, making this entire deal one that's really hard to beat.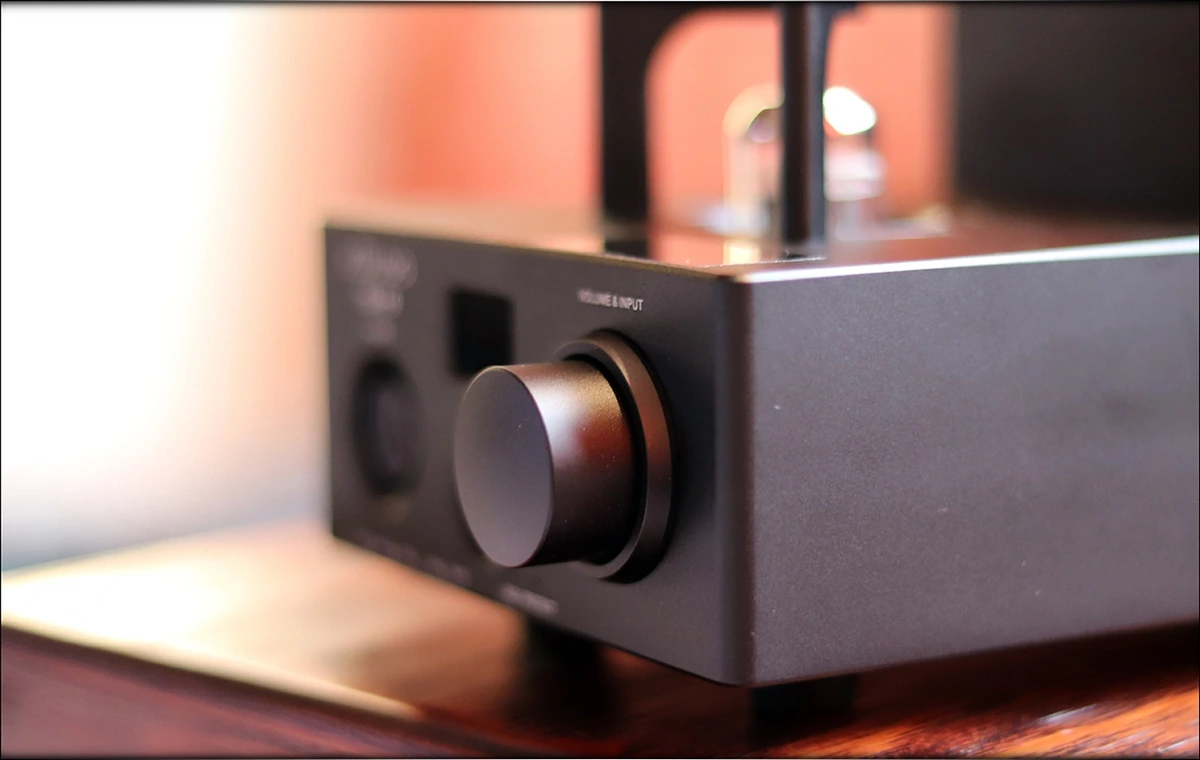 The package doesn't have a lot of fluff, but it has all of the essentials, and what's best, TA-10 comes with all of the main cables necessary to enjoy it. More RCA cables, and SPDIF cables can be found easily, but the USB cable included is of good quality, and you also get a power cable, althogh those are also pretty common. 

In terms of build quality, TA-10 is a mixed bag, because while i like the device, its small footprint on my desk, and the tiny yet bright display, the tube is really hard to take in and out, which is not ideal, since you will have to replace that tube at some point. This also makes tube rolling a bit hard. On a more happy note, there is a large number of inputs, and you can use TA-10 even as a Pre if you want, although this may not be desirable by everyone. 

The sound is thicc, warm, musical, and intimate. You get a very sweet reproduction of your music, and you also feel like you're in the same room as the musician, when they recorded your favorite piece. This alone makes for an interesting experience, but you can also tube roll, or test the amplifier with other tubes, if you want to experiment and try to mix things a bit with TA-10.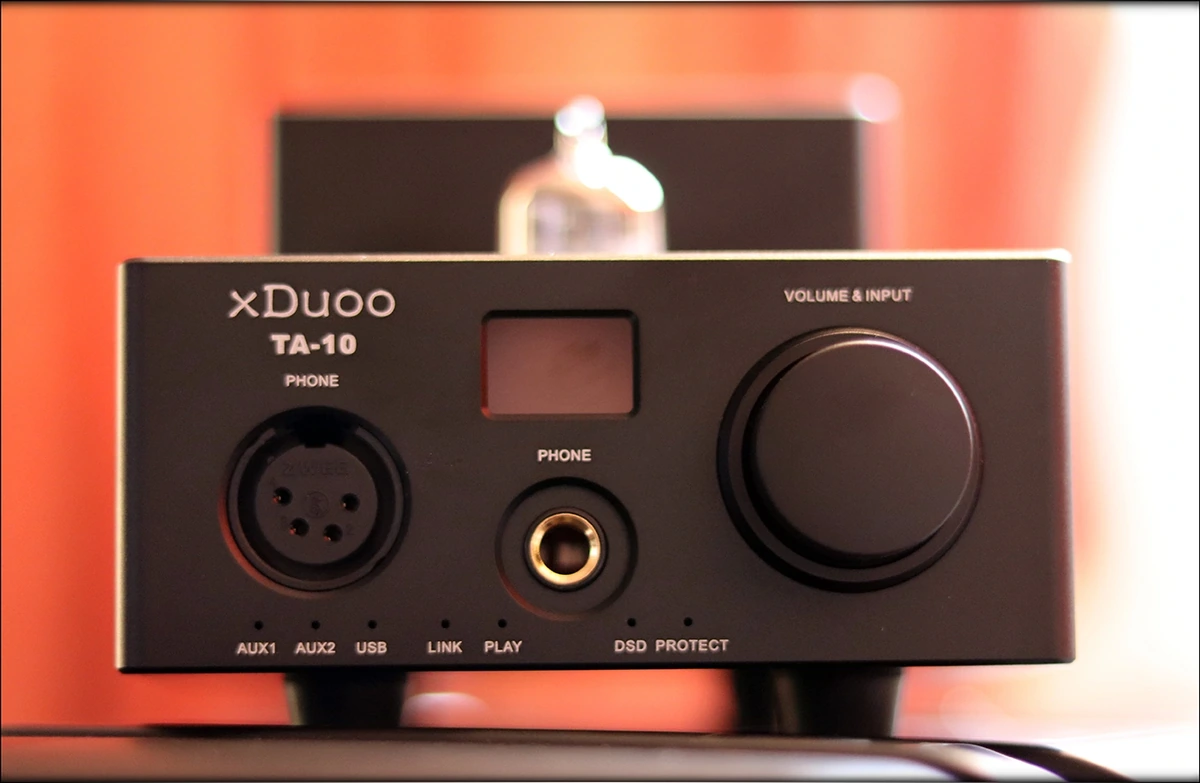 At the end of this review, if you're looking for an amplifier that has the power to drive basically any headphone out there, for the price of 290 USD, a DAC/AMP that sounds thick, sweet, smooth, and which has an intimate soundstage, then TA-10 should be on your list for sure, offering a great overall package for its price tag. 
Product Link

https://www.xtenik.com/product/xduoo-ta-10-usb-tube-headphone-amplifier/

---
---
--- Please remember to stay safe, and always have fun while listening to music!---
 - If you have a dime to spare, and donate, to help us with electricity and work expenses, it would make my day much brighter, as it would help me improve things around the website and increase the frequency of my posts - 
---
Full Playlist used for this review
We listened to more songs than those named in this playlist, but those are excellent for identifying a sonic signature.  PRaT, Texturization, Detail, Resolution, Dynamics, Impact, and overall tonality are all revealed by those songs. We recommend trying most of the songs from this playlist, especially if you're searching for new music!
https://www.youtube.com/playlist?list=PL_cjBXGmwSHSdGcwuc_bKbBDGHL4QvYBu
--- Contact Us ---






---
---