Sports & Outdo Mifo S ANC TWS Earphones – Edgy Music
Sports & Outdo Mifo S is a 169 USD pair of TWS or True Wireless IEMs, with ANC or active noise canceling,  with a really edgy design, long battery life, and super lightweight construction. They will be compared to other TWS IEMs around the price point, including, 1More Evo ANC (169 USD), Pamu Slide 2 (159 USD), and GravaStar Sirius PRO+ (150 USD).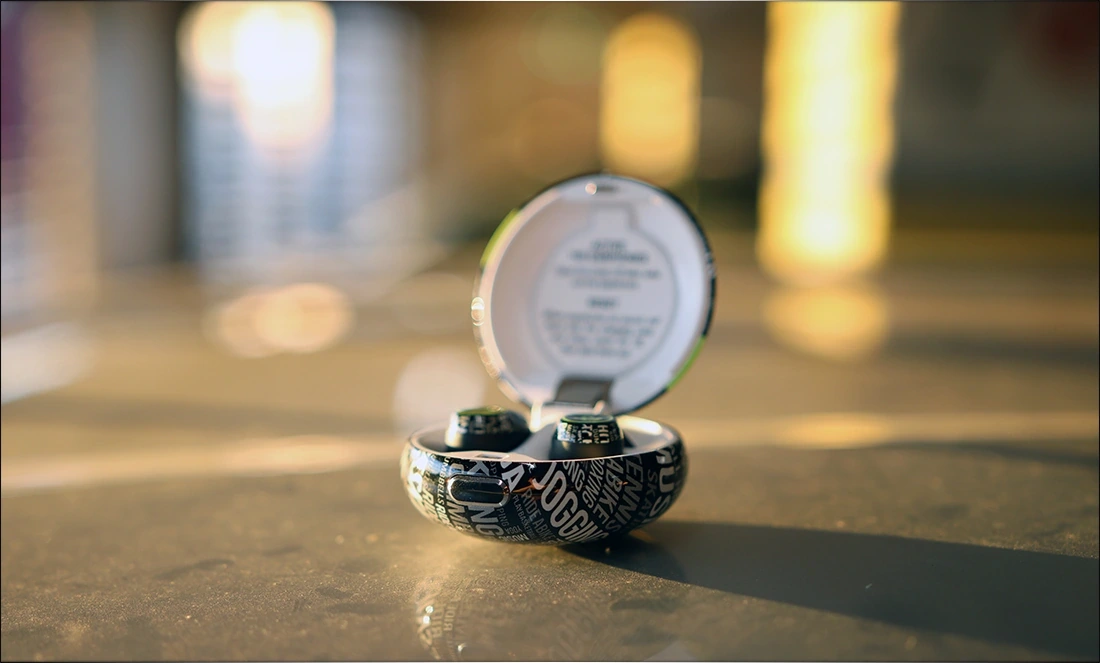 Introduction
This is my first time collaborating with Sports & Outdo, but they seem like a nice and reliable company. They brand themselves as S&O, and while their product offer is not super rich, they have a few good sets of TWS or True Wireless IEMs / Earphones, and they have good prices. They currently only accept Paypal payments, so you have good protection when ordering from them, but happily their products are also available on Amazon and other outlets. Instead of creating the Apple Airpods PRO replica number one hundred and twenty one, they go for unique designs, which I think is a step forward compared to trying to plunder the popularity of other products. Shipping from the company to me was quick, quicker than most packages I have incoming. 
It should be noted that I have absolutely no affiliation with Sports & Outdo / S&O, I am not receiving any incentive for this review or to sweeten things out. I'd like to thank S&O for providing the sample for this review. Every opinion expressed is mine and I stand by it. The purpose of this review is to help those interested in Sports & Outdo Mifo S TWS IEMs find their next music companion. 
Product Link
You can grab one from www.amazon.com here: https://amzn.to/3QAmB4r
If you're in the UK, you can grab one from www.amazon.co.uk here: https://amzn.to/3A4N5nA
And if you're from Europe, you can grab one from www.amazon.de here: https://amzn.to/3Cemib3
Official Website: https://sport-outdo.com/product/true-wireless/mifo-s-noise-cancelling-small-earbuds/ 
Build Quality/Aesthetics/Fit/Comfort
Starting with the outer design, this is one edgy, cool-looking TWS IEM with super build quality. The carry / charge case is heavy, but has a reliable build quality, and although it has a glossy surface, it didn't get any scratches during my testing and photo shooting, being quite good at staying classy. The IEMs also have that edgy / cool design, and they come with an ergonomic design that features ear hooks. Those are made for running and jogging, so it is extremely good to notice no driver flex, and an outstanding comfort, the TWS IEMS being incredibly light and small, yet staying snug in my ears. I actually love wearing the S&O Mifo S, so much so, that I'm sometimes grabbing them instead of better sounding but much less comfortable TWS IEMs. The weight is 3.5 grams per earbud, a weight you quite literally won't notice. The company also includes anti-bacterial tips that are super comfortable, softer like Spinfit tips, but not so sticky like Spinfit. 
The sound is provided by a single Balanced Armature driver, but as we'll explore it is one of the Westone-Like sounding Balanced Armatures, rather than dry and analytical like Etymotic sounding ones. The battery life is good, rated by the company at 6 hours for the TWS IEMS (I could get around 4 and a half at max volume), and the case has 6 extra charges. The case also has Type-C charging and charges rather quickly. 
The IEMs are IP67 Waterproof, which is great since those are made for sport. We have Wireless Bluetooth 5.2 algorithms, which is good, but they only have AAC codecs, wit no aptX or LDAC. Signal strength is super strong, no running, jogging, or even having the phone in a different room can cut the signal between my Xiaomi Black Shark 4 and Mifo S. I only tested the battery life with ANC turned off, as turning it on can steal a bit more from the batteries of Mifo S. 
The controls of Mifo S are touch screen, but I got far less mis-touches than with most TWS IEMs that have touch. You need to keep the button pressed to turn them on (not noted in the manual), otherwise your smartphone won't see them. All in all, I love the comfort, design and overall usage, this is a TWS IEM I like wearing and using. 
Sound Quality
It is good to keep in mind that TWS usually have lower sonic quality than their wired counterparts, at least in the micro detail and clarity, and since Mifo S has only AAC, my expectations were quite low to begin with. This all being said, even the company warned me that they might not sound as good as audiophile standards imply, but they actually sound quite nice. The sound is a classic V-Shaped presentation, with a strong, slightly boomy bass, but with good sub-bass extension, and a pretty impactful treble too. Clarity and detail are good too, although the midrange is fairly recessed and the upper midrange and lower treble emphasis is quite strong too. 
Mifo S has ANC or active noise canceling, and it does a pretty good job at isolating the listener from the outside noise. There's a bit of extra sound added by the ANC, and it can change the music slightly, but nothing that would make it unusable, and it actually works well when you need to isolate a bit from the outside noise. They also have a passthrough mode, which allows you to mix your music with what is happening outside, as they provide a good 20 dB of passive noise isolation without any ANC turned on. The company quotes the ANC at 30 dB, which is about fair for what I could hear. 
To describe the sound, Mifo S has a pretty strong and slightly overwhelming bass. The bass is deep, with good sub-bass extension and impact. For a TWS IEM this small, they can totally convey the low end well, and the bass is fairly smooth and has a slow decay, which helps create the feeling of space for bassier tracks. Mifo S surely sounds much better with Electronic, EDM and Pop music than they sound with Metal and Rock, but they're still fine for most music styles, providing a basshead low end presentation. The Maximum volume of Mifo S is a big plus too as they can get pretty loud and are pretty punchy, staying fairly distortion-free at maximum.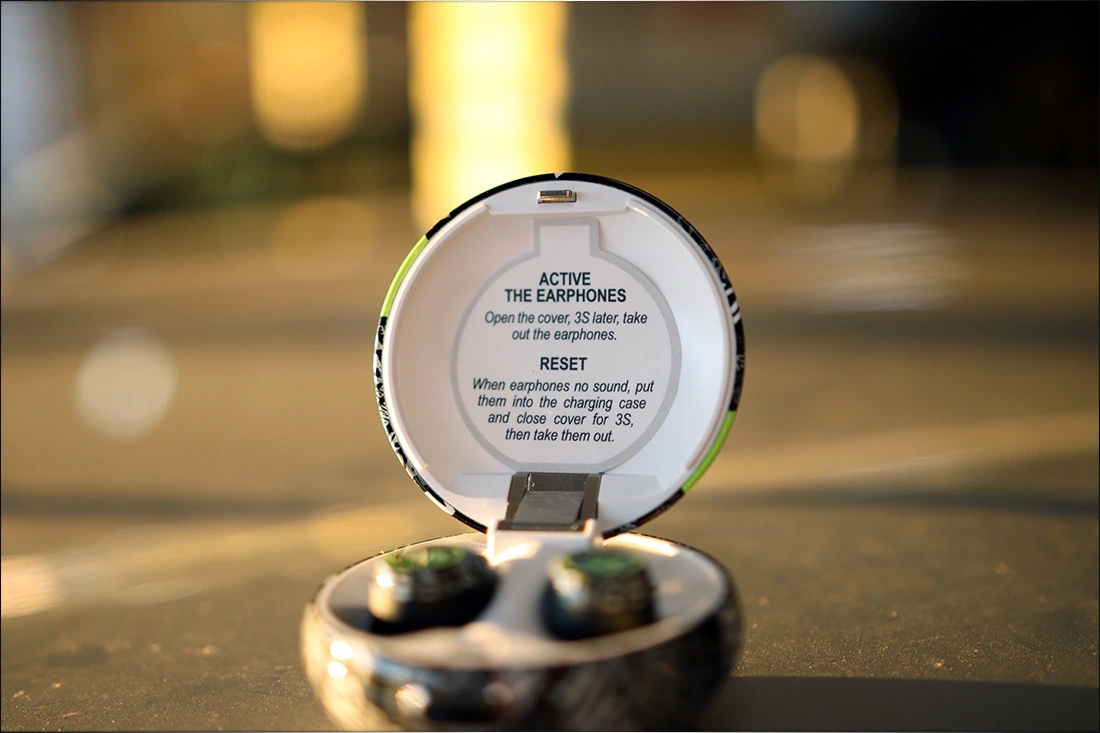 The midrange of Mifo S is clean, fairly recessed and super smooth in presentation. In fact, their entire sound has a specific smoothness to it, which may feel like low resolution at times, because both micro details and details can be quite quiet compared to what you typically see in Chifi IEMS, but for a relaxing, non-stressful signature, Mifo S is pretty nice. The soundstage is rather intimate, and although the voices are pushed somewhat back in the staging, they go for a listening experience that brings voices and instruments closer to the listener. The instrument separation is fair and the stereo imaging is very good. 
We also have a pretty smoothly textured treble that's never fatiguing, although there is a specific peak around 6kHz, and another one around 10 – 11 kHz, avoiding the hot and sharp treble at 8-9kHz, somehow providing a pretty strong treble, but having a specific recess on the main cymbal crashes. It is interesting to note that this whole signature works really well for physical activities, which was the original design of Mifo S, and when running and jogging or doing gym, the sonic signature is super pleasing and helps you focus, delivers the low end you need, and a bit of treble sparkle to accompany it. It works well for very commercial music, for example Haggard and Dope sound really natural and clean, while Dance Gavin Dance sounds amazing if you go for recent albums. The kind of music you'd typically hear in a Gym Workout playlist is just super nice played through Mifo S, they're basically made and tuned for that type of music and to hype you up for a workout. 
Comparisons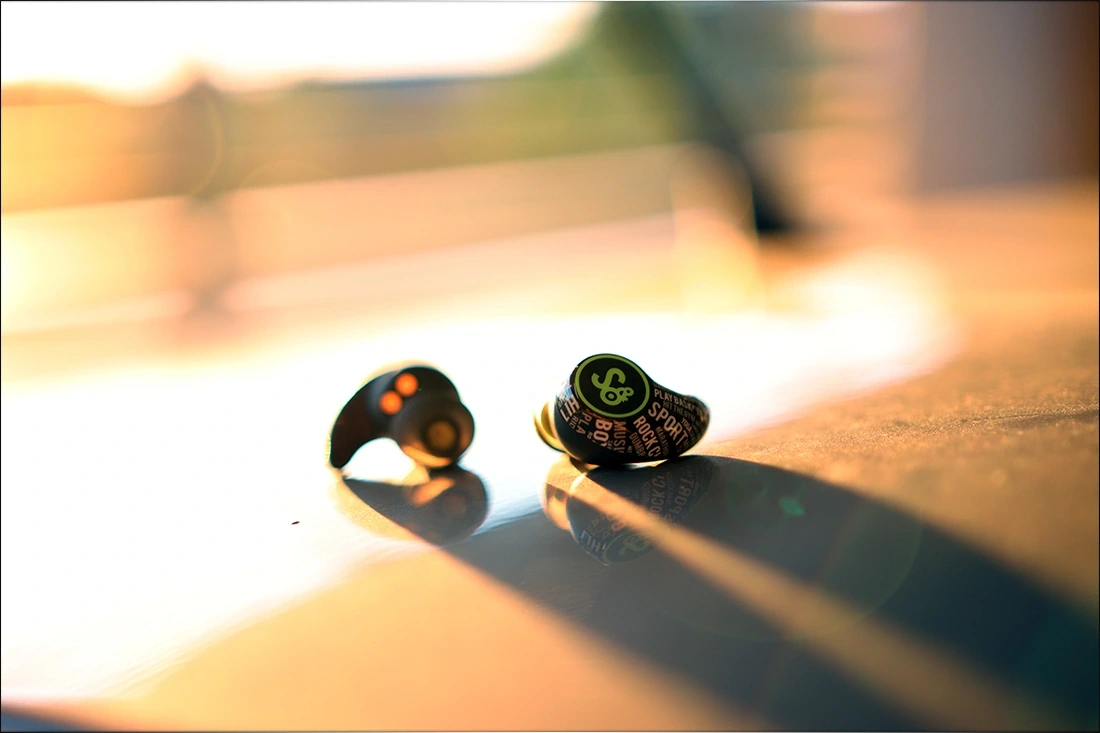 Sports & Outdo S&O Mifo S ANC TWS IEMs vs GravaStar Sirius PRO+ (169 USD vs 150 USD) – The comfort level is good for both, but Mifo S is more ergonomic in its design, and has a smaller body that sits more flush with them. The overall comfort is subsequently better on Mifo S which is also lighter than Sirius Pro PRO+ although not by a large margin. The overall sonic presentation has about the same warmth between them, with Sirius PRO+ having more emphasis on the mid and upper bass, and Mifo S having a stronger sub bass that's more punchy and has more impact. The midrange is more recessed on Mifo S, and the treble has more presence on Mifo S. Mifo S has a smaller soundstage than Sirius PRO+ but better detail and resolution. While both are good for casual wearing, Mifo S is better for sports and workouts. 
Sports & Outdo S&O Mifo S ANC TWS IEMs vs Pamu Slide 2 (169 USD vs 159 USD) – Slide 2 is a great little TWS IEM with good build quality, strong performance, but Mifo S is much more comfortable, being much lighter, having a more ergonomic design, and a better touch implementation for controls. The tips included are better for Mifo S, and the carrying case is better built. The overall sound is thicker, warmer and has more bass on Mifo S, with a far more recessed midrange. The treble is about equal between them. Slide 2 has a more midrange forward signature, and tends to have more texture, but also be more fatiguing and less punchy than Mifo S which is practically made for EDM, Electronic and Pop music. Both are good options, but Mifo S is much more of a sports / workout IEM, while Slide 2 is a more casual TWS IEM. 
Sports & Outdo S&O Mifo S ANC TWS IEMs vs 1More EVO ANC (169 USD vs 169 USD) – The overall comfort is better on Mifo S, which is smaller, has a more ergonomic design and has better default tips in the package. They sit quite a bit better in my ears, and the controls are also somehow more responsive and have a lower false positive rate. The overall sonic presentation is thicker, warmer and has a bassier sound on Mifo S, with a more recessed midrange, and a more splashy treble. 1 More EVO ANC sounds a bit more natural in the midrange, but has lower bass and has more texture, which can be a bit more fatiguing. Overall, Mifo S is a much better workout and sport IEM, while Evo ANC is a more casual TWS IEM. the ANC implementation is great on both, both can effectively eliminate noise if you need them to. 
Value and Conclusion
Priced at 169 USD, you can actually grab S&O Mifo S for 139 USD if you order them right now, which is super awesome. They have many promotions and sales going on, and the products are good, with strong performance, superb build quality, and good support.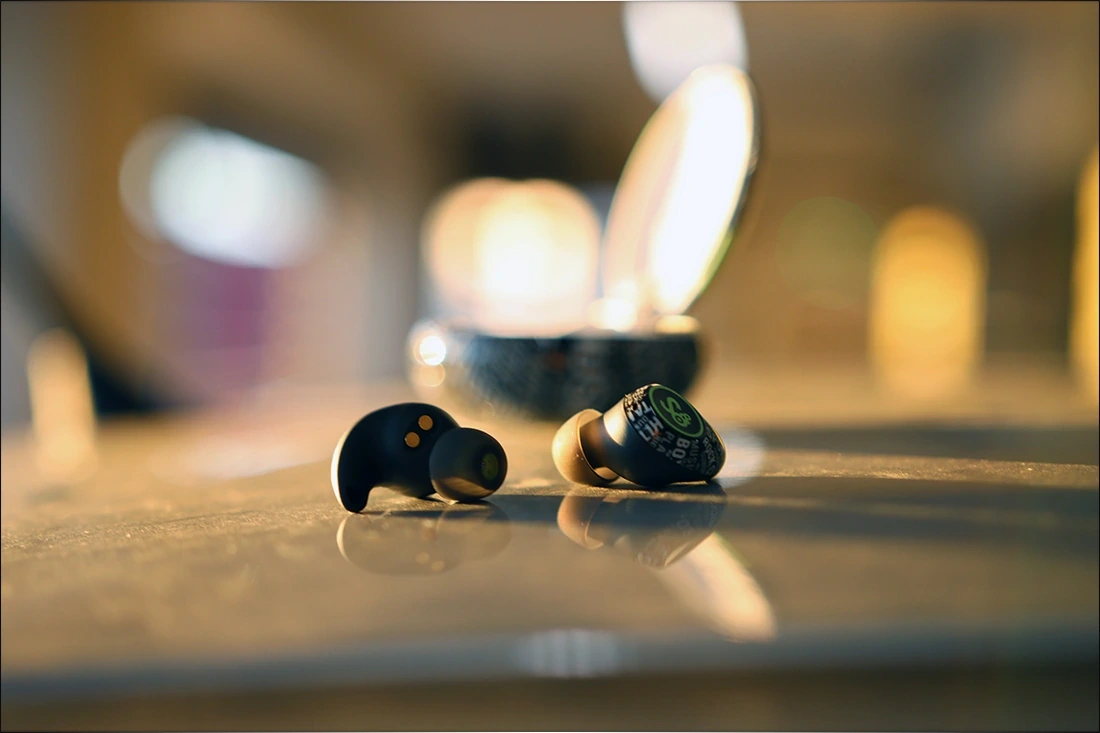 At the end of today's review if you're looking for a pair of sporty TWS ANC IEMS, with superb build quality, and enough battery to last you for an entire workout, with good maximum volume, and a smoother, fatigue-free but punchy and deep signature, Mifo S is a fully recommended TWS IEM. 
Product Link
You can grab one from www.amazon.com here: https://amzn.to/3QAmB4r
If you're in the UK, you can grab one from www.amazon.co.uk here: https://amzn.to/3A4N5nA
And if you're from Europe, you can grab one from www.amazon.de here: https://amzn.to/3Cemib3
Official Website: https://sport-outdo.com/product/true-wireless/mifo-s-noise-cancelling-small-earbuds/ 
Packaging
The package of Mifo S is minimal, but it includes all the bare necessities. In the package, you can find: 
S&O Mifo S TWS IEMs

Charging Case

USB Cable

3 pairs of tips, one of which is already installed on them

Manual
Technical Specifications
Bluetooth version – BT 5.2

Operating distance – ≤20M

Working time – 4-6h

Earbuds Battery Spec – 3.7V 40mAh x2pcs

Docking Battery spec – 600mAh

Earbuds charging time – ≤ 2h

Operation methods – Touch 

Frequency – 20HZ-20KHZ

Speaker driver – Balanced armature speaker driver

Earbuds weight – 3.5g*2

Support Bluetooth protocols – HFP/A2DP/HSP/AVRC/SPP
---
--- Please remember to stay safe, and always have fun while listening to music!---
 - If you have a dime to spare, please donate, and help us! It would make the day brighter for me and my wife- 
---
Full Playlist used for this review
We listened to more songs than those named in this playlist, but those are excellent for identifying a sonic signature.  I recommend trying most of the songs from this playlist, especially if you're searching for new music! The playlists are different for Spotify, Tidal and Youtube, and based on the songs I enjoy and are available on each!
https://www.youtube.com/playlist?list=PL_cjBXGmwSHSdGcwuc_bKbBDGHL4QvYBu
https://open.spotify.com/playlist/5J3oloz8Riy9LxEGenOjQ0?si=979ba4f082414be7
https://tidal.com/browse/playlist/330fd544-8e5b-4839-bd35-676b2edbb3d5
--- Contact Us ---





---