1More EVO ANC TWS IEMs – Alien Design For Natural Music
1More EVO ANC is a pair of Bluetooth TWS or True Wireless IEMS priced at 169 USD at the moment of writing today's review, and they have LDAC technology, Sound ID EQ Options, along with a wireless audiophile sound. They will be compared to the best TWS IEMs I reviewed to date, including Grell Tws 1 IEMs (199 USD), Grava Star Sirius Pro + TWS (150 USD), NUARL N10 Plus (165 USD), and Fostex TM-2 TWS IEMs (300 USD).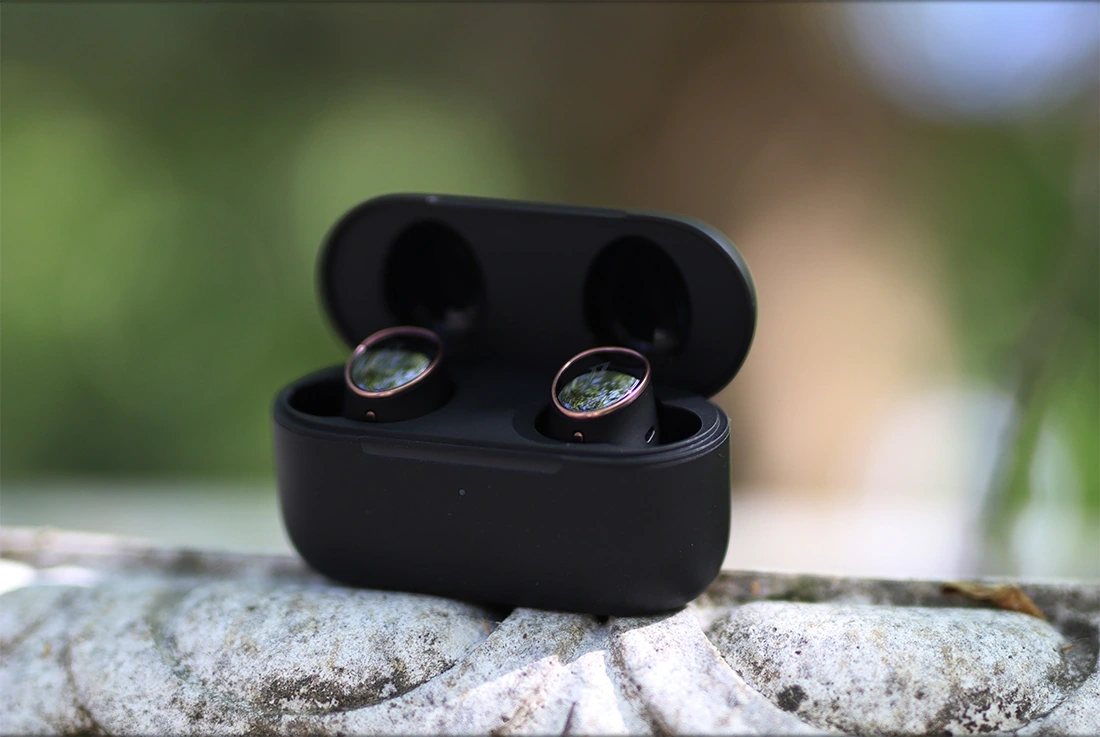 Introduction
1More is one of the largest, most trustworthy companies for entry-level audiophile products out there, and they have a long list of successful headphones and IEMs released to date. They are usually engineered for a V-Shaped or a U-Shaped sound, and to be dynamic, engaging and punchy, and offer some of the best price / performance ratio out there, relative to the competition and the market. 1More products are generally available locally with electronics shops, and they are available from Amazon too, where you can get the best warranty coverage and overall support. 
It should be noted that I have absolutely no affiliation with 1More, I am not receiving any incentive for this review or to sweeten things out. I'd like to thank 1More for providing the sample for this review. Every opinion expressed is mine and I stand by it. The purpose of this review is to help those interested in 1more Evo ANC EH902 find their next music companion. 
Product Link
You can grab one from www.amazon.com here: https://amzn.to/3lK9Y9e
If you're in the UK, you can grab one from www.amazon.co.uk here: https://amzn.to/3wRDkay
And if you're from Europe, you can grab one from www.amazon.de here: https://amzn.to/3Nz031Y
Build Quality/Aesthetics/Fit/Comfort
It is always refreshing to see a high-quality TWS IEM with a nice metallic case, which has a rubber bottom. 1More surely knows their market, and the case is built in such a way that it is scratch resistant, looks sleek and elegant, and offers good protection to the TWS IEMs. Speaking of the IEMS, they have a really alien – eye look, but they are also very resistant to scratches, and are made quite well. 
If you've been following Audiophile-Heaven for a while, or at all, you probably know that I dislike having to deal with touch-based TWS IEMs, but this is mostly because the first generations were extremely prone to mis-touch, and were simply frustrating to use. I mentioned this a lot in my video reviews, as the young and innocent me at the time believed that it would be simpler to make a short video review than to make a written review. 
The weight of 1More EVO ANC is very good, perfect for natural wearing, and they have an ergonomic shape inside, with no hard edges and no corners, basically support for all-day wearing. The tips do a good job at supporting the TWS IEMs in your ears, and they offer a good 20 dB of passive noise isolation in practice. 
Speaking of noise isolation, there are 3 modes, and unfortunately, there's no voice that tells you what mode you're in. The basic mode is the natural mode, where ANC is turned entirely off, and that is where the 1More EVO ANC offers about 20 dB of passive noise isolation, which is pretty much perfect. There's a passthrough mode that offers about no passive noise isolation, and instead combines the signal in the TWS IEMs with what's happening outside, where I can hear myself typing on my keyboard quite clearly, and there's an ANC mode that isolates further from the outside noise, with about 30 dB of passive noise isolation, with some variation in relation to frequency. I'm saying that there is some variation, because the ANC algorithm does an excellent job at covering up lows and mids, but some higher pitched sounds do make it through, although the passive noise isolation is still superb. 
The order is ANC Turned Off -> ANC Turned On -> Passthrough mode. 1More Evo ANC also has superb call quality, with one of the best microphones I've seen to date, as the person on the other end could always hear me clearly and with little noise, and could understand me perfectly. I would recommend them in the top 3 best microphone TWS IEMs I've reviewed to date. 
The ANC also has superb quality with music, and I can't tell when the ANC is turned on or off, which is super nice. This is the same as we've seen with grell TWS 1 IEMs, and I'm really delighted to see ANC finally kicking in with proper performance for music listeners and audiophiles. The battery life is rated by the company at about 5.5 hours with the full battery and ANC turned on, which is pretty close to what I've been getting with loud listening and ANC usage, about 5 hours of battery life. It gets better if you don't use the ANC at all. The case has about 3-4 extra charges. 
We have LDAC support, which is immediately recognized by my smartphone, although I had to do a quick software update, as the variant I have is an early launch date and didn't have support for it right away. The Bluetooth mode is 5.2 and has superb coverage, I have not lost the connection once while using 1More EVO ANC and my overall experience with them has been very pleasing. I can recommend them for running, jogging and doing gym, also for airplane usage and other activities where you may want and need ANC and a pair of really good sounding TWS IEMs. 
Sound Quality
Speaking of the sound, 1More ANC EVO EH902 are superb in sonics, and the music is provided by a hybrid driver setup, with at least 1 Dynamic Driver and at least 1 Balanced armature (the company does not disclose the exact driver setup on the package). Since they're a pair of wireless IEMS, pairing will not be relevant, and they will sound exactly the same regardless of the source, as long as the source has support for LDAC, and a good bluetooth transmitter. If you're experiencing signal dropouts I'd first suspect the source and then 1More EVO ANC. 
We have a superb sonic presentation that's characteristic to 1More, with a stronger treble and bass, especially sub-bass, but the final tuning is slightly brighter than the typical 1More house sound, which used to lean towards boomy and dark in tonality.  That's not the case anymore, and 1More ANC EVO is now one of the most detailed, clean and clear TWS IEMS out there, with a more balanced tuning and signature, a slight V-Shaped character, superb dynamics and impact. I also love the fact that the maximum volume of 1More EVO ANC is extremely high, and they can easily become louder than I'm comfortable listening to, at maximum being already too much for me, and I'm a concert lover. Most TWS IEMS fare poorly in maximum volume, but not this bad boy. 
The bass of 1More ANC EVO is much less intrusive than that of its predecessors, and it is very nicely controlled, but still has a rich sub bass presentation. The sub bass is the central part that bears weight to the sound of 1More ANC EVO, and it brings a really satisfying impact, with a natural bass speed, and good overall resolution. If you're looking for a warm sound, you might want to consider the older model, the 1More ANC TWS EHD9001TA, as that one has a much warmer presentation, while the new EH902 is really clean and has a more balanced – natural presentation.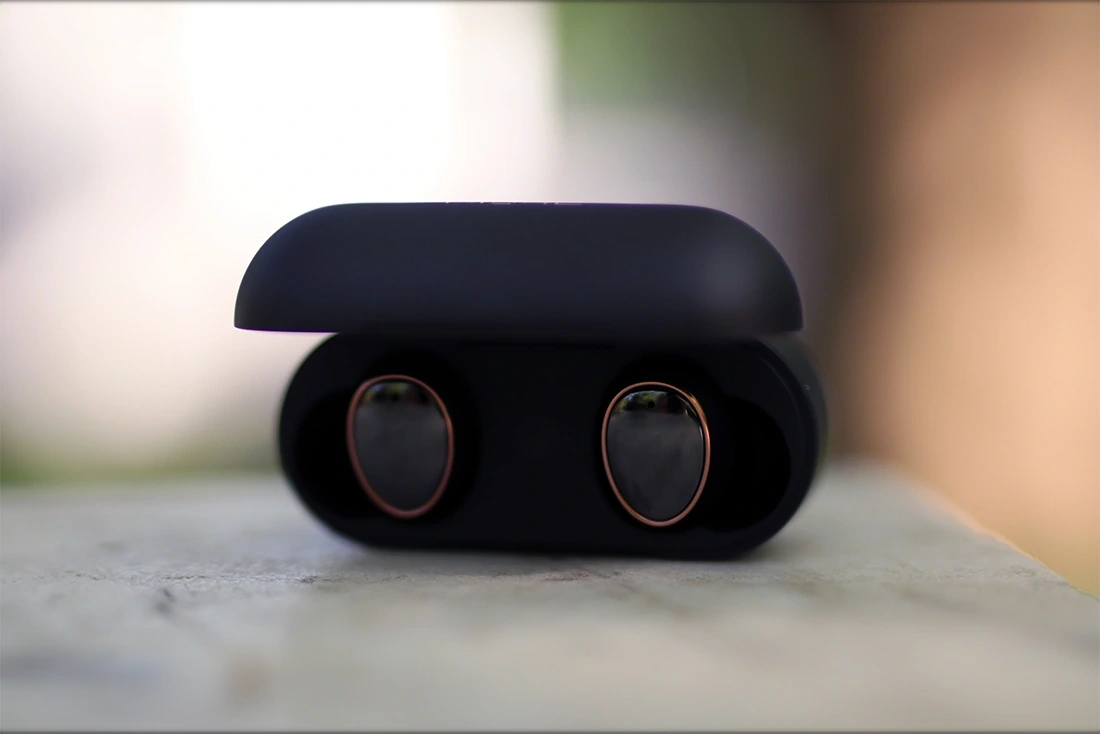 The midrange is super detailed, sparkly and clean, with a good amount of upper midrange emphasis, but with good control for sibilance and harshness. It has the tendency to get a bit splashy, especially if the music is mastered with a stronger treble, and brighter in general. I like the soundstage, which has a natural amount of depth and width, and a good balance between them. Instrument separation is fairly good, surprising for a TWS IEM, and they have good overall dynamics too, being able to convey more busy and complex music rather well. The speed of the midrange is faster than that of the bass, which can feel slightly incoherent if you're not used to hybrid setups, but it helps the bass gain weight, without slowing down the midrange or bringing too much thickness to the sound. 1More Evo is great for female voices as well as guitars, EDM and Pop, but for classical and music where you want a thicker / warmer presentation, I would recommend checking out the EDH9001TA 1More ANC. 
The treble of 1More EVO is also nice, they have a good amount of clarity, and a sparkly, well extended treble. I love the overall air presented in the music by 1More Evo, and they are one of the very few TWS IEMs that are capable of conveying a good treble in any way, although I want to mention that the treble can be a bit on the strong side, and the overall tonal balance is edging on being on the thinner / brighter / splashier side of things. This all means that music will generally be clean and detailed, have good sparkle and be engaging. 
Comparisons 
1More EVO ANC TWS vs Fostex TM2 (169 USD vs 300 USD) – The design si quite different between the TM2 and Evo, where Evo has battery life on the IEMs and also on the case, also ANC, while TM2 doesn't have ANC nor battery life for the charging case, which is more of a charging cradle. The sonic performance is also quite different, with TM2 having a faster overall sound that can be more grainy at times, while 1More EVO has a deeper sub bass, more rich low end presentation, and a slightly more splashy presentation that's less fatiguing with rock, metal and more aggressive music. 1More somehow manages to have a more beautiful voice for female voices. Only 1 More ANC TWS has Sound ID for quick EQ'ing them. 
1More EVO ANC TWS vs GravaStar Sirius PRO+ (169 USD vs 150 USD) – gravaStar has a more edgy design, and lighter IEMs but a lower battery life than 1More Evo, and 1More EVO has a good LDAC implementation, while Sirius PRO+ does not have LDAC. Both can be EQed, Grava Star having its own sonic modes, while 1more Evo has its own Sound ID app implementation that offers good overall experience if you're into light tweaking. The sonic presentation is considerably warmer, thicker and more narrow with Sirius PRO+, which can sound dark and rolled off at times, while it is more open, cleaner, clearer, more detailed and better separated with 1More EVO ANC. Generally, GravaStar is either better for bassheads, or for those who want a warm sound, and for those who like gaming, having a game mode, and a much more edgy design, while 1More Evo is better for those who like a more balanced sound and for those who enjoy a natural presentation with better details. 
1More EVO ANC TWS vs NUARL N10 Plus (169 USD vs 165 USD) – We have two strong competitors here, with N10 Plus being one of the best sounding TWS IEMs out there, also with ANC and other bells and whistles, 1More Evo being more recent and drawing some advantages from the technology recently developed. The comfort is comparable, with N10 Plus being slightly larger, but also having wings that help them stick to your ears. N10Plus has aptX instead of LDAC, which affects the sonic quality a bit, but the ANC implementation is also top notch, and they are good for taking phone calls. The overall sound quality is comparable between the two, with Evo and N10 Plus having about the same soundstage size, instrument separation and overall clarity, but with N10 Plus being warmer, and having a slightly lower battery life, while 1More Evo has a brighter, more balanced sound with more treble, and better battery life. 
1More EVO ANC TWS vs Grell TWS1 (169 USD vs 199 USD) – I love doing this comparison, because TWS 1 from grell is an IEM I just reviewed, and which I enjoyed a lot. The comfort is better on 1More EVO because they are smaller, and the touch controls are also a bit better on 1More EVO ANC. The overall sonic quality is comparable between them, with the presentation being so similar it is actually scary. TWS1 has slightly better control for distortion at very high volumes, but that would be about it, so if you feel like spending a bit less for pretty much the same experience, including the Sound ID and an ANC with zero compromise, 1More Evo has better value than Grell TWS1. Makes me wonder if they used similar drivers inside, or if 1More asked Mr. Grell to tune their Evo, that's how similar they are. 
Value and Conclusion
It has been a pleasure reviewing the 1More EVO ANC, and they actually do sound really good, have a good build quality, and they're generally a pleasing pair of TWS IEMS, having an excellent value. In fact, the value, relative to what they offer, and what else you can find on the market, is extremely high. This is not to say that there aren't other high quality products out there, but to have an ANC that does not affect music, I only heard of Grell TWS1 that can do this before, and 1More EVO is less expensive. 
At the end of the day, if you're looking for a detailed, brilliant, clean sounding IEM with good ANC implementation, superb build quality, and an ergonomic shape, with good overall battery life, and a good price / performance ratio, I fully recommend considering 1More EVO ANC TWS EH902 as your next purchase. 
Product Link
You can grab one from www.amazon.com here: https://amzn.to/3lK9Y9e
If you're in the UK, you can grab one from www.amazon.co.uk here: https://amzn.to/3wRDkay
And if you're from Europe, you can grab one from www.amazon.de here: https://amzn.to/3Nz031Y
Packaging
First things first, let's get the packaging out of the way: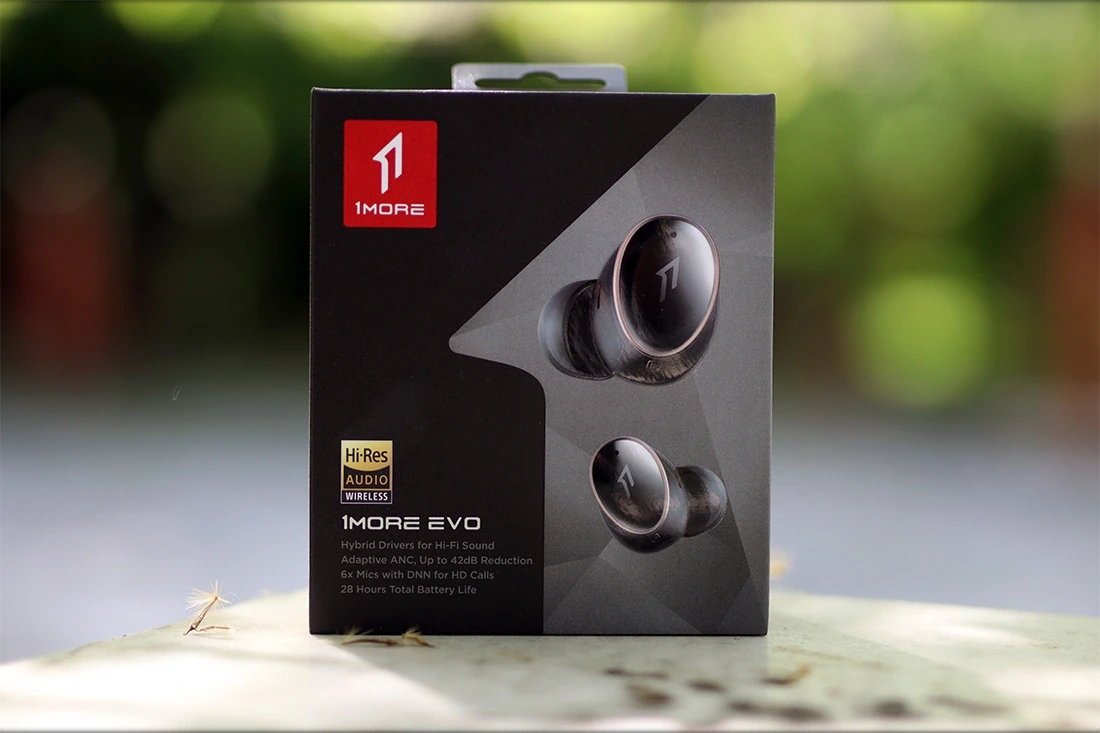 The package of EH902 ANC EVO is quite flashy, like we're used to seeing from 1More, and it generally looks like what you'd imagine Asus, Razer and other gaming companies to look like, edgy, elegant and high-end. Unfortunately, if you're a Pc user or a gamer, you probably know that the packages and overall quality of most "gaming" products can underdeliver sometimes, so it is worth noting that 1More does over deliver with the package and the presentation in general.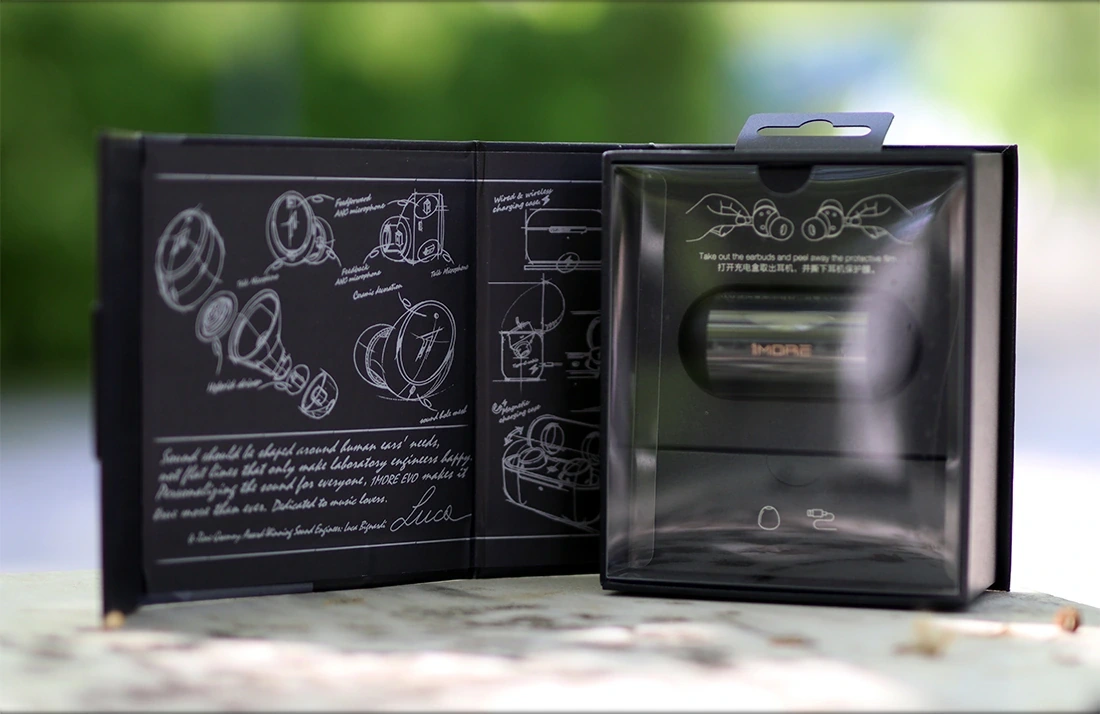 The full package includes: 
1More ANC EVO EH902 IEMS

Charging / Carrying Case 

Eartips 

Charging Cable
---
---
--- Please remember to stay safe, and always have fun while listening to music!---
 - If you have a dime to spare, and donate, to help us with electricity and work expenses, it would make my day much brighter, as it would help me improve things around the website and increase the frequency of my posts - 
---
Full Playlist used for this review
We listened to more songs than those named in this playlist, but those are excellent for identifying a sonic signature.  PRaT, Texturization, Detail, Resolution, Dynamics, Impact, and overall tonality are all revealed by those songs. We recommend trying most of the songs from this playlist, especially if you're searching for new music!
https://www.youtube.com/playlist?list=PL_cjBXGmwSHSdGcwuc_bKbBDGHL4QvYBu
--- Contact Us ---






---
---