Hiby WH3 TWS IEMs – Better Than The Airpods 
Hiby WH3 or Hibi Wee Hee Three is pretty much a dream come true for those who want an airpod alternative that actually sounds good with everything, including Android Based sources. This being said I won't spend time to pair them with multiple sources, as they will sound pretty much the same across all sources. I will take the time to compare the WH3 to the Master & Dynamic MW07Plus, HIFIMAN TWS600, and RHA TrueConnect, all close to their price tag of 170 USD.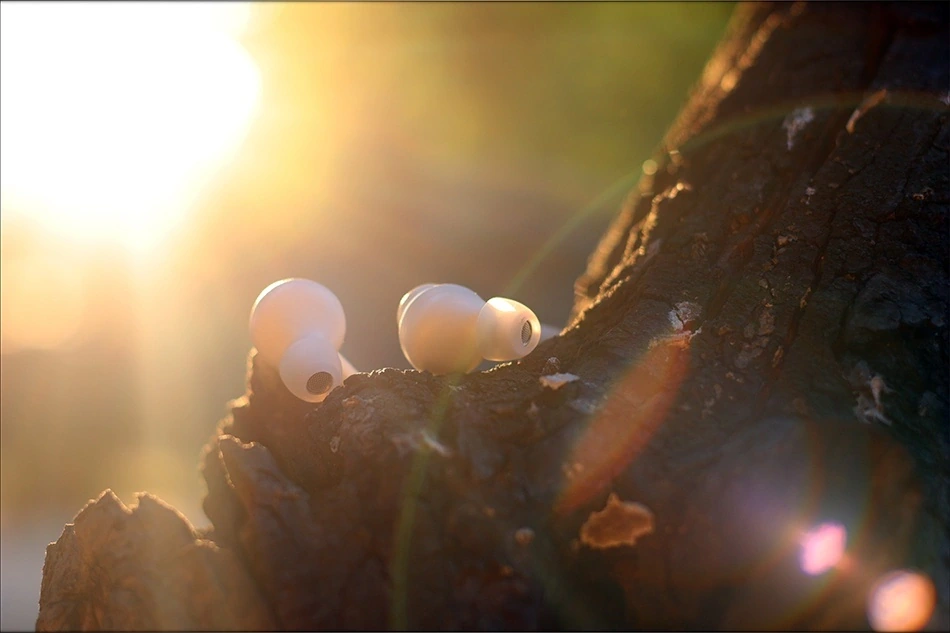 Introduction
Hiby is a nicely, nice, nice company with tons of DAPs under their belt, but sometimes they dip their toes in creating IEMs and TWS ones. Wee Hee Three is one such a product, made as a competitor to Apple's Airpods, which I did review before. The whole point of WH3 is that the Airpods are not great value, not great comfort, and do not work great at all with Android, so Hiby wanted to strap in some BT 5.0, Qi Wireless Charging, Adjustable Digital Crossover, and a Hybrid Design with a Dynamic Driver and a BA Driver. 
It should be noted that I have absolutely no affiliation with Hiby, I am not receiving any incentive for this review or to sweeten things out. I'd like to thank Hiby for providing the sample for this review. Every opinion expressed is mine and I stand by it, the purpose of this review is to help those interested in Hiby WH3 find their next music companion. 
Product Link
You can purchase Hiby WH3 from www.amazon.com here: https://www.amazon.com/HiByMusic-Definition-WH3%E3%80%90Japan-Domestic-Products%E3%80%91%E3%80%90Ships/dp/B08N3SZ5LQ
Packaging
First things first, let's get the packaging out of the way:
I actually never truly liked the package of the Airpods. It is smart, but basically trash to throw away after you unbox it. They have a limited amount of accessories, and are a pseudo-premium that made me like it at first, but in retrospective found to be bland. 
WH3, for a TWS, has a nice accessory setup. Much closer to what us Audiophiles are used to getting. Fresh. Good set of default tips. That charging case is really cool actually. 
Build Quality/Aesthetics/Fit/Comfort
The first thing that actually surprised me is that Hiby manages to get Hi-Res files delivered to WH3. In fact, everything about those TWS IEMs is top-audio grade, and it is much better than what I ever touched in terms of TWS technically. We get 125mW of power delivered to each piece at maximum, UAT, aptX, AAC, SBC, TWS+ and they're all powered by the QCC 5121 Chipset. 
Basically, WH3 is a killer IEM, with both a Dynamic Driver, and a Balanced Armature, you can select the crossover and configure it via Hiby's App for them, and you can use a multitude of codecs. TWS+ means that the BT signal is sent at the same time to both IEMs, so the latency is minimal. In practice, if your source is good, this is almost good enough to casually watch videos or play games, except maybe for shooters, where you need aptX LL if you really want lower latency. For me, it was ok at most, as I'm sensitive to small delays between video and audio. 
The playtime is not great, and this is because they run so much power in each IEM. Each piece gets up to 5 hours, which is about 4 hours in reality at louder volumes, and the case holds almost 5 additional charges, which is kinda cool. The case charges fairly fast, and so do the IEMs while inside the case. 
The crossover options basically dictate whether the dynamic driver or the BA driver has more authority over the sound. I prefer the Dynamic Authority one or the balanced one, as the BA-Authority crossover option sounds a bit brittle and dry. 
WH3 has a touch-based control which I typically dislike, but it is slightly better than typical for them, and I enjoy it as they are able to reject mistouches better than most competitors. I still prefer goold old fashioned button controls on my TWS IEMs and Headphones. 
I have pretty much excellent comfort from WH3, although I prefer Fostex TMA-2 and Master&Dynamic MW07GO for workouts. WH3 is good for walking and casual activities and generally a great little TWS IEM for a casual life. It also offers good passive noise isolation and doesn't change sonically depending on the source, unless your source changes the protocol (from aptX to AAC for example). 
Youtube Video 
Sound Quality
The sound of WH3 is an interesting piece. It is a really impactful, bold, and deep sound with a stronger treble, and a dip around 5.5kHz – 6.5kHz. That makes it vivid and engaging. 
The bass is deep, with excellent impact, and it has a ton of power. It is a bit large, and it gives a bit of warmth and thickness to the midrange, but it doesn't shadow them, and it doesn't impose itself too much. The best part about the bass is the overall resolution, which is far better than the original Airpods Pro, which I also reviewed. 
The midrange is sweet, vivid, punchy and detailed. Voices sound natural tonally, and have a natural texture, while background information is there, with a good holographic presentation. I enjoy both rock and metal with WH3, although it is not exactly ideal if you want a very vocal-forward presentation. 
Even the treble is sparkly and engaging, with a peak around 8-10 kHz. This gives an excellent resolution to cymbals, violins, pianos and even to accordions. I absolutely enjoy the way the stage is presented for orchestral music, and found WH3, to be excellent for it, despite the portable and TWS design. 
Overall, the detail levels are excellent, and the only situation in which you may not like WH3 is if you didn't like a V-Shaped sound. Otherwise, they are a perfect TWS with a really loud maximum volume, good detail and energetic presentation. 
Comparisons 
The price of WH3 is about 170 USD, so I picked competitors close to it. RHA TrueConnect, Master & Dynamic MW07Plus, and HIFIMAN TWS600 are all good competition for WH3 and should reveal nicely where they stand in the market. 
They actually make strong competition for Hiby's own Seeds II IEMs, and also for other IEMs in the market like Audiosense AQ3. 
Hiby WH3 vs Master & Dynamic MW07 Plus (170 USD vs 300 USD) – The Plus of the Mw07 series is their culmination, and it feels a bit better while being worn than WH3, staying a bit better in my ears. The clarity is excellent for both, but WH3 has a thinner, more snappy sound with a quicker bass. Compared, Mw07Plus is thicker, more grand, a bit like Atlas, and it presents music with more focus on the lows, and with a more colorful midrange. WH3 can be a bit more detailed, especially with rock and metal, and the overall impact is better. Battery life is better on MW07Plus. 
Hiby WH3 vs RHA TrueConnect (170 USD vs 300 USD) – The detail of the TrueConnect is not quite as good as WH3. WH3 is considerably more detailed, has a wider soundstage, with better overall separation and layering. The sound is more V-Shaped, more engaging, with more resolution and refinement. TrueConnect is laid-back, thick, and made for those who want a thicker sound, like a Beats or Skullcandy product, but which sounds a bit better. WH3 is a proper audiophile-grade TWS IEM with excellent resolution, detail, impact and a nice V-Shaped sound. Battery life is better on WH3. 
Hiby WH3 vs HIFIMAN TWS600 (170 USD vs 300 USD) – The sound of WH3 is much more natural, with more bass, more impact, and a deeper presentation. The bass is more rounded, has much better overall clarity, and the whole sound bears more detail, and is easier to listen to for many hours in a row. TWS600 is considerably more forward, especially in the midrange and upper midrange, where WH3 is a natural, typical TWS IEM. Both can be EQ'd, but WH3 can be driven much louder while staying. Battery life is better on WH3. 
Value and Conclusion
I actually started writing this review thinking that it won't end so good, but the sound performance of WH3 is actually excellent. They have a nice overall tuning, plus a nice build quality for both the IEMs and the Case as their overall value is excellent. The value is excellent and a 10/10 for the WH3. 
The package includes the nice carrying case, and the IEMs, which have excellent build quality. They are excellent for taking phone calls too, which adds to the value. The sonic tuning is energetic, vivid, punchy and dynamic. 
At the end of today's review if you're looking for one of the best TWS IEMs there are, the WH3 or Wee Hee Three from Hiby are absolutely amazing and fully recommended!  
Product Link
You can purchase Hiby WH3 from www.amazon.com here: https://www.amazon.com/HiByMusic-Definition-WH3%E3%80%90Japan-Domestic-Products%E3%80%91%E3%80%90Ships/dp/B08N3SZ5LQ
---
---
--- Please remember to stay safe, and always have fun while listening to music!---
 - If you have a dime to spare, and donate, to help us with electricity and work expenses, it would make my day much brighter, as it would help me improve things around the website and increase the frequency of my posts - 
---
Full Playlist used for this review
We listened to more songs than those named in this playlist, but those are excellent for identifying a sonic signature.  PRaT, Texturization, Detail, Resolution, Dynamics, Impact, and overall tonality are all revealed by those songs. We recommend trying most of the songs from this playlist, especially if you're searching for new music!
https://www.youtube.com/playlist?list=PL_cjBXGmwSHSdGcwuc_bKbBDGHL4QvYBu
--- Contact Us ---






---
---