Westone WX – Wireless Relaxation
Westone created an awesome IEM with their UM1 which was a bassy, warm and relaxing earphone, and they're now offering a similar IEM, but this time with Wireless abilities through their rather intriguing MMCX Bluetooth cable. We're going to put their latest creation to test and compare it to a few IEMs it can sound similar to. 
Introduction

Westone is a large and lovely company which has been standing behind their products for a while now, but in their case, we have been in contact with Westone resellers more than Westone themselves, namely Hifiheadphones UK, which are an awesome shop from Europe, offering one of the best services we've seen, along with awesome products, awesome prices, and sometimes being the first company to offer and to have a newly released product in stock. We reviewed Westone UM1 before, and you can read more about it following this link https://audiophile-heaven.blogspot.com/2018/02/westone-um1-relaxation.html

It should be noted that I have absolutely no affiliation with Westone or Hifiheadphones UK, I am not receiving any incentive for this review or to sweeten things out. This review is not sponsored nor has been paid for by Westone or HifiHeadphones UK or anyone else. I'd like to thank HiFiHeadphones for providing the sample for the review. The sample was provided along with HiFiHeadphones's request for an honest and unbiased review. This review will be as objective as it is humanly possible, and it reflects my personal experience with Westone WX. Every opinion expressed is mine and I stand by it, the purpose of this review is to help those interested in Westone WX find their next music companion.
Product Link
You can purchase Westone WX as well as other Westone IEMs from www.amazon.com here: https://www.amazon.com/Westone-Wx-True-Fit-Earphone-Bluetooth/dp/B074CPYBGM?
Packaging

First things first, let's get the packaging out of the way: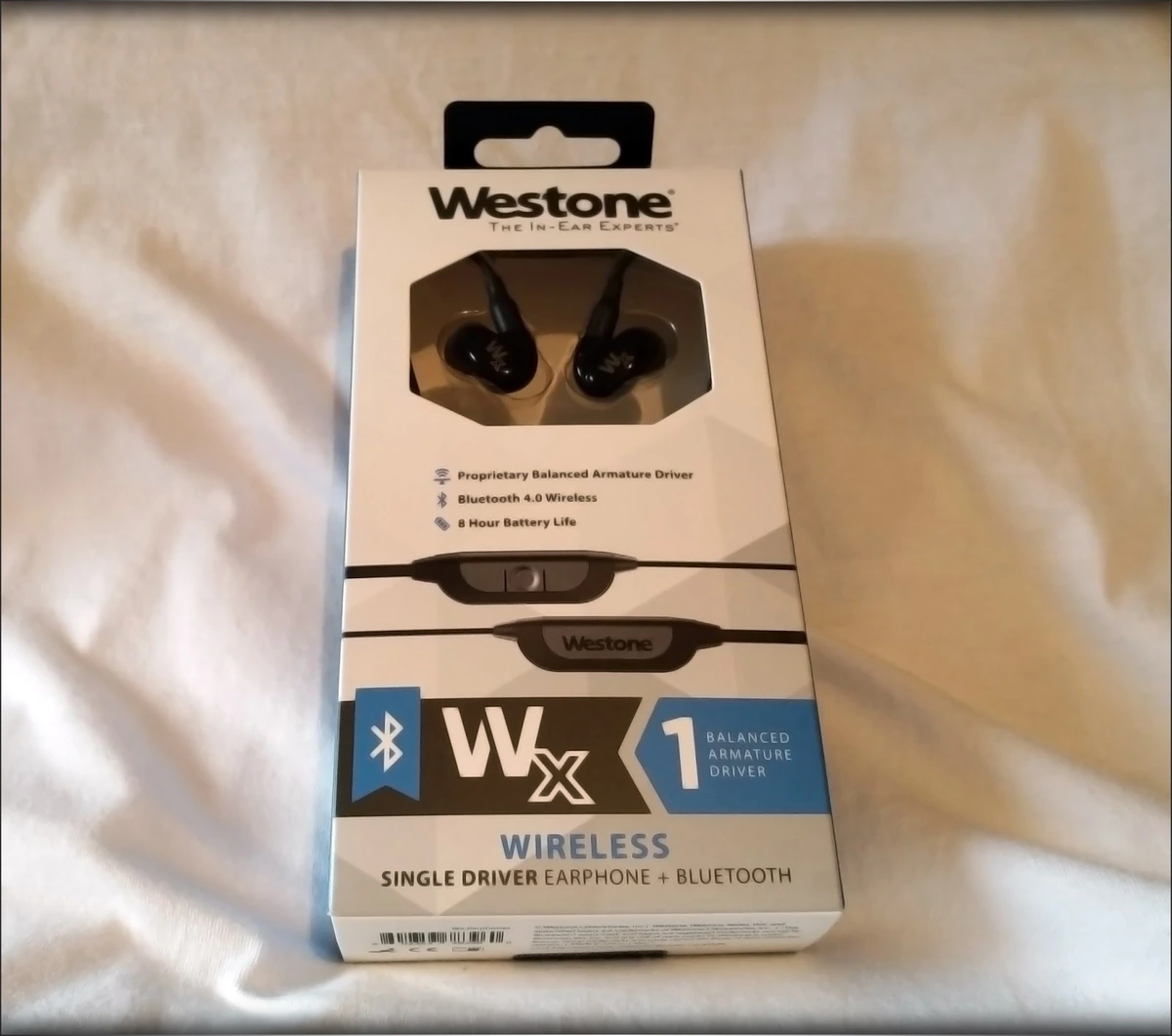 Similar to how Westone UM1 was packaged in a somewhat professional looking package, Westone WX comes in a rather same-ilk package. Westone seems to be a company which likes to imply that their products are created with professionalism and they surely design the package to look as such. 

The contents of the package are usually good, and this is also the case with WX, the tip selection especially being rather large and including a lot of tips of different sizes and materials. Happily, Westone is an expert in comfort and we trust that all their IEMs will be an excellent choice for those looking for comfort. 

You can also find a USB charging cable and the MMCX Wireless cable in the package. Westone WX is a 1 BA driver IEM with detachable cables. 

There is a carry pouch included in the package, and although it doesn't provide protection against mechanic shocks and pressure, it surely protects the beautiful WX from scratches and offers a nice solution for keeping them while not in usage. 
Somehow, the fact that they have a wireless cable, which is very short, seems to work rather well with the carry pouch as the cable will not tangle while they are stored in there. 

All in all, the contents of the package are good for a 150$ IEM, and WX feels rather nice and high-quality. 
Build Quality/Aesthetics/Fit/Comfort

The build quality of Westone WX is similar to that of Westone UM1, plastic all-around, but a very high-quality plastic which we trust to take a good amount of usage before showing a single scratch. This time though, the IEM Shell is actually glossy and opaque rather than transparent this time around.

The IEM body looks beautiful and we can't express how nice it looks and feels, with a deep, piano-black finish and a flawless glossy surface. 

The Fit is within the golden area, Westone having a habit of creating extremely comfortable IEMs, WX being part of this tradition for them, having a deep fit with a good seal, being quite good at isolating the listener from the outside noise, and providing a hassle-free overall experience, regardless of the ears shape and size. 

The other thing we'd like to mention is the Wireless MMCX cable, which is, in one word, amazing. The cable itself is very light and nimble, offering a great usage experience for WX, but also being compatible with other IEMs, some of which weren't even designed to be used with a wireless cable. 

As for a few notes we made during our tests, WX is extremely power efficient, and it can get loud enough from the Wireless signal, thing which we consider a major plus as we had some issues getting the right amount of volume with some IEMs and Headphones based on Bluetooth technology. WX is also compatible with APT-X technology, and they sound darn good when combined with a source compatible with APT-X. 

All in all, we are happy with the overall build quality and comfort of Westone WX, and they reach golden levels for their comfort. 


Sound Quality

Westone WX is a 1-BA IEM, with a custom designed Balanced Armature. 


The overall tuning is towards a bassy and relaxing experience, with a thick overall sound, a good weight for each musical note, and a thicker, and not extremely detailed midrange, and a smooth and relaxing top end, with not quite that much bite, but with a very relaxing and laid-back presentation. WX are quite dynamic as an overall tuning, being good at staying engaging even despite their signature which is made for those looking for a relaxing moment. 

The bass is generally deep and thick, the bass impact is amazingly good and the bass goes surprisingly low, sometimes maybe crossing a bit in the midrange, but being a very satisfying and forward bass. Bass-centric music sounds most impressive and WX provides one of the most engaging experience for bass lovers we've seen in this price range, especially against other wireless IEMs based on a single BA transducer. 

The midrange is thick and has a natural overall tonality. The bass adds some warmth and extra impact to the midrange, making male vocals sound deep and extremely satisfying, while guitars don't have quite the bite they have on other IEMs which are tuned with more upper midrange bite. One thing is for sure, WX is very smooth and laid-back, being rather good if you're looking for a relaxing IEM. 

The treble is extremely smooth and relaxing, ending a bit quick and feeling rather made to pair with their overall fun and relaxing tuning, as it takes a more background place when compared to the midrange and the bass. 

The sonic signature works extremely well with electronic music (as this kind of music usually has the treble enhanced already), hip-hop, and Jazz music, along with low-fi and more laid-back music like trip-hop. It might not work as well with Rock or Metal, as it lacks the bite in the treble for this kind of music, although the thick and forward presentation might be fun for some metal music lovers, especially those looking for a fatigue-free experience. 


Soundstage

The soundstage of WX is one of its rather impressive features, and while we can't explain exactly why or how Westone managed to give them this space, they have a larger stage, along with a good amount of space between instruments and a healthy instrument separation, which is quite interesting, as it makes the fun and bassy signature very dynamic and gives them a very enjoyable overall tuning. 


Portable Usage

We had the chance to test WX with FiiO X7mkii and Samsung T580, both of which sport APT-X codecs, and we were quite satisfied with the results. Westone WX is quite light and has a golden comfort, along with very good noise isolation, so they work well with any kind of portable usage scenario. 

Since those are Bluetooth IEMs, we can't speak about combinations as all devices should send a very similar signal through their bluetooth, but we'd like to mention that APT-X enabled devices will sound much better with them than non-APT-X devices given their Wireless-only nature. 

Furthermore, their connection is within the more stable connections we tested, and they seem to have a very stable Bluetooth signal, along with a lightweight Bluetooth cable and excellent overall ergonomics. 

The Bluetooth remote has the buttons etched so they can be used without seeing them, a part we consider essential for any Bluetooth enabled device. 

The pairing is quick and simple, and there is no Left-Right imbalance on the Wireless cable, the overall experience of Westone WX being rather pleasing. 

Those little IEMs can also be used for making and receiving phone calls, and while the buttons only offer very basic functions in this sense, the voice call quality was good, and the person on the other side could hear us clearly and with good detail, although WX might pick on the background noise as well, given their sensitive nature. 


Comparisons 

Westone WX vs Astrotec AM850 – Given the similar price of the two, we consider AM850 an interesting competitor in this price range. AM850 is a typical IEM, without Wireless connection, without detachable cables, but with metallic IEM bodies and with a comfort as good as WX. The sonics are quite different, WX being thick and bassy with a dynamic and large presentation, while AM850 is similarly wide, with a similar instrument separation, but a more balanced signature, with more treble, less bass, and a more revealing overall tuning. The two seem to complete each other rather than be competitive against each other. Astrotec AM850 Review: https://audiophile-heaven.blogspot.com/2018/02/astrotec-am850-vivid.html
Westone WX vs Westone UM1 – It is quite hard to tell the two apart, and most differences are in the basic IEM construction and concept, WX being a wireless IEM, while UM1 is a wired IEM. They come with a similar carrying pouch and with a similar selection of tips, although WX is better aesthetically, being more beautiful, UM1 winning a bit on comfort and IEM size, as they ar somewhat smaller in their shells. 
Westone WX vs Kinera H3 – An interesting comparison, as WX is quite bassy and smooth, while Kinera is one of the brightest and most energetic IEMs we know, for some being even a bit too harsh. Starting with the bottom end, Kinera H3 is much more conservative, but still very deep and satisfying, although if we're to choose which has better speed and resolving abilities, H3 being better in this aspect, WX being more satisfying in their bass and impactful presentation. The midrange is quite different, being quite recessed on Kinera H3 and rather balanced relative to the bass on WX. The treble is extremely different, smooth and ending a tad too soon with WX, and very energetic and revealing with H3, Kinera H3 being one of the very revealing IEMs we know of in this price range. The comfort is much better on WX, as they are smaller in size and provide a deeper and more comfortable fit, and as they don't have any kind of driver flex, although they might have a bit of void (for those not used to BA drivers), where H3 is larger in size and has driver flex. The overall tuning is laid-back and relaxing for WX, where it is revealing and bright for H3, the two being very complementary rather than direct competitors. Kinera H3 Review: https://audiophile-heaven.blogspot.com/2018/01/kinera-h3-trebley-good.html
Westone WX vs iBasso IT01 – Here things get a bit interesting and intriguing. iBasso IT-01 is one of the best priced IEMs we had the pleasure of reviewing and of seeing in their price range, the other titan we know of in this price area being FiiO F9Pro. Starting with the package, WX has a larger collection of tips, but IT-01 provides a much better carrying case and storage option. The build quality is similar, both feeling very well designed and offering a high-quality feeling. The concept is different, WX being wireless, where IT-01 is wired, with an excellent cable. The more interesting aspect will also be the price, IT-01 being considerably cheaper than WX, priced at 100$. The sound is different, IT-01 being much more revealing on an overall, with a more detailed and quicker bass, and a sparklier treble, with better extension and more detail. The tuning is more universal for IT-01, although they have a strong mid-bass which is similar to the mid-bass of WX, although it doesn't quite bleed in the midrange for IT-01. All in all, they are complementary more than they are direct competitors. iBasso IT-01 Review: https://audiophile-heaven.blogspot.com/2018/02/ibasso-it01-love-for-music.html
Westone WX vs FiiO F9Pro – A more fair comparison as F9Pro is priced similarly when compared to WX, at around 150$, the two feel very different. FiiO F9Pro is a wired earphone that comes with two cables, one balanced and one single ended, while WX comes with only Bluetooth connection abilities, F9Pro is a much more universal overall IEM, with a very balanced and natural / neutral tuning, where WX is a fun and laid-back IEM with a bassy and smooth / fatigue-free sound. F9Pro is considerably more revealing, where WX focuses on providing a more laid-back sound, enhancing their soundstage size and dynamics, where F9Pro keeps a clean and vivid overall sonic performance. The two feel quite complementary rather than in competition, being very different and aimed at different publics. FiiO F9Pro Review: https://audiophile-heaven.blogspot.com/2018/03/fiio-f9-pro-harder-better-faster-fiio.html


Value and Conclusion

First, we'd like to make it clear that WX is a 150$ IEM with a tuning very similar to Westone UM1 also produced by Westone, but with a Wireless Bluetooth Cable included in the package, which comes with APT-X abilities and an excellent overall Wireless performance. 

Considering their price and their overall performance, WX from Westone are an amazing IEM for those looking for a laid-back and relaxing experience, the Wireless connector being just the cherry on the cake, the overall IEM being amazingly well-built, very comfortable, and very pleasing aesthetically. 

If you like a bassy signature that focuses on staying dynamic while being thick and satisfying, you should really consider Westone WX for your option, and we also recommend purchasing them from HiFiHeadphones, a great shop to purchase your IEMs and Headphones from.
Product Link
You can purchase Westone WX as well as other Westone IEMs from www.amazon.com here: https://www.amazon.com/Westone-Wx-True-Fit-Earphone-Bluetooth/dp/B074CPYBGM?
---
---
--- Please remember to stay safe, and always have fun while listening to music!---
 - If you have a dime to spare, and donate, to help us with electricity and work expenses, it would make my day much brighter, as it would help me improve things around the website and increase the frequency of my posts - 
---
Full Playlist used for this review
We listened to more songs than those named in this playlist, but those are excellent for identifying a sonic signature.  PRaT, Texturization, Detail, Resolution, Dynamics, Impact, and overall tonality are all revealed by those songs. We recommend trying most of the songs from this playlist, especially if you're searching for new music!
https://www.youtube.com/playlist?list=PL_cjBXGmwSHSdGcwuc_bKbBDGHL4QvYBu
--- Contact Us ---






---
---