FiiO EM5 – Earbuds Race On
FiiO EM5 is a premium earbud, priced at 300 USD. It sports a Be Driver in 14.2mm size, and it also has a modular cable, where you can replace the termination with a balanced one, both in the 4.4mm and 2.5mm shape. The main competitors would include Simphonio Dragon 2+, and Linsoul BLD. Those are the only other two Earbuds I officially reviewed to date, and they aren't quite as pricey and premium as the self-proclaimed king of Earbuds EM5, but they should do fine for comparisons. 
The pairing list will include FiiO M11 PRO and iBasso DX300, but you can drive the EM5 just fine out of an entry-level source like FiiO BTR5 or Hiby R3PRO.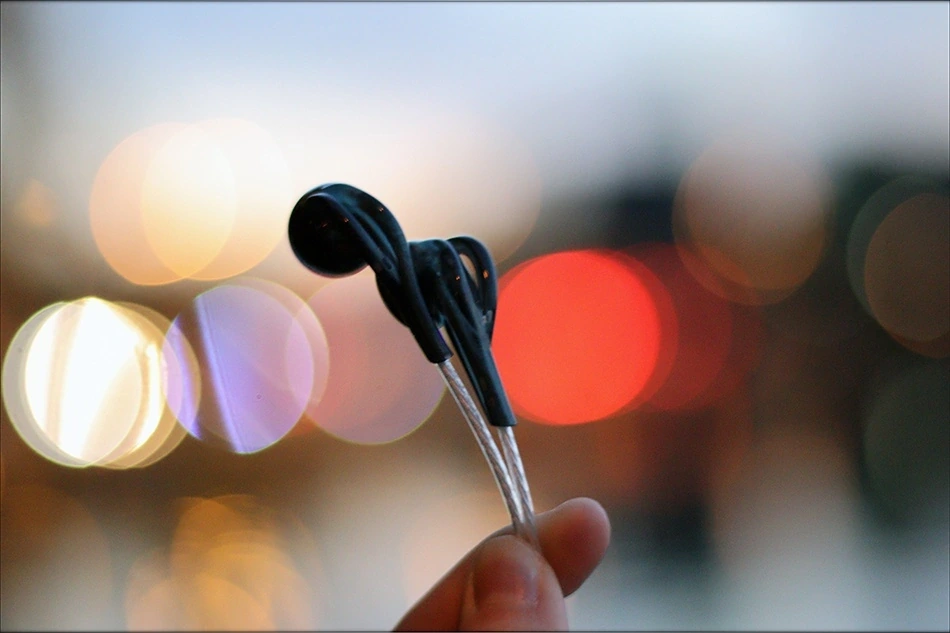 Introduction
FiiO doesn't really need much of an introduction but this IEM, so I will skip right to the Build part of this review. If you're curious to know more about FiiO, please have a look and click on any of those other reviews I made, about FiiO BTR5, FiiO BTA30, FiiO M11 PRO, FiiO FA9, or FiiO M3 PRO.  
That being said, it should be noted that I have absolutely no affiliation with FiiO. I'd like to thank FiiO for providing the sample for this review. Every opinion expressed is mine and I stand by it, the purpose of this review is to help those interested in FiiO EM5 find their next music companion. 
Product Link
You can always get your FiiO EM5 IEMs from here: https://www.amazon.com/FiiO-EM5-Earphones-Beryllium-Coated-Swappable/dp/B08G4RZPSN
Packaging
First things first, let's get the packaging out of the way: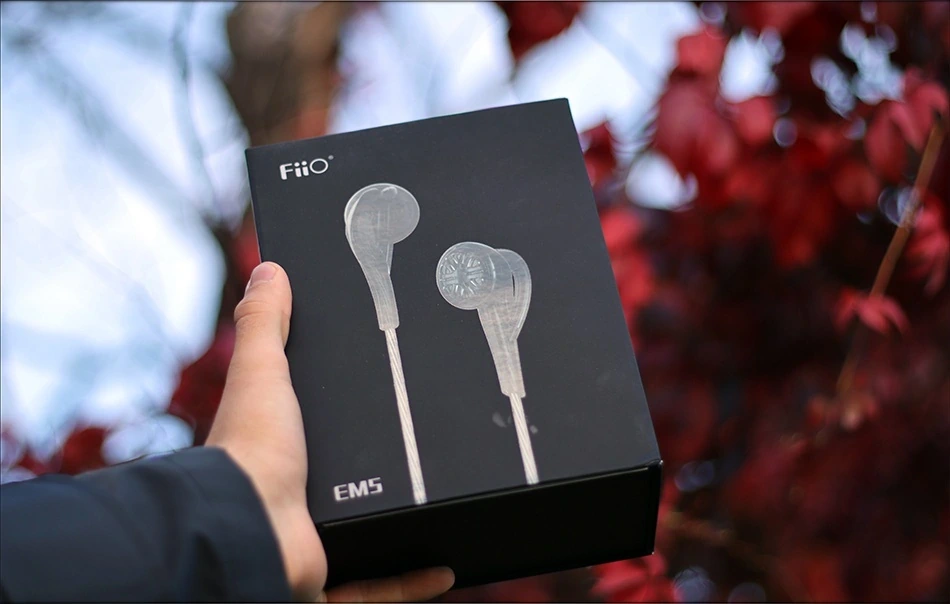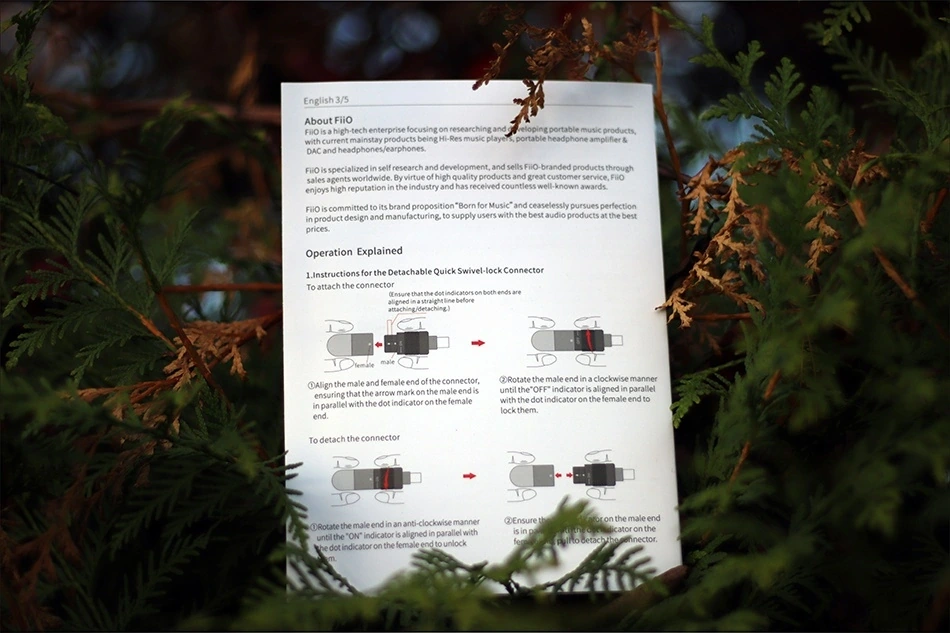 The package of the EM5 is downright amazing. This is an earbud, so you're most likely expecting a very entry-level presentation, but FiiO made sure to sprinkle in some of their tips for EM5 (earbuds need foam tips too), and modular connectors for their cables. 
The cable of EM5 is not detachable, but it is balanced and of the highest quality, so we could consider it part of the package / presentation. 
Build Quality/Aesthetics/Fit/Comfort
I should start by saying that I like earbuds in general, they tend to offer a really nice stage and sound, but I don't have a perfect fit with every earbud out there. There are some better fitting earbuds, and some that fit worse. FiiO EM5 is among those that fit better, and especially with the foamie tips, they can sit nicely in my ears even while I'm walking. 
I wouldn't recommend earbuds in general for running, and most of them won't stay snug in my ears for that, but all of them are good enough for your average morning walk. 
The cable is really nice, non tangle prone, also long enough for all practical usages, but it is not detachable, which may be a bit concerning for those who want to take EM5 and use them for a really long while. From experience with FiiO and their products / especially cables, they never break at the cable level. There have been some very minor issues but only local and there was no mass recall ever with FiiO products before. I'm happy to also note that FiiO usually solved the issues for those who had them rather fast and nice.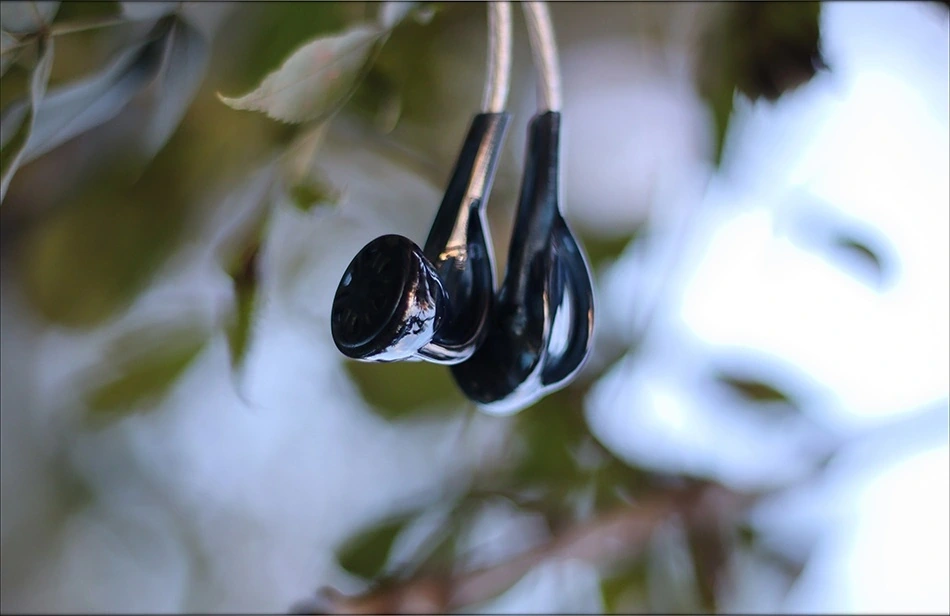 EM5 has a large Beryllium coated driver, with excellent potential for bass and for a warm and musical sound. It also has a really lightweight construction made by a 3D printed material, and the cable is actually a Silver one. 
Youtube Video 
Sound Quality
The overall sound of EM5 can be described as forward, wide, warm, musical, and engaging. It is enjoyable with all music styles, has excellent speed, and overall feels like a true revelation compared to what I was used to when it came to Earbuds. 
The bass is moderately warm, with good bass depth for an Earbud, but has no boominess and no muddiness. As far as my experience goes, EM5 has the best bass for an earbud in the entire world, and none comes even close to the extension, impact and slam that EM5 can push. The sound can be described as slightly thick and weighted, but it is quick and responsive, so metal is never slow or crowded, while EDM is always jumpy yet corpulent. 
The midrange and overall presentation of EM5 is forward, and in-your-face, with an engaging presentation. The mids are really warm, musical and engaging, and remind me a ton of Grado and their house sound. Especially when comparing EM5 to something like Grado SR80e, which was really fun to listen to for the mids, I can hear some similarities. The midrange also reminds me of Periodic Audio Be, with a warm and fun tuning. The stage is wide, yet artists and voices are really close to you, almost like whispering in your ears, especially if you listen to something softer. The clarity and precision are also excellent, and while it may sound a bit too "pure" to some, metal music, especially busy solos are unparalleled in how vivid and enjoyable they are. 
The treble, after listening to EM5 a lot, can be a bit raw and direct, sparkly and also engaging. The entire treble is sparkly, peppy, and accurate. Sometimes it feels like I'm listening to a good Grado Headphone, and this comparison is a compliment, since Grados are generally some of the best regarded headphones for their treble, and midrange. EM5 also has a really nice bass to add to the mix. All in all, things are excellent for the tuning. 
EM5 also makes itself known for the huge soundstage, with excellent imaging and precise separation. It is on another level from Dragon 2+, and the Thai Eros Earbuds I reviewed, and also better than the Linsoul BLD. Things can be really holographic, but I'm happy it always stays forward in the voices, as otherwise the signature would have become vague and boring. 
Comparisons 
The main comparisons for EM5 that I went for are Linsoul BLD and Simphonio Dragon 2+ earbuds. They are not exactly as peppy in the price as EM5, but they are pretty good too, and make a good comparison point to EM5. 
FiiO EM5 vs Linsoul BLD (300 USD vs 40 USD) – Linsoul BLD is actually pretty close in tuning to EM5. It doesn't have quite the refinement and detail, but the overall tonality is somewhat similar. This being said, EM5 is much more comfortable, has a better overall design, is lighter and easier to wear. It also has more detail, better clarity, better overall impact and more resolution. This comes at a literal price, as EM5 costs much more than Linsoul BLD. 
FiiO EM5 vs Simphonio Dragon 2+ (300 USD vs 250 USD) – The fun part here is that the prices are actually rather close to each other. The comfort is equal for the two, but the cable feels and looks better on EM5. Dragon 2+ has a slightly more detail-focused sound that is more analytic, but EM5 has better overall bass, more slam, more impact and more depth to the sound. EM5 is wider in the soundstage with a more forward midrange, where Dragon 2+ is more focused with less space in general. If you're an analytic lover, Dragon 2+ is better suited for you, while if you want to take Earbuds to the next level and go for something with more slam and impact, EM5 should be just right for you. 
Pairing 
The main pairings I went for are with M11 PRO and DX300. This is just to highlight how good EM5 can sound, but if you don't have a ton, don't worry. It doesn't need much to sound good, but it appreciates a high-end source, or at least a good one. This is because it has really good detail, clarity and will reveal the source quality a bit. 
FiiO EM5 + iBasso DX300 (300 USD + 1200 USD) – DX300 was a huge surprise for me, because although I can totally say that EM5 doesn't need this much power and such a high-end DAP, they did improve a ton when using DX300 rather than DX120. This means that they have good potential and good detail retrieval, and with DX300 I was happy to notice a more musical and natural midrange, a huge stage, but also excellent detail. 
FiiO EM5 + FiiO M11 PRO (300 USD + 650 USD) – M11 PRO is a bit brighter and less warm when driving EM5. It also makes them a bit colder in tuning, which works well for them if you found them to be a bit too warm. This being said, if you want to make EM5 the coldest possible, I would recommend M11 or M3 PRO, all of which are cold, compared to a natural source like FiiO BTR5. 
Value and Conclusion
The value of EM5 is excellent, they are a top dog IEM, with a really good build quality, and despite costing a premium for an earbud, they are pretty much the best earbud I heard to date, objectively speaking. 
The package includes the modular connectors for the cables, and they do have a modular silver cable, which adds a lot to the value of the Earbud. 
Then, there's the build quality, which is made for them to be light and comfortable, and while they are plasticky in nature, they sound amazing once you put them and start listening to them. 
The sound can be described as forward, warm, musical, detailed, clean, clear, and punchy, with the best bass you'll ever hear from an Earbud. 
At the end of today's review, if you're looking for the best earbud on the market today, with an excellent bass, excellent detail level, a vivid presentation, great build quality, and a modular cable for you to be able to use both a balanced and a single ended source, FiiO EM5 should be the perfect choice. 
Product Link
You can always get your FiiO EM5 IEMs from here: https://www.amazon.com/FiiO-EM5-Earphones-Beryllium-Coated-Swappable/dp/B08G4RZPSN
---
--- Please remember to stay safe, and always have fun while listening to music!---
 - If you have a dime to spare, please donate, and help us! It would make the day brighter for me and my wife- 
---
Full Playlist used for this review
We listened to more songs than those named in this playlist, but those are excellent for identifying a sonic signature.  I recommend trying most of the songs from this playlist, especially if you're searching for new music! The playlists are different for Spotify, Tidal and Youtube, and based on the songs I enjoy and are available on each!
https://www.youtube.com/playlist?list=PL_cjBXGmwSHSdGcwuc_bKbBDGHL4QvYBu
https://open.spotify.com/playlist/5J3oloz8Riy9LxEGenOjQ0?si=979ba4f082414be7
https://tidal.com/browse/playlist/330fd544-8e5b-4839-bd35-676b2edbb3d5
--- Contact Us ---





---