Versatility Ultimate – xDuoo XD-05 Plus DAC & Amplifier
It is time to look into the most versatile of the midrange portable DAC/AMPs, namely the xDuoo XD-05 Plus. This one sports almost an entire WATT of power, and it will be compared to iFi xDSD, FiiO Q5s, Earmen TR-AMP, and paired with HIFIMAN Deva, FiiO FA9, and iBasso SR-2. Let's go with the insanity of this one amazing DAC/AMP!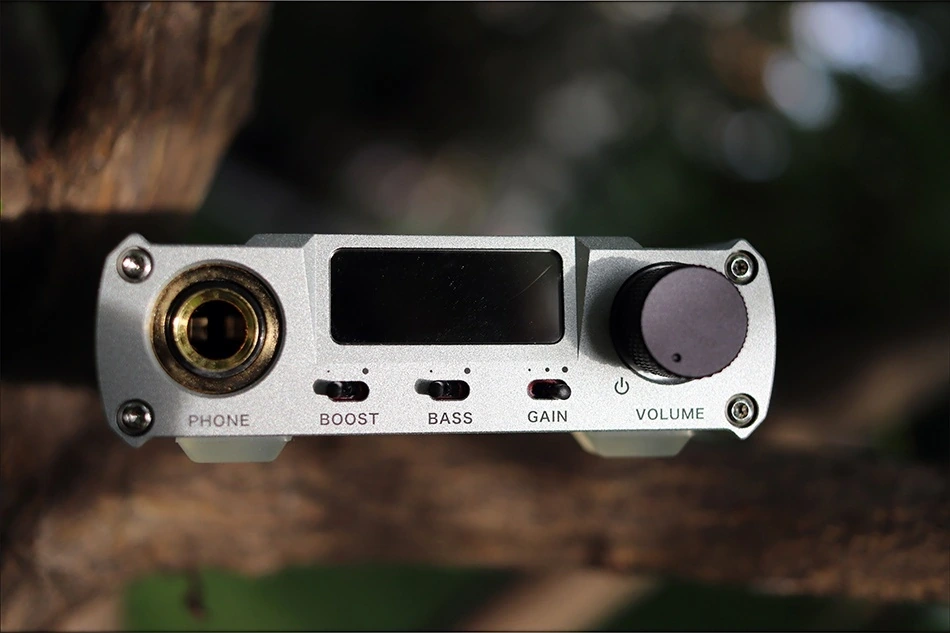 Introduction
Today's review sample is provided by XTENIK, an amazing shop. They are the ones who introduced xDuoo to us westerners, and their main man, Mr. Steven is a true music lover. They bring those products under an awesome warranty, cover every bit of support we may require, and are there to help, creating an index of reviews, and even self-written articles to help people pick the product that suits them best. 
It should be noted that I have absolutely no affiliation with xDuoo or Xtenik. I'd like to thank XTENIK for providing the sample for this review. This review reflects my personal experience with the xDuoo XD-05 Plus. Every opinion expressed is mine and I stand by it, the purpose of this review is to help those interested in xDuoo XD-05 Plus find their next music companion. Since I reviewed many competitors as well, this review isn't trying to sell the XD-05 Plus to you, but rather trying to help you decide on what is the best choice for you, based on pairings, comparisons and descriptions.
Product Link
You can get the XD-05 Plus from XTENIK here: https://www.xtenik.com/product/xduoo-xd-05-plus-amp/
Packaging
First things first, let's get the packaging out of the way: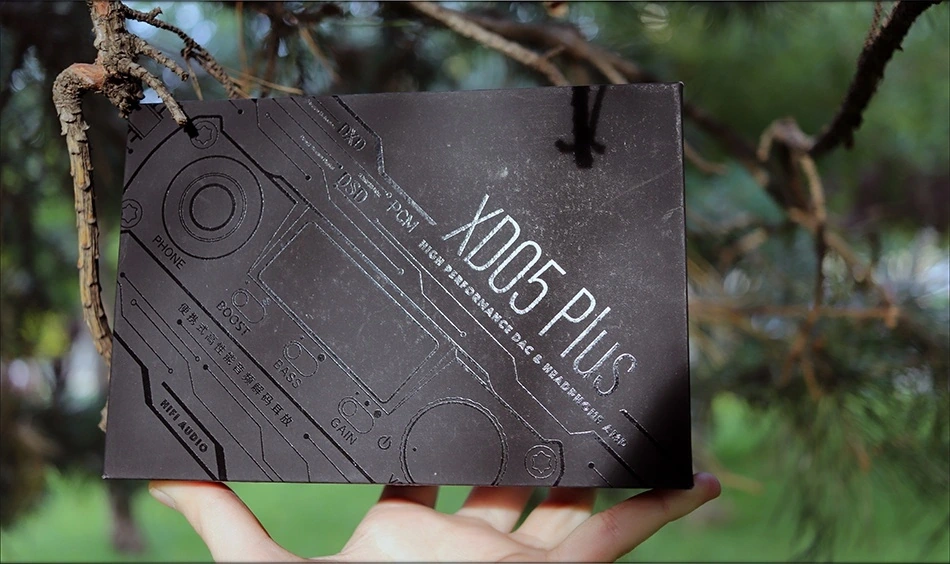 And finally, a complete Package, the young writer said to himself while writing this article. We have everything, except for a case, but as I present in every single one of my reviews, cases with DAC/AMPs are not very useful. 
All the cables you may need, including short angled cables to strap the XD-05 Plus to your phone, a 3.5mm to 6.3mm adapter, a silicone separator, and rubber feet are all included in the XD-05 Plus. 
This is the whole list of contents: 
XD05 Plus DAC/amp

Short angled USB type-C -> micro USB cable

Short angled USB type-C -> type-C cable

Long USB A -> type-C cable

2 special pins for 3.5mm input/output protection

10 pairs of silicone stand offs

silicone pad

6.3mm -> 3.5mm jack

4 spare screws

user manual and warranty card
A long cable for connecting XD-05 Plus to your computer is also included, and all the USB inputs, both the charging and the USB input are in Type-C, so Mega cool stuff for the XD-05 Plus. 
Technical Specifications
Compliant operating systems – Windows XP/7/8/10, Mas OS X, IOS, Android

Screen – 0.91″ OLED

Buttons – Input, Source, Filter

Switch – Boost, Bass, Gain

DAC chip – AK4493EQ

USB chipset – XMOS XU208

Coaxial/optical chip – CS8422

FPGA – Altera-EPM240T

Signal AMP – OPA1612

Circuit AMP – BUF643U

USB (PCM) – 16–32bit / 44.1–384kHz

DSP – DOP / NATIVE mode, DSD64–256 (1bit / 2.8M–11.2M)

DXD – 24–32bit / 352.8K–384kHz

OPT/COA (PCM) – 16–24bit / 44.1–192kHz

DSD – 1bit / 2.82 Mhz (DOP)

Output power – 1000mW at 32 ohms

Frequency response (amp) – 10Hz~100kHz (±0.5 dB)

Frequency response (USB/SPDIF) – 20Hz~20kHz (±0.5 dB)

THD+ N (USB/SPDIF in) – 0.0016% at 1kHz

THD + N (aux in) – 0.0009% at 1kHz

S/N – 117dB

Crosstalk – ≥75dB

Inputs – Coaxial/optical 3.5mm, Aux 3.5mm SE, USB type-C

Outputs – Headphones 6.3mm, Aux 3.5mm SE

Charging port – USB type-C

Battery – 3.8V / 5000mAh

Battery life – ≥13 hours (USB in), ≥21 hours (SPDIF in), ≥40 hours (aux in)

Size – 139.5*75*23mm
Build Quality/Aesthetics/Functionality
The build quality of the XD-05 Plus is insane. This is a really well-thought device, it has ventilation, and if you're the daring type, you can even open it up and change the OP-AMPs inside to something different. You can literally tune it, you can listen to it however you like, and you can even enjoy it in the basic configuration. 
It has vents to cool off, because when you provide almost a watt of power at 32 OHMs, you really need vents and to be careful with your power. It even has a smol OLED Display at the front, along with a full fledged volume wheel. There's just a bit of channel imbalance at the beginning of the volume wheel. 
There are separate USB Type-C ports for charging and data on the XD-05 Plus, just like on Earmen TR-AMP. There's an Aux In / Out, which means a Line Out, and a Line In, so XD-05 Plus can act as a standalone AMP too. Digital input, in the shape of Optical is also there. 
The output is a single 6.3 mm Single Ended Output jack with an adapter to 3.5mm included in the package. We also got three switches at the front, for bass, gain and boost. Gain is useful this time around, as at max it has too much power to be controllable with medium powered headphones like Ultrasone Signature DXP, or Verum One. On the other hand, it also has a grainy control for IEMs like Campfire Atlas. 
Speaking of it, I couldn't notice too much hissing going in the background, despite searching pretty badly for it. With Campfire Atlas, it is noticeable, but for the kind of power it has, I was expecting much worse. If I was to describe the hissing, it depends on how loud you have it turned, and if you're going really loud, it is almost like a whisper, where music will sound like a rocket taking off.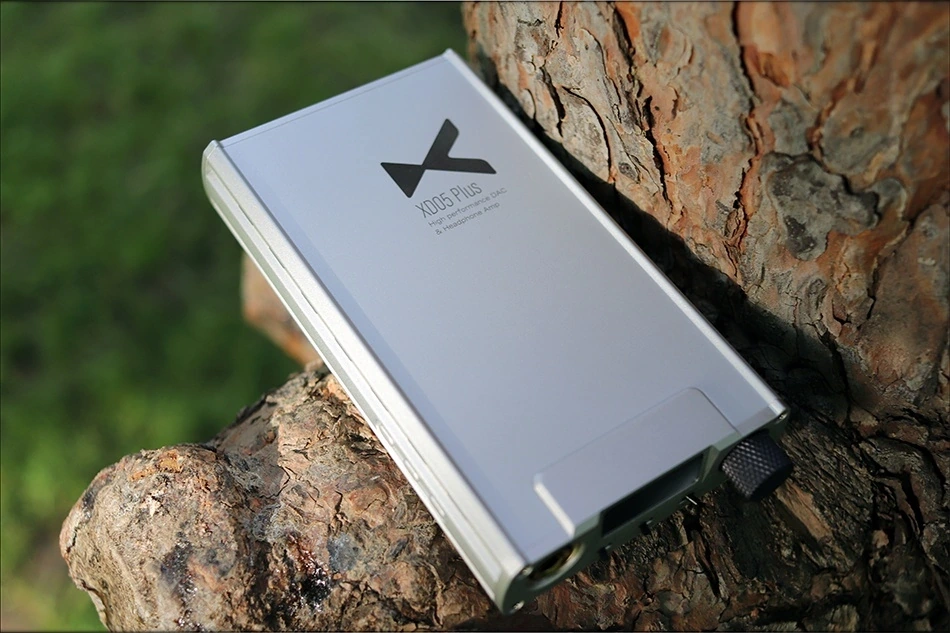 Battery life is insane, with me getting as much as 18 hours on a single charge of mixed usage. There's also a module available from XTENIK that allows you to add Bluetooth to XD-05 Plus, if you want to keep it perfect, but as a single piece. 
I loved the Bass Boost, it is the perfect feature to have on a DAC/AMP if you want to color your listening experience. 
Video Review
Sound Quality
In terms of power, I was able to run HIFIMAN Arya, Audeze LCD-2C, and even Rosson RAD-0 from XD-05 Plus. Describing it as perfectly neutral but with a lot of meat and impact behind would be most accurate. It has excellent control, but the soundstage is not the widest ever, giving the impression of a sound that's warmer than it actually is. There's a slight warmth in the midrange, but the treble has a smooth texture, and a mellow presentation. The bass is hard and hits deep, everything quite characteristic of the AK DAC chip inside the XD-05 Plus.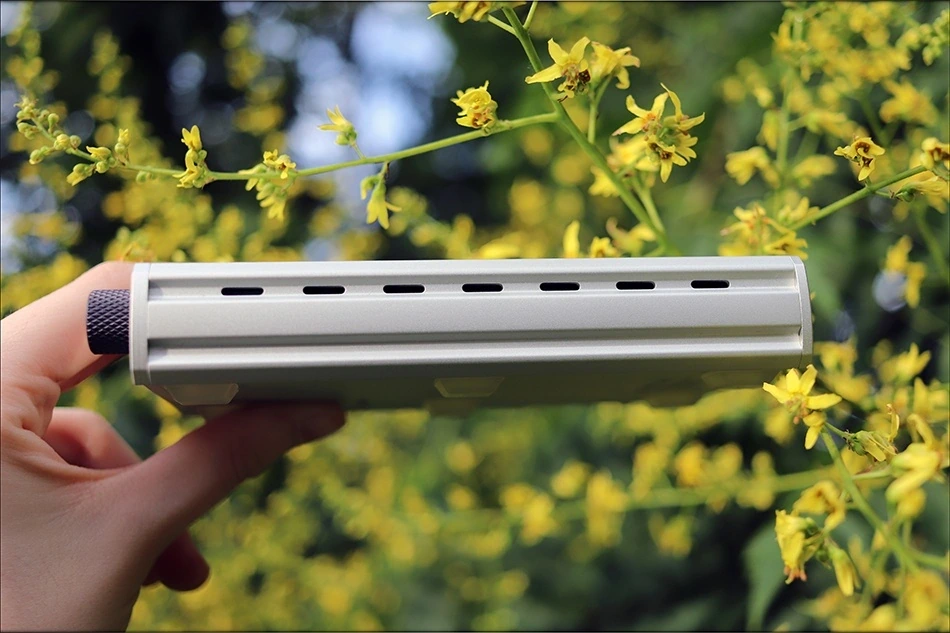 The bass has good separation and above mediocre detailing for the price point. The bass is slightly elevated by default, with the intimate soundstage contributing to the feeling of warmth and increasing the impression about the bass. You can easily distinguish multiple basslines, but the presentation tries to be as neutral as possible. Fails, but laughs on it, I'm into this stuff. 
The midrange is neutral, with a hint of warmth. The presentation is intimate, but not much more intimate than most other DAC/AMps at this price point. The detail is crazy good, and so is the overall dynamic, XD-05 Plus being a really dynamic DAC/AMp. If you want to pepper in a wider soundstage, the OP-AMPs are removable and you can totally change the signature a lot. I like the overall presentation for rock, metal and think it works well for EDM and Pop too. It is not ideal for classical, especially orchestral, since the smaller stage doesn't compliment those styles much. The midrange can be described as quite light despite the bass being a bit warm tonally. 
The treble is smoother in texture, and is well extended. I can hear a lot of air and the extension goes really high, but it is never fatiguing or harsh. It lacks the last few smidgens of sparkle to be perfectly to my taste. It is made for those who love a relaxed top end, and won't bother anyone in the process. Given the excellent extension, it won't fail or lose fans either, because you won't ever feel bored with the XD-05 Plus. 
Comparisons
The main comparisons for the XD-05 Plus are with iFi xDSD, FiiO Q5s and Earmen TR-AMp. There are a few others, but those are the biggest players in the DAC/AMP range for under 500 USD.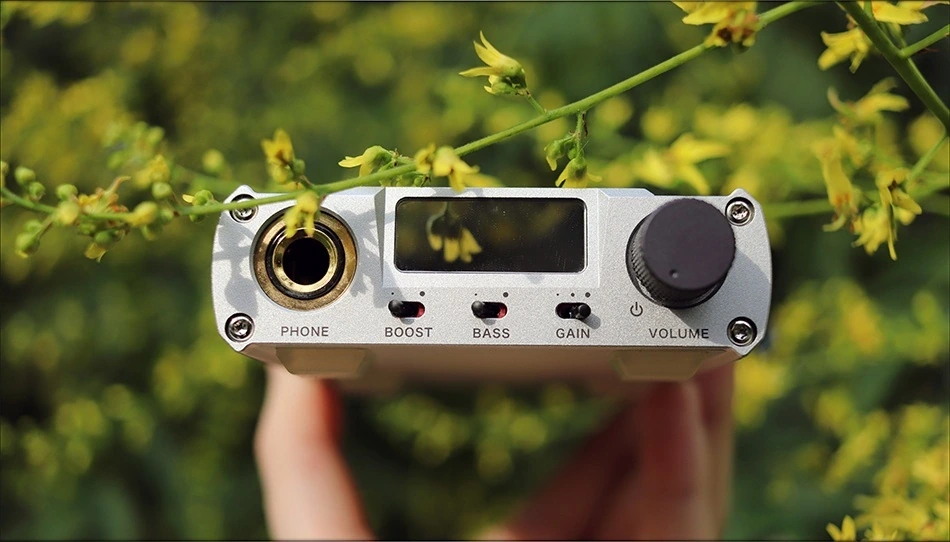 If you're curious about how it competes with something else, please let me know in the comments, and I'll do my best to help! 
xDuoo XD-05 Plus vs iFi xDSD (250 USD vs 400 USD) – Comparing the XD-05 Plus with XDSD I figured that the midrange is more colorful on xDSD, and the treble has more sparkle and energy. This being said, XD-05 Plus has more driving power and sounds more controlled, especially at really loud volumes, although both distort a bit when taken to their maximum loudness. XD-05 Plus is smoother in textures and shows less detail, but also a bit more background noise. If you can find it at almost half the price of xDSD, it is a perfect DAC/AMP, and I totally recommend it if you need versatility, driving power, and if you prefer a more intimate presentation. 
xDuoo XD-05 Plus vs FiiO Q5s (250 USD vs 350 USD) – Q5s is generally more detailed and cleaner than XD-05 Plus, with a better treble, more sparkle, and more extension. XD-05 Plus, on the other hand, sounds more controlled, has more authority, and the bass can be larger in both amount and impact than Q5s. XD-05 Plus tends to distort more at maximum volume, where Q5s doesn't have a weakness in that sense. 
xDuoo XD-05 Plus vs Earmen TR-AMp (250 USD vs 250 USD) – Earmen TR-AMP is actually the one people most often want to compare to XD-05 Plus, and I honestly think that you could get either and be happy, but with the recent reports about a few TR-AMP and Sparrow units having failed, I actually really recommend XD-05 Plus more. The sound of the TR-AMP is actually a bit better than XD-05 Plus, with a warmer presentation and more soundstage, more instrument separation and more details. XD-05, on the other hand, has a bass boost, is more intimate, and has more driving power at maximum. TR-AMP is better for IEMs. 
Pairing 
The main pairings I picked are with Deva from HIFIMAN, SR-2 from iBasso, and FA9 from FiiO.
Those all show exactly how well matched XD-05 Plus is with everything, and what it does best. 
xDuoo XD-05 Plus + HIFIMAN Deva (250 USD + 300 USD) – With Deva, I always feel that I need more power. XD-05 Plus puts my mind to ease when it comes to powering Deva, as it has more than enough power, authority, and punc, making Deva truly shine their best. The soundstage is natural in size, since Deva had a really extensive stage, and the more intimate presentation of XD-05 Plus narrows that down a bit. 
xDuoo XD-05 Plus + iBasso SR-2 (250 USD + 500 USD) – With SR-2, I was once again surprised by the bass! It is so nice and natural, with excellent reach and depth. I always wanted to give SR-2 a bit of punch, and XD-05 Plus helped a lot with that, and even took me by the hand to show me what SR-2 can do. It transformed a natural sounding headphone, to a basshead one, without ever distorting the sound, and all while having excellent detail. 
xDuoo XD-05 Plus + FiiO FA9 (250 USD + 500 USD) – The pairing with FA9 is actually superb, if you don't mind the slight hiss that's always audible. Unless you like to listen extremely quiet, you won't hear it, but you will hear the nice dynamics and punchy sound, colorful and warm midrange, and the excellent detail XD-05 Plus can pump into FA9. 
Value and Conclusion
XD-05 Plus has an excellent value, and with the added help and support for XTENIK and Mr. Steven, it is sure to impress and make you fall in love. 
The package is so complete, I have to add XD-05 Plus to Audiophile-Heaven's Hall Of Fame just for it. Of course, the other aspects compelled me to, but we need to give respect where it is due.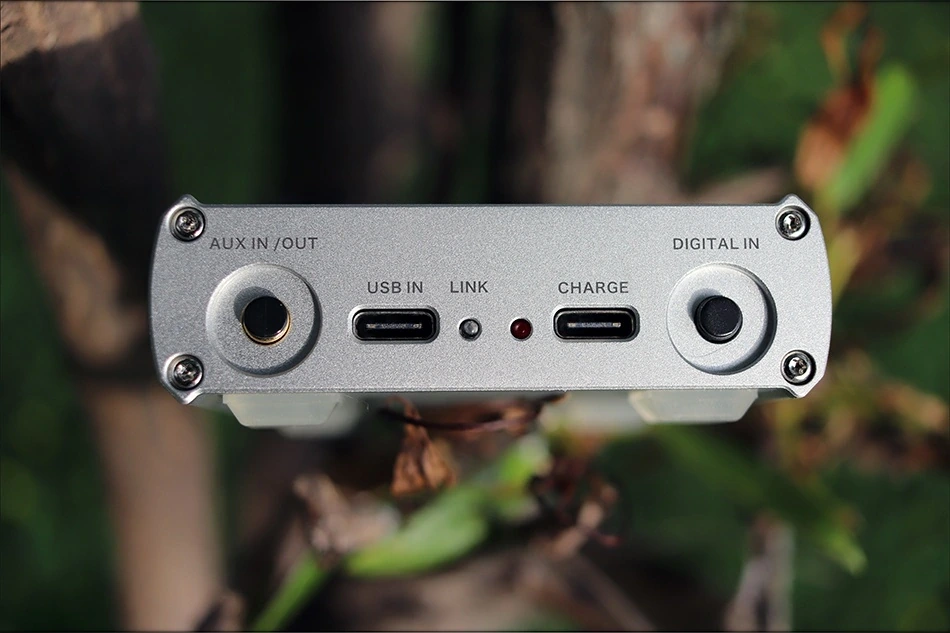 The build quality is also respectable, and having removable OP-AMPs makes XD-05 Plus a true champ. Holes to cool, being able to work as an AMP too, available add-ons to make it bluetooth, everything just falls right into place with XD-05 Plus to consider it perfect. 
Even the sound is perfect, really dynamic, punchy and authoritative, especially if you enjoy a slightly smaller soundstage and if you're looking for a personal experience, it should be perfect for you. 
At the end of the day, if you wanted to get yourself a very versatile DAC/AMP that can drive pretty much anything, has a ton of dynamics, is easily serviceable, has a nice design, volume wheel, bass boost function, and is supported by the XTENIK shop, I totally recommend you to check out XD-05 Plus, an awesome option in its current price range. 
Product Link
You can get the XD-05 Plus from XTENIK here: https://www.xtenik.com/product/xduoo-xd-05-plus-amp/
---
--- Please remember to stay safe, and always have fun while listening to music!---
 - If you have a dime to spare, please donate, and help us! It would make the day brighter for me and my wife- 
---
Full Playlist used for this review
We listened to more songs than those named in this playlist, but those are excellent for identifying a sonic signature.  I recommend trying most of the songs from this playlist, especially if you're searching for new music! The playlists are different for Spotify, Tidal and Youtube, and based on the songs I enjoy and are available on each!
https://www.youtube.com/playlist?list=PL_cjBXGmwSHSdGcwuc_bKbBDGHL4QvYBu
https://open.spotify.com/playlist/5J3oloz8Riy9LxEGenOjQ0?si=979ba4f082414be7
https://tidal.com/browse/playlist/330fd544-8e5b-4839-bd35-676b2edbb3d5
--- Contact Us ---





---