Burson Play – Desktop Power
Burson is a large company working in high-end Desktop Audio components, including those which can be incorporated in a Desktop PC build. Burson Play is one of their highest-rated DAC/AMPs which can do way more than the price tag or the name implies, and we're going to also put it against much more expensive portable products, to tempting you to go desktop soon.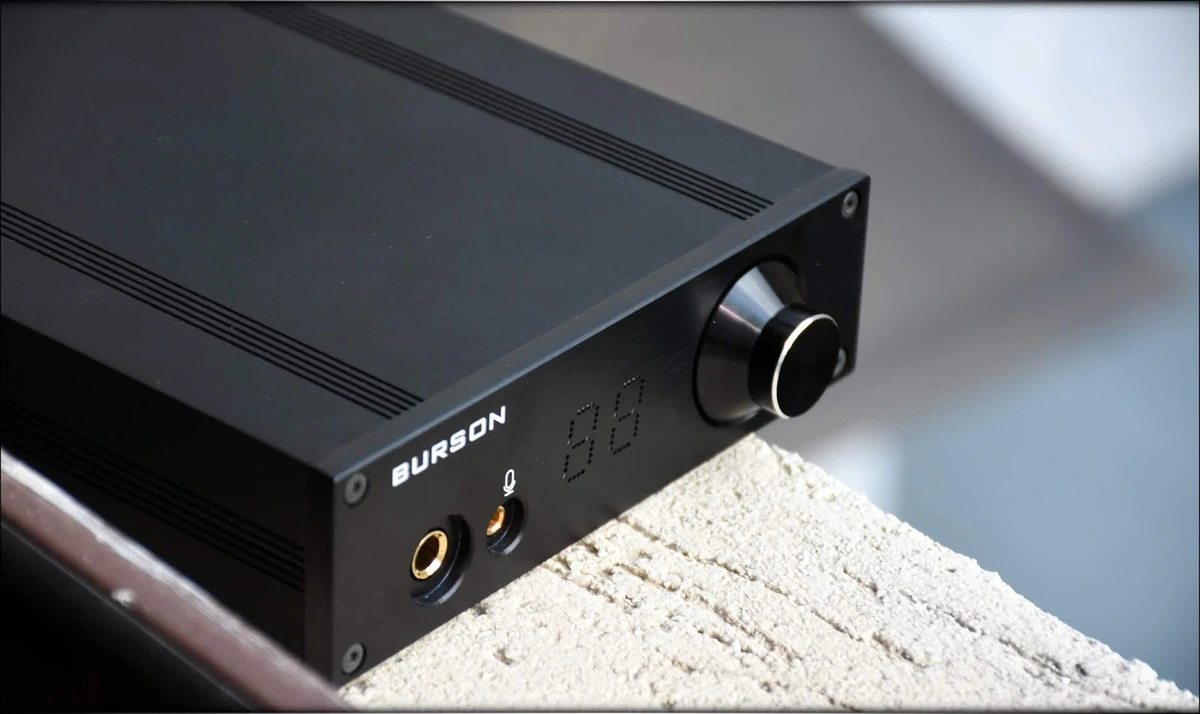 Introduction

Burson Audio is an excellent example of a high-end audio company. They have a 5-year warranty for their products, which by itself is amazing, but they also note on their homepage a lifetime-warranty for their OP-AMPs, so you know you're in for a treat working with a company which trusts their products this much. Their public relations people are also native in English and will provide you with utmost care in service along with good advice in picking the product best suited for you from their offer. They will also be taking care of you with their warranty, and make the process as easy and hassle-free as possible, for five years after purchasing their products, but having seen the quality of their products, we don't feel you'll be needing warranty any time soon. 

It should be noted that I have absolutely no affiliation with Burson Audio, I am not receiving any incentive for this review or to sweeten things out. This review is not sponsored nor has been paid for by Burson Audio or anyone else. I'd like to thank Burson Audio for providing the sample for the review. The sample was provided along with Burson Audio's request for an honest and unbiased review. This review will be as objective as it is humanly possible, and it reflects my personal experience with Burson Play. Every opinion expressed is mine and I stand by it, the purpose of this review is to help those interested in Burson Play find their next music companion. This review is part of a mini-tour organized by Burson Play and this unit will also be reviewed by other reviewers during this tour. 
Product Link
You can purchase Burson Audio and other DAC/AMPs from www.amazon.com here: https://www.amazon.com/s?k=Burson+Audio
Packaging

First things first, let's get the packaging out of the way:

Burson packaging is not quite as fancy as some might expect, in the sense that the outer box is a simple black cardboard box, thing which may seem a little disappointing at first, but we'd like to remind everyone that Hard Disks come in plastic bags, and as Burson Play is marketed as, and can be treated as a Desktop computer component, this rather simple presentation isn't quite that unusual.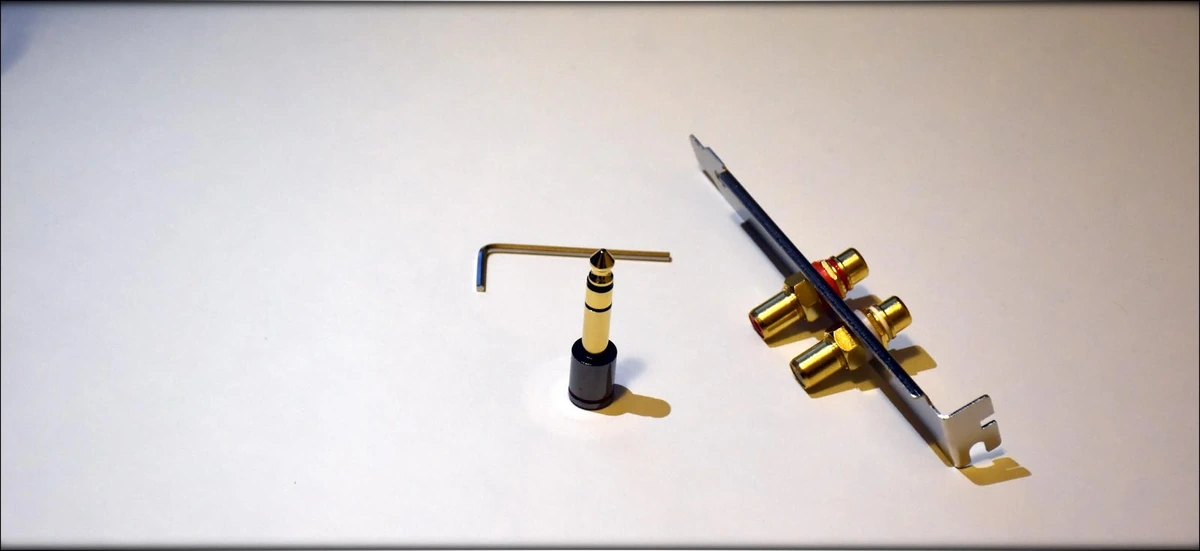 After you open the initial package, you see the mastery of Burson products, as everything has its own compartiment, and the Burson Play unit itself is seated quite nicely in its own cutout. In the lateral compartments you can find all the accessories you'll be using to enjoy and have fun with Burson Play. 
The unit comes with a plethora of accessories, including cables, Power adapters, and other miscellaneous which you will surely find handy when along the way.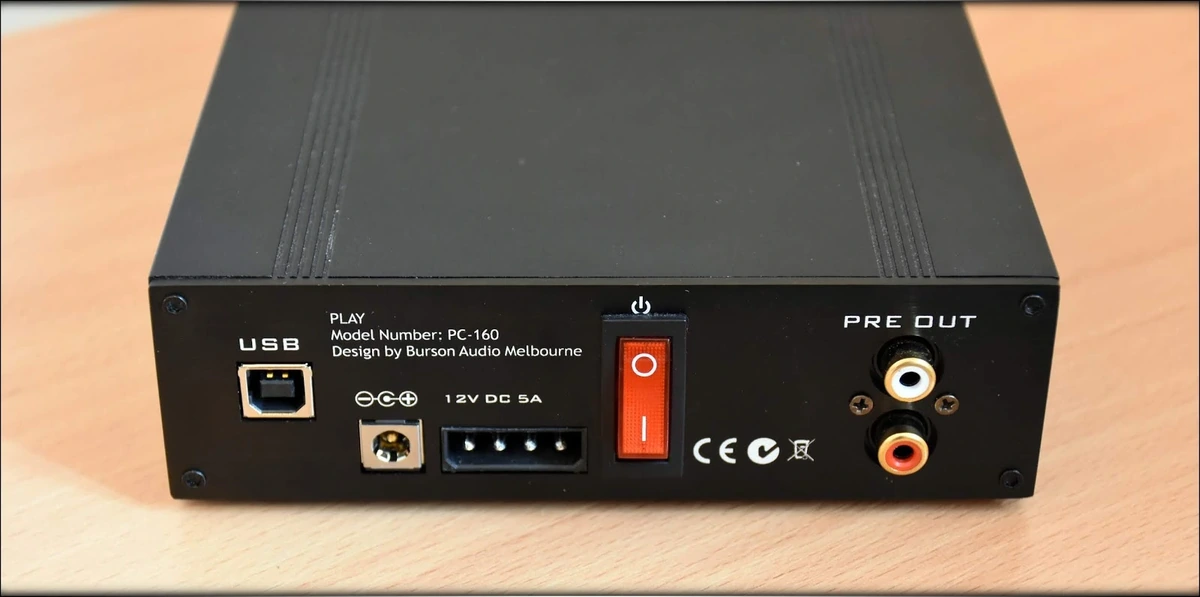 Here's a full list of those accessories: 

Burson Play Unit
PC Connection Cable Set
Remote Control (optional)
6.5mm to 3.5mm Socket Adaptor
RCA Cable
2.5mm hex key
Power Supply
100-240V AC

There's not much we could have wished for to be included in the package really, they really thought of everything, and there are even small silicone feet to attach to your unit if you plan on having it sit on your desk and such. 


Build Quality/Aesthetics/UI/Firmware
The build quality of Burson Play is as good as it gets, which is like a tank. We're talking about a medium-sized device which is mostly a heavy metallic unibody. There is no flex if you press on the unit from any direction, the whole thing feels like it can withstand a serious amount of stress and pain, although, being a desktop device, this probably won't be the case.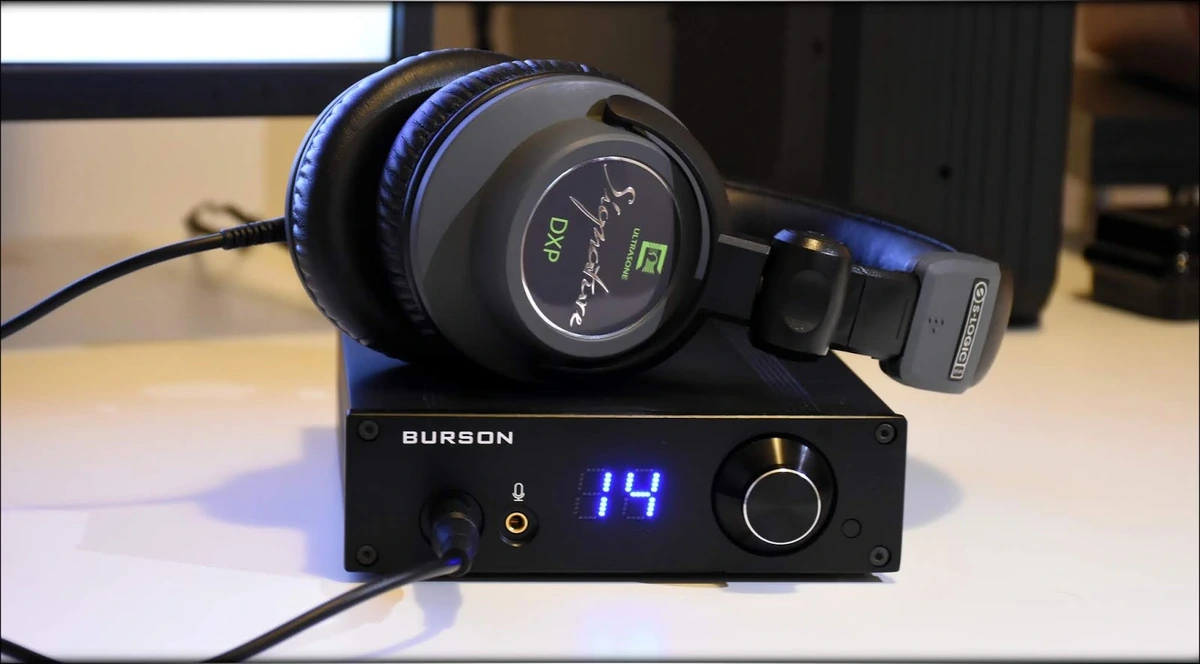 There is a volume wheel on the front, which is a digital controller for the volume, which works great. You can even press on the button to mute to unit, and you don't need to be too careful with it, as it is made really well.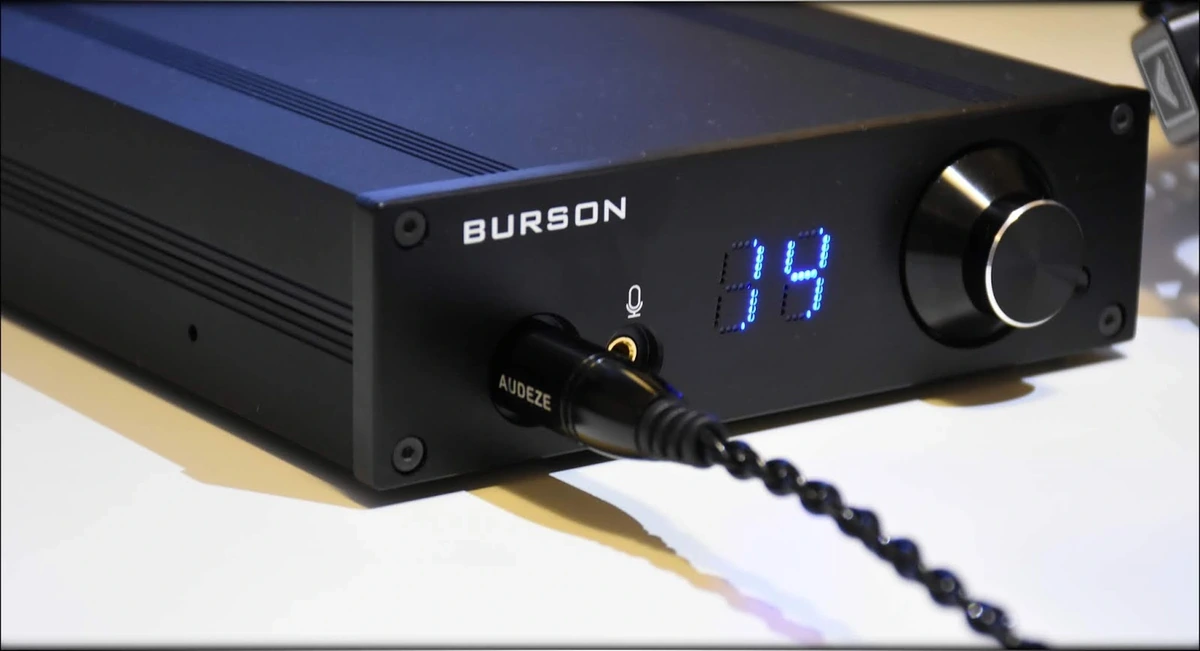 There is a 6.3mm plug on the front, which is just lovely, as it will be quite helpful in using some serious Desktop Headphones, and since you have a 6.3mm to 3.5mm adapter included in the package, you really can fit any headphone with Burson Play. There is a Microphone jack as well with the unit, so you don't need to worry about plugging in your favorite mic at the back of your computer. 
There's a lovely display on the front of the unit, which displays the current volume in a deep blue, made of small LED lights. This gradual volume is in perfect sync with the volume wheel, as the volume wheel does not rotate freely, but has small dents which let you know when you increased or decreased the volume with a unit. This volume goes from 1 to 99, but for most headphones, IEMs and even if you connect a Speaker with RCA cables from the back of the unit, you're most probably going to stay within the first 42 steps of volume, unless you have some really power hungry headphones. 

The aesthetics of the unit are pretty cool, our review unit being black, with a stylised Burson logo on the front, and with most of the unit being made out of a matte metal. 

At the back of the unit you can find a USB plug for connecting Burson Play to your computer, a Molex Power Adapter, to feed power from your PSU to your Burson Play, a On/OFF Switch, and a Power Plug for connecting the outer power adapter to your Burson Play, which is used if you use Burson Play on your desk rather than in a desktop computer build. On this note, Burson included even a cable to route Burson Play from a USB Header from your Motherboard, so you really have all the bases covered, provided the case is a normal or larger sized desktop case. 

Now, a few notes about the build, Burson Play was thought to also be used as part of your dream multimedia PC, so it is constructed in such a way that it would fit in most computer cases just fine, providing an even better ergonomic and comfort than if it was constructed as a standalone desktop unit only. Even so, at Audiophile Heaven we mostly rely on iTX cases, which simply do not have the space necessary to install Burson Play inside, but we feel that it is a beautiful device to have on your desk while working or listening to music.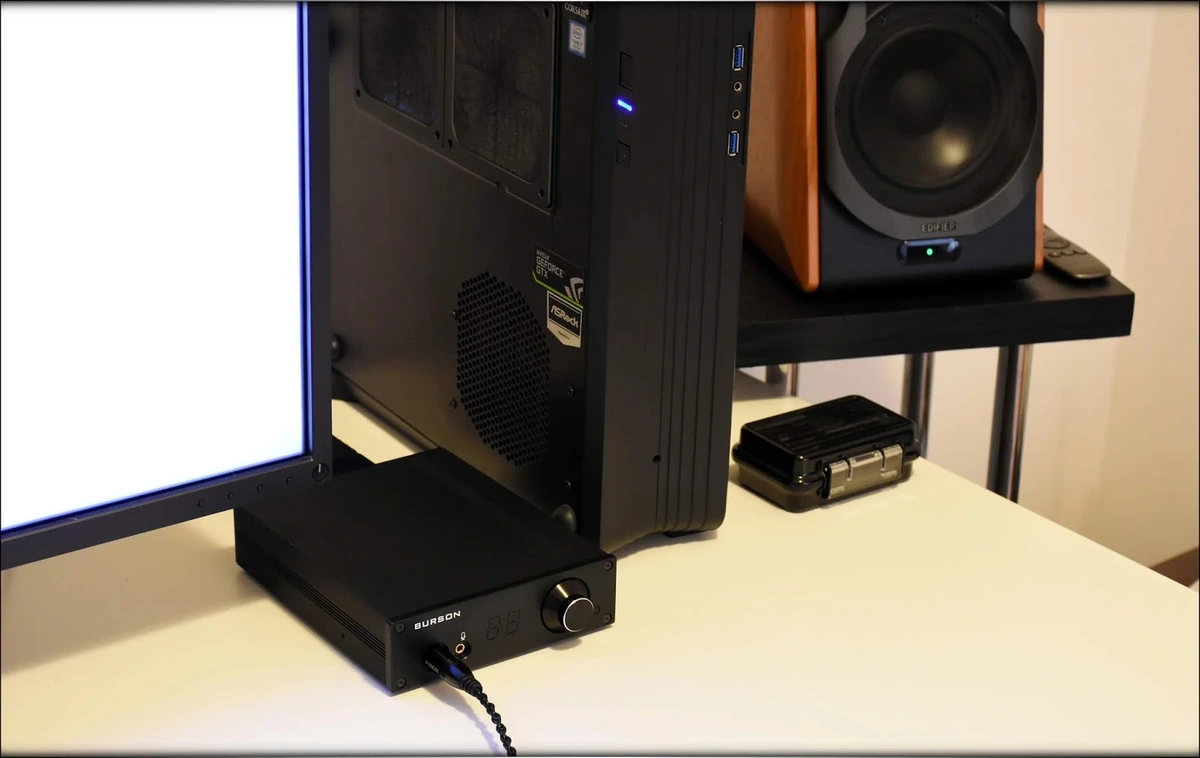 The firmware and UI are very simple, or rather, not needed. Burson Play works natively with multiple desktop computers we have in our office, and it simply doesn't mind what kind of signal it is being fed. The drivers install easily on windows, and you can just enjoy listening to music as soon as you plug it in. It is capable of decoding PCM signals up to 384kHz / 32Bit (Highest there is), and DSD up to DSD 256, including Native and DoP. Basically, it covers anything you're likely to have around. The best part is that it even works on Android and iOS, and also MAC, so you have one device you can use with any other devices you have, from a Tablet, to the most powerful desktop setup.
The output impedance is rated at around 8 Ohm, which means that some lower impedance IEMs will have some hiss, and that some very efficient, low impedance IEMs might also sound a little different on Burson Play than they do on most other sources. This means it is more of a Headphone AMP than of a IEM AMP. There are iFi products on the market, like iEMatch, which can help alleviate this. 
Other than that, Burson Play hasn't made any kind of issue for us, over the course of a few weeks of serious testing, it hasn't restarted or disconnected once, so we can say it is as stable as a device can be. 
At the end of the day, the build quality, the aesthetics and the Firmware are all within what we consider a Golden Level. 



Sound Quality

The sonic signature in this review is measured with the default OP-AMPs, and we also measure the sonic performance of Burson Play's DAC, as we had the chance to connect it to our speakers, as the main DAC unit in our main listening setup in our office.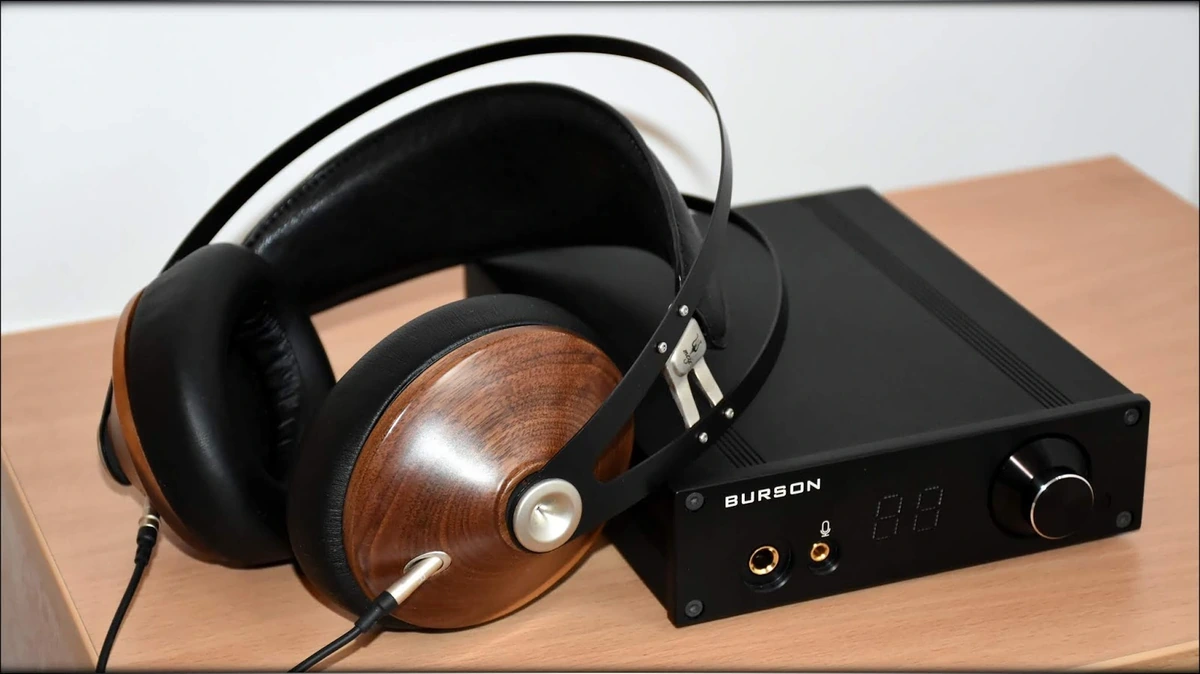 There are a few other setups with different OP-AMPs, and we are going to look into those in a follow-up review as well, but right now we'll be talking about the least expensive, base configuration. 

The main way to describe its sound neutral. So dear neutral that it makes slightly warm sources like Opus #1s or Cayin N5ii sound quite warm in direct comparison. Other things that can be said about the sound of Burson Play is that it is powerful. The control and authority it has over sound is absolutely incredible, and we heard the flagships in terms of portable audio before, so we are accustomed to a really well-controlled sound, but Burson Play is totally incredible, especially when we consider the fact that it costs about 300 USD, which is roughtly the same price you pay for an entry-level to midrange Digital Audio Player. 

Bass

The bass of Burson Play is very deep, and very revealing, but most important, very controlled. There is no real trace of warmth or coloration in the bass, being absolutely neutral, but that is pretty much desirable from a source, especially from a desktop DAC/AMP, being one of the more important things when you own a larger collection of headphones and IEMs and you want to have something to drive them all without coloring their signatures. The bass goes as deep as you can imagine, but most importantly, it is very controlled, quick, can explode extremely quickly and recover just as quickly. Without much coloration to talk about, the bass can come off as very agile and able to bring the best your headphones and IEMs can do, especially for a DAC/AMP at this price point. When it comes to a desktop DAC/AMP, there are characteristics like the slew rate of the amplifier which may be quite a bit better than a similarly priced counterpart, but that is mainly because the physics of a desktop component allow it to be physically larger, thus allowing for higher quality components. 

Midrange

The midrange of Burson Play makes itself remarked once again by how transparent and colorless it is. The textures are fairly good, and everything feels right into its place, although, if we were to name something that really stands out, that is the amount of detail Burson Play has. The fact is, most high-end Portables reach this level of raw detail in general, and not most midrange devices, and since the most prominent two Players from the midrange price bracket we reviewed have been Opus #1s and FiiO X5-3, and we liked both of them, this is saying quite a bit about Burson Play. You can hear details, micro-details, textures and micro-textures if your Earphone, Headphone or IEM is able to reveal them. Burson hides nothing and acts exactly like an ideal source should, it colors nothing, hides nothing, simply presenting the listener with an accurate representation of the music that is being played. 

Treble

Now, the treble, is a story which we love, but which we understand will change with other OP-AMPs from Burson. The treble is really well-extended, energetic and neutral, a touch bright and cold, akin to how most ESS-family devices were described to sound in the past. This means that the sparkle in the cymbals of most songs will be very alive and lively, there is a stunning clarity all-around, and there is no smoothing or toning down of the treble. This doesn't say very much on its own, when we consider that most sources are supposed to sound this way, but it does say a bit about how universally match-able Burson Play is. Since it is so neutral, it won't color Headphones, so it provides a fun, punchy, sparkly and interesting experience with very different headphones, like Audeze LCD-MX4, Ultrasone Signature DXP, and Beyerdynamic Amiron. The treble texture is normal, it isn't very smooth nor very grainy, mostly within what we'd consider a natural treble texture, the IEM or Headphone doing most of the work to give it a tilt either way. 



Soundstage

Now the soundstage is something that differs widely between devices, sources, DACs and AMPs. Here, Burson Play is a good performer. The soundstage has a good size and depth, a generally pleasant layering, with enough layers for instruments to each play on its own, but it doesn't expand unnaturally, so instruments which are supposed to sound closer will be closer and forward, while instruments playing in the background will stay in the background. All in all, the width and height, along with the depth of the soundstage, are what we'd consider to be amazing for 300 USD, and good for any price range. 



ADSR/PRaT

The ADSR / PRaT are probably the other interesting part of Burson Play, since we first established that it doesn't really color sound much, and that it has a good soundstage, so the only remaining part to review (besides comparisons), is its ability to render textures. Here, we feel it does a good job. The macro textures are rendered with good clarity and expression, Masa Works Design and Mindless Self Indulgence both sounding pretty vivid and lively, while micro textures are well defined, but not brought very forward in an more revealing way. While they surely are in the sound, and you can hear them with IEMs and Headphones prone to revealing them, they aren't quite as revealed as the macro textures. We're quite curious how the other OP-AMPs will affect this part of the sound, as Burson markets the Vivid Burson Play as being able to really bring a lot more of the textures and micro-textures forward. We will acquire a set of the higher-end OP-AMPs to review them in a future article as well. 



Desktop Usage 

This is the place where we'd have our Portable Usage section, if we had one. At least for this review, it would make no sense to discuss how portable Burson Play is, as it is transportable at best. This is a full fledged Desktop Amplifier unit, so we can study other parts of it in the process.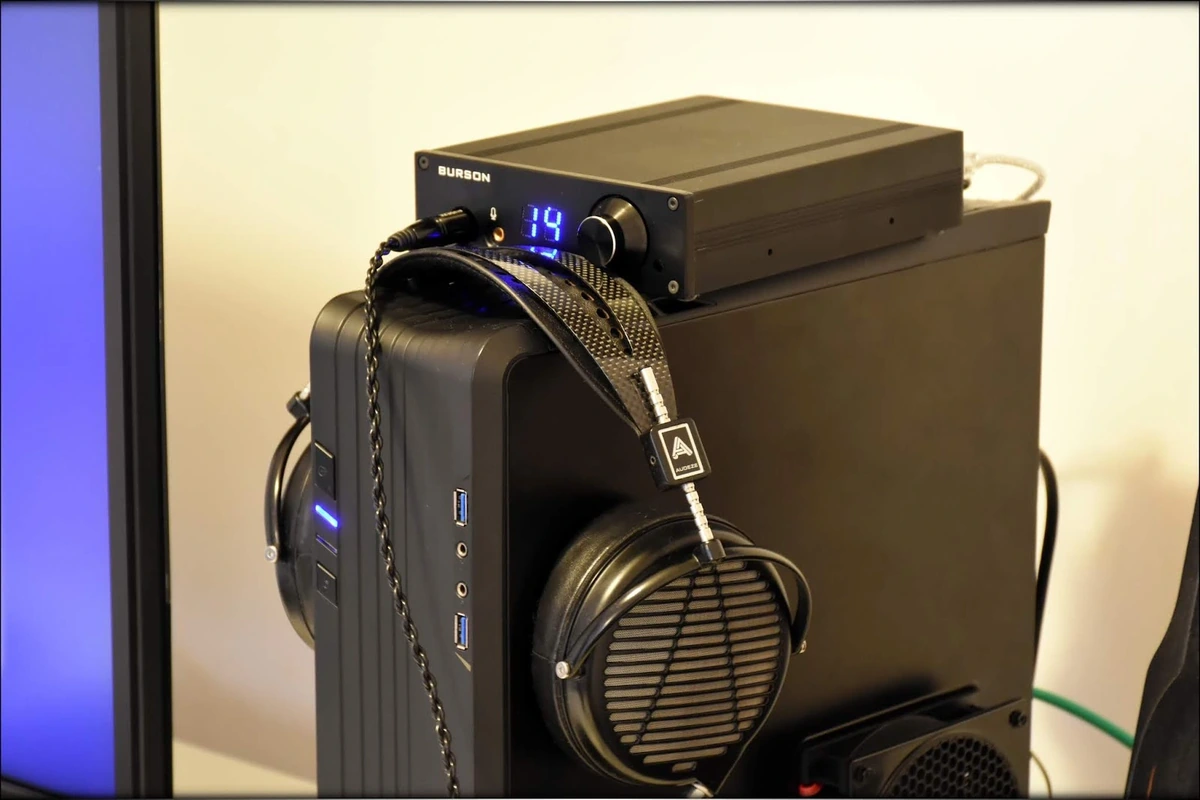 First thing, there is no cable or microphonic noise in Burson Play. We noticed that some users mentioned this being an issue with certain DAC/AMPs from other companies, so we did a little study to see if Burson Play has any, but there's no trace of such a thing. We're quite glad to note that we noticed it being dead silent regardless of where it was placed, including if it was placed on top of our speakers, so we can say that it is also well shielded from EMI or electromagnetic interference. 
The heat is another aspect we need to discuss about, as Burson Play gets pretty warm during usage. It won't get hot to the touch, but it gets fairly warm to the touch, close to how warm an iFi iDSD Black Label Micro can get while it is in usage, indicating that it may not be the best idea to place Burson Play within a desktop build, unless you can ensure that there is a good amount of airflow around it, or if you can point a fan towards it to make sure it stays nice and cool. This isn't a big issue while it sits on a desktop though, we can't notice that it is warm to be honest, unless we need to turn it off, thing which also needs to be mentioned. Burson Play needs to be turned off by either plugging out its power source, or using the button in the back. In a Desktop Computer build, this wouldn't be an issue, as it would turn off when the computer is turned off, but in a desktop usage, you need to flick the switch at the back to turn it off. 

You can always engage the volume button to mute the sound, by pressing on it, and this works fairly nice.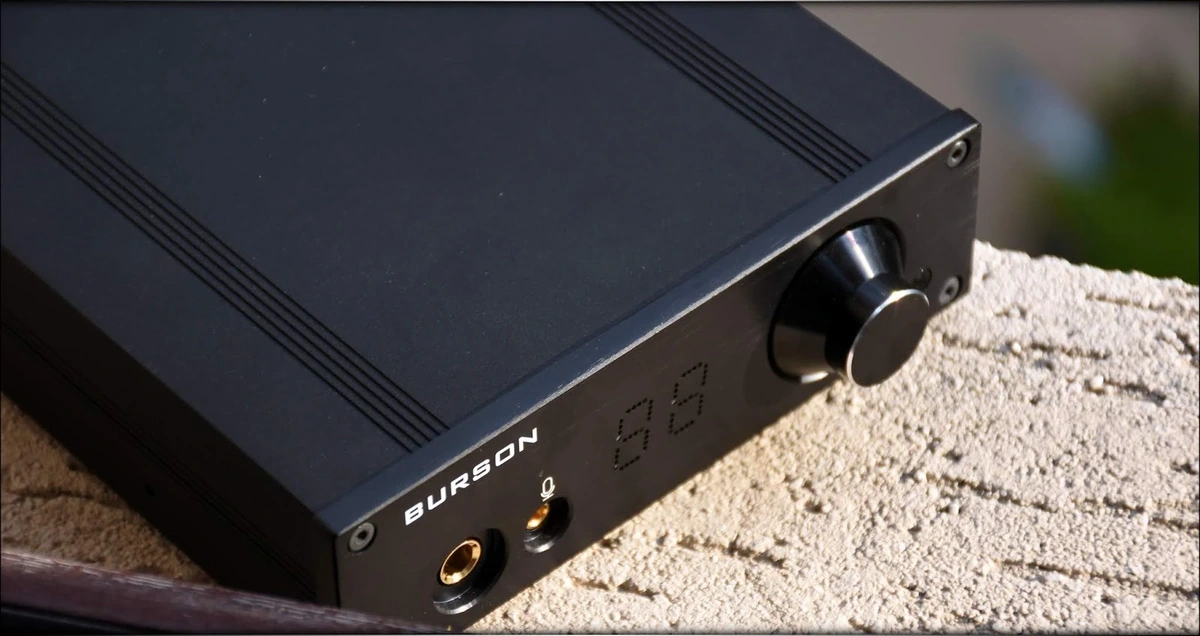 There is a microphone 3.5mm input, although we haven't had a chance to test a lot about it, it works with our simpler microphones just fine. 

Now, we also have used Burson Play as the DAC unit in our desktop setup, and we need to note that it is doing an amazing job. It is better than other devices we had from this price point, connected in the same manner, like HIDIZS DH100, which we were using before connecting Burson Play, and once we had Burson Play in place, we realised just how great of an implementation of the DAC inside Burson has, since Burson Play manages to bring out far more detail to the ears of the listener, and to have a much better treble extension, feeling more natural and wider. 

This might also be because Burson Play also has the 2xRCA outputs which are designed for it to work as a DAC for a pair of speakers with their own AMP, while DH1000 is designed to be a DAC/AMP only, without a Line Out. 

Another thing we've noticed during our time with Burson Play is that it simply works. It doesn't matter which one of our machines it was connected to, it simply works, it never disconnects, never restarts, simply put, there is nothing to stop you from enjoying music while using Burson Play, and we consider this a true virtue for a device, and a really pleasant first experience with Burson Devices. 



Comparisons

Most comparisons have been taken with Edifier S1000DB, Audeze LCD-MX4, Dita Truth, Hifiman RE2000, Ultrasone Signature Studio, Hifiman RE800, Sennheiser ie800, Beyerdynamic Amiron, Ultrasone Signature DXP and iBasso IT04.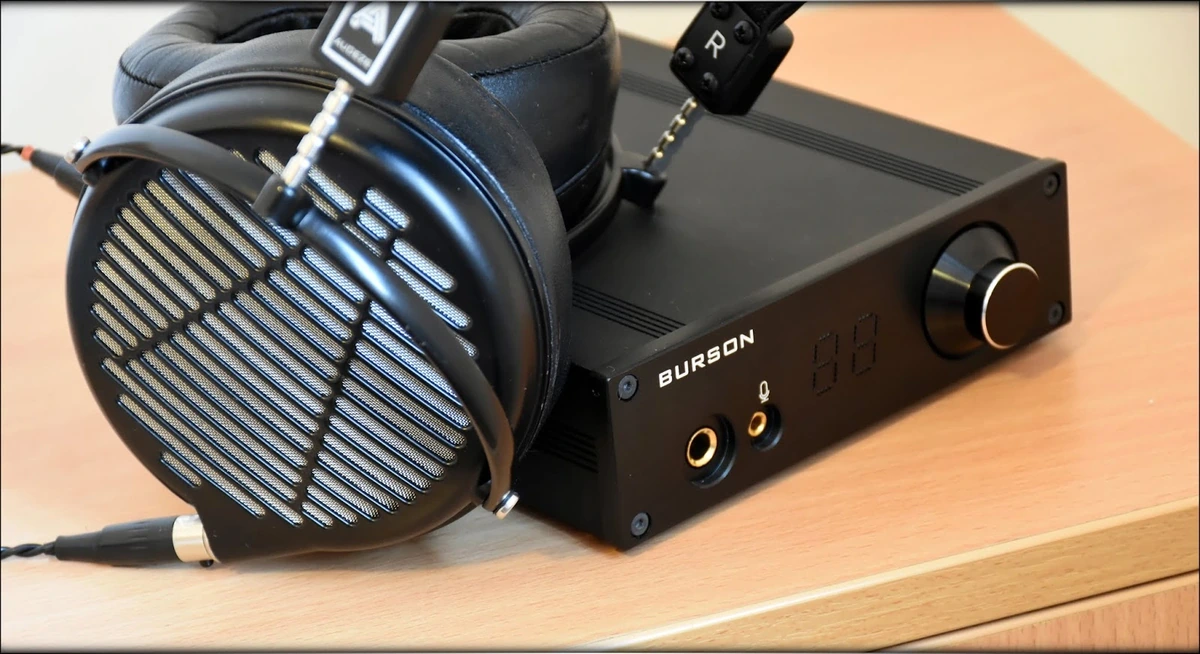 Burson Play vs FiiO Q5 (AMP5) – Here's a tricky one, as, if you've been following our articles, you probably know how much we love FiiO Q5 and its price/performance ratio, offering virtually the same sound as FiiO X7mkii, for as little as half of the cost. Starting with the build quality, both devices are fully made of metal, both devices have a volume wheel, and both devices have a build quality that can take a beating and come back for more. Both devices are shipped with all the extras you could ever require to drive them, including all the cables, connectors and accessories to take full advantage of them. The differences start to appear when you consider each of their intended usage scenarios. FiiO Q5 is a stack-able DAC/AMP which you can strap to your smartphone, to have the sound of a high-end DAP, while Burson Play is a midrange-priced DAC/AMP supposed to sit on your desk or inside your desktop computer build. This means that you can only use Burson Play while inside, while you can take Q5 on a trip on a mountain, or when biking and such. The differences in sound are smaller than you might expect, and they are in the advantage of Burson Play. By Power Rating alone, Burson Play can drive virtually anything that is on the marketing at this moment, save for that one or two headphones that need a little more push. From IEMs to most Planars, it wouldn't have an issue to drive Audeze's heavy artillery Headphones, but it can also work well with IE800 from Sennheiser. FiiO Q5, on the other hand, is also extremely potent, being able to drive almost anything, starting with IE800, up to Audeze LCD-MX4, which it drives incredibly well. Now, the largest difference between the two isn't in the detail, or in the tonality, as both are pretty neutral, and their detail levels are similar. When it comes to their textures, Burson tends to express a little more detail in the macro and in the micro textures, showing a little more of what is going on within the texturization of a musical instrument, and having a larger power source, it makes sense since it has improvements in slew rate and impulse response, which simply aren't quite as possible within a portable, battery powered-device. Of course, this also increases the noise floor a tiny bit, since batteries are a tad quieter in terms of noise floor generally speaking. There is also a difference in how controlled and in how much authority Burson Play has, thing which can be heard even with something smaller and easier to drive, like Ultrasone Signature DXP. Especially at louder volumes, Burson Play keeps a better overall punchiness and impact, along with better control especially over the lower frequencies, but then again, FiiO Q5 was already excellent in this aspect, just imagine adding a bit more topping over an already excellent thing. Since the two setups are priced similarly, with Q5 costing a bit more, we can say, that despite those facts, both are excellent value for their money. This is because Burson Play requires more to be enjoyed, as you can just strap Q5 to the cheapest smartphone on the market and go on a trip, bus ride, or a walk and enjoy its quality, while Burson Play, by nature, is a desktop device, so although sonically it can sound even better than Q5, you can't listen to it while on-the-go, which was Q5's main focus. Adding to that the fact that Q5 also has Bluetooth, and you can see that if you require a portable device, Q5 is really an excellent choice, while if you don't need it to be portable, then Burson Play is going to provide an even better experience. 
Burson Play vs iDSD Micro BL – We considered iDSD Micro BL to be one of the best DAC/AMP devices we tested back when we tested it, and we even considered it to be the pinnacle of DAC/AMP technology. At that point, the title was actually well deserved by iDSD Micro BL, there was barely anything better on the market, and even if there was, it costed more than 4 times more, so we considered it fair to give iDSD Black Label the title of the pinnacle. Now, Burson Play probably won't be the pinnacle of desktop DAC/AMP technology, and we most certainly believe that the improved OP-AMPs can get it closer to this title, but when it comes to Burson Play vs iDSD Micro BL, the fight is one of the most interesting we've seen in years. As you might expect, both devices are really well built, both feel and look astonishing, and both make excellent value. Now, iDSD BL doesn't come with all the cables one needs to enjoy it, missing the OTG cable it needs to connect to a typical smartphone. Happily, iFi makes such cables now, although you have to order them with the unit, for a little price. If you plan on enjoying Burson Play with a portable source, like a smartphone or a tablet, you should order those cables for it as well, as it doesn't come with an OTG cable either, and you need one to connect it to most Android-based devices. Now, let's split the comparison to both the DAC and the AMP parts. This is because iDSD BL and Burson Play both can be used as a standalone DAC, and as a DAC/AMP. On the DAC side, iDSD BL surely features a more complex, more recent and better overall DAC Unit on paper, but as always, the implementation is the most important aspect of a DAC unit. Here, both companies have done a great job at implementing their DAC units the best they could, both DACs having extreme amounts of detail and resolution. iDSD BL has a touch more detail, but its textures are slightly smoother, with a similar depth to the sound on the DAC side. Burson Play has a slightly wider sounding DAC with more emphasis on textures and texturization. On the Amplification side, iDSD BL has somewhat more power than Burson Play, and it is a portable unit, but in sound it comes off as quite the other way around, iDSD BL being more gentle in certain areas. iDSD BL has a deeper sound, with a more realistic soundstage, while Burson Play comes off as wider, more energetic, providing a more revealing texture, although it doesn't necessarily have a better resolution on the overall level. Both devices sound very effortless, both devices have an excellent sonic performance in every way imaginable, and both are great to listen to. Areas where iDSD does better than Burson Play are also in the fact that it can be used portably, although it still isn't quite as portable as FiiO Q5 or HIDIZS DH1000, both of which are smaller and easier to match with portable devices. The other aspect where iDSD is a clear winner is in its performance with very sensitive, very low impedance In-Ears. iDSD BL is able to keep its signature consistent across all impedances, and it is able to provide a hiss-free sound due to the fact that it has the iFi tech for hiss reduction already built-in. Now, when it comes to their price, Burson Play is almost half of the price of iDSD BL in its base configuration, so Burson Play is surely lighter on the wallet, the basic differences between the two being that Burson Play has a more energetic and more textured sound, with a similar resolution as iDSD BL, while iDSD BL provides an added portability, higher power rating, and a more consistent performance, with less hiss, with very low impedance In-Ears. The choice here depends a lot on your budget and also on your usage scenario, but if you're considering iDSD BL at this point, we also suggest reading our upcoming review on xDSD from iFi as it is much smaller physically than iDSD Micro Black Label, if you wanted it for portability. As for Burson Play, we surely recommend it at its price and sonic performance, and most importantly, if you don't require to listen to it while on-the-go. 
Burson Play vs HIDIZS DH1000 – The main factor for us including this comparison is the fact that the two devices are priced similarly, so one who has around 300 USD may have to decide between the two. The package is more complete for Burson Play, with more devices being included, especially when it comes to interconnects needed for usage with their intended host devices, Burson Play being mainly a desktop device, with most of its connectors being prompted towards a Desktop computer or laptop, while DH1000 is made for a portable usage, so it is made to connect with a smartphone or music player rather than a computer. The build quality is great on both, we don't have any complaints for either device. The firmware of DH1000 could use an upgrade which made it turn off while not receiving any signal, but the same can be said for Burson Play, as both devices stay on even without any input. For Burson Play, this doesn't make much of an issue, but for DH1000 it is something you need to look out for since if it stays on at all times, it will drain its battery and it won't be ready for your next trip in time. The sound is quite a bit different. First thing you need to take into account is that while both FiiO Q5, iDSD BL Micro, and Burson Play can act like a standalone DAC, DH1000 can not. Another thing you need to take into account is the power rating. We compared Burson Play to two more expensive devices, but since DH1000 is an excellent example of a 300 USD DAC/AMP, you need to consider that for 300 USD, Burson Play has considerably more power as a DAC/AMP than most of its direct competitors, being able to drive Headphones that are considerably more power-hungry than DH1000 or most of its direct competitors can. DH1000 has a Balanced output, which Burson Play doesn't have, and DH1000 can play music from both its balanced output and its single ended output at the same time, although we still aren't quite sure if this was intended, or if it is a bug. The tonal signature is quite different, DH1000 is smoother, more relaxed, less revealing, while Burson Play makes itself remarked with a considerably better extension in the treble, a better detail level, having more resolution and more control, authority, and sounding more vivid, wider and deeper. If there is one area where DH1000 does have an advantage, that is in how it drives easy-to-drive IEMs. Burson Play has a high output impedance of 8OHM, which doesn't work quite that well with IEMs, especially with sensitive IEMs, hiss being audible with very sensitive IEMs, while DH1000 is silent in terms of hiss. Another aspect you may want to take into account, again, for IEMs, is that DH1000 doesn't change its signature with low-impedance IEMs, while Burson Play can get a tad brighter with extremely low impedance IEMs due to its relative high output impedance. Between the two, if you're going to use any IEM with the impedance above 32 OHM, or any headphone, and if you don't need a portable device, Burson Play sure looks like a dominant thing in the market, while if you only have IEMs with the impedance below 32 OHM, and if you need something portable, then DH1000 makes an interesting choice. If you have only low-impedance IEMs, but if you don't need portability, then Burson Play may still make a better choice due to its better detail and resolution, and taking into account that hiss can be silenced with iFi products, it surely doesn't seem like a bad deal, but if you need something to take on a walk, or anywhere, DH1000 instantly becomes more appealing. DH1000 also has a 2.5mm Balanced output, which Burson Play doesn't have, but at the end of the day, the two devices are quite different and this comparison shows quite well how Burson Play is such a great buy at its price of 300 USD, if you don't require to listen to it while on a walk. 



Pairing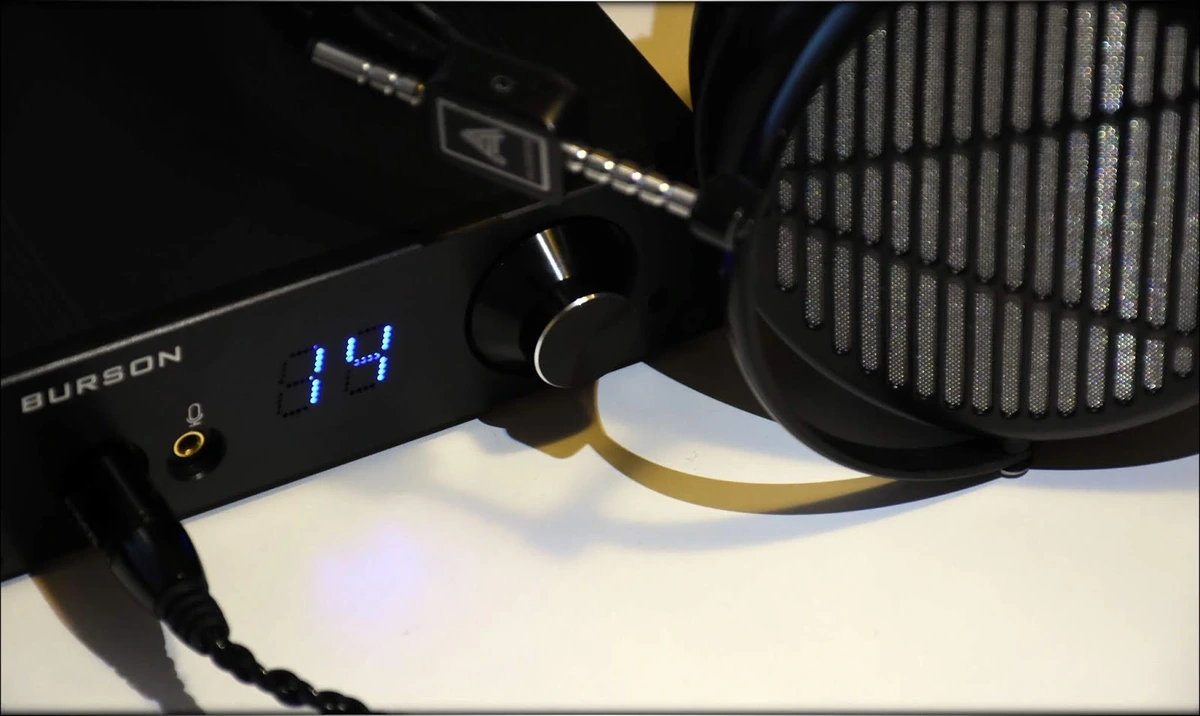 Burson Play + Ultrasone Signature DXP – This is one of our favorite pairings with Burson Play, as it gives Signature DXP both an excellent width for its soundstage, but also an incredible amount of energy and impact. Signature DXP is generally quite a dynamic headphone, and with Burson Play driving it is even more dynamic and impactful, which works well with their U-shaped signature. It is hard to have this setup on your head and not start headbanging even if you were just working on writing on something. 

Burson Play + Audeze LCD-MX4 – Although LCD-MX4 is Audeze's line of very portable Headphones, they still show an interesting improvement from being powered from a strong source like Burson Play. We can describe the sound as being incredibly detailed, vivid, forward, wide, very textured and incredibly dynamic. The impact of this pairing is also quite something to see for yourself, especially since we generally recommended adding a few dB's of Sub-Bass and Treble to Audeze LCD-MX4, with the control and authority the Burson Play has over their bass, this need being smaller than with most portables, like Hiby R6, where we felt LCD-MX4 needed more bass and treble. 

Burson Play + Beyerdynamic Amiron – This is another pairing you fall in love just by hearing it. Amiron is probably one of the most gentle and comfortable headphones we heard, an excellent example of a relaxing headphone you can simply lean back with and forget about anything that was bothering you before plugging them in. The pairing provides a bit more width, to Amiron's already nice depth, and it also provides a slightly more textured sound, making Amiron feel even more dynamic. 

Burson Play + Sennheiser IE800 – Sennheiser IE800 is an interesting IEM because although it has a pretty low impedance and high efficiency, it surely isn't affected much by hiss nor by Burson Play's rather high output impedance. The sound is as interesting as IE800's sound always is, dynamic, well separated, well layered, detailed, with a strong and well-controlled bass, sparkly treble, and clear midrange. Everything feels in its place, and as a bonus, the sound is wider than IE800's sound usually is, and it also feels more dynamic than it usually does. 

Burson Play + iBasso IT04 – While our review on IT04 is still on the way, we want to give you a little peek on how it sounds like. It is a natural and well-balanced IEM, with a touch more sparkle in the treble than what would be dead neutral, it has a very quick sound with an excellent PRaT, and they sound very wide in their soundstage, especially compared to most IEMs in their price range. Although they are very open-sounding, they do isolate very well and leak very little, making them an excellent choice for on-the-go listening, or for blasting death metal while reading obscure books in a library. When it comes to their pairing, Burson Play does show some hiss with IT04, and the sound has slightly less bass than with most other source, but they also gain a very quick impulse response, an even wider soundstage than they usually have, and they also sound considerably more impactful than they usually do. Quite an excellent pairing on the overall level, if you're not bothered by hiss, although that can easily be solved by adding an iFi iEMatch to the setup. 




Value and Conclusion

We reached the end of our review, and we have to say, Burson Play has been one heck of a device to listen to and review. We also still need to review the higher-end OP-AMP for it, as soon as we can get our hands on a pair.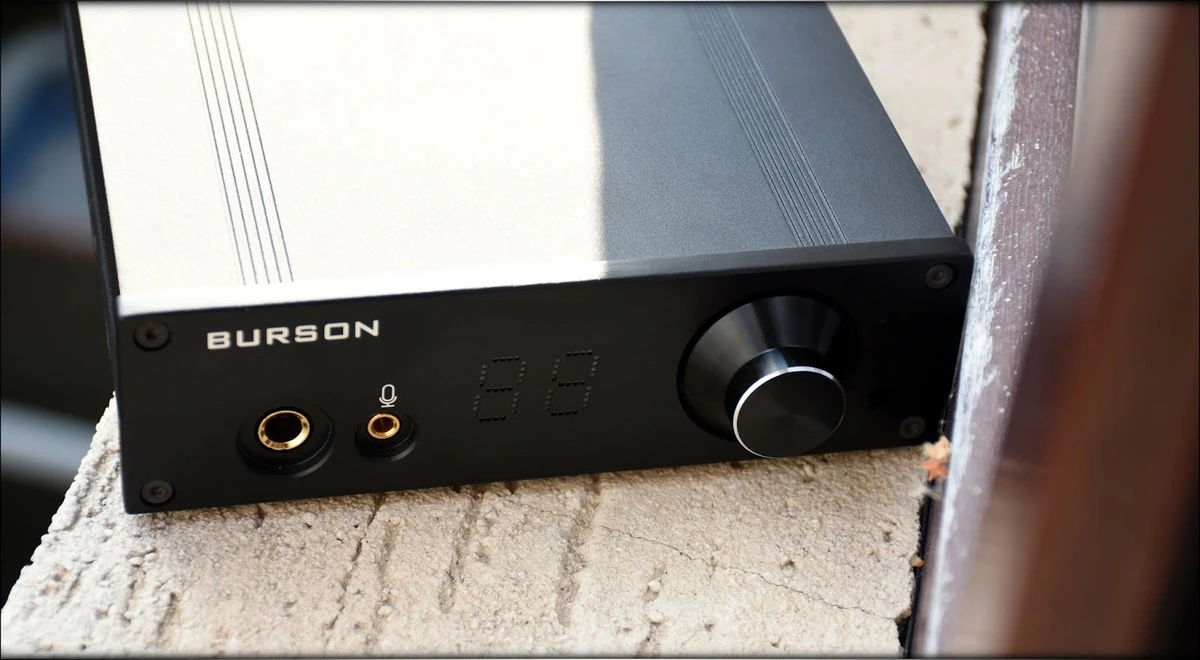 Burson Play is priced at roughly 300 USD in most places of the world, which is quite an interesting price point. Fighting is intense at this price point for most Headphones and In-Ears, but most portable players from the high-end area are priced higher, while most entry-level ones are priced lower. This doesn't mean that Burson Play doesn't have a lot of devices it needs to overcome in this price, and quite on the contrary, since it is a desktop device, it needs to bring something more than more expensive portables do, to justify its price. 

Starting with the build quality, we have a medium-sized device made entirely out of metal. It doesn't just look like a tank, it is a tank. You'd have a very hard time doing anything to it, the casing is made out of thick metal, and it is one of the best we've seen to date. Not to mention that its volume wheel is also well designed, and all jacks are tight and well fit, so you really would have a hard time not giving it a golden rating for its build quality.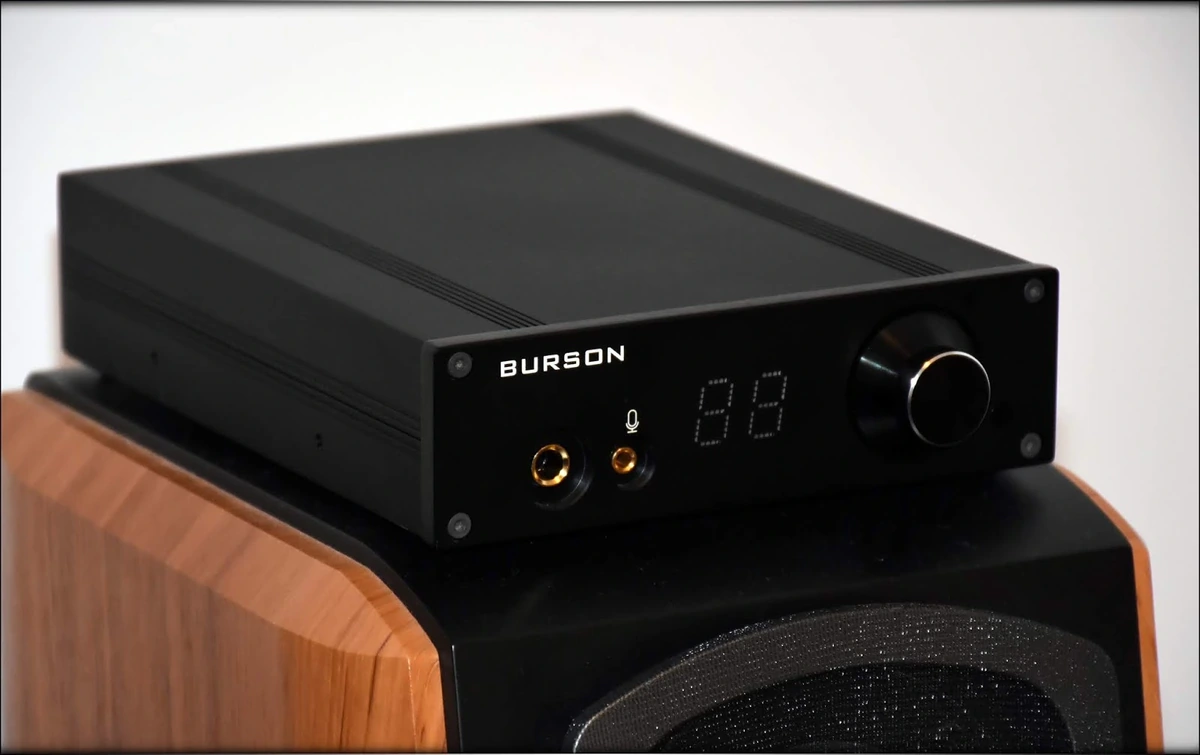 The firmware is as solid as it can be, it never crashes nor disconnects, being one of the most stable devices we've tested to date. 

If anything physical about it should be mentioned as a negative, that is that it gets quite warm physically, while in usage, especially important if you're going to be using it inside a desktop build, as you will need to have a fan pointing to it to keep it cool. 

The sound is as impressive as one would expect from a company as renowned as Burson, it is very vivid, dynamic, punchy and has an excellent resolution for 300 USD. Most important, it has a lot of power, and an excellent authority and control over anything connected to it. The only downside is that it has a bit of hiss with In-Ears, and it has a slightly high output impedance, so it doesn't match quite that linearly with In-Ears, but this isn't a big issue, and we had an excellent time using Burson Play with Sennheiser IE800 and iBasso IT04.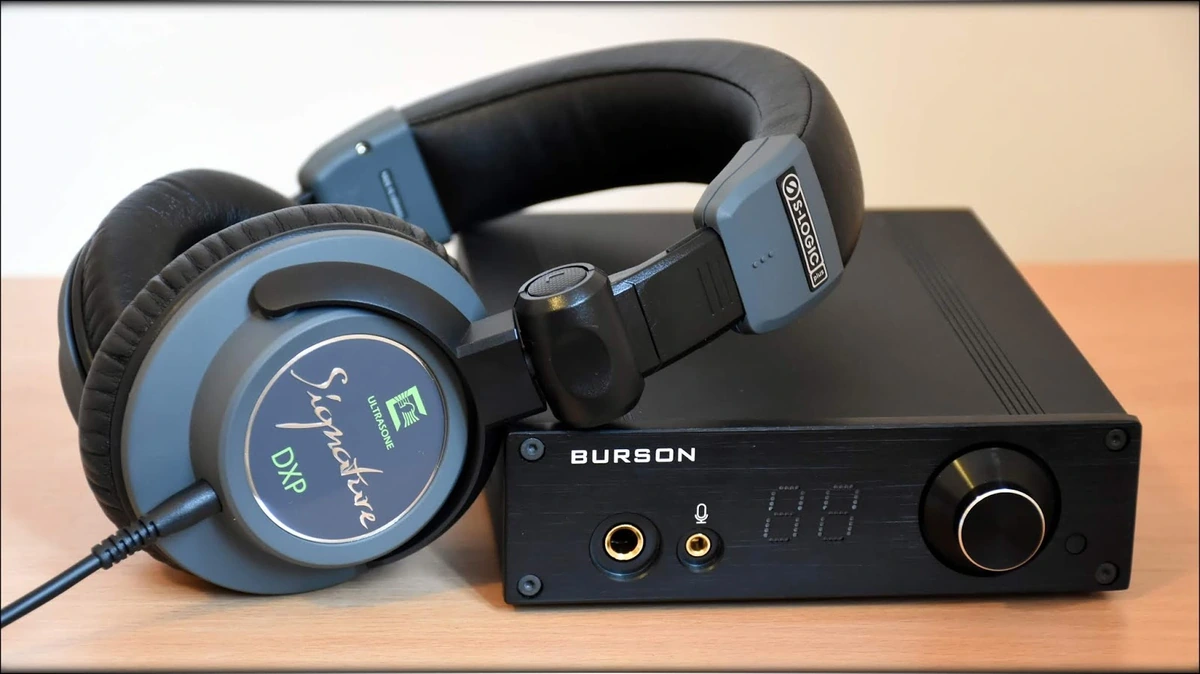 All in all, if you're looking for an excellent desktop DAC/AMP, which can provide lots of enjoyment for you, both through headphones, or even acting as a desktop-grade DAC, Bursin Play makes a very compelling purchase, and not only it will drive your High-End Audeze Headphones, but it will also do it with an excellent degree of authortiy and control, providing what we consider an excellent overall experience. 
Product Link
You can purchase Burson Audio and other DAC/AMPs from www.amazon.com here: https://www.amazon.com/s?k=Burson+Audio
---
--- Please remember to stay safe, and always have fun while listening to music!---
 - If you have a dime to spare, please donate, and help us! It would make the day brighter for me and my wife- 
---
Full Playlist used for this review
We listened to more songs than those named in this playlist, but those are excellent for identifying a sonic signature.  I recommend trying most of the songs from this playlist, especially if you're searching for new music! The playlists are different for Spotify, Tidal and Youtube, and based on the songs I enjoy and are available on each!
https://www.youtube.com/playlist?list=PL_cjBXGmwSHSdGcwuc_bKbBDGHL4QvYBu
https://open.spotify.com/playlist/5J3oloz8Riy9LxEGenOjQ0?si=979ba4f082414be7
https://tidal.com/browse/playlist/330fd544-8e5b-4839-bd35-676b2edbb3d5
--- Contact Us ---





---