Cleer Alpha Black – Active Sound, Ironless Driver, Zero Noise
Cleer Alpha Black is a $199 USD pair of Closed-Back Bluetooth headphones with ANC, or active noise canceling and an ironless driver, designed with modern and edgy earcup, and good comfort. We will be reviewing them together, and comparing them with other high-quality headphones including Sennheiser Momentum 4 (338 USD), FiiO EH3 NC (170 USD), and Ultrasone Signature Pure (169 USD).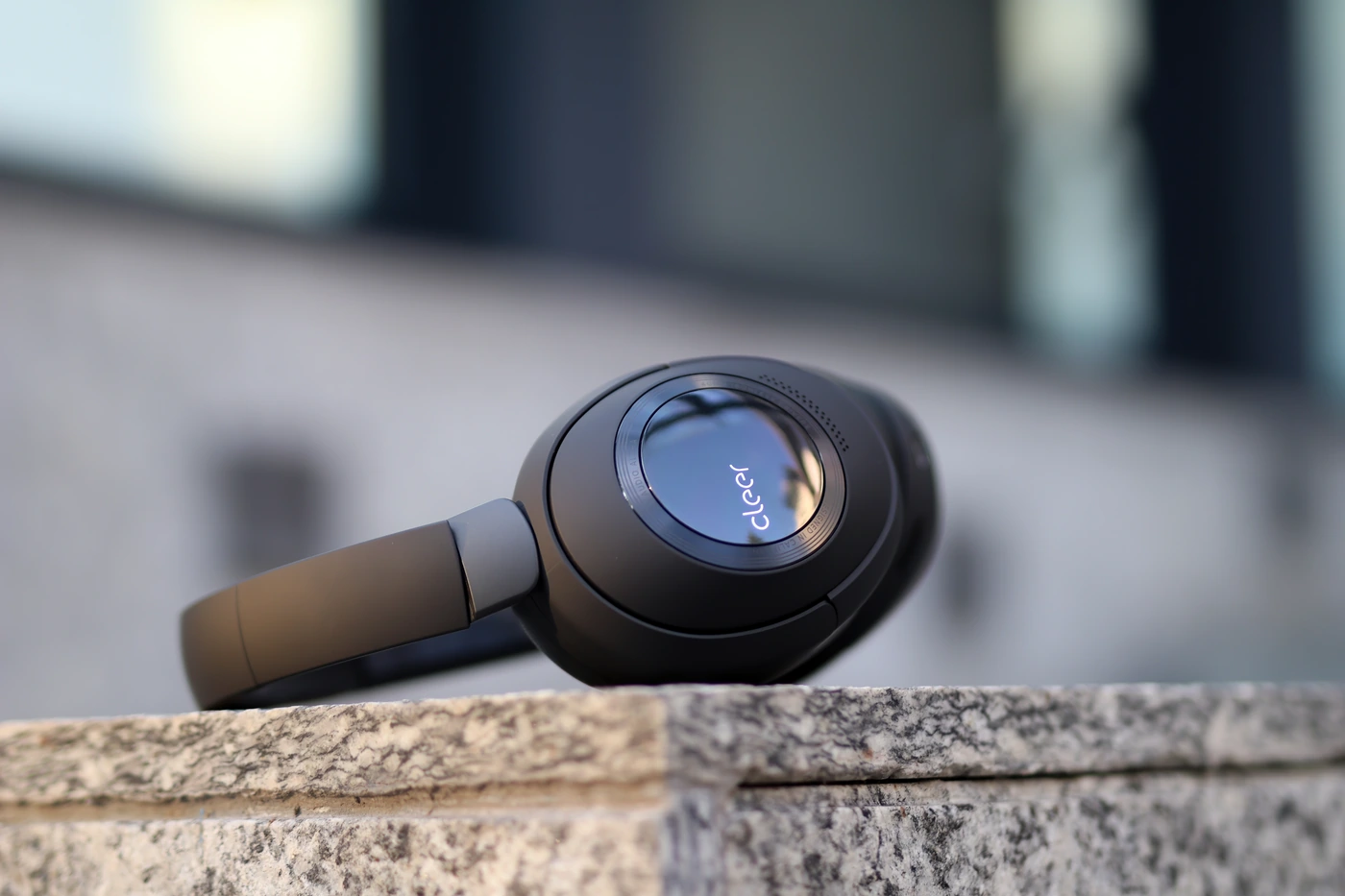 Introduction
Cleer is one of those companies that are heavily underrepresented in the audiophile world, because they are easy to miss. They have a few really awesome models with outstanding sonics, but also some entry-level models made for the less enthusiastic listener, so it is important to read about the model you're considering before purchase, to make sure you're getting one that you'll love and enjoy. Cleer headphones are sold through many channels including certain electronics store, but the best place to grab a pair is usually Amazon, where you will find the best prices, best return windows, just in case you aren't fully happy with your purchase, and where you'll also have the fastest shipping times if they aren't available from a more local source. 
It should be noted that I have absolutely no affiliation with Cleer or Jackrabbit, I am not receiving any incentive for this review or to sweeten things out. I'd like to thank Jackrabbit and Cleer for providing the sample for this review. Every opinion expressed is mine and I stand by it. The purpose of this review is to help those interested in the Cleer Alpha Black Headphones find their next music companion. 
Product Link
You can grab one from www.amazon.com here: https://amzn.to/3tscDeJ
If you're in the UK, you can grab one from www.amazon.co.uk here: https://amzn.to/46okfO1
And if you're from Europe, you can grab one from www.amazon.de here: https://amzn.to/46pJZcM
Build Quality/Aesthetics/Fit/Comfort
We need to start by first explaining what Cleer Alpha Black is, and the trick here is that there are 3 colors available for the Cleer Alpha headphones available, namely Blue, Black and White / Gray. They all should have the same characteristics, but the black version seems the coolest and edgiest looking of them, which is why we're reviewing this one today. 
Cleer sees the Alpha as their flagship-level headphone with ANC or Active Noise Canceling and Bluetooth. They also have the Cleer NEXT, which is their flagship for Audiophiles and which we will hopefully be reviewing too in the future. But back to Alpha, this is a headphone with Adaptive Noise Cancellation, and Ambient mode too, basically allowing you to either have the ANC turned on or turned to listen to everything and feed it to you, mixing it with your music. 
One handy trick the Alpha has up its sleeve is that you can have two devices paired at the same time and switch between them easily, without the need to disconnect and reconnect, based on their multipoint tech. It also has the cVc from Qualcomm, which is the Clear Voice Capture, a feature that uses 2-mic beamforming design for wind reduction and better mic quality for taking calls.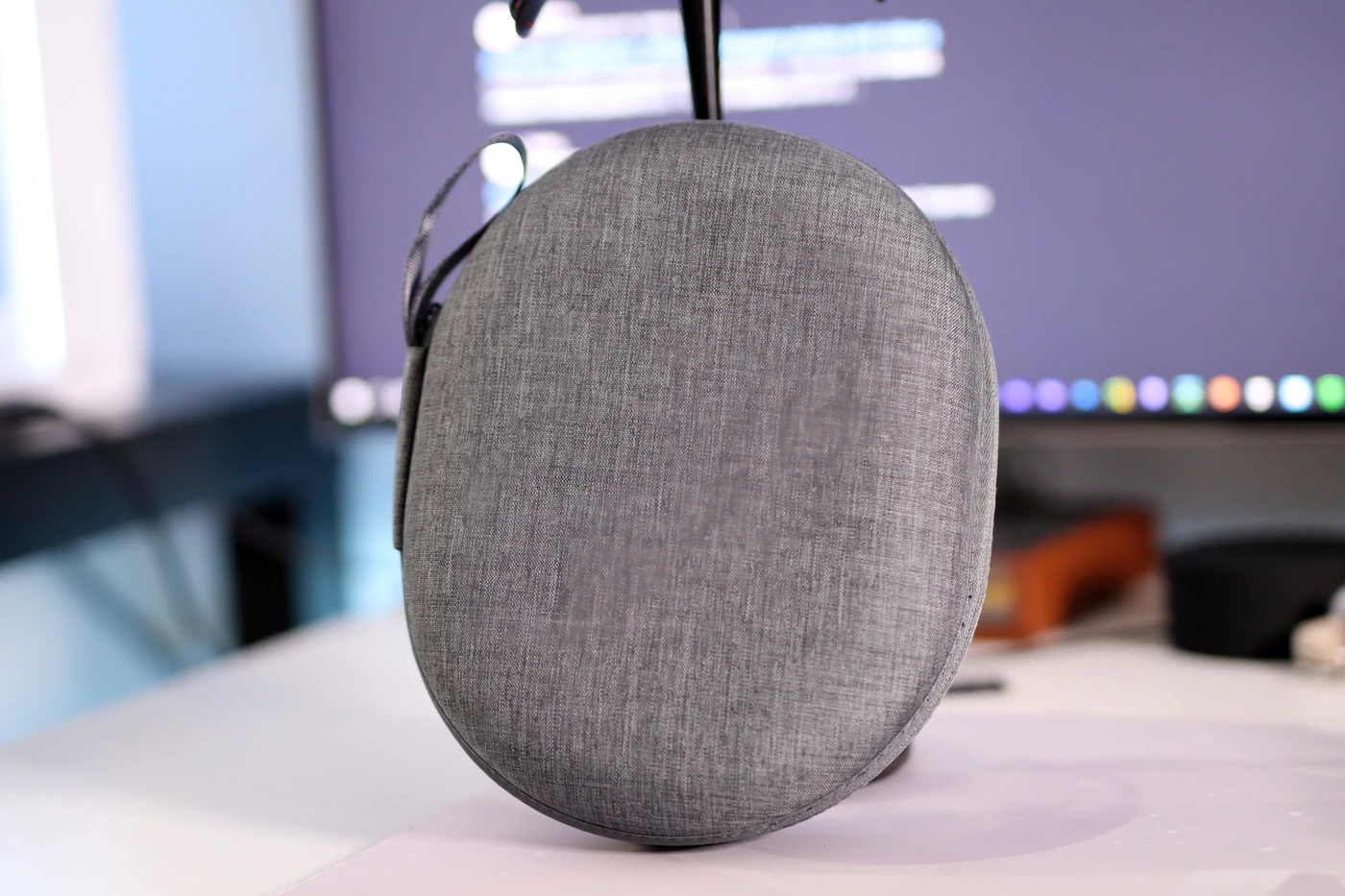 As it is the case with most Bluetooth headphones, we have digital signal processing, this time provided by Dirac in the form of the Dirac Virtuo Spatial Audio, a DSP designed to make the soundstage wider, and improve the sonics. The driver is an Ironless Driver, which is 40mm in size and should have a bold and articulate sound. You can even customize the sound if you install the Cleer+ App, which allows you to engage or disengage the Dirac Spatial Audio, the Ambient Noise Control, to have it set to ANC, Transparent or turn it off entirely, and to make custom EQ profiles. 
We have a long promised battery life, which is up to 35 hours, from a single charge, with ANC and Bluetooth enabled. Cleer Alpha also has quick charge, although we do not know for sure which generation, but 10 minutes of charge will get you 4 hours of playback. The trick here is that those are not usually measured with maximum volume, and with max volume, you may get closer to 20-25 hours of battery life. Alpha also uses touch controls which are fairly resistant to mis-touching, and it uses Bluetooth 5.1, with aptX adaptive.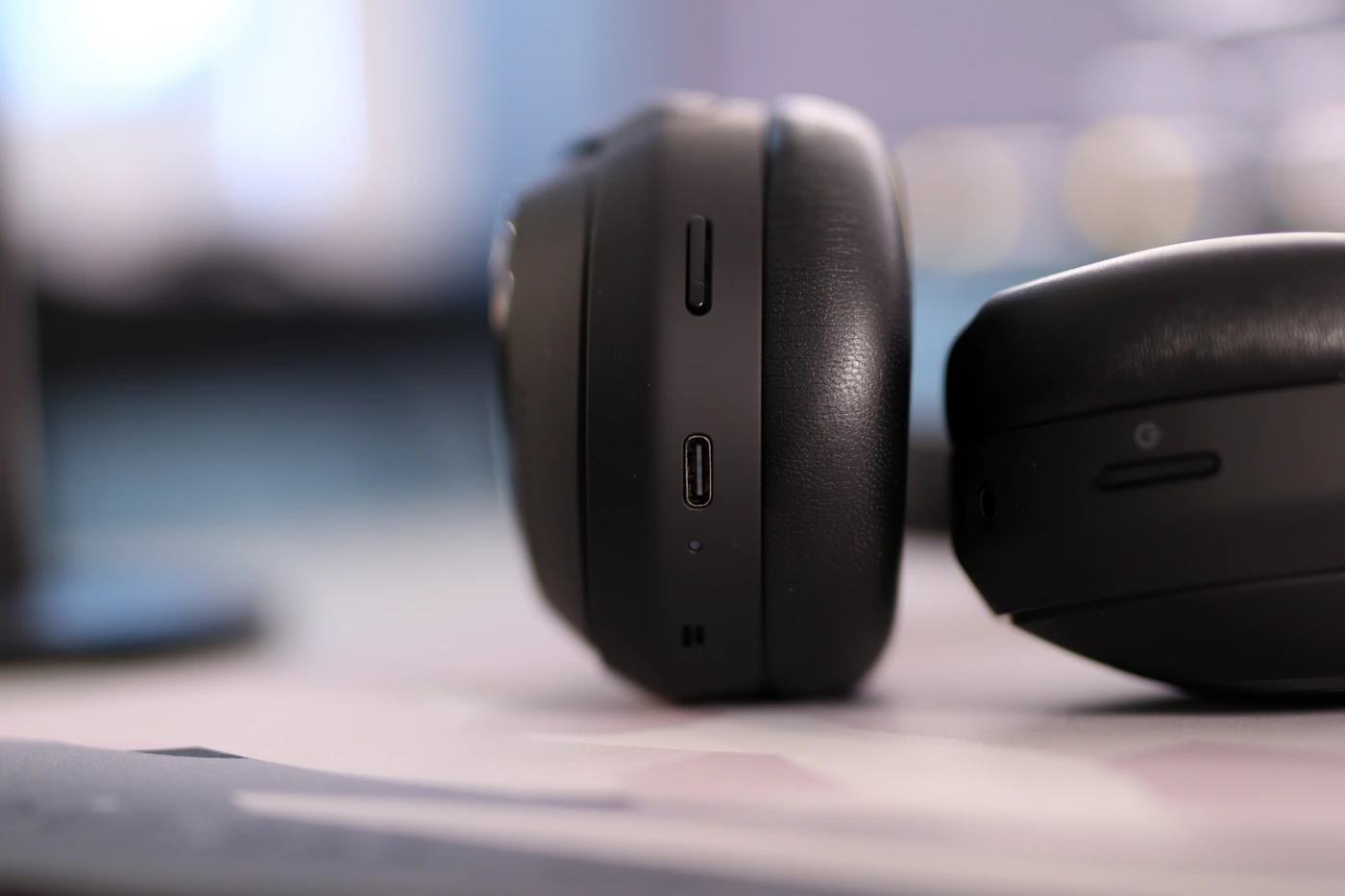 When actually using the Cleer Alpha, they are well made, the finish is of a good quality, and the headband has a bit of padding at the top. They feel a very tiny bit heavy, but there is no hotspot and the earcups plus the headband do a good job at distributing the weight. The clamping force is on the slightly strong side, but they sit quite neatly on my head, resulting in a secure fit that I could walk and even run with without worrying. One little problem would be that I have them extended to almost max for my head, so they won't accommodate someone with a really large head. They have independent volume from your smartphone, and you have to both set their inner volume and set the volume from your smartphone to get them to the absolute max. Even at max, the sound is not extremely loud, but still produces a good 100 dB which should be more than enough for most listeners. The earpads have just enough space for my ears, but the pads are soft and have a comfy design in the end.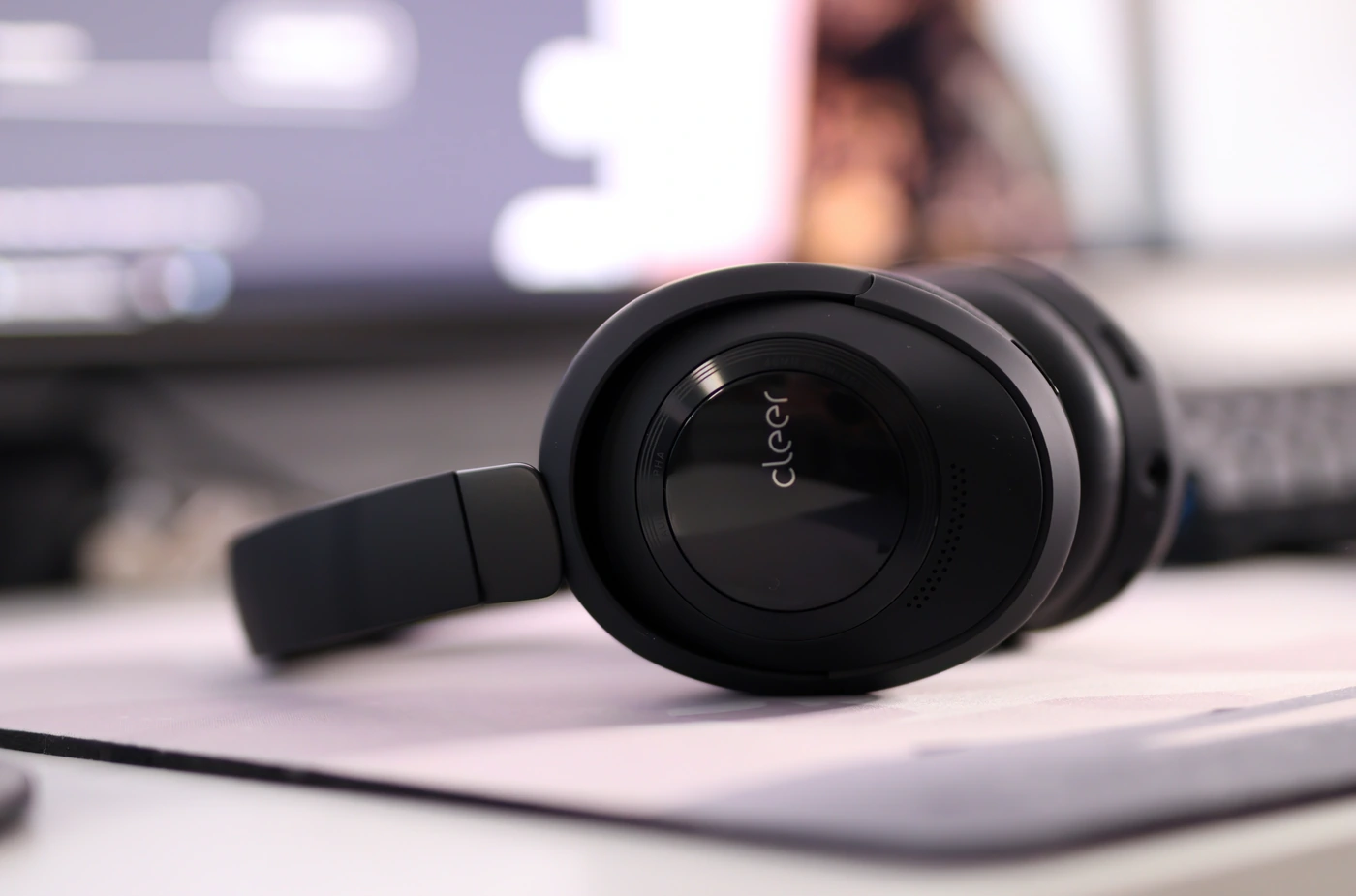 The level of ANC they have is decent, it does not kill absolutely everything, but it would be more than enough even with very quiet music playing, more than enough for a plane trip with a baby crying near you, and it does the best job at canceling noise in the mids. Happily, activating the ANC does not affect the sound in the least, which means you will be enjoying clean, crisp sound that is at their max quality even if you will engage the ANC. The transparent mode works as expected, and the quality of their microphones is really good, you will hear sound as if you're not wearing them if using the transparent mode. I dare to say that the sound of my keyboard is almost better through the Alpha headphones with Transparent mode on, than without wearing them. They have around 20 dB of passive noise isolation from their build and design, and over 35 dB of active noise isolation if you engage ANC. The ANC seems to be working properly even when you're using the 3.5mm jack input. Cleer Alpha does not work as a USB Headphone, and the Type-C port does not work as an input.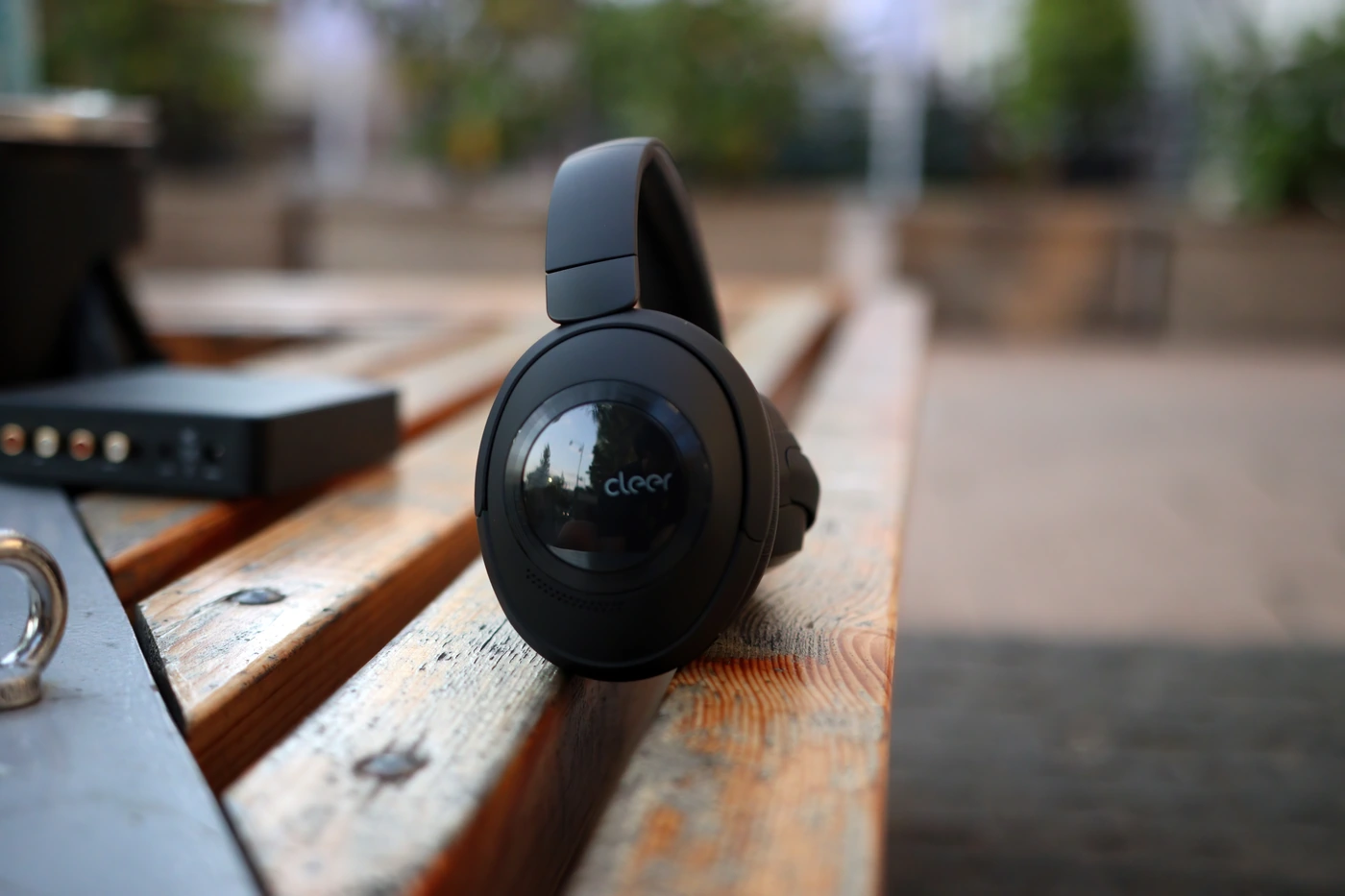 So, there are two possibilities, if you will be using the 3.5mm jack input, Alpha works both active and passive. If you turn them on, and connect the 3.5mm jack, they will have their inner amplifier engaged, and there is a bit of hissing that is audible when the 3.5mm jack is engaged, which is not audible via bluetooth, most likely coming from the amplifier inside of the Cleer Alpha. Via the 3.5mm jack, they need quite a bit of power to sound right, but the sound is generally a bit better than from the Bluetooth input. The sound is exactly the same, so the headphones likely apply the same processing to both signals. 
But you can also turn them off, and they will work passively, situation in which they can get much louder, and use the amplified signal from the wire and have a different sound, not worse by any means, but not better either, just warmer, bassier, more mid centric, with less treble sparkle, which is likely the raw performance of the driver with no DSP processing applied. I honestly prefer the sound with the DSP applied, and they sound better if turned on. 
Sound Quality
Speaking of the sound, I've used them with my Samsung S23 Ultra smartphone for the Bluetooth input, which likely cannot take advantage of the aptX Adaptive and other fancy codecs, and I've used them with a selection of sources for the wired input, including HIFIMAN EF400, FiiO K9 PRO, iFi Go Bar, and JDS Labs Element III Boosted. The tuning and sound is very different between having them turned on and turned off, and the DSP does an excellent job at processing, giving the Alpha Black a really pleasing sound with a full and deep bass, a super rich and harmonic sounding midrange, and a sparkly, well extended, airy treble. The soundstage is wide, holographic even with good depth and width. The sound without any processing is much warmer, bassier, warmer, smoother in the treble, but it sounds a bit rough and unprocessed, but it can go louder. The maximum loudness when they are active is capped at around 100 dB, which is not bad, considering this is already a bit loud for long hours of listening if you value your hearing. 
The bass has two modes, one in the active mode, and there it is controlled, deep and tight, with a tactile feeling to it, and it can safely go as low as 20 Hz, but most of the focus will start at around 30 Hz, after which it has an increased presence all across the range, allowing music to have a bit of extra low end presence and thickness. It is pleasing and works well for metal, rock, EDM, pop and all music styles. If you turn them off and use the 3.5mm input, the bass is far more present, and makes the sound thicker, but it is slower in character too, making music more powerful and punchy, but overtaking the midrange a bit.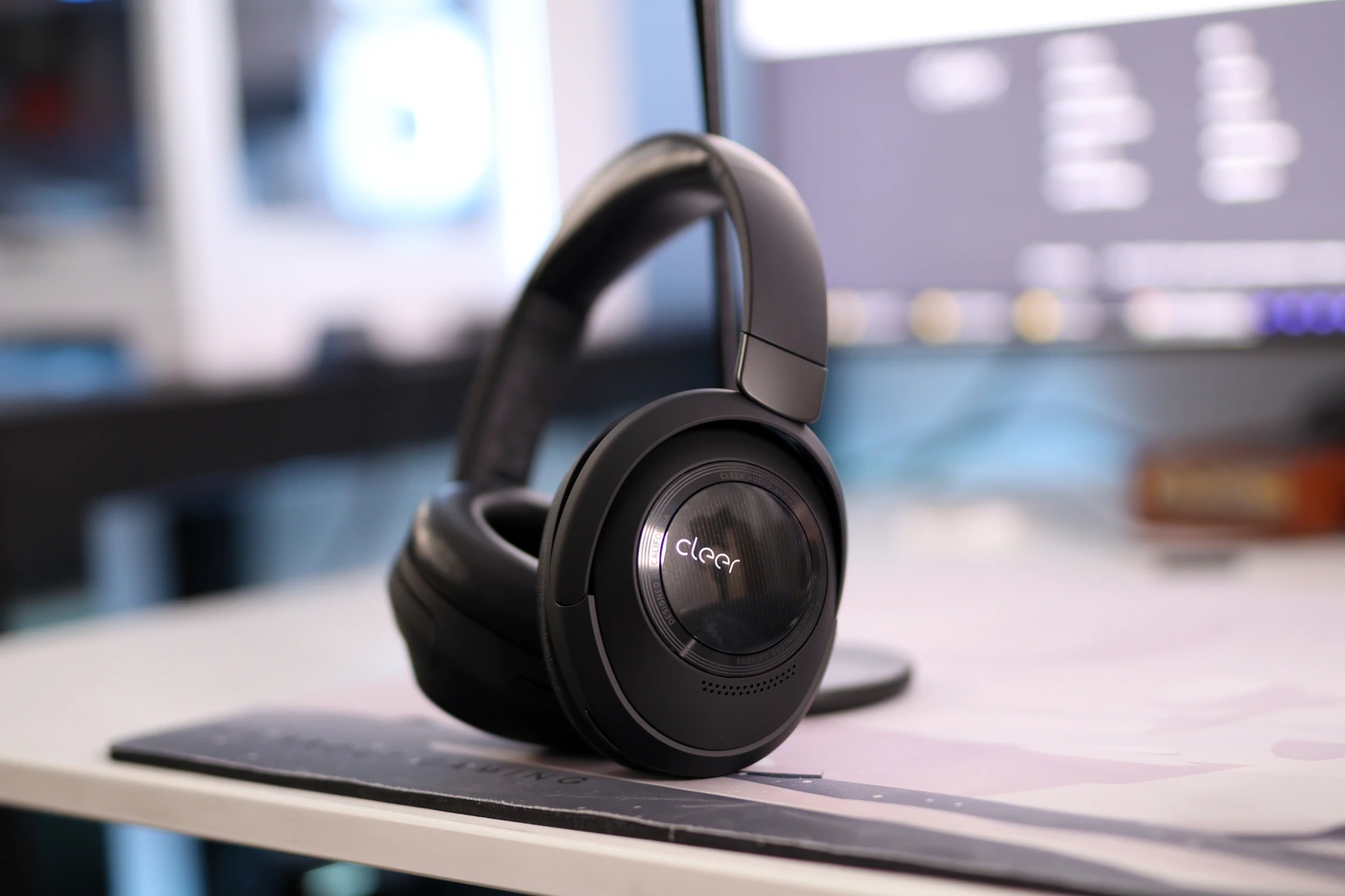 The mids, when the processing is turned on, are clean, with a rich, harmonic presentation where all textures are pleasing to hear, detail is bountiful and the whole sound is just super pleasing. We have a wide soundstage that is also deep, and both male and female voices are pushed back, to help with the feeling of width and depth in the soundstage. This slightly distant sound that brings drums closer to the listener, and pushes instruments and voices back is really interesting, and gives Cleer Alpha an interesting feeling as if the space where they play is much larger than it actually is. With the processing turned off, and if using the 3.5mm jack input, the sound is really different, and it is much more forward, micro details are lost, and the midrange is much warmer, but voices are far more forward, both male and female voices, and instruments too. It seems the Dirac processing actually pushes the midrange in the back and creates the promised feeling of soundstage rather well. 
The treble is smooth in textures, airy and clean with the processing turned on. It extends nicely up to about 16 kHz, but has a soft roll off that helps it sound clean and takes away any harshness that may be present with a treble that is audible. If you turn the processing off and use the 3.5mm input, the treble turns much smoother, and the midrange plus bass are much louder, drowning out the treble and making it less evident, which takes away from the feeling of soundstage too. Generally, Cleer Alpha has a very dynamic, punchy and pleasing sound, being easy to listen to and enjoy. 
Comparisons 
Cleer Alpha Black vs FiiO EH3 NC (199 USD vs 170 USD) – Starting with a head to head comparison, both headphones have ANC and Bluetooth, but the ANC is considerably more effective on the Cleer Alpha, the Transparency mode is better, and the battery life is longer in practice. The overall comfort is similar, both have about the same size and design, and both headphones sound about as loud at maximum, but the sound is richer, has a more detailed presentation and a wider soundstage as presented by Cleer Alpha. FiiO EH3NC sounds warmer, smoother and has more emphasis on the mid bass, as they sound more like Alpha Black without any DSP processing turned on. 
Cleer Alpha Black vs Ultrasone Signature Pure (199 USD vs 169 USD) – The overall comfort is better for Cleer Alpha which do not sit as tight on my head, and which have a softer, larger earpad that allows for more space for my ears. Sonically, Signature Pure is much bassier, has a stronger treble, and makes the voices more present too, but Cleer Alpha has a more pleasing midrange, which sounds richer, voices are more natural, and the bass is a bit tighter, while the treble smoother and less fatiguing. 
Cleer Alpha Black vs Sennheiser Momentum 4 (199 USD vs 338 USD) – This is an interesting comparison because Momentum 4 is pricier, so it is good to notice that they are more comfortable and slightly better with the design, but the battery life of Alpha Black is a bit better, and Alpha Black sounds better from the wired input, than Momentum 4. The ANC works great on both, but it is slightly better on Cleer Alpha, and the transparency mode is a bit better, call quality is a bit better as well. The sonic presentation has much more bass on Momentum 4, with a thicker, heavier sound, louder maximum sound, and with the bass covering the mids a bit more. Cleer Alpha sounds more balanced, more natural, the bass is not as large in amounts, but still plentiful, the soundstage is about as wide, and the midrange has about as much detail as on Momentum 4. 
Value and Conclusion
While no products are perfect, Cleer Alpha has a high value and does everything it is supposed to really well, the ANC is super effective, and even their passive noise isolation is quite good, plus the transparency mode is excellent, and they have super quality for phone calls, the microphones installed in them being of a great quality. We also have a nice package which includes a transport case, and the sound is excellent for their price, as they score really nicely everywhere.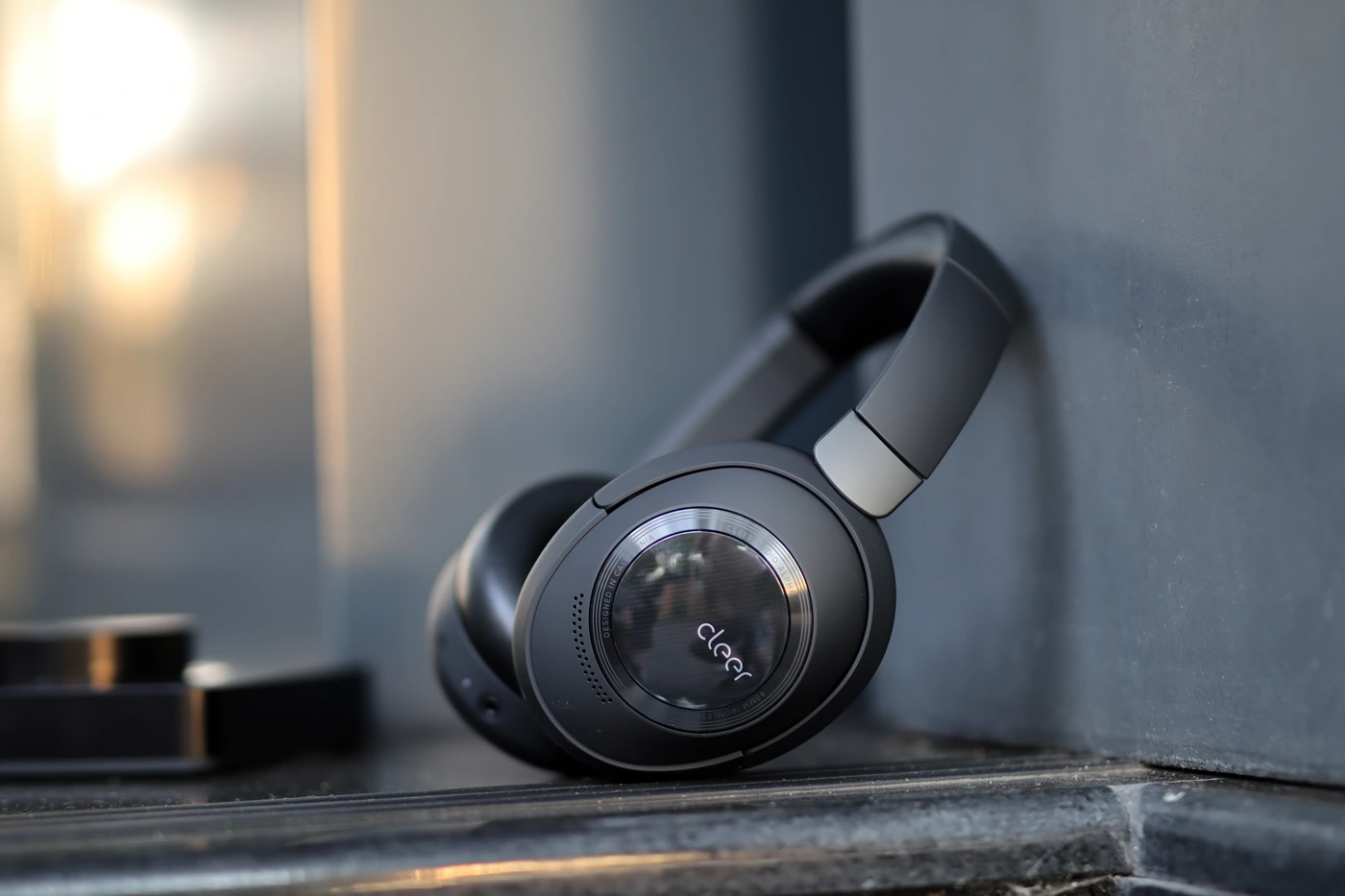 At the end of the day, if you're looking for a fancy Bluetooth headphone with good battery life, which can work wired too, which sounds detailed, natural, has a strong and controlled bass, a rich and clean midrange, and a clean, sparkly treble, Cleer Alpha Black is an excellent choice at the $199 USD price point we are reviewing it at today. 
Product Link
You can grab one from www.amazon.com here: https://amzn.to/3tscDeJ
If you're in the UK, you can grab one from www.amazon.co.uk here: https://amzn.to/46okfO1
And if you're from Europe, you can grab one from www.amazon.de here: https://amzn.to/46pJZcM
---
--- Please remember to stay safe, and always have fun while listening to music!---
 - If you have a dime to spare, please donate, and help us! It would make the day brighter for me and my wife- 
---
Full Playlist used for this review
We listened to more songs than those named in this playlist, but those are excellent for identifying a sonic signature.  I recommend trying most of the songs from this playlist, especially if you're searching for new music! The playlists are different for Spotify, Tidal and Youtube, and based on the songs I enjoy and are available on each!
https://www.youtube.com/playlist?list=PL_cjBXGmwSHSdGcwuc_bKbBDGHL4QvYBu
https://open.spotify.com/playlist/5J3oloz8Riy9LxEGenOjQ0?si=979ba4f082414be7
https://tidal.com/browse/playlist/330fd544-8e5b-4839-bd35-676b2edbb3d5
--- Contact Us ---





---