GravaStar Alpha65 Fast Wall Charger 65W GAN – Nerdy Looks, Charges Quick
Alpha65 is a $49 USD fast wall charger for smartphones, with a max power of 65W, and three cable ports, two type-C and one type-A. This isn't exactly an audiophile product, but I reviewed products form GravaStar and liked them, plus this is one of the very few companies that has a cooler aesthetic approach to boring typical electronic products, so let's see if it is an actually good product and how well it works.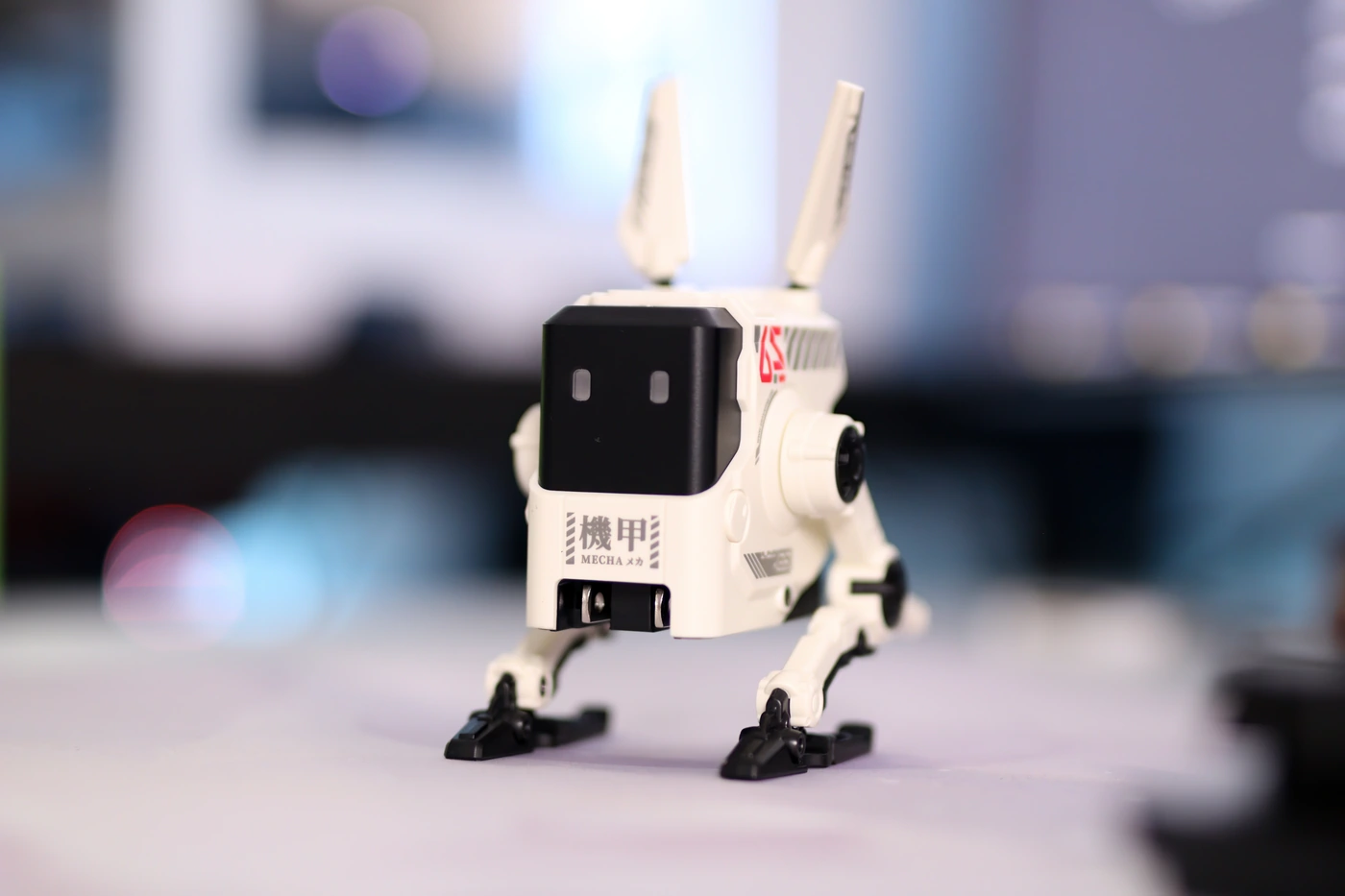 Introduction
GravaStar is a large company now having a wide selection of products, including bluetooth earphones, mouse pads, chargers, and speakers. We're hopefully going to be reviewing the speakers they carry soon, because just as with today's product, the design makes it worthwhile, and this is their selling point too. GravaStar is one of the very few companies that actually try to make something that looks unique, artistic, but not boring and electronic, actually having some products that have a bit of design. 
It should be noted that I have absolutely no affiliation with GravaStar. I'd like to thank GravaStar for providing the sample for this review. This review reflects my personal experience with the GravaStar Alpha65 Fast Wall Charger. Every opinion expressed is mine and I stand by it. The purpose of this review is to help those interested in the GravaStar Alpha65 Fast Wall Charger find their next companion. 
Product Link
Official Link – https://www.gravastar.com/products/alpha65-gan-fast-charger
You can grab one from www.amazon.com here: https://amzn.to/3Q0RsJT
If you're in the UK, you can grab one from www.amazon.co.uk here: https://amzn.to/3Q8D5mG
And if you're from Europe, you can grab one from www.amazon.de here: https://amzn.to/3rwRzTg
Build Quality/Aesthetics
If you generally don't like thinking too much of smartphone and electronics chargers, you're not alone, and I generally find them to be rather ugly looking too. GravaStar saw an opportunity here, and decided to make one that actually has a bit of a cute factor to it, so the ALPHA65 was born. This is a USB Type-C charger that comes with adapters for all socket types, including Europe, and it has a Three-Port design, with 2 USB Type-C ports and one USB Type-A port. 
Furthermore, we have GaN technology, which is generally supported by all smartphones, and this basically indicates that inside it uses Gallium nitride instead of silicone, which allows it to be smaller, more efficient, to be less warm during charging and to keep your device safer than traditional chargers. Gallium Nitride is a material that allows products to make smaller transistors, which work to charge faster than silicone. With today's ever growing cost of electricity everywhere you will be happy to hear that there is less energy wasted and more energy that goes into your smartphone and device. GaN chargers can charge devices faster because they have a wider bandgap (Silicon has a 1.12 eV bandgap, while Gallium Nitride has a 3.4 eV bandgap). This means there is less energy loss as electrons move from one band to another. Gallium nitride's wider band gap allows it to sustain higher voltages and temperatures than silicon MOSFETs too. 
One thing that you may notice is that ALPHA65 is currently limited to 65W and you may be wondering if it is worth investing in a smartphone that has 120W charging, and honestly, I found that it isn't worth the investment. I had for a good while a Motorola Edge 40 PRO, about which I even filmed a video while I was still in love with it, and which I am considering whether to post or not, but the problem is that after about two months of usage, the battery started lasting less and less, draining faster and faster, and my experience with the smartphone became worse and worse. 
I tried reaching out to a few phone makers as well as battery makers, and from everything I heard, the bottom line is that slower charging actually keeps your battery safer and allows it to live for longer, Asus even including a slow charging (care mode) for their Asus ROG Phone 7. While this doesn't sound so interesting, it is good to note most companies both smartphone producers and battery makers, as well as charger makers confirmed that around 65W is the highest we can currently go while keeping the battery life good, but still charging fast. Going any higher with the charging speed will actually degrade the battery life considerably and considerably fast. Still, having a full battery for a smartphone in 10 minutes is considered to be worth the tradeoff by many customers and many companies.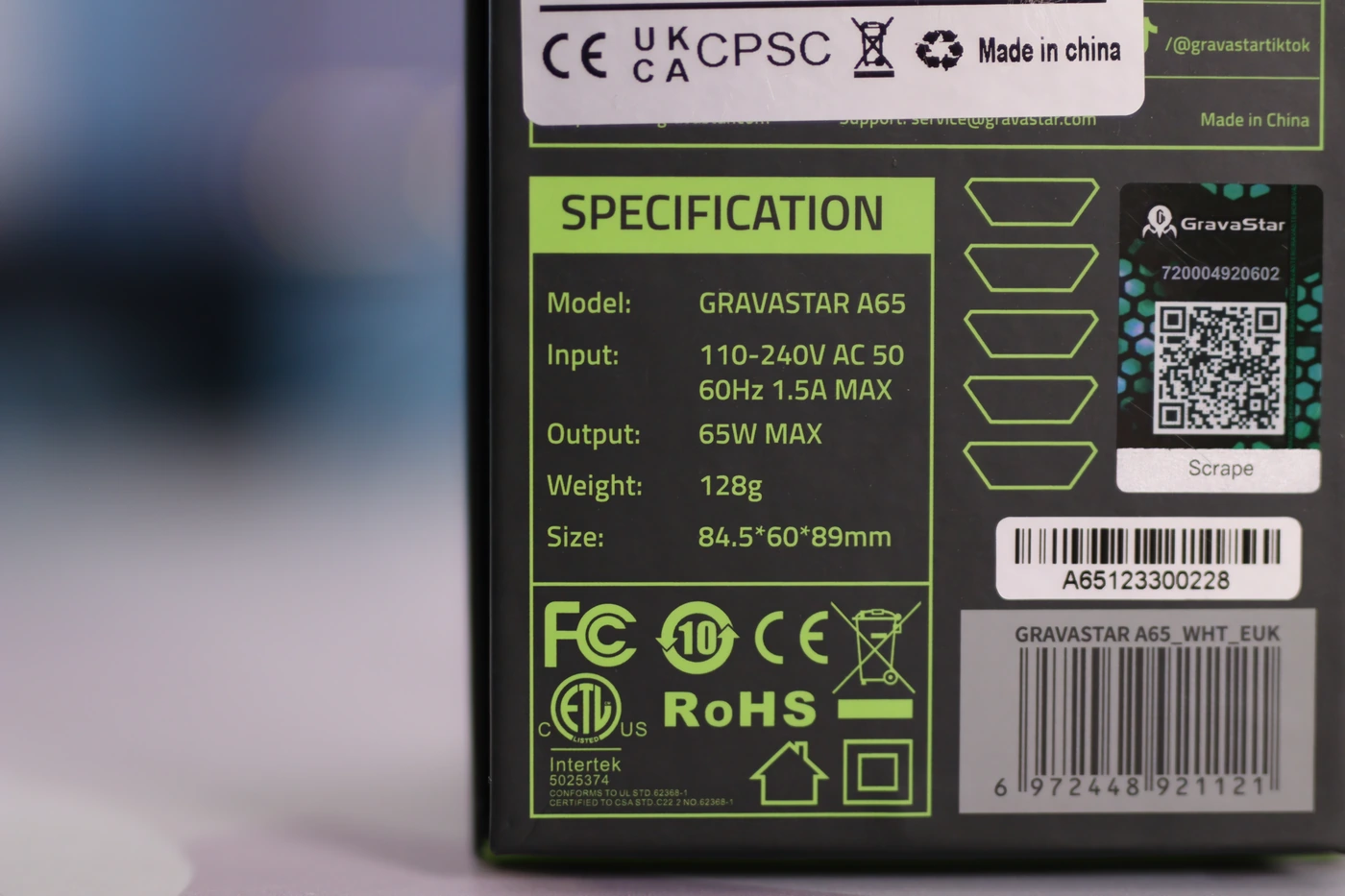 Back to ALPHA65, we have plugs for US, UK and EU, all of them included in the package. The compatibility list includes Samsung Smartphones, Nintendo switch, Apple iPhones, iPad, Asus Smartphones, Motorola Smartphones, Huawei Smartphones, and of course, Xiaomi Smartphones. Naturally, it works very well for DAPs too. This charger transforms, or basically can grow two tiny legs, and you can attach two floppy ears to it, so that it looks like it is standing on the socket while it is plugged in. It has two LED lights that look like eyes too. 
For security buffs, there is real time protection, including overvoltage, overcurrent and short circuit protection. The shell is flame retardant, and it enhances the safety of using the ALPHA65. With a weight of 128 grams, it is light, and it has input voltages between 110V and 240V, working just finer with the Romanian 220V.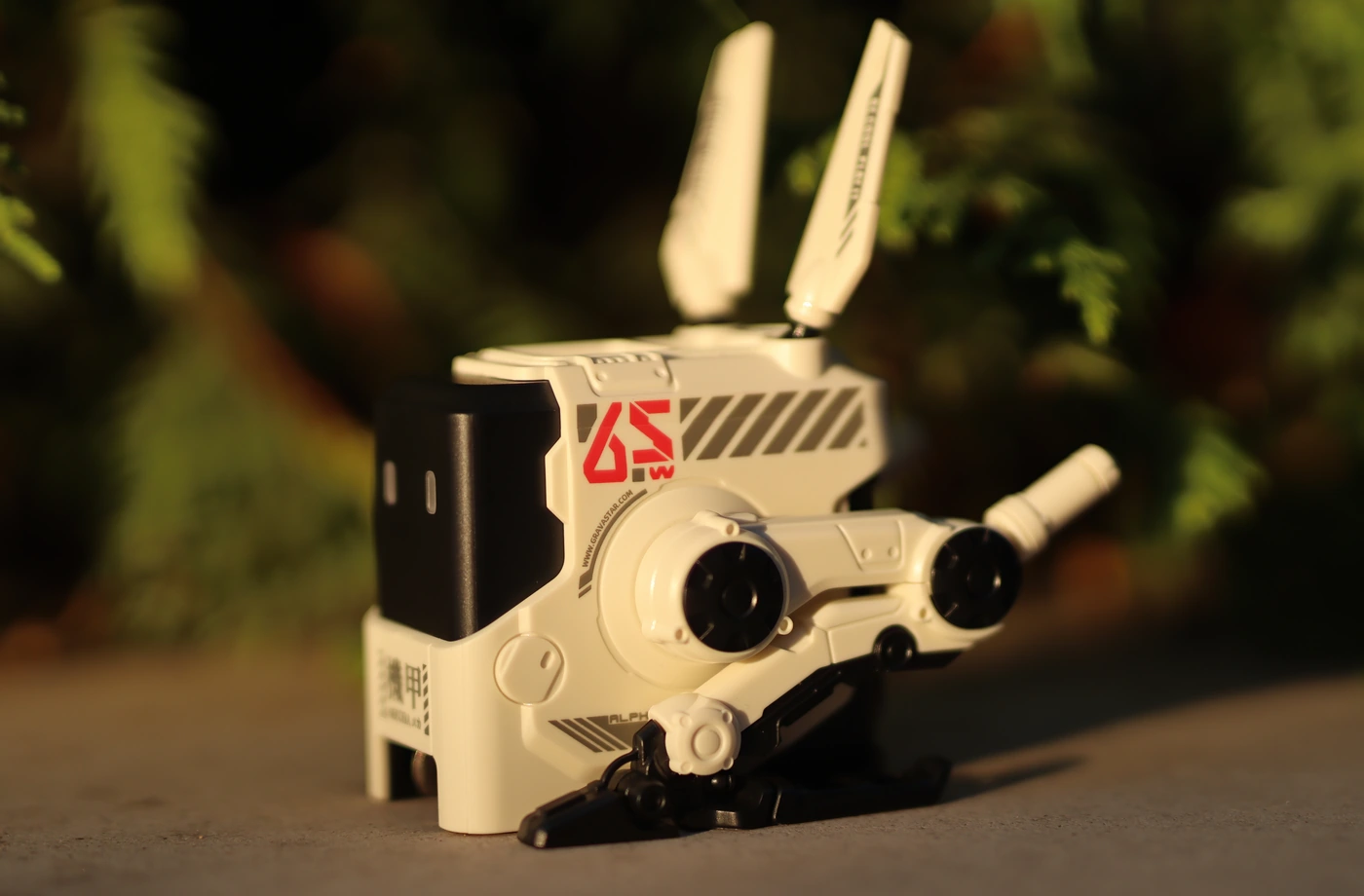 If you use each port independently, you have
USB-C 1 (65W)

USB-C 2 (20W)

USB-A (18W)
If you want to do Dual port charging, you will have 
USB-C 1 (45W) + USB-C 2 (20W)

USB-C 1 (45W) + USB-A C1 (18W)

USB-C 2 + USB-A (15W MAX)
And if you want to use all the ports at the same time, you will have access to 
USB-C 1(45W)
USB-C 2 + USB-A: (15W Max)
GravaStar ALPHA65 works as well as most chargers for smartphones, and it has a wide compatibility with PD3.0, QC3.0, SCP, AFC, PPS and other protocols. This means that it really does work with all the smartphones from all the companies just fine. It even works just fine with Google Pixel 7, MacBook PRO, MacBook Air, Dell XPS laptops, and even AirPods PRO. When testing the charging speeds, it is happily detected even by problematic DAPs, those who only work wit Xiaomi Chargers, such as entry-level Shanling DAPs and DAC/AMPs, like UP4 2022. Ut also has a clean background when used for DAC/AMPs that need continous power via USB, and the new GaN technology seems to be closer to an LPS or Linear Power Supply than using other switching type of portable chargers. All in all, the differences if used for audio are evident and quickly, for example, if you had a background noise or a high noise floor with another wall charger, this one should silence that. It is not quite as good as a battery, but it gets closer than most alternatives, and it manages to do this while looking pretty good, which I think is a big plus. Of course, most USB DAC/AMPs that need a separate power input will be okay even with ust 15 W, so you don't even need to populate the strongest USB-C port 1, so you could have that one open for charging your smartphone, yet still have a solution for powering your DAC/AMP without losing sonic quality.
Noise in audio has always been an issue for everyone, and getting rid of it can be mighty complicated, but using a high quality GaN charger for those DACs that allow two power inputs, like Palab M1 Mini, can help alleviate the issue and in the end create a better exdpeirence for you. Also, the design is pretty neat, so you can have something slightly cooler plugged into your socket at the same time. 
Value and Conclusion
With a price point of 49 USD, ALPHA65 is actually cheaper than the official chargers from most companies, it is surely cheaper than what I purchased from Xiaomi to replace my charger back in the day, and it looks better than all of them. The secret to it being so small is the GaN technology, and with all the protection it has, you're surely going to have a lot of fun using it, making it a high value product that has high price performance ratio, and super nice design.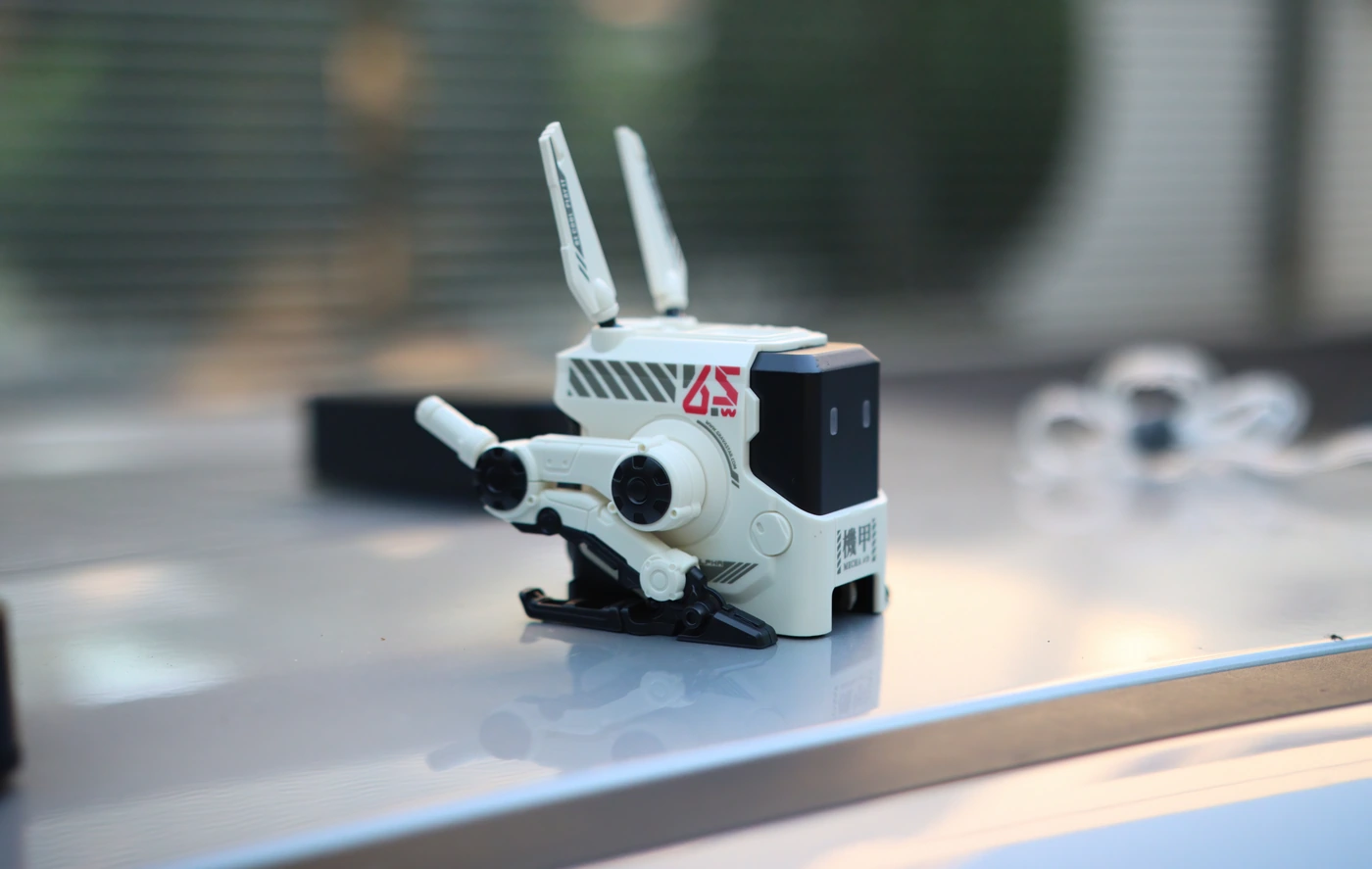 At the end of the day, if you like and enjoy Mecha themed products, if you want something that will sit neatly in your outlet, while providing a high quality fast charge for your smartphone, or accessories, and if you want to get good support too, GravaStar ALPHA65 GaN Fast Charger is one of the best you can purchase to pimp your geeky setup and have something more trendy sitting in your room and in your sockets, rather than the same tired block of plastic you see coming with every smartphone, or not even coming with some of them. 
Product Link
Official Link – https://www.gravastar.com/products/alpha65-gan-fast-charger
You can grab one from www.amazon.com here: https://amzn.to/3Q0RsJT
If you're in the UK, you can grab one from www.amazon.co.uk here: https://amzn.to/3Q8D5mG
And if you're from Europe, you can grab one from www.amazon.de here: https://amzn.to/3rwRzTg
---
--- Please remember to stay safe, and always have fun while listening to music!---
 - If you have a dime to spare, please donate, and help us! It would make the day brighter for me and my wife- 
---
Full Playlist used for this review
We listened to more songs than those named in this playlist, but those are excellent for identifying a sonic signature.  I recommend trying most of the songs from this playlist, especially if you're searching for new music! The playlists are different for Spotify, Tidal and Youtube, and based on the songs I enjoy and are available on each!
https://www.youtube.com/playlist?list=PL_cjBXGmwSHSdGcwuc_bKbBDGHL4QvYBu
https://open.spotify.com/playlist/5J3oloz8Riy9LxEGenOjQ0?si=979ba4f082414be7
https://tidal.com/browse/playlist/330fd544-8e5b-4839-bd35-676b2edbb3d5
--- Contact Us ---





---