AIYIMA A07 PRO Hifi Stereo Amplifier – Wired and Bluetooth 300W Mini AMP
AIYIMA A07 PRO is a $ 89 USD new entry in the series of super affordable speaker amplifiers for desktop made in China, with a Class D design, and with an outrageously high power output. Since the price point is rather low, it can only be compared to other ultra-affordable speaker amplifiers, such as Fosi Audio TB10D (79 USD), Fosi Audio BT30D PRO (109 USD), and Arylic A50+ (200 USD).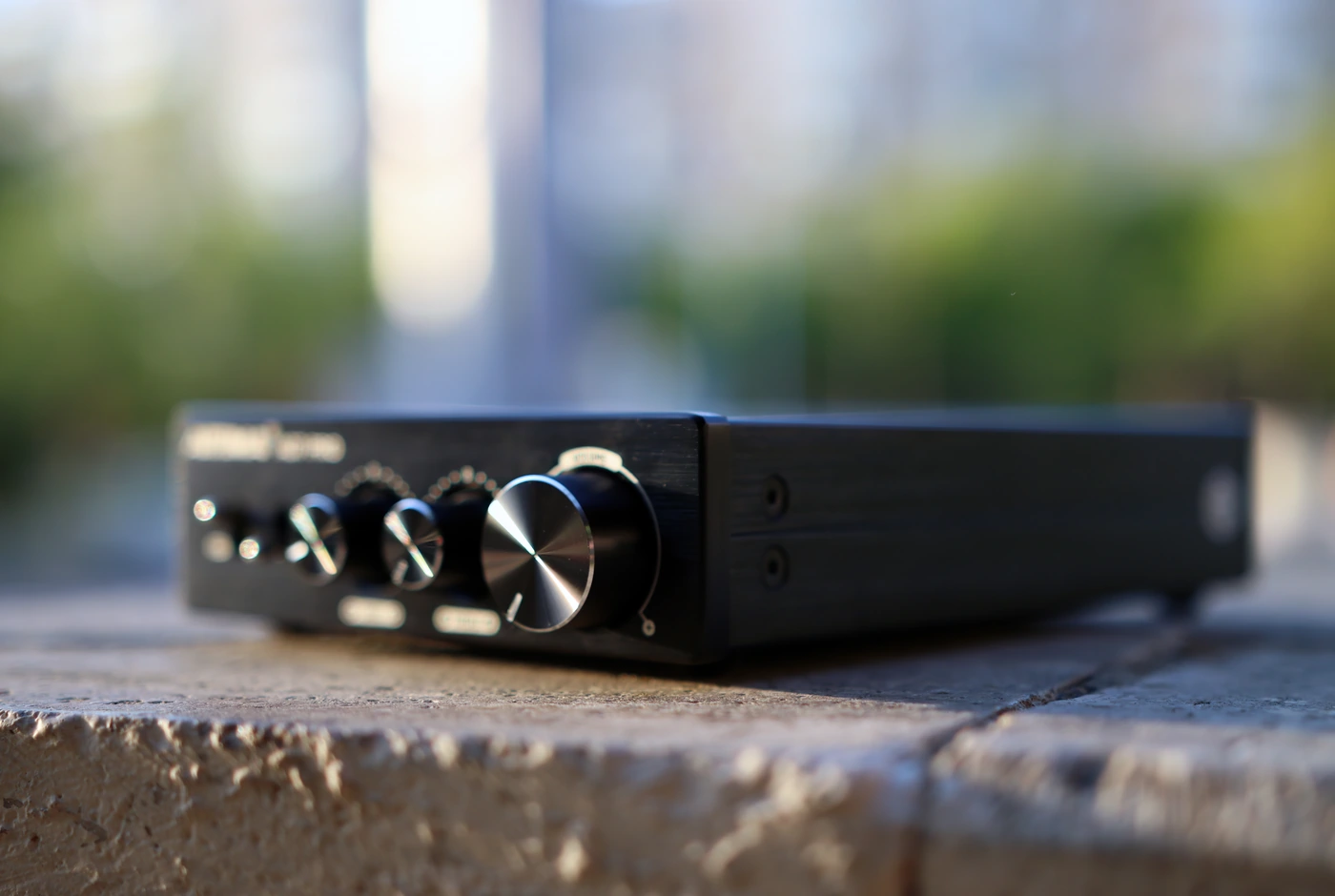 Introduction
While you may be outraged by the power output the company quotes, I wouldn't worry about it, as usually you are not likely to ever get to need that kind of power. If you have speakers that are so hard to drive that they would need this kind of power, you likely know what you want and will have a higher end power amplifier, and if you have the kind of entry-level speakers that this amp is likely to get paired with, you will notice that you can mainly only use the first portion of the volume potentiometer. This being said, the company is super golden when it comes to warranty and support, they have outstanding products, and all for what you can consider dirt cheap pricing, so it is refreshing to see a company that gives power to the consumer with class D AMPs, and which doesn't disappoint in any way. You can purchase AIYIMA products either from their own website, or from Amazon, where you have extended return windows, and where you get the best support available at the moment. 
It should be noted that I have absolutely no affiliation with AIYIMA. I'd like to thank AIYIMA for providing the sample for this review. This review reflects my personal experience with the AIYIMA A07 PRO Stereo Amplifier & Bluetooth Receiver. Every opinion expressed is mine and I stand by it. The purpose of this review is to help those interested in the AIYIMA A07 PROfind their next music companion. 
Product Link
You can grab one from www.amazon.com here: https://amzn.to/3OwyFp9
If you're in the UK, you can grab one from www.amazon.co.uk here: https://amzn.to/45ncnfn
And if you're from Europe, you can grab one from www.amazon.de here: https://amzn.to/3otZvDO
Build Quality/Aesthetics
AIYIMA A07PRO looks far more similar to the likes of Fosi Audio AMPs, than it looks similar to other AIYIMA products, such as the D03 Amplifier I reviewed in the past. We have no display this time around, but we have an on/off switch, a Bluetooth / RCA switch, and three wheels at the front. The interesting part with super affordable Class D Amplifiers is that many of them come with this basic style of EQ, which I find superb in performance. To give you a little tip, if turning the Bass knob all the way to the right, I am able to listen to KLH Model Five without even employing the Adam T10S Subwoofer at all, the sound has super heavy bottom end, and the AMP itself adds a lot of weight and substance, but also bass, and even sub bass to the speakers. Model Five in particular has a large mid woofer driver, so they can reproduce bass if the source feeding them has the power.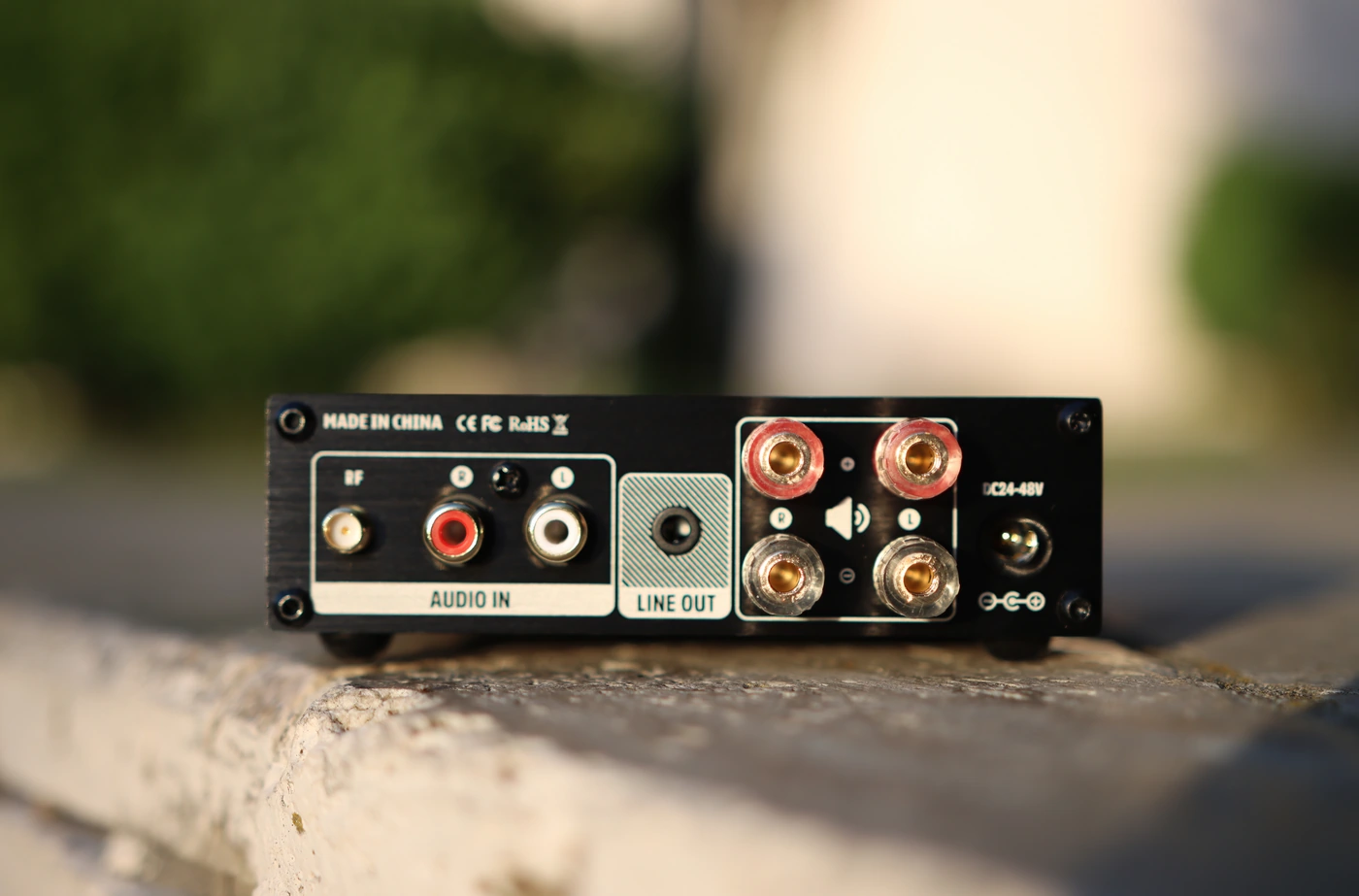 The treble wheel is necessary as well, since if you employ the bass wheel, the sound gets quite dark, veiled and muffled. You can avoid this by turning both wheels at max, this does not add any kind of distortion or problems, and the experience is super pleasing. With both EQ wheels turned at zenith, or at 12 o'clock, you get a very mid centric sound that has an audible roll off in both treble and bass, so it is designed to make you use those wheels, it is not only a feature, but a requirement. This being said, compared to AMPs that have the same Class D design with the TPA3255D2 Class D AMP Chip, and NE5532 Dual OP-AMPs, the sound at default is similar, you need some kind of EQ to bring more bass and treble in the sound to make it all worth it. Turning both wheels at absolute max can make the sound a bit too sharp and boomy, so around 3-4 o'clock is the sweet spot with the AIYIMA A07 PRO.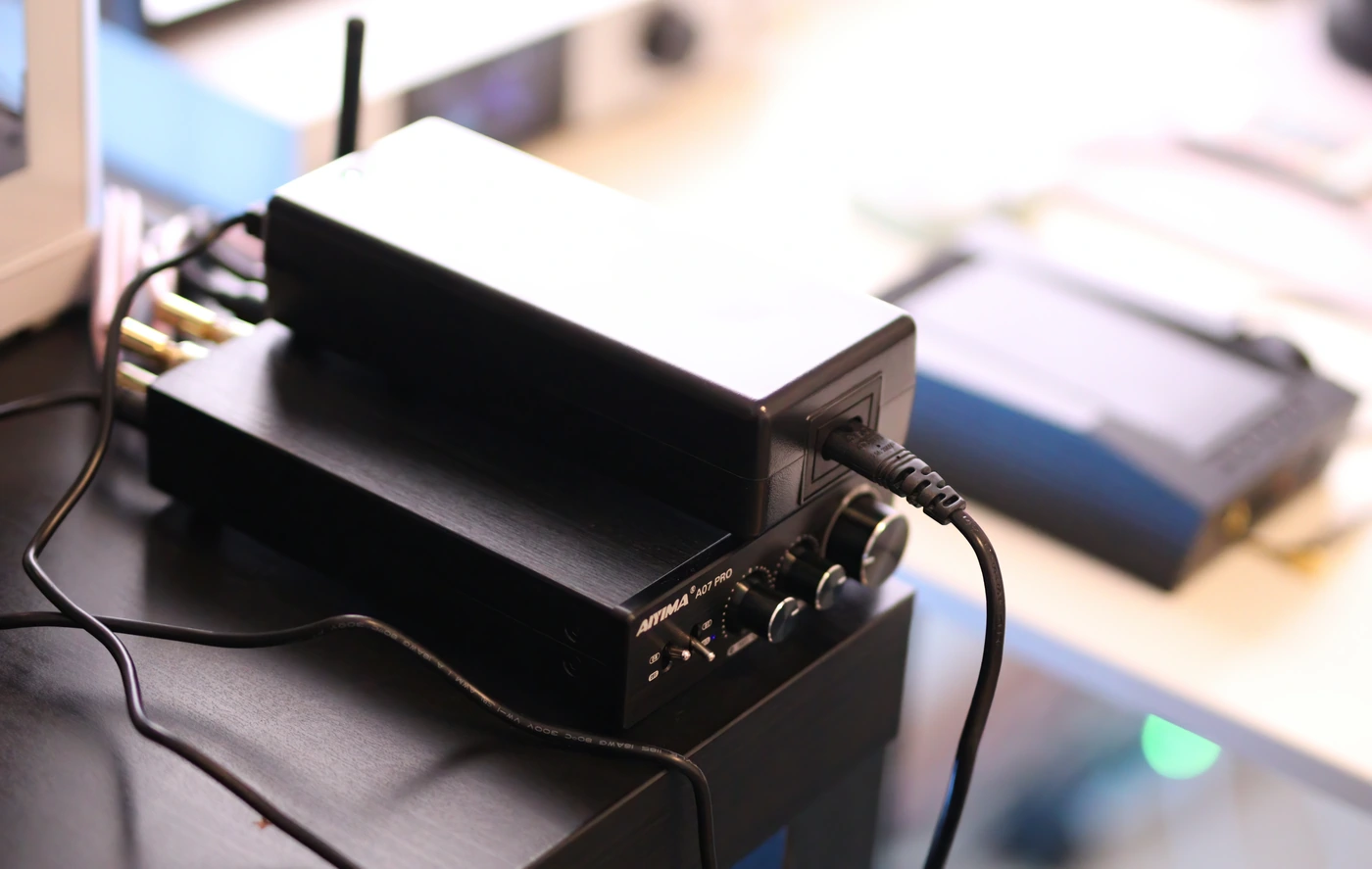 The maximum power is quoted to be 300W + 300W for a 4 OHM load, the unit gets warm with the volume around 9 o'clock, and I can't imagine going above it, and my DAC, the EverSolo DAC-Z6 is already at -15dB, as the sound gets extremely loud fast. I need to set the volume lower on the DAC, to allow the wheel to go higher though, becuase at 10 o'clock there is some channel imbalance because the volume wheel on A07 PRO is an analogic controller. To test the limits of A07 PRO, I turned the DAC to -42dB, and turned the AIYIMA A07 PRO all the way to the max. To my surprise, it presents zero hissing, zero background noise, my speakers are more silent with it than with Cyrus One Cast, and this is a huge achievement for an entry-level stereo Amplifier. I love it. The sound loses some control and precision at that max setting, it gets a bit overdriven, but you will blow up every speaker driver with a DAC that has no volume control, and if you run the sound at that volume. In the fine print, you can see that this power is supported with an aftermarket AC/DC adapter, and since I found the technical data on the page of a very similar product, the actual driving power is lower.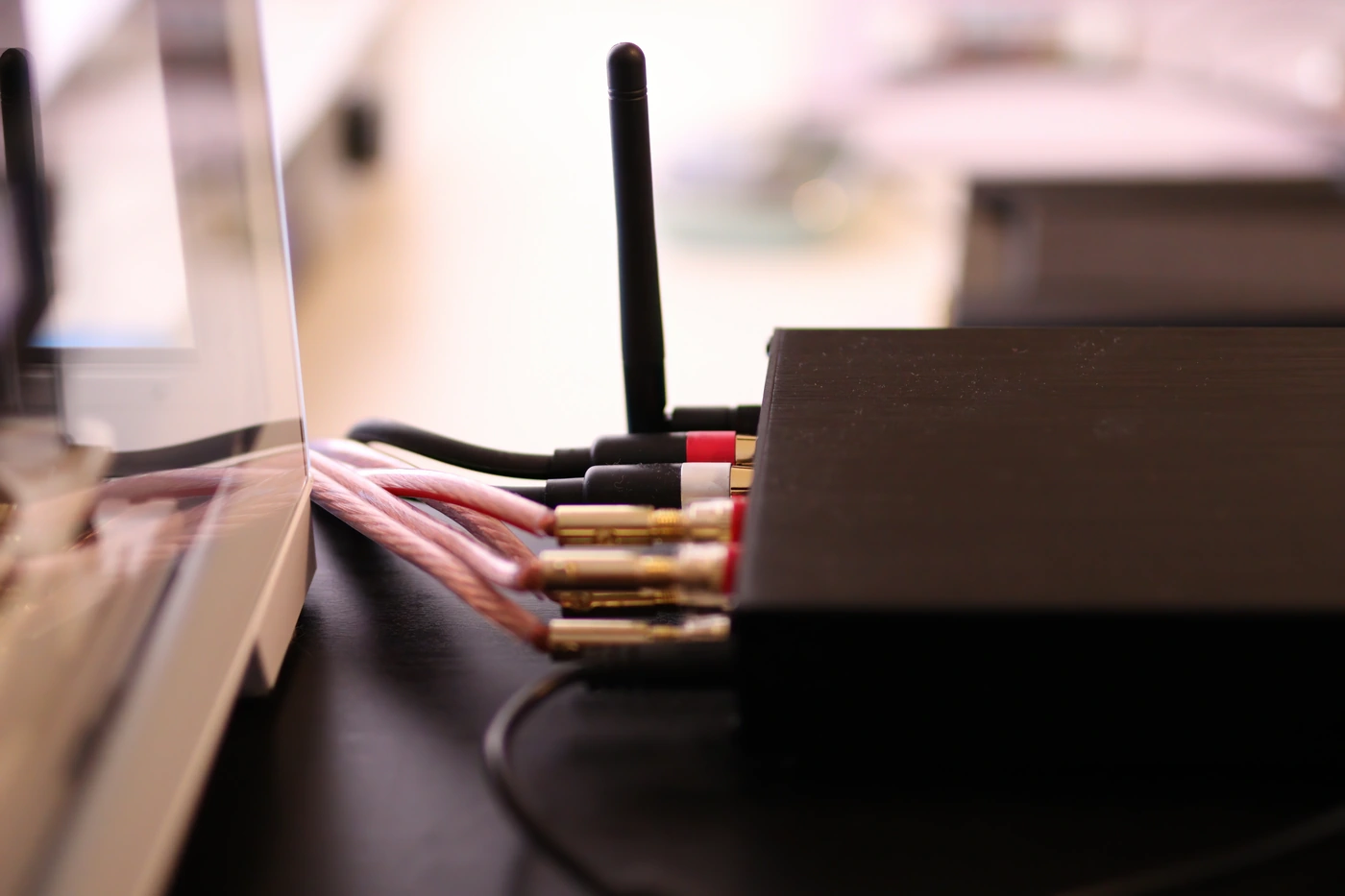 On my Motorola Edge 40 PRO, the Bluetooth works very nicely, and I am able to get aptX HD to work properly. I get a very distorted and unusable sound if I don't engage Dolby Atmos in my phone, but this seems to be a problem with my phone and not with AIYIMA A07 PRO. If you're getting distortions and weird effects, you should check your phone for special sound enhancements, it looks like some phones don't like Bluetooth with those disabled. This is odd because usually enabling those adds distortion, but once again, this is a problem with my phone and if it happens with yours, you know what to do. As the company quotes it, the Bluetooth is supported by 5.2 protocols, with a superb signal strength, and overall the sound is almost as good from the Bluetooth input as it is from the RCA input, even if using a high-end DAC to power A07 PRO. That almost might be important, and my smartphone has some smart Dolby enhancements, which make the sound better even over bluetooth, so it isn't exactly as good, but it is close.  

If you look on the internet, there is a data sheet published that shows exactly how much power this amplifier has, and it is in line with other entry-level AMPs, you can check it here.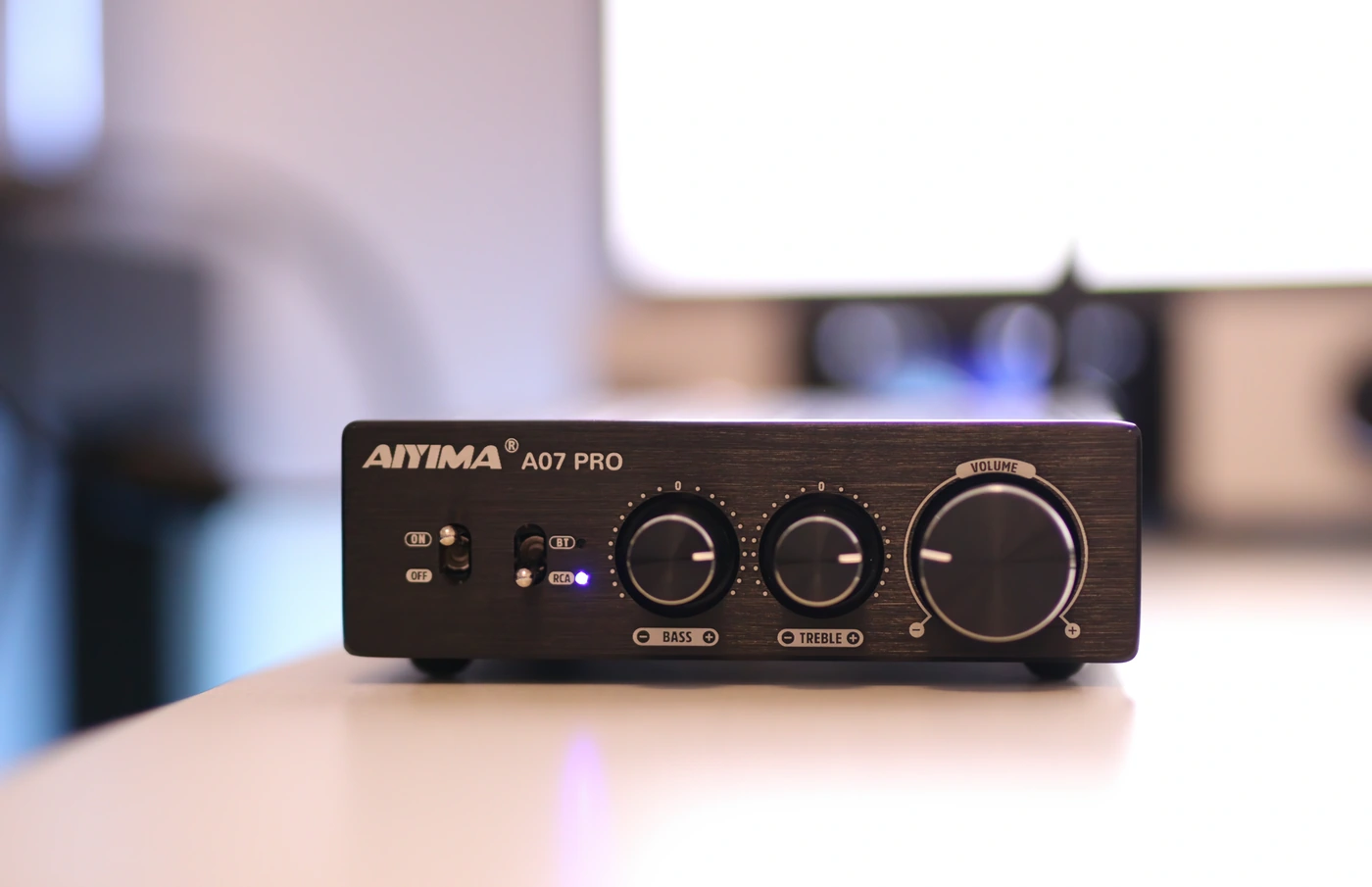 The sound is extremely powerful, the unit works as intended, and regardless of the volume, it does not burn down. It can easily hold a party with tower speakers, and give your neighbors reasons to love you, so everything from a build perspective is super fine. The unit is light, clean and nice too, with a full metallic shell, no EMI or weird interference. One thing to note is that the power adapter is incredibly large, bigger than the unit itself, and is quoted for 36V – 6.0A, but it does not buzz or have any noise of itself (I've noticed this with some units, even with some LED lights in the past). If there is any complaint, the unit is a bit crowded at the back, and because it is not very heavy, the cables can pull it on the desk, but it comes with nice rubber feet that keep it stable, and it has everything you may need for inputs and outputs, we have speaker outputs, and Bluetooth, RCA inputs, and a power input. There is also a 3.5mm Line Out, if you want to make AIYIMA A07 PRO your Bluetooth receiver. 
Sound Quality
AIYIMA A07 PRO has been paired with an EverSolo DAC-Z6, and an Astell & Kern ACRO CA1000T as DAC sources, and it has been powering a selection of speakers, including KLH Model Five, Buchardt S400, NHT C3, and Taga Harmony 806F speakers to get an idea of its power and ability. The EQ wheels are super useful, you can define how much weight and bass you want in your music, and how much treble you want as well, the sound can be smoother or crisper, and you can get quite a bit of bass and impact. The bass with all the speakers above is strong, so much so, that I barely feel the need for a subwoofer anymore.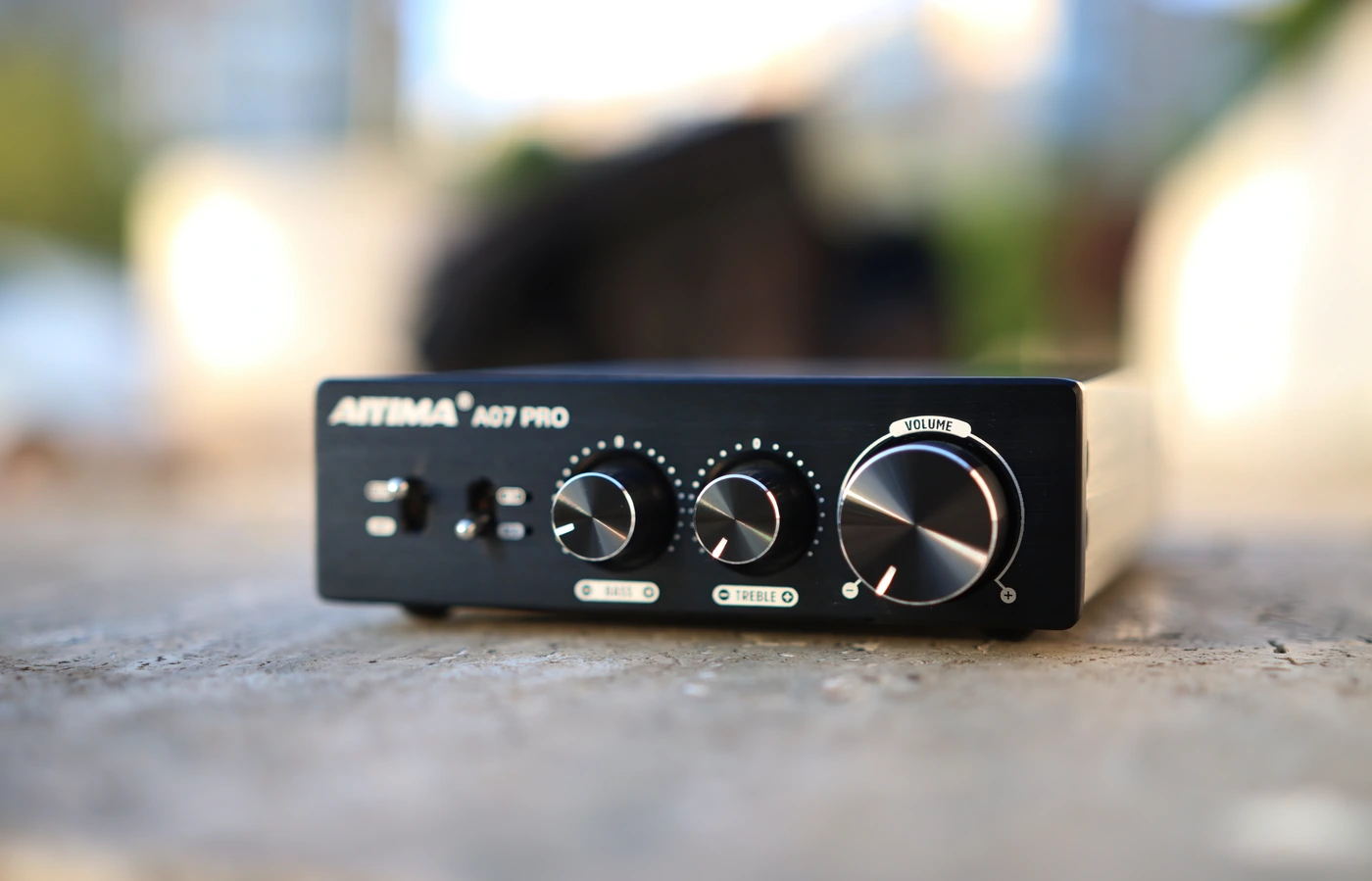 The bass is slow – natural in speed, it can be a bit blotchy and wide sounding, but has a high thickness, but very low distortion. This means that playing with the wheel, you can go from a very neutral, or even rolled off sound, all the way to a thick and wooly sound with a good amount of impact and low end depth. KLH Model Five can climb down nicely powered by A07 PRO, but the bass can be a bit overwhelming if I use the bass wheel past 3 o'clock.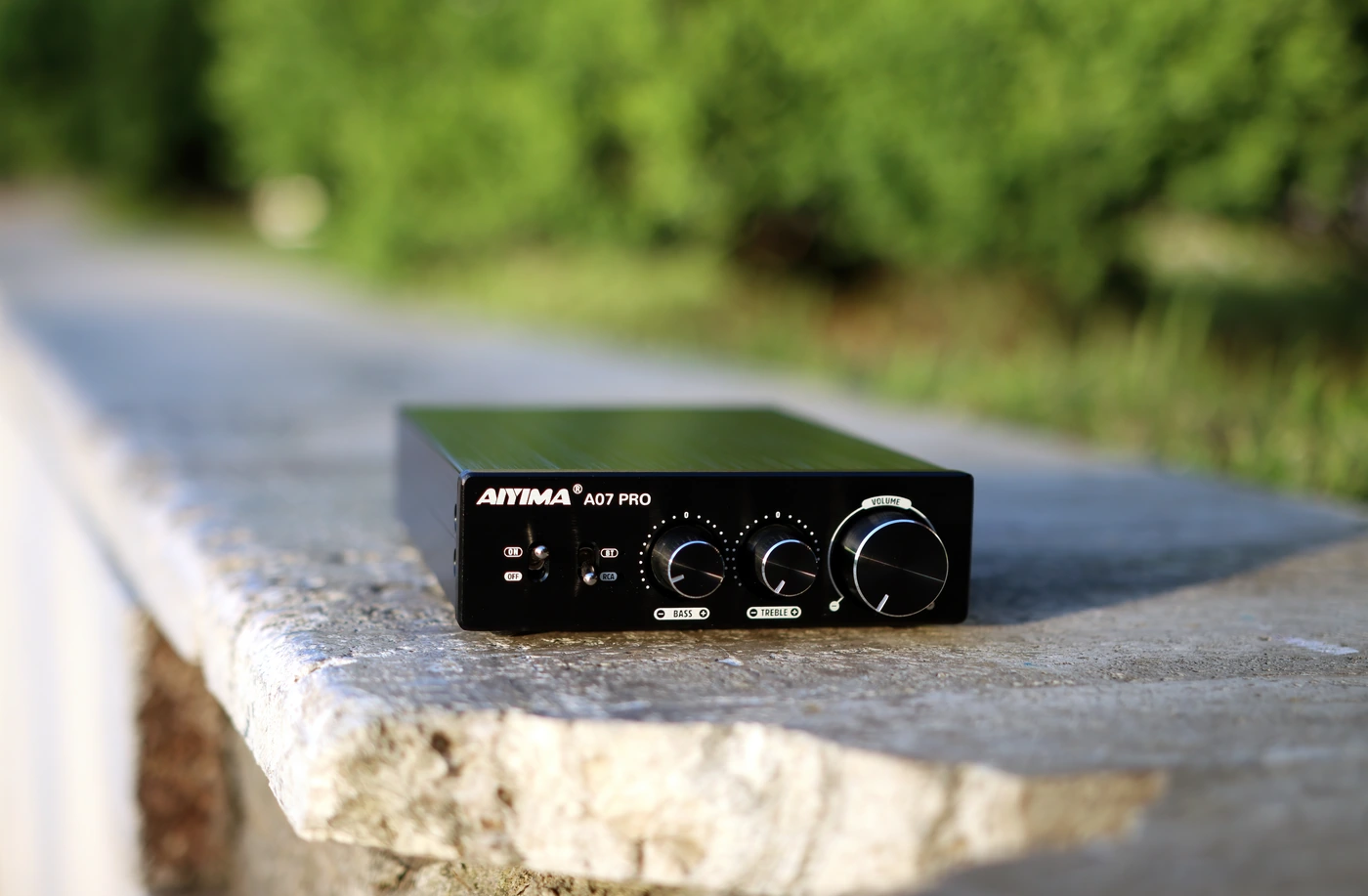 The midrange is clean, detailed enough for the price point, and fairly fun to listen to. AIYIMA A07 PRO, despite the low price point, presents music with no dips and peaks, it is very natural in the mids, with a natural tonality, smooth textures, and although it is not the most detailed out there by any means, it is fun to listen to and non-fatiguing in nature. The dynamic range is decent, the soundstage as presented by AIYIMA A07 PRO is wide, instrument separation is ok for the price, and it is simply enjoyable.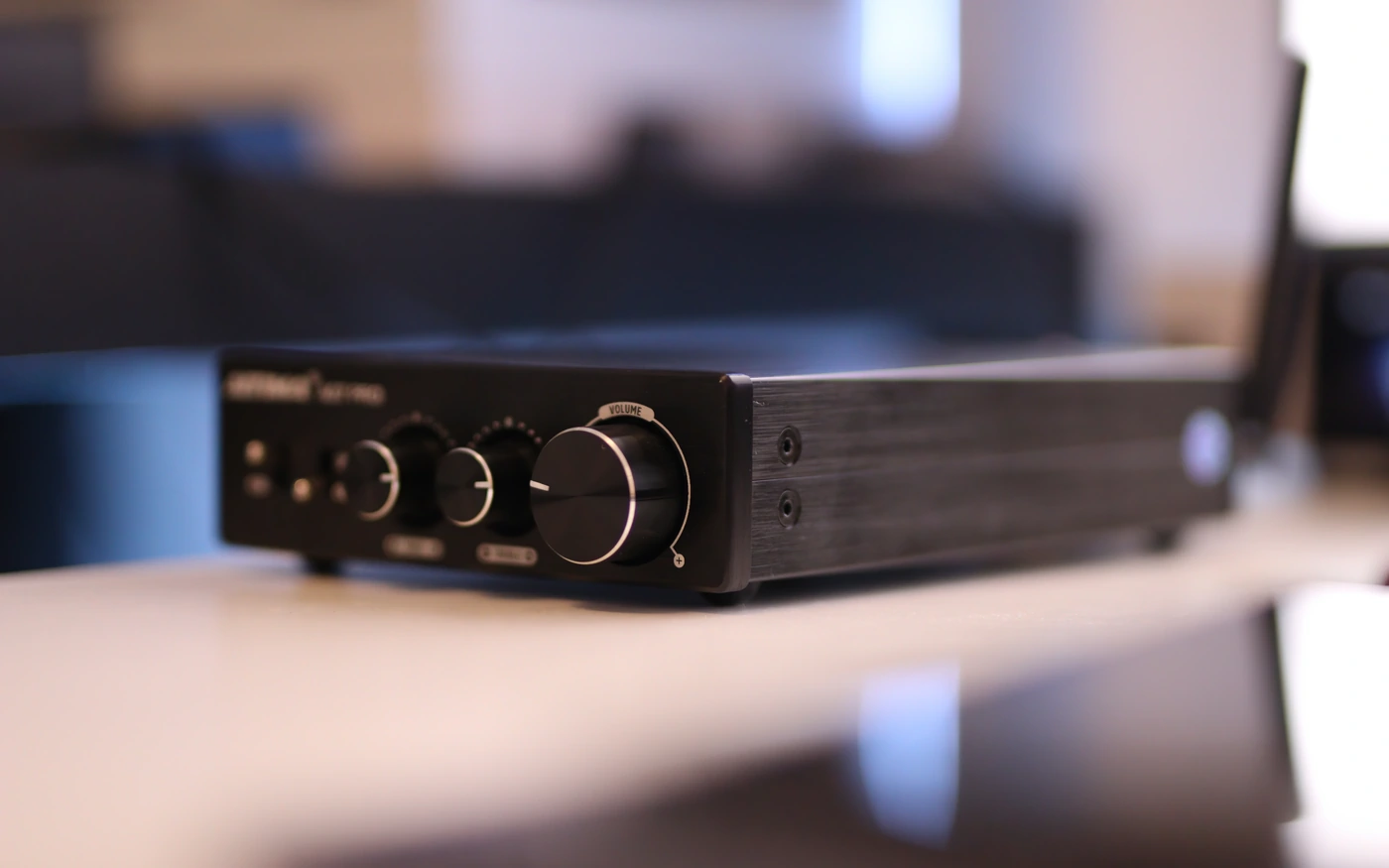 The treble is very varied, with the EQ slider at neutral it is quite rolled off, and the whole sound can be bland, but turning it to about 3 o'clock, the sound is clean, detailed and sharp, without the treble being metallic or harsh. In fact, A07 PRO sounds very natural, very clean, and makes a very good little amplifier for the money paid. The treble is super pleasing as it has zero grain, is super smooth in textures and just pleasing to the ear even if you pump the EQ. 
Comparisons
AIYIMA A07 PRO vs Fosi Audio TB10D (89 USD vs 79 USD) – We have a similar shape and size, but A07 PRO has better features, a Bluetooth input with aptX HD, while TB10D has no Bluetooth inputs. The EQ is good on both, it is similarly implemented, you need to dial it in for both. The max driving power is similar, the background noise is absolutely dead silent with A07 PRO, while there is some minor noise if you really listen for it with TB10D. Given the fact that you can find A 07PRO for a lower price than TB10D, A07 PRO it is a better deal, if you can find it available.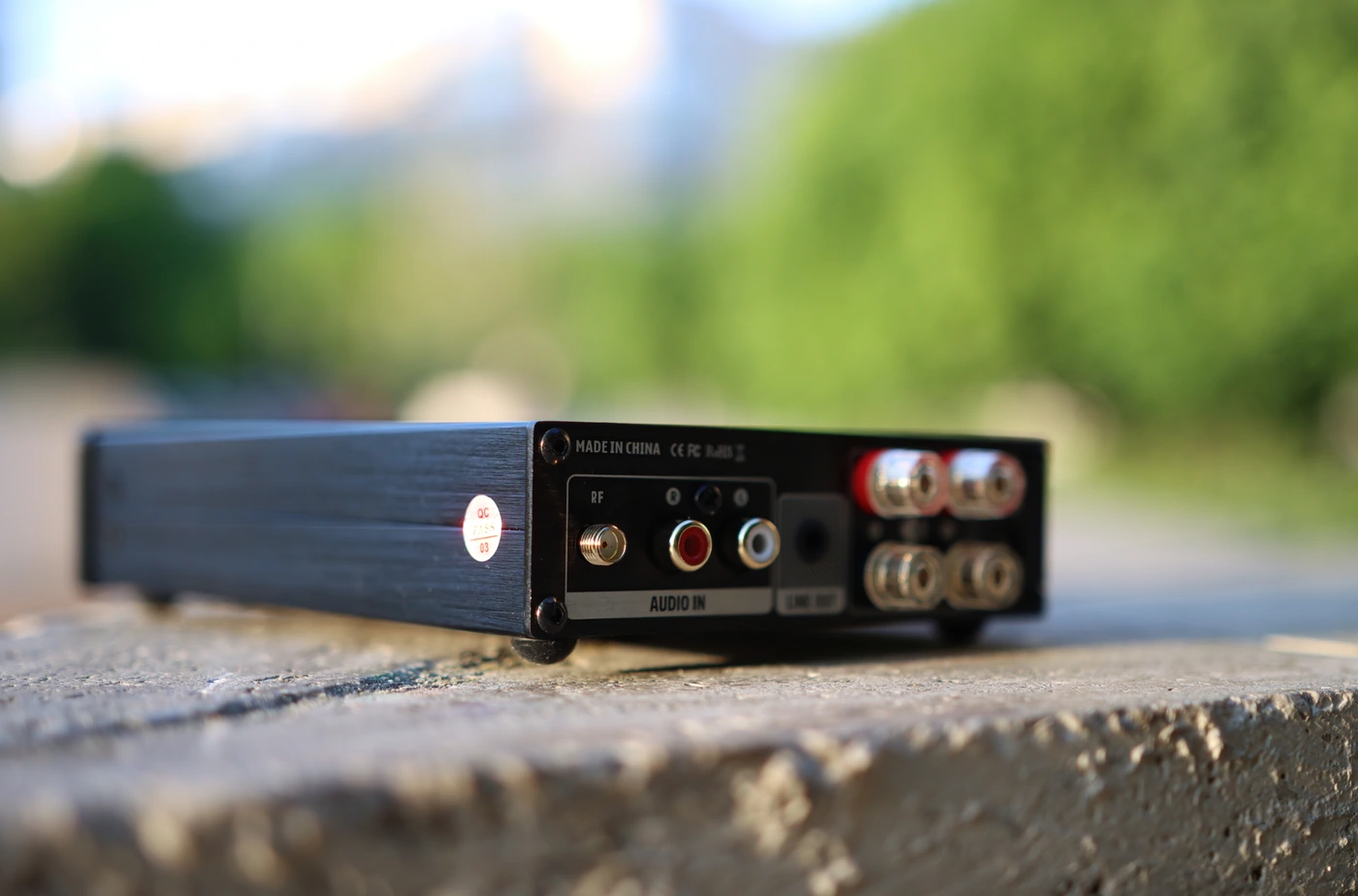 AIYIMA A07 PRO vs Arylic A50+ (89 USD vs 200 USD) – We have more features on A50+, which is a streamer too, but in all honesty, I use all of those just as amplifiers, as the streaming apps are slow and a bit spartan for someone who works daily on a workstation computer. The maximum driving power is much higher on A07PRO, and I can almost bottom out on Arylic A50+, while I stay well below 10 o'clock on A07PRO. The features of A50+ make it very attractive if you need those features, it also has some EQ, but it has a high background noise and noise floor, you can hear a buzzing in your speakers while it is running, while even at maximum volume the A07 PRO is silent. The power / speaker wire connectors are better on A07 PTO which can use normal speaker wires / banana plugs, while Aryling has a mini connector that's tight and hard to use in person. As always, you should pick the one that has the features you need, but A07PRO may be more spartan, but has a better overall sound, better control, better detail, less grainy, but also more punchy and with better driving power for speakers. 
AIYIMA A07 PRO vs Fosi Audio BT30D PRO (89 USD vs 109 USD) – Starting with the build, BT30D PRO is larger, but slightly so. The background noise level is quieter for A07 PRO, which has better implementation. You do have a few more features with BT30D PRO, like a separate subwoofer, along with a sub cutoff, but the main usage is more limited, since you have Bluetooth on A07 PRO, and a fairly well implemented one. The overall sound is rather similar, both need the EQ wheels engaged for the best sound, both can sound super nice, and pleasing. I would generally pick the one that has the correct features for my needs, they have similar maximum driving power, A07PRO is actually slightly better at control so it has slightly better maximum driving power with lower distortion. 
Value and Conclusion
We have super value with AIYIMA A07 PRO, and just like I enjoyed the AIYIMA D03 a lot, the new A07 PRO has superb value and stands super well in today's market, being a nice amplifier you can purchase for little money, but which can bring just the right spark to your system.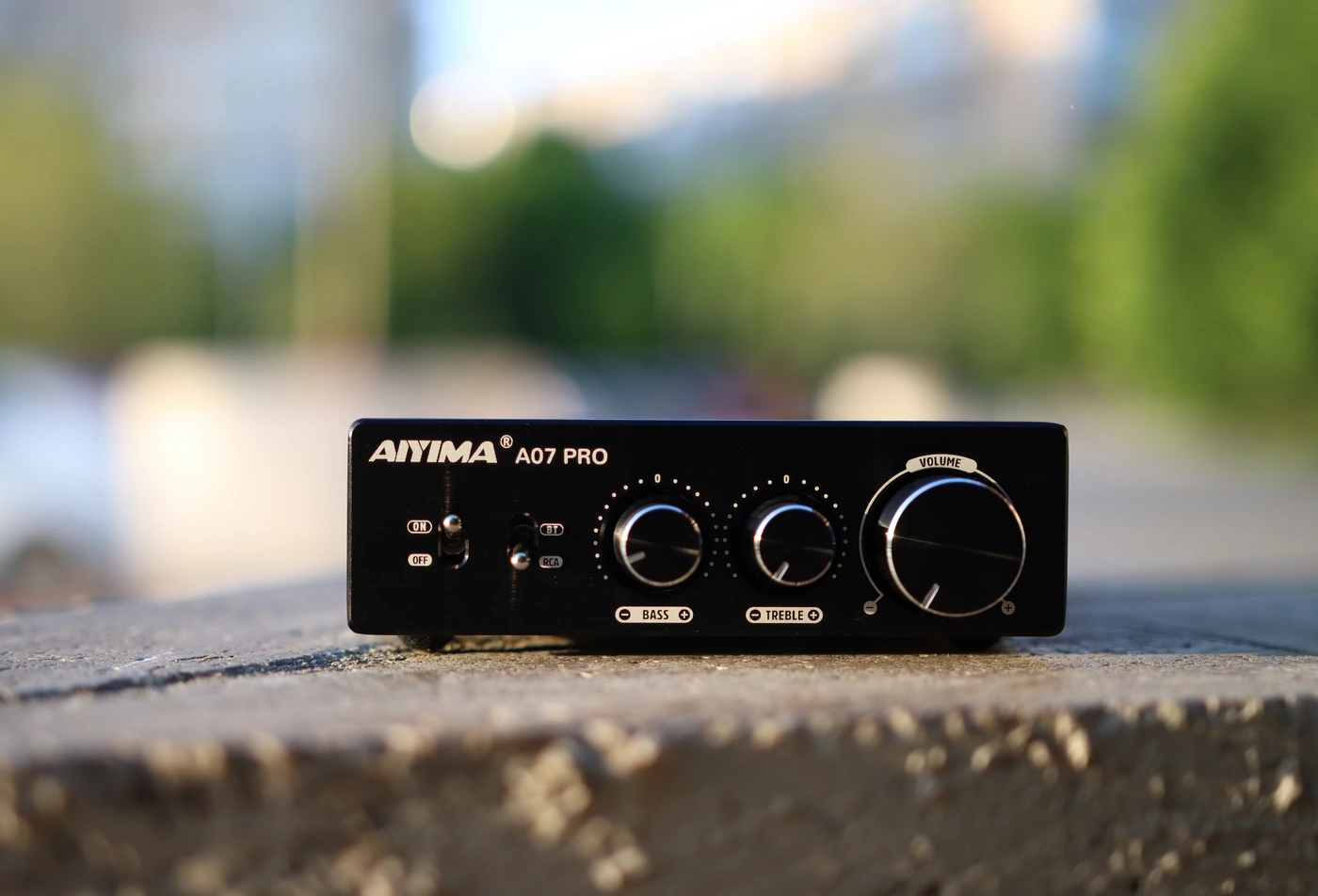 At the end of the day, if you need a power amplifier with a ridiculous amount of power, Bluetooth and RCA inputs, good EQ wheels, and with a solid build quality, and which looks very good in person, AIYIMA A07 PRO is an excellent choice and an amplifier I really enjoy a lot. 
Product Link
You can grab one from www.amazon.com here: https://amzn.to/3OwyFp9
If you're in the UK, you can grab one from www.amazon.co.uk here: https://amzn.to/45ncnfn
And if you're from Europe, you can grab one from www.amazon.de here: https://amzn.to/3otZvDO
---
--- Please remember to stay safe, and always have fun while listening to music!---
 - If you have a dime to spare, please donate, and help us! It would make the day brighter for me and my wife- 
---
Full Playlist used for this review
We listened to more songs than those named in this playlist, but those are excellent for identifying a sonic signature.  I recommend trying most of the songs from this playlist, especially if you're searching for new music! The playlists are different for Spotify, Tidal and Youtube, and based on the songs I enjoy and are available on each!
https://www.youtube.com/playlist?list=PL_cjBXGmwSHSdGcwuc_bKbBDGHL4QvYBu
https://open.spotify.com/playlist/5J3oloz8Riy9LxEGenOjQ0?si=979ba4f082414be7
https://tidal.com/browse/playlist/330fd544-8e5b-4839-bd35-676b2edbb3d5
--- Contact Us ---





---