AIYIMA Audio D03 Stereo HiFi Amplifier – Power Class High, Price Class Minimal
AIYIMA Audio D03 is a Hifi Amplifier in Class D, priced at 160 USD at the moment of writing today's review. Given the low price point, it will be compared to other entry-level and super affordable desktop hifi amplifiers, including Arylic A50 (220 USD).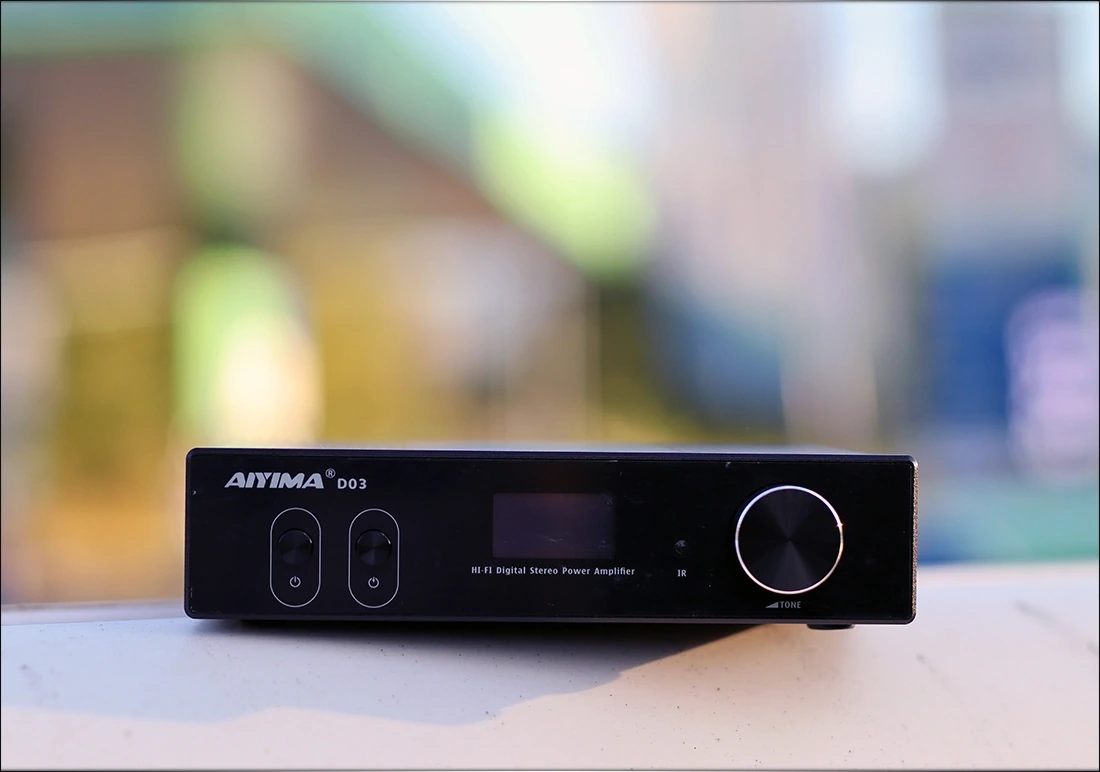 Introduction
Today is my first time reviewing an AIYIMA product, but I can say that the interaction with them has been pretty pleasant so far, and they have good support, along with a good selection of entry-level products that seem to offer strong performance, at least judging from the reviews available so far on Amazon. Being one of the first reviewers to fully analyze an AIYIMA product, it is good to mention that the products are available on Amazon, which is the best place to order your electronics from, as they have the strongest support and overall return policy, along with the quickest shipping times.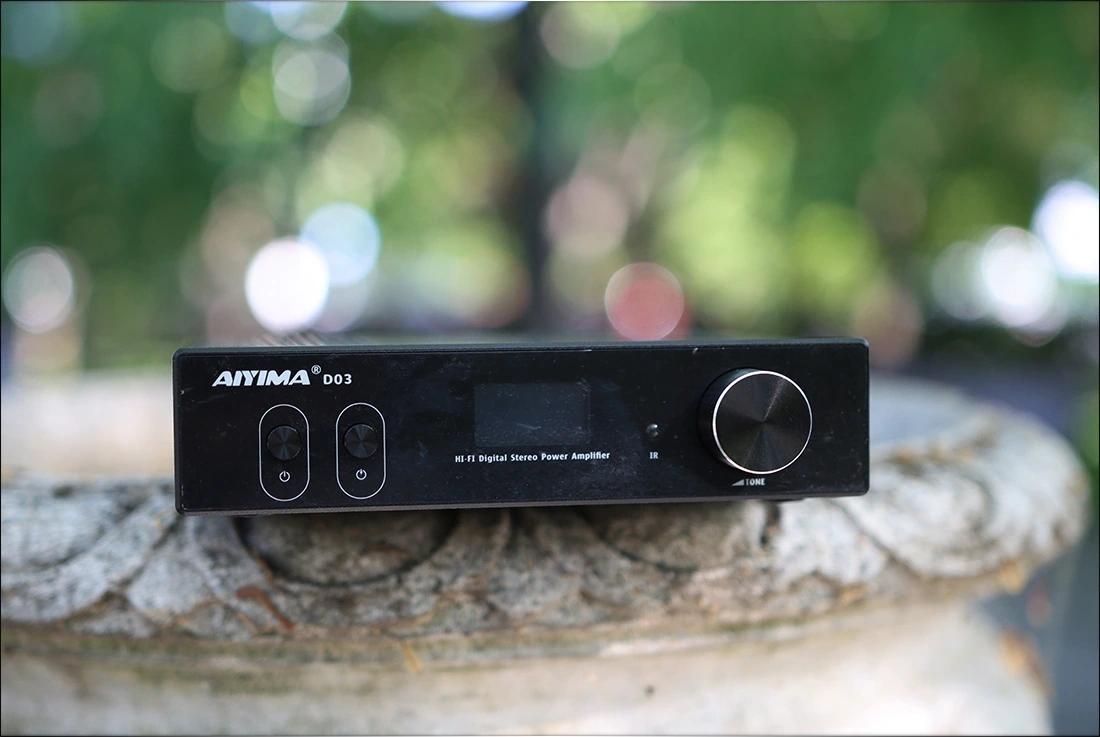 It should be noted that I have absolutely no affiliation with AIYIMA. I'd like to thank AIYIMA for providing the sample for this review. This review reflects my personal experience with the AIYIMA D03 Stereo HIFI Amplifier. Every opinion expressed is mine and I stand by it. The purpose of this review is to help those interested in the AIYIMA D03 Stereo Amplifier find their next music companion. 
Product Link
You can grab one from www.amazon.com here: https://amzn.to/3z2aVB6
If you're in the UK, you can grab one from www.amazon.co.uk here: https://amzn.to/3aD0k6d
And if you're from Europe, you can grab one from www.amazon.de here: https://amzn.to/3z2aZkk
Build Quality/Aesthetics/Features
We have a really industrial looking amplifier, with a larger face plate, a control wheel that controls the volume, and two buttons at the front. The unit comes with a remote, which I really like, and the remote works well from basically any angle you're sitting at. There's a display that's monochrome, and it generally has a rather modest specification, with a SNR of 93 dB, a very crude EQ that allows for 14 levels of treble and bass, and an input sensitivity of 0.775V.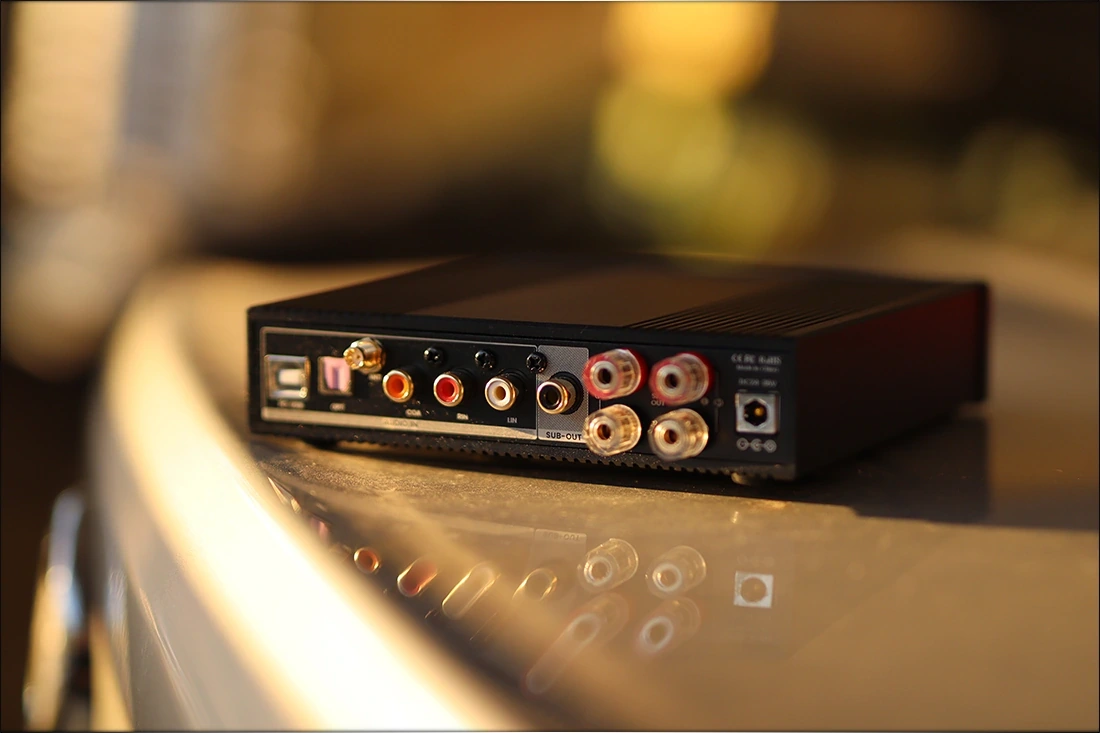 There's a subwoofer output for active subs, with a 2.1 V of power, and the unit has a THD of 0.001%. The recommended speaker impedance is 4-8 OHMs, and it has a power of 150W in 4 OHMs, with a 6% THD+N at maximum. The inputs include an RCA input, a USB input for PC, coaxial, Optical and Bluetooth. The bluetooth input allows for aptX, aptX LL and aptX HD, AIYIMA D03 being the best overall amplifier you can find at this price point as far as inputs and outputs go. 
It is light at 670 grams, and has a rather small size of 151x141x37mm. The USB input allows for signal decoding as high as 24 bits / 192kHz, the DAC inside being pretty good for the job. Speaking of the DAC, the unit has a CS8422, along with a Bluetooth chip QCC3034. Using D03 is fun, it runs rather hot during usage, and it has a rich selection of inputs, and one output, for speakers, but also a separate sub output for active subwoofers, which in my book makes it a 10/10 from the get go, since this feature is rather rare in the price point. 
Although the two buttons have both the same on/off symbol beneath, the left button turns the unit on and off, while the right button goes through the inputs. The bluetooth input puts it in pairing mode, and bluetooth connection is fairly secure, with me being able to send a reliable bluetooth signal with no dropouts even from a different room. The operation is super satisfying and while the unit looks spartan, it is fun and easy to use. 
Sound Quality – Speaker Output
To get things going, I paired AIYIMA D03 with a few speakers including NHT C3, Buchardt S400, and KLH Model 5. Surprisingly, AIYMA D03 has more than enough power for all of those, even KLH Model 5, which is a pretty large 3-way speaker with a 10″ Bass Driver. I am sitting at around 20/100 for a comfortable listening experience. AIYIMA D03 has no problems with large tower speakers with multiple drivers either, and the amp tech itself is really efficient and powerful. I have used it both as a standalone amplifier, but also as a DAC/AMP using the USB cable provided by the company. In all honesty, I prefer the sonic signature when using it as a DAC/AMP, and most DACs won't improve the sound too much, since the unit has some internal processing happening, so I would recommend using optical, USB and Bluetooth above the analogue RCA input.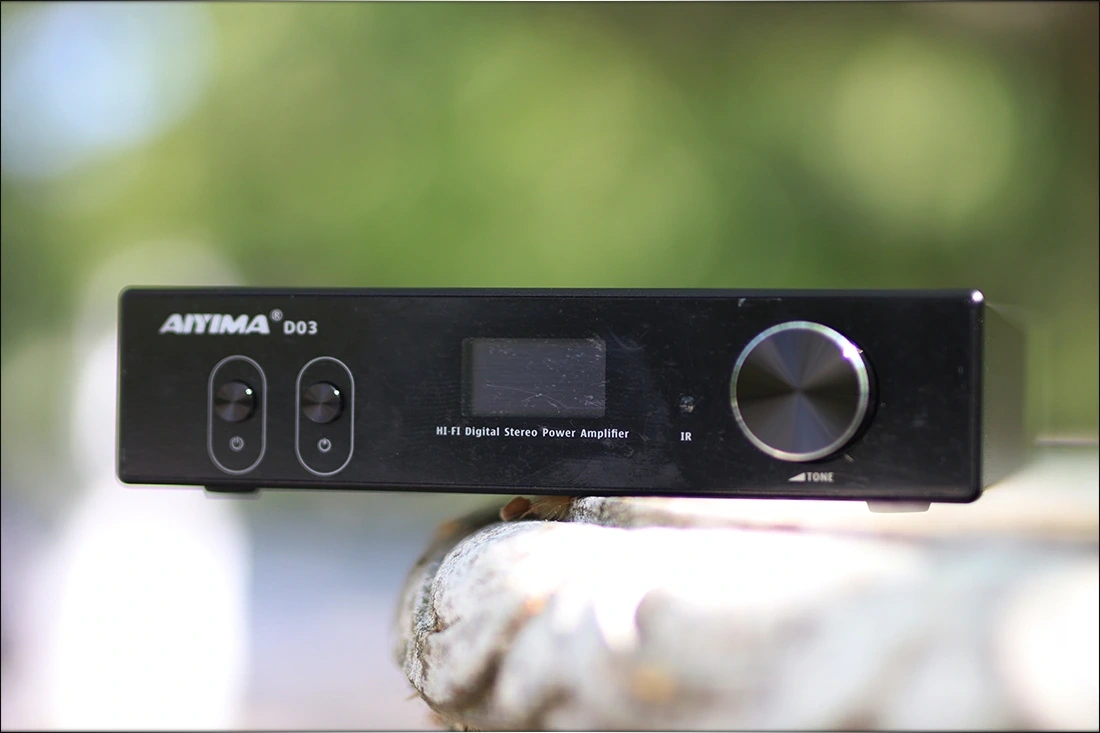 The overall signature can be described as neutral, clean, and fairly dynamic. Even after making abstraction of its price point, I am having a good experience listening to music using all of my speakers through D03, but the sound from the speakers alone seems to have some bass cutoff / rolloff, even quite high at around 70-80Hz. Unfortunately, it was quite complicated for me to connect my powered amplifier, the Adam Audio T10S, because it has RCA or XLR inputs, and I could not use the single RCA output of D03 easily, since T10S takes in stereo signal.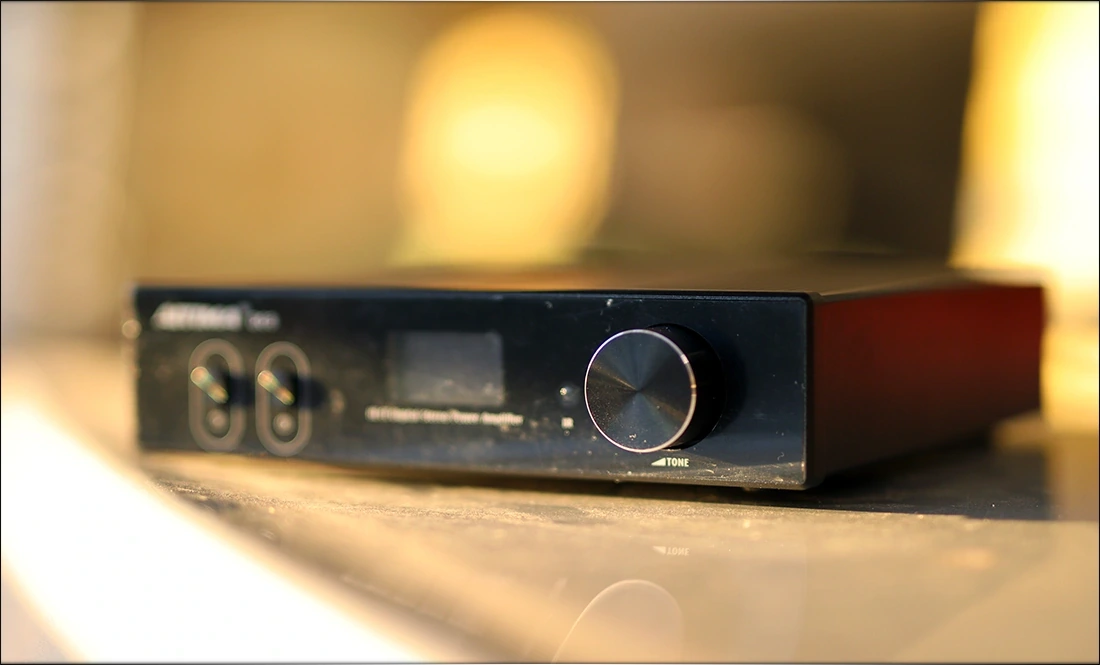 The bass of the D03 is clearly designed to be completed by an active subwoofer, and that is not an optional, but more of a design choice. The unit can provide a clean, detailed and naturally quick speed for speakers, with a natural amount of detail. The overall bass of D03 rolls off quite quickly, but if you add an active subwoofer, you will not notice this. Since the unit is so small, it is understandable that some sacrifices had to be made to keep it playing with stronger speakers.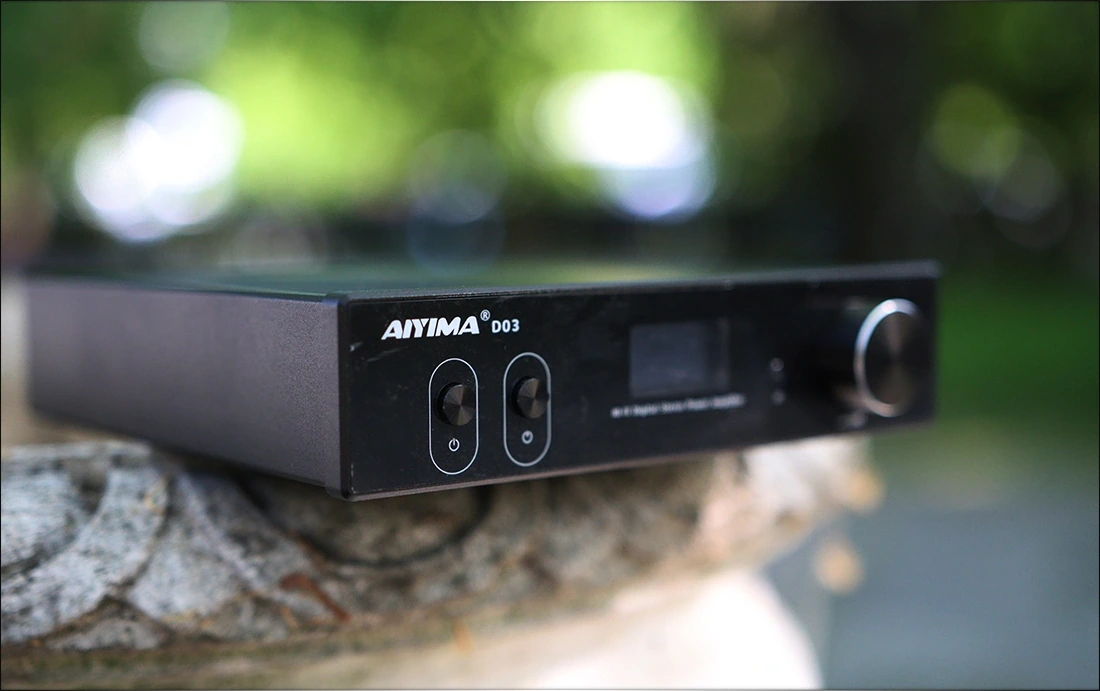 The midrange of the AIYIMA D03 is extremely clean, I could hear no background noise, no buzzing, nothing. Regardless of the input, it is cleaner than even some high-end products such as Mytek Brooklyn DAC+ which had quite a bit of noise from its USB input. I'm also happy to report that the unit comes with USB and optical cables, and even an antenna to connect it via bluetooth to your speakers. Even if you're using it in Bluetooth mode, there's no background noise. I could not test the sound higher than 50/100 since it got too loud to be practical but until 50/100 I could hear no apparent distortions, and the midrange is really clean. Macro details are good, although micro details are not very apparent. 
The treble of AIYIMA D03 is clean, fairly detailed and a bit on the sharp side. It is a unit that's honest, and brighter music will sound brighter, while smoother and relaxed music will be played relaxing and fairly smooth. The bluetooth input rolls off the treble earlier, at around 10kHz, compared to the USB input which rolls off the treble higher, at around 12-13kHz. The bass also rolls off earlier over the bluetooth input, for the speaker output. There's no apparent bass roll off for the subwoofer output. All in all, the sound has a good amount of width, and fairly good depth. It is the most affordable amplifier I ever tested, but it does not disappoint. I've heard considerably worse background noise from Taga Harmony Amplifiers, such as HTA800, which is just unbearable even at medium volumes. 
Comparisons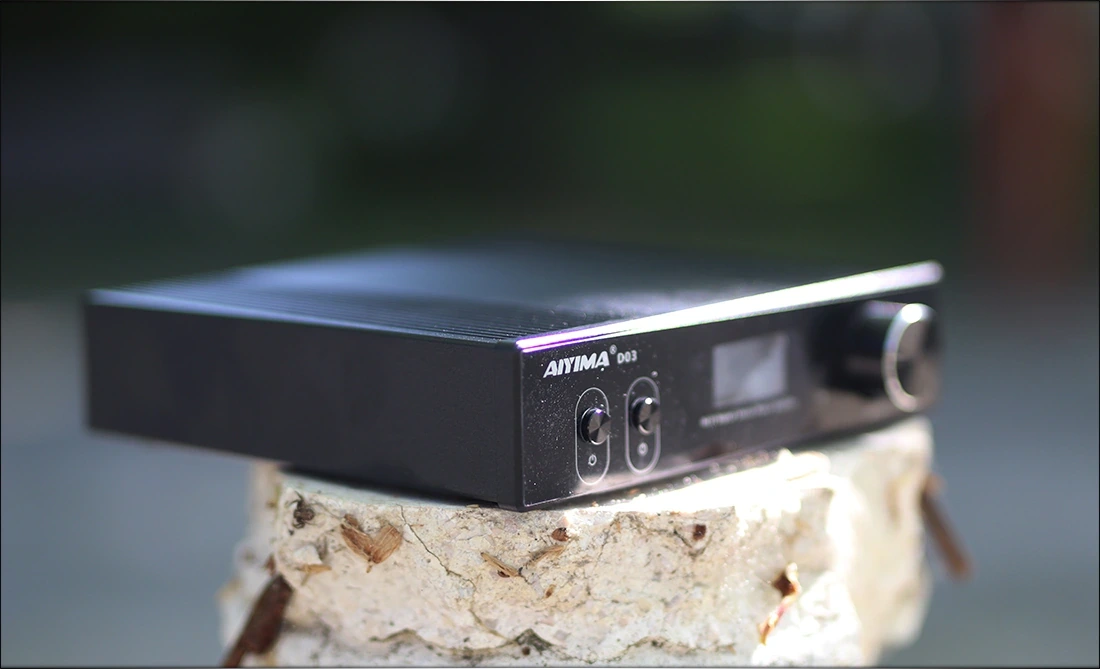 AIYIMA D03 vs Arylic A50 (130 USD vs 220 USD) – While the comparison can feel unfair because A50 is more pricey, it also has a different set of features, including multi room and streaming, while D03 has bluetooth at most. The driving power is much higher on D03, with more control and lower distortion. The bass has a much more rolled off presentation over the speaker output, but it has an active sub output, and D03 is more detailed, has less audible distortion and better details than A50. It can do much less, but it has a much better DAC, you can use it as the soundcard of your PC, and if you have nothing else, it will happily serve your music needs for a good while. As long as your speakers don't cost above 1000 USD, both of those are good amplifiers, and the rule here is that A50 has better bass for speakers, if you don't have an active sub. If you have an active sub, D03 has a richer set of features, including a much better USB input, better bluetooth, and is more recommended. 
Value and Conclusion
AIYMA D03 is really nice for a change of rhythm, it is dirt cheap for an AMP of its power, but is actually good sounding. For this reason alone, it is the best speaker amplifier you can purchase if you have less than 200 USD. I wouldn't risk it with entry-level amplifiers, I heard some horrendous performance from entry-level AMPs, with some of them having distortion that's unbearable, buzzing and a high pitched sound, while D03 is clean, silent and plays music. The company did not try to include features they couldn't pull off well, so what they included is actually qualitative.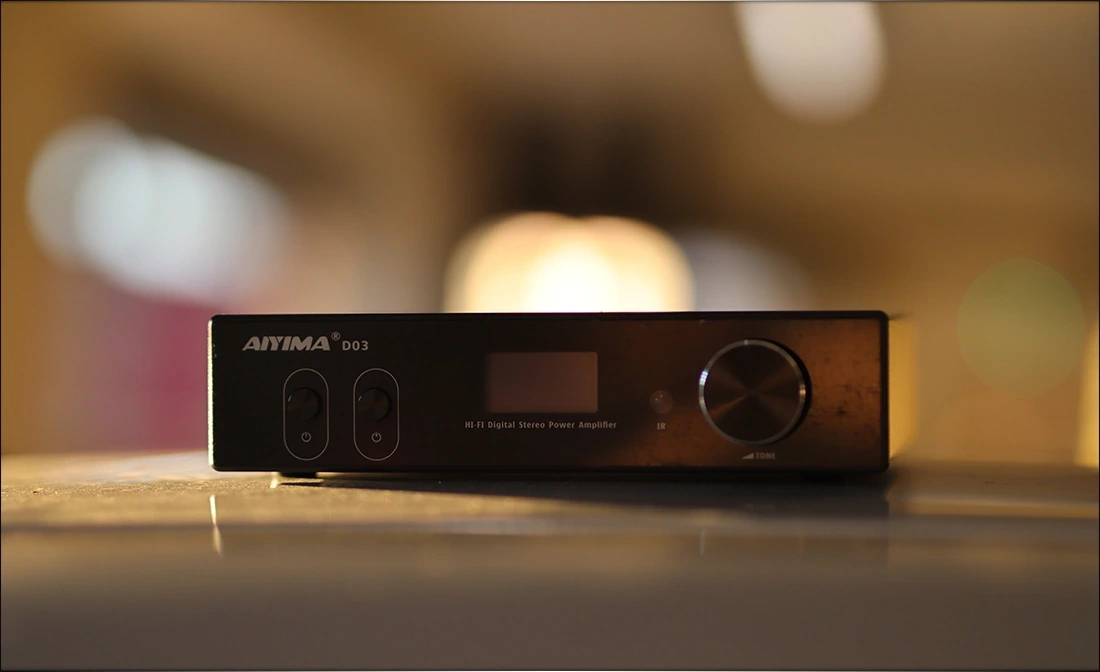 The said music is clean, has a good width, and a good amount of detail too. It is hard to explain what the resolution is like, but if you heard most IEMs in the 200 USD price range, that's about as detailed as you can expect D03 to be with most speakers. For a multi room setup, or an entry-level setup with an entry level pair of speakers and an entry-level subwoofer, it will be better than anything I've tested and heard to date. And I scoured the markets for something to recommend to you my guys.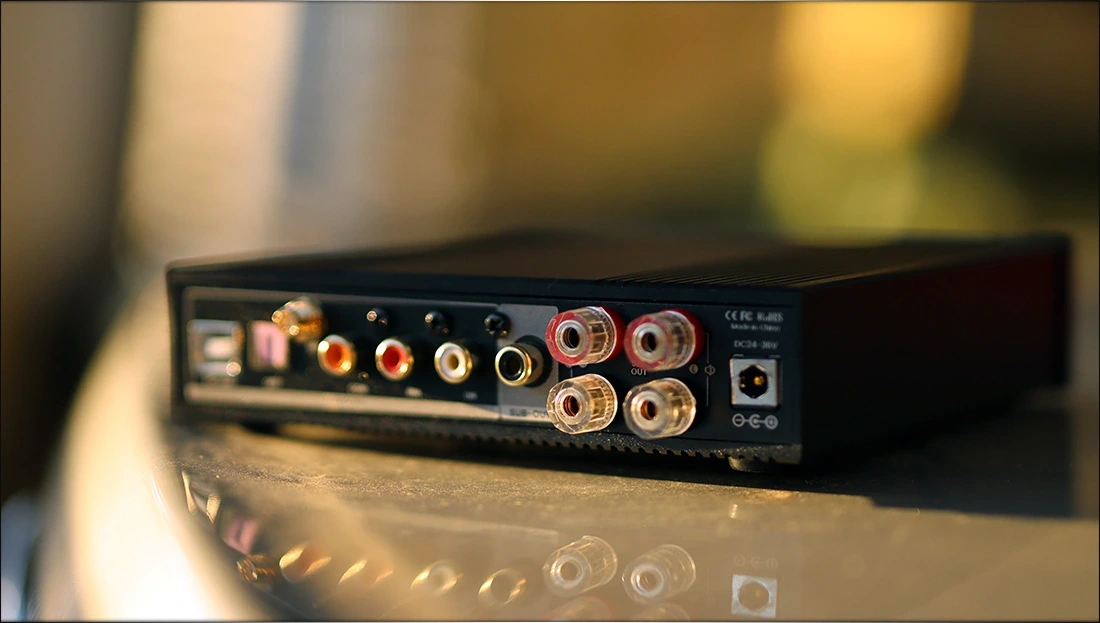 At the end of the day, the budget speaks. If you're here because you want to stay low with the spending, and if you want the absolute best stereo hifi amplifier you can get for the money, with DAC, working, clean Bluetooth input, a separate sub output, and a TON of power to drive pretty much any speaker below 3000 USD, AIYIMA D03 will take a long way and is one of the most recommended stereo amplifiers I could be writing about. 
Product Link
You can grab one from www.amazon.com here: https://amzn.to/3z2aVB6
If you're in the UK, you can grab one from www.amazon.co.uk here: https://amzn.to/3aD0k6d
And if you're from Europe, you can grab one from www.amazon.de here: https://amzn.to/3z2aZkk
Packaging
Let's get the packaging out of the way as well: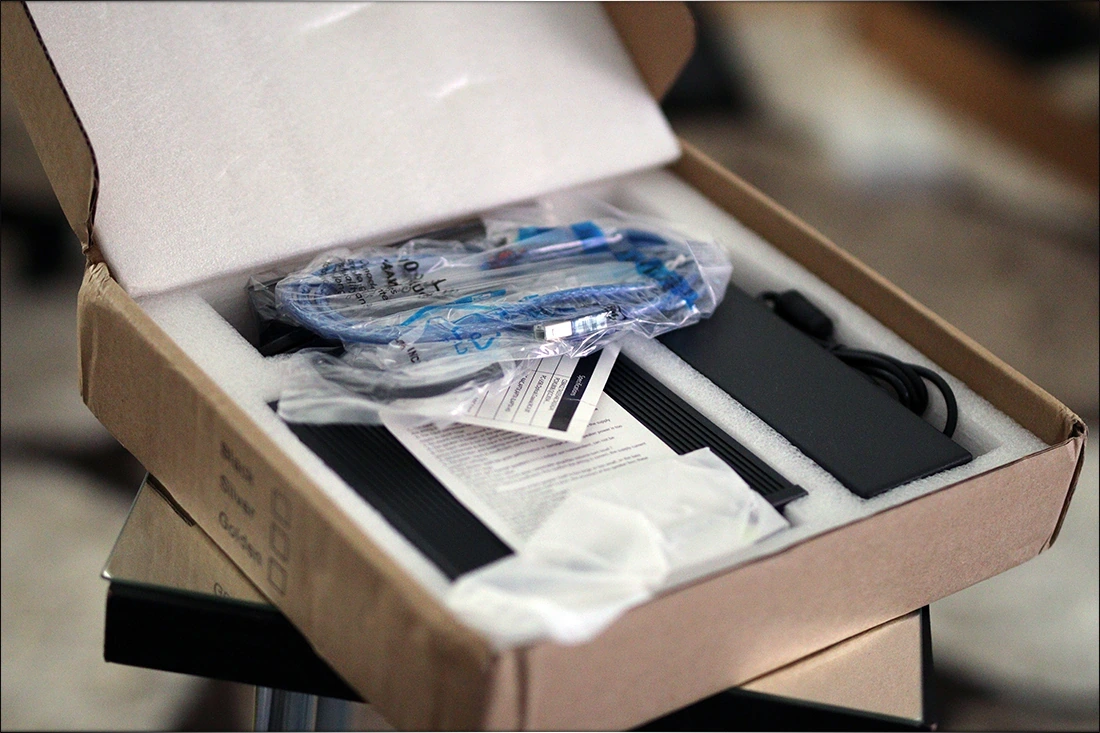 We have a really good package with AIYIMA D03. It includes more than amplifiers at 1000 USD do, and the full package includes:
AIYIMA D03 unit

Power converter

USB Cable

Optical Cable

Remote

Bluetooth Antenna

Manuals 
Packaging
Model: AIYIMA D03

Color: Black

Chipset:CS8422+QCC3034+SA9123I+TAS5548+TAS5624+PCM1808+DRV603

Bluetooth chip: QCC3034 Bluetooth 5.0 support: ACC, SBC, aptX, aptX-LL, APTX-HD.

PC-USB/optical/coaxial sampling rate: 24bit/192khz

PC-USB operating system: Windows XP / Vista7/8/10 / Max OS/MAC/Linux/Mobile OTG

Signal to noise ratio: 93db

Tonal gain (treble and bass): ±14

Input sensitivity: 0.775V

Frequency response: 20-20Khz (±1.25db)

Subwoofer output level: 2.1V

Total hamonic distortion: 0.001% (1kHz 1w)

Speaker impedance: 4-8Ω

Output power: 150W*2 (4Ω load) 36V, 6%THD+N

Input mode: RCA/Bluetooth/PC-usb/optical/coaxial

Support equipment: mobile phones, tablets, computers, MP3, TV, etc.

Output mode: passive speaker, active subwoofer speaker

Working power supply: DC24v-36V(DC32V 5A power recommended)

Size: 151*141*37mm

Product net weight: 670g

Weight with packaging and power supply: 1500g
---
--- Please remember to stay safe, and always have fun while listening to music!---
 - If you have a dime to spare, please donate, and help us! It would make the day brighter for me and my wife- 
---
Full Playlist used for this review
We listened to more songs than those named in this playlist, but those are excellent for identifying a sonic signature.  I recommend trying most of the songs from this playlist, especially if you're searching for new music! The playlists are different for Spotify, Tidal and Youtube, and based on the songs I enjoy and are available on each!
https://www.youtube.com/playlist?list=PL_cjBXGmwSHSdGcwuc_bKbBDGHL4QvYBu
https://open.spotify.com/playlist/5J3oloz8Riy9LxEGenOjQ0?si=979ba4f082414be7
https://tidal.com/browse/playlist/330fd544-8e5b-4839-bd35-676b2edbb3d5
--- Contact Us ---





---