PadMate Pamu Explore Headphones – Bluetooth Energy, Bass Synergy
Padmate Pamu Explore is a pair of Bluetooth headphones, priced at 89 USD, and given the low price but interesting design, will be compared to other bluetooth headphones, including SuperEQ S1 (69 USD), FiiO EH3NC (170 USD), and Valco VMK20 (180 USD).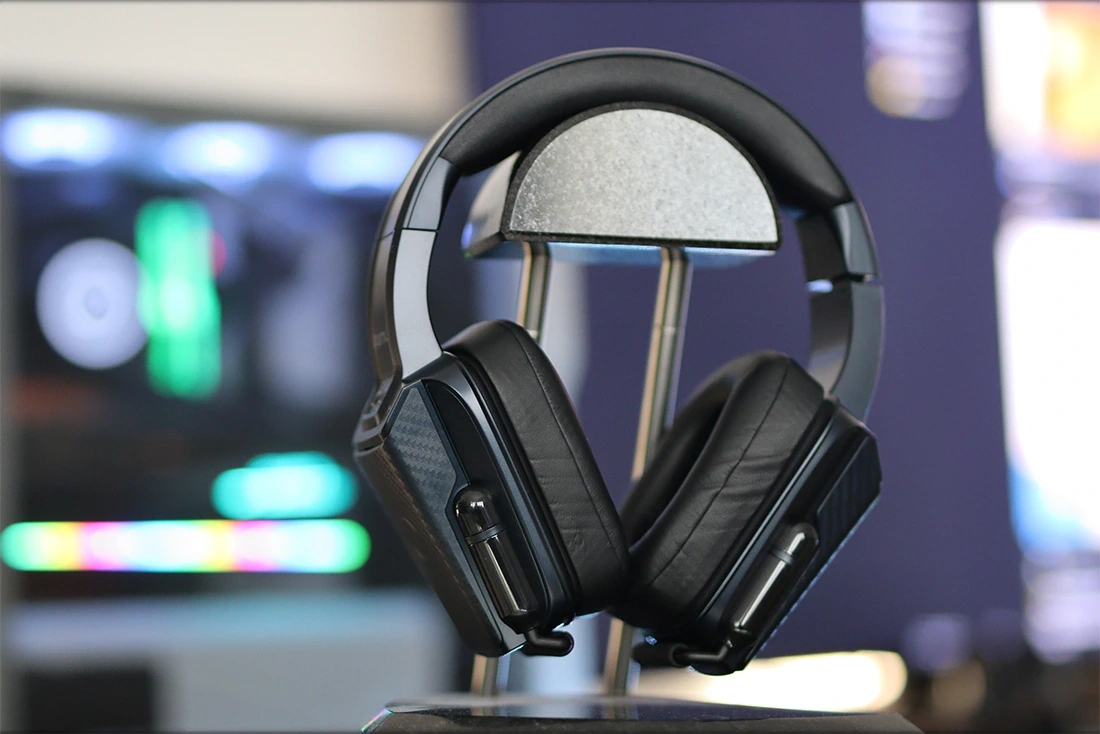 Introduction
Padmate Tech or Pamu is a company that I like reviewing products of, as they usually have a good price / performance ratio, and interesting products, with reliable build quality, despite the usually super low price point. Explore is no exception, and they are priced lower than the vast majority of bluetooth headphones I reviewed to date, so it will be interesting to see how they stack up and how they compare to some of the other high quality wireless options. 
It should be noted that I have absolutely no affiliation with Padmate Tech or Pamu, I am not receiving any incentive for this review or to sweeten things out. I'd like to thank Padmate / Pamu for providing the sample for this review. Every opinion expressed is mine and I stand by it. The purpose of this review is to help those interested in Pamu Explore Bluetooth Headphones find their next music companion. 
Product Link
You can grab one from www.amazon.com here: https://amzn.to/3ukYH3A
If you're in the UK, you can grab one from www.amazon.co.uk here: https://amzn.to/3yepTSH
And if you're from Europe, you can grab one from www.amazon.de here: https://amzn.to/3ydjcQR
Build Quality/Aesthetics/Fit/Comfort
Pamu Explore is a novel kinda headphone with LED lights on the sides of each cup, made for gamers, and portability. The headphones are actually interesting because they have touch controls, but aren't annoying to use, being the kind of headphones that you enjoy on a daily basis. They are large, bulky and heavy, but they are also fairly comfortable, as they have a larger ear pad that's pretty soft and comfy. The model and design choices are not proactive, there are no active elements on the headphones besides the touch controls on the sides of the cups, and the cable connectors which can be found on the right ear. 
You heard me right, the cable inputs are on the right earpiece, which is entirely different from all other headphones. We're talking about bluetooth headphones though, and it is good to mention that Pamu Explore has support for aptX HD, aptX, SBC and AAC. There's a built in microphone which has superb quality, and makes them one of my favorite headphones to take calls and talk with others. The Bluetooth is supported by a QCC 3034 chip.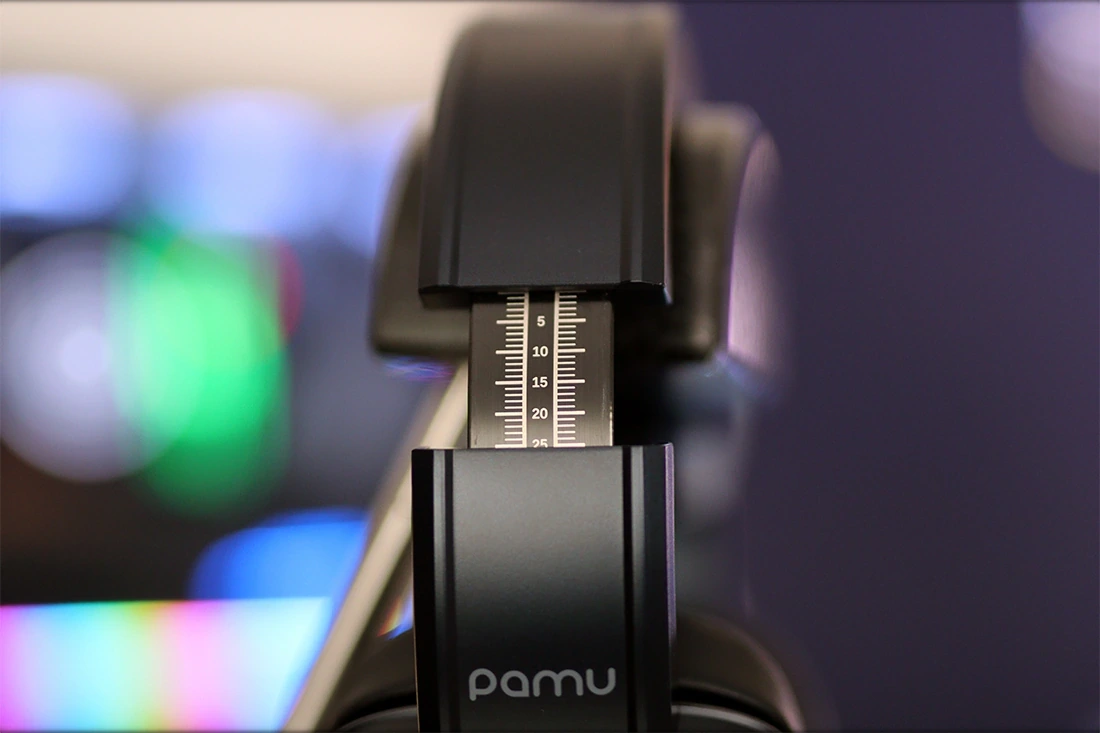 The battery life is quoted at 27 hours of battery life, for moderate usage, and using SBC, but it goes lower, at about 10-15 hours of battery life if you plan on running them at maximum and with aptX HD codecs. This is how I've been using them, especially at the gym, since I needed a good bluetooth headphone with a lot of bass for doing my daily workouts. The design is closed back, so Pamu Explore doesn't leak much even at very high volumes, being fit for public usage.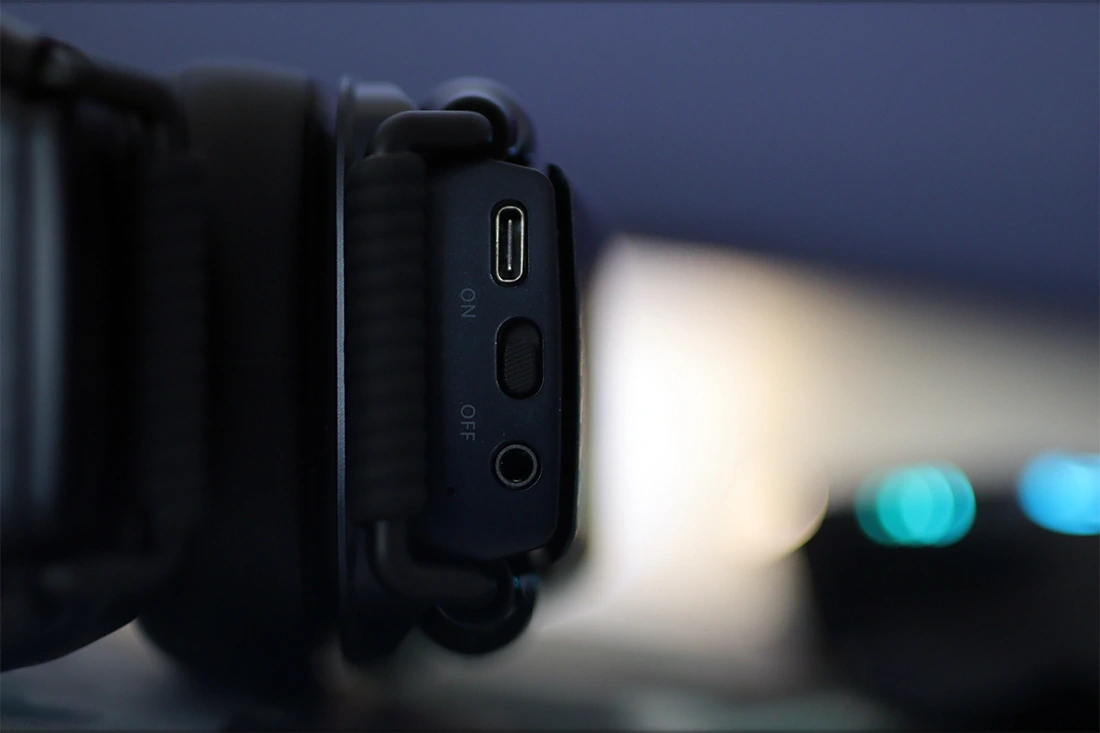 The type-C port is used for charging Pamu Explore, and they do not have a USB DAC function, but they have one line in, for which they do not need to be fully charged to work, being connected in passive mode while they're used via their line in. The line in can go much louder than the bluetooth connection, but the bluetooth amp is strong enough to deafen all other noise, and despite them not having any kind of active ANC, I'm able to use them at the gym, while the gym speakers are blaring the local music there (I prefer some metal with my workouts). 
Sound Quality
With a sound that's strongly basshead, we have a lot of lows, a pretty recessed midrnage, but a treble that's about at the level with the midrange, if not even a bit more forward. The signature of Explore is dominated by a really strong mid bass and upper bass that gives a boomy presentation to all music, but which also adds a lot of body and weight to each musical note, resulting in a signature that can be quite enjoyable with the right music. I would strongly recommend Explore if you're into strong bass, dark and laid back signatures. The sound is best using the line in, but you can get away with using bluetooth too, as it is quite easy to EQ via free apps like VLC on Android.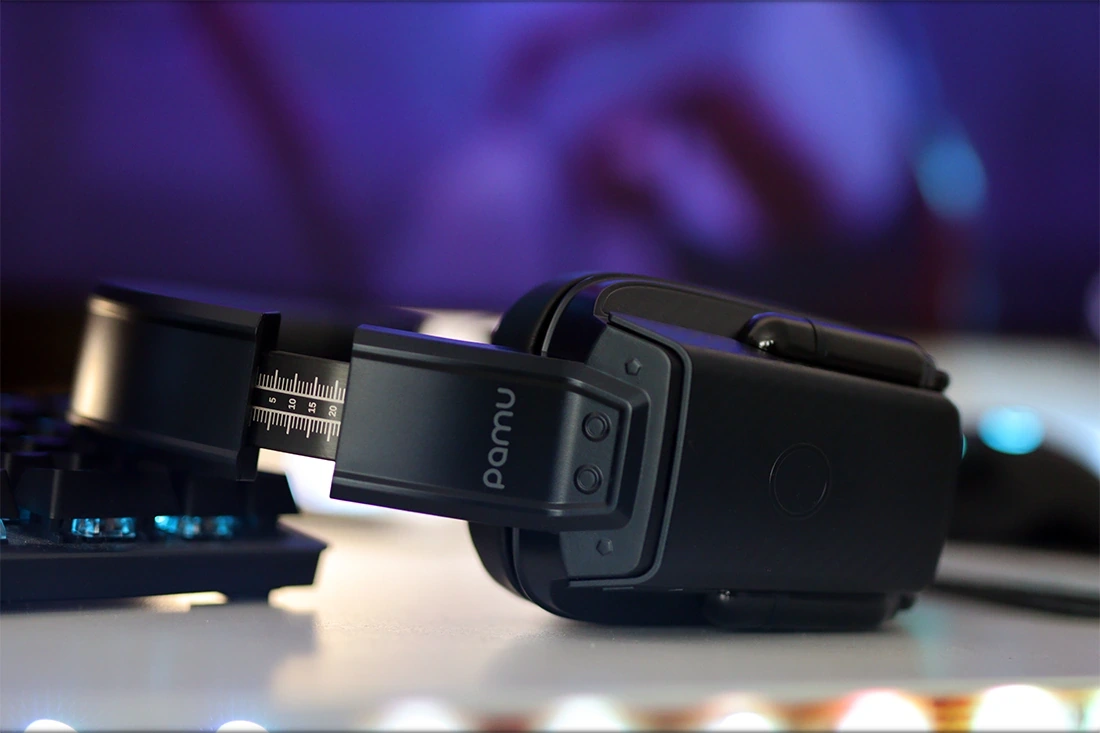 It takes about 3-5 minutes to get used to the signature of Pamu Explore, time after which their sound becomes fairly natural albeit still extremely dark to the human ear. The presentation continues to be fun and bassy, impactful and deep. I would say that the bass is the central element of their sound, as Explore has a really strong, lush and deep bass, with tons of presence in the lows and the sub lows, with the sub bass reaching as low as about 40 Hz. For the price point this is rather exceptional, and while most headphones in a higher class will reach 20 Hz, you're spying much less for Pamy Explore. The upper bass and the mid bass are both enhanced, and this is where most of the sonic energy in Pamu Explore can be found, as they have a really uplifted upper bass. This colors the entire sound, and things stay constant regardless of the volume. The mid bass and the upper bass is a good 15 dB above the midrange and the sub bass, and about 10dB above the mid treble. 
The midrange of Pamu Explore is recessed, and has a dark coloration inherited from the bass. I'm surprised now that Explore can eat so much power, but I can keep them at 32/100 on Windows with Questyle M15, which is extremely high for M15, that stops at 8/100 for most IEMs and headphones. The midrange has a good amount of detail, and inherits a smoother texture, along with a fluid mid presentation. The soundstage is fairly wide and deep, considering the price point. We have a pretty clean midrange with a low distortion even at higher volumes. You could say that the entire presentation of Pamu Explore is thick, since they draw a lot of weight and substance from that strong low end.  
The treble of the Pamu Explore is less recessed than the midrange, but still recessed relative to the bass. Somehow, despite them having an extremely emphasized bass, the treble is not recessed, and can keep the sound interesting, sparkly and enjoyable for Pamu Explore. I enjoy listening to Pamu Explore, and I enjoy them with basically any music style, from rock to pop to EDM, but Dubstep, Rap, and certain Punk sounds best with them. I would not recommend them in general for someone wanting a bright or a neutral tuning. If you like bass, they'll be right up your alley though. 
Comparisons 
Padmate Pamu Explore vs Valco VMK20 (89 USD vs 180 USD) – Valco is also a really interesting headphone, but as someone pointed out, they do sound really different over the bluetooth connection compared to the wired connection. Since reviewing them, I try to give a view on both sonic performances, but I still think that the maximum is over the wired connection, and the sonic over the bluetooth is inferior, especially since it cuts out some of the details. Over the bluetooth connection, the two are similar in overall tuning, Valco is also a really nice looking headphone, with good comfort, but ultimately, over wireless, Valco is a bit more clean, more clear, and has more detail, at the cost of bass quantity and impact, compared to Explore which is bassier, heavier, thicker and has more impact. The sound over the wired connection is very different, since Valco is brighter, is more clean and clear, but once again, it cuts even more of the bass compared to Pamu, which is even bassier in that situation. 
Padmate Pamu Explore vs FiiO EH3NC (89 USD vs 170 USD) – FiiO has a super nice headphone that actually has Active Noise Canceling, and which is slightly more comfortable than the explore, but the Explore gets louder via the Bluetooth connection, and has a larger design that can convey more bass, more impact. The actual sonic tuning is similar, both are basshead headphones with a thick, slightly choked sound, but with good impact and good resolution for what you're paying. Both headphones have a smooth and rolled-off treble, and Explore is darker overall, with even more bass. 
Padmate Pamu Explore vs OneOdio SuperEq S1 (89 USD vs 69 USD) – We have two very pocket-friendly headphones now, so the situation is a bit tighter. The comfort is better on Pamu Explore, which is larger, a bit heavier, but has much softer ear pads and has more generous earspace allowance compared to S1. The overall sound is also louder over Bluetooth on Explore, it is clearer, has more impact, less bass rolloff, and is more detailed, so for a few extra dollars, you get a better overall sonic performance, along with better comfort, making Pamu Explore a pretty compelling offer. 
Value and Conclusion
At the end of the day, priced at 89 USD at the moment of writing today's review, Pamu Explore is a really good value headphone, offering strong bluetooth support, a wired mode, and good comfort, plus fairly good sonics, with a strong bass, and good impact, for a very good price. The package includes a much needed carrying case, along with the cable needed to operate the Explore headphones.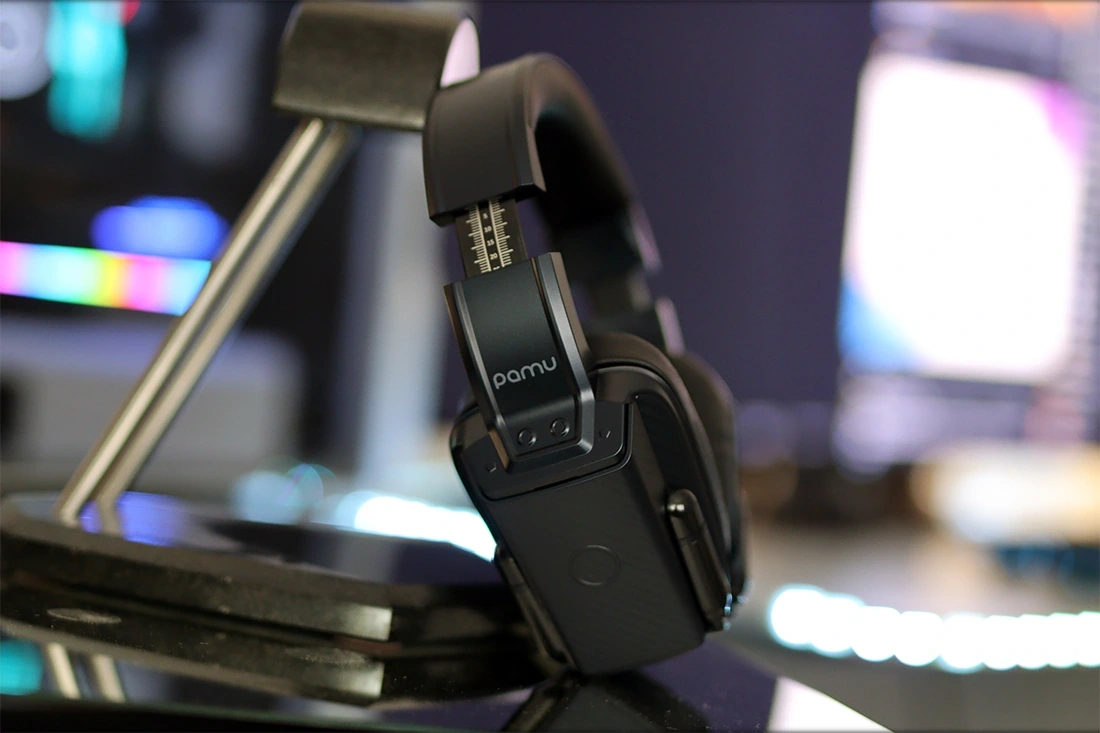 If you're looking for a thick, bold sounding, basshead headphone, with good impact, good battery life, good bluetooth connection, and a somewhat edgy design with LED lights, I fully recommend Pamu Explore as your next daily driver. 
Also, if you're looking for a job and to start your career in the Music Industry, you can check out Jooble, for entry-level openings: https://jooble.org/jobs-no-experience-music-industry
Product Link
You can grab one from www.amazon.com here: https://amzn.to/3ukYH3A
If you're in the UK, you can grab one from www.amazon.co.uk here: https://amzn.to/3yepTSH
And if you're from Europe, you can grab one from www.amazon.de here: https://amzn.to/3ydjcQR
Packaging
Let's get the packaging out of the way: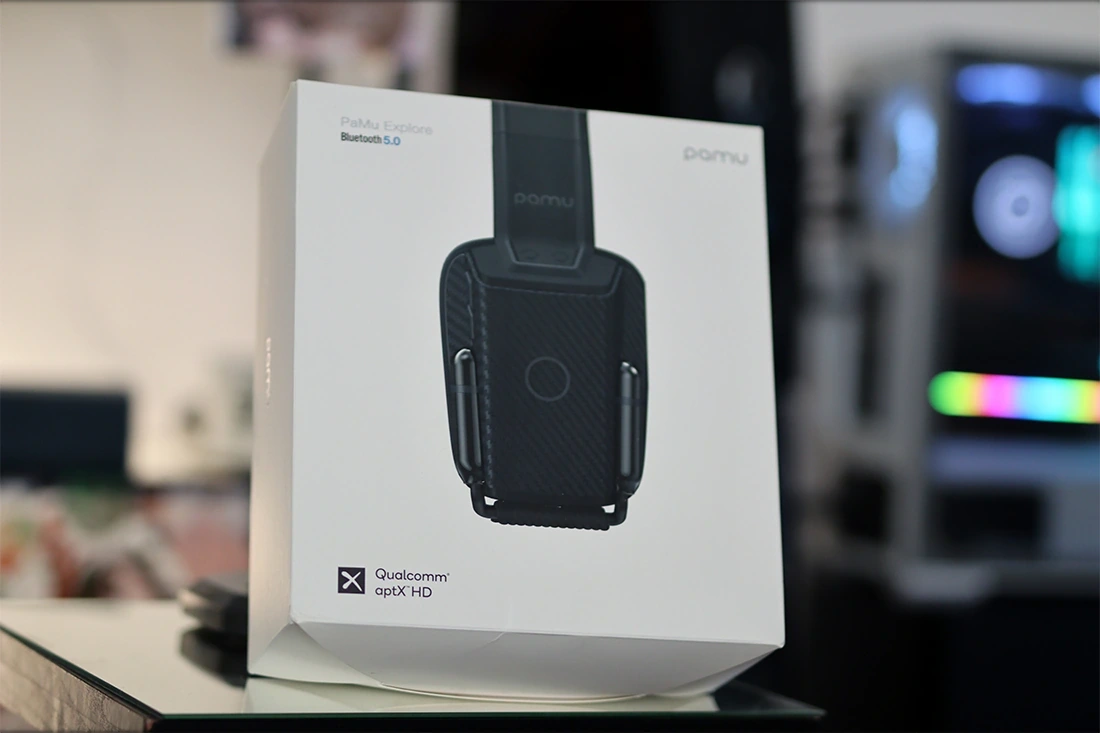 The package of Pamu Explore is really awesome, and it includes a carrying case that's actually really cool, along with a USB cable for charging them, and one audio 3.5mm line cable, that even has a microphone. The full package includes: 
Pamu Explore Headphones

Case

USB Cable

Audio Cable

Strap for the case

Manual

Warranty
---
---
--- Please remember to stay safe, and always have fun while listening to music!---
 - If you have a dime to spare, and donate, to help us with electricity and work expenses, it would make my day much brighter, as it would help me improve things around the website and increase the frequency of my posts - 
---
Full Playlist used for this review
We listened to more songs than those named in this playlist, but those are excellent for identifying a sonic signature.  PRaT, Texturization, Detail, Resolution, Dynamics, Impact, and overall tonality are all revealed by those songs. We recommend trying most of the songs from this playlist, especially if you're searching for new music!
https://www.youtube.com/playlist?list=PL_cjBXGmwSHSdGcwuc_bKbBDGHL4QvYBu
--- Contact Us ---






---
---