Soundmagic T60BT – Music In Pearly Light
T60BT is an affordable TWS IEM with aptX, made by Soundmagic and priced at 69 USD at the moment of writing today's full written review. They have a 5.8mm dynamic driver, and will be compared to other affordable TWS IEMs, including Tranya T40 (79 USD), Super EQ Q2 PRO (55 USD), and NHT 0.2 TWS IEMS (69 USD).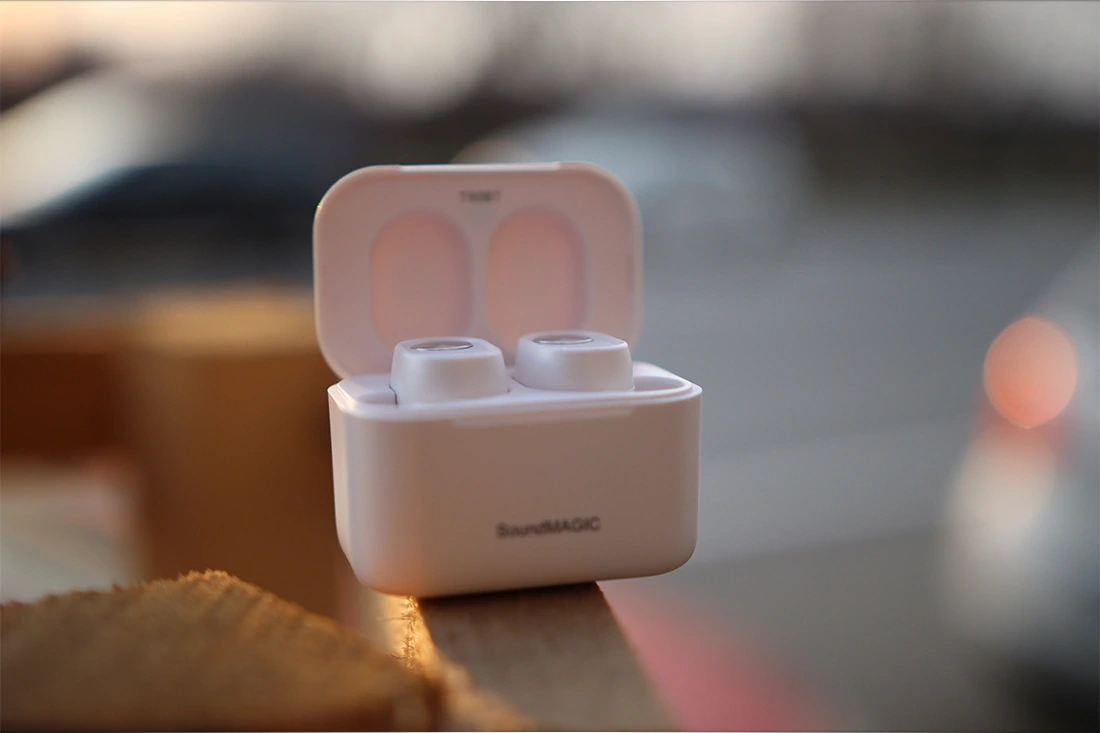 Introduction
Soundmagic is a pretty popular company from China that made their products available basically everywhere, even in some local shops in Romania. They have a wide offer of products, but mostly focus on entry-level stuff, offering good price / performance ratio and usually a brighter tuning for their IEMs and headphones, as we've seen on their Soundmagic HP1000 Headphones.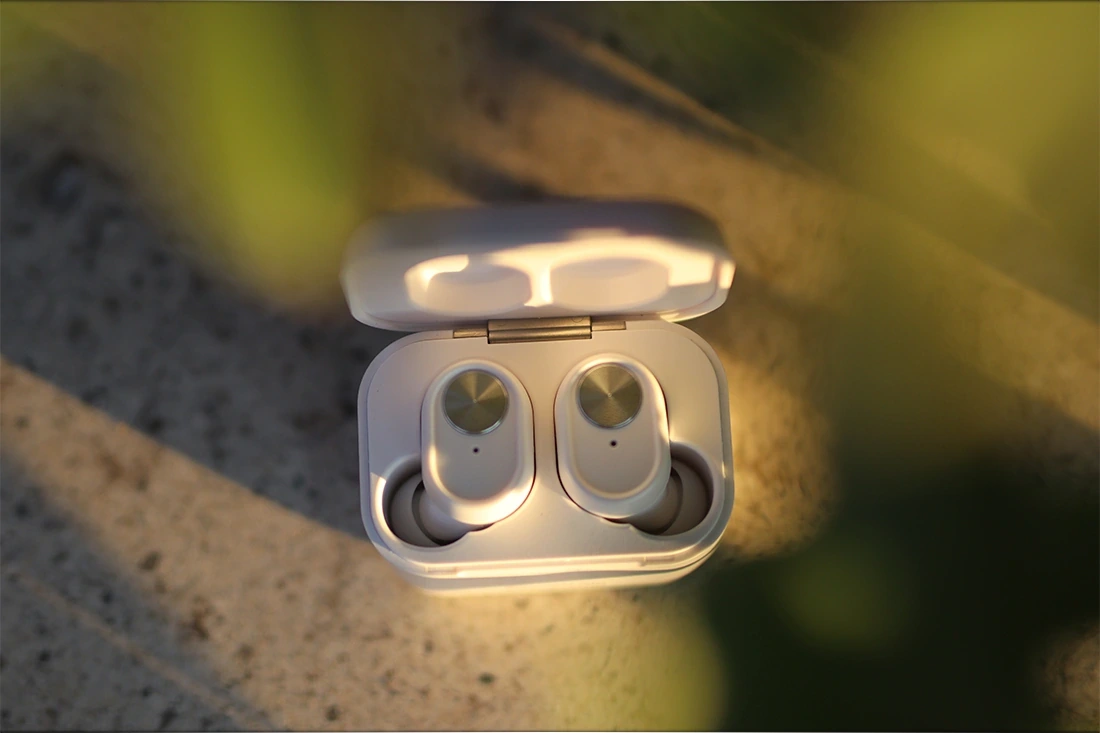 It should be noted that I have absolutely no affiliation with Soundmagic, I am not receiving any incentive for this review or to sweeten things out. I'd like to thank Soundmagic for providing the sample for this review. Every opinion expressed is mine and I stand by it. The purpose of this review is to help those interested in Soundmagic T60BT find their next music companion. 
Product Link
You can grab one from www.amazon.com here: https://amzn.to/3yBS66d
If you're in the UK, you can grab one from www.amazon.co.uk here: https://amzn.to/3PaOorm
And if you're from Europe, you can grab one from www.amazon.de here: https://amzn.to/3IzM1Mm
Build Quality/Aesthetics/Fit/Comfort
Soundmagic T60BT is a TWS IEM with a white charging case, white color, and a larger design that what we typically see on the market. They  have type-C charging, and a button control on each IEM. The button does the same thing on both, pause / play for a single click, prev / next song for double click, and google adjutant for triple click. There's no volume control on the IEMs, so you have to use the volume control of your smartphone. If you press the button 4 times you enter a "game mode" which is supposed to lower latency. I can't say I notice a difference between modes, although the sonic seems slightly worse with the game mode turned on.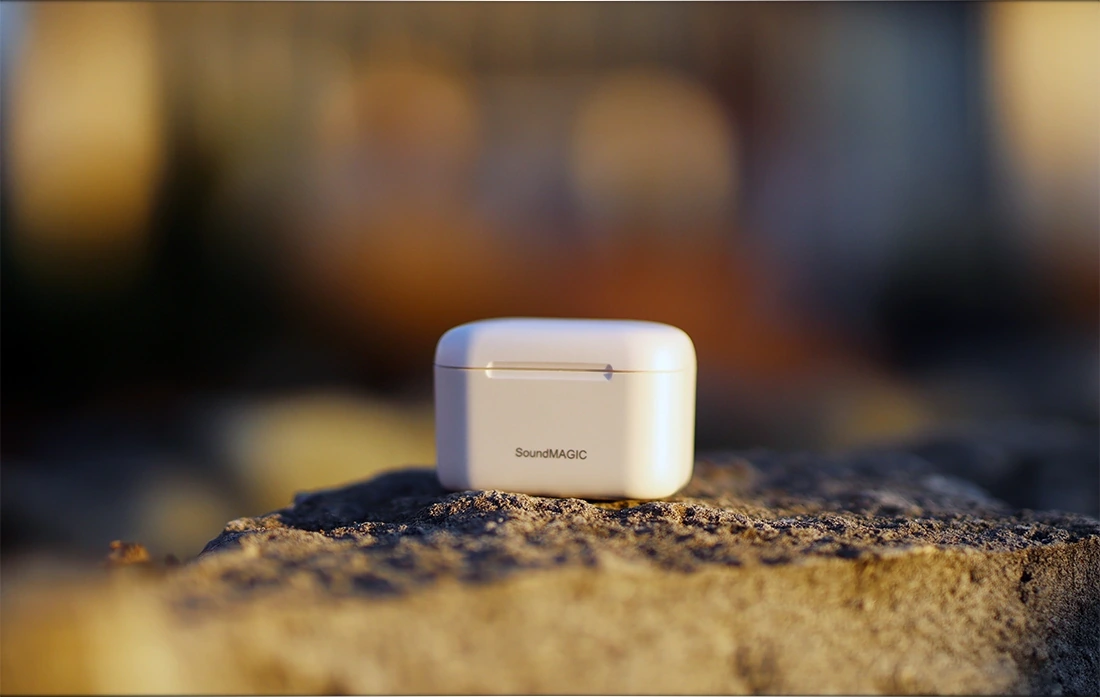 Connection strength is great, and my Black Shark 4 recognizes them as aptX TWS IEMs, which is cool. I was able to hold connection while running and doing physical activities, along with having one wall in between T60 BT and my smartphone. The passive noise isolation is pretty good, around 20 dB, and they are very comfortable for my ears, having a soft, non-sticky silicone tip. Soundmagic T60BT has IPX6 waterproofing, but this is more of a proofing against accidental splashing rather than waterproofing. 
Charging the case can take quite a bit, and they have 5 hours of quoted battery life, with about 3-4 if you use them extremely loud and on aptX. The case has 4 additional charges. I need to emphasize, but they are really comfortable for my ears, lightweight, and didn't fall out while I tried doing some cardio using them. 
The microphone quality is fairly good, but they will pick up some wind noise if you're in a weatherly temperamental area. 
Sound Quality
We have a mini driver on T60BT, 5.8mm in size, and a quoted impedance of 14 OHMs. In practice, I could hear no background hissing or noise with T60BT, which is refreshing, as some other TWS IEMs do have a constant noise in the background. The sonic presentation is typical of a TWS IEM in the price point, with a moderately V-Shaped presentation with good emphasis on the bass, and a slightly emphasized treble / upper midange. I tested them with no EQ enabled, and with a large collection of music. The overall sonic performance can be described as clean, deep, and fairly controlled at lower volumes. T60BT can reach really satisfying maximum volumes, but the sound can become a bit shouty if you go too loud.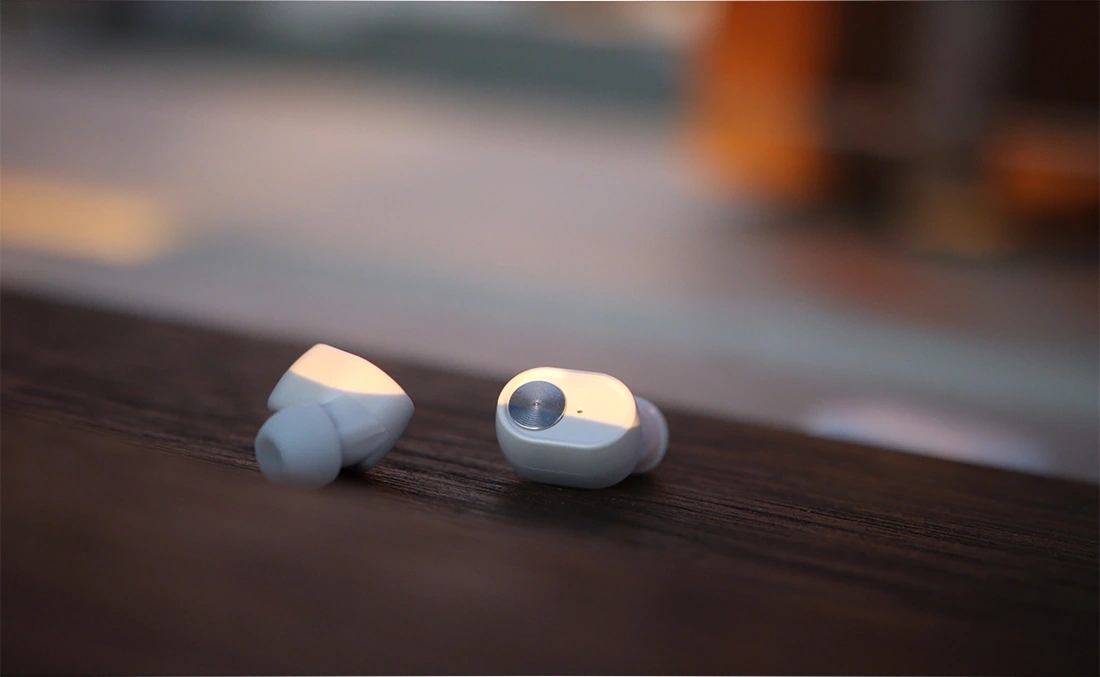 The bass of T60 BT is slow in speed, with a long decay for each bass note, and with a height of presence in the mid bass. The lower bass rolls off at around 35 Hz, but the good emphasis on the mid bass gives T60BT enough impact and substance for a punchy and dynamic presentation. T60BT has a slightly elevated upper bass and lower midrange too, which combined with the slower speed for the bass results in a satisfying and slow impact for drums, which works well for rap, metal, pop, and rock. 
The midrange is clean, has good macro details, but not a lot of action in the micro details. The soundstage is rather wide, with a clean and sharp presentation of the upper midrange. I am surprised to hear that they do have a good instrument separation, and good overall presentation of female voices, which can sound pretty bright and open. Violins and pianos are also presented really nicely, but T60BT can struggle with guitars, especially distorted guitars, and songs which are recorded loud (metal music mastered recently is a good example). 
The treble of T60BT has most of its energy drawn from the upper midrange and lower treble, with a soft roll off above 12kHz. The cymbals have a good amount of air, and I never felt like the T60BT sounds too smooth, rather falling into being a bit sharp and active in the highs. This peppy treble brings some extra detail to the mix, and keeps the sound interesting. 
Comparisons 
Soundmagic T60BT vs Tranya T40 (69 USD vs 79 USD) – The comfort is better on T60BT which is smaller, lighter and has better tips from the factory. This being said, they cling less to your ear, so T40 is more recommended for sports and strainful activities. The sound is fairly similar, with T40 being a bit fuller, smoother, both reaching similar maximum volume, and both reaching good overall resolution for their price. 
Soundmagic T60BT vs NHT 0.2 TWS IEMs (69 USD vs 69 USD) – The build quality is better on T60BT, both are similar in comfort. The sound is much smoother, darker and fuller on NHT 0.2, which is a thicker sounding IEM. T60BT has a bit more detail, and better instrument separation, but is also sharper sounding and can be fatiguing quicker. I prefer the button control on T60BT over the touch controls on NHT 0.2 TWS. 
Soundmagic T60BT vs SuperEQ Q2 PRO (69 USD vs 55 USD) – The build quality and comfort is equal between them. Both are good TWS IEMs with good build quality. Q2 PRO has a slightly better resolution, but maximum volume is slightly higher with less distortion on T60BT. Connection strength is similar between them. 
Value and Conclusion
With a tag of 69 USD, Soundmagic T60BT has a lucky number for its price, and has good value, having a good overall build quality, good comfort and good sonic performance. Especially if you're looking for something that vastly outdoes your average skullcandy and hypermarket / gas station TWS IEMs, Soundmagic T60 BT is a good pick for a similar price to those.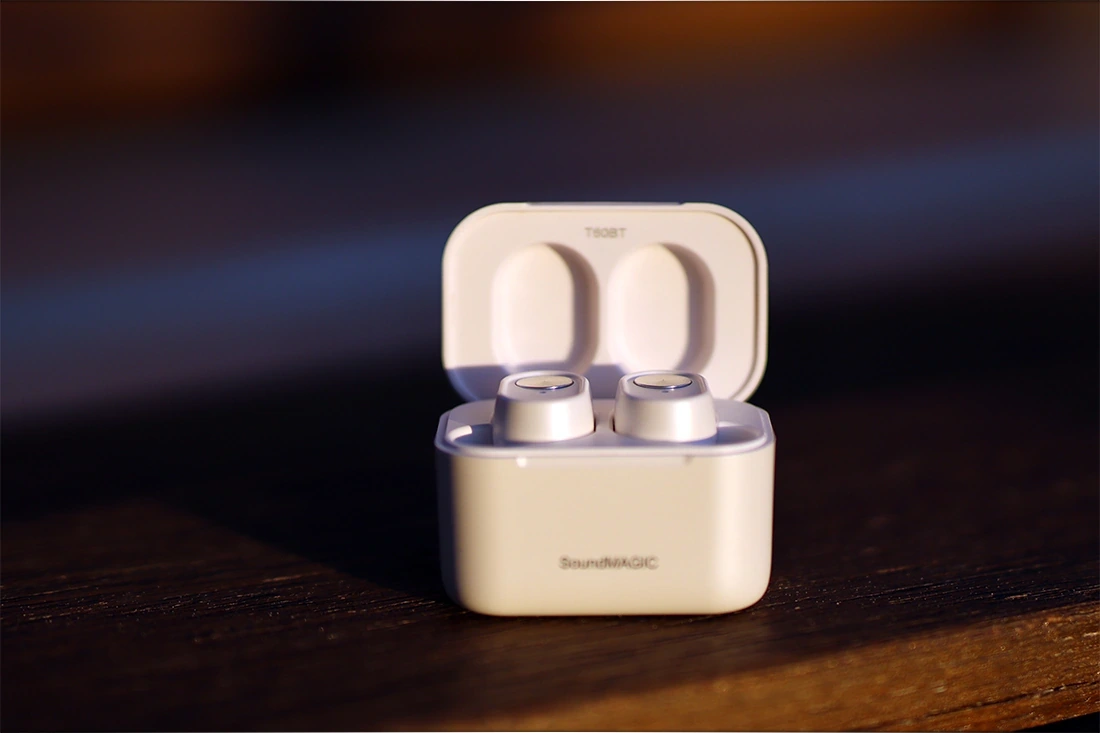 At the end of today's review, Soundmagic T60BT is a fully recommended IEM for their comfort, bold bass, bright treble, and fair detail, and good instrument separation. 
Product Link
You can grab one from www.amazon.com here: https://amzn.to/3yBS66d
If you're in the UK, you can grab one from www.amazon.co.uk here: https://amzn.to/3PaOorm
And if you're from Europe, you can grab one from www.amazon.de here: https://amzn.to/3IzM1Mm
Packaging
First things first, let's get the packaging out of the way:
The package of T60BT is minimal, but it includes all the bare necessities. In the package, you can find: 
T60 BT TWS IEMs

Charging Case

USB Cable

3 pairs of tips, one of which is already installed on them

Manual 
Technical Specifications
Brand: SoundMAGIC

Model: T60BT

Sound: 5.8 mm neodymium dynamic driver

Impedance: 14 ohm

Microphone sensitivity: -42 dB

Bluetooth v5.2

Transmission distance: 13 m

Compatible with SBC, AAC and aptX

Functions: TWS, Touch control, IPX6 water resistance, Gaming Mode (Low Latency)

Usage time: up to 5 hours (earphone) / up to 24 hours (charging box)

Charging time: 30 minutes (headphones)

Weight: 10gr (Headphone)
---
---
--- Please remember to stay safe, and always have fun while listening to music!---
 - If you have a dime to spare, and donate, to help us with electricity and work expenses, it would make my day much brighter, as it would help me improve things around the website and increase the frequency of my posts - 
---
Full Playlist used for this review
We listened to more songs than those named in this playlist, but those are excellent for identifying a sonic signature.  PRaT, Texturization, Detail, Resolution, Dynamics, Impact, and overall tonality are all revealed by those songs. We recommend trying most of the songs from this playlist, especially if you're searching for new music!
https://www.youtube.com/playlist?list=PL_cjBXGmwSHSdGcwuc_bKbBDGHL4QvYBu
--- Contact Us ---






---
---